Michel Cusson
Success Through Diversity
by Anil Prasad
Copyright © 1996 Anil Prasad.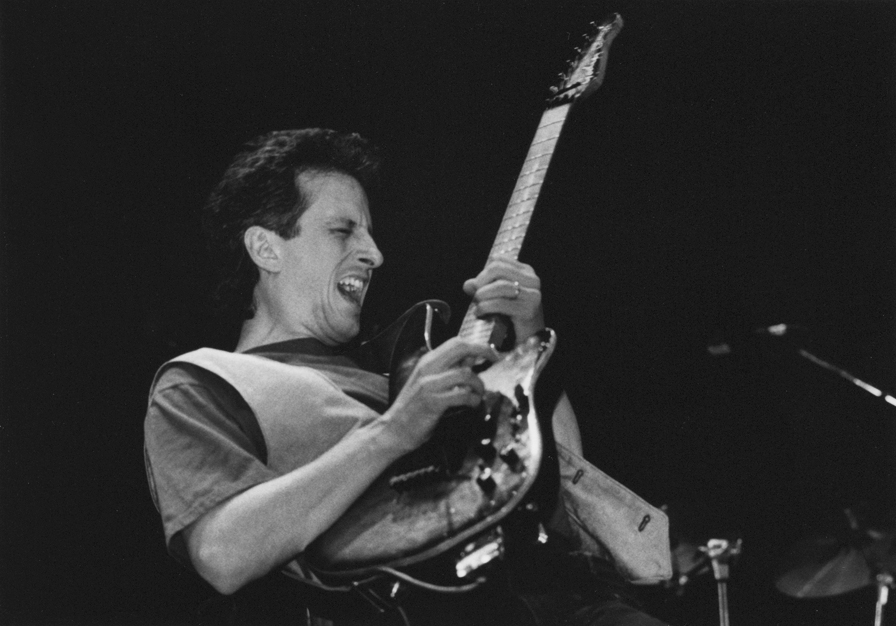 Chaos reigns supreme backstage at the Spectrum club in downtown Montreal. It's two hours before guitarist Michel Cusson takes the stage at the 1996 Montreal Jazz Festival. He's directing techs and roadies as they fly back and forth, as well as guiding musicians as they soundcheck—all while re-stringing a guitar and scarfing down a club sandwich. And he's in the middle of talking to Innerviews too. It's that ability to simultaneously juggle different tasks and directions that has defined Cusson's career since leaving Uzeb in 1992.
Formed in 1976, Montreal's Uzeb was one of the most admired and enduring groups in fusion history. Comprised of Cusson, bassist Alain Caron and drummer Paul Brochu, the group played to hundreds of thousands worldwide and sold over 500,000 albums.
After Uzeb's break-up, Cusson decided to take a more diverse path. He began exploring Brazilian and African rhythms in a 12-piece group called Wild Unit. Initially featuring a trio of percussionists, a five-piece horn section, as well as keyboards, guitar and bass, the group explored expansive territory far from Uzeb's fusion trio realm. Currently, the group operates as a septet that focuses more on improvisation than its big band incarnation.
But Cusson does a lot more than leading Wild Unit these days. He also maintains simultaneous careers as a jingle writer and a soundtrack composer. Combine all of that with his role as father and husband, and it's easy to understand why the 40-year-old rarely gets more than five hours of sleep a night. Yet Cusson appears happy, confident and passionate about his mammoth workload. It's something Wild Unit bandmate Paul Brochu confirms. He joined the group as a full-time member last year.
"I love playing with Michel," says Brochu. "He's a great human being and musician. It's amazing how many ideas he has in his head. He asks a lot of the musicians he works with and that's cool. He's changed over the years as a person. He's much more mature—everything is focused a bit more. And we know each other so well. So, even though Uzeb finished in 1992, when we got back together to play in Wild Unit, it didn't seem like we were ever apart."
Cusson's key focus at the moment is composing music for Omerta, a very successful Quebec television drama show. A soundtrack album titled Omerta: La Loi Du Silence captures some of the highlights. Innerviews began its conversation with Cusson by discussing his work on the series.
Describe the Omerta TV series in a nutshell.
It started airing January 1996. It's a continuing story—a mini-series, but every episode links to another one. So, you have the Mafia, and you have cops, but on both sides, nobody is completely clean. You have good guys in the Mafia too. It's a subject that is very, very interesting. It's very deep and very large, so we can go nuts. We can make people cry, we can be very dramatic, we can be dark, we can be whatever we want musically. It's interesting to work on because the show is very subtle. So, that means the story goes further and further, and deeper and deeper. It's a very good story. Omerta is a fictional adaptation based in Montreal—with a Montreal flavor. I think we are able to have our own personality. It's not a copy of a an American show—it's different, you know? The pacing is slower. So, you have plenty of tempo music. Each show has about 25 minutes of music, which is half of the show. I saw an episode of The X-Files which had even more than that, but Mark Snow, the guy who is doing X-Files, is doing it by himself with a synthesizer. Doing it with actual musicians as we do is a lot more work by comparison.
So, basically, Omerta is a fictional drama series that details the relationship between the Mafia and police in Montreal.
Yeah, undercover police and Hell's Angels. They are not called "Hell's Angels" but there is a motorcycle gang. It's not too violent though. You don't see the violence—but you're feeling the violence. You don't actually see somebody getting killed or a lot of blood. I have to set the mood and I get a lot of space to do so. The producer is very open to whatever I propose. I feel like it's really happening—we've really developed something different.
How did you get involved with the show?
I got involved because I did music for a movie called L'automne Sauvage two or three years ago. After that, I got other offers.
When did you first get interested in composing soundtrack music?
Well, actually, I've been composing music for a long time—since the beginning of Uzeb. I'm the one who wrote most of the Uzeb stuff—it was my writing school for doing soundtracks, so to speak.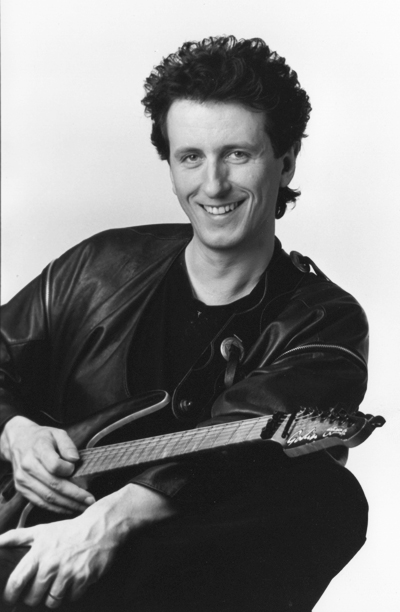 I didn't realize you were Uzeb's primary composer, given that so many of the group's pieces are co-credited.
They're co-credited because I wrote with the idea that we were working together. It sounds a bit bizarre to tell you that, but it's the plain truth. The starting point of most tunes was me. It's easy to work after a tune is started, but to find the idea is the toughest part. So, Uzeb was where I learned to write. Eventually, I decided that I felt like I was going in circles—I was feeling like I wanted to have a larger band, and I wanted to do some more writing, so I went around and let the word spread. I then found out a friend of mine named Bruno Jobim was producing a movie called L'automne Sauvage. He asked me to get involved. It's very interesting for a composer. You have the visual dimension to consider. Writing for a visual image is a big task. It's very challenging and to me, was a logical step as a composer. Now, more and more, that's what I want to do. Parallel to the Uzeb stuff, I always did studio gigs and jingles, so it's not something completely new for me to do a TV show, because I've done at least 500 TV jingles. Some are running across Canada right now. One for Molson Dry [beer] with computer animation, as well as some for Bell Canada.
Do you do enjoy the jingle work or is it something you do just to put bread on the table?
I like doing jingles. They're as hard as doing anything else because you have to be very precise about how the music fits the mood of the commercial. It's great, because I think I've started to get my own sound together and now, people call on me specifically for that. That goes for the television work too. The producer of Omerta wanted a band, so I gave him that. I hired musicians instead of only using machines. The human element is very important. That's one of the reasons for the success of the soundtrack.
A general criticism about soundtrack albums is that they don't necessarily stand up that well on their own without visuals.
When I did L'automne Sauvage, the director also directed the music. Sometimes he'd ask for something dramatic, sometimes he'd want some thing more sentimental, and sometimes something more "dirty." I had to listen to his directions. I don't write the music to overtake the picture—it has to be part of the picture. That's how it works. But if in the end, the music stands up on its own, that's great. And people who saw the series and hear the soundtrack—they're able to make their own film in their mind.
Contrast that with what you do with Wild Unit.
It's very different. With Wild Unit, there are time and budget restrictions, and musician availability concerns. If I could, I'd just use my own studio if it was larger. As it is, it's tough to get ten people together. Creativity is no problem—there are no limits there. And the band is always changing. Paul [Brochu] has joined the band, and Sylvain [Bolduc, bassist] is there permanently now too. The main reason to form the band was to explore percussion. It's not there so much anymore, but it was good to do. It's just too expensive to carry all of those drumkits and percussion. So, I decided to go with a group which could stretch more on the improv side. And depending on what budget I have at a given time, I do hire extra musicians. Wild Unit has had up to 12 musicians in it. Right now, there are seven. The stuff isn't too hard to play, so I can add people as needed. The purpose of Wild Unit is to have fun, communicate, interact and groove and not to stick with one sound. With Wild Unit, I've explored hip-hop and worldbeat—especially African rhythms. African music is an endless source of different rhythms. And it uses the same language I use with jazz—a system of cues with sections that are very open that enable me to switch players as needed. Wild Unit's music is very open. There is lots of interaction, long solos, and long build-ups. I want to do an album—maybe a live album—that focuses on the longer pieces.
You're pretty much a household name in jazz and fusion circles in Canada, and parts of Europe. But for some reason, the USA never took to Uzeb or your solo work.
It's a question of promotion, and we can't be everywhere. It's very hard to break into the States. It's not a question of talent, just a question of business. You need serious money to invest in advertising. It also helps if you live there. If I was based out of L.A., I think I would be better known, but I don't. But you also need to be strong locally to be known internationally. Uzeb did well in Europe. Right now though, it's a choice for me. I've decided not to tour for at least two or three years. I decided it's not worth the time investment for what you get in return. I don't want to sound negative or like a snob, but since there's no support from radio in the USA, I might play gigs for only 200 people at a time. The crowd may buy a few CDs, but then what? There's too much competition. Also, I haven't played with Miles Davis. The logical way to break the market is to have been a sideman for a big star. But I'm not in New York, I'm in Montreal. It's a problem, but I am patient. But on the other hand, this isn't like pop music. Think about Joe Zawinul. He didn't break with Weather Report until he was 44 years-old.
Rumors keep coming and going about Weather Report reforming.
I love that band. We need someone like that to stimulate interest in this music again. I play the Montreal Jazz Festival a lot, and it's a big festival—one of the biggest in the world. But it really doesn't reflect what's going on in terms of sales or interest. I do music because I love it. I'm realistic too. If you don't have big record label support, it's very tough.
Despite all of that, you do seem like you're happy with your current situation.
I am more than happy. I'm fortunate to be able to make my own choices. Not every musician has the luxury. In1990, I made a choice to leave Uzeb. I didn't want to travel hundreds of days a year anymore. I have two kids: one four-year-old and one seven-year-old. I wanted to be around for them. I wanted them to recognize their dad! [laughs] I like touring, but it's a problem when you have kids. I've made a choice and I'm happy about it. I have my own studio—my laboratory. I have lots of work—so much that I don't have enough time. I am definitely very happy. And there's so much I've learned—musically, technically and on the business side. There's an endless amount to learn too. It's great. And I'm doing it all without a manager now.
You don't have a manager?
No, I don't. But I have a lawyer! [laughs]
Definitely the more useful of the two these days.
It's true. It's so complicated with contracts these days. It's so beyond the knowledge of a manager. There's a lot to be aware of—I seem to be talking to my lawyer every week! I have an assistant and a team. My brother does the sound for the studio and shows. I'm building a production team too. There's just so much going on. And I'll keep doing special projects on the side. Eventually I want to do an acoustic trio with upright bass—not doing standards, but original stuff. I may also be working with some songwriters to write music for lyrics too.
When we've spoken in the past, I've noticed you always seem to dislike talking about Uzeb.
No, no, no. But yeah, it's finished. I'm very proud of Uzeb. We finished at the right time.
There's a new compilation CD of Uzeb's ballads called Entre Ciel et Terre.
It was our French manager's idea to do that compilation. I had no problem with it.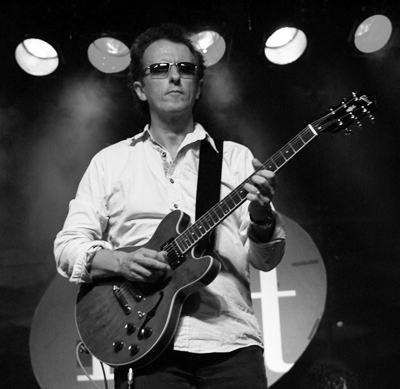 Its release gives the impression that Uzeb is not finished.
You never know. I wouldn't say 100 per cent for sure it'll never be back. I haven't closed the door. [long pause] You never know. We don't talk about it right now. But I'm not closing the door. On the other hand, it's tough to be in a band with three equal parts.
You implied earlier that Uzeb wasn't three equal parts.
Not really. [pauses] Well, yes and no. It's not a question of ego. Things are simply easier when you're in a leader role. I don't want to calculate how much it costs to buy photos or talk about money things with people in the band. Things like that kill bands. I don't have any of that shit anymore. There's less trouble without the collective thing. What really killed the band is that I went in with an incomplete tune and then we would work on it together—that's where shit started to happen. I was very positive. When the guys get involved, you get more choices and then you get fights. Others see the music differently and then you end up fighting about one note. It's purely a musical thing and a question of taste for why Uzeb broke up.
Alain Caron recently told me there was some heavy tension between the two of you towards the end of the group.
Of course. But I respect Alain. He has his own thing and I have my own thing too. But we see things differently. Maybe eventually we'll work together again. It's just a question of method and goals. Well, we had the same goals, but two different ways to do it. After 12 years, it's like a couple, you go crazy. When I look back six years after, I think some of our problems were stupid. But try to explain why a divorce happens? It's painful and complicated. It took me a year to recover, but now it's okay. It's just a question of us wanting to do different things and we're both doing very well. It's fun to move onto something else.
How do you look back at your time with Uzeb?
We had a real journey with the band. It's very tough to do the same thing for so long. And the 80s were not as good as the 70s—condition-wise. Think about Jaco Pastorious and his large band. The record label put the money in to make it work. That doesn't happen anymore. Uzeb was fun. I'm very glad we went to 17 different countries to play.
What's the highlight of your time with the group?
The live album—the last one. [World Tour '90] We were touring a lot and playing as a three-piece band. The band sounded best this way. And this album is the only one I've heard that was recorded like this—direct-to-DAT with no overdubs.
How have you changed as a musician since Uzeb?
I'm much more relaxed. When I was in Uzeb, I was stressed out about technology—MIDI shit. You never knew if gear was gonna freeze or freak or something. You never knew if it was gonna blow. Maybe you'd get an accordion sound instead of a piano—you never knew with those old sequencers. We were always nervous onstage. The band was always on the edge of technology. I wish we had today's technology back then. Even though Uzeb did really complex things, that didn't represent my true personality. I like things simpler. There was always a technical side to Uzeb that was always good, but really, why play so fast? We're not the only band that did that—it was part of a trend. It doesn't impress me anymore—it leaves me cold. Sometimes it's fun, sometimes it's pure energy and you go wild and fast. But there has to be an idea behind it. Sometimes a band has too much of a structure and you stick with it and it's a shame.
So, the key to success and happiness in the music industry is diversity?
Yes. I used to be in the house band for a TV show called Beau et Chaud two years ago. It was a very good experience. We had to learn five different tunes every day in many styles—Cajun, heavy metal, progressive rock, whatever. You had to be very efficient and reach your targets right away. So, the attitude you take in with you is the question. To me, it's about total devotion. When I do a show, I don't want players to talk to me about their problems. You had two hours sleep? You had a fight with your wife? Okay, but just do your best! If I hit a wrong note, I don't want to kill myself. You know, so what? I take chances. I may not be the best guitarist in the world, but I have fun. My goal is to play with my heart.