Kai Eckhardt
Investing in the Fundamentals
by Anil Prasad
Copyright © 2008 Anil Prasad.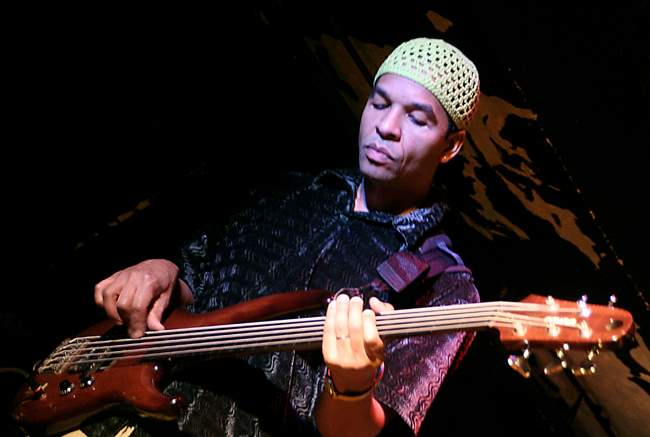 Kai Eckhardt believes in the transformative power of music. In fact, it's his core motivation as a bassist and a composer. The virtuoso's resume reads like a who's who of jazz-fusion with stints with John McLaughlin, Larry Coryell, Billy Cobham, Trilok Gurtu, and Randy Brecker. However, these days, Eckhardt's focus is on using music as a vehicle to create social awareness at the grassroots level.
At gigs with Garaj Mahal, his jazz-world fusion act also featuring guitarist Fareed Haque, keyboardist Eric Levy, and drummers Alan Hertz and Sean Rickman, it's common to find Eckhardt discussing his work with environmental advocacy and anti-poverty groups with receptive audiences. His desire to propel positive change is also what drives his work with the band, as evidenced on its new CD w00t. The title is a nod to Generation Y, which uses the slang word to express joy, success or victory—feelings he hopes to infuse into the hearts and minds of his listeners.
The new CD represents a hybrid of old school, no holds barred fusion and forward-leaning thinking. There's no shortage of blazing chops, extended soloing and lengthy improvisations. But they're balanced by cohesive compositions, deep grooves, memorable melodies, and Indian, Arabic and klezmer influences. It's also an excellent showcase for Eckhardt's remarkably fluid, often chordal bass work. There's plenty of funky slap to go around too.
Apart from Garaj Mahal, Eckhardt has just wrapped a new recording with saxophonist George Brooks' world-fusion group Summit, also featuring Haque, tabla master Zakir Hussain, and drummer Steve Smith. Another upcoming release is a duo CD with his wife Regina Camargo, featuring wry spoken word and bass-focused musical contexts including electronica, jazz and funk. Eckhardt also recently ventured into the world of alternative rock as the newest member of kBRANDOW, an Oakland, CA-based act he's recorded several upcoming EPs with.
What made Garaj Mahal pursue such a heavy fusion direction on the new CD?
We're a band of writers but came to the realization the individuals weren't on the same page, so we came up with a system in which each member got to contribute two songs, with the author serving as band leader, producer and mixer of their tracks. That allowed us to get over any ego issues and move forward. As part of that process, everyone felt the freedom to really let it hang out and go beyond the more polite boundaries of our previous records.
Another agreement we made was this record should pay respect to our fusion roots. You'll definitely hear Headhunters, Weather Report and Mahavishnu Orchestra influences. The leaders of those acts were all part of Miles Davis' pioneering fusion bands in the late '60s. You can go through Fareed and myself to find direct links to that scene. Miles took John McLaughlin under his wing and also provided a forum for Joe Zawinul as a composer. John and Joe did the same for me and Fareed respectively when we were in their bands. Eric Levy and Alan Hertz are the new cats busting on the scene, but they listened to the same music too. Together, we've brought out the unfiltered Garaj Mahal and it's just the beginning of this direction for us.
Take me behind the scenes of constructing the aptly named "Bass Solo."
It's a three-part harmony solo piece with the meter in a fast 7/4. It features three distinct sections and a bunch of chord changes. It represents an adaptation of the Indian tabla language on bass guitar. A tabla player will take 7/4 and then superimpose groups of three over it. My track explores that world by moving in and out of polyrhythms and keeping a seven count the whole time. But instead of spelling the seven out, I wanted the count to be internally felt. Sometimes it's going by really fast and it can be obscure to a certain extent. I'm hoping to do more with this approach in coming years because it's a really interesting way of working.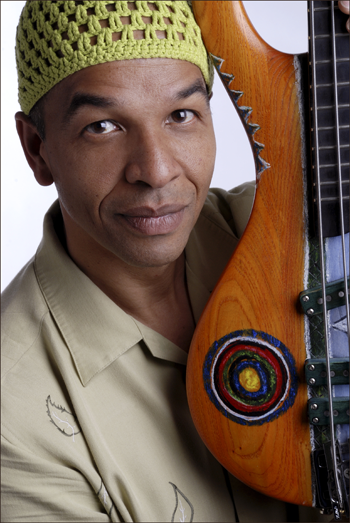 You rely on a Fender 1976 4-string P Bass for the majority of the album. What do you find appealing about it?
It's the perfect response to the way things became more flashy and show-offy in the bass player scene. Instruments started going up to 11 strings. No other instrument has been that flamboyant in its transformations. So, I went in the opposite direction and scaled down mostly to one instrument. I have five other basses that I love and cherish, and they come out for different purposes. But for Garaj Mahal, I found the P Bass ideal. You just plug it in and go. It has no electronics and always sounds the same. It forces me to play musically and pay attention to my surroundings. When I first came out with it, everybody I worked with liked it. It has a certain roundness of tone without a crisp high end. It sounds old school and almost muffled, but it carries the music so well. It has something that's missing in high end basses. Maybe it's the aged wood. The bottom line is it's an instrument that makes people happy.
You're renowned for your 5-string playing. What was it like for you to pare down to four strings?
I had a longing to reconnect with my earlier way of playing on four strings. I started out on the Fender Jazz Bass. It was the first instrument I fell in love with. With five strings, there's always one string that needs to be somewhat muted in order for me to really get around on the instrument. The symmetry of two pairs of two strings for chordal motions is a superior configuration. It enables you to make up your own chords by moving intervals against each other. For instance, you can play a perfect fifth using the E and A strings, and play another perfect fifth on the D and G strings. Then you can shift the perfect fifth on the upper strings in half steps while keeping the lower interval locked in. I'll create a certain margin for going in both directions on the fretboard and there will be four or five chords that can be found that are interesting. So, you can pair up each of the 12 intervals and mix them to come up with hundreds of chords, some of which have never been played before.
You used no effects on w00t. What made you go that route?
I consciously chose to sacrifice variety of tone to put the burden on my articulation. I wanted to develop my fingers to get everything I needed. It was also a great way of investing in my evolution as a musician and how I hear music. Additionally, it's the result of asking myself tough questions like "Why am I doing this? What sense does it make to use so many effects?" The bass field goes all the way from the most introverted musicians to the most extreme show-off personalities where music is subordinated to the projection of image. Neither choice is good or bad, but there are consequences of the choices. I'm interested in the path that leads to interesting musical destinations related to the fundamental strengths of the instrument.
How would you describe those fundamental strengths?
The instrument is capable of expressing great diversity. For example, I can play the same song in two different ways: once with the bassline sustained with the notes stretched out horizontally, and the other with bassline played with shorter notes, giving the music a spikier energy. One mode puts more fire in the music and the other brings more water into it. Another strength is the instrument's ability to influence the musical energy around it. If you're in a band and there's a lot of energy coming from two other players and you're feeling like things are getting crowded and incoherent, that's a good moment to lay out. When I do that, the music finds itself because the other two musicians are forced to listen to each other more intently when the bottom suddenly drops out. It may make them uncomfortable for a moment, but ultimately something starts to happen to get things back on track. Conversely, there are moments when I have to bust out and take over the proceedings. Bass players sometimes end up cornered in a situation where it's a case of homeboy at the back of the stage pedaling through the same notes over and over. I encourage bass players to escape that mentality and understand that they can dictate the harmony and drive the band in different directions.
What's your perspective on how a bassist can be an instigator of social change?
The drama is off the hook with the economic downturn, the environment and all of the wars going on. Bassists need to see themselves as part of the bigger picture. There is the notion we are just part of the world of entertainment, but music throughout history has always been played by and for the people when times get really hard. That's when music becomes more about communication and catharsis. So, I ask bassists to consider their talents in relationship to the state of the world. Music will play an even greater role within the context of these societal challenges and we bassists have a major opportunity to affect them positively.

Eckhardt's Gear
Basses: 1976 Fender 4-string P Bass with J Bass pickup, Coura Buru Buru 5-string fretless bass, Human Base Acoustic Fretless 6-string, Clover Guitars Slapper 5 Headless 5-string bass, Hot Wire Big Apple 5-string bass
Effects: Ernie Ball 6166 Volume Pedal, Dunlop Crybaby 105Q Ultimate Bass Wah Pedal, Tech21 SansAmp Programmable Bass Driver DI Pedal, Boss CE-2B Bass Chorus Pedal, Boss AW-3 Dynamic Wah Pedal, Boss DD-6 Digital Delay Pedal, Boss OC-2 Octave Pedal, Digitech Clapton Crossroads Pedal
Amps: Eden WT800 World Tour Bass Amp Head, Eden DC210XLT Bass Combo Amplifier, Glockenklang Bugatti 300 Professional Amplifier, Eden D610XLT Bass Cabinet, Glockenklang Acoustic Art Bass Cabinet, Glockenklang Bass Art Classic Cabinet