Vijay Iyer
Degrees of Choice
by Anil Prasad
Copyright © 2015 Anil Prasad.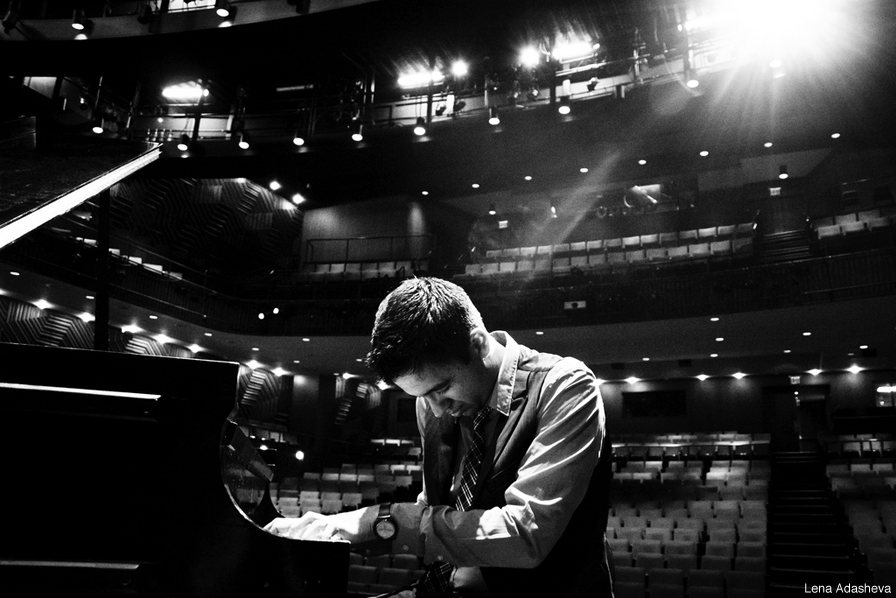 To say Vijay Iyer has experienced a positive trajectory as a composer, pianist and educator is a dramatic understatement. In recent times, he's emerged as one of the most important and exhilarating voices in jazz and new music. His elastic compositions, infused with manifold influences from across the history of jazz, minimalism, the South Asian diaspora, hip-hop, and electronica, have endeared him to aficionados of immersive music.
His recent album, Break Stuff, explores the modern possibilities of the acoustic jazz trio. Together with longtime collaborators bassist Stephan Crump and drummer Marcus Gilmore, Iyer's latest works extend and distend jazz forms, and stretch time to thrilling effect. The album frequently arrives at intersections in which listeners are uncertain which way the musicians will turn and proceeds to deliver the sound of surprise.
Break Stuff is the third project the Indian-American has released via his relationship with ECM. He first signed with the label in 2013, responding to an open-ended invitation to showcase his diverse leanings. His first release on ECM, 2014's Mutations, was an ambitious effort that featured a 10-part suite for string quartet, piano and laptop. The pieces were constructed with interactive elements that enabled participants to pursue individual paths, while steering towards common outcomes. It's an example of one of Iyer's many process-based approaches he implements in his projects.
Another recent release for ECM is the film and album Radhe Radhe: Rites of Holi. Both were created in collaboration with the late, celebrated filmmaker Prashant Bhargava, who passed away unexpectedly of cardiac arrest in May 2015 at age 42. It was commissioned by the University of North Carolina at Chapel Hill to be part of a series for the centenary of Stravinsky's The Rite of Spring. Iyer and Bhargava chose not to pursue a tribute or extrapolation. Rather, they recast the commission as a unique take on the Hindu festival of Holi, which also takes place during springtime. The engaging multimedia experience captures vivid imagery from across the eight-day Holi festival in the city of Mathura, India, where Krishna is said to have been born. Iyer's soundtrack offers a highly-personal blend of jazz, new music and Indian elements.
Iyer's multifaceted work has won him great critical acclaim, resulting in several major awards and grants. The most notable is the MacArthur Genius grant he received in 2013. In its award announcement, the committee described him as "an ardent investigator of musical communities, practices, histories, and theories. He mines core rhythmic, melodic, and structural elements from a wide range of sources to construct richly varied, improvisation-driven solo and ensemble music." Iyer was also the recipient of the prestigious Doris Duke Performing Artist Award in 2012. In 2013, Harvard appointed Iyer a professor in its music department.
Even with all the recognition and opportunities, Iyer's journey is also fraught by naysayers in the form of conventional jazz critics and some other jazz musicians. In this conversation, Iyer explores his many passions, as well as the perils he's encountered in the forms of privilege, racism, anti-intellectualism, and professional jealousy.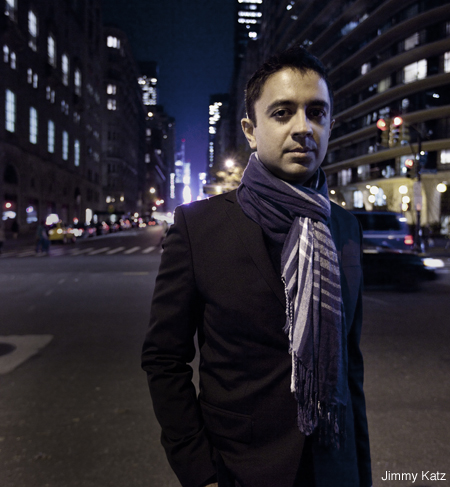 You've been engulfed by a wave of positive events in recent times. What has all of this meant for your priorities as a composer?
I find myself in these moments of intersection in which I'm asked to write for a string quartet, a chamber ensemble or a group of people who don't exactly do what I do or necessarily approach music in the way I do. So, it becomes about figuring out how to build community from that standpoint. That's actually been a running theme in the history of this music if you think about it. Look at Miles Davis and Gil Evans for example. People are often coming in from somewhere else and putting their stamp on situations they're not normally associated with. That can lead to discoveries on everyone's part about what is possible. I find myself thinking in those terms a lot. Part of what this spate of opportunities has provided is a lot of new kinds of relationships, connections and alliances. Now, I have to think about how to make music in new kinds of ways.
Have your ambitions grown in tandem with the scale of opportunities?
I don't know if ambition has ever been the word. It's a word people pin on me, but it's never been my own view of what I do. It's about more than just being ambitious. Every project I've done has felt necessary in some way. Each is often the result of an invitation. I find myself being called into doing intriguing things. In 2017, I'll be the curator of the Ojai Festival in Ojai, California, which has historically been a classical festival. One year, Stravinsky curated it. What that means is I'm able to take a situation like that and reimagine it in a way that makes sense to me and is in line with my values as an artist. Perhaps I can bring some artists I know into those new kinds of situations, too. So, I'm not really striving to do bigger things, but I'm being entrusted to do them.
Is there an increased sense of responsibility that has emerged along with the trajectory you're on?
If anything, it's about service and thinking about what I can do for others, as well as what the music can do for others. How can music play a role in somebody's life that's positive? Also, as an educator, can I have a positive impact on students? Those are questions I consider. I do feel a sense of responsibility to the community that makes music. I sometimes work with high school and middle school kids. They come from a lot of different backgrounds. Some are extremely privileged and others are extremely underprivileged. When I work with kids who come from privilege, I try to ask them what their goals are as musicians and what they can offer to the world. For kids coming from less advantageous positions, I try to let them know that they're being heard. So, the kinds of responsibilities on my mind are really on the ground level. They're not about the future of jazz. It's more about asking if people feel empowered.
Did the wave of positive recognition that occurred at the time of the ECM deal imbue that relationship with greater signficance?
Honestly, things had been ratcheting up little by little for longer than that. In one month in 2013, the ECM deal, the MacArthur grant and the Harvard professorship were all announced within a couple of weeks of each other. It seemed like a big pile up, but all of that had been in the works for awhile. With the MacArthur grant, I found out about it on September 1st and they announced it on September 25th. There were three weeks in which I had to sit on the news. Only my wife knew. The first ECM conversation occurred in December 2012 and then we recorded in September 2013. So, that had been in the works. I first interviewed for the Harvard position in January 2010, so it took them four years to hire me. Prior to that, in 2012, I got the Doris Duke Performing Artist award, which was also major. In that same year, I won the Downbeat "Quintuple Crown," which had never happened before. So, it didn't feel like 2013 was a weird year, compared to 2012.
With all of this comes an enhanced level of scrutiny. People started hearing about me out of the blue and sometimes the response is "Who the hell is this guy?" Basically, people who never pay attention to this area of music suddenly saw me on the evening news or being interviewed by Charlie Rose or Tavis Smiley. Suddenly, they had something to say about me. So, it became a little bizarre in that way, but none of that really lasts. I've been through pockets of that over the years—little blips in which I'm suddenly in the news for a minute. So, I take a long view on all of those things.
How did the ECM relationship emerge?
My manager contacted them and they answered in about 10 minutes. [laughs] That's what happened. We've pinged them many times over the years. I've been working with my manager since 2004. Before this happened, I'd reach out to them and we would be in touch, sporadically. But in this case, they wrote right back to us and it was at a moment when I could have re-signed to ACT, my previous label. ACT had been very good to me. In Europe, they have quite a bit of presence. I was seen as being part of a wave of young European musicians. But the more I thought about that, the more I realized that this was an odd fit, because I was the only American on the label.
I'm not trying to be jingoistic or anything, but my identity as an artist is related to the last century of American life and that stream of music. All the other streams of music I find myself connected to are also seen through the lens of being an American. Tyshawn Sorey once called me an "Americanist." [laughs] I'm an Indian-American, but I have these valences with African-American communities and other communities of color, as well as the classical music world. I felt the kinds of associations I have, my history and my perspective on music were more in line with the history of ECM. The label has 1,000 albums worth of stuff. Its catalog includes pivotal albums by Wadada Leo Smith, The Art Ensemble of Chicago, Dave Holland with Steve Coleman, and Keith Jarrett. The label also encompasses the worlds of chamber music and contemporary classical, which I find myself more and more connected to. So, ECM seemed like a place in which it could all work together for the first time in my life.
ECM offered you an open-ended arrangement, enabling you to pursue an eclectic range of projects. Describe the perspectives at work.
You don't get signed to ECM. The paperwork is project by project. There's nothing on paper that says I'll be on ECM indefinitely, but we've already done three projects within one year. They planned for those three: Mutations, Radhe Radhe and Break Stuff. We have a couple more projects lined up, including a duo album with Wadada Leo Smith. All of this is happening because Manfred Eicher is interested. He trusts me as an artist. Before coming to ECM, I had made 17 albums. I think there was a sense of "This guy can handle things. He knows how to make albums that seem to do okay." Manfred also wanted to be involved as a producer, which is great, because he's amazing at that. He's done landmark projects that I really respect. He comes with a different aesthetic. The broad range of what he's done is significant. All of the clichés people ascribe to ECM do it a disservice. For instance, look at Lester Bowie's Avant Pop. That record has a real kick to it. Going back to Manfred, I've found that he trusts me as an artist. When we speak, we speak artist to artist.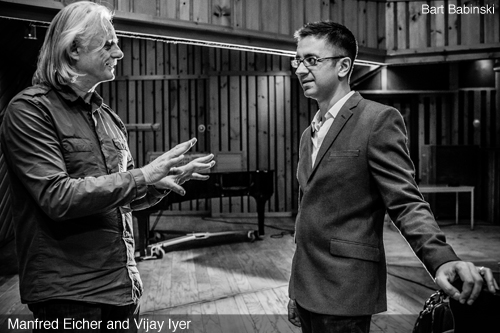 What's it like to be in the studio with Eicher?
He's very hands-on, but not meddlesome. He's very patient and listens very well. He provides nice responses and constructive comments to what he hears. He's got his hands on the microphones, faders and reverb. He helps me choose takes. We went back and forth for months about the album sequence for Break Stuff. With Mutations, we also had varying ideas of how to put it all together. We'll also discuss what pieces should make the album. We'll talk about whether or not a piece I'm on the fence about should be included on an album. So, Manfred is a second pair of ears with a lot of wisdom in between them. He respects my choices and I listen to his. We manage to do good work together.
Mutations is the most expansive project you've released to date. What made it an attractive debut for your ECM tenure?
It was Manfred's idea to make that the first project. I sent him a bunch of things to consider, including sextet work, Fieldwork material, and chamber projects. He felt that Mutations would have a stronger initial impact and introduce me as a composer. I've been making music like that with ensembles for a long time. Mutations was first premiered in 2005 but hadn't been recorded until ECM because it was never viable commercially with a typical jazz label. It made sense to do it with ECM.
While some say it's experimental, the ingredients of the music are the same ones I've always been using. Mutations is more about principles of variation. When we play a groove with my trio, it evolves. There's something new about every iteration. So, how do you do that with people who don't self-identify as improvisers? That became a question to address in the piece. I wanted to give them ways to approach the music within the principles and aesthetics that work for them. So, it's not even about asking them to improvise, but to make choices from time to time. It can be a choice that's delimited, but it's still their choice. I'm not the first person to do this in chamber music or ask that of classical musicians. It's an American tradition. You can see it in the music of people like Christian Wolff. There's a wave of post-war modernism in which the scores had a certain kind of openness or degrees of choice. Perhaps the score would describe a behavior rather than exactly what to do. So, there are things like this that have happened in scores that allow things to progress without any one person controlling it. Everyone has to listen, ride it and steer it.
Your solo piano piece "Meta-Études" is an example of a piece that evolves through a generative process. I presume it's also more about principles of variation than conventional perspectives about improvisation.
Improvisation is a broad concept. It doesn't really have limits. I wouldn't say it's not improvisation. In fact, I would say almost everything we do is improvisation. I called it generative because the score includes tasks that create sound. They're specific in a certain way, but empty in another. The tasks are open-ended. One of them asks the performer to choose two or three intervals and play a line using only those intervals with their right hand. So, that can be anything. It doesn't say how to play that line or what dynamic, tempo or rhythm to apply to it. You have to decide in the moment how to do that. Another task is to find five non-pitched sounds on the piano and find ways to vary them expressively and create something with them. Then there are some tasks that can be combined.
Describe the decision-making process that's going on in your head as you perform it.
I'm figuring out how to make a piece out of it as I'm playing it. That goes for the listener too, ultimately. I'm also performing knowing that this will never happen again. Fixity is not the point of the piece. I'm not trying to say "I, the composer, made this thing, and I'm delivering it to you." It's more "I'm making this thing, so how do I make it? How do I shape the experience in a way that feels directional and complete in some way?"
You've said the creative process that informed Break Stuff derived from a subtractive process. Elaborate on that.
A lot of the trio music emerged out of larger ensemble music. I was reducing or subtracting from a larger canvas. The trio material accumulates somewhat haphazardly. "Hood" was originally written for my sextet, so there are horn parts you don't hear. The trio did a version of a large ensemble piece called "Open City" which was a suite for 18 musicians. We originally did it with the novelist Teju Cole and Himanshu Suri. Doing a trio reduction, which we called "Chorale," is more than just distillation. It's something else. It's like a dub version of something. We treat the song as an environment. If you look at Charlie Parker's "Bird of Paradise," he's playing on the form of "All the Things You Are," but it's not "All the Things You Are." He never plays that melody. He just moves through the form and creates his own things. So, it's the song without the song. There isn't even a head, necessarily. So, that's another example of a subtractive form.
How does Break Stuff showcase your evolution as a writer?
It has more of my compositions than on past albums. I did many covers on my previous albums for ACT because they wanted my publishing. I didn't want to give them a bunch of my music, so I thought "Okay, we'll find ways to play other people's music." So, that's part of the reason that happened. It actually worked out in my favor, curiously enough. I think there was something about my quartet that people felt was too different. They couldn't tell what was the composer me and what was the player me. It all felt like it was from Mars to some people. It didn't to me. [laughs] It felt like I was just trying to play like Monk and Coltrane. I thought "What's wrong? Why don't you guys hear that?" But nobody else heard that. People saw me as totally other. They didn't hear a connection between what I was doing and so-called tradition.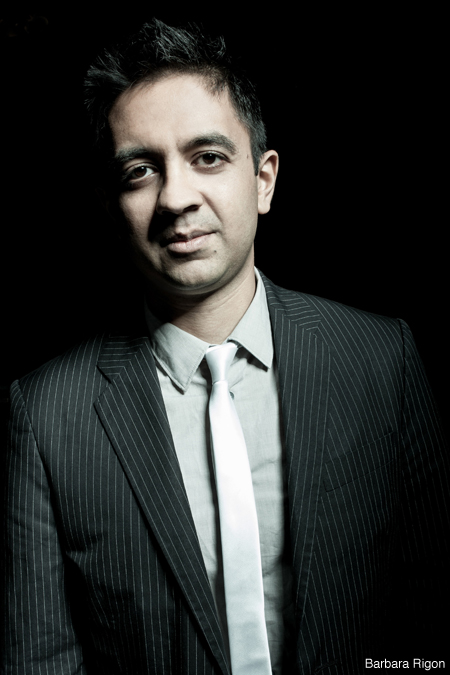 Despite that perception, you've arrived at a point of great acclaim and awareness.
Well, I did eventually, but I had to be really patient. The artists who have really brought something to the table—the ones that moved the needle—have all experienced this. It's not like I was setting out to do that. I think the ACT albums were a kind of necessary intermediate step for people to learn how to hear me. People would say I couldn't play changes, because I didn't know the tradition. Crazy shit. It was because I chose not to record a lot of standards. So, they thought I didn't know them. It was just strange to me.
Are you referring to critics or musicians?
Both would ask me if I knew standards. I always thought "Are you really asking me this?"
Are these name-brand jazz musicians?
Yes. And name-brand jazz critics too.
What's your perspective on the context that enables these reactions to emerge?
The context is usually not having listened to me or just hearing it as completely foreign. They weren't able to parse what I was doing. It was usually younger musicians who had come through the jazz education industry. They wouldn't necessarily have a handle on what I do. It wasn't just about what I sounded like, but it was really an assumption being made about me. On the ACT albums, I took it upon myself to say "I'm going to cover stuff that people should listen to and you can tell me if it is or isn't part of the jazz tradition." So, I covered Henry Threadgill, Julian Hemphill, Andrew Hill, Michael Jackson, and Flying Lotus. I was covering music I cherished. I also did Duke Ellington, Herbie Nichols, Bud Powell, and Monk stuff. So, when I caught people in 2013 saying things like—and this is a direct quote—"He ignores 100 years of Black music," I would realize "You guys really have something else going on."
Do you feel there's an element of racism at work?
Yes, but that, in a way, is beside the point. It was white men saying this about me. It was partly because they want to make a claim on what Black music is and that's racism, actually. It doesn't matter that it's me in the middle of it, because the problem is actually that they have this possessive investment they can't shake. If you really look at the history of jazz, it's always been there, from the first jazz record, which was The Original Dixieland Jass Band. It was a bunch of white dudes imitating Black music. From the very beginning, 100 years ago, that shit was happening. So, that is, actually, one thing that holds the whole history of jazz together—the impulse of white men to try to possess something that comes from Black people and to rob it of that cultural identity or to just arbit what it is, what it isn't and where the limits are. So to me, when I get caught up in a stupid conversation like the one we're talking about, it's really about white men trying to possess Black music.
You're Indian-American. What does this viewpoint yield when it's applied to you?
They think they can bully someone like me because they feel I'm not really part of the equation.
You've worked with some of the greatest African-American voices in jazz history. Do they not get that?
They don't. If you can speak with that level of ignorance, you're not interested in any kind of factual understanding of anything. It's coming from another desire. I'm talking about musicians when I say that. Critics have a different way of dealing with me because they actually end up hearing things. They receive all the albums and press releases. Musicians can be in a bubble in which they don't actually know who's out there or what people are doing, except through their friends. They might think they're eclectic because they listen to Radiohead, but they're not actually aware of what's happening. [laughs] Critics tend to have a bit of a broader assessment of what's happening on the scene. That's where this kind of mismatch happened in which I was winning these critics' polls, yet there were whole pockets of musicians who literally had never listened to me.
My assumption is there's also likely a significant element of professional jealousy involved from the musicians coming after you.
Yeah, that happens too. A prize like the MacArthur singles you out and creates this gigantic imbalance in the field. All of a sudden, out of nowhere, this falls out of the sky on one person. It transforms that person into a complete exception and everyone else is left scrambling to make sense of it. People ask "Why the hell did that happen to him and not so and so?" or "Why not me, goddammit?" People go crazy asking themselves those questions. I don't blame them. Most musicians are living in poverty and when they see what seems like a staggering sum being awarded, it results in these responses. The money is also publicized in a way that's a little bit misleading, because people think they drop this big pile of cash on you. What actually happens is they give you a salary for five years. So, that's pretty different. You're being supported over a period of time to create something.
How have critics responded to your original material that forms the majority of Break Stuff?
There are still some covers on Break Stuff, but when we did those ACT albums, they were more like 50-percent covers, instead of 25-percent covers. All of the writing about the ACT albums was about the covers. The critics would focus on "Human Nature," "The Star of a Story" and "Mystic Brew." They wouldn't say anything about my original music. I remember when Steve Lehman made a trio album. I said "Be ready. The critics aren't going to talk about any of your original compositions. They're only going to talk about the covers." No matter how much time or work you put into your own pieces, critics are going to ignore them. That's because they don't actually know how to talk about music, period. They don't have the tools to talk about music on its own terms. They can only talk in terms of comparing music to other music. So, when you cover a piece, they can always compare it to the original or another version. But if it's an original piece, they don't know where to start. Critical language is completely impoverished when it comes to describing original music. They use the same handful of adjectives which really don't get you anywhere. They also get anxious about the original music and start to get hostile, so they keep saying things like "It's mathematical," about me." That's racism, actually.
I gave a speech last year to the Yale Asian American Alumni Reunion. In it, I described a pattern I've noticed in critical writing about me, which is this model minority discourse, in which they keep calling my music "cerebral" and "mathematical." Both are so at odds with my experience of making music for people. It just isn't how it feels when we do it in public. It's not how the audiences respond. It's not even how normal listeners respond, actually. The first thing critics think of when they describe my music is "Well, he's Asian, so I guess it's mathematical." Would they ever describe "Giant Steps" that way? The answer is no. They never would and never have. The same holds true for "Countdown." It's called "Countdown," yet it will never be described as mathematical. So, that's racism right there, too—the idea that Black people have no access to rigor or intellect, and that it's all just intuitive, unthought genius. That also has a corollary in that somebody like me doesn't belong here because he doesn't have access to the latter. All I'm supposed to have is my intellect and mathematical equations. I see this kind of pattern time and time again. So many reviews of Break Stuff describe the music as mathematical.
Is there an element of anti-intellectualism at work?
Well, that's certainly the case. To say that there's no thought, rigor or knowledge involved in the music is racism. Jazz is Black music. It came from brilliant, innovative geniuses who worked incredibly long hours, thought really hard, researched, and studied a lot of different kinds of music to arrive where they did. It didn't come from nowhere. So, that's the thing. People fail to acknowledge those things. I've worked with Steve Coleman, Butch Morris, Wadada Leo Smith, Roscoe Mitchell, George Lewis, and Amiri Baraka. They're all intellectuals. They're deep thinkers who are extremely rigorous with their process. That's something a lot of this critical language can't or won't touch.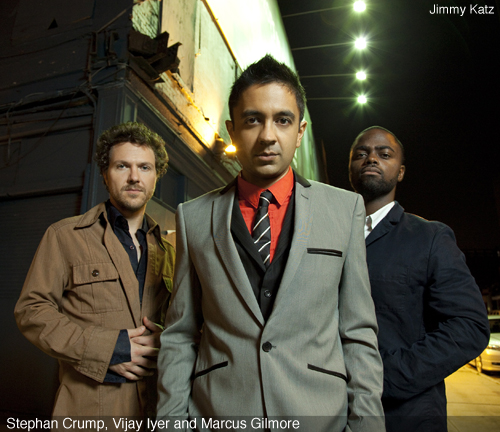 Describe what it's like to be a sideman in your band.
I hope it's pretty liberating, because I don't say that much to be honest. Everything adds up collectively. It's not about individual intention. There's an ensemble intelligence that emerges through collective action. We work through the details of the composition or arrangement and that takes its own time. We find a way to settle into it. The only way to do that is by playing. So, that's really what it is. There's not a lot of stipulating how to do something. I hope because of that it's a rewarding experience and I can somehow manage to keep a band together in which people get a lot of space and are featured pretty prominently. I'm not really interested in being too out front. That, to me, is not good music. It's hard for me to listen to a band in which the leader is too out front. It's a little oppressive. In the context of this music, what's called a solo is not a solo. It's always in relation to what the others are doing. It has to be heard more in that way. So, that's how it works for me. Everyone is featured constantly. My leadership tendencies really emerge in the sense of flow, since we don't use set lists. That's where my leadership makes a difference.
Tell me how you formulate the cadence of a show on the fly.
I start playing something and the band joins in and it turns into something. We have a repertoire that spans a dozen years, so there's always a lot of options, but the choices we make have to be about what feels right for now. I choose how to start, how to continue, how to create a segue, and how to end. I'm constantly assessing the overall shape of the performance as we go. So, there's this added level for me as we're playing which isn't just about the piece, but how it fits into the overall experience. Sometimes we'll play a concert and then I'll hear a recording of it and say "It didn't feel like that. That moment felt a lot longer than it actually was." That's because the experience is very different when you're inside of it. When you're in the audience, you just accept it all. When you're inside it, you're thinking "What's the right thing to do right now?" It feels like a much heavier moment or turning point for the musicians. There are a handful of moments like that over the course of a set—perhaps a dozen over the course of 90 minutes.
Rather than treat a concert as something that was executed flawlessly, it's more that there's no wrong answer when things happen. We've defined what it means to play together by playing together. There's no distinction between the theory and practice or between the concept of it and the doing of it. We kept trying to move forward and the music emerged out of what we did together. Because of that, there's a sort of weight that comes from that sense of assurance that nothing is wrong, because there isn't any way to be wrong. Whatever we do is the music. So, I have a sense of where I'm going and where the other musicians are going to meet me.
Reflect on your friendship and working partnership with Prashant Bhargava.
I knew Prashant for 15 years. We did a lot together and were pretty close. He was like a brother to me. A lot of people have said that about him. It wasn't just about work. It was a personal connection. That's why we were able to make art together. We were part of a journey together. I first met him in 1999 at CBGB and we had a lot of mutual friends. I was playing a gig with Imani Uzuri as part of a double bill with Saul Williams.
He really liked the music but was mystified in that he didn't understand how something that intense was coming from somebody like me who seemed, on the surface, so mild-mannered. He asked me "Where is all this tension in your music coming from?" He wanted to know what my struggle was. He came to a lot of our shows, as did his family. In 2008, when we played the Chicago Jazz Festival, they brought samosas. His mother is a legendary cook. The samosas knocked us all out and we would talk about them years later. [laughs] He ended up bonding with everyone in the band. He was connected independently to everyone, including Marcus Gilmore and Tyshawn Sorey.
We became friends and worked on a bunch of things. The first thing we did in a professional vein was the cover for my Panoptic Modes album. The photo and artwork for the album was a journey in and of itself. He was very particular. He had a very strong aesthetic and a deep sense of what he liked and didn't like. We also had a mutual heritage. Prashant wanted to be very up-to-the-minute with a cutting edge approach. So, the cover was very bold.
The next time we worked together was on Still Life with Commentator in 2006. He worked on the video that was projected during the shows. In 2011, when the opportunity to make Radhe Radhe came up, the first thing I thought about was working with Prashant. Our piece was flagrantly not about Stravinsky, but about us and where we were coming from. We decided to tell a very different story, exploring the Hindu festival of Holi, which also takes place in the spring. It was Prashant's idea to shoot it in India, rather than in the diaspora somewhere. He wanted to go to the source and began this very spiritual quest. The deeper he went, the deeper the experience resonated.
Describe what it was like to collaborate with Bhargava on Radhe Radhe.
The project went through several shifts. In the original version of the film, there was nobody playing Radhe. We did these close-ups of a small statue or likeness of Radha and lit them in different ways, adding subtle effects. We were conveying a sense of it being beyond stillness, embodying eternal contemplative energy, so the music then takes over in a different way because your attention is more drawn to that side. But Prashant felt it wasn't adequately reaching or expressing the fervent devotion and intensity of feeling that people experience in the region he shot the Holi footage. So, we tapped into the sensibility of Indian cinema in which gods and goddesses are portrayed with actors and actresses.
The Holi footage is very raucous, chaotic, devotional and sexual. There's this kind of intensity that's almost extreme. The characters embody these very different emotional and sensory extremes. He wanted to push that further and the statue wasn't really doing that. It was bringing the momentum to a halt. That's why he chose to shoot some scenes in a staged environment with Anna George playing the goddess.
As it went there, he pushed further with it. Prashant actually wanted the film to be much more sexually explicit, because he felt that's where these people were at. The songs the men are singing at the very end before they get beaten with sticks by women are very sexual songs. They're making these jerk-off motions with their hands and there's a playful quality to it. The film reflects different versions of joy and bliss and some of it has a sexual character to it. Of course, the myth it draws from encompassing Radha and Krishna itself is very erotic. It's always portrayed in literature and songs as quite erotic.
Still, I think Prashant knew there was a limit to how far he could go. During a cut he made before the final cut, I remember running back to him and saying "All of this is great, except this last sequence will get us killed." [laughs] He had to alter it to get it to the point where it's at now. It was really hard for him to tone it down because he felt so strongly about where he felt it was at. To shy away from the truth felt like it was a compromise of some kind to Prashant.
In the Radhe Radhe documentary, you said "The fate of the music is more in the hands of the listener than in the composer." Elaborate on that.
The very enterprise of being a composer or self-identifying as a composer with a capital C puts you in a lineage of other composers with a capital C. Radhe Radhe called on me to enter into some historical dialog with Stravinsky, who is a capital C composer. He saw himself as being part of a great lineage of European male geniuses who put music together in a very specific way. To be a composer is to be considered with fixity and value of what's on the page. You're literally invested in the way the work accrues. Royalties are generated through performances over years. The way a work becomes great or classic is because somehow a community of listeners and a particular superstructure of critics confer value on it. So, it means you're interesting as it relates to a political economy question that has nothing to do with the moment of musical experience.
We get confused as makers and players of music because records seem to occupy a similar space. They circulate in a similar way. There are classic recordings such as Kind of Blue. We treat it the same way we treat Rite of Spring. They even have the same syllabic stress. You can treat them as analogs of great works of music. But if you listen to Kind of Blue, it's a document of process. It could very easily have gone a different way. What's valuable about it is that it is process. It appeals because you hear the process unfolding. You hear its fragility, contingency and interactivity. There's interdependence between the musicians. It all combines to make it speak. That's not something that's inherent to the composerly tradition of Western music. So, that's what I was getting at. When you enter into that conversation and start painting yourself as a composer with your music published and commissioned, there are ramifications. I've found myself somehow stumbling into that way of doing music as well. I get commissioned to write for different ensembles. But when I'm in that space, it takes me away from the moment of performance and what it means to share music in a moment in time with an audience in a space that has specificity, which is something that will always have a lot of resonance for me.
Let's wrap up with some closing thoughts on Bhargava and what he meant to you.
Prashant felt very deeply. He was very empathetic and observant. He really heard people and saw them as they are. He saw something beautiful in everybody. He had a leadership quality, but it wasn't in the sense of wanting to be in charge of things. He wanted to instigate. He was a force in the community that would galvanize people and make them feel like they were part of something larger than themselves. His work was created out of love for others. He connected with people wherever he went. He touched so many lives. Everyone who knew him fell in love with him, one way or another. It's not an exaggeration to say that. He wasn't a perfect person, but because of his vulnerabilities, enthusiasm, radiance, and brilliance, he really inspired people. I feel fortunate I got to be a part of his life.