Jakko Jakszyk
Giving Voice
by Anil Prasad
Copyright © 2019 Anil Prasad.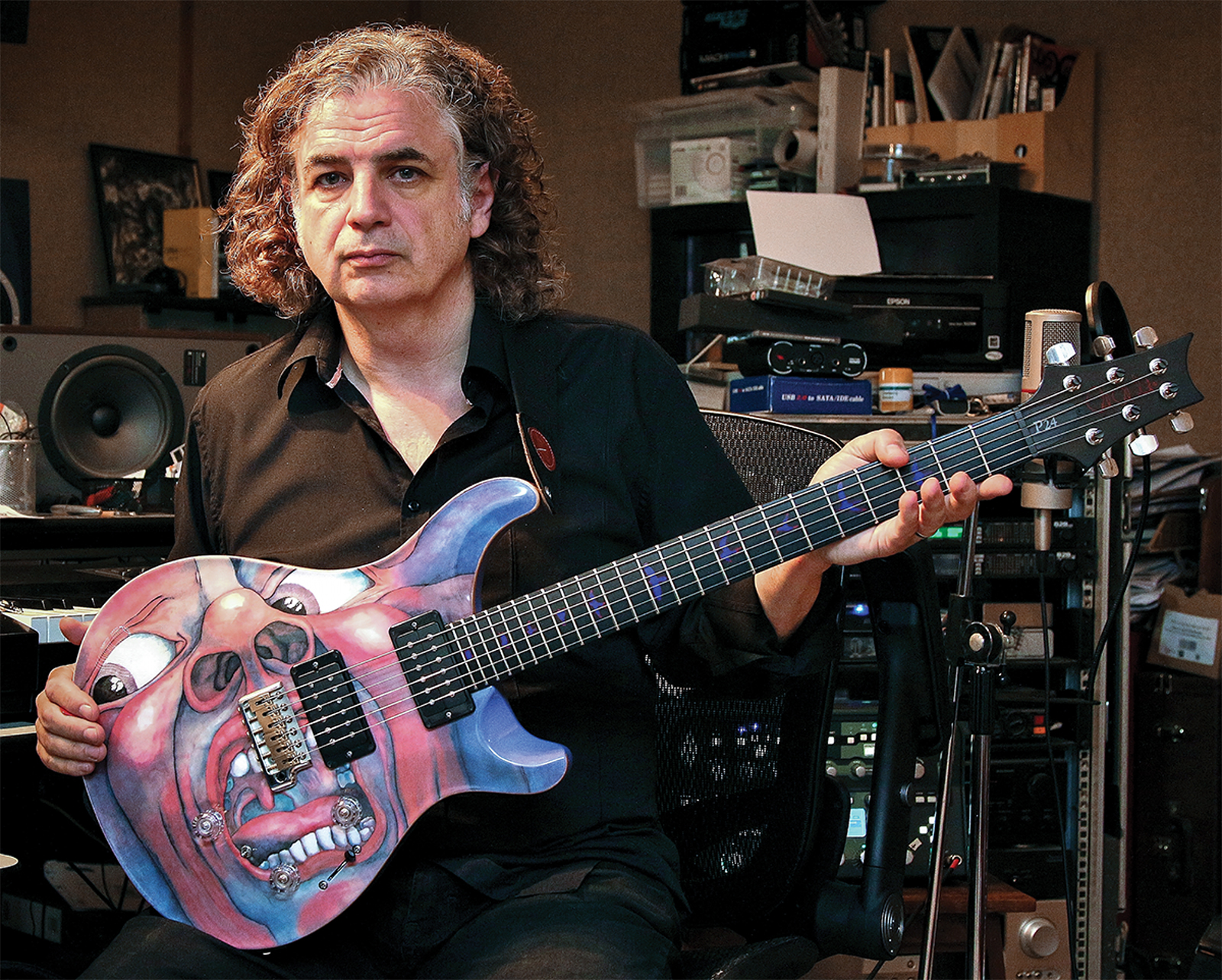 Jakko Jakszyk's journey to becoming King Crimson's frontman in 2013 is a fascinating one criss-crossing the worlds of music, production, acting, radio documentaries, and comedy. He's a man of epic industry tales and experiences far beyond the art-rock realm he's most associated with. Some of those fascinating stories involve the likes of Whitney Houston, Michael Jackson, The Kinks, and Jermaine Stewart.
But the work the singer, guitarist and composer has pursued as a solo artist is the most poignant and meaningful for him. His last two albums, 1997's The Road to Ballina and 2007's The Bruised Romantic Glee Club, explore highly-personal narratives. The former, a music and spoken word effort, examines his life as an adopted child and the search for his birth mother. The latter involves topics including his adopted mother's struggle with Alzheimer's, the passing of his parents, and how the loss impacted him and his family. Musically, it's infused with introspective ballads, insrumentals and melodic songcraft.
Given Jakszyk's presence in King Crimson, it might surprise some that his early solo career was more focused on the pop and mainstream rock worlds. During the '80s, he recorded three albums, including 1982's Silesia and two others that were shelved due to label issues.
In 1988, fed up with music industry politics, Jakszyk pursued a world-fusion project called Dizrhythmia that released an acclaimed, self-titled album. It featured drummer Gavin Harrison, bassist Danny Thompson, sarangi master Sultan Khan, and singer and percussionist Pandit Dinesh. By the time the '90s emerged, Jakszyk was immersed in more uncompromising work, including 1994's Kingdom of Dust, his EP with Richard Barbieri, Mick Karn and Steve Jansen, as well as 1995's Mustard Gas and Roses, a solo album that bridged the pop and eclectic rock realms.
Jakszyk's path to King Crimson began in 2002 when he co-founded the 21st Century Schizoid Band, a group involving ex-King Crimson members that was active until 2005. It focused on performing King Crimson's '60s and '70s output and released several live recordings. Robert Fripp endorsed the band and took an interest in its work.
Jakszyk, Fripp and saxophonist Mel Collins collaborated to record 2011's A Scarcity of Miracles, under the name Jakszyk, Fripp & Collins. Notably, the album also featured Gavin Harrison and bassist and Stick player Tony Levin. All five went on to take part in a relaunched King Crimson in 2013, along with drummers Bill Rieflin and Pat Mastelotto. This incarnation of the group has released several live albums, including its most recent recording, 2018's Meltdown: Live in Mexico. King Crimson is celebrating its 50th anniversary in 2019, with 50 shows across the world.
When Jakszyk isn't working on his own music or with King Crimson, he's often remixing classic rock albums into surround sound. Emerson Lake and Palmer's Brain Salad Surgery and Trilogy, Jethro Tull's Minstrel in the Gallery, Chris Squire's Fish Out of Water, King Crimson's Thrak, and the Bruford jazz-rock back catalog are among his key projects to date.
Jakszyk spoke to Innerviews for six hours across an eight-week period, yielding this insightful and entertaining career retrospective.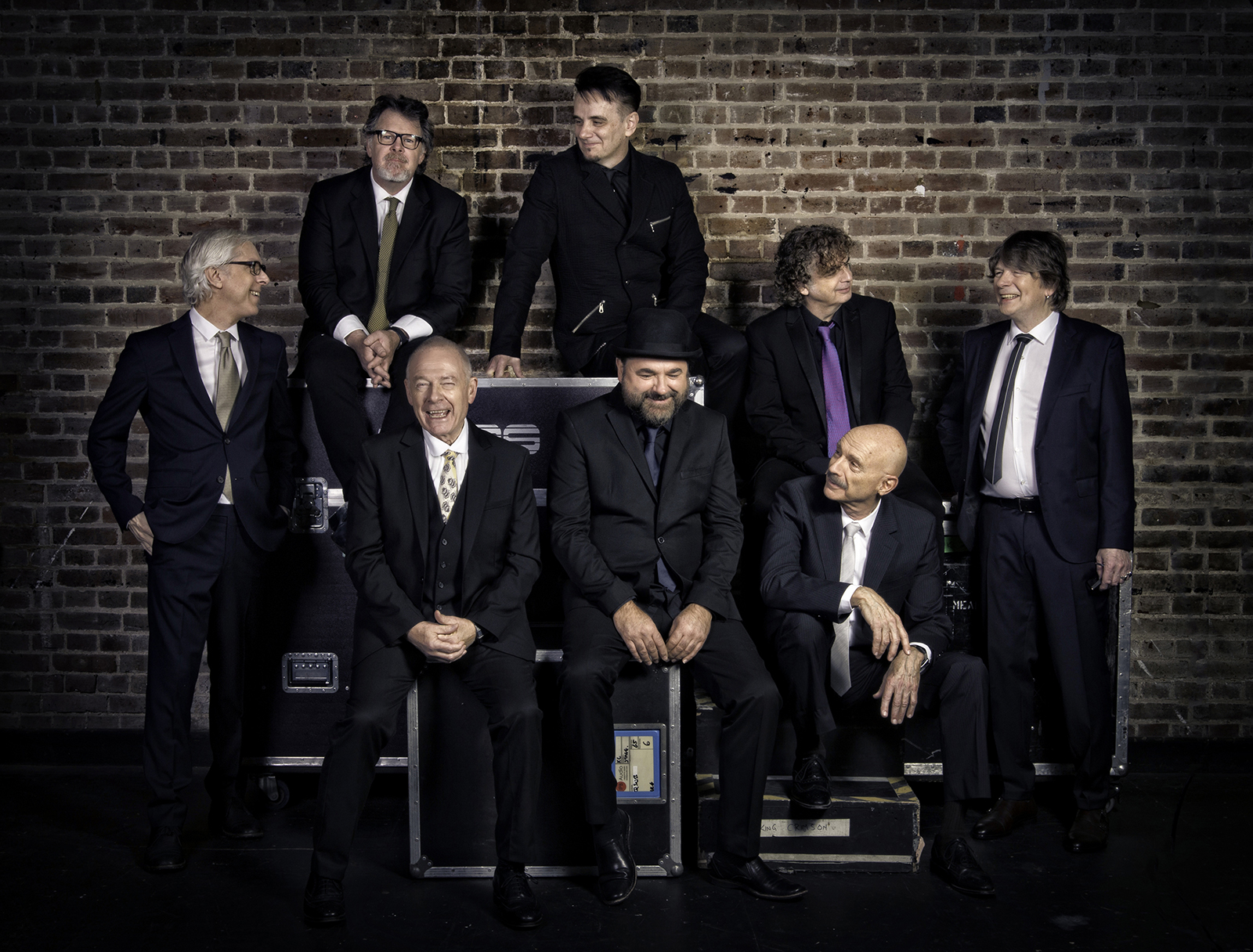 King Crimson, 2019: Bill Rieflin, Pat Mastelotto, Robert Fripp, Gavin Harrison, Jeremy Stacey, Jakko Jakszyk, Tony Levin, and Mel Collins | Photo: Dean Stockings
We live in extreme and difficult times. Do you feel music is uniquely qualified for connecting and elevating people during this era?
I think there have been eras I've lived through in which music and the surrounding movement that the music came from had a sense of optimism and change that I'm not sure it does now. The plus side of that is that music's become less tribal, but the downside is that it probably has less of a unifying effect. The downside of the democratization of information and news is that it's given voice to some pretty unpleasant people.
I have a very complicated personal background. I was adopted as a child and I eventually found my real mother living in Bearden, Arkansas, where I have three half-brothers. Compared to me, they lean very much to the right, politically. I dislike hate speech, particularly right-wing racists who have been given legitimacy to express their views in a way that normally they wouldn't. The Internet is an unfettered, largely unpoliced thing, and it becomes a self-fulfilling prophecy too because of the self-optimizing algorithms that match content to whatever your bias is. That's all you start to see and then that becomes the news to you and becomes your reality. I think that's probably the basis of the whole fake news thing—algorithms used to gauge what you're interested in and serve up content targeted at your biases. Look at Fox News. It's horrendous. And we have the same thing in England.
The campaigning for Britain leaving the E.U. bordered quite heavily on the racist and the xenophobic. Two days after the Brexit vote in England, a place called The Polish Center near the Hammersmith Apollo where my adoptive father and I used to go for lunch and dinner, was trashed and full of racist graffiti. I wrote a post on Facebook linking a story from The Guardian about the event and stating how sad I was because I had a real nostalgia for the place, because it reminded me of my father. All of my Facebook friends were supportive and eventually people started sharing the story with people I have no attachment to. In the next 10 days, 20 messages or more arrived and they all said the same thing: "We won. You lost. Why don't you fuck off home?"
Now, I'm born in London to an Irish mother, but because I was adopted by a Polish man, I have this Polish surname, and that was sufficient for 20-odd people to write abusively to me. I think these political events have legitimized that kind of fascist thinking.
You've asked an incredibly complicated question. Musicians used to have something to say about these things in their music. Music used to protest and have a rebellious component against this stuff, especially in the late '60s and early '70s. Even the jazz of the '50s was commenting on these things. The media also existed to expose those ideas and share them, and that has changed so significantly. Back in the '60s, those kinds of positive movements would cross over. Everybody would hear about them. People had sympathy for the ideas and would get behind them and support them.
That's not the way media works now, does it? Those positive messages are not getting on any kind of mainstream media. The self-optimizing algorithms deliver stuff that leans towards people's innate political sympathies.
My fear, in the event that Donald Trump is impeached, is that a kind of severe backlash from his base will happen. I could almost imagine a race war. The kind of stuff Trump supporters print and believe in is really shocking. I come from a pretty liberal background. I live in and around London and always have done so. I'm involved in the theater and artistic pursuits. So, I have a broad-minded approach to life and people.
There's a unifying thing in that King Crimson can bring 3,000-4,000 people together during a three-hour show who may have many disparate thoughts and opinions. But who knows what's going on in the heads of those people out there? I certainly don't. The last tour we did in America felt like we visited a country divided in a way it wasn't before. There's a big anti-liberal lobby. A lot of the civil liberties that have been fought for by civil rights organizations are being questioned in a way they haven't been for years. During that tour, I was shocked by facing the antithesis of my own upbringing and belief system.
I visited Los Angeles on the same trip and ended up at an all-Black comedy club in Inglewood. That was an eye-opener too. I saw four or five acts, and every single one of them, at some point in their set, had a whole bit about Koreans or Mexicans. I thought "Hello? Have we not learned anything?" Even with the civil rights movement of the '60s, there's still this attitude that says "Let's give whoever's below us on the racial food chain a kicking." I found that quite shocking.
How does King Crimson's Meltdown release reflect the distance traveled for you since you joined the band?
When I first was asked to join the group, it was a culmination of all sorts of things musically and ambition-wise. It was difficult not to acknowledge the 13-year-old boy in me who'd seen the band at Watford Town Hall back in 1971. In the '80s, I looked back somewhat cynically at that moment and thought of it as a kind of rather over-romanticized ideal that I'd witnessed this group and experienced some magic that had somehow changed my life. Then I got to the age I am now and you know what? It really did change my life and here I am in the midst of that music. That music that made me want to become a professional musician in the first place. It was difficult to escape the shadow of that experience when I first joined King Crimson. It was also difficult to escape the shadow of the enormity of the task I had decided to take on. I remember Robert saying to me at one point, "Be careful what you wish for." [laughs]
And of course, if I chose to go online at that time, I was also dealing with what I to refer to as the militant wing of the Adrian Belew fan club. All these years later that's kind of disappeared. Now, this is what I do. I am that guy. So, I do think a bit differently. I feel more at ease with the fact that this is what I do, and this is who I am. I don't feel like I need to justify it anymore. I feel much more a part of it.
The five shows we did in Mexico City from which Meltdown came from were extraordinary. I've never witnessed an audience response like that, let alone be at the receiving end of it. It was absolutely incredible. They were so vociferous. They were so full of joy. They were so euphoric and pleased that we were there playing that music. When Robert started playing the melody at the beginning of "Starless," you could feel this roar as they recognized it. The difference was that they reacted like that every time he played it, not just the first time. So, those gigs were amazing, and it did feel significant.
That experience seems to have repeated itself when we did two nights at the ancient amphitheater in Pompeii in 2018. That was another moment I'll never forget. It was an extraordinary place to be. We walked down a 2,000-year-old stone tunnel into this iconic venue under a beautiful, cloudless, moonlit sky with a crowd going nuts. There were a lot of younger people and women there. Who knows the exact reasons for that, but this version of the band is very popular. We're selling a lot of tickets. On the 50th anniversary tour, we're playing some really big places. There's real momentum. Our live version of "Starless" is on YouTube with more than 7 million views. So, something's going on.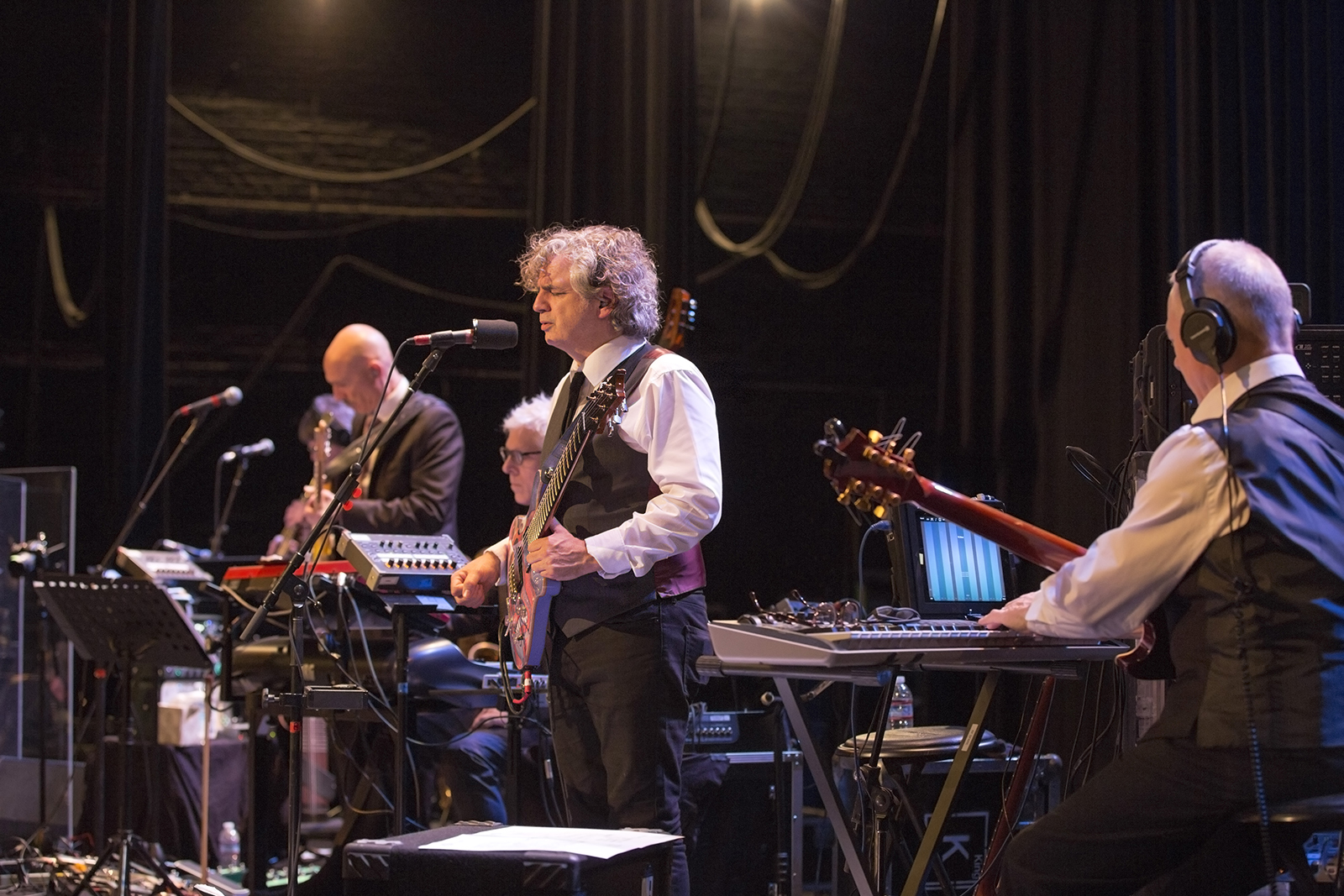 King Crimson live in Seattle, 2017: Mel Collins, Tony Levin, Bill Rieflin, Jakko Jakszyk, and Robert Fripp | Photo: Spike Mafford
Describe your influence on the direction of King Crimson.
I can give voice to material that hasn't been played in a long time or indeed ever, and I think if it sounds like it has authenticity, which I'd like to think it does, it's because I'm not trying to sing like the guys that sang it originally. But I was young enough that when I first heard that music, they influenced how I sang. So, there's an organic thing that's going on in that I sing it like me, but I was so influenced by those guys that I hope what I do fits. The goal is to have the music sound authentic, rather than it being a cover version of the stuff. I also influence the band by writing material with Robert and suggesting we choose certain things to play from the back catalog.
Part of the joy of this particular version of the band is that the drummers being down in front democratizes the whole thing. It spins that whole clichéd rock idea around of the lead singer's down the front and the rest of the guys are backing him. The band is more of a mini-orchestra in which the focus changes depending on who's doing what, and they're all supporting each other.
Historically, King Crimson is perceived as a band in which its members defer to Fripp. What's the actuality of the situation today?
Bill Bruford once described Robert as a combination of Gandhi and Stalin. [laughs] I mention that because it makes me laugh. The people who have described Robert as that are describing their experience when they were in the group. What they experienced relates to what they were expecting. It has something to do with that. I wasn't there for those lineups and I don't know what those experiences were. But my experience of Robert is he's definitely the custodian of the brand or the idea, and I think he chooses people to be in the group that he feels will best bring it to life. But actually, when you're in the midst of it, he's not really dictatorial. Before I joined, I assumed it would be much like some of the things I've read and heard about Frank Zappa, but actually he's not like that at all. He will on occasion pull you to one side and suggest you do something or not do something, but on the whole, he expects you to know what the right decision is. He's chosen people who he thinks will give life to this music and do it in the right way.
Robert writes the set lists and ultimately has the main "yay" or "nay" on some issues, but in a musical sense, he lets the musicians be who they are. And when he does suggest or request something, it's pretty subtle, and it's not very frequent.
I've read what previous band members have said about their time in King Crimson, and I think a lot of the stuff that's said says more about the people saying it than it does about Robert. Now, listen, I wasn't there. Maybe I'm fortunate in that I'm experiencing working with Robert in a time of his life where he's in a different place and he's responding differently. Robert has said "This is the first version of King Crimson where there isn't at least one member who actively resents me."
Chris Squire once told me he felt the tension in Yes was responsible for some of the most important music that band made. What's your perspective on that idea?
I've worked with people who like the idea of creativity through conflict, but I find that conflict doesn't really foster creativity. I'm not sure anger and resentment fosters a unified front that you can then play collectively and supportively. I've not personally experienced that. My public response is "Yeah, Robert is a complete pain in the arse. He's a nightmare to work with." [laughs] I say that because Robert's taken me to one side and said "Stop saying such nice things about me. It's ruining my reputation." [laughs]
What influences the group's choice of repertoire today?
We play three hours every night, but the repertoire's even bigger. We now have a repertoire of around 45-60 tunes. Robert chooses a different set each night. What dictates it? Little conversations. Somebody might suggest something and other people might say, "Oh yeah, I quite fancy doing that." And Robert will go, "Okay, well let's try that." I know Robert was very keen to do "Larks' Tongues in Aspic, Part One" on the last tour and that's quite tricky. Gavin provided an incredibly detailed arrangement for three drummers for it. At some point, various members of the band have suggested something, and we've ended up trying it, and invariably retaining it as part of that larger repertoire.
Sometimes you're taken out of your comfort zone. Performing "Indiscipline" is an example of that. Describe the process of creating your own voice for that song.
Robert suggested we do it. I'm comfortable singing the other stuff because it's a part of part of my DNA. But as I said earlier, I've had a degree of public admonishment from the militant wing of the Adrian Belew fan club, so that's obviously in the back of my head. And of course, the Adrian thing is very unique and specific to him. It's also very American. I didn't want to do a facsimile or copy of what he did. It had to come from me. At one point, Robert suggested I rewrite the words and make them kind of English and relevant to me. Now, putting aside the publishing nightmare that might have engendered, I thought about it and said "No, I'm not sure about that." I went through the song and said "You know what? There's music here and there are lyrics. And because Adrian wasn't singing them doesn't mean I can't. So, why don't I write a melody that will be reflective of me and then I'll be able to sing it as me?" And so, I came up with this idea of singing it. I think the response was split to how I perform it. People seem to like it now, but they didn't when I first did it. The band were really supportive of it and thought it was a really good approach to take. It was tricky doing it. It required a degree of balls to perform it when we first started doing it.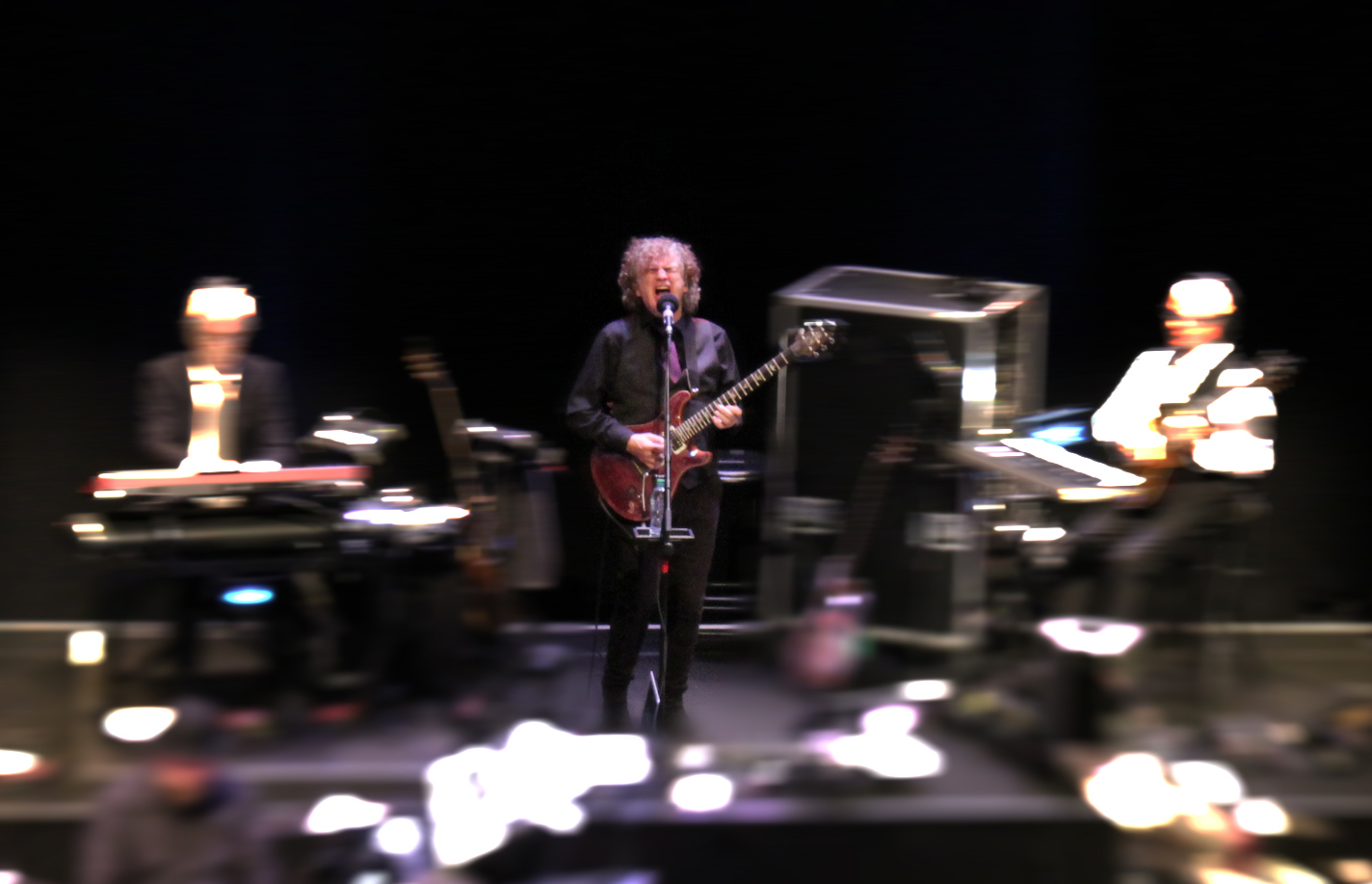 Photo: David Singleton
I'm tempted to use the headline "A degree of balls" for this piece.
[laughs] Yeah, well, there's several degrees of balls throughout. For instance, I have to play a fair amount of Robert's parts, because he changed his tuning in the '80s, and I'm still playing in standard tuning. That means that he either can't or it's difficult to play some of those parts in the new tuning, particularly if there are open strings.
How do you and Fripp work out guitar parts together?
We normally sit in a room opposite each other and he will say to me "Can you take this part, because it's ergonomically difficult for me to play?" What he means is what used to be three-frets distance, in new standard tuning is now six-frets difference. I look back now at that first tour I did and think, "God, no wonder I was petrified." I had to play all the cross-pick lines in "Larks' Tongues in Aspic, Part One." I remember when he said, "Well, you can play them. You're playing in standard tuning." I thought, "I can't do that. Why did I say I could do this job?" [laughs] Now, it's just part of what I do, but then it felt very weird.
What are some of the other creative challenges you face in King Crimson?
There are moments in which I'm very exposed. Even though there's eight of us, there are moments where it's just me on my own. Sometimes, that takes getting used to. I remember we were playing in Canada four years ago and Robert said "Jakko, do you know 'Peace?'" I said, "Yeah, from In the Wake of Poseidon." He said, "Well mate, I think we might have a look at that in a soundcheck." I said, "Okay." So, he was toying with the idea of doing a different arrangement and maybe using some keyboards. Then he said, "Hmm. I'm not sure that works. We'll think about it some more."
So, I went back to the hotel room, and the next day he phoned me and said, "Jakko, I've been thinking about this. I think it works best when it's just guitar and voice." I said, "Right, so the kind of quasi-classical guitar thing, with the voice over the top?" He said, "Yeah." I said, "And you'll be playing that?" He said, "No, I can't play those parts in the new tuning." I said, "So, that means it's just me then?" He said, "Yes." That was a pretty scary moment. We did it at soundcheck, and it wasn't great, because I wasn't really on top of it. I'd kind of learned the guitar part from the solo version, and then I realized that the bit under the vocal at the end is slightly different. He said, "Well, don't worry. We've got plenty of time. We've got a week off in Japan before the Japan tour starts." I got to the next gig and it was in the set list, so I had to go and do it. [laughs]
Then we got to Japan and we did it a couple of times, and I'm slowly getting on top of it. Then Robert said, "You know what? Wouldn't it be marvelous if you sang the first verse in Japanese?" I thought, "Oh, for fuck's sake!" So, I went away in a corner with this very nice woman who was working with the promoter, and we came up with a translation, which I had to learn phonetically, of course. So, I started singing it in Japanese, and then he said, "I think it'd be marvelous to start the whole show with this." I thought, "You're joking? Me standing in front of 3,000 people, with seven band mates around me, and I'm just doing it on my own?"
So, those are examples of challenges, but they're challenges that I've come through reasonably unscathed, and of course, they make you stronger. They also make you less fearful of anything else that's required of you in the future.
Mastelotto mentioned to me he feels it's unlikely King Crimson will make a conventional studio album again. His take was that any new material will get released as live recordings. What's your view?
There are several answers to this. I keep reading on some forums "There's no new music. The previous Crimson always played new music." I'm thinking, "Wait a minute. We're currently playing three or four brand new songs, and loads of instrumentals and drum pieces. There's over an album's worth of new material that we frequently play." I don't know why some people can't hear that. Maybe those people will only be happy if there's two-and-a-half hours of new material, and half-an-hour of older stuff. The previous incarnation of the band in 2008 didn't play any new material at all, though. So, I'm often confused by expectations.
What I would say about the studio album thing is we no longer live in that world. Historically, you went on tour to promote your album. Well, that world doesn't exist anymore. You tour live, because that's where the money is. An album has become merely a kind of token—an artifact or memento of the show, rather than the reason for doing the show in the first place.
I think the world has flipped. The potential costs of going into a studio and recording in that fashion, and the amount of sales that we might get as a result is a whole different equation now. All of this doesn't mean that we can't do a studio album. I think that's still a possibility. There's lots of music that's been written that we haven't tried in a rehearsal room, or added to the set. There is quite a lot of stuff that I've co-written with Robert, and ideas that exist as demos.
Robert and I had this bit of an in joke where I would write some stuff for Crimson and demo it up with various Crimson members and then present it to him, and to some of it he would say, "This is fantastic, let's do this live," and we do three of those live, currently. For some of them, he says, "I think this track's marvelous, Jakko. It'll be an ideal track for your next solo record." [laughs] That's code for "No, we're not playing this with Crimson, mate."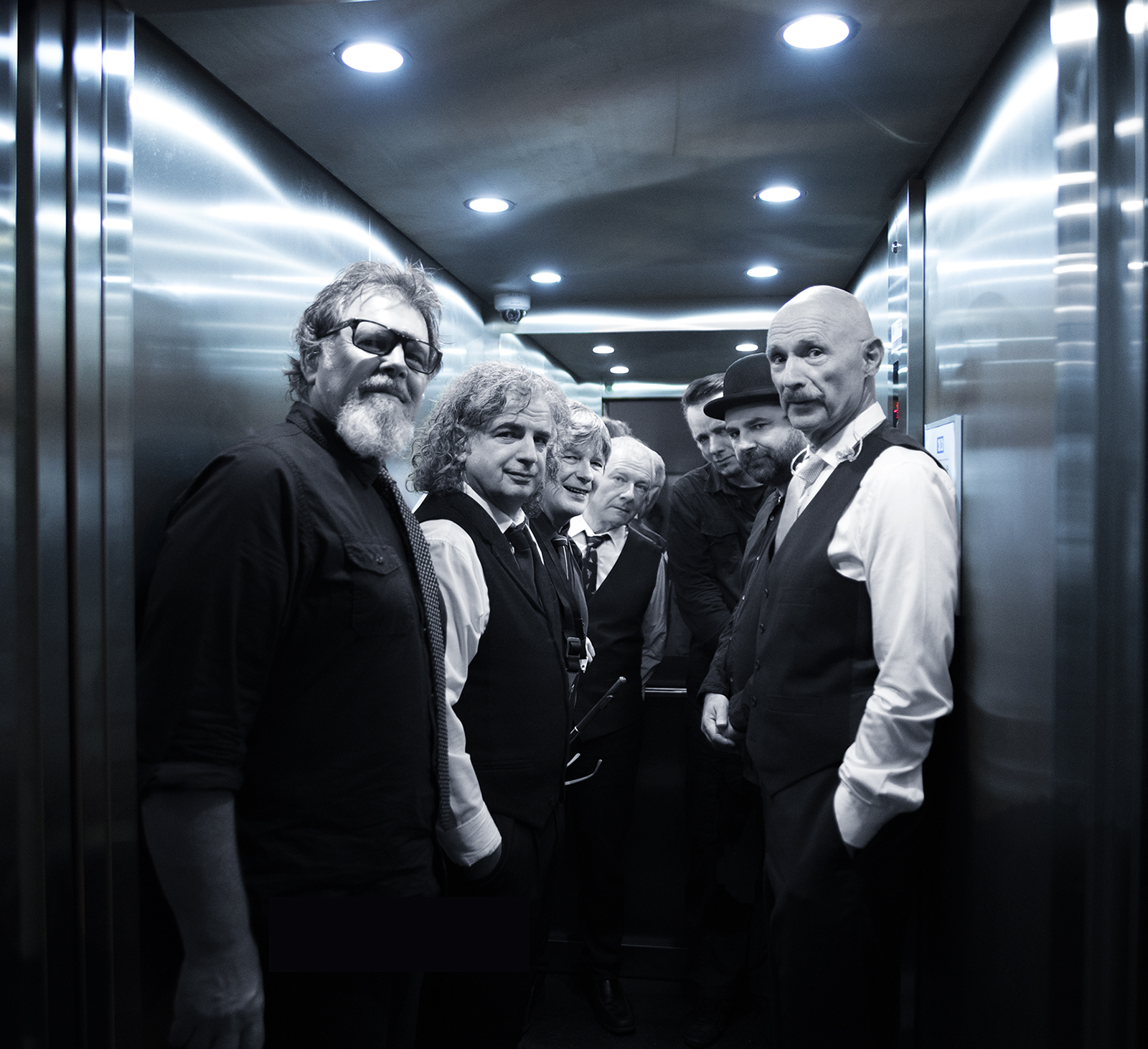 King Crimson, 2016: Pat Mastelotto, Jakko Jakszyk, Mel Collins, Robert Fripp, Gavin Harrison, Jeremy Stacey, and Tony Levin | Photo: Dave Salt
You've intimated there's a weight of expectation on your shoulders, given the gravitas of previous King Crimson frontmen. How have you transcended that?
I've been doing it long enough that I'm doing it like me. I'm not consciously trying to imitate anybody. I'm being me, within this context. I feel pretty comfortable doing that now. I think the original backlash against me has either dissipated or it's changed. Perhaps those guys can't be arsed to write all that stuff anymore. There's a handful of guys who've got it in for me, and I guess they always will—whatever their real names are. You don't know, do you? That always makes me laugh. They've always got some pseudonym that they do it under.
When you're standing in Pompeii, at the Cavea in the open skies of Rome, or the Piazza in Lucca, and there are 6,000 people going nuts, it seems disproportionate to give more weight to a half-dozen people tapping away on the Internet in America somewhere. As I said, this is a popular version of the band. We're selling more tickets than other versions of the band have. Those people might not like that, but that is the truth. I'm not saying I'm responsible for that, but there has to be some reason, and I'm guessing reevaluating the entirety of the back catalog might be one of them. Maybe, younger people who have discovered the group are able to come out and see us playing that material that they may have recently discovered. Maybe previous Crimson fans who weren't as fond of the later versions of the band are coming back because they know that some of that other material is being accessed as well.
Reflect on your time as part of the 21st Century Schizoid Band.
Schizoid Band happened because King Crimson were putting together a launch in 1997 for a box set of recordings by the original group called Epitaph. At that launch at the Intercontinental Hotel in London, Robert mentioned the idea of putting together, if not the original band, a version of it, and doing a short tour to co-promote the box set and maybe film it. But Greg Lake wasn't going to do it. I think John Wetton was going to do it. Then, I think it was Ian McDonald who said he didn't want to do it if Greg wasn't going to do it, and so then it all fell to bits.
The idea was for ex-Crimson members to play material that the then current Crimsons weren't playing. I think that's the difference, you know. There was a whole repertoire of music that the '80s version of Crimson did not play at all. Nobody was playing that music live.
I knew Pete Sinfield because Pete had become a successful pop lyricist. I'd accidentally written some songs that were very successful, and publishers, like filmmakers, delude themselves that if you get someone that's been successful in one field and stick him together with somebody else who's been successful, that in itself will breed something that's even more successful. It seldom works, obviously. So, I met Peter under those auspices, with a view to working with him. I liked him. He was humorous. He was a bon vivant and great company.
So, when this other idea with Greg Lake or John Wetton kind of fell to bits, there was still this idea of a band playing this material, and Pete said, "I know a guy that loves this stuff. He's loved it since he was a kid. He can play the guitar parts and is a singer." So, we rehearsed for three weeks—a version of Schizoid Band with the Giles brothers, Ian McDonald, Mel Collins, and myself.
At the end of rehearsals one evening, the phone rang, and it was Robert Fripp, who I'd never spoken to. He had been this iconic figure of my youth and a childhood hero. So, I've got Robert on the phone, which is just surreal, and mad, and he said, "Hope you don't mind me calling. I was just interested in how rehearsals are going." I said, "Do you want the honest truth?" He said, "Yes, please." I said, "It's been three-and-a-half of the most unpleasant weeks that I've ever spent in the music industry." Robert laughed and said "Yes, I thought that might be the case." We kind of bonded and he became a kind of personal Crimson counselor, to get me through it all.
Why was it miserable?
It was the attitude of some of the individuals in the band. It was very difficult. Mel Collins and I bonded because Mel was having problems as well. I guess a lot of the personality things that happened with the original lineup started to happen again, because that's what those people are like. It was really grim, to the point where I very nearly pulled out of doing it altogether. But I'd invested so much of my own money in it and I would never have got it back. So, I couldn't really afford to do that.
The opposite has been true of being in Crimson. It's been a joy and everybody's been very nice and supportive. It feels very unified. Everybody's there for the music. There's a lack of ego. The experience is incredibly different.
Members of King Crimson are now in their seventies. How does that fact in and of itself influence the future of the band?
I know that when we finished the last tour in 2018, Robert was talking about a kind of finite aspect to it, but then he dismissed that. At the end of each tour segment, we get together in the production room and have some champagne, and Robert talks to us. He did at one point have a date in his head beyond which he didn't think it would go. But then he said, "Listen, this group seems to be getting more and more popular, so I say, let's just keep going." So, that's all I know. There are already plans beyond the 50th anniversary tour. Whether they happen or not, who knows? But as far as I'm aware, it is an ongoing thing. Of course, people are not getting any younger, and that in itself might be the reason it stops. Right now, Robert seems to be enjoying himself enormously. I think Robert feels like we are escaping that underground, prog-rock ghetto to the point where that label may not have the same resonance as it once did.
What does the band's 50th anniversary mean to you?
To me personally, it's an extraordinary thing that the band still exists, and that the music's still being played. I'm amazed at how some of the oldest music stands up to the most recent music. In three hours, audiences witness and hear music of varied textures and dynamics, yet it's still all part of the same group, and has the same kind of sensibility. So, it's an achievement. It's an extraordinary marker for me, having been a fan since the beginning of it, and finding myself in it at the end. Yeah, it's amazing.
Tell me about Bill Bruford and Dave Stewart coming to see your early band 64 Spoons play, and the subsequent intrigue that emerged.
I was an actor as a child. I was in the National Youth Theatre. I was also a frequent member of a more local youth theater in Watford, Hertfordshire. In 1976, there was a new girl who joined the theater. We got chatting to her and she told us that a cousin of hers was going out with Dave Stewart. Now, this meant nothing to the vast majority of people in that theater group, but to me and my mate, we thought he was rock royalty. We were Hatfield and the North fans.
She was going to a gig at the Queen Elizabeth Hall that Dave was doing with his new band, National Health. I'd already seen them somewhere else, I think. So, we all traipsed down to see National Health and went with her. When the gig ended, we were with her, so we were able to get backstage. The day before, I'd done my very first gig with the band I had, called 64 Spoons. It was with incredible naïveté that I approached Dave and gave him a cassette of our band. Dave, to his credit, took the cassette away and listened to it, and rather liked it, and kept in touch with me.
A year or so later, Hatfield had split and Dave had joined Bruford. He came to a 64 Spoons gig at The Marquee with Bill. So, we met them afterwards and we got chatting, and then, perhaps a year later, Dave invited me down to the Bruford rehearsal room in Clerkenwell in London. I kind of played a bit, and we jammed. There were three of us: Dave, Bill and myself. I think they'd finished a tour and they were talking about new music. I think there might have been an idea of me being a vocalist as well. I don't know. But then Bill went off to do Discipline, which became King Crimson. Dave wanted to keep going, so he formed a group called Dave Stewart's Rapid Eye Movement, with Pip Pyle, who'd been in Hatfield and National Health, and me. So, we ended up touring around Europe, doing a set that comprised of Hatfield and National Health music, new things that Dave had written, and some things that I'd written.
What was it like for you to be suddenly thrust into a trio rehearsal with Bruford and Stewart?
The arrogance of youth is probably what got me through it. I was thinking, "Yeah, of course this is the next step." [laughs] But yeah, I was amazed. These were two of my childhood heroes and here I am in a room with them. There's a bit of a theme developing to all this, isn't there? I was thrilled that Dave saw something in me that he felt deserved encouragement. He continued to do so after that band, and then he produced some of my stuff, and I worked on his albums.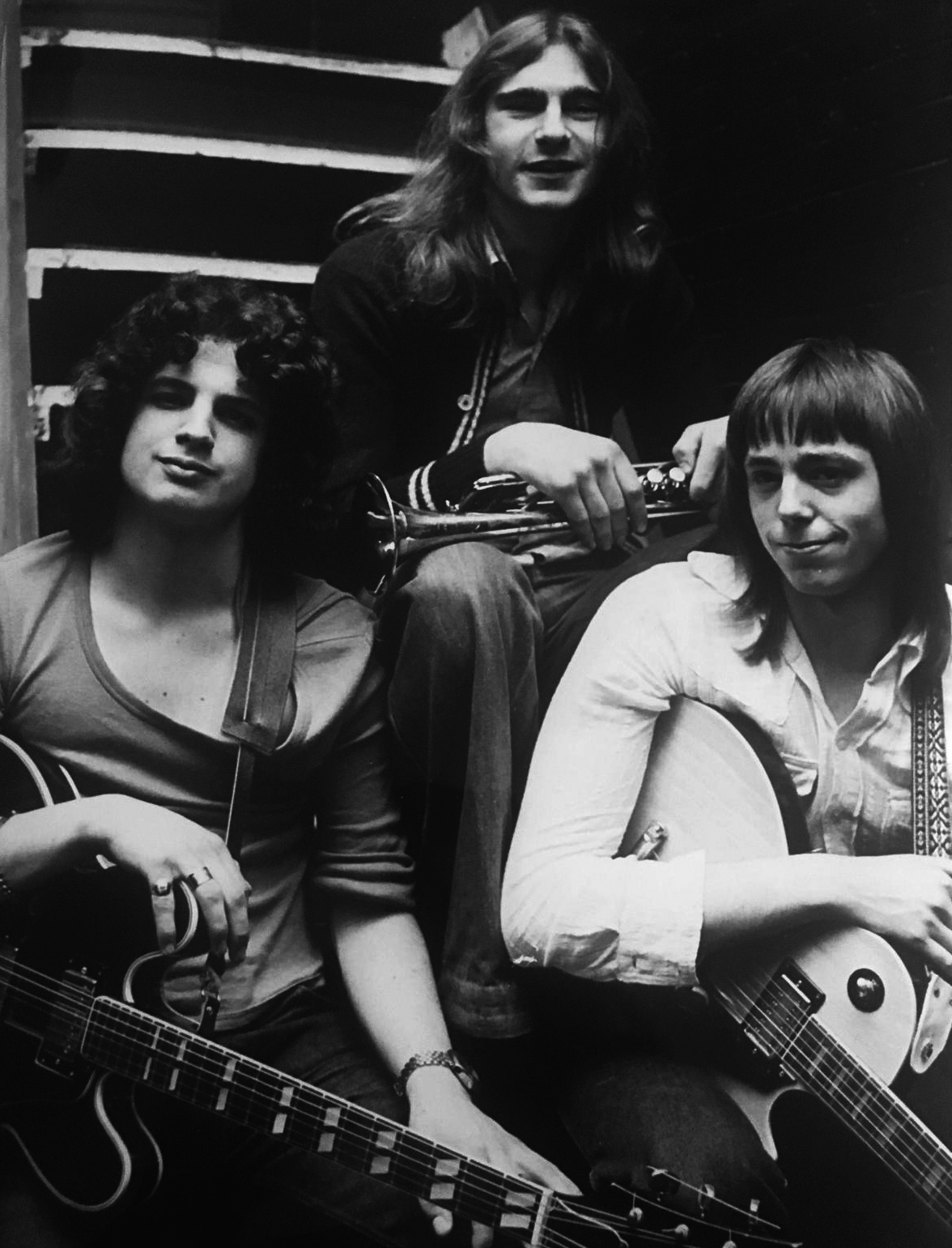 Soon After, May 1975: Jakko Jakszyk, Ted Emmett and Keith Deal
Encapsulate the 64 Spoons journey for me.
Back in the '70s, Melody Maker carried a lot of weight. Long before the likes of American Idol, Melody Maker used to hold the National Folk-Rock Competition. At the tender age of 15, I had a band called Soon After and I entered us into this competition. When it started, the band was a five-piece, but by the time the date for the audition arrived in the post, I had annoyed the rest of the other members of the band, who were all much older than me, to the point where they'd all left, apart from the guitarist. So, suddenly we were a duo. I'd just left school and I remember taking a part-time job in a record shop, and a relief manager turned up one day, who was only a year older than me. He played the trumpet. I asked him if he would join us, because we had this audition in 10 days' time.
We did this competition with Soon After, that was now reduced to two lead guitars and a trumpet. I mean, it sounds preposterous, doesn't it? But we won that heat and we beat all the local groups, much to their annoyance. And then we won another heat. Then we won the semi-final and got to the final, which was at the Roundhouse. We came third, and then that's kind of what started my career. So, we were on the road, we had an agent and we were touring. Then I left that band and joined another band called Synthesis, and we entered the competition the next year. On the bill was a band called 64 Spoons. I thought, "A band called 64 Spoons has to be seen." [laughs] They were amazing. They had incredibly inventive compositions, amazingly well played by these young guys.
I got to know them and eventually I became a member. I kind of took them under my wing and became the frontman and lead singer. We gigged. We did the London circuit and toured around the country. We were just starting to break through when punk happened. I remember we were headlining at University College Union. I was warming up, I had my guitar plugged in, and I was mucking about. I knew that the support band that evening was one of these new-fangled punk groups we'd heard about that came from Brighton.
I was playing away and suddenly became aware of somebody standing too close to me. I turned around and right in my face was this guy with this unbelievably spikey hair staring straight at me rather aggressively and chewing gum quite heavily. He started talking to the drummer, who was on the floor, dragging these drums in and said, "Get this bloke." His mate said "What about him?" He said "He can play the guitar, really well. What a wanker." At that moment, everything I ever believed in was suddenly reduced to rubble and had no currency. So, we were this bunch of smart-arses, playing the London circuit, just as punk was breaking. We started doing loads of comedy to smuggle the music in, as it were—to make the progressive nature of the music seem more acceptable or palatable.
We were the wrong band at the wrong time. We once had a particularly stressful trip to Oldham and Carlisle, and I remember thinking "If there is a God, and he's trying to tell us something, it sure as hell isn't 'Stick with it lads. I think the band is great.'"
During the early days of your solo career in the '80s, you came close to connecting with the mainstream multiple times with multiple labels. How do you look back at that period?
I think as the punk thing faded and the '80s started, there was a lot of new technology and a lot of things that started to happen. It felt like you could still be musical, inventive and interesting, but be successful commercially. Look at Peter Gabriel and Kate Bush. There was lots of stuff within the pop firmament that had a kind of substance. I thought, "Well, I could probably do this." I guess I convinced enough record labels that was a possibility too. I really enjoyed making those early records. The first album Silesia was an incredibly enjoyable experience.
Each one of the labels I was on went bankrupt. So, I ended up nearly 30, still waiting for my career to start. I'd made three albums and I'd been paid a lot of money. We had big budgets. I learned that life in general is down to luck. You have to be in the right place, right time. A stroke of luck could mean you got a last-minute break on a TV show, resulting in everybody going out and buying your music. And then if it went in at the lower echelon of the chart, the next week it could be on the playlists. As a youngster, you're still working with the misconception that success is entirely to do with talent and ability. But luck plays a phenomenal part in what may or may not happen. And there's only so much you can do to blow fortune in your direction.
Reflect on the making of Silesia.
I look back at it with enormous fondness, because it felt like a very exciting time. It felt like I'd gone from being inspired by the whole progressive nature of rock music, to that being seen as the most un-hip thing you could possibly imagine, with the advent of punk, certainly in London, where I was. And then by the time we got to the early '80s when that album was made, suddenly it was like a whole new era started dawning. It felt like you could be creative and you could take some risks, musically, as long as it was in the context of the shorter piece. Peter Gabriel and Kate Bush were doing that. As the '80s unfolded, there were songs with all kinds of interesting approaches.
Suddenly, I had a deal with a label. I had finances. I had access to musicians. I had a studio to play with. When I listen back to the album, there's an enormous amount of invention going on, because it was pre-sampling. I had a Mellotron and I had my own voices on it. I'd recorded my own voice tapes to put in the Mellotron. That felt like a unique thing. I remember the drum machine I used was a SDS3 Simmons Drum Synthesizer. We did a lot of stuff on that record. There's one track in which the rhythm track is made up of all sorts of noises, but because there were no samplers, we couldn't trigger them. So, we had to physically do them. And there's a track on there where we're using a large case full of spanners. We miced up the room and I'm hurling spanners at the wall, with headphones on, in time. And when I threw the spanners at the wall, my mate the drummer is picking up his spanners that he's already thrown as quietly as possible in between the gap.
I remember Dave Stewart came and played on a lot of stuff. We used Amanda Parsons from the Northettes, from the Hatfield album. And I remember I got in Dave Jackson, because I was a Van Der Graaf Generator fan. I was young, I was really enthusiastic, and I was in a studio in which I was like a kid in a toy shop, really. I was being inventive and not remotely tarnished by any of the business stuff. I couldn't wait to get into the studio. It was really exciting.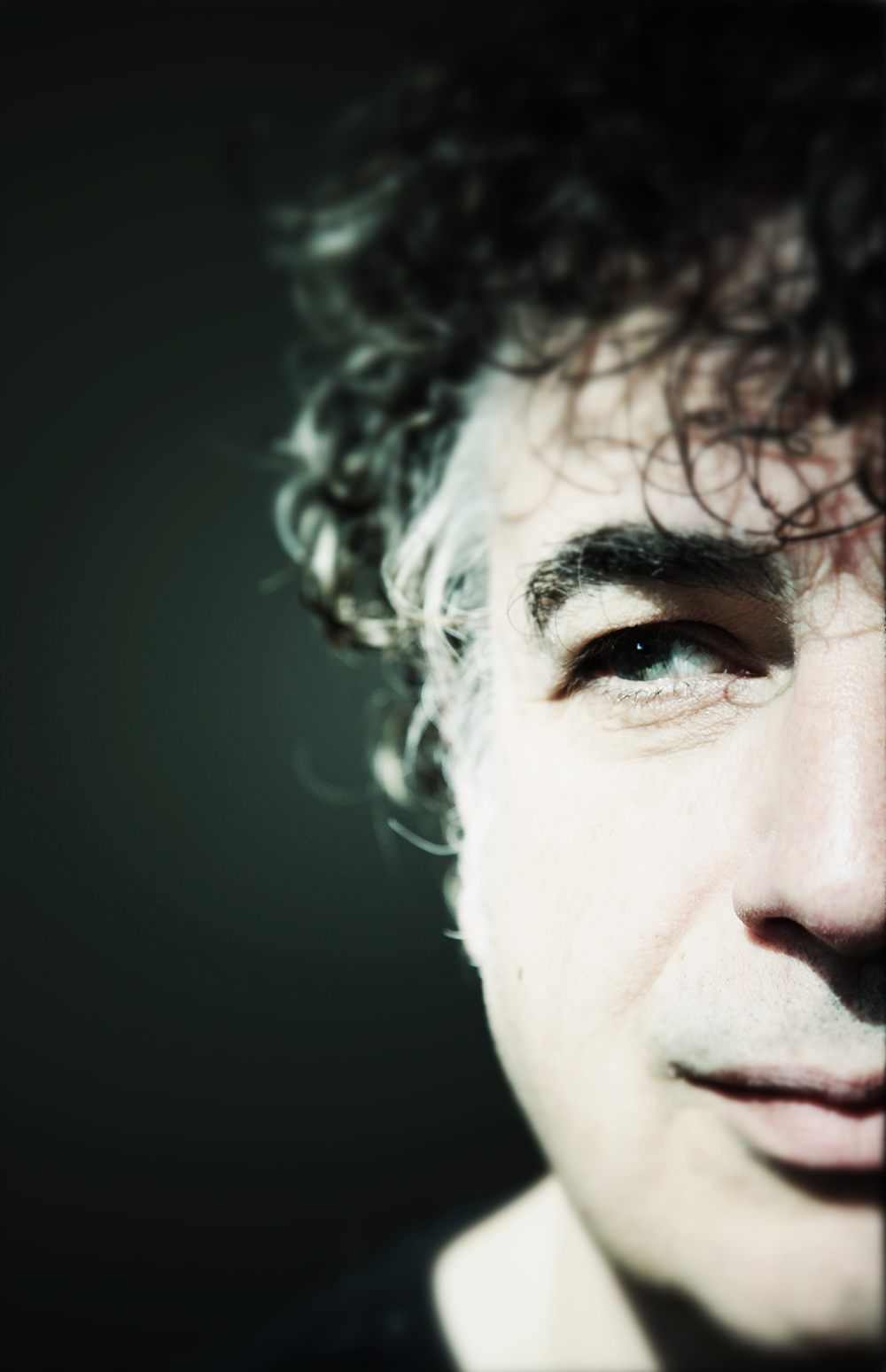 Photo: Paul Adam
You had two solo albums after Silesia that were scuppered by two subsequent labels. Tell me about that phase of your career.
Yeah, now that's some achievement, isn't it? It was very weird. For Silesia, I signed to a bit of a punk label called Chiswick Records. The Damned had released an album on their label. But they had this big selling, glossy record called "Driver's Seat" by a band called Sniff 'n' the Tears, which was very big right across Europe. And as the musical landscape changed in the post-punk era, I think as a label they thought, "Wait a minute. We need to get into some shiny, new, glossy pop going on here." And I was signed with that intention, along with a couple of other bands. And I think at least one of the other bands spent a fortune in the studio. And none of those records did anything. By the time my album was ready, the company was in dire financial straits. So, they pulled everything, but Silesia got released half-heartedly by a couple of their distributors in Germany and Italy.
I'd got to know Dave Stewart. I toured with him with and I played on his records—the more single-oriented stuff. And there was a song I'd written that Dave really liked called "Dangerous Dreams." He said, "You know, I think this could be a hit. Why don't I produce it and we'll do a production deal?" We were offered several deals. We ended up going with Stiff because Dave had been with Stiff and I was rather taken with their work ethic and attitude. When the song was done, it became this big epic with a kid's choir singing really weird chords and stuff.
I hadn't really factored in Dave Robinson, who was the Irishman that ran Stiff, when I signed with the label. He was quite a unique character. He used to say that he sold Catholic Bibles to the Protestant community in Northern Ireland. [laughs] He liked to think of himself as a bit of a wag—a bit of a character. He'd had enormous success with Madness. All of Madness' videos won awards. Without wishing to disrespect Dave's ability as a video director, I think if you just get a load of costumes and stick Madness in front of a camera they can make it an entertaining afternoon.
I had all these artistic ideas about how I wanted to be portrayed and Dave just completely ignored them. Suddenly, I was in this machinery in which I wasn't really in control of what was going on. I remember we had to make this video and I had nothing to do with it other than being told what to do and when to do it, and that already started to kind of pall. The single got a lot of air play, but it didn't make it onto the playlists. In England back then, they had quite a stringent kind of playlist thing where there would be a meeting every week. If you made it onto the A list, you got a guarantee of 25 to 30 plays a week.
After that, I signed to Stiff long term to make an album, but suddenly I was in the world of pleading with the A&R man and having to have hits. The whole experience was pretty unpleasant. I ended up writing a lot of stuff I didn't really like and releasing some of it. I did some work with a producer called Pete Collins who was a very nice guy, who produced Nik Kershaw, who had very big success here in England and is a pal of mine. That was quite interesting. I ended up with this very '80s-sounding mishmash of an album that was part produced by me, part produced by Dave Stewart and part produced by Pete Collins. And yet again, Stiff kind of came to an end. When I started, Stiff had just moved to Island Records. They became part of Island Records because Dave had been headhunted by Chris Blackwell, and by the end of it he'd been kicked out and Stiff was now trying to exist on its own. So again, that album never came out and the whole thing crashed and burned.
Next, I managed to get another record deal, this time with another eccentric guy called Mark Dean who'd had success. I knew Mark when he was very young. He was a social secretary at a local college in charge of booking bands. He had a real gift of the gab and was a real salesman. At the beginning of the '80s, he signed a number of acts that became really successful that were part of the whole New Romantic thing. He signed Spandau Ballet and another couple of acts of that ilk. So, he suddenly became this kid with a reputation and he was headhunted by Phonogram. Mark became the youngest A&R man Phonogram had ever had. He signed ABC, who were very big in the UK and a number of other acts that all did very well.
Then Mark was given his own label as part of CBS and one of the acts he signed was Wham! with George Michael. So, he'd had this enormous amount of success, and I'd known him for a long time. He loved "Dangerous Dreams" and was convinced it would be a hit. So, we rereleased it through his next label MDM and then I made another album. Then that label fell to pieces because it wasn't making any money. So, I was nearly 30 and still waiting for my career to start. I'd earned all this money in advances but none of the albums had ever come out, so it was all very odd.
And somehow, that led you to join The Lodge. Describe what happened next.
We're in 1987 now. I decided at that point that I'm just going to do stuff that I think is interesting. I was going to a wedding in New York. An old friend of mine was getting married, and at the same time John Greaves, who'd been in Henry Cow, who I'd got to know, was making an album with Peter Blegvad, who I also knew. I played on Peter's first album, The Naked Shakespeare. I said "Well, I'll come out early and play on it." So, I ended up playing guitar and singing on The Lodge album which was part of Island Records.
The Lodge was meant to be, in effect, a follow-up to an album that John Greaves and Peter Blegvad had made in 1977 called Kew. Rhone., which featured Carla Bley. I was a big fan of that record. I thought it was brilliant. So, they'd done a deal which was essentially for a follow-up to that, but it was a bit more rock-based rather than jazz-based. I think John and Pete had written it. And I spent the summer of '87 in this sweltering hot loft apartment of Peter's, traveling to the studio just north of Central Park, making this Lodge album called Smell of a Friend with Michael Blair, Lisa Herman and Chris Botti. Chris became a well-known trumpet player. He told me The Lodge was the first session he'd ever done. Anton Fier was the drummer. I spent an afternoon with him.
All of the basic backing tracks had been done when I started playing on it, but I did play on it a lot and I did loads of overdubs. I loved doing it and working with Pete and John. They're great. When the album came out we did a bit of promotion and then we did two gigs. We did one at the Bataclan in Paris and we played the ICA in London, and then split up. We were meant to do a tour, but I think Pete objected to the heavy rock nature of how I interpreted some of the music. So, that all kind of fell to bits.
Jakko Jakszyk and Tom Robinson, 1994 | Photo: Jill Furmanovsky
After that came very interesting projects with Dizrhythmia, The Kings of Oblivion and Tom Robinson. Tell me how those emerged.
After The Lodge fell apart, I approached Antilles, the band's label, about doing an all-acoustic Asian crossover thing with Indian musicians, which we chose to call Dizrhythmia with Danny Thompson and Gavin Harrison. At the same time, I did an album with Gavin called Big Fish Popcorn with The Kings of Oblivion. That was, in effect, just me and Gavin trying to make a record that sounded like it was made in the late '60s by a group that was a lot like Frank Zappa. What those projects did for me was recharge my batteries and make me rediscover why I loved music. They were about ignoring all the pop star nonsense.
The next thing that happened was producers I had worked with on my solo stuff would say "Do you fancy playing on this?" So, I ended up doing sessions in which I did what I did, rather than playing things note for note like a proper session player would. One of the albums I played on was a rock-dance crossover thing that sold rather well for Jermaine Stewart called Frantic Romantic. I did demos for Jermaine and four of the songs I wrote ended up on that album, produced by Narada Michael Walden.
The upshot of the sales of the album was that the publishers were very pleased. As I said earlier, the thing that publishers do is try and put someone who's been successful with somebody else with another person who's done the same, in the foolish hope that it guarantees the birth of further success with those two parents. So, I was given a list of people as potential collaborators. I did a number of writing trips to America and thought "I can't do this. This isn't why I write music. I'm not the guy who could have sat in the Brill Building writing up hits on a daily basis." That isn't my motivation, so I found it difficult. But two of the potential collaborators on the list stood out.
This also goes back to the 21st Century Schizoid Band stuff we talked about before. One guy was Pete Sinfield, who had become an incredible pop lyricist. He'd written a number of very big hits in England and had written some stuff for Celine Dion and Diana Ross. So, I chose him purely because of the Crimson connection. I thought it would be a laugh to hang out with him.
The other person I chose was Tom Robinson, who'd been very successful in England at the time. He was quite political and quite an activist for gay rights. I liked a lot of what I'd heard of his. He'd co-written some songs with Peter Gabriel, so I thought that was a good mix. We met and got on very well. The first thing we did was the music to a TV series. We co-wrote the theme tune and I did a lot of the incidental music and we got to know each other very well. So, he asked me to co-write and to produce his next record, which I did. He felt that my contribution was so vast that we should share the billing. So, it came out as Tom Robinson and Jakko Jakszyk. It was called We Never Had it So Good and came out in 1990.
With the benefit of hindsight, I don't know whether he thought, "I don't want this to be a solo record. If it goes down very badly I want somebody else to share the blame." [laughs] But it got some of the best reviews he's ever had and I was very proud of my contribution to it. I enjoyed that as an experience and did quite a lot of live shows with him.
We were on a little label and the PR guy had got us a TV appearance on a show that I'd seen but hated. It was on late night on Fridays—this sort of weekend post-pub, kind of car crash of all sorts of stuff. I thought "No, we're better than this. I don't want to go on this program. It's horrible." Then Tom phoned me up and said "Please, would you do it? It would get us some exposure." I remember loading my car up and driving to Leeds resenting the whole exercise of having to promote this record on this terrible show. We got there and did this one number. We had programmed drums and bass. I played bits of keyboards and guitar live. I did a solo in the middle of it. I drove home and thought "What a waste of time that was."
Two months later, when I was facing bankruptcy by the Inland Revenue, my phone rang and it was Mark King from Level 42, a man I'd never met or ever spoken to. I was shocked to hear him on the phone and he told me about what had happened with Level 42—how Alan Murphy had died and how they'd got a new album and a new record label and they were about to go on a big world tour and they needed a permanent guitar player. He asked if was I interested. And I said, "Yeah, of course." It had become a real guitar player's gig because Alan Murphy was a great guitarist. And then Allan Holdsworth replaced Alan Murphy for about 15 shows. They did a run of 15 nights at Hammersmith Odeon and Holdsworth did it because Gary Husband was in Level 42 and was also in his own band.
So, I said to Mark, "Are you asking me to come and audition?" And he said, "No, the job is yours. Do you want it?" I couldn't believe it. I accepted the job and it saved my life. It stopped me from going bankrupt and it catapulted my profile up. I still wondered, "Why has he chosen me?" Any guitarist in England at the time worth his salt wanted that job because it was the unlikely combination of a band that was respected as musicians but was also commercially very successful. And Mark said to me, "Well, a lot of people had recommended you, including Nik Kershaw and Julian Mendelsohn." Julian was the engineer who co-produced Level 42's previous biggest-selling album, and I'd worked with him on other stuff like Jermaine Stewart. Mark said he hadn't heard of me, but said he got in late from the pub, turned the TV on one night, and bugger me, he happened to watch that TV show with Tom Robinson I didn't want to do. Mark thought "Wait a minute. That's that bloke they told me about. Blimey, he can play a bit and he can sing a bit." So, he just offered me the job on the strength of that. That's how I ended up in Level 42.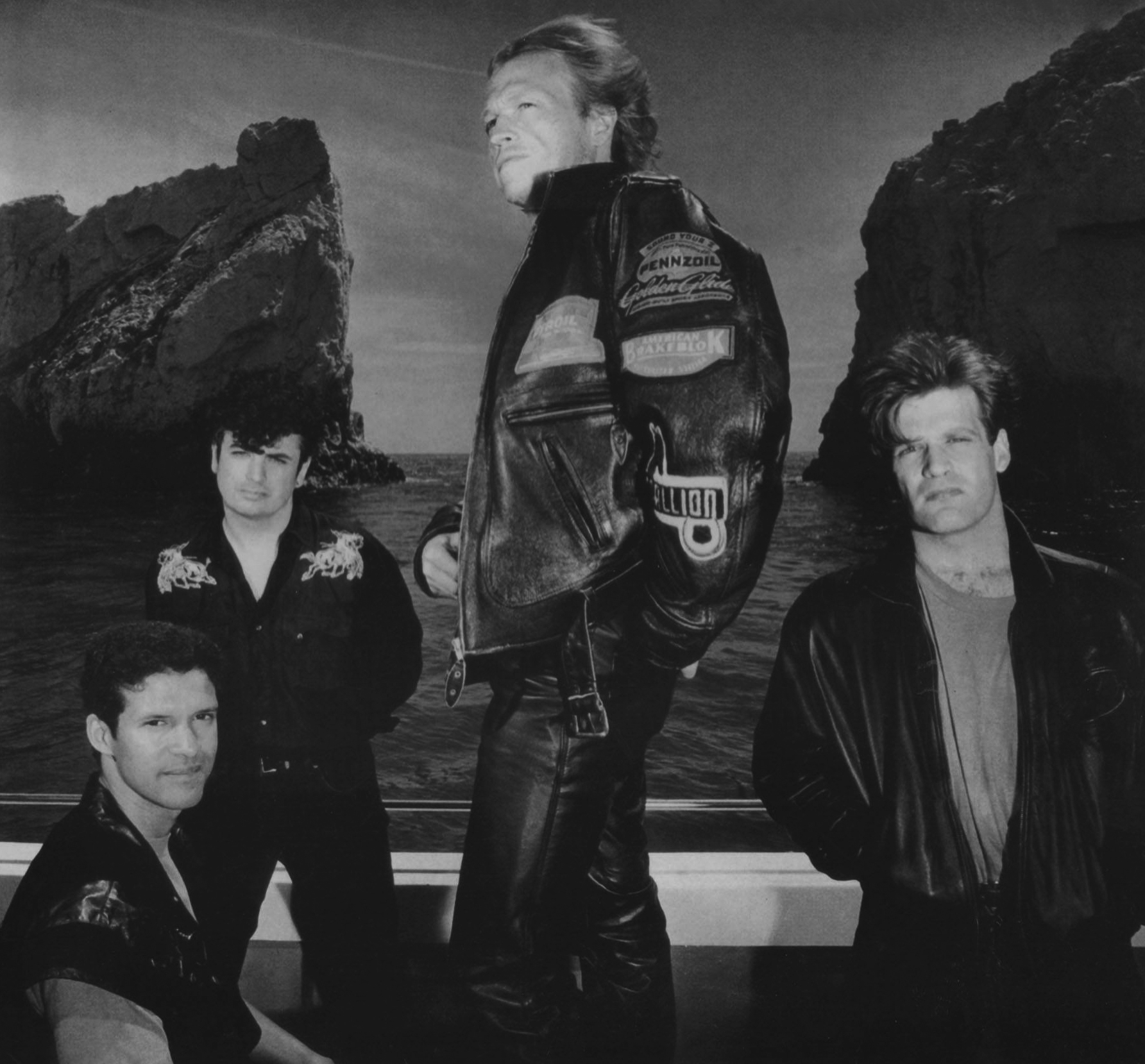 Level 42, 1991: Mike Lindup, Jakko Jakszyk, Mark King, and Gary Husband | Photo: Andy Earl
What was the Level 42 experience like?
It was extraordinary. I'd gone from clinging on to suddenly being in this band. In Europe and other places in the world, they were really big. The first show I did in England with them was headlining at Crystal Palace Bowl, which is 20,000 people. So, it was kind of daunting. When they sent me some live tapes of the previous tour for me to learn the material, of course it's Allan Holdsworth and his solos just scared the crap out of me, because they were just extraordinary. But Allan wouldn't play the funk and the rhythmic stuff, which is obviously part of their remit and their genre. It was great. I had an absolute blast. It had become a kind of guitar-centric job. It was amazing playing with Gary Husband and Mark King. I had a really good time. Then that all imploded a few years later for various reasons. Mark had enough. Then I ended up doing some tours with Mark as a kind of solo act.
During this same period in the early '90s, you worked with Italian singer-songwriter Alice. Her 1992 album Mezzogiorno Sulle Alpi featured the Dizrhythmia band. How did that opportunity come about?
I was living in Los Angeles at the time. Just before the Level 42 thing happened, the Dizrhythmia record I made with Gavin Harrison became popular amongst the arty cognoscenti in Italy, particularly in Milan. It came to the attention of this Italian singer called Carla Bissi, who goes by the name Alice. She had this habit of using hit musicians on albums she liked, rather than Italian guys. So, she'd made an album called Park Hotel with Tony Levin, Jerry Marotta and Phil Manzanera. The album she'd made just before she phoned us was Il Sole Nella Pioggia featuring Steve Jansen, Richard Barbieri and Dave Gregory. After hearing the Dizrhythmia album, she thought "I'd love to do something like that."
So, I got a phone call from Gavin when I was living in LA telling me about this woman, and we went to Italy. We toured with her for a few months around Italy and other places in Europe where she's known. As a result of that, we got to meet and know Richard Barbieri and Steve Jansen. She's an enormous pop star in Italy and she took the gigs very seriously. Danny Thompson couldn't do the tour, so we got this guy called Martin Elliot on bass. We had this kind of English contingent with a kind of puerile, childish sense of humor. I think Alice struggled with that because in her head she'd imagined what we were like as characters based on the music we made. I think she expected us to be these rather serious, effete arty types and not a bunch of lads. But she was very nice. Then we recorded her next album Mezzogiorno Sulle Alpi with Danny Thompson.
And all of this work with Alice crosses over in between Level 42. I remember doing a recording session with Alice and then having to get a flight direct to Holland where I was doing some TV shows with Level 42. That whole thing started to intertwine. We toured Mezzogiorno Sulle Alpi in between two Level 42 tours. The band included Steve Jansen, Richard Barbieri, Danny Thompson, myself, and two Italian musicians. That was really enjoyable. It was in the summer and we played these amazing outdoor places and villas.
After your work with Alice, you did several projects with Richard Barbieri, Steve Jansen and Mick Karn. Tell me about that collaboration.
We wrote some songs and made some recordings, with a view to forming a band, but they chose to pull back from that. I can't remember why. In the end, they said, "Look, why don't you stick this out as one of your solo albums?" So, that work became Kingdom of Dust, a mini-album with Jansen Barbieri Karn. Next, I worked with Mick on his album The Tooth Mother. I did loads of stuff for that, playing all sorts of instruments and helping with arrangements and recording. There was also another album by a Japanese singer called Holi called Under the Monkey Puzzle Tree from 1994 that we all worked on together, produced by Mick and Steve.
They were all brilliant to work with. I thought Japan's Tin Drum was one of the most extraordinary, original-sounding records. Steve is an enormous influence on Gavin. Gavin and I used to listen to those Japan records together and paid attention to how the rhythm section worked with all these extraordinary patterns and how they locked in together.
Expand on the journey of Dizrhythmia.
There was originally a track I wrote on piano for my solo album on Stiff and I wanted to use Danny Thompson, because he's a legend and his double bass playing doesn't sound like anyone else. I called the record company and said "Is there a way of tracking him down?" Eventually the person at the label phoned me back and said, "I've got his phone number" and she sent it to me. And I said, "Wait a minute. This can't be his phone number. He's got the same code as me." I thought he must live really nearby, and of course he did. He lived just up the road from me and I had no idea. And he was a little wary, and he said, "Well, drop some stuff off and I'll see if I like it." And he really liked it. He agreed to play on it. We've become really good buddies ever since. He's been a kind of mentor.
When I was doing not only my own album but playing on other people's albums that Pete Collins had worked on, he used this Indian percussionist called Pandit Dinesh, who I thought was brilliant. He came from an Indian classical tradition, but ended up in England in the '80s and played on lots of big pop records for ABC and Nik Kershaw. He was part of a band called Blancmange who had a lot of success in England in the '80s. So I had him on and we did this track with him on tabla, Gavin Harrison playing percussion and drums, and Danny on bass. Dinesh turned up for the session, which was in Cambridge, with this this girl who sang. We got her to improvise on this thing and suddenly it took on this whole vibe. It had a real atmosphere. I thought, "It'd be lovely to do a whole album like this." So, that's really where the idea came.
I wrote a load of stuff. I co-wrote a couple of things with Danny, but wrote most of it myself, and then Gavin wrote some amazing percussion things with him and Dinesh. Sultan Khan also played sarangi on it. He absolutely floored me. He didn't speak any English. He used Dinesh to translate. I sat in front of him on a cushion and he said "You point when you want me to play." So, that's what I did. Virtually everything he played was breathtaking and beautiful. It remains a real highlight of my life to have been in a room with Sultan Khan. He was incredible.
That's how we made the first record, which did very well and had its own little niche. It was on Antilles which was part of Island Records, and got very good reviews. It sold respectably for a record in that little ghetto of what I guess was being called world music at the time.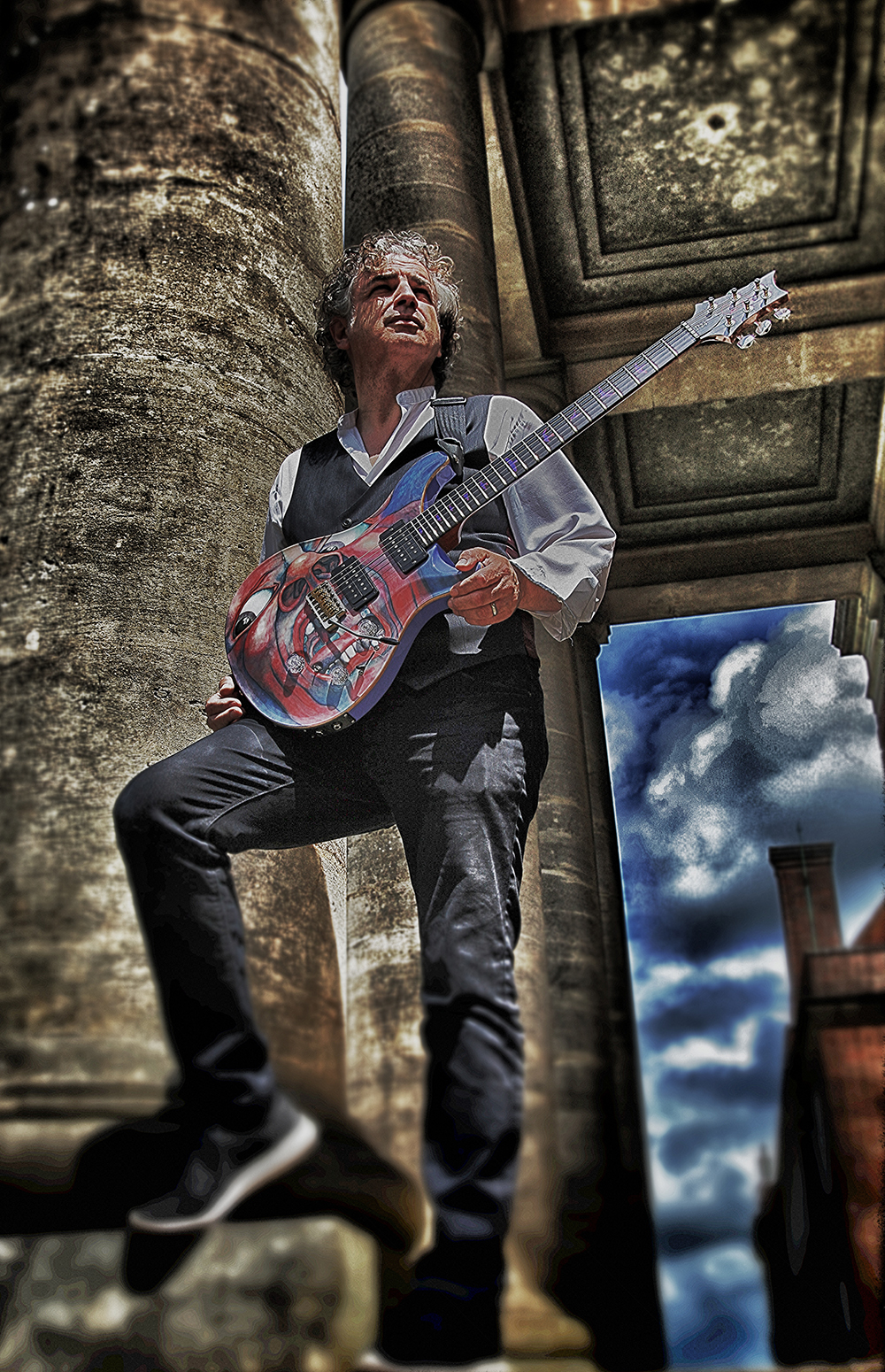 Photo: Paul Adam
You've done a lot of library music over the years, some of which has explored African and Chinese traditions. Explore your interest in those worlds and that component of your career.
After the Level 42 thing finished, there was a weird hole that appeared somehow, in that people think you're off doing that and you're this kind of big fish, yet there was kind of no work when that ended. The guys that had been my publishers had always talked to me about doing library stuff and I'd not pooh-poohed it, but thought, "I don't do that kind of thing." But I was looking for stuff to do and I went in and saw them and they said, "Look, if there's something of interest and it fills a hole that we have in our catalog, we're up for funding this." I started off doing the Indian thing and then I quite got into it. So, I would immerse myself in the music of a particular region or country. There's a shop in London called Ray Man's Eastern Musical Emporium and it sells all these incredible instruments. I play a bit of everything, so I went and got a load of instruments and then started writing music basing it on traditional forms, but then re-orchestrating in a way that I enjoyed.
It became a bread and butter thing, but it was something I enjoyed doing. It became a way of earning some money but also doing it creatively. Because of the nature of how some of this music's used, you could get away with writing these cinematic string things that underpinned the traditional melodies. So, it was a really intriguing and interesting thing to do, and something that I then carried on and have utilized in other stuff that I do. It was a marriage of convenience and interest. I ended up doing loads of stuff. I did a whole African album. I doubt anyone would think "Oh yeah, this is incredibly authentic. It's African music made by a bloke with a Polish surname in Hertfordshire." [laughs] But it was great to do.
Library music was a real eye-opener and exposed me to all sorts of other musics that I wouldn't have heard. I had a natural interest in that, anyway, so it was quite exciting. I'd explore a different region and think, "Oh wow, what's going on there?" And I'd see what was happening melodically and harmonically and come up with these new pieces based on that, but then written in such a way that they could be utilized in different situations in a dramatic context or whatever. I didn't physically go to most of these places. Mostly it was just listening to field recordings and getting a sense of what the instruments did and the kind of vocabulary they had, and then re-voicing that in a modern way.
Your 1997 solo album, The Road to Ballina, was a highly personal project for you. Discuss what informed it.
What happened is I told Tom Robinson the story about how I'd been adopted and how I'd discovered my real mother in my early twenties, and speaking to her on the phone for the first time. It's quite a dramatic tale of finding your mother after learning you're adopted at an early age. Tom had started working at BBC Radio 4, doing speech-based program content. I did a program called Tuesday Lives, where people told extraordinary little stories. I told the story about finding my mother and speaking to her.
The producer of the show was Simon Elmes, a really lovely bloke. We went out for lunch once and he said, "I'd love to do some more stuff with you. I think you've got an interesting background." And we chatted about all sorts of things. Originally, I was going to do a speech-only radio program for Radio 4 about music business anecdotes, including this story I tell about how I spent a day at Westlake Recording Studios in 1987 at the recording sessions for Michael Jackson's Bad. At the end of it, I had a conversation with Michael Jackson, who rather liked my footwear. So, the name of this series was going to be Michael Jackson Likes My Shoes, which I thought was a great title. [laughs] However, I started to find out more about my real mother and learned she was originally a singer for one of the biggest show bands in Ireland in the '40s and '50s. Simon said, "Wait a minute, listen. Before we go down the route of making this anecdote series, maybe we could do something using speech and music together." We kept talking about this and I did a couple of demos where I went 'round to my parents' house and interviewed my mum and then I chopped bits of it up and started setting it to music.
We approached the BBC and they said "Fantastic." We ended up making this program which became The Road to Ballina. How we started it was, we flew my adoptive Polish father back to where he came from and it was just me, him, and the guy from the BBC recording everything. We went back to where he was brought up. We went to Auschwitz, because he lived in one of the satellite villages there. He said that the Jewish community got kind of racially graded. Everyone was given a number as to their racial purity. Anyone that was considered Jewish was ungradable. So, they had the whole thing where the star was painted on their shops and they had to wear the thing on their shirts.
Then he said "One day, the Jewish community just disappeared. We woke up the next morning and everyone was gone. Rumors were rife that they'd ended up in this camp somewhere nearby." The Germans, as a kind of PR exercise, started taking coach-loads of villagers from the local villages to Auschwitz. Auschwitz was split into Auschwitz I and Auschwitz II, which is also known as Birkenau. Auschwitz I was a converted Polish barrack, and it's the one with a wrought-iron sign over the gate that says "Arbeit macht frei." Work makes you free. And Dad was taken there with a load of guys from his village on a kind of PR exercise to say, "Listen, the Jewish community is here. They're fine. They're all healthy-looking. They're well fed. Nothing happening to them, but this is where they are." It was to stop all the rumors, when really, a kilometer-and-a-half away, they were being slaughtered in Birkenau in a purpose-built death camp.
We went back there and it was extraordinary. My father was in his eighties at that point and we could have interviewed him for hours in the sterile confines of the BBC broadcasting house, but the fact that he was physically back in this place meant that memories were being triggered by objects, trees and buildings. We were recording all of this. There's a part of the recording which is recorded inside the ovens at Auschwitz. We were walking down these steps and there's a gallows that was erected by the inmates when they were liberated by the Americans, and they captured the commandant there, a guy called Rudolf Höss, and they hanged him. This triggered a memory in my father that he'd never mentioned before. I guess he'd kind of buried it in the back of his psyche. He said that in the village, a contemporary of his, a young boy, had spoken out against Hitler and the next day he was arrested and all the villagers were corralled into the village square. His mate was hanged in front of everybody as a kind of warning sign.
This was heavy shit. I end up with all this material. We then fly to Ballina in County Mayo, which is where my mum was from and I talked to people who remembered her. And people of a certain age all remembered her because she was a bit of a star. The band leader was an old man. He was nearly 90, but he was still alive and we interviewed him. Then Simon interviewed me at the BBC. I also interviewed my adoptive French mother who had an equally dramatic story. We ended up with all this material which I then started putting to music, and the idea was to try and utilize speech as part of the composition.
It was broadcast on Radio 4 and I received the best reviews I ever had for anything I've ever done or ever will do again. It's slightly extended for the album version. It was originally a 45-minute piece. For the album, there's a whole other section I wrote for the middle. It has some more stuff from Auschwitz that I used where my dad is wandering around Birkenau—the death camps—and he's proselytizing on the existence of God. He says "How can God exist if he lets something like this happen?" So, the album is an exploration of my childhood and how these weird connections end up in this one place. It's an amazing story and each individual has an incredible tale to tell. It was nominated for awards and I got commissioned to do another piece, using the same technique, called The Church of Lanza in 1999.
I wanted to do a piece about fame and its corrosive nature to both the recipient and those who are adulating the person. It was kind of inspired by the death of Princess Diana, but that was too obvious a thing to do at the time. I saw one minute she's being slagged off in the popular press for upsetting the Royal Family and dating a Muslim, and then she died, and within hours really she's being deified. I remember somebody saying she visited somebody who was sick and touched him on the shoulder and he got better. I thought that was an interesting idea, so I decided to do it about the singer and actor Mario Lanza. He was, as far as I could tell, a rather unpleasant thuggish bloke who had this extraordinary voice, and his fan base deified him as this wonderful human being. But if you read about him and talked to people who knew him, you got a completely different picture. I thought that was an interesting contrast.
So, I did a piece using bits of Lanza's singing. There's one part where you hear him sing this long note and it becomes this big heavy metal piece. Again, The Church of Lanza was nominated for awards, and on a much more childish level I'm also proud of the fact that it was the most complained-about program ever to be broadcast on Radio 3. Radio 3 is this very kind of serious channel that largely plays classical orchestral music and experimental stuff.
More recently, in 2014, I did a piece with a British comedian named Lenny Henry, who I've known for years, called Dear Mr. Eliot: When Groucho Met Tom. We did a piece on the unlikely, but genuine friendship between Groucho Marx and T.S. Eliot. They wrote these letters to each other, so we had access to all of them and stuff that Groucho had said about T.S. Eliot. It's similar to the Mario Lanza one in that what we're dealing with here is fame again, but what's interesting about them is the reason they even became friends was that T.S. Eliot wrote a fan letter to Groucho Marx. Groucho had aspirations of being a serious writer, and of course getting a letter of a fan nature from one of the most significant literary figures of the 20th century really appealed to his ego. And T.S. Eliot said, "I would love to have a photo of you in my office."
So, Groucho goes off and gets a specially-commissioned photograph, looking very serious and dapper, and sends it off to T.S. Eliot. T.S. Eliot gets this picture and thinks, "Oh no, I want one with the glasses and the big painted-on mustache and the cigar." What happens is right there, they're both disappointed in each other and it's hilarious and poignant at the same time. They eventually meet. There's a lot more speech in this piece, but there's some music, including a song I'm quite proud of. There's also a bit of acting in there. I play T.S. Eliot and Lenny plays Groucho.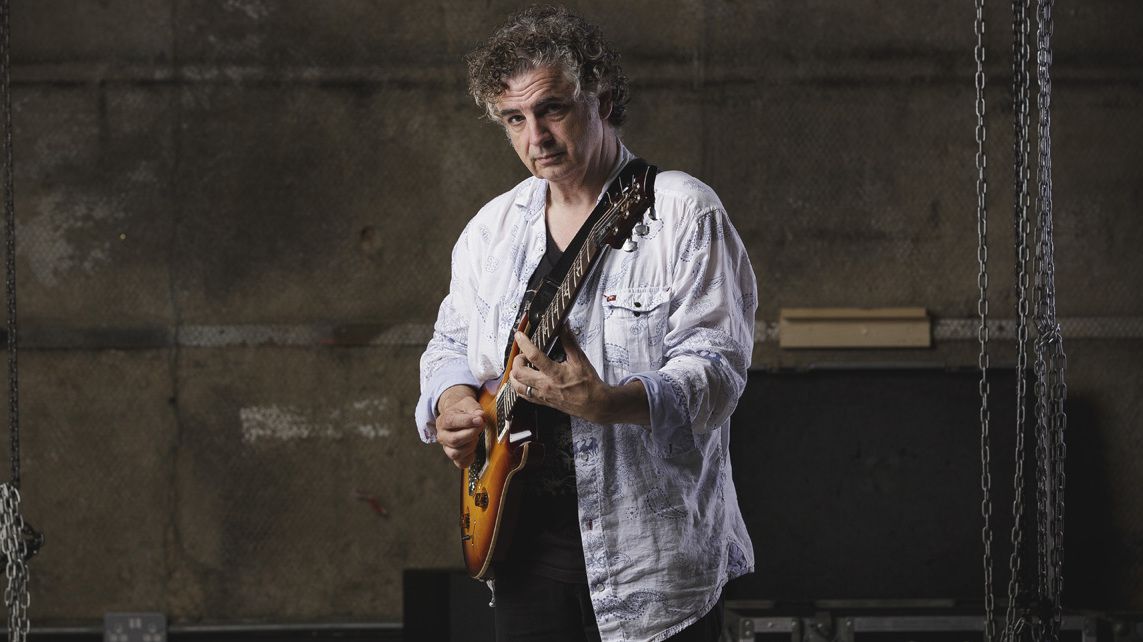 Your most recent solo album, The Bruised Romantic Glee Club from 2006, and its companion release, Waves Sweep the Sand from 2009, also explore very emotional experiences. Provide some insight into those recordings.
A number of things had happened by the time I wrote that. I'd got a deal to make a record which I thought was going to be a guitar player's record. That was the original idea. It was going to be instrumental, with a focus on lead guitar work.
I'd gone through this very difficult period where a number of horrible things had happened. Around the time I was finishing The Road to Ballina, my mum was diagnosed with Alzheimer's and she died. There's a song on The Bruised Romantic Glee Club called "When We Go Home" and it's all about how all our memories are kind of car-crashed. They become one big soup of unconnected memories that seem connected.
I saw mum just after Christmas. She went on a trip to London to see the big Christmas lights in Regent Street. I asked her if she went and she said no she didn't. I learned she had gone and that we've now reached a point where all we can do is manage the moment. The fact that she won't remember something later is neither here nor there. She just lived completely in the moment. And that's quite a heavy thing to get your head around, you know. I realized that I had already said goodbye to my mum when I visited her and she looked at me, turned to the nurse and said "Who's the boy with the lovely hair?" and wandered out. That was the last thing I heard her say. She died that night. That's the opening line of the song: "Who's the boy with the lovely hair?"
My father died a few years later, so there are some songs about him on the album. A big relationship ended around the same time for me. The whole period was very weird and stressful. While I was making this record, I found these folders of bits I'd started to work on that I'd forgotten. I managed to drag my arse into the studio and do a couple of things, and some of these things turned into songs that were related to some of the stuff that was happening at the time. Most of the songs on that album are about that. My real birth mother died as well. My sister came over from America and we took her ashes back to Ballina and buried them in the plot of the band leader. So, the album is personal for all of those reasons.
Waves Sweep the Sand includes all these bits and pieces that didn't make the album. It has little instrumentals that were related to it on some level. The guys at Burning Shed said, "People might be interested in that." So, we put that out and made the artwork a companion piece to Bruised Romantic Glee Club. It sold relatively well considering it's outtakes of stuff from around that era, including a bizarre cover of a song by Bread called "London Bridge."
You were in The Kinks briefly. Tell me the tale.
Back in 1994, as we discussed, I was the guitarist in Level 42. One Sunday evening, my phone rings and it's a guy saying, "Hello, I work for The Kinks and I'm based at Konk Studios in Muswell Hill. Are you around and available for the next 10 days?" I said, "What for?" He said, "Well, Ray Davies has asked me to call you." I said, "From The Kinks?" He said, "Right. Dave Davies is ill and Ray wanted to know if you could replace Dave for some live stuff and recordings." I said, "Ray specifically asked for me?" And he said, "Yeah, he has." I said, "I don't think so. I'm not that kind of guitarist." He said, "No, Ray specifically asked for you." I said, "Okay, well, yeah." I thought "How can I turn down the opportunity of being in The Kinks for 10 days?" I remember watching them on Top of the Pops growing up.
I thought it would be a laugh. So, I met the guy who called at a motorway service station and he gave me a cassette of tunes to learn. I went home and the rest of that night I kind of wrote little notes for myself and tried to learn some of the stuff. The next morning, I drove to Konk Studios in Muswell Hill. The rhythm section was Jim Rodford and Bob Henrit, who I'd seen as a kid in a band called Argent. And they were very nice. We wrapped running through the tunes, and halfway through "All Day and All of the Night," Ray walked in and strapped on a guitar. I thought, "Oh man, this is so surreal. I'm in The Kinks. How bizarre."
We rehearsed for a couple of days and then on the third or fourth day we went up to the BBC's Maida Vale Studios in West London where we were going to play live on Radio 1. It was during the day with peak listenership. It was hosted by Johnnie Walker, who was someone else I used to listen to as a kid. He used to have a show called Sounds of the '70s. I listened to it all the time.
So, we're in the studio and Johnnie is miles away at Broadcasting House, but it's all tie-lined up, and he said, "Well, we've got The Kinks live today in the studio" and we played the opening number. The number ended and he then said "Dave's not there is he, Ray?" Ray replied "He's never usually here. He's usually here physically, but never here mentally. So it's nothing unusual." Then Johnnie said, "So, you've got somebody helping out?" Ray said "Uh, we've got…" and pauses. I thought, "He doesn't know who the fuck I am!" Eventually, he said "We've got my dad." [laughs]
And I thought, "What the fuck?" So, we go into the next number, "Phobia" and there's a guitar solo at the end. During rehearsals I was doing a kind of fairly safe kind of rocky Dave Davies-esque type solo. But I'm so pissed off at that point that Ray couldn't remember my fucking name that I played some unbelievably tasteless flash nonsense, just flying around. And at the end of it, Johnnie Walker, who knew me, was very sweet. He said, "Ah, that was Jakko going for it at the end on guitar," at which point Ray went, "Yeah. Jakko, that's his name." I was like, "For fuck's sake."
We completed the session and then I find out a couple of days later that Dave Davies wasn't ill. It was just that Ray and him hate each other's guts. At the time Dave was living in both Los Angeles and London. Apparently Ray thought "What can I do to piss him off? I know. I won't even tell him about this BBC session and we'll just get some other guitar player in." It just so happens that Guitarist magazine in the UK had a 12-page feature on me in Level 42. Ray said "He obviously can play a bit. He's in Level 42. He's got a big feature in this magazine. Plus, I know for a fact Dave gets this magazine sent to him in Los Angeles, so that'll piss him off even more."
So, that's how I ended up in The Kinks for 10 days. There was other stuff planned, but before it happened, somebody at The Kinks' office phoned Dave Davies and he flew over. Sometimes, I ask myself, did this experience even really happen? And then The Kinks released a box set called The Kinks at the BBC and those live sessions are on it.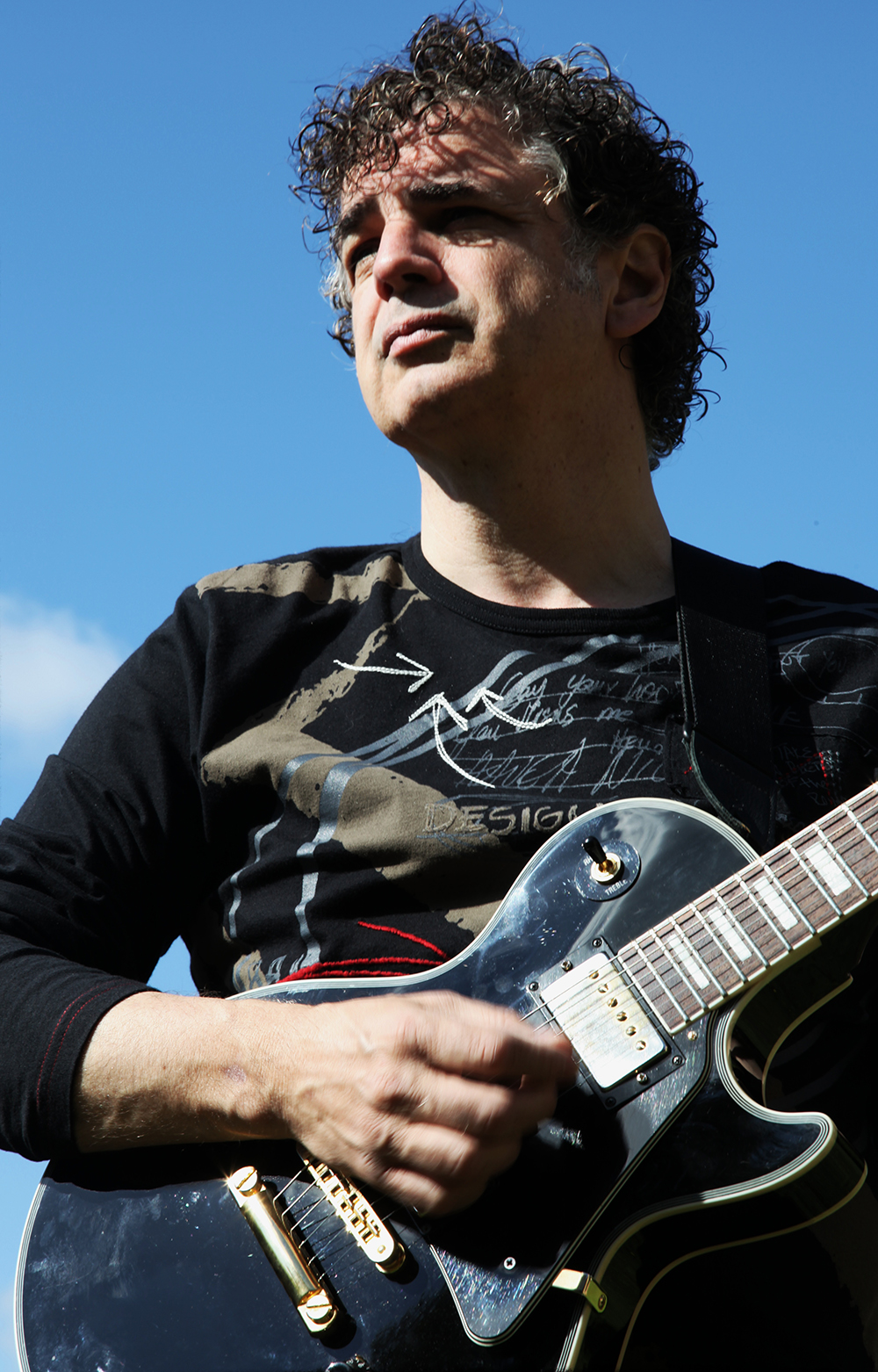 Photo: Paul Adam
Talk about your experience working on the surround remixes for Emerson, Lake and Palmer's Trilogy and Brain Salad Surgery.
Steven Wilson didn't want to do any more ELP albums, so he recommended me. I said, "Yeah, sure." That turned out to be a poisoned chalice, not because I had any interaction with the band, because I didn't. But what I learned at that point was for most of the bands of that era, the final multitracks consisted of three or four 24-track two-inch reels. Tape was a budgetary concern back then. It was very expensive, especially if you're making backups and stuff. So, imagine my surprise when I received the transferred files for Trilogy and Brain Salad Surgery, and there weren't four multitracks per album, but a total of 42 multitracks, each lasting 15-20 minutes each. There were no track sheets at all. There were some JPEGs of photographs of the boxes. Invariably, the boxes were not the original boxes. Sometimes the wrong tapes were in the wrong boxes. And sometimes the information was inaccurate.
So, before I could even start the process of mixing, I spent weeks trying to track down what were the final tapes. This was a process that was hampered by the fact that they'd employed a guy who was a super-fan who knew everything about ELP inside out. They had sent him CDs with all the tracks from the 42 multitracks. These were very rough mixes in which the levels were flat. So, in the midst of me trying to track down what the original, final takes were, which I was doing by comparing them to a CD of the original mix, I then got this long communication from this guy telling me which of the CDs contained previously-unheard takes that I needed to incorporate in the final release. He would say "It's on track 15 of CD 8." And I would have to go through this thing and eventually identify what that was on the multitrack. And every track he itemized as unique, original or previously unheard, wasn't! Every one was a master, but because the faders were all up, he was hearing overdubs at a higher level than he'd ever heard before. I'm not blaming him, but it complicated the process.
It took me weeks before I'd even found out what the master recordings of the final tracks were. And of course, sometimes you've got a situation in which what they decided to do is take the first half of one tune off reel 17 and edit that into the second half of the same tune on a different tape which is on reel 41. So, I have to import that and I have to do the edit in the world of multitracks.
It was a nightmare. It really was. At the point I could mix, even then, there were things that were missing. In fact, on Brain Salad Surgery, the "Welcome back my friends" part was missing. It wasn't on any of those 42 multitracks. Eventually we found it. In fact, somebody went to the tape archive in Burbank, California to look for it. I was also in communication with the guy that ran the archive in England and he sent me a spreadsheet of everything. I said, "Look, there are two tapes listed here. We don't know what's on them, but it's the right date." And he said, "Yeah, but it's Olympic Studios and they never recorded at Olympic." I said, "Well, they may not have recorded at Olympic, but the tapes may have ended up there and the box may have deteriorated." We then had to negotiate with the record label to get these tapes out and to transfer them. Then they had to be baked before they were transferred. And they said, "Well, we've already spent a bloody fortune on it." And I said, "Yeah, but it's three or four more tapes." They eventually agreed to it and sure enough we found the missing track.
Now, the other thing is you read all this shit on the Internet that goes "He didn't use the proper lead vocal on track whatever." Of course, what they don't know is that's the only fucking vocal on that multitrack. There may be another multitrack somewhere else, but what I've received were the only vocals on the multitrack I had.
There was something else I was disappointed about. Look at King Crimson, a band that's in control of its own output and both sympathetic and empathetic to its fan base. They put out what they feel fans would find interesting. For ELP, I came up with a whole alternative CD of outtakes and bits and pieces that I thought would be great. The record label said "Nah, it's a waste of time." There was some great stuff with ELP chatting in the studio and tracks with them mucking about. I thought it was excellent because it would give fans some real insight into this band that had this serious, pompous image. To hear them pissing around and joking about as they came up with little musical things would have been great. I put a lot of that into one special, little outtake demo. I could have done something two or three times longer. I submitted it as an idea and it was ignored by the label.
There's a great bit in which you don't hear the beginning of a conversation, but you hear the end of it, in which Greg Lake says "Of course, what they never tell you in any of the interviews is that I taught him how to play guitar." He was talking about Robert Fripp. I sent that to Robert and he thought it was hilarious.
What's your overriding philosophy when it comes to working on remixes of classic albums?
I try to be true to the era in which it was originally created, by which I mean I don't use effects that came after the technology of the year in which the album was made. Obviously, I'm using digital stuff, but I'm using plate reverbs. I'm not using technological effects and stuff that would have occurred later on.
I normally do a stereo mix first and then do the 5.1 from the stereo. For the stereo mix, I try to be true in spirit to the original mix, but I see no point in slavishly copying the original mix because every one of these jobs that I've done comes out in a box set and one of the components of the box set is the original mix. So, slavishly recreating it is kind of pointless. I do make judgments about stuff as a fan. I might I think "I could do with hearing that a bit clearer."
Steven Wilson did a lot more of this than me, but one thing I did do on Trilogy is on one piece where the bass is playing a fast pulse coming out of the previous section. And even as a kid I thought, "That bass sounds way out of tune." So, I tuned it up because it had bothered me for 40 years. But on the whole, I don't tune stuff. I found an alternative solo for "From the Beginning." I think one of the reasons they didn't use it was that there were a couple of duff notes. So, I tuned the duff notes and made it an alternative version. It's a completely different solo. And then on side one of that album, I just wanted to be in the middle of the music. By separating things and moving things around, you end up hearing the kind of clarity of some of the arrangements that you may not have heard before. I don't do a lot of gratuitous moving stuff around the room, though. I just like the idea of being in bang center, immersed in the stuff.
I particularly enjoyed working on Chris Squire's Fish Out of Water. I found a whole lot of orchestration to work with. I think one of the real pluses in that particular album are the orchestral arrangements. Andrew Jackman did the arranging on that record and some of it's amazing. There was this whole section they didn't use. And again, I thought "The original mix is going to be on this box, so you can hear how they mixed it. But I really like this additional arrangement, so I'm going to have it in from the beginning." So, I was able to do stuff like that.
Sometimes, the artist comes and does a final tweak and sometimes I'm left on my own. After I had done the remixes for the first Bruford album, Bill came to the studio and I played it back and he said "That's incredible. It sounds amazing. What have you done?" I replied "Bill, as much as I'd like to take credit for making this music sound fantastic, the truth is I haven't really done anything. That's how it was recorded. It's four guys at the top of their game, which means not only do they play great, but they've got their sound together. And it's been recorded really well. The trouble is what you've been listening to over the years is the final mix that was then mastered for vinyl. And they've taken that master and they've put it on a CD."
I still remember taking my very first album to be mastered when I was younger. I was amazed and appalled at how much stuff had to be done in order to get it onto vinyl. The mastering engineer would say "You can't have that bass frequency in there mate. That's going to make the needle jump and it just won't cope with it. So, we're going to have to turn that down. You also can't deal with all those highs. That will come back once it's printed onto vinyl as simple distortion." Then he'd say "This track's too long, which means the side's too long, so it's all going to get squashed up. So, we're going to have to compress it."
I ended up with this incredibly compromised final version. I listened to my album as we were recording it in the studio and then I listened back to mastered version, which by comparison was a very screwed-up version of what I thought I'd finished. It was mastered to deal with the inherent frailties of vinyl. Similarly, Bill had been used to listening to this EQ-ed master, which they didn't go back and remix or remaster for CD. They just used whatever mastered version they had in their archive. It sounded very thin and kind of lifeless. You get rid of all that shit and just play it as it comes back up the multitrack and it sounded great. After that, Bill took my mix and tweaked things that had always bothered him where he thought, "Oh, I wish that was quieter" and "I wanted that to be louder." And again, I've read stuff on forums where people are criticizing me and asking "Why has Jakko done this? Why has he done that?" My response is: "Because that's what Bill wanted." Bill wanted the guitar to go in and come out in between Annette Peacock's vocal. I went through a similar process with Ian Anderson, although a lot of the time, I'm just left on my own. I keep working on things until I think they sound great.
You can't legislate for how something will sound on other people's systems. I'm in an acoustically-treated, purpose-built room. I can't legislate for the environment in which somebody plays this stuff back and however they've wired up the speakers and where the speakers are.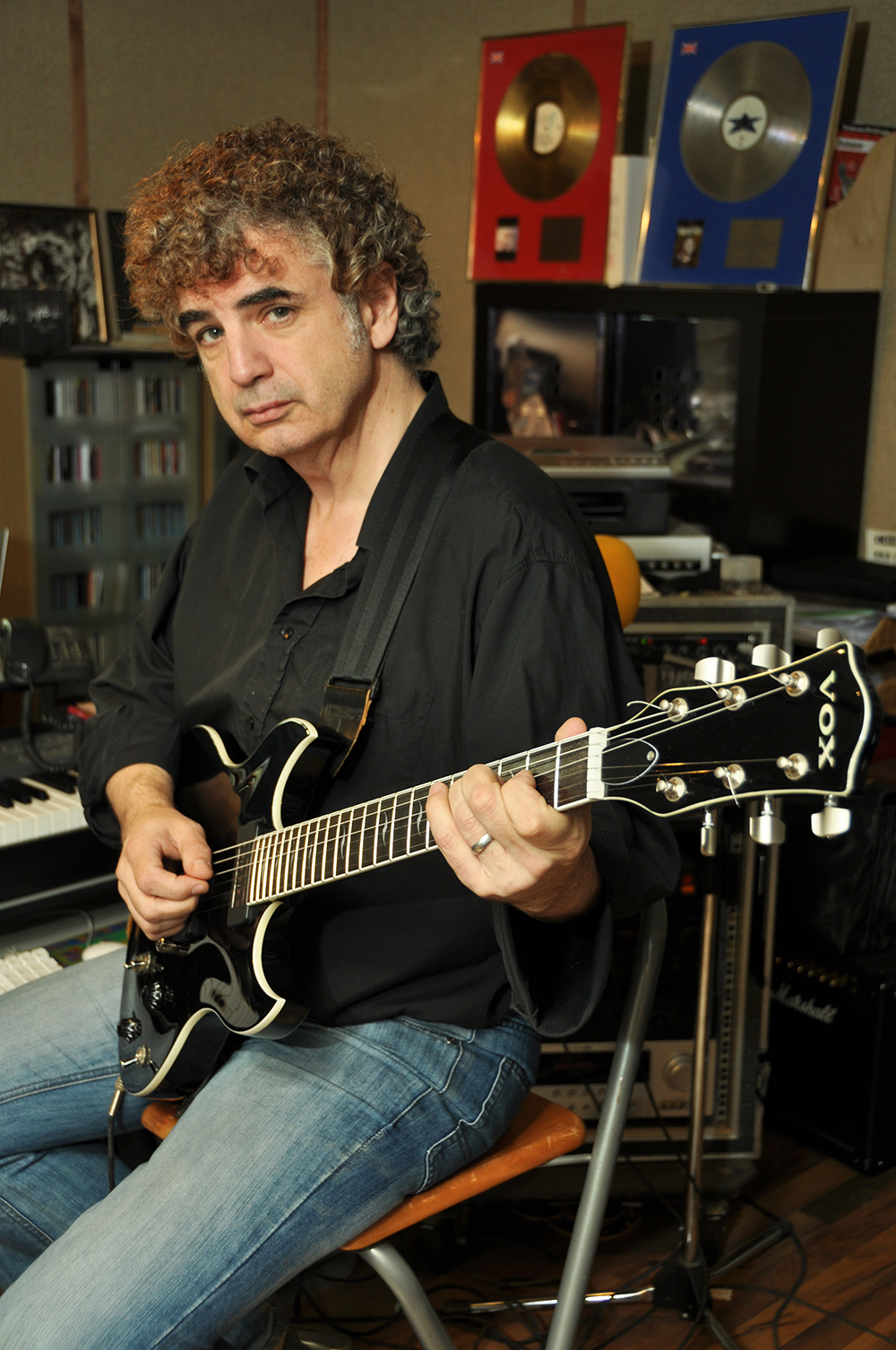 Photo: Paul Bundock
The resurgence of vinyl has created a lot of online lunacy. Some vinyl zealots very vocally and bizarrely claim LPs are "warmer" and superior to 24-bit HD studio master files. What's your response to that?
There's a whole area of audio snobbery in which people say there's something magical about vinyl. I understand it is an object of desire because it's a possession, whereas music relegated to a mere file becomes more ephemeral. I understand the solidity of a 12" thing with a gatefold sleeve. But the idea of somebody that takes a long time laboring over details in music and then has to put it onto vinyl and deal with all the fucking sound and noise issues is something I don't buy into. The digital replication of my final mix is as near as I'm going to get to what I thought it sounded like. Vinyl colors the sound or you have to tweak the shit out of it in order to deal with its frailty. I find all that a bit mad. I see some of the hi-fi stuff with people insisting on gold plated mains, plugs and there's all of those aspects which I think are just nonsense. I refer to it as audio homeopathy.
James Randi is an illusionist who stopped being a successful magician in order to concentrate on exposing fraudulent performers. He started with evangelicals, people that were claiming to cure stuff by faith healing. He has this institution called the James Randi Educational Foundation. He had an award of $1 million if anyone can come to his institution and prove to them they have ESP and can move objects with their mind. No-one's ever claimed the $1 million prize.
The reason I mention him is that he has another prize at his institute for $1 million, where you can bring any recording you want. He's got some speakers and an amp, with an A-B box. One set of speakers has $7,250 Pear Anjou speaker cables and another set has the cheapest speaker wires you can get, maybe even made from coat hangers. He said "You can play back any tune you'd like and we will randomly change from the most expensive speaker wire to the cheapest speaker wire and if you can tell me beyond chance which one I'm using I'll give you $1 million. Nobody's been able to do it. So, I feel very skeptical about a lot of that hi-fi nerdy stuff.
The most important question I have to ask you is about your work as producer Grand Master Jelly Tot for Morris Minor and the Majors. Their hit single you worked on, "Stutter Rap (No Sleep 'Til Bedtime)" was a major hit in several countries in 1987. Tell me about that experience.
This goes back to my early days as an actor. I worked in theater and I got to know a comedy actor named Nigel Planer, who had been part of The Young Ones. One day, we chatted about music. He's a music fan. So, I told him stuff I'd been doing and who I knew. He was a fan of Dave Stewart, so I put him in touch with Dave. Dave ended up producing a 1984 album that Nigel made as Neil, the character out of The Young Ones. It was called Neil's Heavy Concept Album and it had a big hit single called "Hole in My Shoe," which was a cover of the Traffic song. I played on the album and I did some shows for a laugh as part of his backing band.
The support act was a very funny act called Raw Sex, who were regulars on French and Saunders. They did music for comic strip films and stuff. I started doing sessions for them. One year, we ended up performing at the Edinburgh Fringe Festival. I got to know lots of English comedians and became friends with many. One guy named Tony Hawks had a band called Morris Minor and the Majors, who did the comedy circuit. And they were very funny, doing clever set pieces. They had a track they did on the English television show Saturday Live called "Stutter Rap" which got a lot of attention. A record company got in touch with them about releasing it and they were looking for a record producer.
Tony, a good pal of mine, said "We want to use Jakko because he's a serious musician and he understands comedy." So, they asked me and I said okay, but only if I could do it under a pseudonym. In case it became a hit, I didn't want to have my name connected, though I'd quite like to have had the money. [laughs] I had once met Jelly Bean Benitez, who produced the early Madonna stuff. I took the mickey out of his name and came up with Grand Master Jelly Tot. So, we created this stupid character that supposedly produced this record. And much to my amazement, it was a big hit around the world. In England, it was in the top four.
How do you look back on the track?
I remember sitting in a meeting and saying "Look, if we're going to do this, we should make it a pastiche of something that's current. And the most current thing is the Beastie Boys. So let's do it in their style." So, we did. We laughed a lot in the studio. It was good fun.
The record company then decided that it wanted a 12" remix. And I said "Why?" They said, "Because that's what we do when we market all our records." I said, "This is a comedy novelty record. Kids are going to buy it. No self-respecting clubgoer is going to buy 12" remix of a stupid comedy record." But they insisted that they knew best.
I was told they got this young kid in to remix it. It was originally a Beastie Boys piss take. But the first thing this kid did was put synth bass on it and all these pad chords. So, immediately it didn't sound like the Beastie Boys anymore. He took out all the Beastie Boys stuff, which had a number of jokes in there. There was a bit where the vocal says, "I open my mouth and nothing comes out" with a gap, and he put a percussion break where the silence used to be. He put a guitar solo in the middle where they shoot the guitarist. He took out the gunshot and the dialog surrounding the gun shot. At the time, the big thing was scratching a record and letting go of the record so you heard the record you were scratching. The cliché had been using James Brown. So, we decided to scratch something ludicrous. We scratched the theme tune to Neighbours, the Australian soap opera. And he took that off! He also mixed the vocals so quietly you couldn't hear any of the jokes.
We went to a meeting where we were played this remix back and the whole thing was pointless. Then they asked me to do a 12" remix keeping all the jokes in. When I got to the studio, I realized the guy had put all these overdubs on my original multitrack without making a copy. So, he'd wiped half of the overdubs. I got very pissed off and told the record company to go shove it up their asses. I left the country and I went to America for a couple of months. Remember, this is before mobile phones and before the Internet. I came back months later and I phoned up my friend Tony, rather sheepishly, and apologized for my melodramatic behavior. And I said I realize I may have screwed the whole thing up.
He said, "Oh, don't worry about it." I said, "Well, what happened? Have you fallen out with the label?" And he said, "No, we put it out." I said, "What did you mean you put it out?" He said, "Well, we put out the rough mix that we did right at the beginning." And I said, "But that was all distorted because we put it together by lining up tape machines." He said, yeah, but that's all we had, so we stuck it out. And I said, "Christ! And what happened to it?" He said it's number four. So, here they were, using the distorted rough mix because they had no alternative and it was a big hit. I was given a producer's percentage and did well with it.
I understand you have an intriguing Whitney Houston story.
At one point, I was working with Pete Collins, the famous record producer, as we discussed earlier. His wife at the time was managing him and then she started to manage me as a potential producer in the '80s. On my show reel was a track that I had written for Gavin Harrison. He was going out with a girl who was with a very successful female vocal group in England. She was talking about going solo. So, I wrote this song and produced it specifically for her. Well, I got a phone call from Pete's wife saying, "Listen, I've been touting your wares. I'm in a meeting with Clive Davis at Arista. He loves this song. He wants it to be recorded by a new artist they've got. And I said, "I've done this specifically for my friend's girlfriend." The manager said "I know, but this is a great opportunity." I said, "Who is this girl?" And she told me her name. I'd never heard of her. So, I said, "No, I'm not going to do it." Of course, it was for Whitney Houston's debut album. And Gavin's girlfriend never, ever released this track. So, there you go. God knows how much money that might have made me. But you live and you learn.
Elaborate on your Michael Jackson tale, from earlier in our conversation.
When I was recording one of my albums in 1987, I went to Los Angeles and we used Jerry Hey, an amazing horn player who played on all of the Quincy Jones productions for years. Larry Williams, the sax player for Quincy Jones, was someone I became friends with. I used to stay at his house in Los Angeles. When I was there once, Larry said "We're recording on Saturday. The guys would love to see you. Why don't you come down?" So, I did.
Larry gave me the address for the studio and it was Westlake Audio. There was loads of security there. Larry came to get me and we walked down a corridor and the thin, gaunt figure of Michael Jackson was there, because it turns out they were recording the horns for Bad that day. It sounded incredible. It was amazing to be there.
Michael would come into the studio and he was very deferential and talked with great pride and respect with all the musicians involved. When he wasn't in the control room, the rest of the studio was empty. The whole place was block booked. They paid for every other studio and every other control room in the whole complex. When he wasn't in that control room, he was running around in the other corridors and the other live rooms with half-a-dozen boys between the ages of seven and 12, which at the time I thought was very odd. It was only later on that I looked back at that experience and thought it was considerably odder.
As the day progressed, more friends and family turned up, and Michael got very shy and by the end of it, he was sitting behind the mixing desk in a little alcove. There was a doorway that led to the tape store and he sat in there, with the light turned down. If you had gone in, you wouldn't have known he was there. When the studio emptied out again, it was just his crew, plus me, and he started being very chatty. He started talking to me. I hadn't spoken to him other than to say hello that morning. He was rather taken with these ridiculous pointy, English suede shoes I was wearing and said, "Gee, I really like your shoes."
What's your perspective on dealing with the economic challenges artists face today?
A career in music is a vastly fluctuating thing. I think the current climate is very, very difficult. I've got a 16-year old son who's currently at music college. I don't want to dampen his innate enthusiasm for making music and the thought that he might be able to do that for a living. But the world that I first inhabited doesn't exist anymore. Sessions as they existed in the '80s don't exist anymore.
In England, there are colleges all around the country with courses teaching you studio techniques and how to become a record producer. And the reality is that when they come out of those colleges there are no fucking studios because they've all closed down. The only people making any money are the people putting on the courses at college! [laughs]
Trying to eke out a living doing this, in this day and age, is very, very difficult. And you've got to be in the right place at the right time. And you can't really legislate for that. All you can do is try and be as good as you can be and recognize it's a luxury and buy as many lottery tickets as possible. If the break comes, be prepared enough that you can do the job that you've been fortunate enough to be offered.
My own experience is so unique to me and I don't know if sharing it benefits anybody else. Every week some aspiring musician writes me looking for some advice on trying to make it, and I don't have a lot to tell them. And it really pisses them off sometimes because they think there's a magic bullet and there isn't. There's no magic. Someone, somewhere, at some point, might latch onto you and give you an enormous amount of exposure that will enable you to continue doing what you're doing. You can't legislate for that. There is no magical formula. Anybody telling you that there is, is full of shit. I've got a million stories of being on records that were enormous hits. Now, that's not to say that they didn't deserve to be and they didn't have musical validity, but they've had a moment of extraordinary fortuitous luck that's enabled that record to suddenly be where it ended up.
Listen, if you're a 100-meter runner, if you can train, and you have the physical capacity, you can become the fastest 100-meter runner in the world. There's no gray area. You're either are or you aren't. Being a musician is so subjective. Somebody else is making the decision as to whether what you do is going to be successful or not.
So, what's the most important thing, as far as advice? It's don't be an asshole. We all know musicians who are geniuses and brilliant players, who are also difficult and a pain in the ass. I think quite often you're more likely to get work if you're a nice guy and not a pain in the ass. But more than anything is the element of luck. Luck plays such a big part in this. Some of the most talented people I've ever met are people no-one's ever heard of. And some of the most averagely-talented people I've ever met are very successful.
Now, I find myself playing in the band that was my favorite when I was a kid, which treats its musicians very well. Robert Fripp is a very unique individual in that he insists we all share in whatever financial rewards this brings. Most people in his position would just pay the band a wage. But Robert insists that we all share equally. And that's a very rare thing, especially playing music like this. As Bill Bruford once said, "King Crimson is the only band in which you can regularly play in 15/8 and still stay in nice hotels." It's a very privileged position to be in. I found myself in the almost unique position of being qualified to do one job and one job only. And bizarrely that one job came up. So, I'm incredibly fortunate.
Websites:
DGM Live
Jakko Jakszyk on Wikipedia