Dave Kerzner
Transforming Passion
by Anil Prasad
Copyright © 2013 Anil Prasad.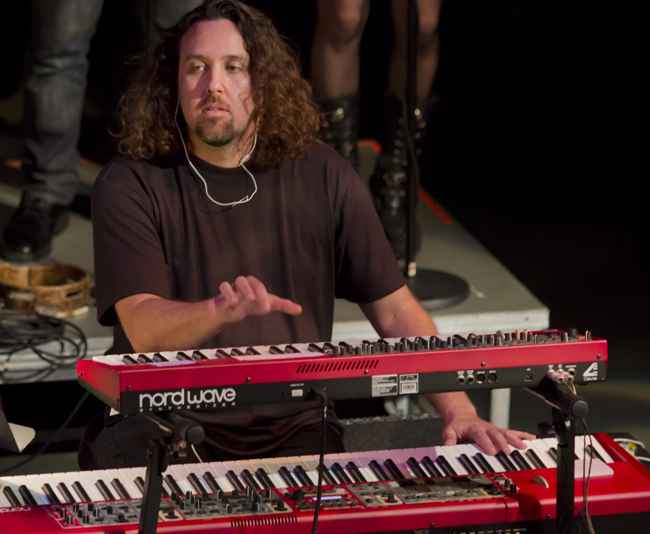 For more than two decades, keyboardist and sound designer Dave Kerzner has been quietly influencing the paths of countless musicians across the globe. He has worked with an incredible number of notable artists, including Keith Emerson, Genesis, Alan Parsons, Neil Peart, Smashing Pumpkins, Ringo Starr, and Tom Waits, just to name a few. All of them have benefited from his sounds, sample libraries or consultative efforts.
Kerzner's journey began in the early '90s with his obsessive interest in collecting keyboards. He transformed his passion into creating samples and software tools that he licensed to instrument makers including Alesis, Roland and Yamaha. That era also saw him partnering with multi-instrumentalist and songwriter Kevin Gilbert. Kerzner was a member of Gilbert's Thud band and can be heard on the group's Live at the Troubadour album.
During the first half of the 2000s, Kerzner mostly focused on sample library, plugin and virtual instrument development via his company Sonic Reality. In 2006, a meeting with singer and drummer Simon Collins, son of Phil Collins, encouraged Kerzner to reignite his passion for recording and performing. The duo initially recorded a cover of Genesis' "Keep it Dark" in 2007, which went on to become a viral hit. He next worked on Simon Collins' U-Catastrophe in 2008, before co-founding the group Sound of Contact with him in 2010. The modern prog-rock act recently released its debut disc Dimensionaut, a concept album that explores the journey of a traveler through time, galaxies and dimensions.
Describe the mission of Sound of Contact.
After doing three solo albums of his own, Simon Collins wanted to have a project that was more of a band collaboration. The first mission was to create Dimensionaut, a sci-fi concept album. The concept is open to interpretation and we all want to be careful not to ruin it for anyone by spelling it out too much. As far as I'm concerned, we're musicians, songwriters and producers creating entertainment for whoever might like it. If it inspires people's imaginations and gives them the things music has given us over the years, we're happy. Generally speaking, it's about a traveler of time, space and multiple dimensions. Dimensionaut is the main character. The songs deal with his adventures in becoming a traveler across dimensions. They also explore his struggles with keeping a sense of grounded reality and a connection with those he loves, while expanding the boundaries of his explorations. What I like about the concept is that it can be as deep as you want or you can just enjoy the songs on their own and derive your own meaning from them. Many of them work out of context and can apply to everyday life.
You have a very interesting Calling All Stations-era Genesis story that eventually led to you meeting and working with Simon Collins.
Way back in 1997, the Internet was still new to most people. When I heard that Phil Collins had left Genesis, I decided to go on Usenet newsgroups to see what people were saying. It was the first time I had done that and it was interesting to read what people were thinking. Some people said it should have been Don Henley or Ringo Starr replacing Phil, which I thought was absurd. I decided to post something like "Get out of here. Those guys aren't going to do it! But I do know someone who would be great for it and his name is Nick D'Virgilio. He's on tour with Tears for Fears. I played The Lamb Lies Down on Broadway live with him and Kevin Gilbert. He really gets it, he can do it and he'd be great." So, I hit send and nothing happened. I thought "Shit! I better hit send again." So, I kept hitting it. Finally, 10 copies of my post show up and it looks like spam to everybody. I'm thinking "Oh my God, everyone on the newsgroup will be pissed off at me." Sure enough, they were. They said "We get it. Once was enough." Then one day, Tiffany D'Virgilio, Nick's wife said to me "Did you post something on the Internet about Nick being right for the Genesis gig?" and I said "Yes, why?" Tiffany then said "Well, he got the gig." Apparently, Genesis' producer Nick Davis read my post and that's how Nick got the audition. I then went back to the newsgroup and said "I know you guys gave me a hard time, but as it turns out, Nick ended up on the Genesis record. And apparently, the Genesis camp reads these postings which is pretty amazing." Then I got a message from Nick Davis himself saying "Not that amazing." We became friends after that.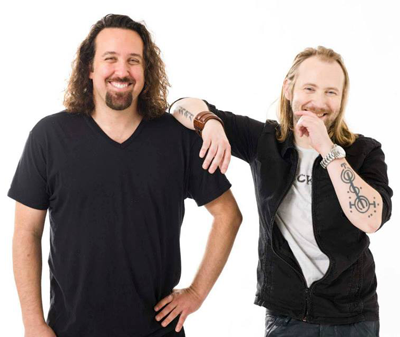 Your Internet encounter with Davis ended up being a pivotal moment for you.
Oh yeah. That was my whole introduction to the Genesis universe. Nick Davis is a super-nice guy and very accessible. We stayed in touch. Years ago, with my company Sonic Reality, I made a sample library called Vintage Timetraveler. It was one of the first CD-ROMs for Akai and Emu back in 1996. I thought "I should send this to Tony Banks. He'd love this." I sampled all sorts of ARPs and Mellotron sounds for it. The expansion boards for Alesis and Roland keyboard workstations even used many of my samples, which is how my company got some traction at the beginning.
As it turns out, I didn't send the library to Tony. At the time, I didn't think to look up the Genesis studio address on the Internet. I had no idea of where to send it and I didn't want to just send stuff off into space. But later, when things moved on into the plugin universe for Macs and PCs and I was partnering up with the IK Multimedia music software company, I casually said to Nick "So, is Genesis using plugins? Do you want to try some of ours?" And he said "No, not yet." A couple of years after that, I said "Are you guys using plugins now?" Nick said something like "No, they're kind of old school." [laughs] In 2004, I reached out again and said "Come on, you guys have got to be using plugins now." [laughs] Finally, Nick said "Yes, we are." And I said "Let me know what you want and I'll hook it up. I'll give you complimentary copies of a few things, so pick out some stuff you'd all like." They were so humble and shy about it. Nick said something like "Well, Tony would like this and Mike would like that, if it's okay." I said "No problem. My pleasure." So, I got them set up with some of our music software plugins and they loved them and then bought all of them after that.
Then I got an invitation from Nick Davis to visit The Farm, which was Genesis' studio at the time. I was at a music convention in Europe in that time frame, so I was near enough to visit easily. When I got there, Nick was working on a session, mixing the third archive Genesis box set in 5.1. I watched him mix "Mama." After that was done, Nick said "Now it's your chance to sit in the engineer's seat. What do you want to hear?" He played me stuff from the box sets before any of it was released. So, I said "How about 'The Lady Lies' from And Then There Were Three?" The original was so dense. I was curious how it sounded separated out in 5.1. Then I wanted to hear something off Wind and Wuthering, because I always thought that mix was a little thin relative to other albums like A Trick of the Tail. Sure enough, they made the drums smack hard and it was really interesting to hear it that way. Then I went for it and said with a nervous gulp "Supper's Ready?" And Nick said "No problem." I felt strangely guilty cranking Gabriel singing in Genesis' studio where they made the '80s and '90s albums with Phil on vocals. But it was great hearing it all on the system the way the engineers hear it. It was one of the most amazing experiences of my life. What an honor. After that, I became a 5.1 freak.
Wasn't this also the first time you met Tony Banks?
Yes. Another part of the story is that I was told that Tony Banks shows up at The Farm often to listen to the mixes. I thought for sure he'd show up that day, but he didn't. I was sitting there with Geoff Callingham, Genesis' tech and he gets a call. I hear Geoff's end of the call which goes "Yes, okay, right. I'll be over in a bit." I said "Was that Tony?" He said yes. I replied "I have to tell you—I'm a keyboard player and a huge fan. I was hoping he would come by." Geoff said "Well, I could call and ask. You never know." So, he calls Tony and tells him the guy from IK is there and wants to meet him. Not too long after, I saw Tony walk in and it was wild. He sees me and thanks me for the plugins and then he basically said "Is there anything you want to ask me?" It was nice, but it was like a stiff interview. I asked him a few Genesis questions and he answered mine with very similar answers I've heard him give before in interviews. I thought "I need to break the ice here." So, I said something that made him laugh and then got him to loosen up by talking about keyboards, like when we got the first Yamaha DX7s and what a pain it was to try to program those things.
My sounds were almost going to be used for the Genesis reunion tour in 2007, which ended up being their final run of shows. But they were under so much pressure to get the tour off the ground, that they ended up using the Calling All Stations rig. What did happen is I got invited to the rehearsals for the tour and that's where I met Simon Collins. Before I continue, I have to tell you the story of those rehearsals. At the time in 2007, no-one knew what the line-up was going to be. The rumors were that it was going to be the original five members, with Peter Gabriel and Steve Hackett. Geoff Callingham was the one who gave me the invitation. I asked him "Who's in the band?" He said "I can't tell you." [laughs]. So, I just showed up at SIR Studios in New York and walked down the hallway, and opened the studio door, not knowing who was going to be behind it. I was almost relieved when I saw it was the Phil Collins, Mike Rutherford, Tony Banks, Daryl Stuermer, and Chester Thompson lineup. For some reason, it felt like less pressure for me to be there as an observer than if it was the original five. I'm not sure why.
I got to sit through rehearsals, just watching as a fly on the wall, not wanting to interrupt anything. Quietly from the couch, I was watching Phil standing five feet in front of me singing on the first day. On the second day, Simon and I really hit it off and became friends. Then Simon says "Do you want to go watch my dad play up close?" And I said "Oh, okay." [laughs] Next thing you know, we're standing right next to Phil's hi-hat, watching him play "Los Endos." Then I got really bold, and walked right up to Tony Banks as he was playing "Carpet Crawlers," leaning right over his rig, thinking "So, that's how you play it." It was ridiculous. It was a Genesis fan's dream come true. Afterwards, Geoff took a picture of me inside Tony's rig. I asked Simon "Think we could do a picture with the band?" and he said "Yeah, absolutely. Hey guys, can we all do a picture with Dave?" So, this amazing photo was taken with all five members, with me and Simon in the middle. Everybody's smiling and it was a great picture. It's one of the first band photos people saw when the tour was announced. It was so funny, it was like "Who's the schmuck in the middle of Genesis?" [laughs]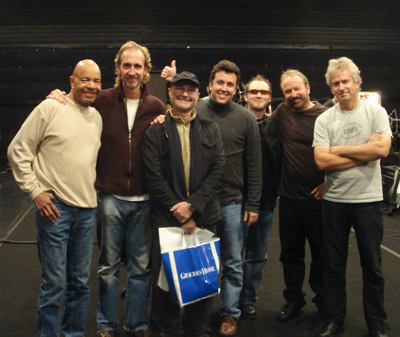 The first piece of music you did with Simon Collins was a cover of Genesis' "Keep It Dark" that coincided with the reunion tour. Give me some insight into the making of it.
When Simon and I met at the Genesis rehearsals, we both said we should get together to do something. He said "I've always wanted to do a Genesis cover and you're the right guy to do it with." He wanted to do "Keep It Dark" from Abacab and I said "Yeah, I love that song." We both love the subject matter, which is about outer space and aliens. Simon's really into science fiction. So, we started working on the track and he got Kelly Nordstrom from his band to play guitar on it. I played keyboards and co-produced it with Simon. Simon didn't want to sell it, so we gave it away for free. It was very well received, with around 40,000 people downloading it. Tony Banks gushed about it and said it was one of the best Genesis covers he had ever heard. It also became the catalyst for further work with Simon.
On Simon's next solo album U-Catastrophe, I played keyboards on a song called "Big Bang" which was a drum duet between Simon and Phil. It was like a modern version of the Phil-Chester Thompson drum duet. After that experience, about a year or so later, Simon came to me and said "What do you think about doing a band project together where we all collaborate on writing the songs?" I said yes and we started the Sound of Contact project with Kelly Nordstrom and Matt Dorsey. Nick Davis mixed our album Dimensionaut. Simon and I co-produced and co-wrote all the songs along with Matt, Kelly and a few other collaborators.
Describe the creative process that informed Dimensionaut.
It depends on the song. Some were partially-written songs of varying degrees brought in by Simon, myself, Matt or Kelly and then we worked on them together to finish them. Others were written during studio jam sessions together and in some cases, like "Omega Point," the one-and-only take of the instrumental jam session is what you hear on the album. We wrote the lyrics around that improvised session, which is something we thoroughly enjoyed doing. It takes advantage of the magic and chemistry of live players in the zone. It's not perfect, but great rock albums are never perfect. It's better that it feels like real musicians playing and it's genuine. It's not as important that the tempo lines up to a grid. Let it shift naturally to the excitement and emotion of the moment. The great part about a jam is that there's no talking and little time to think. You feel your way through and then listen back and think "Well, what do we have here?" So, "Omega" and much of "Mobius Slip" were created that way. They offer a nice balance with the more deliberate compositional styles of collaboration on the album.
How has performing these songs during your inaugural tour this year transformed them?
One of the beautiful things about playing this music live is the fact that all of it was originally played live off the floor in the studio. Granted, there were overdubs and sound design elements added, as well as lush vocal harmonies and other things that would be challenging to replicate live as a five-piece if you don't have any pre-recorded tracks running, which many bands often do. However, not having pre-recorded tracks live gives you a certain freedom that I really like. We were fortunate to have played with great players like John Wesley of Porcupine Tree, Jonathan Schang of District 97, and Ronen Gordon. We've also played with guitarist Randy McStine, who I worked with previously on his project Lo-Fi Resistance. Every night, there was an energy to the performance that was infectious and the response from the crowd, which included many people who had never heard of us before, was absolutely fantastic. These are some great memories for me. As for the songs and the chemistry, I think the more you play, the more opportunities you create for natural evolution. The songs come alive when played live and people seem to really enjoy seeing Sound of Contact perform. The only tough sacrifice is not getting to have Simon play drums live on every song because he's fronting the band. The feel of his playing and his particular style is a signature element of Sound of Contact and Dimensionaut. As great as other drummers may be, it's not the same as what happens when he's behind the kit.
You had another major Genesis-related experience as a contributor to Steve Hackett's Genesis Revisited II project. How did that opportunity emerge?
Steve Hackett also played on Simon's U-Catastrophe on a song called "Fast Forward the Future." I've been in touch with Steve for years about him and Roger King, his keyboardist and producer, using Sonic Reality and IK Multimedia products that I've had a hand in making. When I heard he was doing Genesis Revisited II, I offered to play keyboards and help record singers like Simon Collins and Francis Dunnery. So, we got to be part of the songs "Dancing with the Moonlit Knight" and "Supper's Ready."
Describe your contributions to "Supper's Ready."
I was given a few sections of the song to work on and flew up to Canada where Simon lives to record him in the studio. We worked on "The Guaranteed Eternal Sanctuary Man," "Apocalypse in 9/8" and "As Sure As Eggs Is Eggs," which is the epic end section. Besides facilitating the recording of Simon and Francis' vocals for it, I also contributed my own keyboard performances, sharing the spotlight with Roger King for the big organ solo and triumphant lush finale. We used a product I made with IK Multimedia called SampleTron, as well as other vintage sounds to recreate the authentic flavor of the song.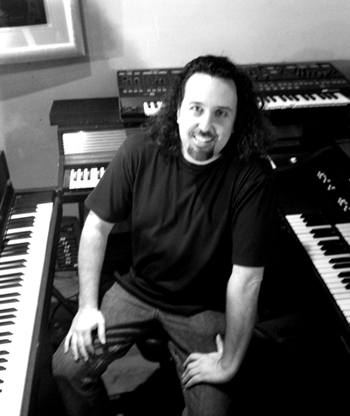 What are your thoughts about how the track turned out?
I couldn't wait to hear the final version. All of our overdubs were done to temporary stems. So, to hear it all together with the real tracks, as well as the other sections with different singers really was a trip. It's such a powerful, emotional song. There was an unexpected surprise guitar solo from Steve that came in during the organ solo shared by Roger King and myself. That made it more like a jam between the three of us and that was cool. To me, there are a few different approaches you can take covering a song this long with so many parts. You can either do it with one singer, guitarist and keyboardist, like the original, but embellish the arrangement, or you can do what Steve did, which is make it an epic celebration with a variety of guests giving their best to it. Since that seems to be the spirit of the whole album, it makes sense for him to go that route with this song which is like a mini-album within an album.
What did it mean for you to be a part of the project?
It was a dream come true. Being a keyboard player who grew up listening to Genesis, this was a very rare opportunity to play on an iconic early Genesis song with one of the guys who wrote and played it originally. It just makes the 14-year-old inside me proud. Besides that, I really love to work with great musicians on music that inspires me. Steve is incredibly down to Earth and treats the musicians he works with respectfully with no ego. You're comfortably on the level with him and we all felt appreciated for what we did. That means a lot to me.
In 2012, you released XYZ: A Tribute to Rush, as a way of highlighting what's possible with your sample libraries. Give me some insight into what you were going for when you recorded it.
My company, Sonic Reality, is a sound development firm that does sampling and creates virtual instruments. These are tools musicians, songwriters and producers of many styles use to create music on the computer these days. It's fun and interesting for me to produce sample libraries. When I make them, I try to go to the source and get the most authentic capture possible. It's a very costly process and it's almost like audio preservation, because these legendary musicians, engineers and studios aren't going to be around forever. If someone doesn't just go all out and do it, then the opportunity will be eventually gone forever. We work with artists that have iconic sounds. I've produced drum sample libraries with guys like Neil Peart, Nick Mason, Jerry Marotta, Danny Gottlieb, Billy Cobham, Terry Bozzio, Rod Morgenstein, Bob Siebenberg of Supertramp, and many others.
I was working on a project at Oceanway Studios in 2007 and it turned out Rush was mixing Snakes and Arrows in the same studio, so I was able to make a connection with them there. We ended up doing a Neil Peart sample library with Rush producer Nick Raskulinecz. We used Neil's custom DW Snakes and Arrows kit to record the library. He played grooves and we cut them up into two-bar loops that anyone can rearrange. When you use them, it's like having Neil play on your music. That's the whole virtual reality element of it. It's like a fantasy for people who use these libraries. The XYZ EP and upcoming full album I'm doing are ways of showcasing what's possible using these libraries. The idea was to take Sonic Reality sounds and put them in real musical contexts to create a fantasy tribute band. So, we got Rik Emmett from Triumph to sing and play guitar on "Red Barchetta," John Wesley from Porcupine Tree to do the same on "Tom Sawyer," and Randy McStine to do "Limelight." We also got Billy Sherwood of Yes and Matt Dorsey from SOC to play bass on all of it. "YYZ" was another track we recorded. It's a tribute but with a certain unusual twist, which is that Neil, one-third of Rush, is actually the drummer on it. It's just done in a unique way, collaborating with the content of a sample library which is something anyone can do if they have Neil Peart Drums by Sonic Reality. They can even write their own songs using his drum grooves and that's something we're doing as well with Sonic Elements.
Your own keyboard interpolations and extrapolations are a highlight of the disc. What were you trying to bring to these tunes as a player?
I'm always thinking about the elements of music when I write or record. That's why the band is called Sonic Elements. I try to break things down and consider what the elements are that make things interesting and unique. Also, I want to consider things that will be fun to play and listen to. Otherwise, what's the point? From a keyboard standpoint, I wasn't just going play what Rush did previously. For instance, on "Red Barchetta," during the middle section where Geddy Lee sings "mechanical music," I thought it would be cool to hear some mechanical music. I didn't sequence that section at all. I played it all arpeggiated, live. Even with plugins, I sometimes play live and record it without quantizing. I'm sort of old school that way sometimes. [laughs] On "Tom Sawyer," it was the same thing. There's a Minimoog solo and I felt like I should really go for it and do a big keyboard solo. Rush treated the keyboard parts more like riffs. I put myself in the mindset of "If I was in Rush and their co-producer, what would I do?" That's the fun fantasy alternate reality of it for me, so that's what I did.
There are a lot of tribute albums being released these days. What's the key to making one a valid artistic statement?
It all depends on the approach you take. A lot of times, the approach is superficial. Maybe the project is about getting big names on it. Well, to me it's not just about the names, it's about the elements. So, what element is each musician going to lend the project? Does that element make sense? That's why it was so great having Rik Emmett singing a Rush song. I didn't just think "Let's get a name artist on here." I thought "Who can actually sing this well and do the song justice in an authentic way?" Having recognizable iconic names on a tribute album may be good for marketing, but marketing should be secondary to what best serves the song musically. It's a balance. The other difference with XYZ is I wasn't hired to do it. I was in charge and I got to do it the way I wanted. I think the key to making a valid artistic statement is to love the music and respect the songs, all while adding an alternate reality to them and producing the album as if it was your own music.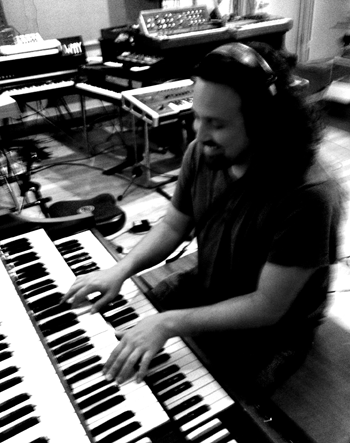 One of the first major artists you worked with was Kevin Gilbert. Tell me how you first encountered him.
In the early 90's a good friend of mine, a musician named Mark McCrite, said "You've got to check out Kevin Gilbert and his bands Toy Matinee and Giraffe." I liked them and oddly enough, out of nowhere, I got a call from Kevin asking if he could see my studio. Back then I had this crazy studio on stilts at the top of Mulholland Drive in Los Angeles, with a panoramic view of the Valley. There were vintage keyboards everywhere. I had real Mellotrons and apparently Kevin heard about them. He said he wanted to check them out. When he arrived, he immediately saw that I had all of Tony Banks' keyboards. When I played him some of my songs, he said "We should get a bunch of guys together and perform Genesis' The Lamb Lies Down on Broadway." I didn't take him too seriously, but I said "Yeah, let's do it. I'm down. Let me know."
Kevin was also putting together his band Thud in the same time frame. He called me up and asked me to audition, which wasn't really an audition, because he said I already had the gig. Thud wasn't the original name for the band. There were all kinds of quirky ones considered but mostly just for joking around, like D.O.A.R.C., which stood for "Daddy Owns a Record Company." He had a really good sense of humor. For instance, when Thud rehearsed, we used to do something called "Piss Yes" which was us playing things like "Long Distance Runaround," with perfect timing, but with all the wrong notes. [laughs] It sounded half-amazing in that it was tight, and half "What the hell are we playing?" We never had the balls to play it live, but we used to make ourselves laugh all the time with goofy stuff like that.
After we played a bunch of gigs with Thud, Kevin said to me "So, do you still want to play The Lamb? I know the perfect place to do it. It's this event called ProgFest in LA." I said "Really? Sounds good." Then he said "The only problem is it's in two weeks." [laughs] He said he knew the perfect drummer—Nick D'Virgilio who had the Phil Collins parts down and a guitarist named Dan Hancock that could do the Steve Hackett stuff. Kevin felt the only issue was getting someone who could do the Mike Rutherford parts. Kevin said "I know someone who can do it, but I don't know if he would do it—Stan Cotey, my ex-Giraffe bandmate." I had never met Stan, but Kevin said "Maybe you can talk him into it." I'm like "I'll do it. I'm the negotiator." So, I went in and talked to Stan and he said "I don't know man. I've been burned by this and that." When you listen to Kevin's Shaming of the True rock opera, there's a part that goes "Dump the band, you are the face." In this case, the band that was dumped was Giraffe, so Kevin could go do Toy Matinee instead. It's based on a real story. So, there were some burnt bridges to repair. But because we all loved this amazing album, I managed to bring Stan around and he said yes. We did the gig as Giraffe, because it was the two of them back together and it looked good with the Genesis logo lettering.
For two weeks, we prepared and did two songs a day. Bill Bottrell mixed the sound. The passion was there and everyone felt we knocked it out of the park. We knew it was a one-off opportunity, so we stepped up to the plate, shut off our minds and made it happen. When we did the segueway from "It" into "Watcher of the Skies," it was such a majestic moment. It was one of the best feelings of my life to hear the crowd cheering for us. We could tell how psyched they were and that we had totally won them over. It was magic. Now that Kevin's gone, we're grateful we had that experience. It was such a fantasy for all of us. It was a dream for Kevin and he got to do it. We got to do it with him.
Why did you leave Gilbert's band?
I witnessed a very pivotal time for Kevin. He was like a chameleon,with many different sides to his personality. We bonded as keyboard players and music appreciators. We hung out all the time for a year. There was a deep musical affinity. After The Lamb experience, "Punk Kevin" started to emerge. If you know The Shaming of the True, listen to "Ghetto of Beautiful Things"—he started turning into the "Fuck 'em all, this is art" guy a little bit. He was becoming a little cold with me. He even did a cover of Genesis' "Back in NYC" for the Supper's Ready tribute album and didn't ask me to play on it. I was like "Dude, we just did The Lamb and you didn't ask me to record a cover from that album with you?" He explained that it was with Mike Keneally and I thought that was cool, but it still felt strange that he didn't even mention he was doing it.
I was also dating a girl that I met at the famous L.A. Troubadour gig Thud did in 1995. She was trying to get a record deal. I was roommates with Kevin at the time and moved out to live with her. After everything he had been through with Sheryl Crow, he gave me a big warning speech about my girlfriend that I really should have listened to. After moving to Santa Monica, it was now a long commute and between his strange, almost anti-musicality attitude and lack of appreciation for me, I felt it was time to leave. As it turns out he was right about my girlfriend and we eventually broke up. I moved all my stuff into storage and drove cross-country with an old Danelectro guitar. I started writing an album then that I've worked on and off on for years. It has some Thud-style influence in it and many of the songs are in some ways about Kevin and the things I've learned from people in my life.
In the middle of this saga, you almost became a member of Eels during its Beautiful Freak phase.
I was in Eels for about a minute. During that moment, I was in Thud and my girlfriend's band. So, there were three different major things happening in completely different parts of town. But I missed two rehearsals with Eels, having to deal with something for my girlfriend and then E called me up and said "We've been rehearsing as a three-piece and it's sounding good, so I think we'll just go that route" and I'm like "Fuck! This girl is ruining my life." [laughs] Soon after, I saw their video for "Novocaine for the Soul" with them flying around and thought "Shit, I could have been in that band floating around on MTV." [laughs] I was the fourth member and got kicked out. I don't blame them though. I was juggling too many things.
E also reminded me of Kevin in a way. I hesitated and didn't jump at the gig in a big way because E's too good at everything, just like Kevin was too good at everything. They don't need you to make the record. What it came down to was E had Beautiful Freak done. So, the gig was playing somebody else's parts, even though the parts are brilliant. Part of me in that context said to myself "Shut the hell up and play this gig. You're lucky to have it." But it was like I was in a bad game show and made the worst of three choices. Instead of Thud or Eels, it was like "Here you go, pick a door and see what's behind it. Oh no! You chose door number three—your girlfriend's band! Bzzt! Wrong! Sorry Dave!" [laughs] But, subconsciously I was wanting to be more in charge of my own life and that's when I really started on my path of writing, engineering, sampling, and producing.
You did reconcile with Gilbert eventually.
We did. I had lost touch and didn't realize that Kevin continued Thud without me. They didn't replace me. They didn't even have a keyboard player. I felt like I never should have left. After breaking up with my girlfriend, I called up Kevin and said "Hey, what's going on? Do you want to get together?" He said "Yeah, Nick D'Virgilio's playing with Tears for Fears, do you want to go?" I said "Yeah, let's do it." So, we got together a week before Kevin died. We achieved some closure. I told him "It's really great to see you. I'm really sorry about how things went down. I really love you and your music, man." He said "You should come by the studio and I'll play you what I'm working on." I remember him looking at me in this strange way like that was the last time I was ever going to see him. It was a weird epiphany that occurred. There was this euphoric moment of silence. Perhaps he was taken aback by me telling him how much I really appreciated him. I'm glad I got that chance to tell him how I felt about our friendship and his work. Although like many, I wish he was still with us and that I got to work with him again. I learned so much from Kevin and I'm grateful.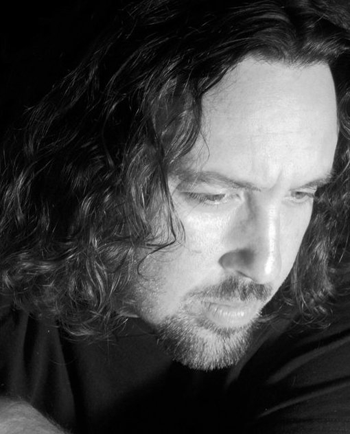 You were part of an ambitious performance of The Shaming of the True in Los Angeles in 2012. Describe how it came together and what it meant to you.
It came about because the producer Mark Hornsby is a fan of Kevin. In fact, going back some years when Mark worked at IK Multimedia, which shares a U.S. office with my company Sonic Reality in Florida, he said to me "Have you ever heard of Kevin Gilbert?" and I said "You're joking right?" But he claims he didn't know I played with Kevin and it was a pure coincidence. At the time, Nick D'Virgilio worked for me at Sonic Reality as well and Mark met Nick at the NAMM music trade show that we do every winter in Anaheim. From there, they worked on some projects together including Nick's EP Pieces and his tribute album to The Lamb. Then they also did a version of "A Long Day's Life" with a full orchestra in London at Abbey Road Studios. I think after them doing that, it gave Jon Rubin, Thud's former band manager who manages Kevin's estate, the confidence to green light more things relating to Shaming of the True, such as this live performance.
I'm so glad I took part in the Shaming gig for many reasons. It was great to see some long-time friends and pay tribute to Kevin in that way. I loved that the band was mostly made up of his ex-bandmates from different eras. We had never all played together before, so I have to think somewhere out there it made Kevin smile, wherever he may be. I also thoroughly enjoyed how much the audience was into it. This was a rare and special concert. It was an ambitious thing to try to pull off with minimal rehearsal time due to everyone's busy schedules and for it to be just one night only. It was a bit crazy, but we did it for the love of Kevin, his music and for the fans. Now, it's a great memory. It was an honor and privilege to be there and I'd do it again in a heartbeat. It was a priceless experience, as far as I'm concerned. A lot of fun. I grew as a musician and performer from the challenge of learning all that material in just three days of rehearsal as well.
What are your thoughts about the musical legacy Gilbert has left for the ages?
Kevin was such a strong artist. An interesting thing about Kevin's music is that it's immortal. It lives on. Kevin was so accessible, bold and real. That was even reflected in the production side of his music. It was done in a very upfront kind of way, with no reverb on the vocal. Everything was in your face. When you listen to his music today, it feels like he's right there. His music mirrors his personality and thoughts well. Also, this may sound a little crazy, but in my own head, I have a little bit of an "Ask Kevin" thing going on occasionally. I'll ask myself "What would Kevin do?" It's not like I see his ghost appear or anything. It's more of a sense of "Would Kevin appreciate the music I'm working on right now?" and in most cases, I really think he would. I have Kevin's old Neumann U47 mic and one of his old tambourines, both of which I use sometimes. He had a lot of weird, funky tambourines and really loved using them. So, those are two pieces of Kevin's musical history that I continue to make new music with. I feel somehow that he's happy about that, wherever he is, and that he's glad I'm doing what I'm doing.
Another important, recent project for you was Lo-Fi Resistance's Chalk Lines album, which you co-produced and played keyboards on. What makes Lo-Fi's Randy McStine a special presence for you?
I first heard about Randy McStine on Progressive Ears, a message board devoted to prog-rock. I saw him post about working with Gavin Harrison and then saw a video for one of Randy's songs. I thought "This guy reminds me of a young Kevin Gilbert." He's free of any blockages and has a great vision for his music. He's very sharp and goes for what he wants. He's bold enough to ask musicians like Nick D'Virgilio, Colin Edwin and Gavin Harrison to play with him—he did it by just approaching them directly. However, if they say yes, as they all did, you've got to deliver the goods, which he did. So, I became friends with Randy and hired him to play guitar and sing with my Sonic Elements project. Later, when he invited me to co-produce his album Chalk Lines, one of the interesting collaborations we did was while working on a song called "Fading Pictures" which was originally an instrumental. It was really weird and unusual, with verses that sounded like The Beach Boys and a chorus that sounded like dark King Crimson. I said "This needs to be a song, not an instrumental." So, I sang a bunch of nonsense words and melodies which Randy turned into actual lyrics and we made it into a song. We developed this mutual respect for each other and I think we made a great record. It sounds a bit like Jellyfish meets King Crimson. He's another one of those guys like Kevin Gilbert and E from the Eels—he's so good that he can play every instrument and produce everything himself if he wanted to. But, he was open to collaborating and I think the album benefited from that.
What responsibility do you feel you have as a musician to push the creative envelope?
I'm not one who pretends I'm reinventing the wheel when it comes to creating new music. I think the most important thing is that it comes from a genuine desire to create, based on real inspiration. It's very important to be creative and push your own envelope of what you want to project. It's also critical to continue listening to music, because the moment music becomes something you just go through the motions with for pure business gain is when it loses that all-important spark. When it comes to progressive rock, I happen to enjoy nostalgia and vintage sounds, but I feel that it's crucial that something new and truly "progressive" is added to the mix.