Marillion
The Right Time
by Anil Prasad
Copyright © 2013 Anil Prasad.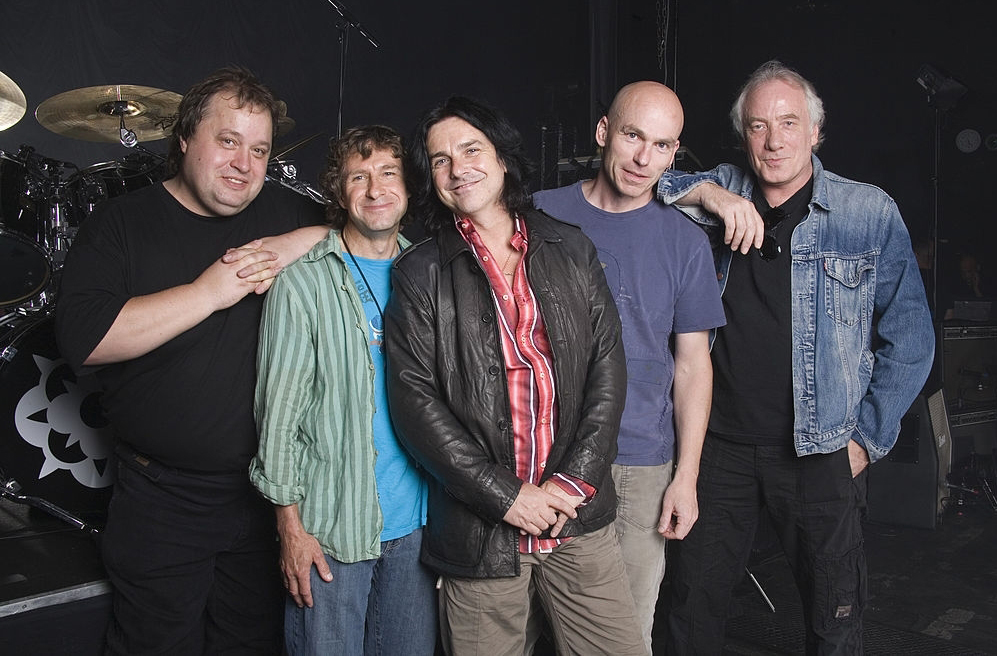 Photo: Ear Music
Marillion has always had a fearless streak. Since its debut in 1979, the British band has reimagined progressive rock by infusing it with contemporary rock, pop and folk influences. It also turned the music industry on its head, pioneering the universe of fan funding in 2001, eight years before Kickstarter emerged, by establishing a hugely successful direct-to-fan advance album sales model.
The band—featuring vocalist Steve Hogarth, keyboardist Mark Kelly, drummer Ian Mosley, guitarist Steve Rothery, and bassist Pete Trewavas—just released its seventeenth album Sounds That Can't Be Made. It's one of Marillion's finest to date, with eight dynamic songs full of dramatic moods, intriguing lyrics and imaginative song structures.
The disc includes one of the band's career highlights in "Gaza," a 17-minute epic that explores the complex and difficult issues faced by Palestinians living in the refugee camps of the Gaza Strip in the Middle East. The cinematic piece offers an impartial, yet emotional and detailed look at what the people there face, expertly balancing a narrative perspective and reportage.
Rothery's lyrical, highly melodic, sustain-filled soloing is in full force across the recording. It features several searing, aggressive guitar moments that underline the passionate outlooks the album conveys. He's often performing on his two signature guitars: a Jack Dent electric and a Farida A-SR electro-acoustic.
Outside of Marillion, Rothery runs the British Guitar Academy, his school devoted to encouraging guitarists to develop unique voices and make creative musical choices. He also scored From the Heart, a recent Emmy-winning documentary on the consequences of school bullying and constructive solutions to the issue.
Innerviews began its conversation with Rothery with a deep dive into the making of Sounds That Can't Be Made, with an emphasis on the myriad complexities involved in realizing "Gaza."
Sounds That Can't Be Made involved a labyrinthine creative process. Give me a snapshot of how the album came together.
It was quite a difficult album to make. After finishing touring the previous album, Happiness is the Road, I thought it was too soon for us to start writing the next studio album. So, we did Less is More instead, which is an acoustic reimagining of a lot of tracks and toured that, including in some classical venues around Europe. We really enjoyed it. It gave us a bit of breathing space before having to go back into the whole creative mindset again. But when we did try and first write this album, we went to a place in Portugal with the idea of getting away from all distractions. It turned out it was just too early for various reasons. For instance, Steve's partner and young sons were very ill. It just didn't work in a spectacularly bad way, to the point where we nearly split up. So, we made the decision to take the process slower. We didn't try to write the album for another four or five moths. We did various other things, including performing as special guests of Deep Purple in Germany.
When we did try to write again, it was the right time. We weren't forcing it. The ideas were starting to come. We had a couple of five-day sessions at Real World, Peter Gabriel's studio near Bath, which were really good. It helped us focus. It's an amazing place—completely bonkers. It was a great place to work. A lot of the album's parts moved quite far during that period. We also worked a lot at our studio, The Racket Club, sometimes as a band, and sometimes with just two or three of us. At the beginning of "Gaza," it was just Pete, Steve and myself. I was running some loops from my MacBook and messing around. I came up with the sort of Indian-sounding keyboard string riff and things moved along from there. There wasn't one way of working for this album. Once we got up and running with the album, many great things started to happen. I was also very conscious of feeling the previous two albums didn't have enough guitar and I felt I didn't have enough input into some of the ideas. I wanted to let the ideas mature in a certain way with this record and that's what happened.
Mike Hunter, the album's co-producer, did an amazing job on the album. He's a great musician himself. We got to the point where we thought we had finished the album. We put "Gaza" aside because we were worried about people misunderstanding what we were trying to do with it as a song and the controversy that might cause. But Mike said "Look, you have to listen to this" and he played us some roughs of different sessions. He then said "This has to be on the album. It could be the best track on it, and could really balance it out." At that point, we thought things were going to be tight and that we could finish the album before starting our American tour last June. But as soon as "Gaza" figured into the equation, that all went out the window. There was no way on earth it would be possible to finish it before the tour and hit our September release date. We ended up working insanely hard on "Gaza." On that American tour, I'd be recording guitars on my laptop and uploading things to Dropbox so Mike could take them and put them into the ProTools sessions. It was quite a strange process. Another unique thing about making the record is that we didn't really hear it all until the end, because of the way the whole process worked. We all worked individually a lot of the time because of the time factors involved. That included guitar, keyboard and vocal parts. We were all working with the original backing track for "Gaza," which was quite patchy and had some very vague sections. So, we all did what we thought was going to work. It was only just before we started mixing that we heard what we'd all done. The first time it was played back, I couldn't believe it. It just blew me away. I've never felt so excited by one of our tracks before.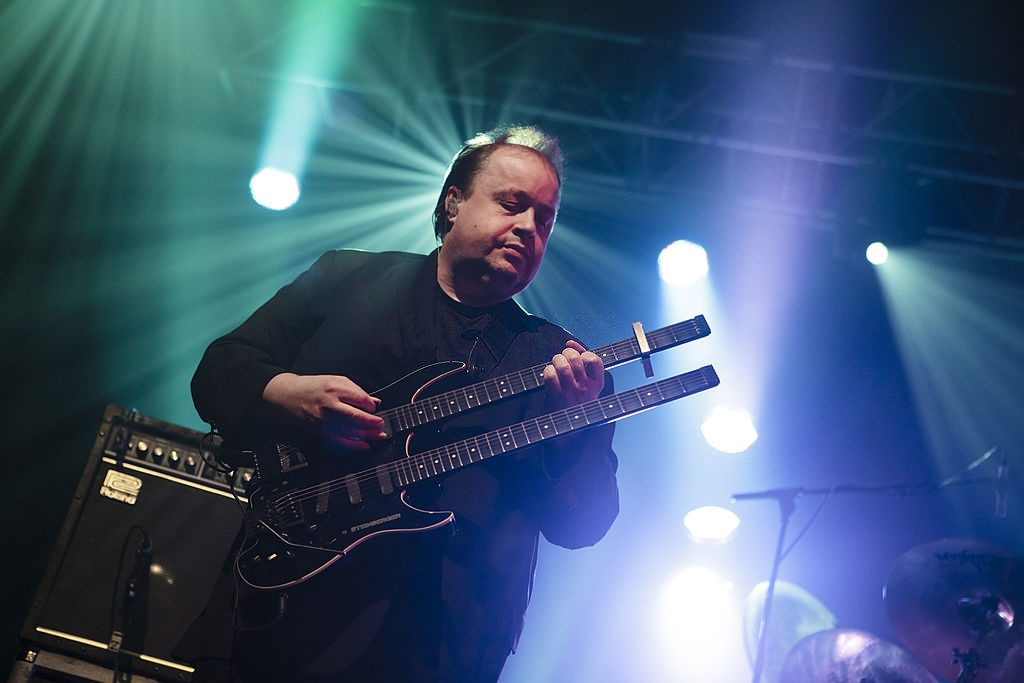 Photo: Ear Music
You mentioned the band nearly split up during the making of the album. How serious were the tensions?
We came pretty close to it happening. It's very difficult to describe after the event, but feelings were running high. Our lives and finances are so intertwined with the band that it would be a very difficult decision to actually make, but this was the closest we ever got. Everything was fine after that. Having a break from the situation and doing the dates with Deep Purple were incredibly positive for us. Now, the mood in the band is the best I've ever remembered it. The response to this album from fans and the media has just been incredible. When we performed in Paris recently, we did a couple of sessions for some of France's biggest radio stations and were interviewed in the top newspapers. We're probably going to go back and do a much bigger show there this year. So, things are going really well.
Describe the intent behind "Gaza."
In some ways, it's the most important song we've ever written in terms of a song meaning something. When you're a musician, you're given a platform for your views and we wanted to use that here. We've never been a political band. A lot of what Steve Hogarth writes is from a humanitarian or personal aspect. It's a song that had to be written. It's not a political song. It's not taking sides. Steve has friends of friends working for various aid agencies out there. He wanted to write a lyric from the viewpoint of a child amongst the troubles of the region. The song expresses the belief that children growing up there have no hope and it's a terrible injustice.
It has upset a certain percentage of our fan base, but I think given how events have turned out there, it was something that needed saying. It's a very complex situation and no side is blameless, but the children don't deserve the type of life they have there. Maybe if more people were aware of the situation, more pressure could be brought to find some sort of solution. But the topic just tends to polarize people so much and it's kind of sad. When we posted the video to YouTube, the comments almost became a microcosm of the situation itself. There were all these different viewpoints. It provoked such a strong reaction from all sides that it ruled out any sort of possibility of actually looking outside of one's own personal situation, beliefs or religious faith and focusing on the wider humanitarian aspects of the situation. People started a war of words. I found them so incredibly depressing, to the point where I had stopped reading them. I thought "If there is no way you can see another person's perspective or acknowledge the possibility of there being a different view on the situation, what possible hope could there be for any solution?"
"Gaza" is very complex and dynamic. Tell me how the band constructed it.
We wrote little musical sections or interludes that built up together around the structure of the lyrics. We played around with the parts and tried different combinations to make everything work together. There are sections in the song that are quite cinematic. When you hear them, you can imagine being in a camp with searchlights at night. You can also feel a sense of oppression and isolation. In that way, it's more like a film soundtrack than the construct of a pop song.
What does the song "Sounds That Can't Be Made" convey?
It's about non-verbal communication, like when you're in a relationship. Couples have things that don't need to be said out loud. That's the literal meaning of the song. In general, it's also about non-verbal communication in any context. As a musician, you can also take it in another way. It's like when you throw down the gauntlet and challenge yourself to come up with something sonically interesting. You're creating the sound, but how you arrive at that sound is through some sort of sonic weirdness.
For instance, when I approached the guitar parts on the album, I'd do things like try an old DigiTech XP300 Space Station pedal, which makes pretty weird noises and combine it with an Electro-Harmonix Micro POG with an overdrive on the front end. Maybe I'd use some vibrato or tremolo pedals at the back end before I send it into my rig. So, I'd try all these different approaches. I'll record between 10 and 12 tracks each time, doing something different on each, and then go through them and pick out what I feel are the best moments and upload them to Mike. He'd then choose a few of them or use an awful lot of them at the same time, which can create sonic mayhem. It all worked well on the album.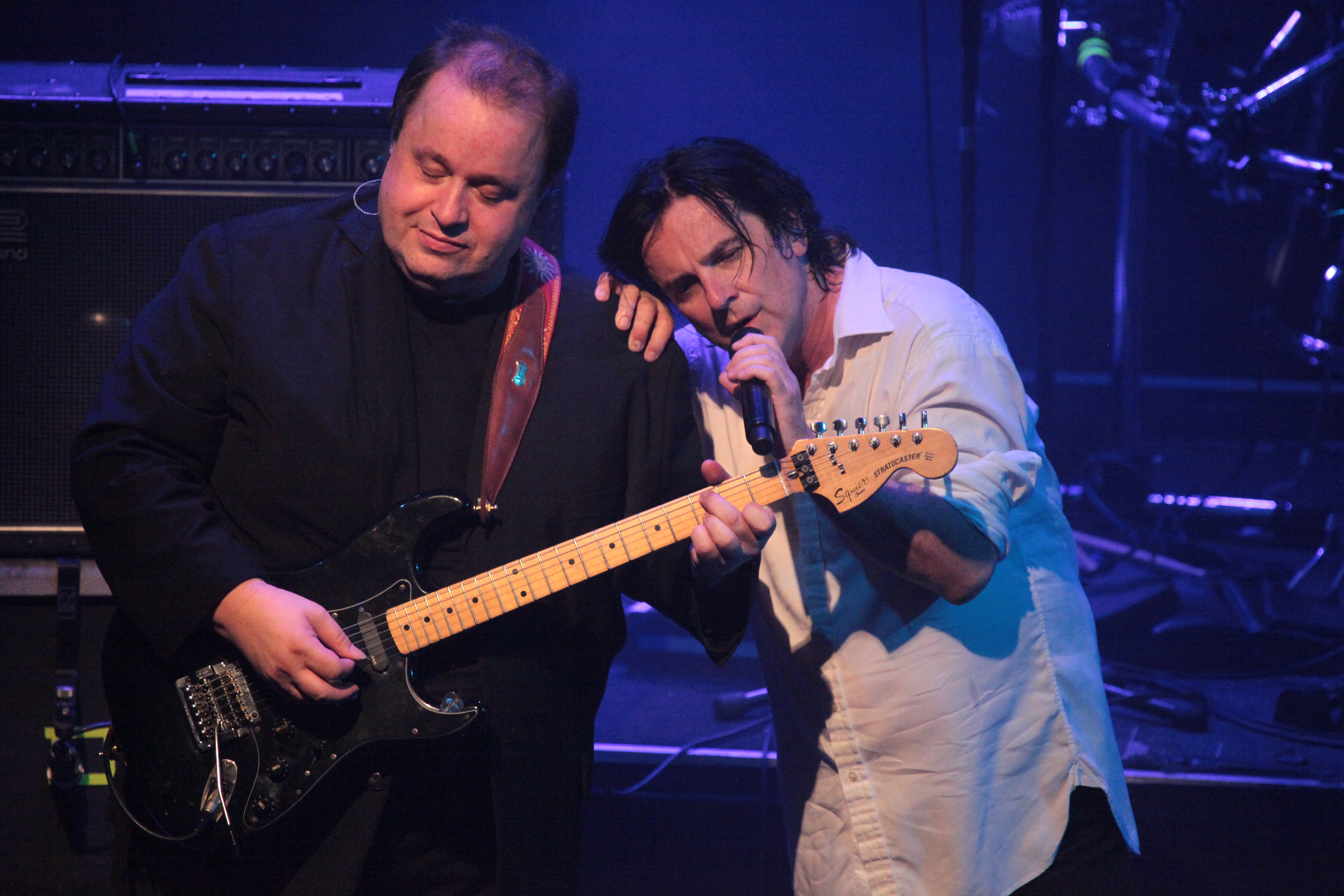 Photo: Ear Music
As a native Montrealer, I'd be remiss if I didn't ask you about "Montreal," the band's love letter to the city.
It's somewhere that has a special place in our hearts. Every time we've done a North American tour, it stands out as an incredible experience. The people there seem to identify with what we do and feel a great passion for it. When we supported Rush in the '80s on their Power Windows tour, we played with them in Montreal and got such a great reaction. At the end of that tour, we went back and played the same stadium by ourselves. Our shows at The Spectrum club were always amazing for us, too. We have such a great following there to this day. It's one of the three places in the world that we hold our conventions. We have a very special relationship with Montreal.
It's a very diverse album. Talk about how you went about sequencing and balancing the track order.
We were on a Scandinavian tour in August and the mixes were coming through. We had to decide on a running order, so we'd put the songs into iTunes and create playlists. We knew we wanted "Gaza" as the opener and "The Sky Above the Rain" as the closer. We'd figure out which songs work together by slotting them in between those two fixed points. We'd look at what were the most complementary beginnings and ends of songs that created the right mood and energy as you listen through all of it. We all tried different running orders and then decided as a group what worked best.
The first half of "Gaza" features a giant, Indian-influenced distorted guitar riff at various points. How did you get that sound?
If you want to capture something with that sort of aggression and power, you need to track things several times, which we did. The heavy sound is a combination of my signature Jack Dent guitar and my Blade RH4 Stratocaster. The amps used were an Egnater M4, a Groove Tubes Trio preamp and a Dual 75 power amp. I used an Effectrode Firebottle Booster pedal at times as well. Delay was from my TC Electronics 2290 delay, and reverb from a Lexicon MPX G2. Mike Hunter, our co-producer, also recorded some sketch guitars with the Native Instruments Guitar Rig plugin that are blended with mine in the mix.
From there, "Gaza" unfolds with a couple of other memorable solos. Describe how you created them.
The first high, screaming solo uses a Rockbox Boiling Point Overdrive and DigiTech Whammy DT. The middle solo is just the scream channel of the Groove Tubes Trio with extra delay from the SoundToys Echoboy plugin. That plugin, along with the SoundToys Crystallizer plugin were used on a lot of the guitar parts on the album as I didn't want to record the guitar with too much delay and they work extremely well in the mix. For that solo, I wanted a sound that communicated a scream of frustration in a visceral way that serves as part of the narration.
At the solo near the end, which I did on the Groove Tubes Trio, you're aware of the whole emotional buildup in the song and I'm trying to reflect that. The other effects I used in this track are the Effectrode Delta-Trem tremolo pedal and the Electro Harmonix Pog, used with an Analogman King of Tone. In some ways, working on the song had more in common with writing soundtrack music than a typical piece.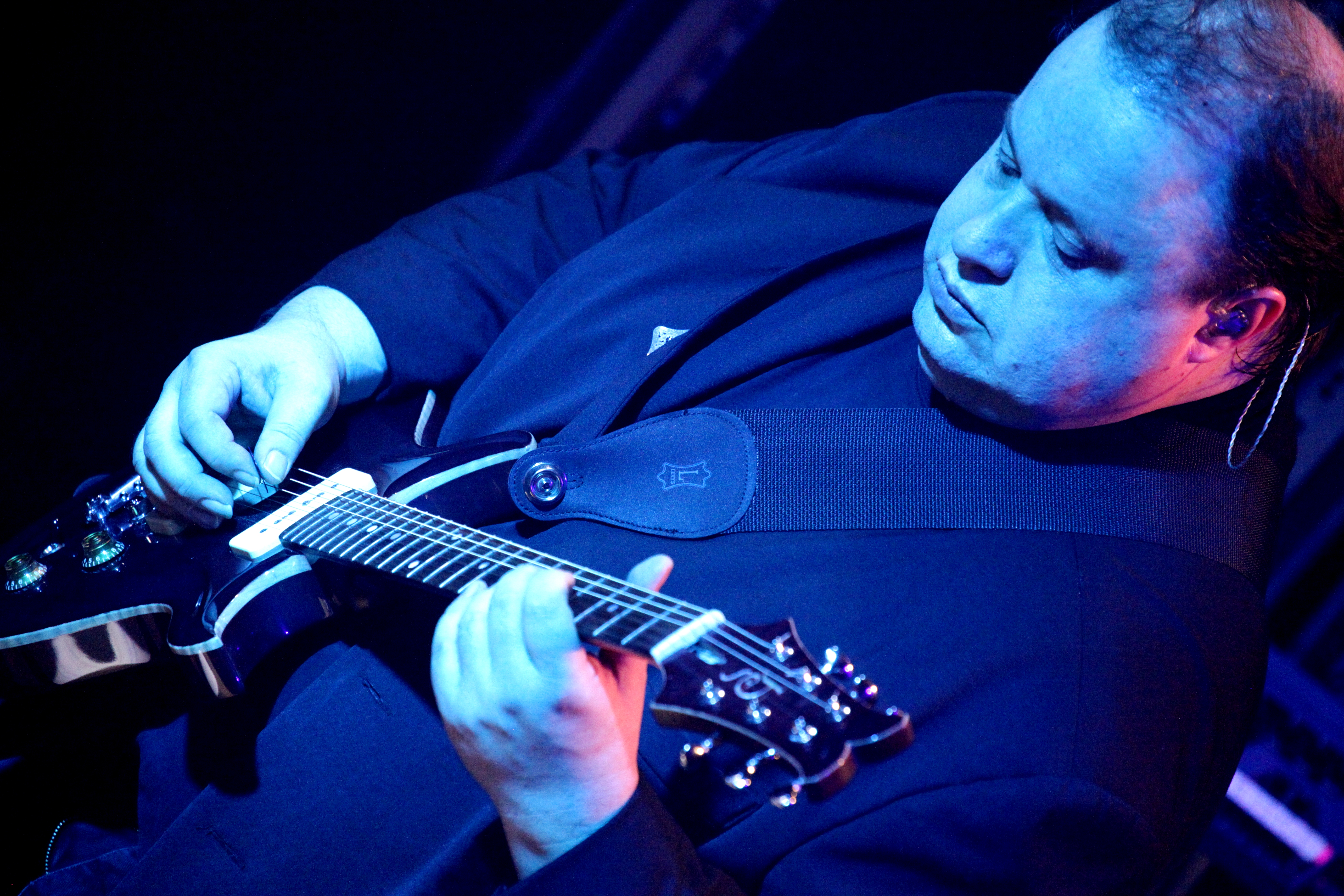 Photo: Ear Music
The end of "Sounds That Can't Be Made" features a highly lyrical solo. Tell me what went into its creation.
I'm really proud of that solo and people seem to really love it. On some recent dates in Milan, when we got to the guitar solo, the crowd was singing along to the solo, which was quite a cool feeling. I played it on my Jack Dent Raven with Lindy Fralin P90s through a Groove Tubes Trip preamp and Dual 75 power amp, TC Electronics 2290 delay, Lexicon MPX G2, which I used mainly for reverb, and on one section, an Analogman Prince of Tone with an Electro Harmonix POG pedal.
What made you want to work with Jack Dent Guitars to create your signature model?
They're works of art. They're incredibly beautiful and play wonderfully. I've never been a guitar snob. Most of Marillion's early stuff was recorded on a Squier Strat that I souped up with EMG SA pickups and a Kahler trem system. Most of our albums up to Radiation use pretty much that guitar. I wanted to have more choices, sonically speaking. My signature instrument has a one-piece Mahogany body which gives it incredible sustain and resonance. That means if I'm trying to write a part and want the guitar to sustain, I can play with a lot cleaner sound. In the past, with my Squier, I had to use a very overdriven sound to make it sing. The guitar also has a GraphTech Ghost saddle pickup system with GraphTech hexaphonic MIDI system. Having both on the instrument makes it an amazing writing tool. It plays brilliantly, but the high tech extras get me so much versatility to have an acoustic sound, MIDI-based sound, or both simultaneously.
Describe what makes your Farida A-SR signature electro-acoustic guitar unique.
A really good friend of mine, Dave Foster, who works with me at the British Guitar Academy, also works for Farida's parent company Dawsons. They offered to build me a guitar to any specification I wanted. So, I was a bit cheeky and went to the Martin website and made a note of all the specifications in the Martin OMJM John Mayer Special Edition acoustic-electric and said "I'd like all of those woods, please." [laughs] They said "Yes, fine, no problem." It's a beautiful instrument that uses Spruce for the top, with Rosewood for the back and sides. It's not expensive or budget, but mid-range. It's lovely to play, sounds great, has a good acoustic and electro-acoustic sound. It has a relatively small body. It doesn't have as much low end as a jumbo acoustic, but it offers a very nice, focused sound. It projects well, too. As with any guitar, you know it's a really good instrument if, when you pick it up, you don't want to put it down. I get approached to endorse things quite a lot, but I only ever do if I really believe it's something special. I think Farida did a great job with it.
What are the main goals of the British Guitar Academy?
The British Guitar Academy is as much about the philosophy of music as it is about the technique. A lot of the players I have involved are very successful musicians, specializing in their fields. Most importantly, they are all very individual, and really, that's what it's all about for me. It's about finding your individual voice as a musician. There are a lot of amazing technical players out there. The focus of some guitar schools and teachers is to over-concentrate on technique and not enough on creativity and individuality. Musicians come out of these situations being able to play notes, scales and a lot of complex things, but what the average person wants to hear from music is emotion, melody and the sheer aggression involved with really great guitar playing. Too many players have come through the system that can shred incredibly well, have an encyclopedic knowledge of music and theory, and can play 101 styles, but their individuality isn't coming through. You can go on YouTube and find a nine-year-old Chinese girl that can shred as good as Steve Vai. That's the world we live in—one in which all these incredibly technically-proficient musicians exist, but the soul of music is about something else and that's what the British Guitar Academy is about. It's about helping people find their own voices.
How do you teach that?
Part of it is encouraging musicians to play what a song requires. It's easy to fall into various traps when playing guitar. People sometimes play the same licks that have been played since guitar began. So, trying to get people to break out of that is emphasized. When you're playing what's right for a song, sometimes that means two or three notes or a fast, complex thing. But the decision shouldn't be about your ego or showing off how great your chops are. It's about doing what will let a song achieve its potential. When you have a ghost of an idea and it turns into something individual, beautiful and wonderful, that is an incredibly satisfying thing.
We try to get people to understand that there are different ways to create music. You can do it from a mathematical, theory-based thing. You can also give a kid six months of guitar lessons involving the fundamentals of guitar scales and chords and lock him in a room. Chances are, he's going to come up with something interesting, because he's going to be directed by his instincts. We all have an innate sense of melody and rhythm, and we shouldn't lose track of that. It's one of the things we talk about.
Sometimes, the emphasis is on sound. I'm given many CDs and DVDs on tour by musicians. The two main things that drive me nuts are, first of all, the guitar sounds. There are so many really awful guitar sounds out there. People say "Hey, why bother with the amp? Let's just plug it into the Pod." Some people will get great sounds that way, but a lot of the time, you'll get very tinny, fuzzy, horrible sounds that have no weight or guts. Having a choice of great tones and the right marriage of instrument and amp are all fundamentals. If you've never played through a great amp, it's such a revelation to hear how the guitar responds, as opposed to playing through a Pod directly through your computer.
The other thing that bothers me is people that don't have the guitar in tune. You would not believe the amount of times I hear songs that have potential, but the guitarist hasn't been bothered to tune the guitar between takes, so the B or the Gs have gone flat. It kills me. Little details like that are incredibly important.
My entire philosophy as a guitarist, and what we also focus on at the academy, is to be like a painter with colors. You want to explore as many different permutations as possible in terms of what notes are right for a song, but also to create something that's sonically interesting.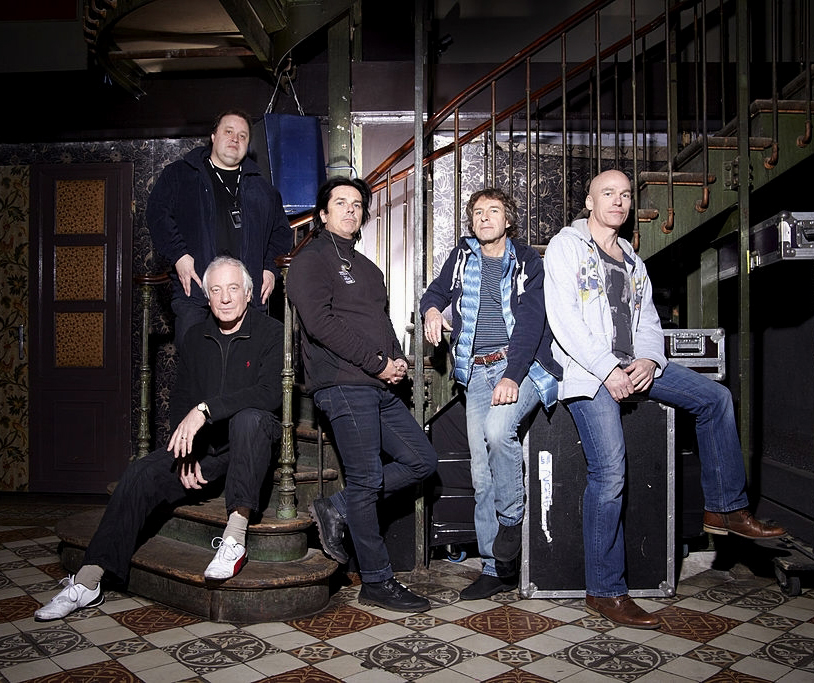 Photo: Ear Music
How has the band's chemistry evolved since Steve Hogarth joined in 1989?
A lot of Seasons End, the first album we did with Steve, had been written before he joined. That was also the case with some things for the second album with Steve, Holidays in Eden, but we were writing some ideas together on it. I think things become fully assimilated with the fourth album together, Afraid of Sunlight. At that point, it became five people creating. These days, we write in so many different ways. For instance, sometimes I'll have an idea or sometimes Mark will bring in a piano section, like he did for the beginning of "The Sky Above the Rain." Obviously, we'll bounce ideas off each other which will really get the writing process going. The process for the new album took a long time. Sometimes you get into the room together and think "How can we ever write a single song together?" even though we've done 17 albums worth of them. Sometimes you have that sense of frustration. But like an old vintage car, you get in and start driving it. There will be a lot of noise and headaches. [laughs] Eventually, the car starts going and ideas start to happen. You get to the point where the ideas don't stop coming. Then you hit a point when you have to try to turn off the tap, because a lot of your best ideas are still coming through. But you'll have a tour booked and you have to get the record done. It's strange the way it works. The main thing for us is most of the time, we get on incredibly well, which is amazing for people who have worked together for the last 25 years.
What inspired the band's convention concept?
When we were writing the Marbles album, it was at a facility near Bath, which was owned by the manager of The Stranglers. They did a convention down at Pontins, a holiday town on the South East coast. The manager said "You should try this. It's a great thing. It's very lucrative and a great experience for fans." So, we managed and sorted out the first event there in 2002 and it was a lot of fun. The place itself was a bit of a dump, so for the next one, we moved to Butlins, a slightly more upmarket holiday camp. They do a lot of these music festivals down there now, but they didn't when we first started. That was a great event, with 2,000 fans from all over the world. They get together and take over the complex. There's lots of great music and partying. For 2007, we went even further upmarket to Center Parcs in The Netherlands, which is an amazing place with a great atmosphere. The staff were all very chill and friendly. We did that one in a tent and it was like an indoor festival—a Marillion village, almost.
The conventions are a lot of work for the band. People get three days full of concerts and we do these different nights of shows. The hook is that we're going to play one of the albums from beginning to end. This year, we performed the Radiation and Brave albums. Brave is nearing its 20th anniversary and it's quite a favorite of the fans. We also did another night of other material. We're talking about 10-11 hours worth of music, which is an insane amount of music to try and keep in your head. We also did things like "Swap the Band" in which members of the audience swap places with a band member during a song. Last year, we did an "A-to-Z" set of songs that each started with a letter of the alphabet in alphabetical order.
The conventions are a huge chunk of our income. The combination of those with the preorders we do for the special editions of our albums means we're a lot less dependent on CD sales, which is just as well given the way the industry is going. They are fantastic occasions.
Describe how Marillion's approach to interacting with its fans has developed over time.
I think we've always been accessible to our fans to a point. It very much depends on the size venues we're playing. In the mid-'80s, when Misplaced Childhood, "Kayleigh" and Clutching at Straws were such big hits, we were playing sold-out stadium tours. It's a logistical problem when you have 10,000-15,000 people in a venue. You can't hang around and shake people's hands and sign autographs, otherwise you'd be there a week. Unfortunately, you become the victim of your own success. The more successful you are, the more distant you have to become from your audience.
These days, we play 2,000-5,000 seats a night, depending on where it is in the world. We try to interact as much as possible with our fan base on tour. It's very important, especially these days with the pre-orders we get from 15,000 people each paying us $40-$50 in advance for each special edition. They're the ones really helping the band continue. It's like the old days of patrons of the arts. That's what people are doing in effect. They're giving us the freedom to make the albums we want to make without any pressure. It's only by having that support that an album as strong as Sounds That Can't Be Made come through.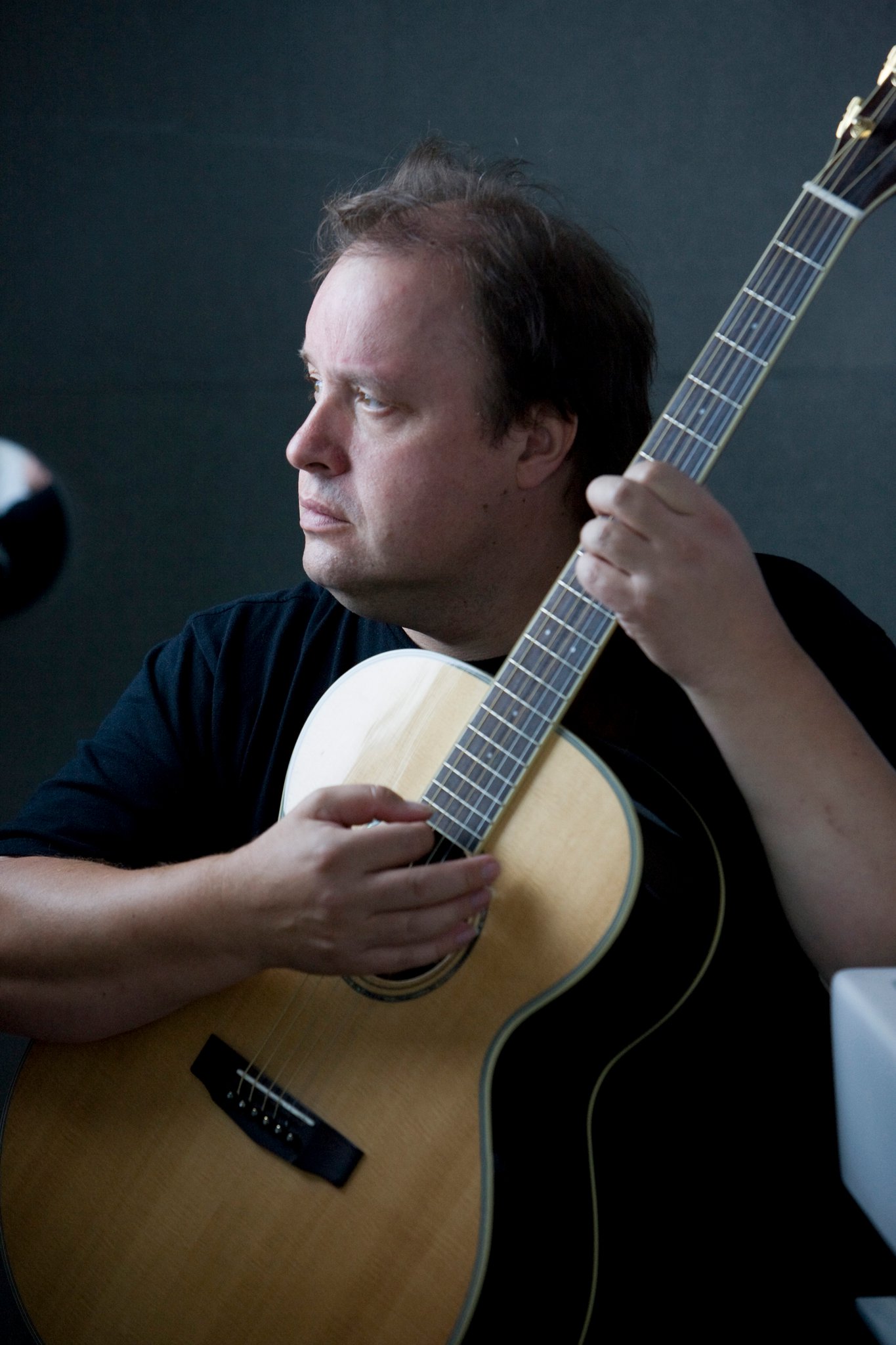 Photo: Ear Music
The band has managed to keep a core fan base intact despite taking some really significant musical detours over the years. Why do you feel so many people have chosen to follow the group on a lifetime basis?
I think we have a certain consistency in our work that a lot of bands lack. We have some albums that are classic albums, and some which are good albums with some great songs on them. It's hard to judge the albums within the band, but I think people know what they can expect from us in terms of the amount of hard work we put into the records. Hopefully, we're creating something unique and special. There aren't many bands doing what we're doing, really. Although we have our prog roots, we're not restricted by them. We have this incredible freedom to create. Prog can be many things. It can be a nice little box to put you in. And it can be a big stick to hit you over the head with. But for me, the true meaning of being a progressive band is one that doesn't have any set boundaries. It's not a retro thing, meaning you have to sound like music from the early '70s. Rather, it's freedom to explore and incorporate different styles, and work outside the confines of a conventional song structure. It's not about having things in 7/8 or Mellotrons, bass pedals and Minimoogs, though I don't have a problem with using all of those. Progressive in its true sense means no prerequisites.
Steven Wilson told me "Jazz is something very specific to the first generation of progressive rock. It almost completely disappeared in the generation that came after. Marillion, who I love, and bands that came after it, completely removed the element of jazz and replaced it with more of a pop sensibility. I think Marillion did that better than almost anyone else has within the universe of progressive rock." What do you make of that?
I agree, partly. What differentiated us from the other prog bands like Pallas and Twelfth Night when Marillion started is that we weren't just about sounding like the early '70s bands. When I grew up, my friends were into New Wave and Punk. We used to have these Saturday night listening sessions in which they would put on The Clash, The Damned, and The Stranglers. I'd put on Genesis' "Return of the Giant Hogweed." [laughs] I think there's a certain aggression that came through in New Wave and Punk, and you hear that, especially on our early albums. There was more edge to it. It wasn't just the pastoral thing happening. I don't think there's much jazz in our music—not in the way Steven means. But there are some jazzy things occasionally. I grew up in a small fishing town in North Yorkshire and folk music was a lot more of an influence on me. I think that has come through in certain sections of what we do. So, I'd say it's more folk than jazz, for sure.
The band recently reissued a remixed version of the Radiation album. What made you want to revisit it?
We were never really happy with the sound of the album. It was mixed on one of the first digital decks. It was a sonic experiment, in part. I was under a lot of pressure to take a different approach with my guitar playing and sounds, so I experimented on it. I always had a problem with the album, sonically. I thought it was harsh-sounding. Mike Hunter remixed the album, all within the box in ProTools. There are a lot of cool plugins that emulate tape machines and decks. You can really add a lot more warm now than you previously could, digitally. I think Mike has done a great job. He really gave the album warmth. I think people will be pleasantly surprised when they hear it.
You contributed to Steve Hackett's Genesis Revisited II album. What did that opportunity mean to you?
I got to know Steve quite well over the last few years. We meet up quite regularly. We talked about working together and Steve started mentioning the Genesis Revisited II project. He asked if I would be interested in playing on it. I said "Yeah, absolutely, more than happy to." Steve is one of my main guitar influences, along with David Gilmour and Andy Latimer. He's one of the main reasons I started playing guitar. So, for me to play with one of my idols was great. We've played together at various points over the years, but to be working on an album with him was a great honor.
Describe what Hackett asked you to do on "The Lamia," the song you're featured on.
That was the track Steve wanted me to play on. He didn't want me to play just what he originally played on the Genesis album. He wanted something different. So, I went down to his studio and recorded about 10 takes with Roger King, his engineer. Then Steve came in and wrote his guitar parts to what I had already written, so it became a kind of duet—a question and answer sort of thing. I think it works really well. It's a real privilege to work with him. Hopefully, I'll get a chance to get up on stage and play that live with him at some point. I'm playing the Jack Dent Raven with Lindy Fralin P90s on that track.
What else are you up to on a solo basis these days?
I recently did music for a documentary called From the Heart, about bullying in an arts school in Charlotte, North Carolina. I worked on it with an American composer named Jason Hausman. That documentary just won an Emmy, so I'm hoping to do more of that stuff. I've also just done some music for a video for the European Space Agency. It's for a time-lapse photography film of the European Space Station as it orbits the Earth. It's an incredible thing to view. They absolutely loved the music I did and we've talked about doing an album of similar kind of stuff.
My other main passion in life is photography. I've been working on a book of photos called Postcards from the Road for the last 10-15 years and it's getting there. I've had a few exhibitions around the world and sold some prints. Photography is the other thing I have a natural ability for, apart from music. It's my intent to include a companion album with the book when it eventually comes out. The book includes photos of the early days of touring with the band, to landscape stuff, to images of the incredible places the band has been to around the world.
The book also includes visuals related to the song "Out of this World." The song was about Donald Campbell, who broke world speed records in the 1950s and 1960s. He tragically lost his life in the 1967 Bluebird boat crash on Lake Coniston in the Lake District. Our song inspired a diver named Bill Smith to go in search of the wreckage of the Bluebird. He found it and raised it. I was the official photographer for the raising of the Bluebird. I have some amazing images from those days which I'm looking forward to everyone seeing.