Julie Slick
Harnessing Serendipity
by Anil Prasad
Copyright © 2010 Anil Prasad.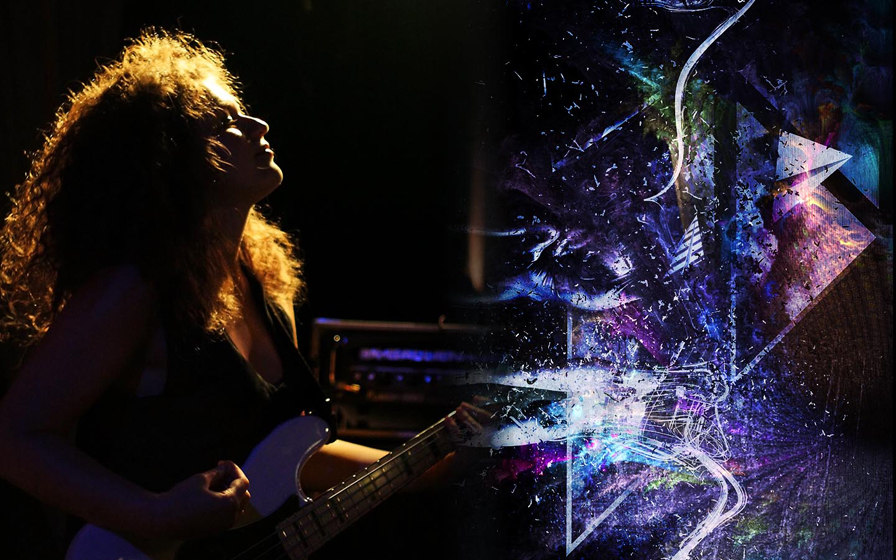 Composer and bassist Julie Slick is the epitome of drive and determination. At age 24, she possesses masterful bass chops, a unique voice as a writer, and a remarkable career trajectory. She's best-known as one-third of the Adrian Belew Power Trio, a fiery progressive rock act led by the King Crimson frontman and guitarist which also includes her virtuoso drummer brother Eric Slick. And for six years, she was a key part of the Paul Green School of Rock, the famed performance-based music school where she got to work with an incredible array of rock legends. She's also well-known for her contributions to alternative rock acts in her local Philadelphia scene including Paper Cat, Cheers Elephant, Sweatheart, and Love Gravy.
Slick's latest and most impressive endeavor is her new self-titled debut album. It's an all-instrumental effort that meshes progressive rock, jazz-fusion, funk, electronica, avant-garde, and world music influences. The album features an all-star ensemble comprised of Slick's friends, including guitarists Robert Fripp and André Cholmondeley; drummers Pat Mastelotto, Marco Minnemann and Eric Slick; and Chapman Stick player Michael Bernier.
The album's diversity reflects Slick's musical journey to date. She and her brother studied music at the Paul Green School of Rock from its inception in 1998 through 2004. The experience equipped her with the tools to play and write complex, evolved music from the outset of her career. In fact, by the time she was 19, she had already played or recorded with Jon Anderson, Stewart Copeland, Eddie Vedder, Ann Wilson, Alice Cooper, Ike Willis, and the California Guitar Trio across several School of Rock projects. A snapshot of that output was captured on the 2004 Rock School documentary and accompanying soundtrack, both of which spotlight Slick prominently.
In 2006, Adrian Belew participated in a School of Rock Master's Series, in which a prominent musician teaches and collaborates with the students. After being dazzled by the Slicks' ability to faithfully interpret King Crimson material during his time there, he extended an offer to the duo to join the Adrian Belew Power Trio. The group has released three albums to date: 2009's e and Live Overseas, and 2007's Side Four. It has also performed to sold-out houses across the United States, Canada, Mexico, Europe, Australia, and Japan.
"Julie never practiced before Belew shows, and now I understand why—she wanted to be an empty vessel for ideas and inspiration," says Eric Slick on working with his sister. "In contrast, I would sit and practice for hours just so I could have enough to say onstage, and she would reply to my primitive phrases with such inventive 'bass sentences.' She never runs out of ideas, and I always felt like I had to try and keep up with her. We're siblings, so we always seem to end up at the same place. It's half hard work and half telepathy. I know that I'm a bit biased, but Julie will always be one of my favorite bassists. There's nobody that sounds like her. It's probably because Julie doesn't actively listen to many bass players. A lot of young musicians have become acquainted with the fine art of imitation, but Julie has always been adamant about creating and maintaining a unique identity."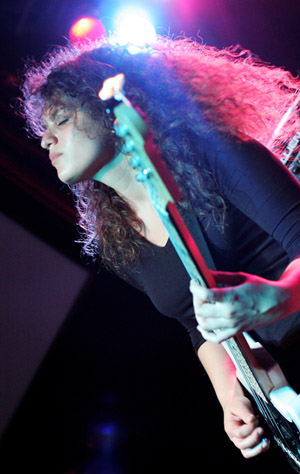 What made now the right time to record and release a solo album?
The whole thing happened unexpectedly. I was trying to get to know some new gear I recently acquired. In particular, I had started playing my Lakland Bob Glaub bass equipped with a Roland GK-3B pickup through a Roland VB-99 V-Bass system which converts bass signals to MIDI. The VB-99 lets you trigger other sounds with it like guitar and organ patches. So, I was creating some interesting sounds and messing with my looping pedals and decided what I was working on sounded pretty cool. Luckily, I have a home recording studio, so I set up some microphones and started tracking. Eight weeks later, I had 14 songs and decided to start sending them out to my friends to contribute parts to them. And now, here I am with my first solo CD. I'm very proud of it and looking forward to hearing what people have to say about it.
At what point did you realize your experiments were morphing into full-fledged compositions?
Things started coming together within just a few days of working with the new equipment. I would be playing around with the looper and VB-99 and start recording ideas. I'd open up a bunch of sessions in Apple Logic Studio recording software and every time I came up with a new idea, I'd capture it. If I felt there was nothing more I could do with the idea, I'd come back to it later, but pretty much I would start on an idea and by the end of the day have at least a shell of a song or a good portion of it. Some days I would have two songs in progress.
In terms of the actual writing process, I would start playing the idea I was working on in Logic, then develop a tempo and a map for that idea. I'd determine if it was going to change time signatures or stay static. Next, I would come up with beats or drum patterns that fit. A lot of the time, I would change them after I got a better sense of the song. I always started with the bassline and then switched on the VB-99 to work on a guitar idea I had in my head. I'd sing the melody to myself, then figure it out with one of the guitar tones I created. Next, I would create more Logic instruments. I pretty much created the parts in full before I moved on to the next section of a song. I felt once I got the whole verse or chorus down that it was much easier to compose around it.
One of the other keys in the process was playing stuff for my friends. I'm very lucky to have a bunch of musicians in my circle that critique me in an honest way. They all really liked what I was doing, so it gave me the confidence to push forward and continue.
What were the bigger challenges you faced when making the album?
It was challenging to do most of it myself and not have anybody except a few friends listening to it. In the past, I've relied on School of Rock kids, Eric, my parents, or Adrian Belew to direct me. I've never seen myself as a solo artist. And now I find myself in that position. I never imagined in my wildest dreams that this would happen, but it's been extremely gratifying. Another challenge was being limited in that I was playing bass and triggering guitar sounds through it. I was missing the B and E strings, so I was limited to the range of the bass. But I worked within that, playing harmonics and alternate tunings to extend the possibilities. Also, my keyboard playing is awful, so I quantized that stuff. [laughs]
Describe your bass approach on the recording.
I definitely used some techniques I don't normally work with like the harmonics I just mentioned, as well as slapping. Of course, I play some King Crimson and Adrian Belew songs live that originally featured Tony Levin and Les Claypool slapping, so I do that onstage. But I never thought I'd incorporate it into my solo work. When I started the songs, the basslines were very barebones. I was filling up more space with the other instrumentation. That's different to what I'm used to doing with the trios I've worked in where I have a lot of space to fill. With this album, I wanted to create soundscapes of my own in which I had 30 tracks on a song. It was a matter of adding little brush strokes here and there. So I restrained my bass playing to make the song the priority. I didn't want to make an album that just showed off my bass abilities. I feel a lot of bassist solo albums are over the top with a "Look how fast I can play" vibe. That's great and useful to learn from, but those albums don't necessarily appeal to everyone.
Describe how you went about engaging the impressive cast of musicians that contributed to the disc.
I'll use "Many Laughs" as an example. I knew I didn't want the Logic drum machine as the backbone for it. So, I played an early version of it for my brother, and he suggested that the piece needed real drums and that Marco Minnemann would be ideal for it. The Adrian Belew Power Trio did shows with Marco in Russia in November 2009, so I knew how to get a hold of him. I emailed him one day and he wrote back instantaneously and asked me to send the track. So, I sent it before going to bed. I'm on the East Coast and Marco is on the West Coast. By the time I woke up, I was about to email him asking if he just needed the stems so he had the guitar and bass parts without the obnoxious Logic drum machine. As I went to email him, in my inbox were three emails from Marco with three different takes of the song. Overnight, he went and played right over my drum machine. I don't know how he did it, but the idea to do that was amazing. When I imported his parts into Logic, I was amazed at how his hits were right on the grid with perfect timing.
Marco, as with the other contributors, gave me a couple of takes—a straight version based on what I provided and a version that included their own feel. I had a lot of fun listening to all of these takes. I took a little creative liberty and did things like taking a part from version one that sounds cool and taking the crazy part in version two and putting them together.
Robert Fripp's contributions involved a different process. He allowed me to sample some of his soundscapes for the album. I went through his soundscapes collection and picked out songs that had a really nice textural balance that would provide another unique element to some songs. I would import those into Logic and work with them to see how they would adapt to the piece or vice-versa. A lot of Robert's soundscapes are really lush and rich, and some of them are very harsh. I tried to pick ones that straddled a line in between. I wanted to ensure listeners knew they were there and wouldn't confuse them for Logic instruments.
How did you convince Fripp to let you do this?
It was really as simple as asking him. I sent him an email on a whim after I got Marco and Pat Mastelotto onboard. These are musicians he greatly respects, so I told him "I'm working with these guys. Would you be interested in contributing too?" He wrote back within three hours and said that unfortunately he was very busy and couldn't contribute anything new, but that I could sample any of his soundscapes. It was a lot of fun because I wasn't that familiar with a lot of his soundscapes. I've heard them live when Adrian and Robert performed some as ProjeKct Six though. It was great fun to go deep into his catalog and educate myself on that work.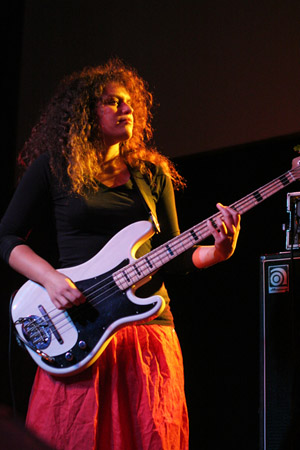 How did you get to know Fripp?
Through working with Adrian. It was back when King Crimson were doing their mini-tour in 2008. They were rehearsing for a week in Nashville just before the first dates of the Adrian Belew Power Trio. So, Robert decided to stay an extra day and catch the first show of our tour, which happened to be in Nashville too. It was pretty cool. He sat in the back in the corner. The whole time I thought to myself "I can't believe no-one is bothering him. Anyone that comes to an Adrian Belew Power Trio show obviously knows who he is." It was fun because I'd look up a couple of times during a song and see him bopping away. He had his arms up and was even pumping his fist at one point. It was pretty wild.
The very first time I met Robert was at a Porcupine Tree show that had ProjeKct Six as the opening act. Adrian told me Robert had an affinity for sweets, so I baked up a batch of brownies for him and brought them to the show. There was nothing green in them or anything—they were just innocent brownies. [laughs] But when Robert saw them, he was concerned about them because brownies are notorious for that extra ingredient. Robert ended up blogging about them, calling them "the brownies of wonderment, horror and delight." I took that as a compliment. That's actually how I got people to play on my CD. I told them "Here are the people that are contributing. And if you take part, I'll bake you some cookies." [laughs]
Any kind of cookies in particular?
Marco got oatmeal chocolate chip and almond cookies. A lot of the musicians were on tour during the making of this album, so I'm waiting for them to get back home to send their cookies. I don't want them to get stale or get eaten by a postal worker. [laughs] I'm thinking about making my Reese's Delight cookies for a bunch of people—they're chocolate chip peanut butter cookies with mini Reese's peanut butter cups melted on top. They're one of my favorites.
Tell me more about Eric's contributions to the disc.
Eric was a great creative consultant. When he wasn't rehearsing with Dr. Dog, the band he's playing with a great deal these days, he would come over to my studio and we'd work on whatever I thought was ready. I wouldn't play him things I had just started or was going to throw away. Even though he's my brother, I would only play him stuff I was proud of that was about 75 percent complete. Sometimes Eric would help me write a bridge or he'd even pick up the bass and play an idea. He also played keyboards on the album and some VB-99 sounds. He even played a guitar solo in "The Rivalry." Of course, he played drums too. He appears on the first track "Mela" which is the song with the most orchestration on it. I was really happy with the piece, but it needed real musicians to come to life. So, Eric came to my live room and sat behind this really crappy three-piece Ludwig kit that had foam and a flannel shirt in the bass drum and a floor tom with tape all over it—it looked like you'd break it if you touched it. [laughs] Yet, Eric made the kit sound awesome. It's his amazing touch. He barely needed to tune the thing and within a half-hour we had the drum tracks for the song. It's great having a brother who's such an excellent musician.
Describe the chemistry you and Eric share as a rhythm section.
It's just fantastic and it's because we've been playing together our whole lives. It took me awhile to realize the bass is my instrument. I toyed with keyboards and then gave up music for awhile, while Eric was always into drums. He was drumming since he was in a crib. He would bang on the crib in perfect time to some pretty crazy songs. So he got bongos when he was two and a drum set when he was five. I didn't pick up the bass until I was 11, and that was because Eric kept bringing over friends to jam with him and I got really jealous. So, I would pick up and play one of my dad's vintage guitars that he was so gracious to let me use.
Eventually, no-one was picking up the bass during these jams. And most people will tell you they started on the bass because all of their friends were in a band and they needed a bass player. It's often a case of "Why don't you just pick up the bass and play an open E-string or something?" [laughs] In my case, I picked up my dad's fretless bass and even though it was bigger than I was and the strings were so thick, I felt at home with it. I was a very shy kid. So, it was an ideal instrument because I didn't feel like I needed to solo or learn chords. Then I started to really like it. And I had Eric, already an amazing drummer, in the living room. So, we always found ourselves jamming together, especially when we were in the School of Rock. We would practice all of our songs together because we were always put in the cast for the same songs.
In the summer, when I was off from school, Eric and I would jam all day. Sometimes Paul Green from the School of Rock would come over for my bass lesson and jam with us too. Eric and I would challenge each other all the time. He would play in an odd time signature, then I would play something over top of it. We had fun geeking out to Frank Zappa, Primus and King Crimson songs.
When Eric and I first did the Adrian Belew Power Trio thing, I hadn't played with him for a couple of years. It was really exciting to play with him again. I was 20 and had been really busy with schoolwork at Drexel, so I wasn't playing as much. It was really cool to have that chemistry reignite when we first played together with Adrian at his place in Nashville. The chemistry is immediate and we don't have to worry about it. That's what I love so much about it. We automatically know we'll be on the same page 99 percent of the time.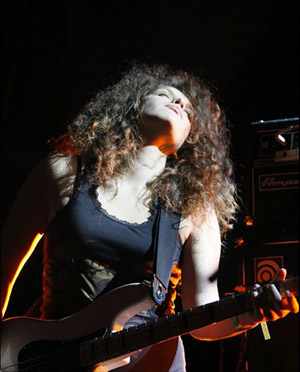 Tell me more about the music industry degree you pursued from Drexel University in Philadelphia at the time.
I concentrated on the recording side of things. I figured since I took bass lessons for several years and really understood the instrument that I'd pursue a backup plan as well. Little did I know it would be way easier to find a job as a bass player than an engineer. My idea was that if my bass career didn't work out, I'd work in a studio and make records. But things have worked the other way around. Now, everyone thinks they're a producer. Everyone can go to Guitar Center and buy an Mbox or digital recording setup and record to their laptop.
I understand you're already working on your second solo album.
Yeah, I'm already into the process of cranking tunes out. Obviously, I want to focus on getting the first album out there and creating a fan base for my solo work before releasing another one. But it's been so enjoyable to make the first one and I feel really awakened. I never wrote songs before, so it's been fantastic. I didn't sing on the first one, simply because I can't sing. [laughs] I'm thinking of including some vocal contributions for the second album. I'm also starting a lot of the new pieces with guitar, not bass, to spur me in new directions. The goal is to make something pretty different from the first album.
Compare making your solo album to your previous studio experiences.
It was quite different. I've only been in the studio three times prior to this. The first time was for the 2005 Rock School documentary soundtrack. The School of Rock kids recorded classic rock songs we received clearances for, with some of the original artists taking part. For instance, I got to play the bassline for Yes' "Heart of the Sunrise" with Jon Anderson on vocals. We were basically a bunch of kids aged 16-18 in the studio with a small budget. We'd just play the songs one-to-five times to the point where we felt we had a good take and that was it. It's the same thing with Adrian. It was Adrian, Eric and I live in the studio. Working alone in my studio has been very different than playing live in a room with other great musicians. The live in-studio thing is great because you capture some real energy and rawness. At the same time, I really enjoyed recording on my own because it was like having a musical dictatorship. There was no-one else around to say "Oh no, that bassline isn't working there." It was up to me to judge what fit and what didn't. It was both easier and harder than working with a live band in some ways.
Did you get to work with Jon Anderson when recording "Heart of the Sunrise?"
No, I wish I had. That would have been awesome. With the exception of Marky Ramone who joined us in the studio to drum on our cover of The Ramones' "I Wanna be Sedated," it was a case of us uploading our recordings to a site and then having the artist submit their parts for them. The Jon Anderson situation was pretty funny. Obviously, he has a famously high voice, but he ended up recording his vocals using a different sample rate than we expected. I was in the studio with the producer Phil Nicolo when Jon's tracks arrived. He put the vocals into the Pro Tools session and we were getting goose bumps waiting to hear what the track sounded like with Jon on it. Because of the different sample rate, Jon's vocals almost had a Chipmunks' quality to it including really high harmonies with thirds and fifths. We all looked at each other and furrowed our brows. No-one was laughing. We were all confused and wondered "Had Jon's voice become higher in the last couple of years?" [laughs] But we figured it out and it came out well.
Reflect on your time with the Adrian Belew Power Trio to date.
It's been great. Adrian is a luminary and has worked with so many amazing artists, and is an amazing artist himself. It's been wild to play with him in this flagship project. I remember when he first played us his demos of the e album, I thought it sounded like the next King Crimson record, but it was for an Adrian Belew Power Trio release with Eric and I playing on it. It's been a thrill to work with Adrian on new music. I never expected that when I got the gig. I was only 20 when I started playing with him. I was still at Drexel and on my way home to study for a French test. Then I get this call from Paul Green. The first thing he asked was "Are your chops up?" I said "Of course, what's up?" He replied "Can you fly down to Nashville next week and learn 15 Adrian Belew and King Crimson songs in three days?" [laughs] He also said the gig was ours to lose because Adrian had already organized a gig for us at a festival. So we knew we would have one gig with Adrian, but we weren't certain there would be any more.
So, we flew out to Nashville. There were no direct flights from Philadelphia, so it took all day. We arrive and see Adrian standing in front of a big boat of a car with a fedora on. Eric and I got in and it was strange at first. Here's this idol of ours driving the car. I mean, I once bought microphones because Adrian's name was in the ad. I wanted to freak out and ask him a bunch of questions, but I tried to be good. We went to his house and he showed us around the Fripp Suite where Robert stays when he visits, as well as all of these awards and guitars. He was so happy to have us down there. He wanted to get to work right off the bat. It was terrifying because we were extremely exhausted having taken three flights to get there. He had the songs written down that he wanted us to play in his studio and proceeded to work through them. By the time the afternoon was over, we had played through the songs three times. Adrian looked at us and said "Okay, now what do we do for the next two days?" It was cool because Eric and I were so familiar with the material that we just knocked everything out of the park. Adrian then booked some more shows and it was incredibly scary. It took me two years to be comfortable playing in the band and on stages all over the world. The experience has been really valuable for me.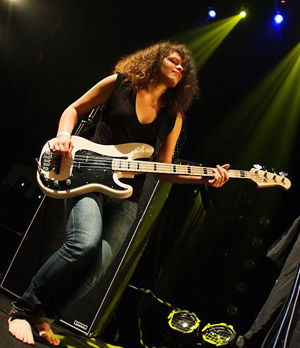 Give me some insight into the making of Belew's e album.
He followed the Crimson model, which is to play most of the compositions live before you record them. That's what enabled us to record them so quickly. We played the title track for a year before we recorded it. And since the album is based on repeating themes, motifs and patterns, and the track "e" includes all of the elements from the other pieces, we were able to adapt to the other pieces we hadn't previously played really quickly. In terms of my contribution, about 60 percent of it was repeating patterns and doubling guitar parts that Adrian would show me and the other 40 percent was me improvising basslines that I came up with. It was great to impart my own stamp on things. Eric also got to create a lot of drum parts. At that point we had been playing with Adrian for a couple of years. He was used to our playing and he gave us a lot of freedom and creative license to play whatever we wanted.
What's it like for you to play King Crimson basslines during Adrian Belew Power Trio shows?
It's a lot of fun. Having been in the School of Rock for so long, I was used to learning songs all of the time. Right from the first show I did with the school, I was thinking "How can I put my own spin on this so it's not just me playing this bassline note for note?" I feel like you're not educating yourself when you do that. You're doing a disservice to the audience as well. When people are hearing those songs live they want to hear a personalized element so they can see a new take on the songs. So, I took that approach when I learned the Crimson stuff. I tried to respect the songs and kept the famous parts and changes intact. But in things like "Three of a Perfect Pair" which is a crazy progressive blues song with changes, I took the liberty of coming up with a walking bass line for it. I think people enjoyed that at the gigs. It was a case of "Here's some familiar stuff from 1982 brought up to date with how a modern player is interpreting it today in this trio setting."
Has Tony Levin seen you perform his basslines?
Yeah, Tony saw us play a couple of times in Russia and in Quebec City. The first time he saw me, he said "Man, I wish I could play that fast." [laughs] That was really nice. I'm not trying to toot my own horn, but during a radio interview in Moscow on that tour, after he had seen me perform, the interviewer asked him "Are there any young bassists we should be watching for?" His response was that I was his current favorite bass player and that Adrian is really lucky to have me in the band. I think that's the best thing anyone has ever said about me. Having that come from Tony Levin is phenomenal.
Do you consider yourself a role model for other female musicians?
I like to think so. I'm an extremely competitive person. I was really into sports before I took up bass. The School of Rock was also a very competitive environment. I always wanted to be the best bass player there—not just the best girl bass player. I wanted to be better than all the boys and totally kick ass on my instrument so I could get all the best songs for the School of Rock shows. I also wanted to keep up with Eric because he was always going to be the best drummer there.
I remember once getting interviewed for a local Philadelphia news show. The first question the interviewer asked me was "Don't you feel weird being a girl in this school? The music business is such a male-dominated field. Don't people tease you?" I wanted to punch the guy in the face as soon as he asked me that. He was coming off as a jerk the whole time. I straightforwardly answered "No, everybody respects me as an equal here, including the male musicians." I think because the school was so competitive, it allowed me to get over any fear that I feel a lot of female musicians have. Many of them get to a level that's "just good enough." A lot of them are hired to be the looks in the band. I think too many female musicians play that role. Their amps are turned down completely and they're just there for show.
I'm so happy I got to tour with Adrian and was able to reach women at shows around the world. They're so happy to see a girl kick ass on stage. It makes me really proud because Adrian's music has a very male-dominated fan base. But over the years, the crowds have been getting younger with more women showing up. I think it's easier for boyfriends and husbands to convince their girlfriends, wives and kids to come out because there's a young band onstage with a girl bassist for them to check out. In fact my favorite thing is when young girls come up to me after the show and talk about picking up the bass. It makes me really happy that they're not just talking about picking up an acoustic guitar and singing, but are interested in taking a serious approach to the instrument and exploring the endless possibilities available to them.