Uzeb
Reigniting Sparks
by Anil Prasad
Copyright © 2016 Anil Prasad.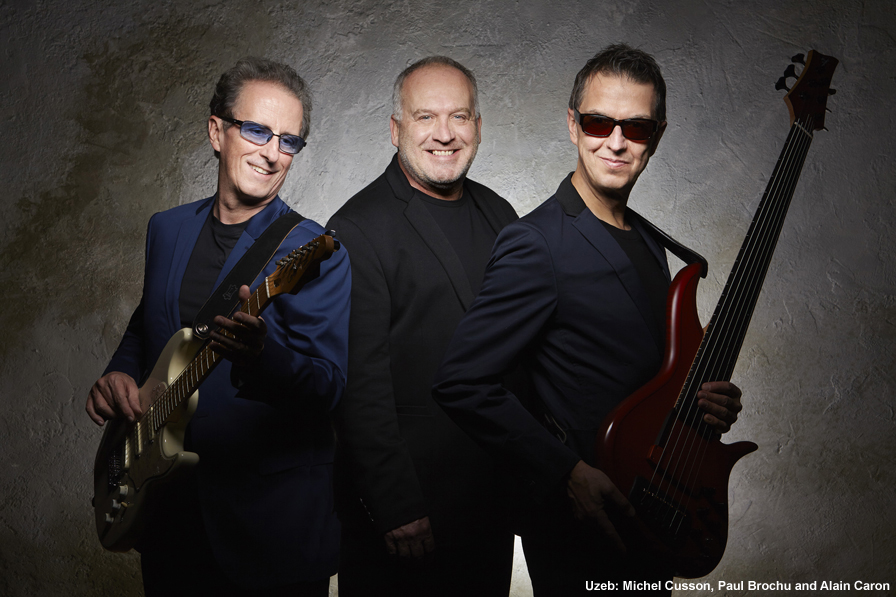 Never say never. Twenty-five years after breaking up, the legendary Canadian jazz-fusion band Uzeb has unexpectedly reunited for a 2017 tour. In summer 2016, drummer Paul Brochu, bassist Alain Caron and guitarist Michel Cusson rekindled their creative chemistry for the first time since disbanding in 1992.
Uzeb is one of the most popular jazz acts in history, with 500,000 albums sold and extensive global touring between 1976 and 1992. The group went out with a bang during its last year, playing to 96,000 people at a large outdoor farewell concert at the Montreal Jazz Festival.
After the group split up, Brochu founded his own group called The Rhythm Diggers, played in a trio with guitarists Sylvain Provost and Norman Lachapelle, as well as with several other Quebecois pop and rock acts. Caron pursued a solo career exploring many facets of the worlds of jazz and fusion, including intimate duos, acoustic quartets and electronica-influenced projects. He also performed with artists including Billy Cobham, Frank Gambale, Oliver Jones, Mike Stern, and Gino Vanelli. Cusson founded Wild Unit, a high-energy fusion outfit featuring a brass section. He also became an acclaimed composer, responsible for dozens of film and television soundtracks, as well as creating music for mega-shows including Cavalia, Les Légendes Fantastiques and Era: Intersection of Time.
Uzeb formed in 1976 in Drummondville, Quebec. The band originally named itself Eusèbe Jazz, after the city Saint-Eusèbe, located near its first concert in Acton Vale, Quebec. It shortened its name to the phoneticization Uzeb and proceeded to focus on the realm of jazz-rock leanings of the late '70s and early '80s. Live, the band always stretched out, infusing a healthy dose of improvisation into its relatively concise studio composition counterparts. By the mid-'80s, it brought in more expansive rock and world music influences into albums such as 1984's You Be Easy and 1985's Between the Lines, a period in which the band's audiences significantly expanded. Uzeb also collaborated with other renowned jazz artists, including Don Alias, Michael Brecker, Didier Lockwood, and Tiger Okoshi.
During its first 11 years, the group had several keyboard players before paring down to the Brochu, Caron and Cusson trio lineup in 1987. The band underwent a significant transformation in its sound with its subsequent albums, 1988's Noisy Nights and 1989's Club Uzeb. They pushed technological boundaries, incorporating then cutting edge MIDI-connected instruments such as electronic percussion and guitar synthesizers into its work. The pieces are full of innovative twists and turns, along with memorable melodic elements. They were a breath of fresh air within an '80s fusion movement that saw other bands descending into smooth jazz territory.
Brochu, Caron and Cusson reflected on Uzeb's history and what's in store as it hits the road for its summer 2017 dates.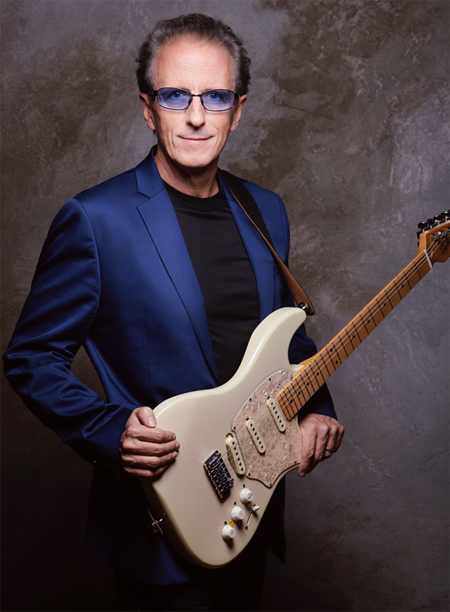 Tell me about the beginnings of the Uzeb reunion.
Cusson: It started 10 years ago when our ex-lighting man invited us to dinner. We all had a beer together and it was fun. We had another dinner a year later and then another. We started saying to one another "Maybe we should do this." Everybody is very healthy, though not wealthy. [laughs] We played together for so many years, so why not? I have big respect for Paul and Alain. We've been rehearsing since mid-2016 and it has been really fun. The garage band is still there.
Brochu: We just had the feeling that we could play together again for fun and pleasure. There's something very magical about this trio and we wanted to do it once more.
Caron: I realized that 2017 will mark 25 years since we last played together. I said to everyone "We can't leave it that way." After we broke up, everyone in the band was pretty convinced after a couple of years that it was over. We all worked so hard on our solo careers. But in 2014, I was thinking about the 1992 farewell show at the Montreal Jazz Festival where we played to 96,000 people. Ever since then, a lot of people kept asking us if Uzeb will ever stage a comeback. I felt if we were ever going to do it, it has to be next year or nothing. It's the right time because we feel like doing it. We have something to say. We have the desire to reconnect with the audience and we look forward to starting that adventure on June 29th at the Montreal Jazz Festival. It's a magic place for us.
Cusson: We posted a simple message stating "We're back" on Facebook a few weeks ago and it received 500,000 views. There's lots of positive reaction. It means a lot to us and we can see that the fans are still there. It's a good sign for us.
Is this a long-term regrouping?
Caron: We're planning on touring next summer. We still have our solo careers which are successful, so we don't want to stop those. We're focusing on the short-term and then we'll see what happens.
Cusson: The door is open beyond that, but we aren't thinking past the summer tour.
Brochu: For now, we're planning to do the Montreal Jazz Festival and Paris at Salle Pleyel on July 2nd. We're working on the other shows now.
Caron: Montreal and Paris are the two main cities where we started. There are other key cities for Uzeb and we'll try and do as many as possible, but we're not looking to tour for the next four years. We'll announce the rest of the shows in early 2017.
Cusson: One way to refer to this is as "Uzeb Limited Edition" or "Cuvée Speciale." [laughs] It's very exciting for us. We won't be able to play everywhere, but the dates we're going to do are going to be happening.
How will Uzeb's classic repertoire evolve for the concerts?
Cusson: We've been rehearsing for six months and the chemistry is still there. We are going a little further every time. We're listening to one another to see if there are spots where we can stretch. I got out of jazz completely for a couple of years and I'm still doing my soundtrack work. So, I have a vision and a different point of view now. I'm not pushing it at all on the others, but I do want to bring in some new colors. Slowly, the three of us are exploring what we can do. Jazz is about taking chances and I think we're going to raise the bar a little higher.
Brochu: We've chosen the best tunes from our catalog that still sound happening today. There are some tunes that are very difficult to play today, sound-wise. So, we've decided on what we feel are the best pieces for us now.
Caron: We've chosen tunes that have aged well. Some pieces are dated in terms of sounds and structure. We don't feel like playing that material anymore, but we have enough tunes to do three shows. We've picked the pieces that turn us on the most. We've also looked at the possibilities we have inside the tunes. We've refreshed the arrangements. But keep in mind, we have to play Uzeb. Individually, we can play the songs totally differently if we want to, but when we're Uzeb, it's really something that's for the audience. We're conscious that the audience is expecting what the band is known for.
Cusson: People have to, of course, recognize the tune. We're going to respect that and ensure people enjoy what we do.
Caron: The material will be familiar, but it's going to be better.
Brochu: It's more mature. [laughs]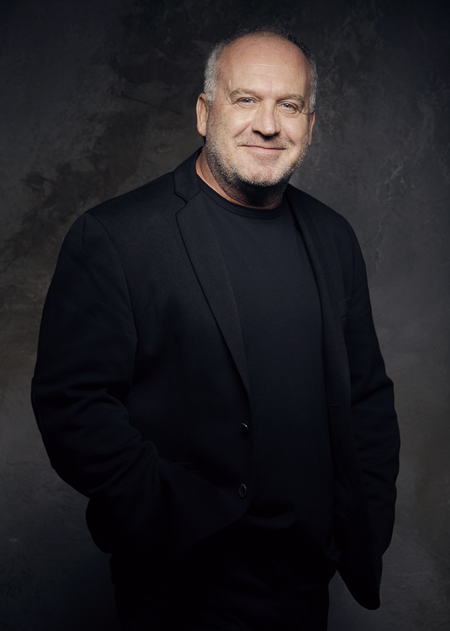 Will the band introduce any new material?
Caron: We're talking about it. It's mainly going to be Uzeb stuff people know, but we're keeping the door open. As we continue playing together, we'll see what happens. You never know. We may end up with a couple of new tunes.
What's your perspective on the defining characteristics of the Uzeb sound that enabled the band to reach such large audiences?
Caron: I think it was our mix of jazz and rock sounds. We focused on the language of jazz at the beginning. We were listening to jazz and playing standards. At the same time, we were listening to pop and rock as well. Michel has been influenced by Jimi Hendrix and I was listening to Tower of Power. Then we started listening to Miles Davis, Chick Corea and Weather Report. Next, we brought in the rock sound. We wanted to sound big, but still also use jazz language. I think we started out as jazz-rock and then it became fusion.
It's important to note that we were very aware that we were playing for our audience. We weren't stuck in our own bubble on stage. We wanted to connect with them. That's a big difference. It's all about attitude. Maybe we had a little bit of a pop approach that people also liked.
Brochu: During Uzeb, we also saw the beginning of MIDI and electronic drum pads. That part of Uzeb also touched a lot of people.
Cusson: We never pretended to revolutionize the jazz-fusion world. We were accessible. We toured a lot. We met a lot of people along the way. The structure of our tunes was a little complex, but they were also fun and surprising. There are a lot of things happening in our pieces. They're not the standard "32 bars and then blow" jazz tunes. They were different, arrangement-wise.
Uzeb also had a very melodic, compositional focus unlike some fusion that relies on extended soloing.
Caron: That was part of our desire. We also didn't want to write commercial tunes for radio or rely on a recipe. We played the music we liked, but we wanted it to be melodic. We wanted the music to touch the audience. We enjoy the chops and technical stuff too, but touching an audience begins with melody and arrangements.
Cusson: It takes a lifetime to master communication through music. It takes a long time to really be able to say something. We really dug into the emotion of the music. Uzeb was great for that. We wanted to deliver something very energetic and relatable to the audience. It's edgy. It's sometimes complex. It's driving. It's joy. These are feelings that are very important today. People need that more than ever.
Describe the circumstances around Uzeb disbanding in 1992.
Brochu: In any band, there has to be some compromise, but when you're young, you don't care as much about that. When we were young, it was sometimes pretty difficult to deal with which direction the band should go. That's why we decided to take a break. We didn't know it would be a 25-year break. [laughs]
Cusson: We've been in touch since we broke up, but we were always quite busy. Just meeting for dinner meant a lot of emails. When we split, there were some misunderstandings just like in every band. It was like a marriage after a while. There's stuff you don't necessarily agree on, but we departed quietly without creating chaos, with the door open for the future. Every day since, people have asked me "Is Uzeb going to come back?" My answer was always "You never know." So, the fact that we still get along well is a very good indication that we'll have some positive, fun music to play for people in 2017.
Caron: After all of those years playing with Uzeb, we learned a lot together. We learned how to write music, how to produce a record, how to behave on the road, and how to lead a band. From my point of view, when we broke up, I wanted to focus on my solo career. I wanted to see what I could accomplish on my own as opposed to being one-third of a group. It was a big challenge and risky to do because Uzeb was very successful. But we weren't happy to do it anymore at that point. We all wanted to express ourselves on our own terms. I realized right away it would take a long time to achieve a successful solo career and not be thought of as "the Uzeb bass player" anymore. I think that was the case for everyone. It took longer than I expected it to, but after 25 years, we're ready to write another Uzeb chapter.
In 1987, the band made a major decision to pare down to a trio. What's special about the chemistry of the trio format that continues today?
Brochu: We were a quartet for a long time. When we came back as a trio, we rediscovered a very strong connection between the three of us and we each had more space to play. It was a very effective lineup.
Cusson: My role completely changed. I loved all the keyboard players we had, including Stephan Montanaro, Michel Cyr and Jean St-Jacques. But when we became a trio, there was more air, space and chances to stretch out. In both the rock and jazz worlds, there's a lot of magic in the trio format. It's more flexible. It's why I really liked it.
There was a significant shift in the group's sound with Noisy Nights and Uzeb Club. The pieces achieved a balance between being both more focused, yet more embracing of new influences.
Caron: That was a normal evolution. The more records we did, the more we were able to do. Michel has always been the main composer for Uzeb, but I got more and more involved with the last two studio albums, so maybe I was a part of that evolution. I think it was about getting more mature. I listened to our first album Live in Bracknell recently and all the ideas were there, but we were pretty green. The arrangements became more sophisticated, precise and touching. Sometimes we used fewer notes, but better ones.
Cusson: There were some influences from Alain that began with Noisy Nights. We also used different time changes and started exploring more. I've had to dig into the past and relearn all these things I didn't remember. I hadn't listened to some of the music for 25 years. Sometimes I think to myself "Whoa, that's quite challenging."
Caron: We really did shift from being a jazz-rock band into a fusion band. There were influences from Eastern Europe and South America on those albums. Paul went to study in New York City, learning Afro-Cuban rhythms. Those influences were part of the group at that point.
During the Noisy Nights and Uzeb Club tours of the late '80s and early '90s, you were pushing technology to the limit, including exploring the early possibilities of MIDI and guitar synthesizers. Compare that period to what you'll be able to do on tour in 2017.
Brochu: It's going to be a lot easier because for this tour, I'll have a computer on stage, including a Yamaha DTXM12 digital percussion pad. It's going to be hip. Before, I had a sampler on stage and I had to load the sounds between tunes. At some points during a set, I'd say "Alain, you have to talk between this tune and that tune, because it's going to take a minute to load my sounds." There aren't any problems like that anymore.
Cusson: We're talking about loading 14mb of sounds at the time. [laughs] That's nothing now. I still remember those little diskettes. It would also take days to program a sample. It was really painful.
Caron: The technology is so much more advanced and a lot smaller. Only our imagination can stop us. We have 25 years of additional experience now. In 2003, I did an album called 5 that took me a year-and-a-half to make, with a lot of electronics, programming, loops, and two drummers. I dug into that world a lot. Then I came back with an almost acoustic quartet. For Uzeb in 2017, there will be lots of modern technology involved. It's part of the Uzeb DNA. We have to showcase that. It was our big forte. We'll have some for sure. Don't worry. [laughs]
Cusson: To me, it's like we were almost in the Stone Age before. It's incredible what possibilities are available to us now. We were always searching for different ways to orchestrate what we do, including how we interact, create tension and for me, how to establish precise shapes for every guitar sound. Now, it's far more precise and very exciting.
When I listen back to some of the guitar sounds on our recordings, I think maybe some of them sound too trendy for the time. So, I'm going to refresh those and use sounds that are as timeless as possible. The tunes are still there, but we're cleaning them up, making some new choices we all agree on and are comfortable with. Some of the songs will go into new and different places.
Uzeb achieved success in much of the world, except the US. Why do you feel that is?
Cusson: When we broke up, we were close to making it in the US, but it would have taken more effort. People knew us there, but I cannot analyze why we didn't become more well known. It's a question of timing. We did play there, but we would have had to invest additional years of touring there in an Econoline van. In my dreams, I think it could have been possible. We're open to playing the US as part of this reunion. Perhaps a festival will invite us.
Caron: Even 25 years later, it's still very difficult for non-Americans to tour the US. The US is very protectionist. The economy and the music industry aren't in very good shape anywhere on the planet either. After Uzeb, I went to New York for a while. Every year after that I went to NAMM and I've toured the US with others. The jazz clubs pay peanuts. It's mostly financially undoable. It's also very hard to get into the university circuit and bigger clubs in the US. When I was based in New York, I was part of the gang and I realized that if you don't live there, it's quite hard to make touring happen. If we get offers from the US, we'll consider them.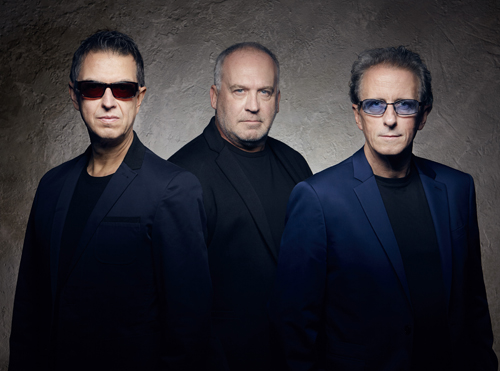 Don Alias and Michael Brecker, who were members of the extended Uzeb family, passed away in the last 10 years. Talk about how the band engaged with them and what they meant to you.
Brochu: Michael was my idol. I was so happy to play with them. It's tragic that he died in 2007. Don met a girl from Montreal. He married her and moved to Montreal for a few years. I had the chance to play with him very often and he was so nice. At the time, I didn't know a lot about Afro-Cuban music. Every time I played with him, I'd ask him "Am I playing this right?" He would say "Don't worry. Play your shit. It's always good." [laughs] But it made me want to go to New York to study Afro-Cuban stuff and ensure I was doing it okay.
Caron: There's another part to that Don story. He was in Montreal playing with Jaco Pastorius in 1982. I went to the show with a friend of mine. She was a percussionist. She said "I'd love to meet Don Alias." So, the two of us walked in front of the stage. She waved at Don and he came over to her, took her by the hand and went backstage. She's the girl he married. That's pretty good, huh? I went to the show with her and she disappeared with Don. [laughs]
When I went to New York City after Uzeb broke up, the first person I called was Don. I said "Hey Don, I'm in town." He replied "Do you want to play?" I said "For sure." He called me a couple of hours later and said "Leni Stern is looking for a bass player and she's waiting for your call." He was very supportive. We did two records together in New York and a tour of Europe as well. It was a great experience to know Don. Michael Brecker was incredible, too.
Cusson: Our record producer at the time, Sylvain Coutu, got in touch with Michael in 1982. He had heard of the band and came to Montreal to play on our Fast Emotion album. We were kids, pimples and all. We were very impressed by Michael. The experience happened very quickly.
Caron: We were all fans. We said "Oh man, Michael Brecker would be great on this record." Sylvain said "I'll call him." And he did and asked him to play on the album. Michael recorded with us at Le Studio. He then played with us live at the Montreal Jazz Festival. It was incredible. It was a dream come true.
Cusson: It was so intense. It went by too fast. I later used Michael again on my solo album Wild Unit 2 in 1994. I had another chance to talk to him more. We spent a day together. When you hear him speak, it's like listening to Coltrane. He was always really funny, too. He had a great sense of humor. He was a master. It really is a great loss. I'm so grateful we had those experiences. The music we made together is a great souvenir.
Caron: It really is. It was one of the first major experiences at that level for all of us. I remember being on stage and turning around thinking "Shit! This is Michael Brecker. I'm playing next to him!" Before we went on, I was so nervous thinking about the fact that we were going to perform with him.
Are there plans for any new or archival Uzeb releases?
Caron: This tour is about reconnecting with our audience. There's no new record, no new best-of. There's nothing to sell.
Cusson: With the technology today, we're recording all the time. We will record the shows and see what comes up. Remember, half of Uzeb's records are live recordings. Maybe we will have a live record by the end of the summer, but there's no pressure. Nobody is asking for anything. But as we've said several times, the door is open. I don't think we'll go back to remix old stuff. I think it would be more about releasing new versions of the songs.
What do you hope the audience takes away from this reunion?
Caron: We hope they'll like it. [laughs] We'll do our best.
Brochu: I'm teaching at the University of Montreal. All of my students know about Uzeb, but they've never seen the band. I think it's going to be fun to have a new generation see us play. There will be grandparents, parents and kids at the shows. It'll be great.
Cusson: There's something special that happens when the three of us play. We have our own kind of groove and it's fun to deliver that to music lovers. We've read the comments online since the reunion announcement and the fans talk about their memories and the fact they were there when Uzeb was last happening. It will be a big get together that will be very emotional. We're really looking forward to it.
Websites:
Uzeb on Facebook
Alain Caron
Michel Cusson