Afro Celt Sound System
Connecting Cultures
by Anil Prasad
Copyright © 2010 Anil Prasad.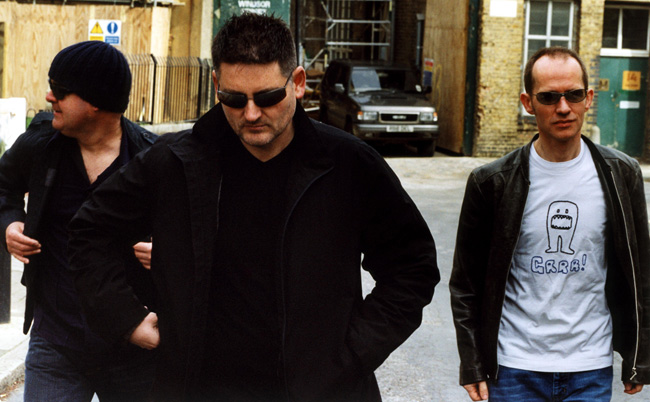 It's difficult to overstate the impact of Afro Celt Sound System on world music circles. The group's 1996 debut CD, Sound Magic, offered a one-of-a-kind, high-energy mesh of traditional West African, Irish and electronica elements that has influenced countless recordings and artists since. The album seamlessly brought together sounds as diverse as kora, talking drum, bodhran, djembe, whistle, guitar, Gaelic and African vocals and situated them within a swirl of addictive and danceable programmed loops and rhythms.
The group combined its unique approach with a more song-based bent for 2001's Further In Time, a record that also features guest vocalists Peter Gabriel and Robert Plant. The Afro Celts took a more acoustic and live instrumentation-based detour for 2004's Seed, and brought together all of its evolutionary elements as a balanced whole for 2005's Anatomic. A two-disc retrospective titled Capture is due shortly, as the group relaunches itself on the world stage after a five-year hiatus that saw band members pursuing solo projects.
Since its inception, the Britain-based group's key members have remained mostly intact, with guitarist/mandolinist and producer Simon Emmerson, vocalist Iarla Ó Lionáird, multi-instrumentalist James McNally, and producer/programmer Martin Russell at the core. The band is typically augmented by an incredible rainbow of musicians from all over the globe, such as dhol master Johnny Kalsi, kora player N'Faly Kouyate, percussionist Moussa Sissokho, and multi-instrumentalist Emer Mayock.
The group is one of the biggest-selling world fusion acts of all time and its effusive performances have energized audiences across the planet, but it has not been without controversy. Some purists were taken aback when they first heard the Afro Celts' groundbreaking experiments, believing they crossed a mythical line that denigrated long-held cultural traditions. It's an ill-informed view that ignores historical antecedents such as the fact that the Celts moved from the Middle East, through Africa and into Europe, encountering and absorbing many new influences along the way. Regardless, the Afro Celts' philosophy of using music as a tool to bridge cultural divides has succesfully won over diverse audiences everywhere.
Describe the beginnings of the Afro Celts.
Emmerson: The idea to mix up African and Irish music came to me as far back as 1991. I was working in Senegal producing Baaba Maal and he sang a song called "Daande Lenol" for the Lam Toro record. That was the epiphany. I felt the song resonated from a deep, ancient and sacred space that was familiar to me. When I got back to England, I met up with Davy Spillane and he heard the track and started playing Uilleann pipes along to it. He said "I know this music. My ancestors came from Africa." Davy is from a traveling Gypsy background and he encouraged me to pursue the link. I was lucky enough to be invited back to Senegal to work on Baaba Maal's Firin' In Fouta record and became great friends with him. We linked up with Donal Lunny on bouzouki and bodhran for that album as well. I ended up traveling with Baaba Maal to the borders of Senegal and Mauritania to hear the musical griots of his tribe and did a huge amount of field recording. During the summer of 1995, I decided to help launch an experiment during a recording week at Peter Gabriel's Real World studios. I had the kora player from Baaba Maal's group, the harpist Ayub Ogada, Iarla Ó Lionáird, and James McNally there. We had an incredible week of recording and spent a couple of months sorting it out into a record and it became the first Afro Celts release.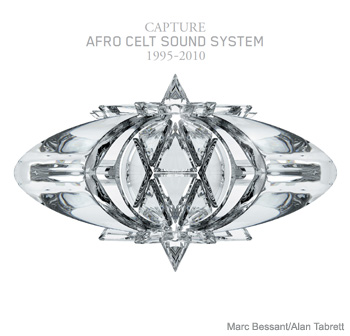 Many consider the first Afro Celts album a revolutionary effort. How do you look back at it?
Ó Lionáird: It was a very free-flowing experience in that our brains weren't directly engaged and we were really working in the moment. It was also unique because there was no sense of expectation whatsoever. It was like the first time you sing, swim or ride a bike in that you're almost expected to fall. That gave us an incredible sense of total freedom. Prior to the Afro Celts, I had been writing songs in Ireland for a year or two and had just begun mixing traditional Gaelic elements with beats in my own music. So, I was totally enthusiastic, open and ready for anything the Afro Celts had to offer. I found it very easy to completely open up and didn't spend time analyzing everything. There are some great tracks on the record, but I admit there is also a naïveté that occasionally stretches beyond usefulness. However, it all has good energy. The first time you do anything is very special and that held true for Sound Magic.
Emmerson: It was an album that really, really worked. It was an absolutely fantastic period because we had no idea what to expect. You can't beat the experience of such amazing music forming before your eyes. We definitely had the sense that we were creating something special. What we didn't sense was that it would sell as well as it did. A great number of people—including folkies and traditionalists—loved the record and James, Iarla and the others all said we have to form a band, go out on tour and promote the record and that's how the nucleus formed.
The Afro Celts also faced extreme criticism when it debuted. Describe what you experienced and how you dealt with it.
Ó Lionáird: The Afro Celts entered a hugely dangerous area full of minefields. Traditionalists exist in every country and culture, and indeed my own Irish culture is famous for it. There are diehard conservative traditionalists who cannot abide by the idea of stretching the fabric of their culture, let alone mixing it with something else. We've also felt the undertow of racism in some people's response to our music. In certain parts of Europe, there are people who felt more comfortable with the idea of leaving things as they are and said "Don't bring that into your music. You shouldn't be going there." I would say "why?" and their response would be "Because they're not where you're from. You're not where they're from." They just can't deal with the idea of an Irish man and a Black man creating links. Personally, I was always fascinated with the idea of working with other voices, personalities and souls from all over the world. Everyone has such fascinating, suggestive and rich stories about themselves and their geography. There are cultural differences and it takes a bit of work to make things come together, but I think the end result is absolutely worth it. In terms of overcoming the criticism, you really can't, because people feel what they feel. But it hasn't stopped us. We've just had to look past it.
Emmerson: As soon as critics heard the name Afro Celt Sound System, loads of them also felt an immediate loathing towards us. They assumed we were another Deep Forest. The U.K. press in particular is also particularly "rockist." They hate anything that is vaguely New Age-y and we got tarred with that brush. I think the majority of rock journalists are really insignificant to be honest. Reviews don't sell records. Rock journalism has virtually no influence or sway. It doesn't do anything other than boost your ego when you get a good review. We simply overcame the criticism through the strength of the music.
Describe what it's like for a band as eclectic as the Afro Celts to work within the mainstream music industry.
Ó Lionáird: The way the record industry works is ridiculous. When you ask your label for an opinion, they don't give it to you. And when you don't want an opinion, they give it to you. On both occasions, you're vulnerable. It's one of the most difficult parts of being a recording artist because you have all these guys who are supposedly helping you create your work. It's natural to look to them for some direction, but they are typically unqualified to give an opinion. There's always an unsatisfied expectation with record companies. You want to know what they're thinking, but you're afraid of what they'll say. It's very rare to find a band whose progression isn't adulterated by the response. Ultimately, the fact is you can't be an artist unless you are an artist.
Emmerson: I think the general cynical feeling in the industry was we'd do one or two records and move on. I think the fact that we persevered despite those expectations is a great thing for any band within our genre of music. The music industry is truly imploding and there just isn't the space for longevity at the major label level. You really do have your 15 minutes of fame and they move on to the next product. The whole process of dealing with record labels has become increasingly difficult and constrained. It wasn't always that way. For instance, I've been working with Virgin and EMI since 1983 off and on. I remember the good old days in the early '80s when you used to get a huge Christmas hamper and then the hamper got smaller and smaller. The parties also got smaller and smaller and disappeared. Now, you don't even get taken out for a drink by your A&R guy. [laughs] The key is to stop defining yourself through the needs of people in the music industry and focus on moving the band forward on musical terms.
What influence do you feel the Afro Celts have had on world music and electronica since it hit the scene?
Emmerson: I think we've had a very big influence. When we started, it was considered quite radical to mix electronica and programmed beats with traditional music of any form. We were pushing the frontiers back then, but now it's become commonplace. Now, people just accept that it's there. It's almost like the transition from acoustic folk to electric folk during the '60s when Bob Dylan was called Judas. Within a couple of years, electric folk was completely established and I think the same thing has occurred with the music we do. Our first album was very fresh and kind of naïve. Global fusion has really moved along since then with more and more people doing it. The problem is that it's a genre that's very easy to imitate. It's not particularly difficult to create tracks if you have a sample CD full of beats and global sounds. You hear lesser examples of this stuff a lot, including in advertisements. The good stuff is still rare.
Ó Lionáird: I think we've always been outsiders. We never really presented ourselves as a roots outfit, but as a band that poses challenges to the listener. When we started in the '90s, there seemed to be an outward push towards more experimentation and external exploration, but it gave way to a reverse thrust. The world music industry and press are regressing and migrating back to a conservative mode where the expectation is that artists will return to their roots instead of doing an experimental album. More and more bands are doing exactly that. Global fusion artists don't have anywhere the momentum they once had in the marketplace. It can be argued that some world music artists were forced or pushed in a corner to change their colors for the market, but that wasn't the case for us. Both James and I come from traditional backgrounds and we felt it wasn't that hard to make this music. We were all searching for new avenues and it was second nature for us to stretch the boundaries. So, we're now going against the tide of mainstream, conservative voices.
How has the group evolved over the course of its existence?
Emmerson: The main evolution is the transition from being a producer-based project that I set up to becoming a fully-fledged band. We've developed an internal logic and musical language over the years that allows us to create coherent musical structures in an intuitive way. All of that has resulted in a very specific sound that is unique to the Afro Celts. In a way, it's a genre we can call our own.
Ó Lionáird: I have a double-reaction to that idea. On one hand, I quite like it. It represents a familiarity and modus operandi you can count on. It means you know how to work together and get somewhere recognizable in the end. On the other hand, it makes you feel like you can do a better job. Part of me hates and distrusts that comfort zone because I don't like having a sense of expectation sound-wise. Sometimes I want to destroy everything and go for something completely different. Some of my teammates in the Afro Celts also feel that way. It's a struggle to maintain a sound you've spent a long time cultivating, while developing new ways of making music that enable you to evolve the language you've developed. But sometimes you'd rather annihilate the language altogether.
I think we've also become much better at maintaining peace and harmony within the group by ensuring egos are kept in check. We've become very good at listening to one another and creating common goals, which can sometimes be difficult. There are different forces in the band—forces for an exploratory approach and forces for conservatism, but it's those elements which combine to make the band what it is. After so many years together, we're also better prepared to tell each other "That's not good enough. I don't like that." We're also better prepared to hear it and understand it. I know I've heard it a number of times. [laughs]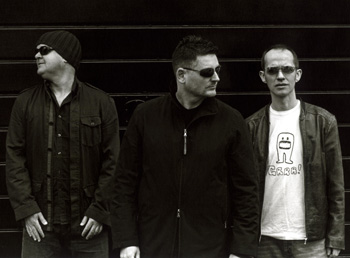 Martin Carthy told me "I finally understood that a song isn't gospel. You have the right and sometimes the duty to mess with it." I imagine that philosophy resonates with the Afro Celts too.
Emmerson: That's exactly right. The biggest problem with the folk tradition is that the style and concept is often about correctness. When Carthy started, a lot of people promoting folk music were Communist party Stalinists that had the idea that the Leninists were corrupting lives. They supported what they considered authentic folk culture when 99 percent of these people didn't even live in rural communities. They didn't have any organic relationship to the music other than the idea that there is a pure form of music that stands out from capitalism that is represented by these traditional songs and that no-one should mess with them.
Ó Lionáird: A lot of people would imagine from that statement that I'm one of Carthy's disciples. Although I work very hard on my music, both solo and with the Afro Celts, I also shoot from the hip as well. I always try to ask myself "Have I done this before? How was this song recorded previously?" I sometimes even reconsider the text of a traditional song. There are an awful lot of sacred cows in folk music and many have their function, but whether you agree with the function or not is another matter entirely. Typically, the function is the successful transmission of these musical artifacts over time. It's like DNA code in that in order for them to replicate successfully over time, you have to also preserve the replication mechanism. I'm not one of those preservationists. I don't feel the need to restate what came before me. The notion of innovation is totally proper and real for me. There are a couple of schools of innovation in traditional music. One is the individual interpretation of old tunes and forms which is very subtle, with each artist bringing in a new accent to things. Then there are people like me who do that, but also seek to disrupt normal expectations, stretch things out and apply a little more imagination to it. All points of view are valid though. Very good friends of mine fall into categories I don't and I'm delighted with them and want to hear their secret micro-investigations of their tradition.
Is the merging of different world cultures in some ways a political statement?
Emmerson: When you take two cultures and mix them together, you'll get politics in the most day-to-day sense in that it's about the way people choose to live together. There will inherently be some sort of political dialogue about the values and ideas of those who choose to merge. That's the basis of culture and civilization. It's one tribe saying to another "We want to interact with you, so let's exchange gifts." Having said that, some people are losing their cultures through the process of globalization. The important thing is to understand your own culture, how you are positioned in it, forgive the demons of the past and still feel proud of who you are.
It took a huge amount of time and care to get the Afro Celts together. It wasn't easy. It took a few trips to Africa before I could even think about making the first record. It was only after I made music with Baaba Maal that I felt confident enough to do it. Having said that, I have done my research. You don't just steam into other people's cultures and go "Right, I love what you're doing and I'll mix you up with what's over here." You have to get the musicians together, collaborate and ensure they're comfortable and happy. It can be a profoundly wonderful thing when that happens. You do open up the doors and the universal language of music enables a lot of people from different origins to work together. That's why so many fundamentalist regimes and right wing politicians hate the idea of cultural collaboration. That's why the Taliban were out banning all forms of music, why Nazi Germany was so paranoid about the rise of jazz and why the Soviet Union tried to control music production with a state-owned music industry. The first thing a fundamentalist government does when it takes over is to get the poets, musicians and artists who are keeping the doors of culture open. Cultural collaboration is inherently anti-authoritarian and anarchistic in that you are providing links between people outside the dominant power relationships.
Ó Lionáird: It's a political statement, but not one that has been accepted in any widespread way by the body politic. I think artists like the Afro Celts have demonstrated the value and capability of people culturally communicating to create art, but I'm not sure it has had any kind of impact on the way people think at large. Unfortunately, I have a feeling it hasn't, particularly in recent years. How can I sit here and pretend it's had an effect on consciousness with what's currently happening in the world? Sadly, some people are still attached to the very old purity clause that's related to cultural conquest and latent value systems.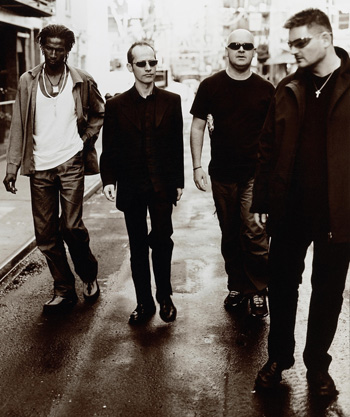 What impact did the events of September 11, 2001 have on the group?
Emmerson: It came very close to destroying us. EMI had just invested a huge amount of money to make the third record with big league producers and a video with Peter Gabriel for "When You're Falling." We delivered the goods and had a number one AAA hit in America and the video was set to get major rotation on VH1. We had just done the David Letterman show and our manager said we were getting more plays than Eric Clapton and the Rolling Stones. At that point in our career, we reached the top of the world music level and industry people thought we were ready to go to the next level. Then 9/11 happened and the tour we were going to do a couple of weeks after was cancelled. The video, which featured a guy falling through the sky, past an airplane flown by Peter Gabriel, was shelved because the image of someone plummeting had too much resonance. It was a great video, but tasteless for that moment. The effect 9/11 had on American society was very profound. It would be silly for me to say "It ruined my career as a rock star, man." In fact, after 9/11, I thought the world needed the Afro Celts more than ever because we are a band that shows people that a multicultural, multi-faith world is possible, fundamentally desirable and conducive towards creating great art. We are a living, breathing testament to that idea. So, I thought it was absolutely critical to go on and continue getting that message out there.
When you combine different world musics, you're also tapping into many different spiritual elements. Tell me what role spirituality plays for the group.
Emmerson: Spirituality is there as a great big thing, but we never talk about it. I'm loathe to discuss it because there's such a spiritual tourism industry around the world in which one week someone will be doing Sufi mysticism and then the next week it's Siberian Shamanism, tantric sex or the Kabbalah. You get that in music too. With the Afro Celts, spirituality is represented in an internal dialogue and it has much more to do with what isn't said than what is said. We've never set out to promote any kind of global spirituality. When we first came out, there were a lot of New Age-y people about and we could have promoted ourselves by saying "We've tapped into the roots of pagan spirituality and provided the link between the Stone Circles of Gambia and the Stone Circles of the Donegal." As for me, I'm a New Age lager lout. I came from the football territories of South London into the church of global awareness. [laughs] At some point when you are playing or creating music, a spiritual dimension opens up and if doesn't, you're probably playing in a cover band and you should get out and get another job.
Ó Lionáird: Ever since I joined the Afro Celts, I've had every kind of New Age crank ringing me up. They'll say "There's a shaman in town. You have to meet him! You gotta draw a circle in the sand, sit in a tent for three weeks, do incantations, and eat gruel." I'm not a New Age person and I don't think that way. My education is very technocratic, but I am also fairly well-educated in the arts. I was brought up as a very religious child and have tremendous respect for people who have strong religious beliefs. However, I don't believe they have any right to tell anybody else what to do. The problem is they don't stop. Having said that, Christians are as bad or worse than everyone else, but they don't get the bad press the Muslims do. I still think that music is a spiritual thing. Even if you don't have any core religious beliefs based on text or sect, the buzz of creating music and in particular for me, singing, is an ecstatic experience. When you approach the microphone looking for things, you can open yourself up to that buzz—the unique place that expression takes you. It's such a good and powerful feeling. It can literally make my fingertips tingle when I'm working in that zone in the studio or live. It's very spiritual in that it's uplifting, mind-expanding, energizing and mysterious. I'm searching blindly and hopefully surprising myself by finding new things—and finding myself. It's all part of the ecstasy.