Alan StivellI
The Infinity of Imagination
by Anil Prasad
Copyright © 2019 Anil Prasad.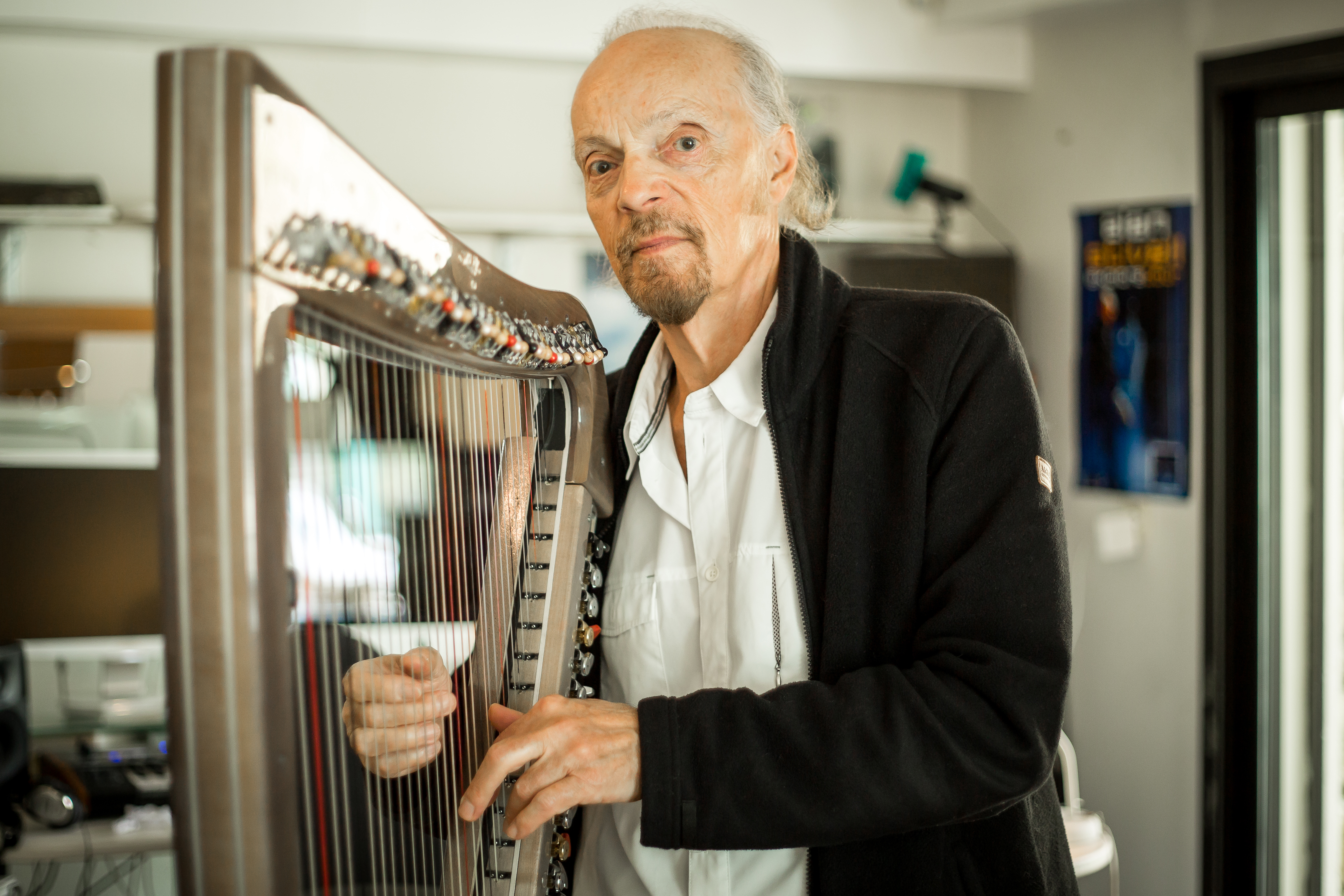 Gilles Pensart
Celtic music has resonated for decades around the world in myriad traditional and cross-cultural contexts. Alan Stivell's harp work, compositions and interpretations of traditional music played a pivotal role in elevating the profile of both Celtic and Breton music and setting the stage for the global ubiquity of the former. His latest album, Human~Kelt, is the first in a trilogy that explores his career going back to the early '60s. It also marks Stivell hitting 50 years as a professional musician.
The album features a combination of reimagined earlier works and new pieces, with a wide variety of guests, including Dan Ar Braz, Angelo Branduardi, Andrea Corr, Fatoumata Diawara, Bob Geldof, Murray Head, Dónal Lunny, Carlos Núñez, and Yann Tiersen. While firmly rooted in Celtic and Breton culture, the album is infused with many other genres, including African music, classical, electronica, pop, and rock. Human~Kelt is designed to showcase the connections between them and how Celtic music can serve as a seamless bridge. It's also a multilingual album, weaving together languages such as Basque, Breton, Catalan, Dutch, Gaelic, English, French, German, and Welsh into its narrative.
Stivell was born in Brittany and his father Georges Cochevelou was a civil servant in the French Ministry of Finance with a major interest in music. Cochevelou pursued the recreation of a traditional Breton harp from the Middle Ages and introduced his son to it at the age of nine. Stivell was steeped in Celtic music, mythology, art, dance, as well as the Breton language as a child. He then moved to Paris where he encountered global musical influences, sparking his interest in the possibilities of merging his roots with the expanded world that had revealed itself to him.
In 1960, at age 17, Stivell began his recording career with his first single "Musique gaelique." His first LP Telenn Geltiek followed in 1964. By 1967, he had signed with Philips Records, and his international career began in earnest. An opportunity to perform with The Moody Blues at Queen Elizabeth Hall in London in 1968 was a pivotal moment of the era.
Key early albums included 1970's Reflets and 1971's Renaissance of the Celtic Harp, which established Stivell as a critical and influential voice in the emerging Breton roots revival. He was also gaining renown for combining Celtic music with rock elements such as electric guitar, bass, drums, and organ. By 1972, the interest in Stivell's approach was significant across Europe. His live album À l'Olympia, which focused on his Celtic rock approach, sold 1.5 million albums and established his touring and recording career worldwide.
Stivell went on to record 18 more albums between À l'Olympia and Human~Kelt. His 1980 release, Celtic Symphony, was another pioneering moment which integrated rock, symphony orchestra, Breton, and Indian sounds. His subsequent work found him taking Breton and Celtic realms and merging them with the worlds of electronica, hip-hop, and even more pronounced rock and pop contexts. Albums such as 1993's Again and 1998's 1 Douar included collaborations with global icons, including Kate Bush, John Cale, Youssou N'Dour, Jim Kerr, and Shane MacGowan, highlighting the esteem in which his work is held within pop culture.
He traces his multi-decade career and the inspiration and motivation that inform his alchemical approach in this rare English-language interview.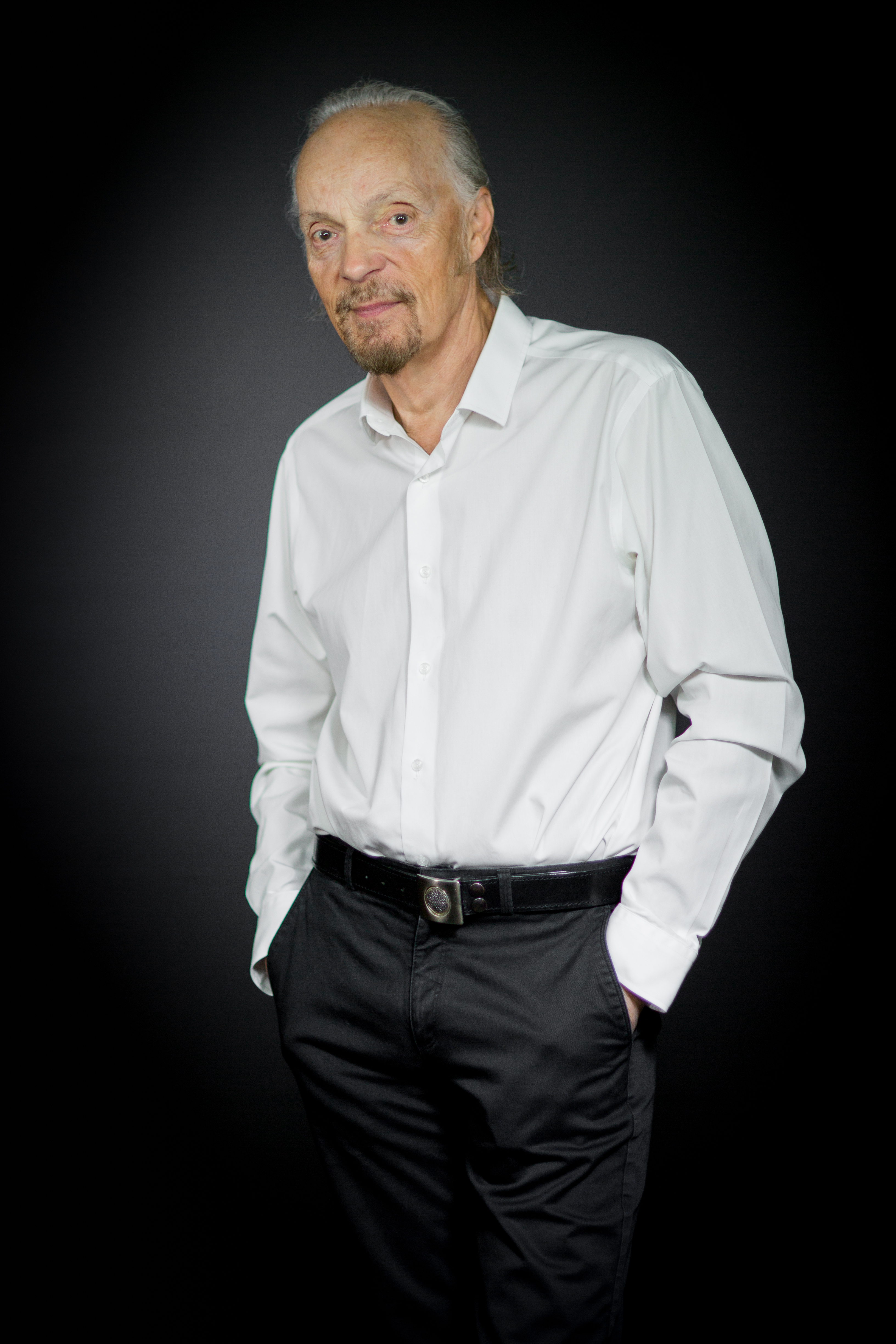 Gilles Pensart
Explore what the title Human~Kelt communicates.
I've been on the road for 63 years and I wanted to find two words to express my musical life and general life. I've been fascinated with Celtic culture and countries since I was 10. So, this is very essential to my life—even more important than being from Brittany. Celtic music is part of Scotland, Ireland, Wales, and Britain and I've always been extremely fascinated by that. Even as a child, I discovered there were many relationships between Celtic music and the music of non-Western cultures. There were similarities with music from Asia, American Indian music, and even African and Indian music. So, understanding Celtic music has meant I have been open to working without any borders since I was very young.
More than a dozen languages are represented on the album. Language is another important aspect of what I do. I've mainly used Breton for writing and singing, which is only understood by a few people. So, I've always been into the idea that we must communicate with music and not words. But I can use different languages as well. I thought, if I can use Breton, French and English, why not also use other languages such as Gaelic, Welsh, Dutch, German, Corsican, Catalan, Basque, and Breton Occitan?
Putting "Human" before "Kelt" was very important. As important as roots and identities are, we can't forget that the first part of our identity involves being a human being.
I often see the words "fighter" and "defender" associated with you as it relates to Breton culture and its prominence on the world stage. Tell me about that dedication and its importance for you.
I was very young when my father made the first Celtic harp. Then I fell in love with Breton and Celtic culture. I was a young Breton. I couldn't speak Breton, so I took lessons, mainly by mail. I also experienced the culture by living in Paris where many Bretons also reside. There are also Bretons in New York and Canada. So, I learned the language, but at the same time, the majority of people even in Britain considered this culture something remote, out of fashion and even primitive. I dedicated my life to defending Breton culture in response.
We live in complex and challenging times, geopolitically speaking. How does Human~Kelt as a title relate to that fact?
People are retracting inside their own national and regional borders. Walls are getting built everywhere, which equates to a kind of hell. How musicians like me answer this is by showing that we don't reject diversity of identity. To me, it's suicide to close the windows and doors, because that eventually results in the end of your own unique culture. Without those windows and doors open, there's no way for your culture to live. Cultures have to be in contact with other cultures and be given the chance to create something new from the other influences. Human~Kelt shows that everybody is both similar and different. We have similarities which help us communicate with everybody else. We also have something unique about our cultures that we can exchange with others. Going back to your last question, this is the logic in my defense of Breton culture. I am defending it but I also want it to extend to the rest of the world without any borders.
Human~Kelt combines new compositions with reimagined versions of earlier pieces. Describe the approach and creative process involved.
I wanted to explore different aspects of my music from across my 50-year career. So, I revisited many earlier songs, but a third of the album is new creations, because it also reflects that life is going on. My point of view is that they work together in parallel. Even though I am revisiting ancient songs, I am doing so with no preconceived ideas. It's an ideal fusion between elements of the first versions and the feelings of today. I even use samples of the original songs mixed with new melodies and techniques. The album took three years to put together. There was a lot of post-work and mixing because there was so much sound to work with. The overall sound is the most important thing in music for me.
How does improvisation contribute to the process of writing new music for you?
For me, improvisation is very important because it reflects ideas that emerge as I'm thinking of them. There is much in my music that comes in a rational way, but there is much improvisation, too. New ideas even arrive during the mixing process. So, I tried to combine all of these into this album, which wasn't easy. I wanted to communicate the feeling of the first time I touched my harp on this album. So, you'll hear some really spontaneous harp improvisations on the record. Sometimes I did that with vocals, too.
Tell me about the choice of guest musicians you included on the album.
"Reflets" was the first song on my first album from 1970. It was written in French at the time. I wanted to do a new version that had trilingual lyrics on it. So, I thought I'd use Murray Head for the English part. He's very well-known in France and England as a singer and actor. He was a very intuitive singer and had a very good sense of balance.
I used Fatoumata Diawara for "Den I," which is a Malian song. I liked the ambiguity we were able to create on that song because when you listen to it, you can't really know if it's her or me who is singing.
I spoke to Andrea Corr about performing on "Ardaigh Cuan" because there's something almost biological about her connection to Celtic music. Also, people aren't used to hearing her sing in Gaelic. Andrea wanted to sing on another song, so I thought about a lullaby called "A Hed An Nos" which I did on an earlier album. It's still well known. It knew it as a child, translated from Welsh to Breton. So, I asked Andrea if we could sing it in English, Welsh and Breton. So, now it's a trilingual song and it speaks to the idea that everything is possible. It's also linked to Christmas in my mind.
The album also has Angelo Branduardi, an Italian singer who is very popular in Italy and France. He's created things which also have the same kind of idea of going back to his roots, mixed with modern elements. He has a special Anglo-Saxon influence, combining American English and an Italian-European approach. He performs on "Breselien – Brocéliande" and "Son Ar Chistr."
Yann Tiersen is someone who's had very big success in soundtracks. He did the music for Amélie. He's also a Breton and we did something very special and technical on the track "Pourquoi Es-Tu Venu Si Tard?" I first improvised on the harp and did a vocal improvisation, which I sent to him. He then improvised on piano, which is something I would say was almost impossible. But he really answered the tempo and worked within this difficult context. He was the right person to do that.
I was trying to speak of humanity in a greater sense with this album, which is one of the reasons I was happy to include Bob Geldof on it. I feel some people can be angelic and encourage people to live in peace. We can make great, positive change with our actions with very simple ideologies, even though the world is very complicated. One of the most important things is to be respectful of others. What Bob did with Band Aid and Live Aid proved that we can change things for the better. Having Bob accept my invitation to sing on the album was very much a gift.
Dan Ar Braz also performs on "An Emglew." He was a waiter in a restaurant who left that job to play music. He was a guitarist in dance halls and places like that. He chose to dedicate his life to the guitar and played with me for many years and we're still friends. He became very popular in Britain and later, in France. It was a pleasure to also have him on Human~Kelt, because he has been an important part of my life. He's a very good guitarist with special talent. A very nice, beautiful player with a rich sound.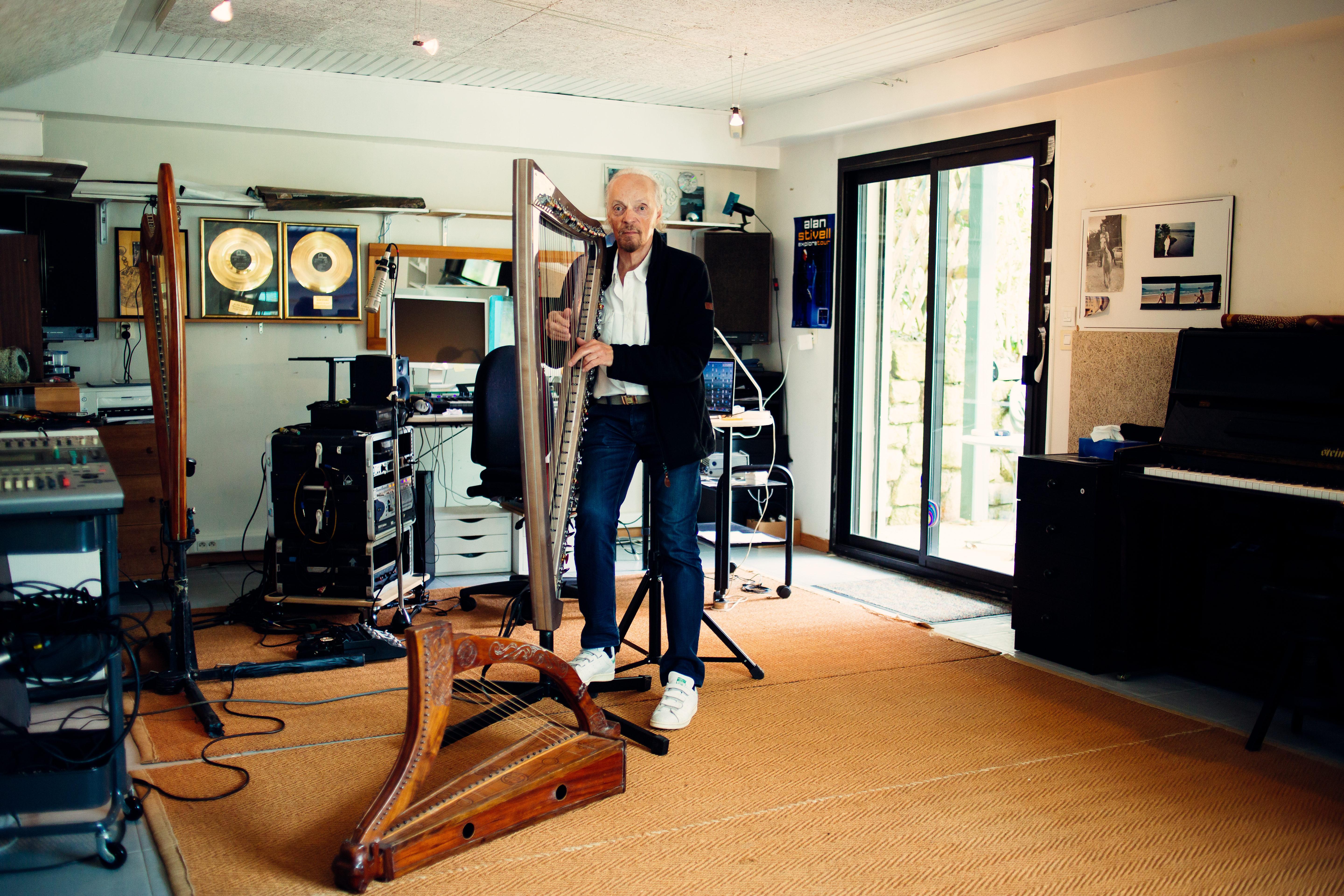 Gilles Pensart
Human-Kelt is the first of three recordings that will take a related approach. What will the next two albums explore?
I want to revisit my Celtic Symphony, which I recorded 40 years ago. I want to make this album and play it on stage with a Breton, such as Claude Lemesle. So, that's my project for 2020 and I look forward to that. I would also like to do an album dedicated to the Celtic harp, which will be either all instrumental or a combination of instrumentals and vocals. I think these could be the last projects of my life and be the end of my discography. I hope to do one more as well, but I am not sure.
Why do you think these could be your last projects?
Because I'm 75. If I take two or three years between these two albums, I'll be 80 years old. If I succeed and can do these two other albums, that will be good. My health is okay. Almost all right. I spent so much time working on Human~Kelt because I wanted it to be as close as possible to what I envisioned. Usually, when I record albums, they're done too fast and sometimes they aren't close enough to what I wanted to say or express. With these albums I want to take the time to make them as well as I can. So, a lot of time may pass for that. Of course, I will always think I could have done better, but that's life.
Tell me about the original instincts that drove you to combine Celtic music with rock.
Rock and roll arrived in France in the late '50s. I was 14 years old and I wasn't very into things like the Latin pop and the bad jazz music I heard on the radio. I wasn't seduced by either. So, when rock and roll emerged, it was something new that the new geenration related to and appealed to me. What also arrived at that time was American music in general, including blues, country and their jazz. I felt American rock and country music were very close to Celtic music. So, suddenly popular music was becoming related to Celtic music, which was fantastic for me. I was very enthusiastic and thought "We should try to do something here in Brittany addressing the schism between rock and roll and Celtic music." But I was too young then. I didn't know any guitarists and I was playing the classical harp. I had no idea how I could begin something like this.
Then the Beatles and Donovan arrived and they used sitar. George Martin also had The Beatles using orchestras and string sections. So, there was a classical influence as well. Things became much easier and the road was open for me. Mixing rock music with Celtic harp was something people would accept and understand. I began a movement on the continent after I met some like-minded musicians. I was able to begin my work and started singing professionally in 1966. By July 1966, I was already performing in Italy. I signed to the Philips label in 1967. By 1968, I was invited by the Moody Blues to perform at Queen Elizabeth Hall in London. I worked very hard to promote my work, but the truth is I didn't want to promote myself. I wanted to promote my culture and country.
Your 1972 album À l'Olympia was a pivotal moment for Celtic music's acceptance in popular culture. How do you look back at that recording and what it meant for your career?
In 1970, they released my single "Broceliande" which was more successful than we expected it to be. Then Philips asked me to make albums and Reflets and Renaissance of the Celtic Harp were released in the early '70s and those had even more sales. I did a concert at The Olympia in Paris in 1972 which was first broadcast on French radio. Seven million people listened to it that night, including people outside of France in countries as far away as Algeria. We released it as a live album and it was a surprising success because it was against all commercial ideas. Nobody could put a dollar figure on the idea of someone like me singing mainly in a language so few people understand. And yet 1.5 million copies of the album were sold. It was a Number One album in Europe. After the evening of that concert, I realized everything could be open for me from then on.
Musicians from Brittany and elsewhere were seduced by the idea of combining Celtic music with other forms after that. There was a cultural revolution in Brittany and it almost became fashionable. I remember that we were totally reversing the situation for the better. Only a few years before, people were rejecting Breton culture. Suddenly, French people everywhere were enthusiastic about Breton music. The album was a real crossover moment. I should mention at the same time I was doing that, something similar was happening for the great musicians of Ireland. The Chieftains and Paddy Maloney were creating great interest in Irish music as well. Together, all of the musicians created a very powerful wave that spread across the planet. I am very happy I was a part of bringing this music to a higher level of popularity.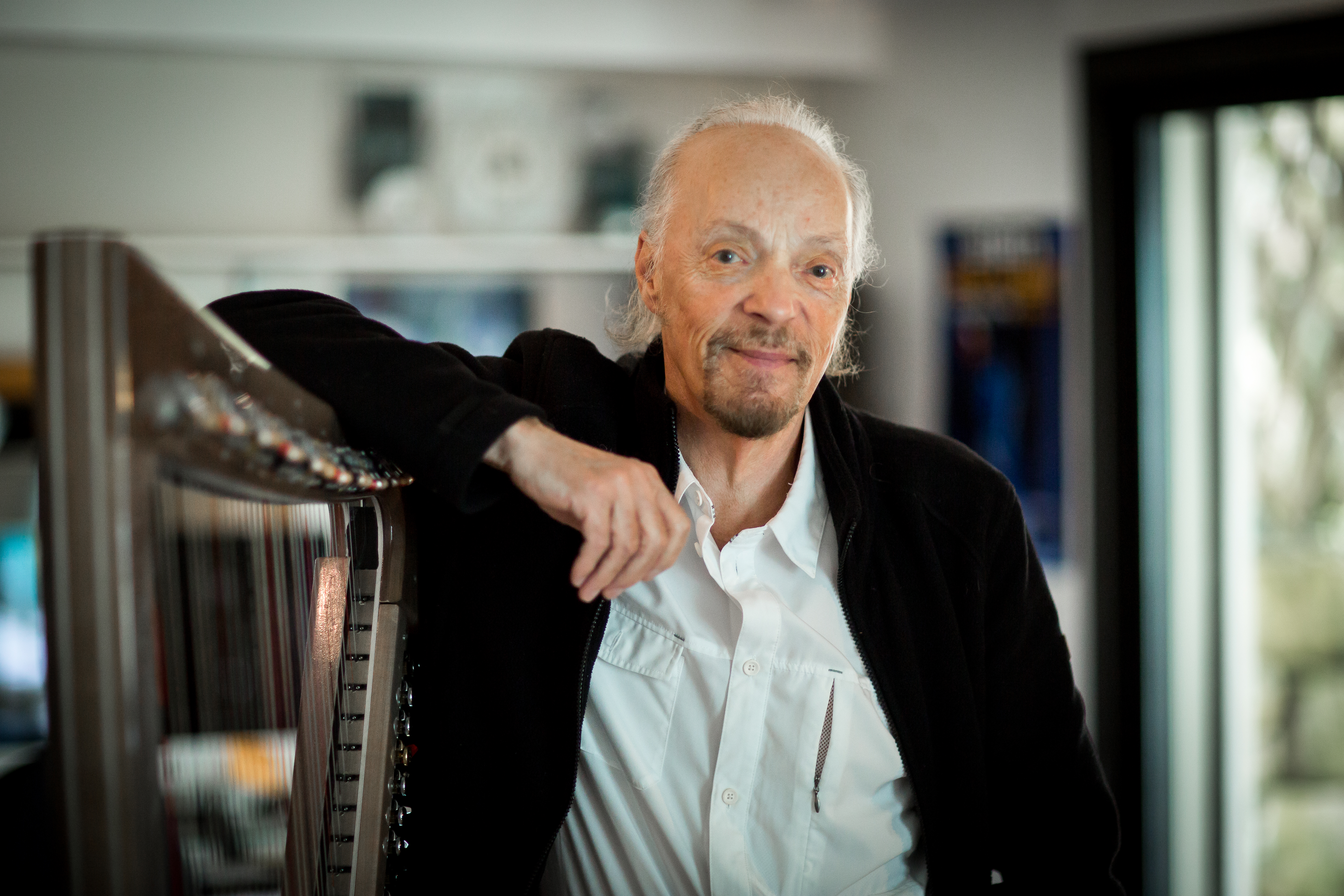 Gilles Pensart
Do you feel your relationship to the harp continues evolving?
Yes, it's evolving all the time. The first is the continued evolution of the instrument itself. Music for me, is really about the sound before the notes. So, I've had new prototype harps built since the early '80s—mainly solid-body instruments.
My relationship to the harp came as a child. At age 12, I played the piano, which I didn't love that much. There was something a bit cold about touching the keys of the piano. But when I touched the strings of the first Breton Celtic harp that my father had built, that became a passion for me.
I needed a teacher, but there were no Celtic harp teachers. There were only some Irish women playing the Irish harp in Ireland at that time. So, I had a classical harp teacher at the beginning. My father, ten years later, created a metal string-based Celtic harp, also known as the Bardic harp. This was a new step in my relationship with the harp. The metal strings sounded very different from anything I had heard in classical music. The sound was much closer to what I was searching for—something more Celtic, but also closer to the sound of acoustic guitar and sitar. The resonance of the harp is also fantastic and hypnotic. So, for 30 years, I played metal-stringed harp almost exclusively. After that, I partly came back to nylon strings with a new solid-body harp.
What I love about the harp are its mechanics, the levels at which you can place the notes, and the enchanted formality of the notes. I love to bend strings on the harp, which is the opposite of many harpists who just play the strings. Bending notes is very important to me, because I love working with intervals.
Reflect on contributing to "The Fog" and "Between a Man and a Woman" on Kate Bush's Sensual World from 1989.
It was almost magical. I loved Kate Bush's albums and one day, I sent a letter to her. She answered me just two days later and I was very surprised. She said she would like to work with me and invited me to work on the Sensual World album. I've never been very shy, but I was a bit timid to work with her.
We were going to experiment together, but it was in a way more professional than what I was used to. We had a great deal of time to work. We were in a studio from the morning to the night and had as much time as we wanted. She has a great dedication to working on the mix, sound and production. She's always been an expert in those fields. She's very dedicated to creating a great mix, which can be as important as the composition itself. She tries to achieve something as close to perfection as possible, even though that is, of course, impossible. But I got much closer to that than I had before with her. I think she's worked that way from the beginning.
After we worked together on her album, I asked her if it would be okay to do something for my 1993 record Again and she agreed to work on "Kimiad." It's a nice story. At some point she saw me perform on The Old Grey Whistle Test on the BBC from 1973. I was playing "Kimiad" from my album that came out that year called Chemins de Terre. She was mad about that song. When I asked her to collaborate on my album, she said "Yes, but I will work on 'Kimiad.'" Again featured me revisiting earlier material, so that was perfect.
There was another song we worked on together called "The Lady of the Lake" which was supposed to be on my 1991 album The Mist of Avalon. But we never had the okay of the record company to put it on the album. I would have liked to have included that, but it was not possible.
I understand you're a big fan of science fiction and believe there's a connection between it and Celtic mythology.
Oh yes. I love 2001: A Space Odyssey and many other science fiction films. I also loved the magazine Fantastic since I was five years old. In fact, I found Fantastic at the same time I found Celtic mythology. Science fiction is so open to the infinity of imagination and reality. It's communicating that we are between worlds and that we are a little bit claustrophobic here in ours. But space—the cosmos—is something so vast. I dream of traveling to other galaxies.
I think the link between Celtic mythology and science fiction is they both explore and expand on the reality of the time in which they were created. They both combine new elements with the reality we know.
How does spirituality inform your life?
I was raised Roman Catholic and then I began to think more about things. I've been so fascinated with Celtic culture and I decided there was no reason to remain in that kind of church, culture and feeling. So, I was thinking more about a Celtic Christian church. Then I thought "Why Christianity? It's not something universal." For me, that's just an idea. It's one approach from one group of people or cultures about their feeling to achieve a kind of transcendence. So, I went to something that was more universal, but never arrived at a point where I could say "Now I have my religion."
My spirituality is something that's very open and about synchronicity. There's nothing about it I can put in a box. I believe in a kind of universal spirit and the universe itself—something that's not possible to express as a human being.
Can it be expressed through music?
In a way, yes. I think music is the best expression of some elements. Some parts of my music have something spiritual about them. Through music, we oblige ourselves to pursue another kind of communication which is totally open through vibrations. And if we speak of communication through just vibrations, then we are speaking about spirituality.