Anja Garbarek
Free Flow
by Anil Prasad
Copyright © 2019 Anil Prasad.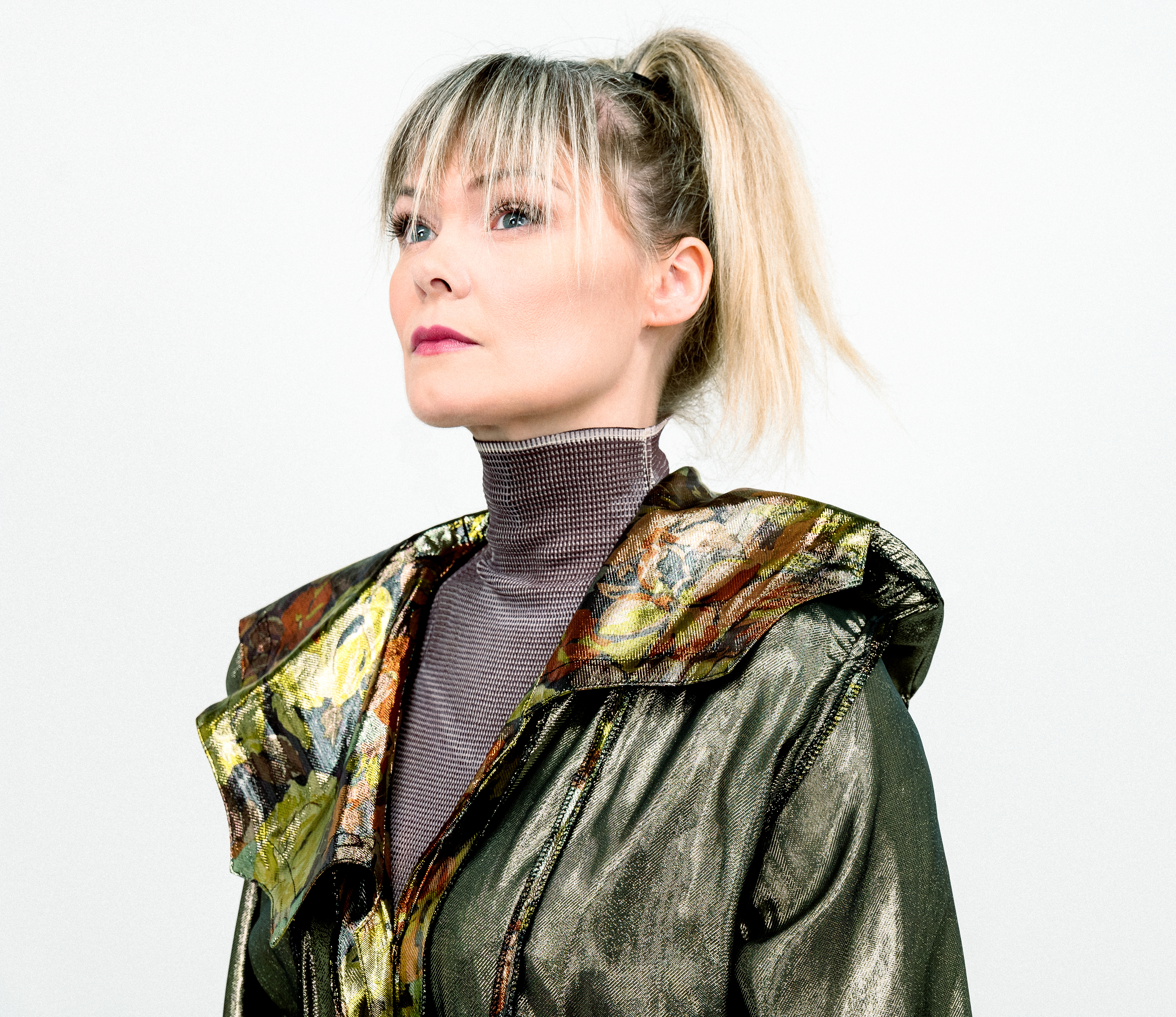 Photo: Bjørn Opsahl
Anja Garbarek's recombinant songs and compositions uncover difficult truths about the human condition. Her latest release, The Road Is Just a Surface, and its accompanying theatrical production, examines vulnerability, mental illness and the folly of projecting invincibility in light of our mortal confines.
The album, available in a song-only version and a long-form concept edition that maps to the stage show, was inspired by Garbarek viewing documentaries on psychiatric disorders. The films, and subsequently this project, explore how people transcend those difficulties by abandoning the past and recalibrating for a future they're capable of defining for themselves.
The recording shifts between rock, pop, electronica, minimalist, and experimental realms, creating a mercurial, morphing soundtrack for its complex subject matter. Garbarek's vocals also adapt to the album's many scenes and contexts, with soothing, soaring, whispered, and spoken word approaches. Multi-instrumentalist Kåre Chr.Vestrheim, known for his work Highasakite, Motorpsycho and Marit Larsen, co-produced and co-arranged the album with Garbarek. Nils Jakog Langvik was another key partner, contributing programming, keyboards, guitars, and vocals. Her father Jan Garbarek provides keyboards and additional arrangements, and her husband John Mallison plays keyboards and sings, and was also involved in programming.
The Road Is Just a Surface's theatrical production is a multimedia effort involving actors and dancers, co-realized with Norwegian dance and theatrical group Jo Strømgren Kompani. To date, it has been staged in her native Norway at the Bergen International Festival and the Oslo Opera House.
Garbarek's prior albums are equally ambitious. Her 2005 release, Briefly Shaking, was a dark, sculpted song cycle that used the real-life tales of serial killers as inspiration. Smiling & Waving from 2001 was a minimalist ambient pop effort with arrangements and production from Mark Hollis and Steven Wilson. That album is also notable for the presence of renowned British musicians such as Richard Barbieri, Steve Jansen, Theo Travis, and Robert Wyatt. Balloon Mood, her 1996 recording, is a wild swirl of songcraft and arrangement, moving seamlessly from heavy rock to buoyant pop to jazz inflections to ambient territory.
In Garbarek's first English-language interview in 15 years, she examines the nuances of The Road Is Just a Surface across its permutations, her previous albums, and the creative process that informs her work.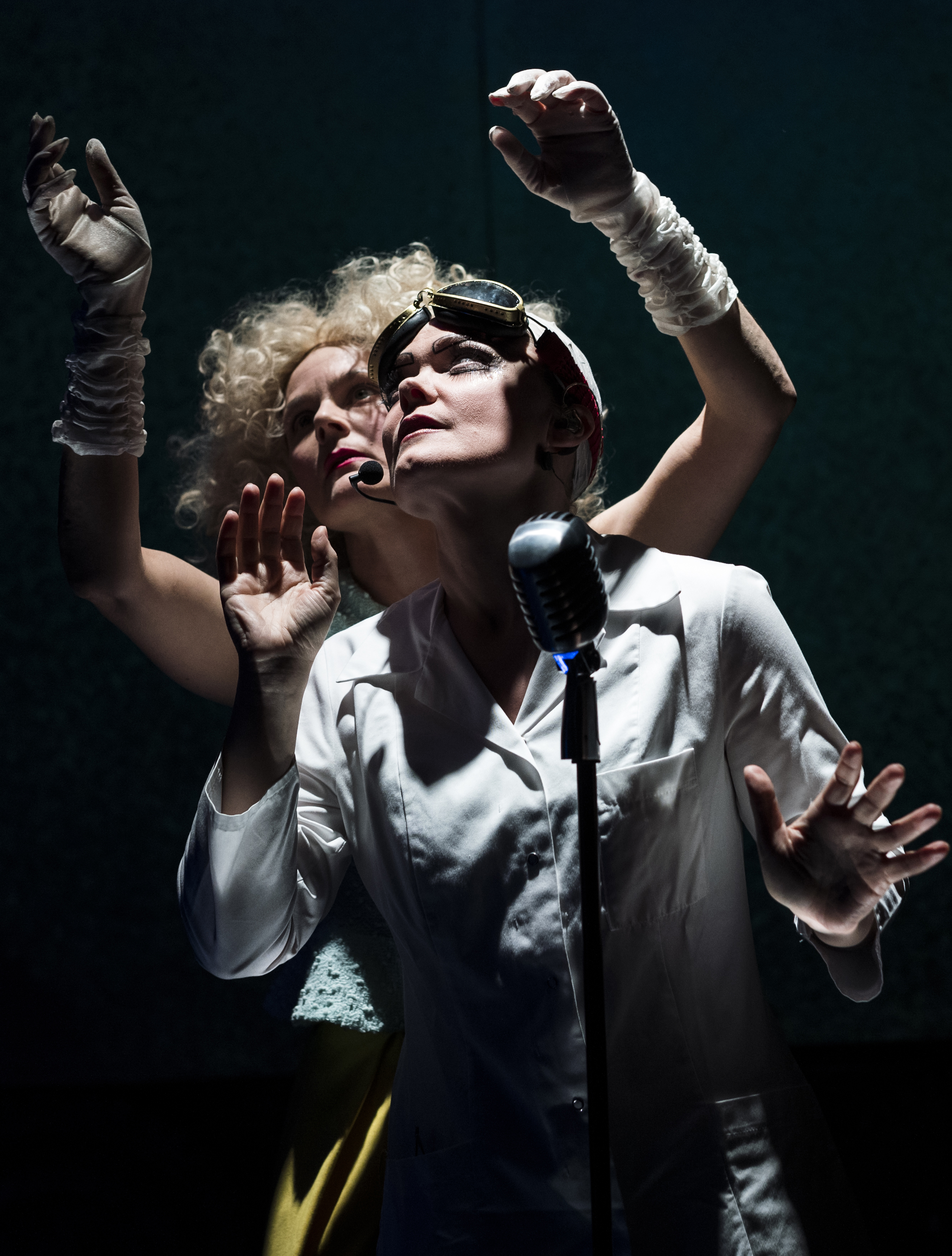 The Road Is Just a Surface, Bergen International Festival, May 2018 | Photo: Bjørn Opsahl
Describe the themes The Road Is Just a Surface communicates.
It's about the challenge that lies in breaking with old routines and patterns that we create almost as a way to protect ourselves. Furthermore, it explores the expectations we have of ourselves and that we think other people have of us, and how we can leave them behind and start over.
In the theatrical production, a truck is stranded on stage. It doesn't work anymore. Bob, played by Bergmund Waal Skaslien, is desperate to get it to work. He tries everything. There's a resuscitation tank plugged into the truck, pumping, artificially keeping it alive, even though it should really be turned off. Bob can no longer travel in his impressive truck. He has to actually get down to the core of who he is.
The Road Is Just a Surface tells the story of Bob's struggle between what he knows he has to do and continuing to choose the "easy option." There may be times in our lives when we know we have to change or that something in our lives has to change. But very often, we remain in whatever bad situation we're in because we're more afraid of what we don't know.
At the end, Bob has the opportunity to start out in a new direction. His "driving force"—the dancer Line Tørmoen—gives him his Superman costume, which he struggles to put on. To me, he's now a true superhero, daring to go out into the world, showing his vulnerability. People who manage to do this are the bravest and most inspirational I know of.
What made you want to go beyond the musical realm and situate these ideas within an ambitious stage production?
I've always wanted to incorporate more visuals in my live performances, but the costs have been too prohibitive. So, when I was approached by the Bergen International Festival and commissioned to do "whatever I wanted to," I finally had a chance to do that. I decided to collaborate with Jo Strømgren Kompani who are renowned for their unique blend of theater and dance.
Many people will experience this project through the albums. Describe how the recordings communicate its messages within an audio-only context.
I haven't consciously done anything different on these albums than I have on my previous releases. You could say that on this occasion, the live performance comes as a kind of bonus giving people the opportunity to "see" as well as hear the music. The Road Is Just a Surface comes in two versions: The yellow album is a standard 10-song release, in which you can jump in and find the different songs and just enjoy them. The red album is a "concept album"—The Original Full-Length Theatrical Version. There are no gaps between songs and it has an additional 17 minutes of instrumental pieces and interludes. You have to give yourself time to experience it. I've received messages from people who have heard the album without having had the benefit of seeing the live show, and the way they're describing how the different songs affect them emotionally, it's almost as though they were inside my head as I was writing it. So, it seems like I've managed to reach somebody with my original thought, but it's equally good if someone else has a totally different journey—as long as it takes them somewhere.
You've said making these albums was one of the hardest, yet most beautiful and amazing things you've done. Expand on that.
I hadn't released an album since Briefly Shaking in 2005, so it was pretty hard to get back into it. It's not like I stopped creating. I'm a creative person. I cannot just turn that off. I've always taken a long time between releasing new material, but I never expected it to take 13 years. After I had my daughter in 2000, I thought to myself, "I'm going to continue doing what I'm doing and it's all going to be fine." Some people have all sorts of distractions in their lives, yet they're still able to put them aside and compose even with all the noise from the outside world. But I turned out to not be that kind of person. I need quiet when I work in order to finish a thought, but that's not possible when you have children in the house. Your priorities change and you're suddenly presented with a whole new set of rules that you have to follow.
In addition to writing and creating the music and having all the usual meetings with my record company, management and producer, I also had to run around and meet up with the choreographer and director, scenographer, lighting designers, sound technicians, and costume and makeup artists. It was a shock to the system forcing myself to get out there again and be vulnerable. I'm so used to sitting quietly at home, working by myself while I'm in the early stages of creating, and now I had to interact with so many others. Even though I found it extremely challenging, it also became the most beautiful and amazing experience having all these different people believing in my vision, and giving themselves 100 percent to the project. It still moves me now when I think about all the hard work each and every one of them put into it.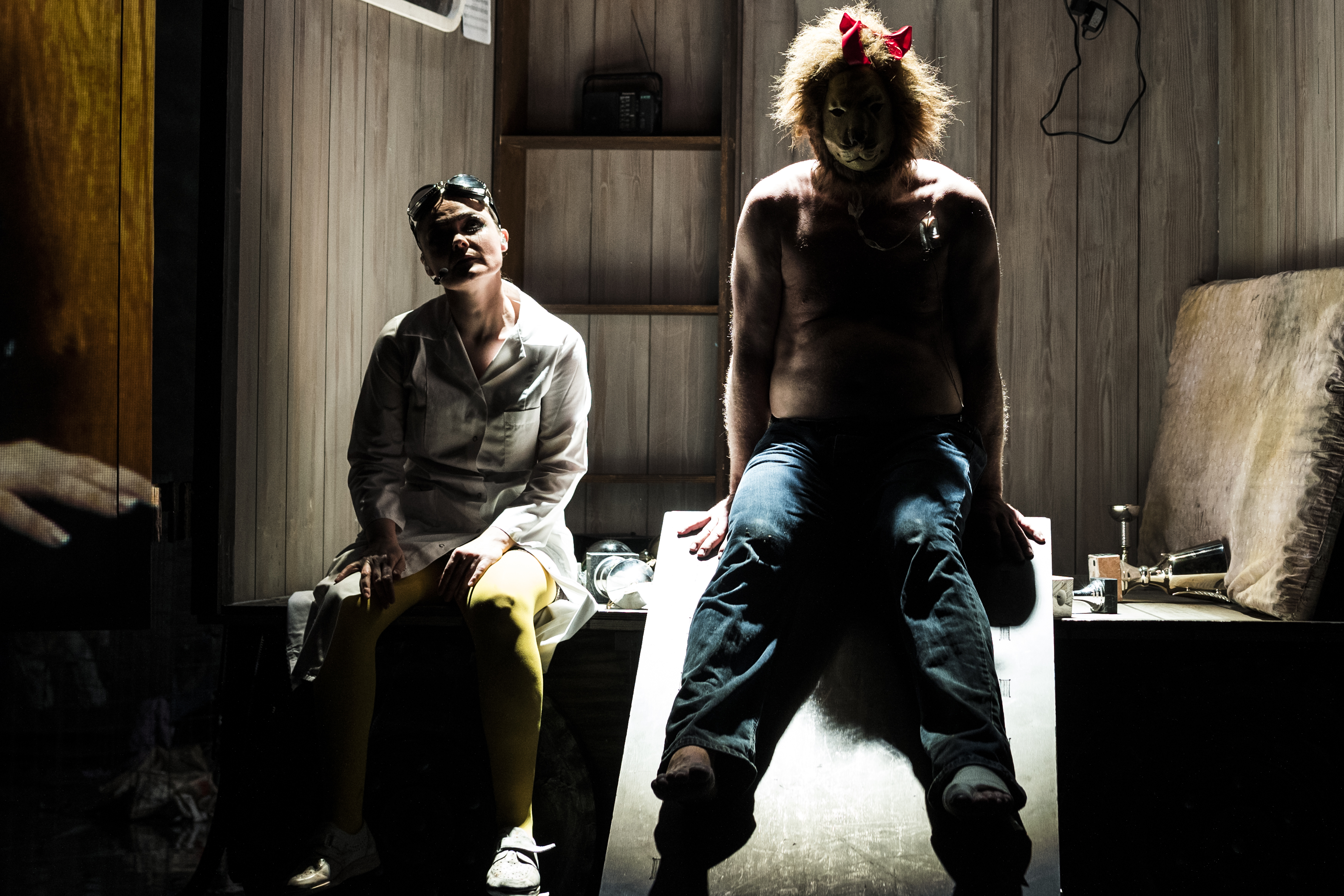 The Road Is Just a Surface, Bergen International Festival, May 2018 | Photo: Bjørn Opsahl
What does the future hold for The Road Is Just a Surface?
After the initial two performances at Den Nasjonale Scene as part of the Bergen International Festival, we put on a further six shows at the Oslo Opera House followed by another two in Harstad and Nøtterøy. When it comes to travelling abroad, we have no plans at the moment. But that would be very exciting. We have also filmed a number of the performances, as well as rehearsals and background material, so we´ll have to see if anything comes of that.
Your father Jan Garbarek contributes to the new recordings. Tell me about his involvement.
He's been involved in all my records, in one way or another. First, I write the lyrics and melody and record them into Logic Audio, and then I meet up with him. He always seems to know what's going on with the latest synthesizers and sounds. He's introduced me to so many cool things. On this album it was Avosound, an almost endless online sound library. It takes an extremely long time listening through literally hundreds of sounds and samples, but it's my favorite part of the process. I choose the sounds carefully so they complement one another. It's by mixing them together in layers that I create the atmospheres in my music. They are my "chords."
My father is also an extremely-skilled arranger, which is very useful when you use so many live instruments in your music. In this case, the viola plays a very important part, so we had to make sure that everything was within its playable range.
When I was young, he introduced me to Kate Bush, Laurie Anderson and Billie Holliday. It's almost like he had an idea of what I'd be interested in right from the start. He doesn't try to influence me, but he often brings my attention to new music that he thinks I might enjoy or be inspired by. He was the one who taught me that the only rule when making music is that there are no rules.
Live at Øyafestivalen, Oslo, 2007 | Photo: Kim Erlandsen
At what point growing up did you realize you wanted to pursue being a musician?
I've had music around me all my life, so I never really made a conscious decision to pursue it. I actually studied to be an actress. It was while I was performing in a musical at high school, aged about 18, that I came to the attention of an A&R man at BMG Records. I gave him a tape that I had made of myself improvising with a friend. It was pretty "out there" stuff, actually. He thought that I had such guts playing it to him that he decided to give me a chance and signed me. It was kind of lucky, as I don't think I would have lasted very long as an actress. An actress always has to follow another person's vision. With music, I felt I could handle everything. I could be the performer, director, lighting director, choreographer, costume designer, and sound designer all by myself. I can create different landscapes to travel through, building different scenes, characters, and atmospheres.
What sort of expectations did you have to deal with when you initially emerged as a recording artist?
One of the first interview questions I was asked when I was 22 was "Do you think you got your record deal because your last name is Garbarek?" I remember replying "They don't give out record contracts to surnames." [laughs] I was very cocky. It's human nature to assume that doors open automatically because of one's name, but I can't say whether that was the case or not for me. Now that people have had the opportunity to hear my music, it's apparent that I have a totally different sound. I have heard that people compare hearing my father's music to standing in nature, but when they hear me, they're lost in a cellar with infinite corridors. My world is a bit darker. But that's the beauty of music—it takes you to different places.
How have you evolved as a musician since your first album Velkommen Inn from 1992?
What continues to be the same is the fact that I start off with lyrics, because in the lyrics lie the stories and in the stories lie the character of the song. When I have the story, I want to perfect the soundscape to enhance the meaning of the lyrics. What has evolved, I hope, is my capability to perfect that. Another thing that has helped me is the advancement of technology over the past 25 years. When we made Velkommen Inn, sampling was in its infancy. We could do fairly basic MIDI sequencing using an Atari 1040ST, but records were still made predominantly by musicians playing. It was in 1993 when we first got a Mac with Logic Audio and I heard the sample CD A Poke in the Ear With a Sharp Stick that a whole new world of possibilities suddenly opened up for me. I was able to start making the music I was hearing in my head—music that couldn't have existed before the technology began to allow it. It gave me an enormous confidence boost when I found out that there were others with similar ideas to myself, wanting to stretch the boundaries of how music was supposed to sound. Of course, the technology of the mid-'90s was still extremely limiting, both in its capabilities and its cost. These days you can do infinitely more with a laptop in your bedroom.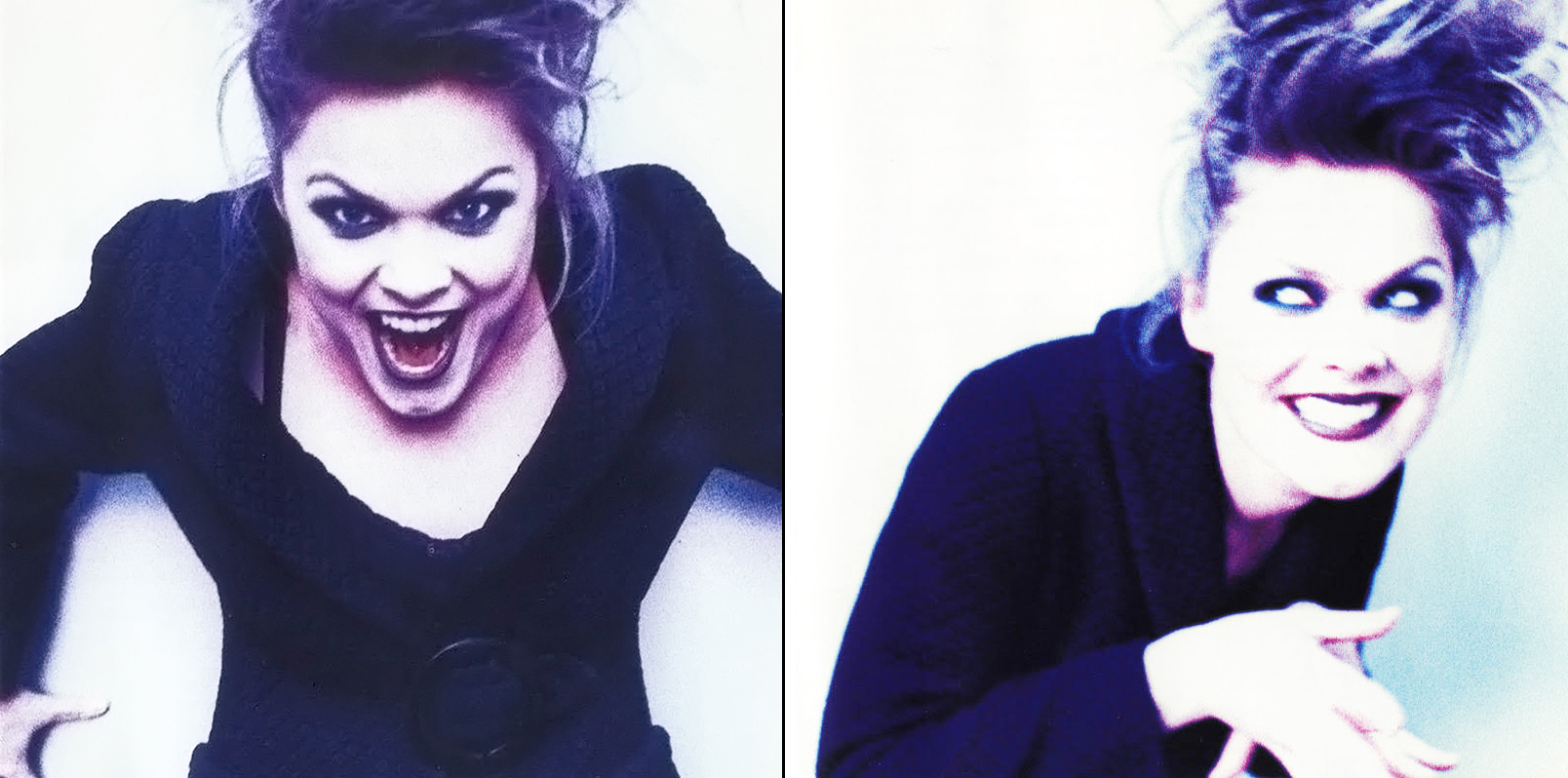 Balloon Mood photo shoot, 1996 | Photos: Bjørn Opsahl
Your next album, Balloon Mood, was released four years later in 1996 and proved to be a career breakthrough. What's your perspective on it, 23 years later?
That album is the love of my life. I had finally found out how to make the music I wanted. It's like when you actually hear on the outside what you've been hearing on the inside, and you're capable of achieving what you want. So many things happened during that period that became essential for my future work. When I listen back today, each song immediately transports me into the particular memory of how I felt at the moment when I was working on that specific track.
The title Balloon Mood came about when I was walking down the street and a childhood memory of my dad singing a lullaby appeared in my head. He only had one lullaby and it was something he had come up with himself. It consisted of him singing "ballonger, ballonger"—Norwegian for "balloons"—to the melody I sing the words "balloon mood" to over and over again on the title track until I fell asleep. It was the strangest feeling. His voice would make me so calm, yet he was singing the name of the thing that, to this day, terrifies me most of all, because they make such a loud noise when they go bang. I knew from that point that "Balloon Mood" would be the last song, and the title and concept of the album. It describes the feeling of being in a creative process, when you're so fragile, like the stretched skin of a balloon. You have an idea, but will you remember it or will the bubble burst before you have the chance to write it down? It's like when you wake up from a dream. You want to tell somebody about it, but while you're telling the story, you forget how it ends.
Tell me about your decision to shift from Norwegian to English lyrics with that album.
I understood that if you have something that you feel is important for you to communicate, you want to reach as many people as possible. It's as simple as that.
Smiling & Waving photo shoot, 2001 | Photo: James Waddell
Smiling & Waving, your third album from 2001, found you working with collaborators including Mark Hollis, Richard Barbieri, Steve Jansen, Theo Travis, Steven Wilson, and Robert Wyatt. Reflect on its direction and creation.
For me, Smiling & Waving was a natural progression. On Balloon Mood I had finally found myself. I allowed everything to come out. Smiling & Waving was a kind of aftermath, like the stillness after an explosion when all you can hear is the ringing in your ears.
As usual, I had already completed the lyrics and melodies, and begun to work on some of the arrangements with my father. But I had no idea who I wanted to work with to complete the album. I had recently moved to London, and I didn't know anybody. Through my label BMG, I met Miguel Diaz de Lopez, a programmer and sound designer based in New York, and we started to work together. Like me, he heard music in the most unlikely things. I remember us both simultaneously reacting to the sound of a garbage truck outside his window. It had both a beat and a melody. Luckily, I had my Dictaphone on hand ready to record it. After a short period working in his studio in a run-down loft in Manhattan, I brought him back to London and he moved in with my husband and me, sleeping on our couch for the next six months or so. We sat together in my little studio at home for hours a day while he made hundreds of different glitchy noises and beats using a Shure SM57 mic and his Akai S3000 sampler which I then put together to create the soundscapes that would become the backdrop for the album.
It was during this pre-production period in '98 or '99 whilst in a record store in London, that I heard the most beautiful music. It had the same spirit I wanted to achieve with the music I was currently working on. It turned out to be Mark Hollis' solo album. I went straight home and called the record company and asked them what my chances were of working with Mark. I presumed he was still active, but they told me that he had retired from the music industry after releasing his solo album. Somehow, they managed to set up a meeting with him and we got on really well. We ended up working together on "The Gown" and "The Diver." It was Mark's idea to have "The Diver" as a duet with Robert Wyatt and I'm so glad that we did. The tenderness in his voice moves me every time I hear it. Now, I can't imagine the song without him.
When I had finished recording the two songs with Mark, we still needed to find the person I was going to finish the album with. BMG organized meetings with a few different prospective producers, and it was Steven Wilson who I felt was the right man for the job. He was able to draw on his circle of friends and bring Richard, Steve and Theo into the project.
Myriad musicians I know tried to get Hollis to collaborate with them and none succeeded. What do you think it was about your work that brought him out of retirement for what turned out to be his final project?
I don't know. I think I must have been extremely lucky. Usually when you decide to be a part of somebody else's work it's because there's something in it that you recognize. You feel you have a place there. I can only hope that that was the case for Mark. He did tell me at our first meeting that he wouldn't sing on the album, but it was not his voice that I needed, rather it was his skills as a producer. I didn't realize at the time how finished with the music industry he actually was. I've been in that situation myself, where I've thought that I don't want to do this anymore. But then I eventually change my mind. I always hoped that Mark would come around too, but sadly that never happened He was such a fantastically-talented person. I feel extremely privileged that he said yes to my album and that I got to know him for a little while.
What was it like to have Steven Wilson co-produce and co-mix the album?
My songs are carved out of the sounds that create them. So, when I'm finally ready to go into a studio, the recording is almost complete. This is when I tend to get a co-producer involved to go through what I've made with fresh ears and help polish it into what becomes the finished record. Sometimes, they may take away more than they add in order to create space, whilst other times they may come with musical or arrangement changes. It's great to have someone to bounce ideas off. I've been working on the material for so long that I've done everything I set out to do. Now, we can try different things. Sometimes I agree, sometimes I don't and sometimes I don't know, but at this point, I trust their judgement. Steven was wonderful to work with. He had a lot of great ideas. He understood the drama in my music and he instinctively knew when to let go and when to hold back. He treated each song with delicacy and sensitivity.
How did the other musicians involved on the album influence its direction?
I spend a lot of time getting the instrumentation exactly right using samples and soft synths. Everything is planned to the utmost detail and almost nothing is left to chance. We then print out the score and replace the parts we feel would benefit from using real instruments. I love the combination of my unnatural digital world together with the purity and depth that you get from a musician or a string section playing in a room. You just can't get that from a sample. One exception to this though was Steve Jansen. When it comes to beats and rhythms, I'm a little more open to experimentation, and when you have a musician like him, you should explore what's possible. We recorded him in the cellar at Berwick Street Studio because we couldn't get the right sound in the main room. We wanted a more dirty sound. I instantly clicked with Steve. He was such an easygoing guy. We became great friends and worked together on a number of projects after that. I hope it won't be too long until the next time we do something.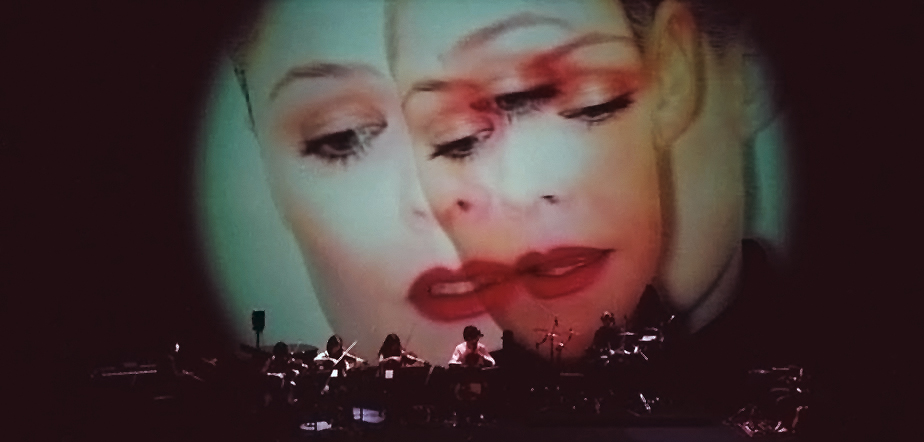 "Cancelled Pieces" live at Meguro Persimmon Hall, Tokyo, February 2008 | Photo: Takashi Yashima
Describe the process of working with Jansen on "Cancelled Pieces" from his 2007 Slope album.
I think I had had that song for about a year. I'm sure that Steve had given up hope of me ever coming up with anything. His part was finished, it just required the lyrics and melody. I wasn't sure what to do with it. It wasn't my music. It already existed and I had to try to figure out where it was transporting me. I had many different "pieces" in my head, but it was like a puzzle that didn't fit together. You get given a piece of the sky, a car wheel and maybe a teddy bear, but you have no idea what the final picture is supposed to look like. But suddenly you find all the corners and everything else falls into place. After that, it was done in about an afternoon. I recorded the vocals at home and sent them back to him. I'm sure he almost died of shock when I called him and said I was finished.
Not long after that, he told me about the live performance of Slope that he was putting together for Japan and asked if I would be willing to make a video for it. I filmed all my parts at home using my husband as cameraman. They wanted the main part to be against a white background, so we had to take all the pictures down from the kitchen wall. I also had a lot of fun running around in the cellar, dressing up, and using masks and mirrors. When I was happy with the images I had recorded, I sent the film to Shoko Ise in Japan who worked her magic on it and created the final video. Steve sent me a photo of the concert, it looked amazing with the band playing in front and the film projected on an enormous screen behind them.
How do you look back at 2005's Briefly Shaking?
Briefly Shaking was somewhat of a turning point. It's when the focus switched from me trying to explain my own emotions, to being inspired by the lives of others. More precisely, in the case of Briefly Shaking it was true crime books and documentaries about the lives of serial killers, including Fred and Rose West, Jefferey Dahmer and Dennis Nielsen. Every record is a new opportunity to refine the connection between lyrics and sounds and the same goes for this one.
It was the first record I made after moving back to Norway from London. I was visiting Waterfall Studios in Oslo, looking for places to do some recording, when I heard some music by the Icelandic artist and multi-instrumentalist Gisli Kristjansson who had a writing room there. It had a naïve, yet sinister and dirty sound about it—a combination that immediately makes me feel at home. It conjured up images of my four-year-old daughter watching Spongebob Squarepants while I sat on the couch reading Happy Like Murderers. His sketches were so raw and beautiful. They gave the impression of art-by-accident. I had to be careful to maintain the balance between his original thought and not tidying it up too much and making it too clean.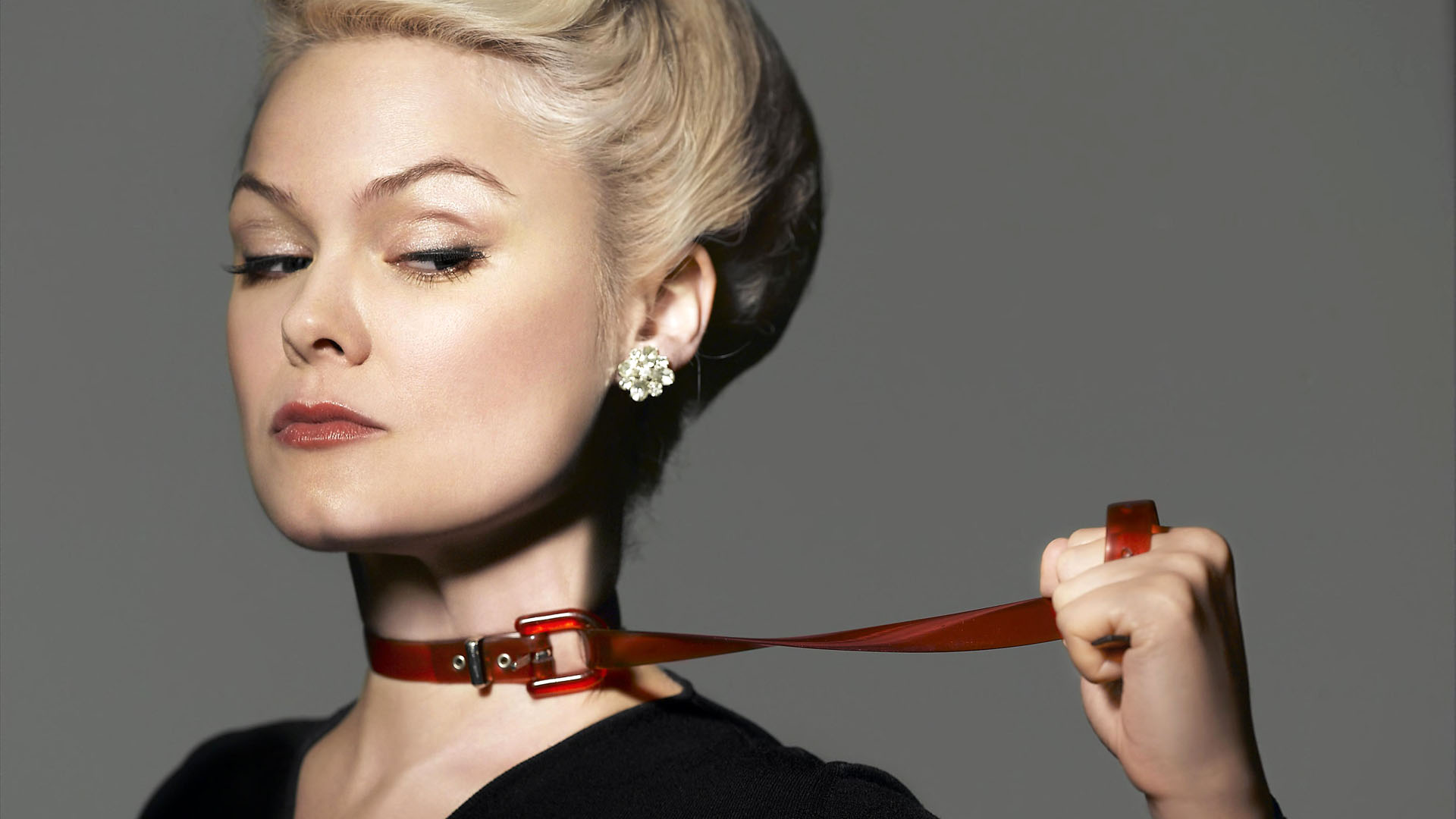 Briefly Shaking photo shoot, 2005 | Photo: Bjørn Opsahl
What was it like for you to step into world of soundtrack work for the Luc Besson film Angel-A that same year?
I thought I would find it difficult, but once I got started it wasn't that different. Instead of trying to create images in the listener's head, they already existed on the screen. The aim becomes putting the audience into a certain mood, to enhance what they're watching on the screen. The fact that the film was in black and white, as well as the clothes, the settings, and even the actors' facial expressions, gave me a lot of detail to work with.
Given the state of the world at the moment, tell me what you feel the value of music and the arts is in connecting and elevating people today.
I think we've always found comfort and hope in music and the arts. We use them to escape, relax and find other spaces to be in. Art works in so many ways. The arts represent a place where we can both learn something and feel something. It's where we learn about compassion and emotion. The arts involve putting yourself in situations in which you can be deeply moved and understand what words like love and hate actually mean. It's extremely important to me that art allows a free flow between the heart and the head. I think it's critical that people who can touch you through the arts get the space, respect and money they need to do what they do. I speak from my own personal experience when I say that music and the arts have helped me greatly as a human being to feel proper empathy and to put me in situations I would never have experienced in real life. So, I think artists have a crucial role to play in society. After all, art can make us ask questions, and questions trigger communication. It keeps us curious and child-like, which I value greatly.