BaBa ZuLa
Sound Warriors
by Anil Prasad
Copyright © 2023 Anil Prasad.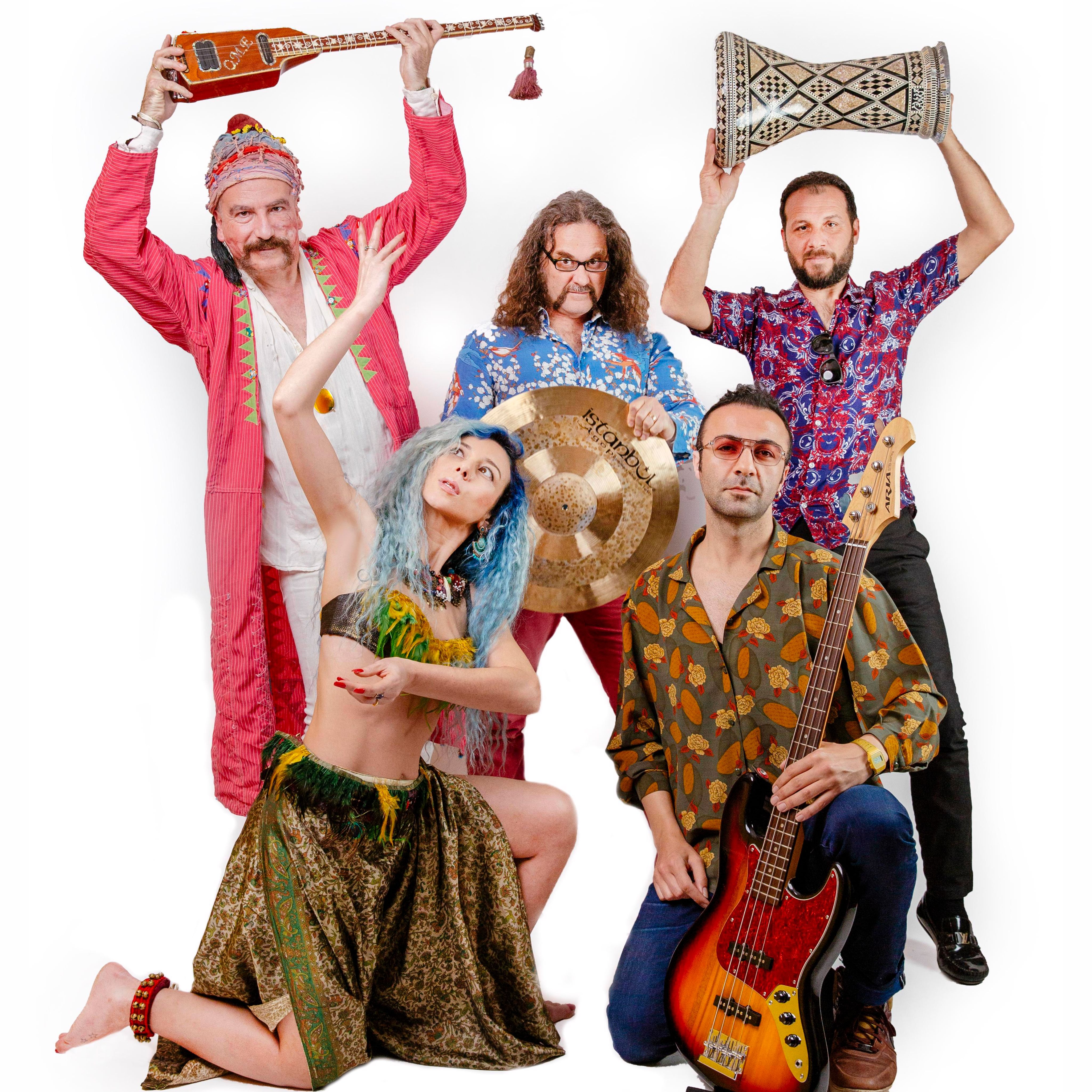 BaBa ZuLa: Murat Ertel, Esma Ertel, Levent Akman, Veys Çolak, and Ümit Adakale | Photo: Engin Güneysu
BaBa ZuLa's determination to bring innovative Turkish music to the world is resolute. Since forming in 1996, the Istanbul-based group, co-led by Murat Ertel on saz and vocals, and Levent Akman on percussion and electronics, has dramatically elevated the profile of current and historic Turkish music across generations of listeners.
Both musicians, who are also multi-instrumentalists, composers, and producers, take a borderless approach to BaBa ZuLa's work. Together with core bandmates Ümit Adakale on percussion and Esma Ertel on vocals and percussion—as well as artwork and dancing—the band has created its own musical universe. It combines generational Turkish influences, including classical, folk, '70s psychedelic rock, and pop, with Western rock, dub, electronica, avant-garde, and minimalist approaches. It's a truly recombinant sound infused with fascinating rhythms, global elements, and endless intrigue.
BaBa ZuLa's lyrics are designed to be empowering, focusing on the potential for positive outcomes for our species, and pathways to get there. They're also often poetic, steeped in metaphor, and story-driven, leaving them open to broader interpretation.
Its 10 studio recordings have resonated across the planet, including its most recent efforts, 2019's Derin Derin and 2020's Hayvan Gibi. The band's releases are distributed through labels such as Glitterbeat, Doublemoon, and Night Dreamer, helping ensure their visibility. In addition, BaBa ZuLa is the subject of a new documentary titled Constantly Flying. Notably, its popularity has created pathways for younger Turkish acts such as Gaye Su Akyol, Islandman, Lalalar, and Altın Gün to also emerge in the spotlight.
BaBa ZuLa takes an elastic approach to extended lineups, both in the studio and live. A few of the international musicians that have collaborated with them include Sly and Robbie, Einstürzende Neubauten's Alexander Hacke, Brenna MacCrimmon, Dr. Das, and Bugge Wesseltoft.
All of the group's members are committed to elevating Turkey out of its current near-dictatorship state under the ultra-right-wing Islamist government of President Recep Tayyip Erdoğan. The regime has significantly suppressed human rights, democratic mechanisms, and freedom of expression in a country that once fiercely adhered to a secular parliamentary system.
The majority of Turkish citizens, frustrated with increasingly restrictive policies, go to the polls mid-May with the hope of ousting Erdoğan and his cronies. In 2017, the Erdoğan government, realizing it lost a major referendum to grant it sweeping powers, made the decision to unlawfully count hundreds of thousands of unstamped ballots after the vote in order to declare victory, forcing a fraudulent result against the will of the people. Today, with the government's public standing at an all-time low, further compounded by an inept and politicized response to the catastrophic recent earthquakes in the country, the possibility of real change is on the horizon.
Seventy Turkish music luminaries, across multiple genres, have collaborated with BaBa ZuLa to record a new version of its track "Âşıkların Sözü Kalır" in protest of the government, and with the intent of inspiring people to vote against Erdoğan, in favor of his democracy-supporting opponent Kemal Kilicdaroglu. The collective is known as Müzik Susmayacak, which translates into "Music Won't Be Silenced." It also features artists singing in different languages to highlight Turkey's minority voices.
Innerviews traveled to Istanbul to meet Murat Ertel and Levent Akman at BaBa ZuLa's studio for this conversation that explores the intersections between art, music, and politics. The environment is wall-to-wall performance and recording gear, with dozens of stringed and percussion instruments from around the world. Ertel's saz collection, a combination of beautiful electric and acoustic creations, is impressive to behold. Posters and photos reflecting the group's 27-year history remind visitors of the expansive presence it continues to have. A giant vinyl collection spanning every conceivable genre and era further underlines the incredible diversity BaBa ZuLa draws from.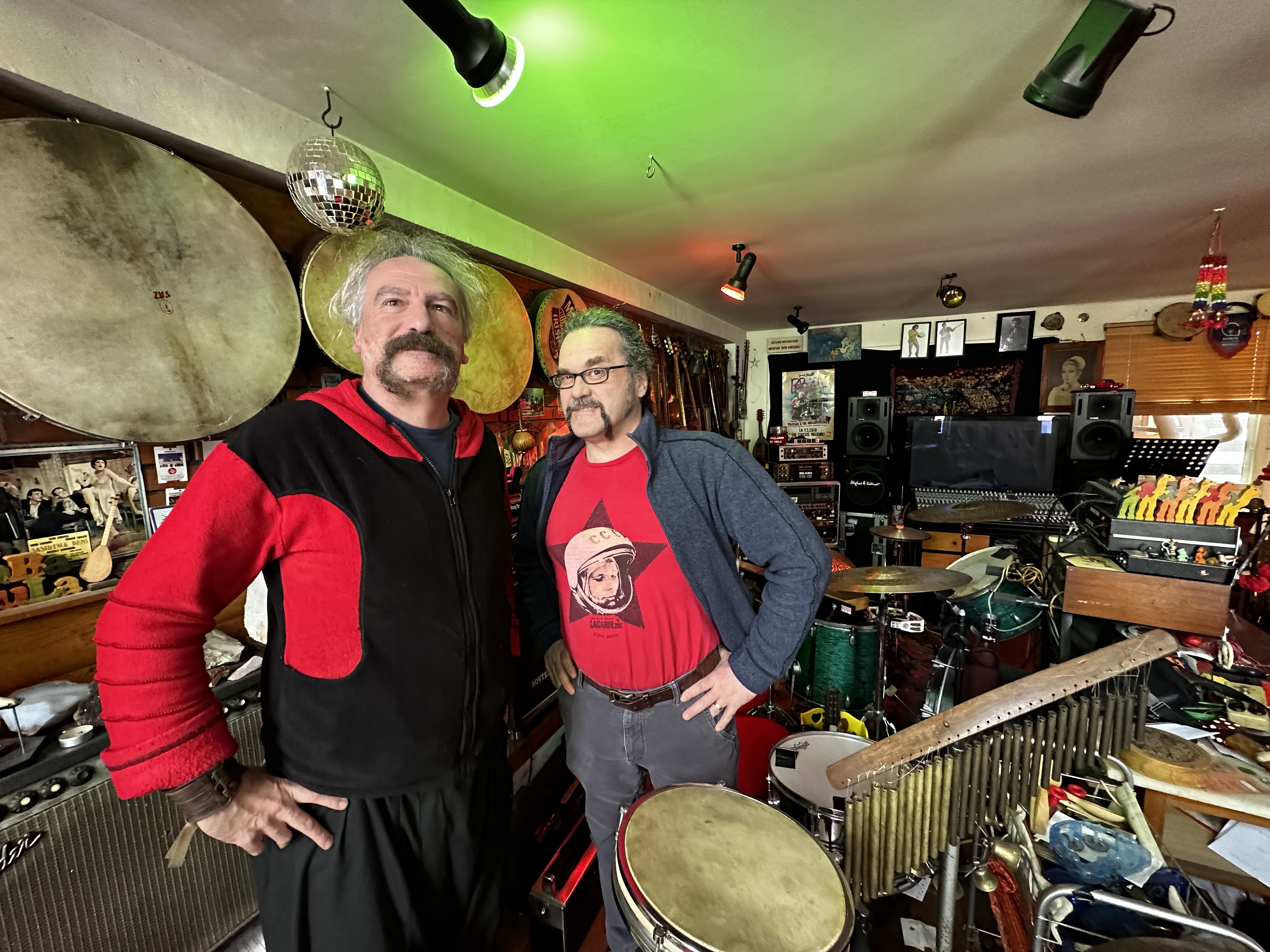 Murat Ertel and Levent Akman at BaBa ZuLa's Istanbul Studio | Photo: Anil Prasad
Describe how the COVID-19 pandemic affected BaBa ZuLa.
Akman: It cut like a knife. Suddenly, everything stopped. Our last gig outside Turkey was a sold-out show in Denmark. There were rumors that China had some kind of pandemic, but we thought it was so far away and couldn't imagine this illness would come to Turkey. So, we came home. Then suddenly, we felt it was coming. We played a concert in Izmir, on the Aegean side of Turkey, and that night the government announced the first COVID-19 patients.
We did the concert, but there was a big silence in the venue. Some people came, but the show was half full. We played, came back to Istanbul, and then all the cancellations came. Canceled, canceled, canceled. And then everything totally stopped.
Ertel: We stayed at home. No-one called us to play. And our government didn't help the musicians. So, our oud player at the time, Periklis Tsoukalas, moved back to Greece, where he was from. He couldn't earn money in Turkey any longer. We tried to help him and gave him some merchandise money for a few months, but it wasn't enough.
And then the restrictions for the streets came with the government saying you must stay at home. If you went out, the police would question you. It was kind of like prison.
Akman: And there weren't any vaccinations for a long time. We didn't know a lot about COVID-19 from the government. We'd search online, and there was a lot of gossip. The government wasn't communicating about it, and when they did, they were telling lies about the numbers of people in hospital, and those who died.
Ertel: They would tell you perhaps half of the real numbers. We are certain it was much more than what they were telling us. The government started burying people who were dead from COVID-19 in a special cemetery. And it was forbidden even for relatives to visit it.
Akman: It was a real tragedy.
Ertel: During this period, because so many musicians couldn't get any support from the government, or make a living, around 200 of them committed suicide in Turkey. Others sold their instruments. Some took jobs like being a courier or a cleaner.
How did both of you survive during the pandemic?
Akman: I spent all my savings. I'm not a millionaire, but I had some money, and it is totally finished. My wife didn't work either, so, all I could do was spend the money I had.
Ertel: Same for me. But my wife Esma found some ways to survive through art. She wrote a children's book called Dünya Çocuklarina Günaydin. It was a very good project. We did music to accompany the book and got support from the EU. We created an animation studio inside our house and did some stop-motion animation for the book project. So, we managed to survive. I also began drawing and writing for magazines.
Akman: And then slowly, the small concerts started. It was very few, but there was hope. They paid very poorly, and everyone was worried about the money. The foundations that put them on would argue about money and were calculating things down to the penny. It was strange behavior.
Ertel: We also did some virtual concerts. There was also a concert we did for the London Jazz Festival in late 2020. We also made some recordings playing open air on a boat by the Bosporus. But the money we made was spent on post-production of the concert. It wasn't the way to go.
On top of all of this, our manager of 15 years left us in the middle of the pandemic. It was very bad timing, because in 2019, we released our album Derin Derin, and did half of a tour and the rest was postponed because of COVID-19.
Meanwhile, we had recorded our Hayvan Gibi album in Haarlem, in The Netherlands. And the label wanted to release it in the middle of the pandemic. We said "Please wait to release it, because we just released Derin Derin. We need some space in between the albums. We won't be able to properly support them with tours." But they didn't listen to us. They released it anyway. So, there was a second album we couldn't promote on tour. The pandemic was a big disaster in this way, too.
I'm now 60. This was the first time I thought I might no longer survive as a musician, professionally. I thought I might have to stop, which is why I started writing and illustrating. I thought, at least I can do some film work, documentaries, and write about music. But things finally started getting better and we're now touring again, playing larger concerts. We are getting out of it, but it really was a big shock for us.
What are some of the lessons you learned during this period?
Ertel: I've always thought at every show, "This could be my last concert." I always perform with that in mind. With the pandemic, I thought I was right and we had played our last concerts. I'm glad I was wrong.
Akman: We also saw the real face of people. Before the pandemic, as a musician, you have a lot of fans. But when it happened, suddenly we felt very lonely. I understood being a performer gives you a sort of virtual happiness. This was especially true when our last manager quit. Murat and I felt like we were on a small boat in the middle of a storm trying to survive.
Ertel: One of the good things was we realized we were living too fast and that we needed to slow down sometimes. It's good to slow down and concentrate on other matters. We don't have to be on tour all the time. In the future, we might create more empty spaces between concerts. We might turn down some gigs if they aren't providing what we want.
I also learned about the value of memories. I remembered we had so many great times. I thought "I've had a great life until now. And no matter what happens, I can start from the beginning. Perhaps a circle has been finished."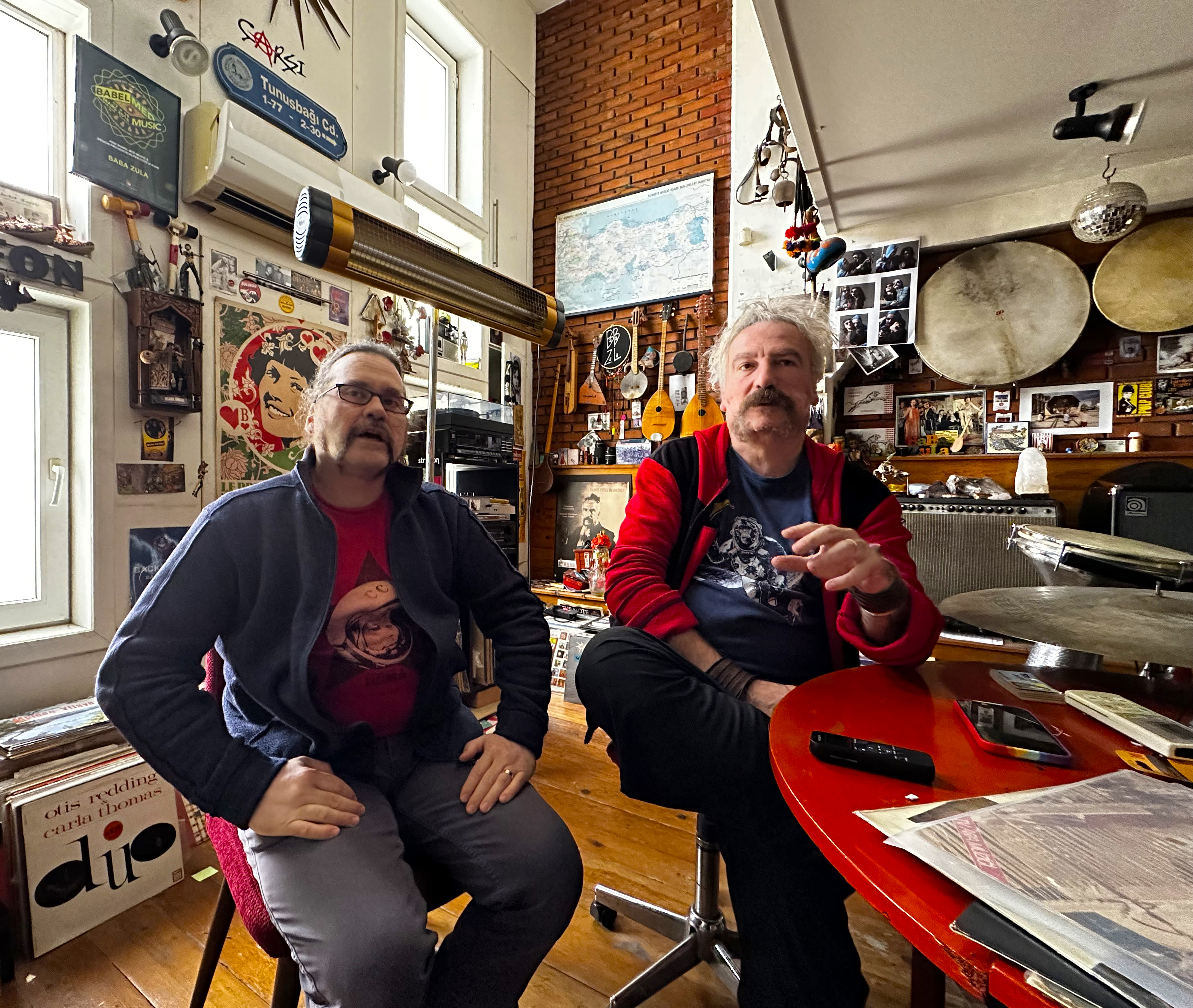 Photo: Anil Prasad
Let's discuss the continuum that runs across the making of the 2019 Derin Derin and 2020 Hayvan Gibi albums.
Ertel: Before Derin Derin, we had a compilation out called XX, which was really successful. It was released in 2017 for the 20th anniversary of BaBa ZuLa. It was full of unreleased material, new compositions, remixes, and dub mixes. Because it did so well, we wanted to record more original material.
With BaBa ZuLa, we have a balance of instrumentals and songs with lyrics. I think this is very important. Many musicians choose one or the other. I think it's very nice to switch and have a balance.
I also like designing the visuals and aesthetics of the album package. I want every BaBa ZuLa album to be really deep in all its elements. So, I used imagery on Derin Derin linked to my father Mengü Ertel, who was a famous illustrator.
Musically, I wanted a more harmonic experience, because BaBa ZuLa can be very modal. So, you'll hear more harmonic movement and complexity on Derin Derin. It goes beyond the kind of rock, two-or-three chord approach and has many unique twists. I was also thinking about songs we could perform onstage, not just remaining on the album. I really like the album very much.
Another change on this album is that we parted ways with Melike Şahin, our previous lead vocalist. She would sing several songs every concert, too. But we had some personality and musical clashes, because she was moving in a pop and Arabic direction. We wanted to stick more to Turkish and shamanic cultures in our music. So, I do most of the singing on the album. I wish her luck. She's become very successful as a solo artist.
So, we decided to become a power quartet, playing real music with real improvisation, and no compromise, which has always been our way. We take great inspiration from the power trios and quartets of the '60s and '70s.
Our former manager told us not to go this route. He said, "You're over the age of 50 and rock and roll has died. It's finished." He told us we wouldn't sell tickets as a four-piece, and nobody would come. He also said everything happens through social media and what we do wouldn't work with that world. Other people were telling us this shit, too.
But what happened? Sold out shows everywhere. The period after that album were glorious times across Turkey and Europe. We were doing big shows in Paris, Belgium, Berlin, and so many places.
And that brings us to Hayvan Gibi. At the end of the Derin Derin tour, our manager had a very good idea. He had just sold his company to a billionaire financier who's a great music lover, and wanted to invest his money in the arts, away from his wild capitalist life. He formed a label called Night Dreamer and wanted to record musicians at Artone Studio in Haarlem, in The Netherlands.
This studio is located on the rooftop of the largest vinyl factory in Europe where they can produce 3,000 LPs in two weeks. We visited it and it's amazing. It has the best and some of the rarest recording equipment made from the '40s to the '70s. It even had handmade RCA mixers the Beatles recorded on.
They said that direct-to-disc recording, which they specialize in, is even better than reel-to-reel. They said something still gets lost with reel-to-reel. But the challenge is you have to play the music perfectly from start to finish. It was like working in the '50s.
Akman: If you do something wrong, the session stops, and they throw away the material, and you start again. It's very hard. We did it all in two days.
Ertel: It's why we didn't do new songs on the album. We treated it as a live album. The concept was to only do songs we previously had written about animals. Hayvan Gibi means "to act with the natural grace of an animal." It's as close to a live BaBa ZuLa show as you can get on record, I think.
Akman: Lots of people have said our albums are great, but our live concerts are better. But with this album, we feel like it captured us as well as if we were performing at a concert. We were very happy with it. It's an album about performing with our natural instincts.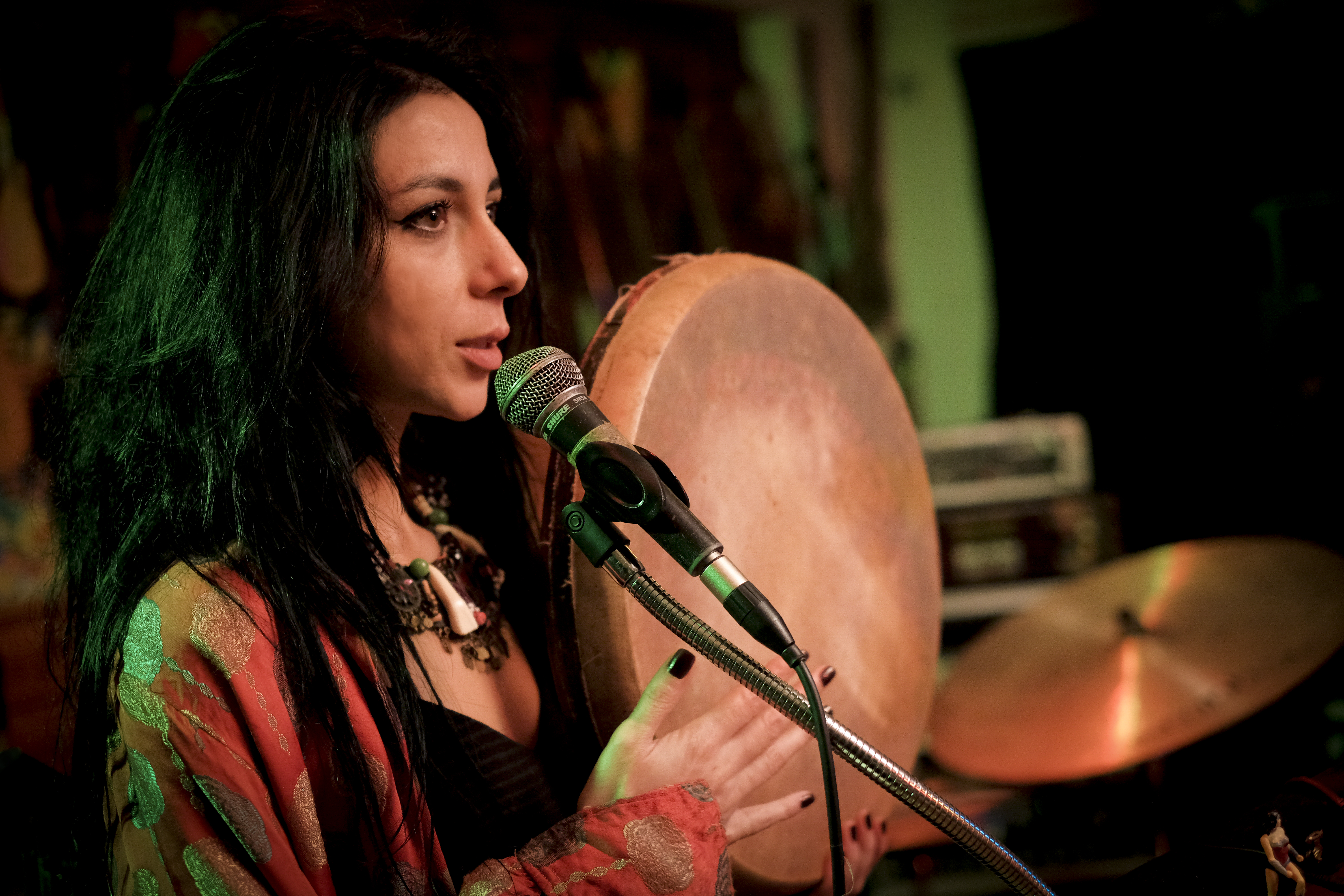 Esma Ertel recording vocals and bendir at BaBa ZuLa's Istanbul studio | Photo: Levan Uzbay
Tell me about Esma Ertel, Murat's wife, contributing more significantly to BaBa ZuLa over time.
Ertel: Esma was my girlfriend and also a fan of the band. She came to the concerts and liked dancing a lot. Then she started dancing with the band. We always thought BaBa ZuLa was a multidisciplinary band. We always felt we are not only doing music, but incorporating dance, poetry, and other forms of art. So, she added to that level very much.
Then we got married and had two children. Esma started to write lyrics and play some percussion, including bendir. She also worked with us on compilations and curating projects, including the 2020 Elektro Saz anthology we put together of lots of great Turkish artists. We did some art exhibitions, too. We now design the BaBa ZuLa album covers together. Then she started singing as well.
After Periklis Tsoukalas left the band, Levent and I were wondering what to do next. We decided to really create a band feeling among all of us, living, thinking, and rehearsing together. We felt that was important, rather than focus on playing with studio musicians. So, Esma became part of the band. She came to rehearsals, provided ideas, and contributed to the core of the group.
We also do bring in other people to BaBa ZuLa, sometimes. We like to collaborate with musicians who temporarily become part of BaBa ZuLa as an additional member. We've had very interesting bass and keyboard players. Sometimes it works, sometimes it doesn't. It's a very nice approach. Our songs are pretty long, so these musicians don't have to study 20 songs, but only 10-15. They're always very professional and eager to play with us. We feel very good about this way of doing things.
The two of you have worked together in BaBa ZuLa as its nucleus since it was founded in 1996, as well as its predecessor band ZeN. What makes your collaboration work so well over so many decades?
Ertel: We've known each other since high school and we're like family.
Akman: I know all of Murat's story and he knows mine. It's a very long history, especially nowadays, when things have become so materialistic and virtual. We're old school guys. We're not part of the Zoom generation. [laughs] Sometimes I feel really lonely in this virtual world. Also, some of our friends are starting to die. Our generation is starting to fade out, as all humans do. Our relatives have also started to die, including our parents. So, it's hard times in that way, but we keep making music.
During the pandemic, I think we built a new way forward. As we said, we saw the real faces of people around us. So, we understand we need each other as we continue our musical adventure.
We have different views. We fight sometimes. We're human beings. Sometimes we love each other. Sometimes we hate each other. It's normal. But the feelings are good. We've built something significant. We've gone through hard times, and we're very hopeful about the future. Our music is very strange, and it comes from the heart. We don't fake it. We don't lie to each other. We ask all musicians who work with us to do the same.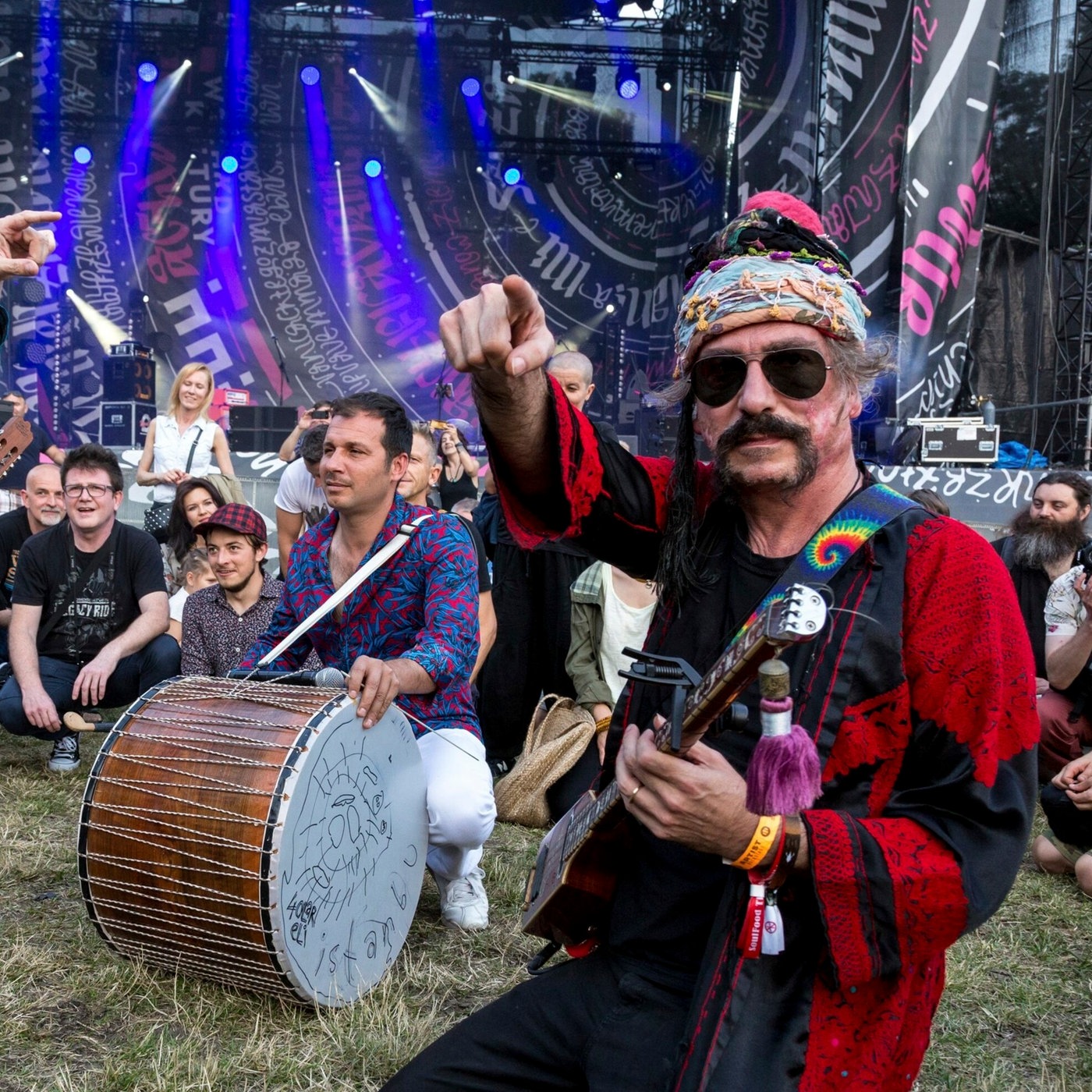 Photo: Dominika Zarzycka
A major documentary on the band, Constantly Flying, emerged in 2022. What are your thoughts on it?
Akman: The director, Adriana Cordeiro, was someone we first met in Portugal. She said she likes our music and wanted to do this project. She came out for some concerts and felt it was a story that needed to be told. We said "Okay, but we need an exchange of ideas and creative input into it." She agreed and we spent two days shooting with her, when she came to Istanbul.
We saw some of the footage and felt it was focusing too much on Istanbul, including mosques and statues—the things people always do when they film here. We said, "Please cut those scenes and add more scenes focused on the music and band." We didn't want it to be just about the band's relationship with Istanbul.
We found middle ground and we felt it's good to have the film, because it will remain forever, even after we die and fade away from the universe.
Ertel: I like the movie, but I feel it's not understood that Levent and I are the founders of the band. The second thing is there is no examination of the lyrics, which I feel are very important. We do music with intention. We have messages, some of which are subliminal, some of which are direct. But the director had her point of view, which is also fine. Overall, I am happy it was done.
BaBa ZuLa's profile has exponentially increased in recent years, with the group playing across the world and its recordings available everywhere, physically and digitally. Talk about that evolution.
Ertel: I think we had a very good period that began with the wind behind the movie Crossing the Bridge in 2005. That documentary about the Turkish music scene was a very positive thing for us, and everyone else in it. After that, we had the support of our manager, and he had a vision. We also had the support of our label back then called Doublemoon, which was very small, and is now a larger one. They had really good PR support for us.
Whenever we played a concert abroad, we frequently got asked back. We tried our best to perform really well and word got out. We also didn't ruin things by drinking alcohol and doing drugs on tour.
Akman: We are disciplined. We are like sound warriors. We are doing music the best way we can. We are not doing it to be commercially successful. We are doing it for the music itself.
Ertel: We could do shorter music. We could have simple chorus parts and formulas. We could put out video clips with lots of beautiful girls, but we don't want to stick to any of that. We are really anarchic in some ways. We are breaking formulas.
For instance, when we use choruses, they're different. Of course, they should be repeatable and memorable, but we break down the structures analytically. We add notes and shift them. There are conservative Turkish musicians who say "This is not music. There is no melody here. There is no rhythm here." Many jazz musicians, especially.
Akman: And yet, we have a big following. As you say, we play around the world. And we've also opened a door for a new generation of Turkish bands, like Altin Gun, Islandman, and Lalalar.
Until BaBa ZuLa, many people didn't even know Turkish music. Between 2005-2008, we were the only band performing in Europe with Turkish passports. People were shocked that we would show up and have discipline. We came, did our soundcheck, stuck to curfews, went back to the hotel, and started again. People saw that Turkish musicians can perform at this level. And behind us, the new generations of bands also started to do the same. We are very happy about that, but it was very difficult to get here.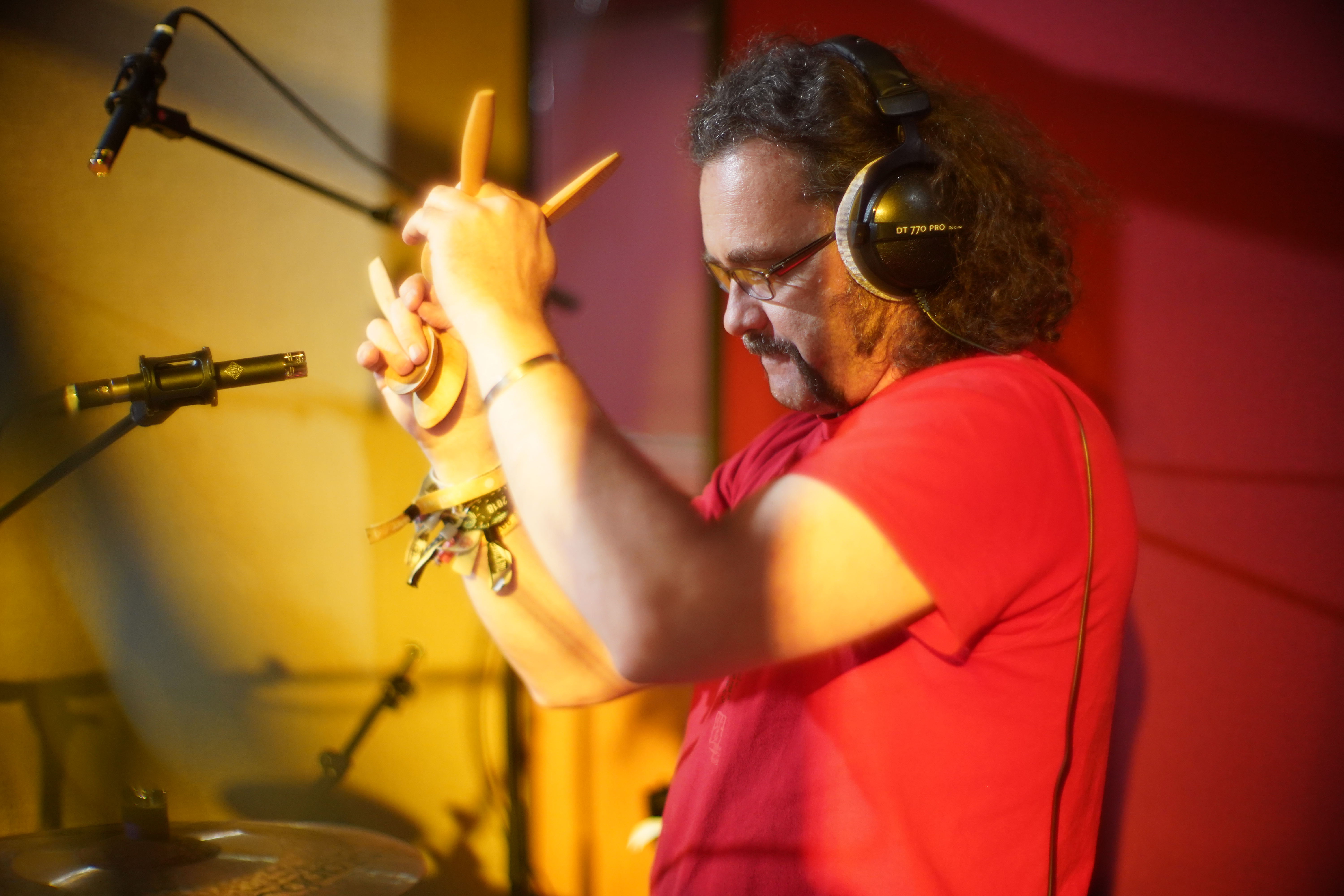 Photo: Elaine Grooenestein
Why do you feel more conservative Turkish musicians don't embrace BaBa ZuLa, given the country's history of expansive rock experimentation going back to the '60s?
Ertel: Even Barış Manço wasn't accepted at certain times. Many of the famous Turkish rock musicians started by doing covers that every Turkish person knew in a different way. They started by using formulas focused on melodies, repeating choruses, and a short solo. Initially, they were in sync with the '60s vibe throughout the whole world. That was kind of an opening. Hippies were all around and open to cultures. The Beatles explored Indian culture, for instance. So, eventually the Turkish rock musicians expanded their focus and were embraced for that. But then the coups happened, and people forgot about Turkish psychedelic rock. There were no bands active for a long time. Also, Turkish youth for a long time were ashamed of their own Turkish identity.
So, things became very conservative for a long time. Many musicians didn't want to hear anything beyond Turkish folk music formulas. BaBa ZuLa was seen as the mad, crazy guys.
Akman: They'd really attack Murat and say "Why are you playing electric saz? You must play acoustic. Electric saz is a forbidden instrument." It was considered a "red light district" instrument.
Ertel: The introduction of the electric saz in Turkey had a reaction like Bob Dylan going onstage and playing electric for the first time.
Akman: We were even attacked for having a darbuka player in the band and even for having belly dancers. We were told "This is shameful for women."
Ertel: Same thing with using electronic elements. They'd say "Why are you using drum machines? This is not good. You must use real drums. You should play acoustically, only." They couldn't understand, but we didn't give a fuck. And then when we were doing very well in Europe and the US, suddenly they said, "Oh, these guys are successful. Okay, Anatolian rock can be successful here, again." And so, now, there is a Turkish rock craze once more. People now talk about Barış Manço and BaBa ZuLa in the same breath sometimes. That connection has been made and it's good.
In 2005, both of you were part of a group called K-34, which included Can's Jaki Liebezeit. It released a CD titled Mutlu Kanguru: Live at Hasan's. It's an underground recording practically no-one knows about. What can you tell me about the project?
Ertel: The first time I heard about Can was in an American music magazine. It chose 10 unknown bands that should be known more, and it recommended Can. I thought "Who is Can?" So, I started listening to them and liked them very much. I was very influenced by them as a result. And in 2002, Gerald Doecke and the bassist Norbert Jorzik wrote Levent.
Levent: They asked us if we would like to create a new project with them, so we went to Köln in Germany to do that. We did some gigs together and gave it the name K-34. K stood for Köln and 34 stood for Istanbul. It all relates to license plates. K on a plate in Germany denotes Köln. The number 34 is on all Istanbul license plates as a city designation.
Ertel: We found out that Gerald had performed with Jaki a few times. We said "We love Can very much. Could we meet him?" So, we met Jaki, and we all got on very well. He was an unbelievable guy. We started jamming on the spot and he became a member of K-34. We have such great memories of working with him. Jaki was a great drummer, and also a great philosopher.
Jaki knew Turkish culture very well, too. His knowledge of Turkish grammar was better than ours. He was also interested in Persian grammar and culture. He was very knowledgeable about different regions in the world, musically and culturally. But he really understood Turkish culture. I'd play tapes in my car for him, and he instantly knew what was going on. Even if he didn't know the albums, he knew which style and instruments were played. He understood all the odd meter rhythms of Turkish music, which are really complex.
I remember Jaki telling us how the name Can happened. They were a democratic, communal-like crew. So, they decided to have everyone write the band name they wanted on a piece of paper and put it into a jar. Jaki said, "I wanted the band to be called Can, so I had five pieces of paper ready, all with Can written on them." And then he changed all the paper in the jar. So, the name was pulled out and the band became Can.
The album we made was very good. It was recorded at Hasan's Simrock Club in Köln in November 2005. It was mixed by Walter Quintus. You'll hear me on electric guitar and electric saz on it. Norbert played acoustic and electric bass. Gerald plays sax and clarinet. Levent does percussion and electronics. And Jaki plays drums. It has some very interesting improvisation and sounds like a combination between Can and BaBa ZuLa. The album is very hard to get. We are looking into rereleasing it.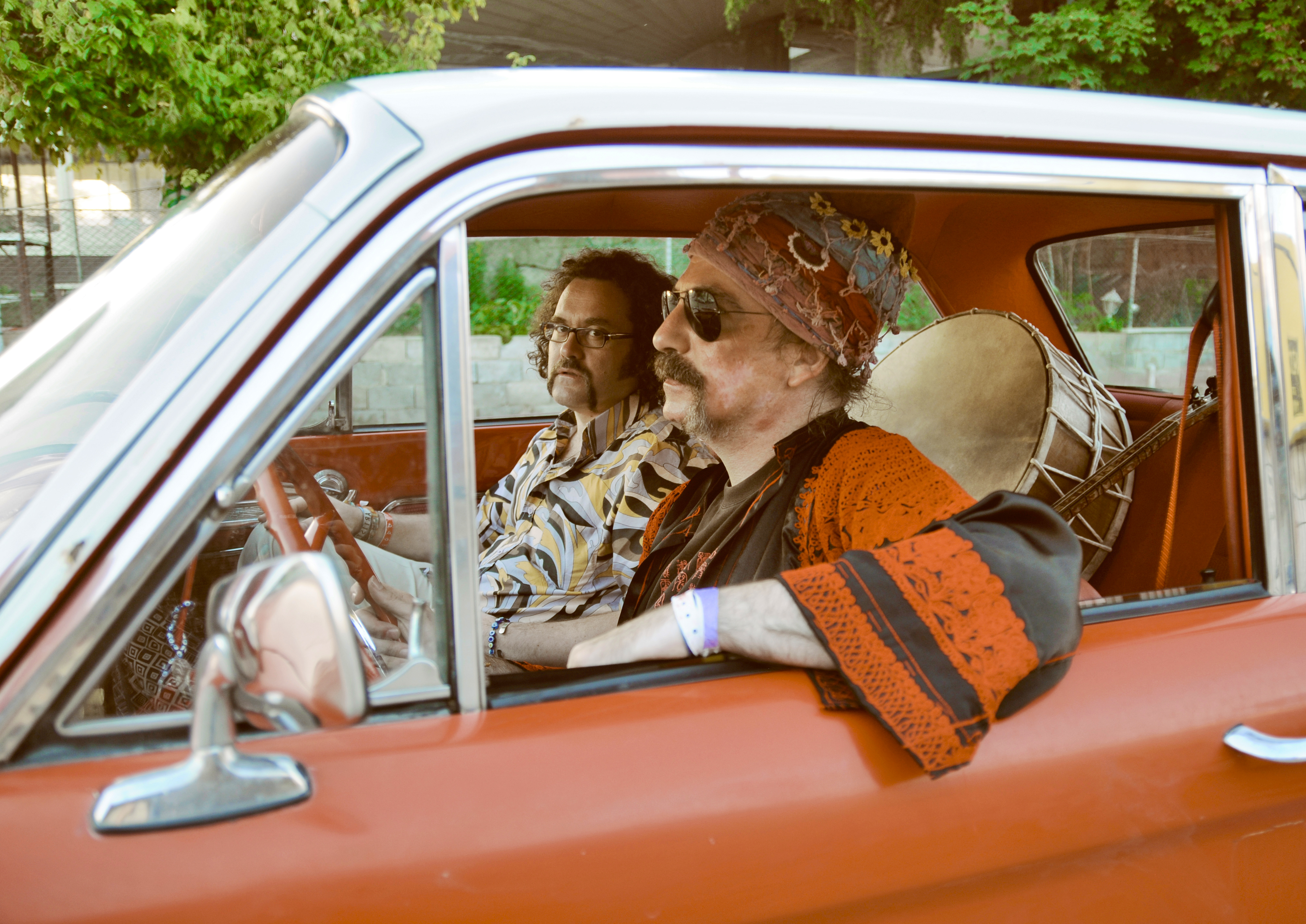 Photo: Dilan Bozyel
Turkey has faced an intensely difficult era under the Erdoğan regime in which basic democratic freedoms have been dismantled, in a shift towards religion-based autocracy. How has this affected BaBa ZuLa?
Ertel: It's a kind of living hell.
Akman: Yes, we've lost 20 years under this government. We hope it will be over in the next election. It is a total disaster for our economy and humanity—not just for artists, but for all people. They destroyed the joy of life for so many. It's like an Ottoman Sultan regime. It's a dictatorship, but we hope they will go bye-bye soon.
Censorship of our music existed before the Erdoğan regime, but it got much worse under him. Before, we'd get called to TRT, the Turkish Radio Television network, for interviews and performances. They'd say to us "Okay, you know the story." We'd respond, "Yes, we'll play this song and not that song." It was censorship, but we were still allowed to perform in the media. But in the 20 years under Erdoğan, we've never played on TRT at all. We're not even allowed on CNN or MTV in Turkey any longer.
Ertel: We are blacklisted. The government controls the media. So, they don't call us, and they don't play us because we've been critical of it. They won't call us the enemy, but they don't like us.
Akman: Erdoğan and his people divided Turkish society in half. He said "If you are with us, okay, all the money, media, and concerts are for you. If you're not, nothing for you."
But the opposition to Erdoğan is growing and growing. And after the terrible, horrific earthquakes we've experienced, finally, the people started to see the government for what it is, and how it is a one-man regime. Even though they say 45,000 people died, the real number is 100,000 minimum. The government is lying.
Erdoğan tried to delay the election. He said, "In one year, I will rebuild houses in the earthquake area." He's always lying. It's impossible to do. We lost at least three regions. Hatay, Marash, and Adiyaman were totally erased from the earth. People are still crying, even now.
After the last big earthquake in 1999, the government created an earthquake tax. For 22 years, they collected this money, and used it for highways and bridges. They didn't use it for earthquake retrofitting or enforcing building standards. And now they are asking for more money from the people.
Ertel: We never backed down. We've always stood against this government with our lyrics and our posture. In our songs, you can read that we are giving courage to people standing up against them and not obeying them.
In the story of BaBa ZuLa, we've had a kind of hidden way of communicating our messages. If you're clever enough, you get the message. Now, I really want to shout. I feel I can no longer hold back. It's something I am thinking about. Maybe I should stick to the BaBa ZuLa way of not saying things directly, but continue to be artful and use metaphors. It's a dilemma, but we are considering expressing ourselves differently on our future music.
You've just released a new version of "Âşıkların Sözü Kalır," originally from BaBa ZuLa's 2007 Kökler album, done with the Müzik Susmayacak collective, featuring some of Turkey's most respected musicians. Tell me what inspired it and how it came together.
Ertel: Müzik Susmayacak, which translates into "Music Won't Be Silenced" in English, is a collective that was created in response to the government shutting down and even banning concerts and festivals during the pandemic. They also closed clubs, as well as limited the opening and closing times for those that did remain. Many concerts would also get cancelled at the last second by the government. This destroyed the livelihoods of musicians, venues, and everyone related to putting on concerts.
All of this government reaction was much more than about the pandemic. It was about very conservative, religious people trying to prevent people from gathering and socializing around music they consider a threat to the establishment. They are also afraid of sex, drugs, and alcohol. It all comes from a fundamentalist Islamic point of view. They see it all as sin. These people are also against empowering women and equal rights. They only want men to hang out with men, and women to hang out with women. They want society to live in just one way, which is waking up at 5am with the first adhan—the summoning call for Muslims for obligatory prayer. And then they want people to go to bed at 9pm.
Akman: Another thing the government did was add incredible taxes on alcohol. They've taxed it so high that it's more costly than anywhere else on the planet. It's another thing to cut out another way of living. Another totally strange way of trying to manipulate our civilization.
Ertel: There was a manifesto written by the musicians in the collective. It stated that the government cannot stop the music, no matter how hard they try, and we will continue even if you put in laws to ban it. More than 1,000 musicians signed it. After the manifesto was released, they called me and said they wanted to do this BaBa ZuLa song together. So, we got together with around 70 musicians and a video crew, and recorded and filmed it in approximately 30 studios.
The song Müzik Susmayacak chose to perform, "Âşıkların Sözü Kalır," translates into "Eternal is the Word of the Poets." We really love the song and it's a staple of our concerts. We usually close with this song. It expresses our feelings not just about this government, but all stupid dictators and rulers of the world. Müzik Susmayacak felt the song had the right message for uniting musicians and protesting the government. It was a very big honor for us.
The collective also had the idea of having the lyrics sung in several languages, in addition to Turkish, to capture the voices of minorities like Armenians, Jews, and Greeks. That was a great idea. It really shows the many different walks of life the real Turkey represents, not what the government says Turkey is.
We hope this song gives some power to the people, ahead of the elections in Turkey in May, but also beyond that. It's a very meaningful project and everyone is very proud of it. Everyone hopes this song makes people feel they are not alone in voicing their concern and outrage. We are all together in the world, and it's very important to communicate that perspective.

Murat Ertel on Solo and Collaborative Work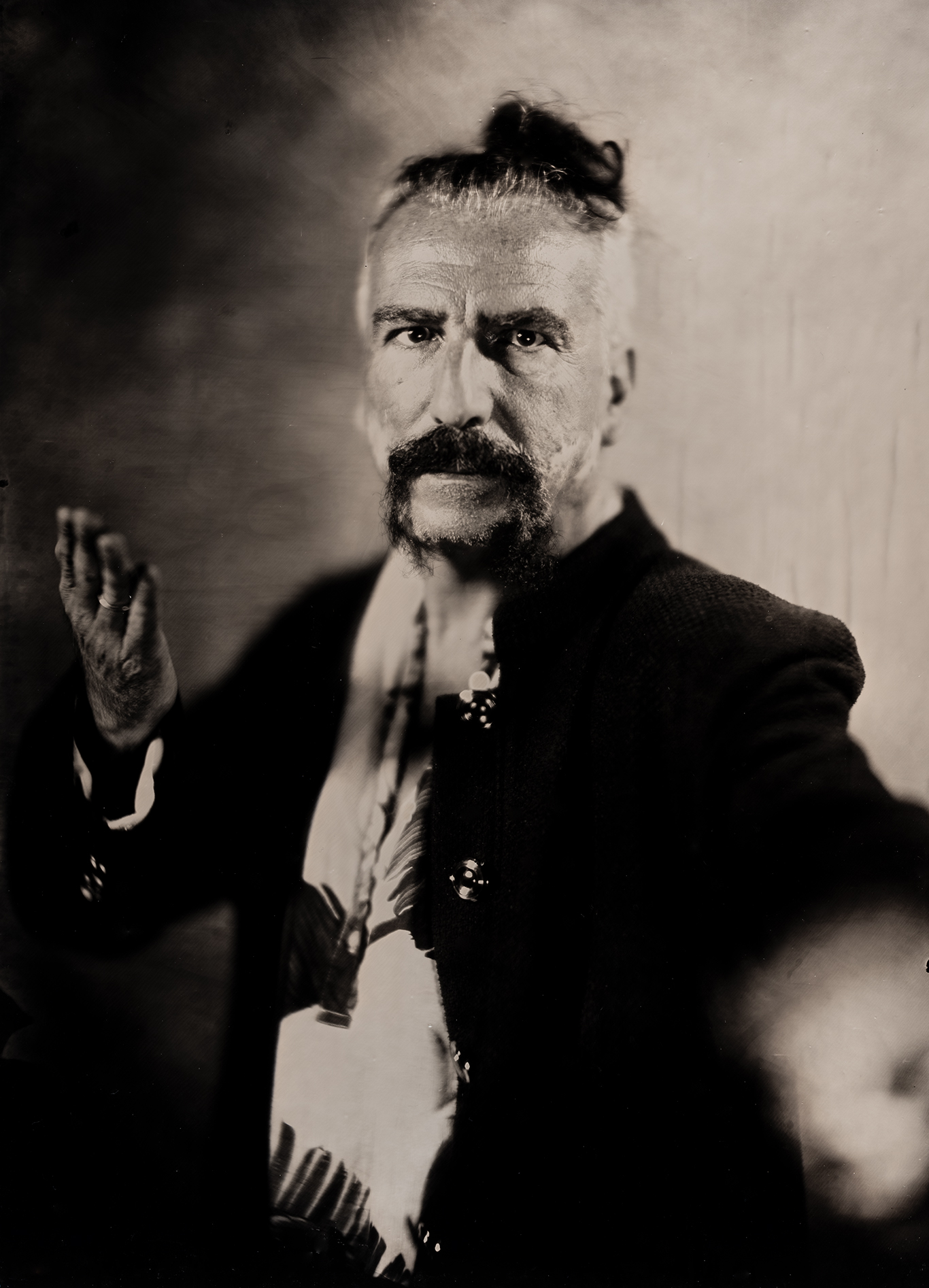 Photo: Studio 1852
You wrote the music for the 2017 Turkey on the Edge film and its accompanying soundtrack album. The movie explores Turkish election corruption and how the government acts against the will of the people. Tell me about working on that project.
BaBa ZuLa was born out of doing the music for a movie called Tabutta Rövaşata, and the soundtrack from 1996 was our first release. So, doing film music has always been an interest.
We met this guy named Imre Azem, which isn't his real name. It's a nickname to shield him from the political problems he would face from doing a film critical of Erdoğan and the Turkish government. The film is about how Turkey, which was once very democratic and secular, has fallen under extreme Islamic influence because of Erdoğan, resulting in our liberties and freedoms being drastically reduced.
The film focuses on the 2017 referendum on handing Erdoğan sweeping powers that further reduce democracy and shift even more towards dictatorship. The referendum had more votes against Erdoğan than for him, but he manipulated the election results at the end to illegally win it. The film shows how this happened.
The movie focuses on different people from different occupations in Istanbul who work tirelessly as part of the democratic opposition. It includes a university professor, journalist, an architect, and protest organizer. Now, two of them are in jail because they have been critical. I am very sad about this, as they are all heroes. I don't know what will happen to them.
The director originally didn't think I'd want to be involved, because it might be dangerous. But I wanted to be part of it, so like him, I didn't use my name, but the initials OME, which is an acronym for my full name Osman Murat Ertel.
The saz has always been a symbolic instrument of Turkish folk music used in opposition against the rulers. It goes back to Ottoman times and was used to speak against Islamic-based dictators. So, using saz in the soundtrack was very critical. You'll hear saz used in different ways, including electric and acoustic approaches, both treated with effects.
It was a very good movie and also really important. I was really proud of it. It was shown in Europe, including the ARTE channel. Nobody wanted to show it in Turkey, where it was heavily criticized by the government and conservatives. In Turkey, nobody would sell the soundtrack album in record shops, because they were afraid of the cover and having government people come down on them. I can only sell it at concerts.
Both you and Esma collaborated with Compro Oro on its 2020 Simurg release. Tell me how you came to work with the group and what you achieved together.
It began with a friend of mine who's the head of a culture center in Belgium. He said there was a South American guitarist named Rodrigo Fuentealba who wanted to play with me. I listened to his music and liked it. So, I went to Belgium to play with Rodrigo and some Belgian musicians. We did a tour together, and I went home.
Then a curation opportunity came up with Red Bull Academy called Round Robin, held in different cities around the world every year. Every musician gets to play for 10 minutes in a chain of duos. One of the musicians I chose to work with was the Belgian guitarist Bart Vervaeck, who also played in Rodrigo's band. After this event, Bart called me up to work with Compro Oro, who he is also a member of.
So, we made the Simurg recording, which was entirely based on improvisation. They are kind of progressive jazz-psychedelic pieces with a lot of Turkish influence. I also asked Esma to play bendir on it.
At the time, one of my sons had a primary school project about grandmothers telling fairy tales to grandsons. Esma's mother was reading a fairy tale to him, and I thought, "Let's make music for the fairy tale." And that's what Simurg reflects.
The story of Simurg is, as it came to be known in the West, about the phoenix—the eternal bird that rose from the ashes. It's about a search for fulfillment, across geographies. In Turkish, the bird's name is different, but the story is the same. In the story, millions of birds go on this journey, and each of them have some human characteristic. For some, it's about love and others about ego. Some just want to go on the journey. At the end, the number of birds diminish to 30, and they reach Mount Kaf and the nest of the Simurg. There, they are reborn and reincarnated as one almighty and omniscient phoenix.
So, Esma was also involved as a storyteller and creative director. She designed the album cover. I am very satisfied with the album and its production. We managed to play a few concerts, but the pandemic meant there were not very many. It also won some awards, which was great.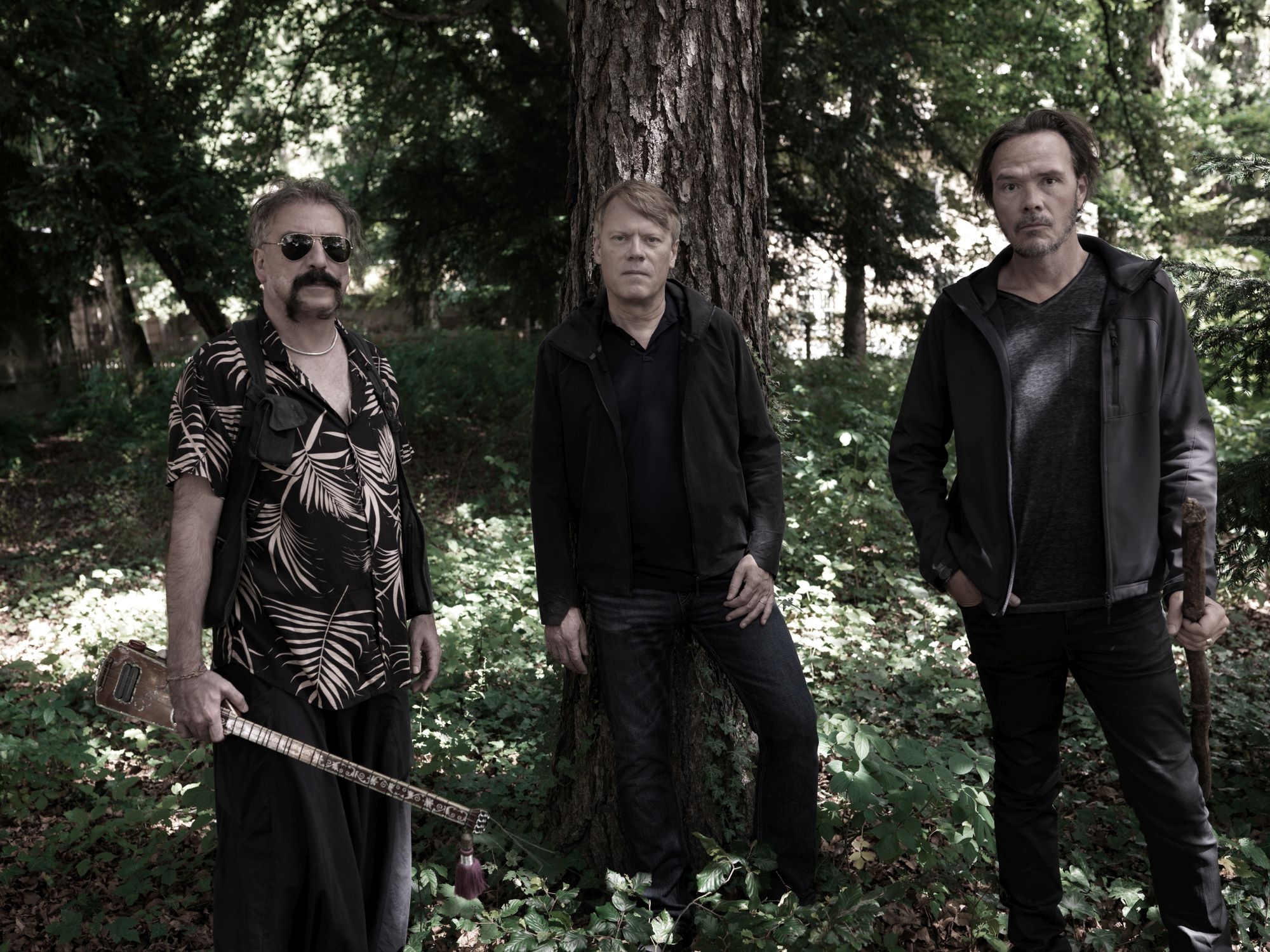 Dirtmusic: Murat Ertel, Chris Eckman, and Hugo Race | Photo: Jaka Babnik
Another key recent collaboration was with Dirtmusic on its 2018 Bu Bir Ruya album in which you essentially became a member of the band. Tell me about that experience and how it turned into a deep association.
I knew Chris Eckman, who runs Glitterbeat, and is also a musician. Hugo Race, the producer and musician, is closely associated with Nick Cave and is also someone I know. They've both part of Dirtmusic. So, one day I said to them, "Let's play together." They liked the idea and said, "We'll come to Istanbul and do some Dirtmusic recordings." So, they came to the BaBa ZuLa studio, set up, jammed, and we recorded, edited, and overdubbed.
I said "I want the theme of the recording to be about immigrants crossing imaginary borders through a dream world."
Chris and Hugo really liked what we did and said, "We want you to be one of the producers and be part of the band." Everybody really listened to each other and respected all the contributions.
Like previous Dirtmusic albums, it was influenced by African blues, but this album has lots of Turkish psychedelic rock elements. The album also features Görkem Şen on a stringed instrument called yaybahar. It's a really long instrument, as big as a whole room. You can play on it percussively. I was blown away by it. It's the first time this instrument was used on a record. So, it sounds very unique.
This album was a great critical success, hitting number one on the European World Music charts. We did a tour, and I hope to work with them again.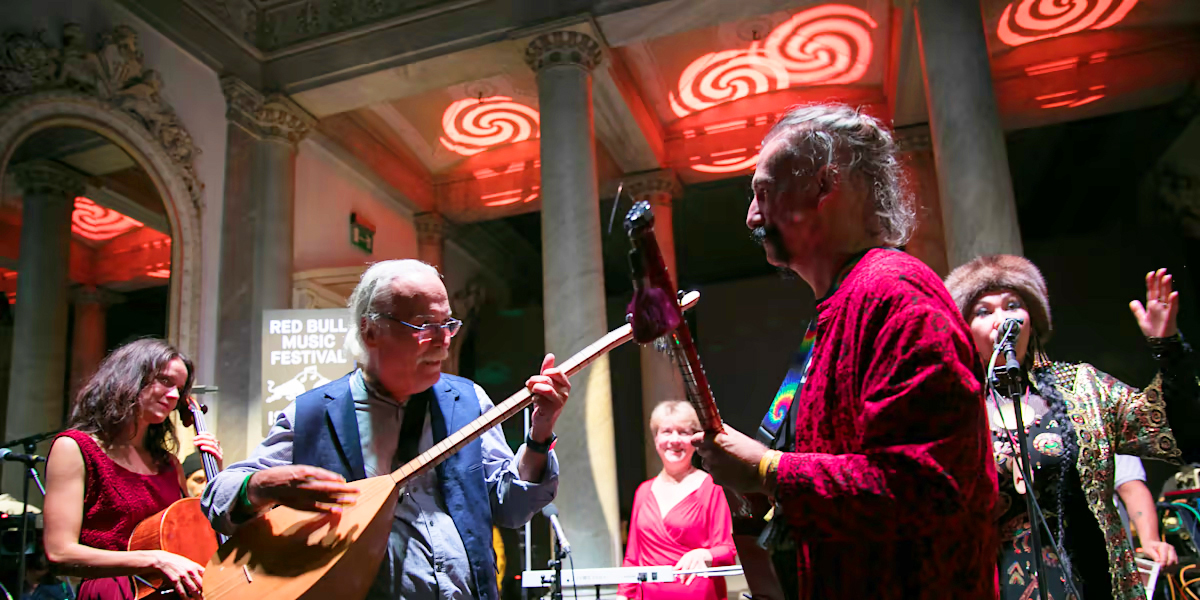 Moğollar's Cahit Berkay and Murat Ertel perform at Red Bull Music Festival, Istanbul, 2018 | Photo: Red Bull
You produced Moğollar's 2020 Anatolian Sun Part 1 & 2 albums. What was it like for you to work with one of the most important Turkish rock bands in history?
Moğollar coined the term Anatolian Rock. It was their bass player, Taner Öngür, specifically. They also set up the rules of the genre. Cahit Berkay is one of the most-recorded musicians in the history of Turkish music. He might break the world record for doing the most movie soundtracks. He's done more than 1,000 of them. Even if people don't know Moğollar, they know the music. They are in the subconscious of Turkish people because their music has been used in so many films.
When the military coup in 1970 occurred, Moğollar went to France and won many awards there, including one from Académie Charles Cros, which was also won by Jimi Hendrix. And then in 1976, they disbanded. But there was a campaign for them to reform in the '90s, and they did. Today, they're still a recording and touring band that's very successful.
I've known everyone in the band for years. I've played with members of the band live and worked on recordings with them previously. One day, Esma said "What about producing Moğollar?" I thought it was a great idea. So, I discussed it with them and said, "I have a sound in my head for you," which they agreed to. I wanted to capture them live in the studio and do a direct-to-disc recording like Hayvan Gibi. In fact, we did it at Artone Studio, the same facility, and for the same label, Night Dreamer.
I wanted to capture them at their best, but I also wanted to bring some effects into their sound. Cahit plays electric guitar, tanbur, and saz on the album. He didn't want to use pedals and effects, so there was a little bit of tension there. So, I said "You play, and I'll play the pedals." So, I'd step on the pedals with my foot as he was playing.
We did a double album, released as two volumes. Because it was direct-to-disc, like Hayvan Gibi, the band didn't do new material, because you have to get things done right in a single take. So, we did a lot of their great material and everyone was very disciplined. We recorded for four days. Every day we did one side of an album. For each side, we did three or four takes, and chose the best one.
Esma and I designed the cover as well and it came out very well. It was released during the pandemic, so we couldn't support the album with tours, but everyone is very proud of it.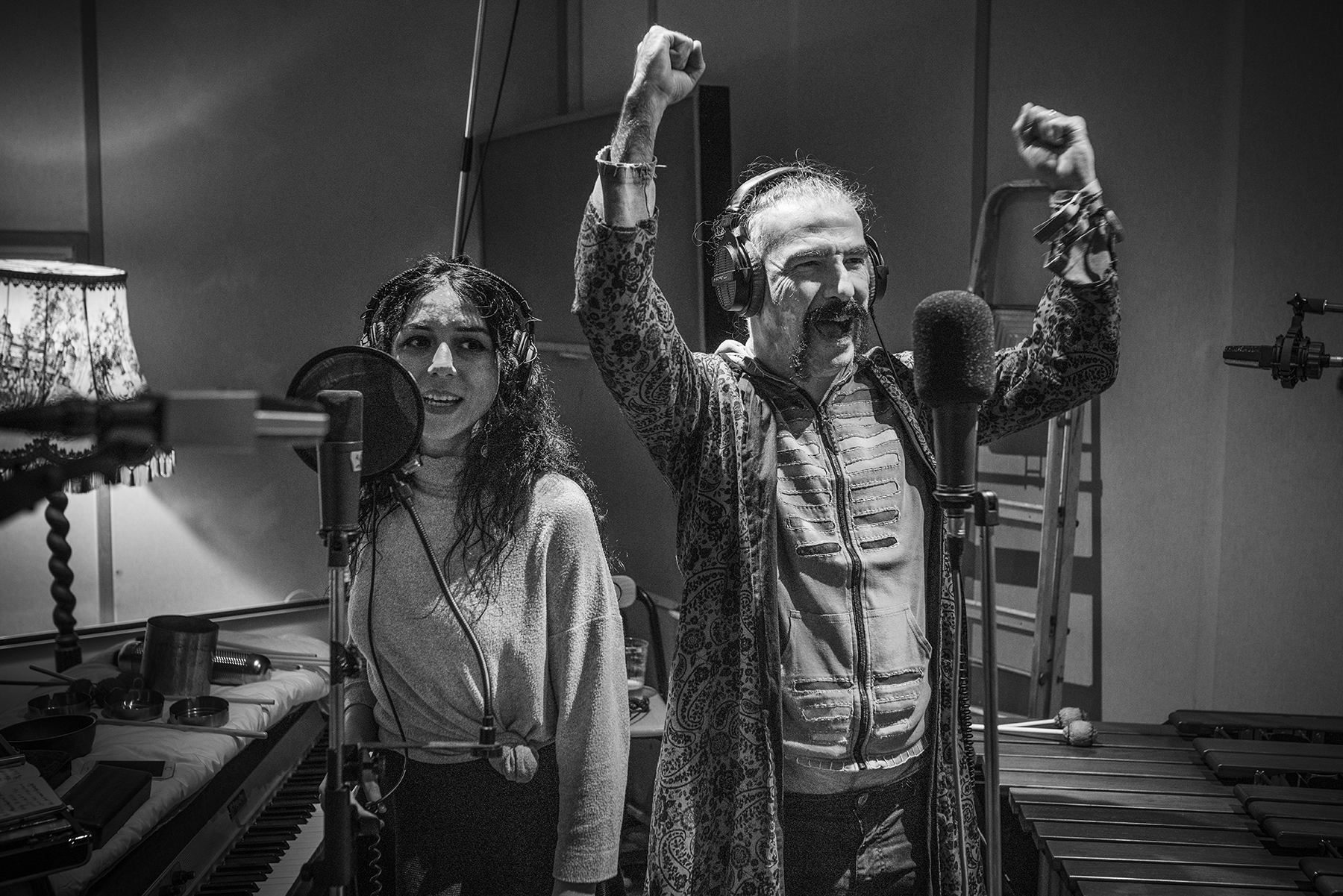 Photo: Leon De Backer
In 2019, you released a single under the name Mavi Güneş 69, together with Esma, titled "3 Çember/Yafta." It's a psychedelic pop effort that connects back to your earliest interests in music. Tell me about its origins.
Mavi Güneş 69 is the name of my first band, from when I was five-years old. I had it before primary school. I drew a blue sun during class and the teacher said, "You cannot draw a sun that is blue, because the sun is yellow." I went home and told my father, and he got really angry. He went back to the teacher and said, "Look, I'm an artist and you can't say this shit to my son. He can draw the sun however he likes." I was really proud of my father, so the name stuck in my mind.
When I was a kid, I liked dance bands, especially. So, together with two girls, I formed a dance band, using a radio and record player. I would play the pitches on the record player at 33, 45, and 78 RPM. The record player even had a 16-pitch setting. I haven't seen any vinyl with that, but the setting was there. So, I'd play music, working the controls of the turntable and radio. We'd perform for the family.
In 2019, BaBa ZuLa was offered some performance opportunities in Brazil. An organizer said "We have a sponsorship from a bank that wants to support Turkish culture. There is no money, but we can pay for travel, hotel, and food."
As BaBa ZuLa, it was too difficult to do. But Esma, me, and Can Aydemir, who plays bass and percussion, thought we could do it as a small trio. I chose to name it Mavi Güneş 69, so that name was reborn. We did a small tour of Brazil, and later that year, we chose to record two songs for a 7" single. A small record label in England called Zel Zele Records run by a friend of mine put it out. We even performed a few concerts in Turkey, too.
So, this is a side project that may continue. It's a lot of fun and it's great to release my first 7" single, too.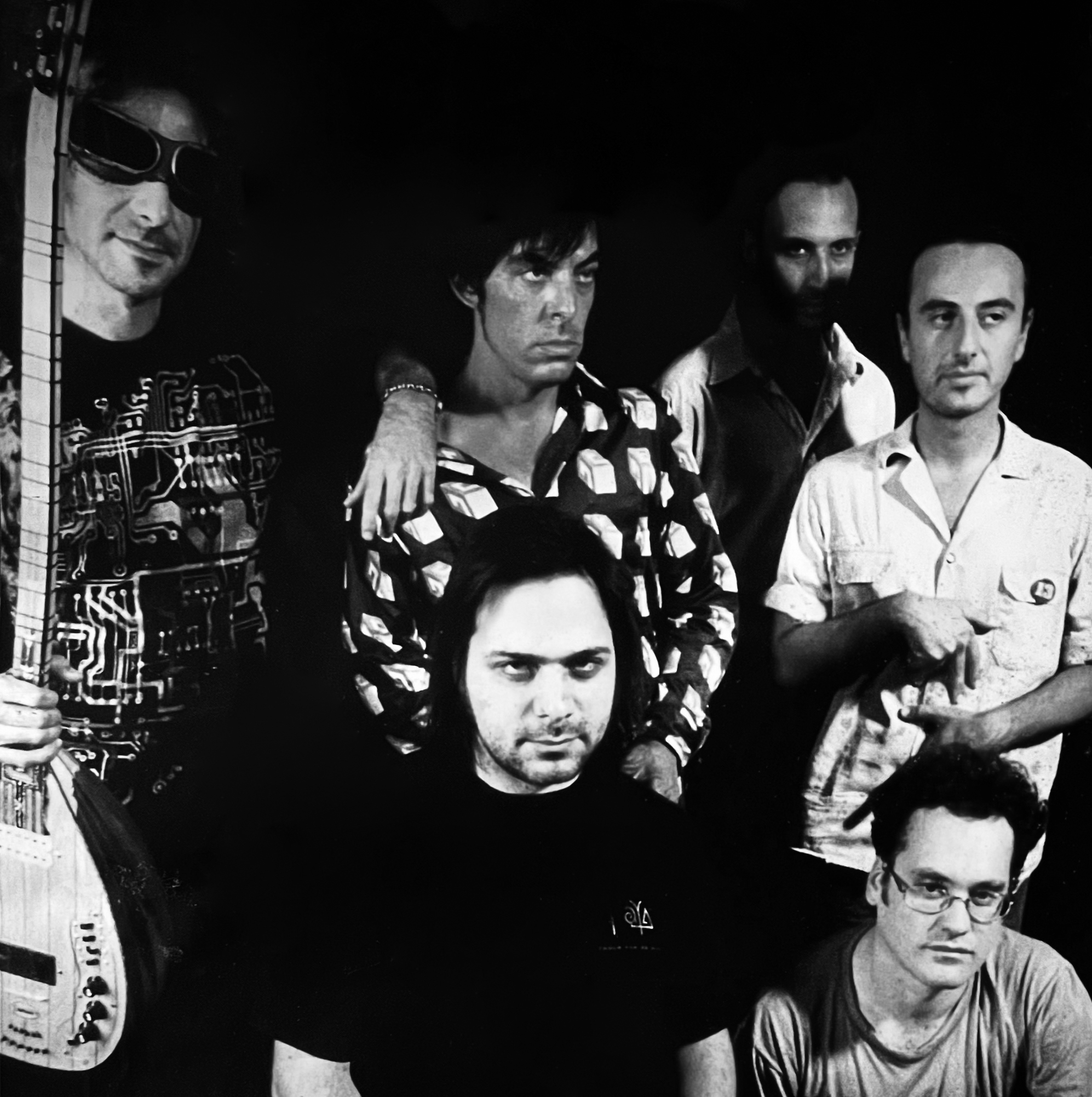 ZeN: Murat Ertel, Bill MacBeath, Fahrettin Aykut, Emre Onel, Merih Öztaylan, and Levent Akman | Photo: Ada Müzik
ZeN, your group before BaBa ZuLa, will have its 1999 Bakırköy Akıl Hastanesi'nde album reissued on vinyl by Ada Müzik later this year. Reflect on the making of the album and that period of the band.
ZeN was a collective improvisation band that was very influential in the '90s. I think it's a sign of the times that so much that was done in the '90s is coming back and accepted in a new way.
When we made music and art with this group in the '90s, it was a very alternative, experimental thing. But now, many artists and curators pursue experimentation without any fear. So, ZeN is looked back on as something that inspired many people.
Ada Müzik will reissue more ZeN albums in vinyl form over time. They were only available on CD and cassette until now. The first reissue is a 1998 live concert held at the Bakırköy Akıl Hastanesi mental hospital in Istanbul. It was open to the public, but 80 percent of the audience were patients.
The nurses at the hospital called us and said "We want you to play for the patients, because they are bored. We think you're the perfect band to do this." So, we went to the hospital, talked with the nurses and patients, and decided to do it. The entire performance was improvised, including the lyrics, though we practiced a lot for the concert. The booklet for the album was 12 pages and it had a great cover of a nurse making a "shh" gesture. I'm happy it was documented.
This album was the start of ZeN. And ZeN was what eventually led to BaBa ZuLa.