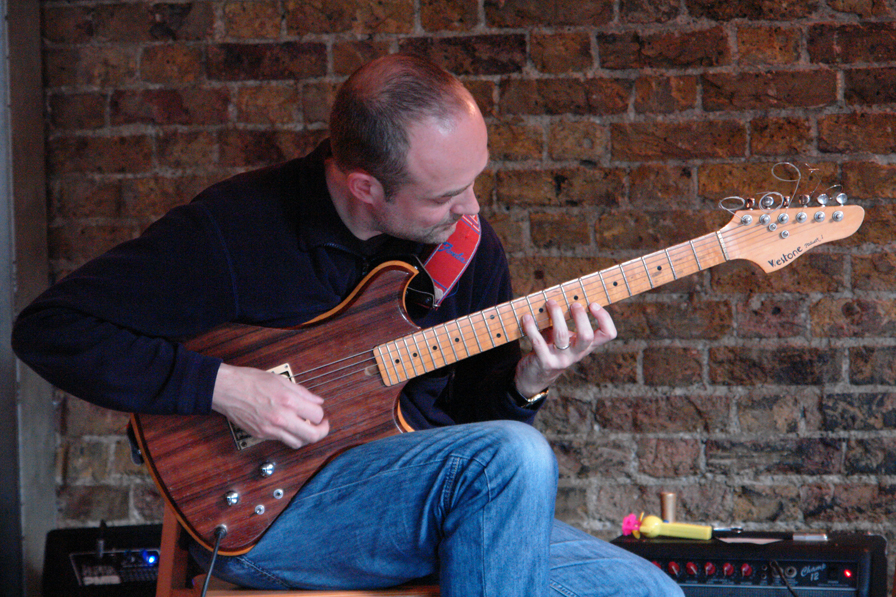 Michael Bearpark's mission is to make loop-based guitar music that offers a twist on a genre largely defined by serene soundscapes. Both of his recent recordings on the Burning Shed label—Some of These Numbers Mean Something by the ambient-meets-electronica outfit Darkroom, and Pedaltone, a self-titled duo project full of complex textures and slow-burning, percolating rhythms recorded with Swiss guitarist Bernhard Wagner—were conceived with that goal in mind.
"Making loop-based music can be like building sandcastles on a beach," explains the British guitarist. "Because current technology enables its creation with such ease and quantity, much of it can just get washed away the next day and few will miss it. That's probably why the producers of the music are often its core consumers. While I really appreciate my fellow loopists, I want to reach out to other audiences, too."
Bearpark's tandem success as a mainstay of the U.K. looping and alternative rock scenes is evidence he's achieving his desired balance. In addition to Darkroom and Pedaltone, he co-helms a recurring looping concert series in London called Improvizone, and he's also known for his collaborations with singer/songwriter Tim Bowness of No-Man, the eclectic pop act that includes Porcupine Tree lead guitarist and singer Steven Wilson. Bearpark recently accompanied No-Man on its first tour in 14 years, sharing guitar duties with Wilson.
Bearpark adheres to some basic rules on all of his loop-based recordings.
"Editing and sound-shaping judgments based on intuition, as well as having a core project framework, are key to creating an optimal listening experience," says Bearpark. "With Pedaltone, the concept was 'guitar, but not guitar,' which gave me license to chop out a lot of stuff out that didn't fit into the vision. It was recorded during the first meeting between Bernhard and me, so it was a session full of discovery and surprises. Even though the music was made entirely with two guitars, it has warm, burbling moments and soaring sounds you wouldn't necessarily associate with the instrument."
Darkroom took a different, yet related approach guided by producer and keyboardist Andrew "Os" Ostler, who was also a co-composer.
"The idea for the new Darkroom CD was 'guitar under a microscope,'" explains Bearpark. "Os recorded me improvising and sampled the bits that he liked using Ableton Live. From there, he built up arrangements and textures based on those samples, and I played over those arrangements. It was like re-composition in some ways. Ableton Live enables him to time-stretch, harmonize, and process what I do, feeding it back to me both in real time and later during the production phase. Ultimately, the key to Darkroom is that Os does most of the looping and I'm able to focus on my guitar playing."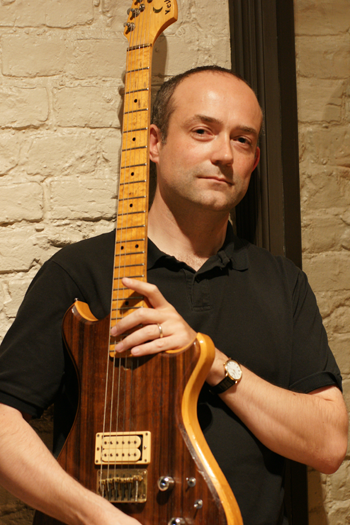 Bearpark's guitar on Some of These Numbers Mean Something was a 1980s Westone Paduak, a long-scale instrument with a maple neck, a solid paduak top, and a Magnet-F 450 humbucker. He relies on the guitar for reasons diametrically opposed to conventional wisdom.
"Oddly, I like the Westone because it's not very playable," says Bearpark. "I can't adjust it to have a particularly low action, and the higher action prevents me from playing flurries of notes and fast solos. I really have to think consciously about what I'm doing and why, and as a result I tend to play more slowly and be more thoughtful. Also, it has a cheap and quirky sound without a lot of sustain, which steers me away from extended fuzz soloing and encourages me to play patterns that are more distinct to compensate. It's also bright and brashsounding, with a healthy output that's good for overdriving small tube amplifiers."
Bearpark also used a 1990s Gibson Les Paul Jr. reissue equipped with a Seymour Duncan Vintage Soapbar P-90-style pickup on the Darkroom disc, and it's the sole instrument he plays on Pedaltone.
"I feel the need to sometimes use the Les Paul Jr. because of its more comfortable feel, low action, superb sustain, and wonderful warmth and tone," he says. "It's a study in contrast to use it after the Westone."
Darkroom found Bearpark employing an array of effects that included Boss RE-20 Space Echo and DD-5 Digital Delay pedals, an MXR EVH-90 phaser, a DigiTech XP-100 Whammy/Wah, a Barber Tone Press compressor, and a Demeter FUZ-1 Fuzzulator. With Pedaltone, he opted for a combination of the SansAmp, a Lovetone Doppelganger phaser/vibrato, a Yamaha UB99 Magicstomp multieffects, the DigiTech Whammy/Wah, and a Lovetone Cheese Source overdrive/fuzz.
"Bernhard used an old Echoplex tape echo on Pedaltone as part of his setup to create loops we could both interact with," says Bearpark. "Then I'd push his playing by making the loops evolve in less obviously guitar-like ways. For instance, I deliberately set up effects the wrong way around in the following order: reverb, delay and then filters. I'd also combine slide and fuzz, and set the reverb to 30 seconds, then put it through wah and tremolo, so the extended reverb decay is chopped-up and mangled."
"Two Is Ambient," from the new Darkroom disc, is another example of how Bearpark combines effects to conjure up fresh sounds.
"I used three Lovetone pedals on the track: a Meatball dynamic filter, a Cheese Source fuzz, and a Doppelganger phaser/vibrato. The fuzz is in the Meatball's sidechain loop, so that the clean signal triggers the filter acting on the fuzzed signal for a more dynamic and throaty sound. All of this was run through a Boss RE-20 Space Echo delay set to one second, with feedback just short of oscillation, so the sound gets smeared out and changes character as it decays with some tape-like filtering. In this way, I'm using loops as textures in the spirit of what David Torn once called 'Painterly Guitar.'"
Bearpark also uses slide in a novel way on the Darkroom track "The Valley of Ten Thousand Smokes."
"All the guitar on that piece is slide, with some of it played using only the edge," says Bearpark. "I hold the slide with my right hand and scrape the edge gently against the strings somewhere near the pickup, which brings out notes that are higher than what you can play if you're fretting. If you get the balance point right, it can sound very mournful, almost like a Theremin. And if you do it on the bass strings with fuzz, it produces something that can go from very soulful to piercing."
Bearpark's overall philosophy is to eschew the tried and true in favor of the pursuit of individuality.
"I constantly ask myself, 'Can my sound be more personal and less off-the-shelf?' Taking creative chances while applying limitations is the best way to avoid the temptation to go for the obvious. Sometimes it's valuable to force yourself into creative situations."