Pierre Bensusan
Imagination and Suggestion
by Anil Prasad
Copyright © 2011 Anil Prasad.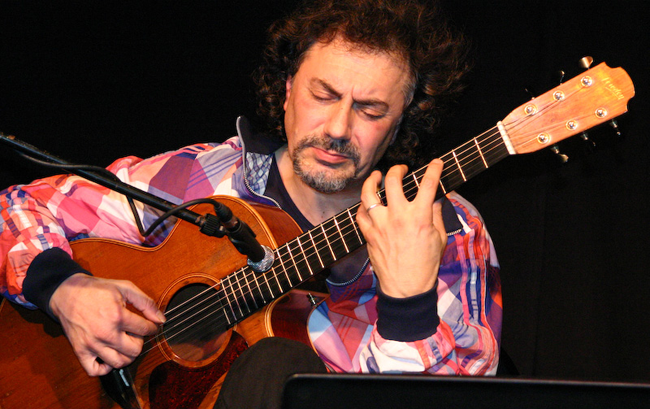 Composition is a marathon, not a sprint, for acoustic guitarist and vocalist Pierre Bensusan. Throughout his 35-year career, the French-Algerian virtuoso has treated his pieces as something to nurture and evolve over stretches of time that can last months, years, and occasionally decades. His long-term focus on shaping pieces is reflective of his intense drive to ensure his playing and writing are captured in the best light possible, whether on a recording or in performance.
Bensusan's tenth and latest album, Vividly, illustrates his cosmopolitan worldview. It offers a unique hybrid listening experience that spans folk, Celtic, jazz, Brazilian, and Middle Eastern influences. The album features solo fingerstyle instrumentals, songs sung in French and English, and collaborations with erhu player Gan Guo, keyboardist Franck Sitbon, bassist Michel Benita, and percussionist Hector Gomez. Bensusan also contributes his own bass and percussion work to the album.
As with his previous albums—recently compiled into the Complete Works 1975-2010 box set—Vividly showcases Bensusan's celebrated mastery of the DADGAD tuning. He uses it as a springboard to explore an expansive variety of voicings, counterpoints, harmonies, and rhythms, all while maintaining a grounded melodic sensibility. He recorded the album using two George Lowden guitars: his 1978 Lowden S22, which he affectionately refers to as "the Old Lady," and his 2008 Lowden Signature model, known as "the New Lady."
I understand global events contributed to helping you complete Vividly. What transpired?
I've been touring a lot in recent years, which didn't leave much time for recording. That activity requires me spending a great deal of time in my home studio, where I also write. But circumstances provided me with time to finish this recording. I had two tours of America that were cancelled because of visa issues. I also had concerts cancelled due to the volcanic eruption in Iceland that grounded global air travel. I took advantage of those periods to work on Vividly extensively. The album features pieces that have been marinating for years, and which haven't had the opportunity to find their way onto a recording until now. One piece, "Veilleuse," goes back 25 years. As with my other records, I continue to revisit pieces according to my inner chant. This approach lets me explore new angles, variations, arrangements, and fingerings until I feel the pieces are ready for release.
"DADGAD Café" weaves together influences as diverse as Bill Evans, David Crosby, and Arabic music. Describe how the piece came together.
That tune began as an improvisation years ago when I had a DAT player on which I recorded everything I played. So, I had hours and hours of tapes to listen to. It's a very weird process. It's like looking at your life in the past instead of living your life in the present. But once in a while it's a great way to compensate for losing time in the future. I found the piece within those improvisations—it was all there. So, I got the tune into my system and under my fingers as it evolved over the years. The first part is like a standard jazz ballad and the second part is almost like a pop ballad. I was originally going to sing harmony voices on top of that section, but chose to keep the focus on the guitar. The reason I was contemplating adding vocals is because sometimes the guitar can be a very austere solo instrument. My challenge is that my music can be too dense for just one instrument. But when I play several voicings together, sometimes I find I am competing against myself. So, part of my job is to make the music sound less dense and busy, and more transparent and simple, so it communicates something of value.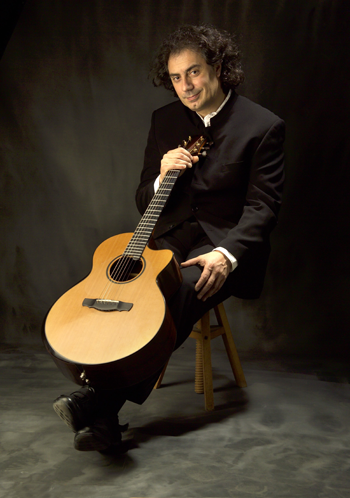 How do you go about managing multiple voicings in your work?
The bass line has to remain present while you sustain the harmonies and melodies, and the chord progression has to be there as well, but none of them can take up all the space all the time. With one guitar, you have to focus on the essential elements of the piece and be economical with your moves, so you can move on to the next thing without losing what was just expressed in a particular voicing. These voicings might include a bass line, a chord, counterpoint, or a melody. The goal is to have all of the voicings live together peacefully. I think of playing in terms of intersections in which voices carefully cross one another. It's also a question of bringing your technique up to a standard that lets you accomplish this. I've worked very hard to get here and it was very challenging.
Is there a specific approach that lets you create these intersections?
Since my 2001 album Intuite, I've been working on a way to control the resonance of the notes and strings after they've been played, so they stop interacting with the subsequent notes. It's something I focused on a lot on the new album. I use the fingers of my right hand to pick strings, but also to stop sounds. For instance, I will arrest some of the bass once that part has been played, and begin playing the second bass part with my index finger instead of my thumb. This technique lets people hear one bass part at a time and makes the music more distinguished, precise, and intimate. It also sounds less cluttered, because it reduces the level of ringing and lets you effectively contrast different sounds. It works especially well with open tunings.
You use your new 2008 Lowden Signature guitar on half of the album. Describe the instrument.
My jumbo-body 1978 Lowden S22, still one of my favorite instruments, was hurting my neck because it was too big. I wanted a smaller guitar that had a very fast response with a lot of headroom, generous bass, and warm mids, which could still respond broadly to my dynamics as a player. It also needed to project loudly, yet be extremely responsive when I play softly. To achieve the sonic goals, yet have a smaller guitar, we had to make the new instrument's box wider and deeper. And the neck had to be closer to a classical guitar neck with a bit more spacing for the right hand. We also used a new wood combination with Adirondack spruce and Honduras rosewood. It's an amazing guitar and it sounds wonderful.
What studio setup did you use for recording Vividly?
I have a home studio where I live in the French countryside, near Chateau-Thierry, that's equipped with an iMac, Pro Tools, and Adams SA3 Speakers. My preamps include a George Massenburg GML2020 Integrated Input Channel, Requisite Audio PAL Plus, and an Avalon VT-737sp. The mics used were a Neumann KM 184, an AKG C-414, a CAD VX2, and a CharterOak SA538. I had an engineer come in to set up the mics and levels, and then I spent the rest of the time pretty much recording by myself. Rich Breen did all the mixing at his studio in Burbank. We used YouSendIt to share large files, with him sending mix proposals and me offering my thoughts on them.
You're having Vividly's music transcribed in both DADGAD and standard tuning. Why are you transposing your DADGAD pieces?
A great guitarist named Roland Gallery is doing it for me. He feels it's a pity that most people who play in standard tuning— especially classical players—will not address my work because I use DADGAD frequently. Ana Vidovic performed my tune "Altoplanos," which I wrote in standard tuning, on her Guitar Artistry in Concert DVD. I'd also like other guitarists to interpret my work, most of which is in DADGAD. The misunderstanding some guitarists have is that DADGAD compositions aren't playable in other tunings. Obviously the fingerings will be different, but they are playable. Roland is approaching it like translating a book from one language into another. He's not doing a word-by-word, literal translation, but trying to keep the essence and deep meaning of the work intact. He's doing a great job.
You've said you're always striving to achieve a perfect balance between your technical abilities and spontaneity. What's your advice to other guitarists seeking to do the same?
Don't go for the obvious. Instead, go to places you haven't gone before. Try different fingerings and notes. Get very friendly with your fretboard so it doesn't frighten you. The other thing to keep in mind is that because you're a very good player technically doesn't necessarily mean you are playing music. That's a disease that exists in guitar music. For me, music has nothing to do with abilities and technique. It has to do with your level of imagination and what you're suggesting with your music. The notes you play are merely a pretext to something else that emerges that we call music.