Pierre Bensusan
Extending Possibilities
by Anil Prasad
Copyright © 2005 Anil Prasad.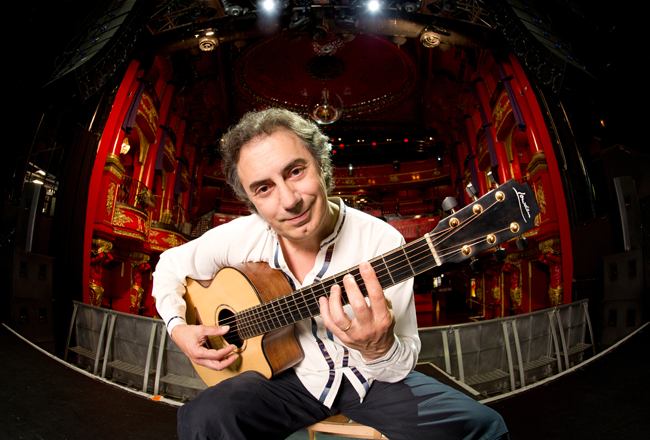 Pierre Bensusan believes there's a new discovery to made every time he picks up his guitar. It's a philosophy that has propelled the French-Algerian virtuoso fingerstyle guitarist throughout his remarkable 30-year career.
Bensusan was only 17 when he released his debut album Près de Paris in 1975. The record showcases an already impressively developed melodic sensibility coupled with an equally evolved rhythmic underpinning. His subsequent nine albums, including his new release Altiplanos, find Bensusan extending the possibilities of steel-string acoustic guitar in a variety of solo and group contexts, as well as through the exploration of inventive electronic looping effects. Several tracks on Altiplanos also incorporate his warm, lilting voice within the realms of intimate verse and wordless chanting.
Bensusan's approach is steeped in influences that span the globe, including Celtic, folk, Latin, Middle Eastern music, and jazz. And like a master storyteller, his uses his pieces to convey unique points of view, narrative development, dialogue, and movement. To that end, he infuses his tunes with distinctive voicings, counterpoint, chordal development, and pulsing bass rhythms. Another Bensusan hallmark is his exclusive use of the DADGAD alternate tuning. In fact, he's one of the world's leading DADGAD exponents, having spent his entire career exploring the breadth and depth of singular tonalities and progressions the tuning has to offer.
In addition to recording Altiplanos, Bensusan recently collaborated with two renowned luthiers to create a pair of new signature guitars. The first is a steel-string model designed by Kevin Ryan which now serves as his principal instrument. The second is a nylon-string guitar by Juan Miguel Carmona. Bensusan also continues to spend several weeks every year conducting master classes and seminars that impart both his techniques and collected wisdom to students worldwide.
Describe how you put together the tunes for Altiplanos.
Many of the pieces on Altiplanos go back 10 years. They derive from improvisations that grew on me and became more substantial over time. For those pieces, I started by improvising with the guitar. If a particular idea appealed to me, I started to compose by putting ideas on paper or tape. From there, the pieces grew, were forgotten and abandoned, and then emerged out of the blue to become mature compositions. For instance, "La Dame de Clevedon" was something that started as a studio improvisation. After listening back to the tape one day, I thought I could do something more substantial with it. So, I started performing it in front of audiences for awhile. Then I thought "Okay, now I have enough information. I'm going to go in my little cavern and record it." The result is the version on Altiplanos. There are also other pieces on the album such as "Sylva" that are entirely improvised. In addition, the album includes new versions of a few pieces from older albums like "Falafel à Montségur" which combines "Falafel" from 1993's Wu Wei and "Montségur" from 1987's Spices. I believe the life of a tune is endless. A version that appears on an album is just one snapshot. Tunes evolve like we all do. They each have a story with a past, a present and future.
During your seminars, you ask students to sing their improvisations and compositions prior to touching their guitars. Why do you encourage that approach?
I want my students to play what they truly hear inside their heads. I also want them to have a sensual experience with the music before they touch a guitar. Your fingers have a simple, physical memory they remember when they're placed on a guitar. To go beyond that, you have to feed your fingers with your imagination. That's why I tell students "Forget the guitar. Just think about the ideas you would like to hear on it. Sing them and give them some air. Now, make them real by transcribing them on your guitar." I find this gives the students an amazing sensitivity. I often do this during my own creative process too.
"If Only You Knew" has an American Gospel feel to it. Tell me about your interest in the genre.
That one relates to the fact that my family listened to all kinds of music when I grew up in the '60s and early '70s in Algiers and Paris. We lived in small apartments, so I could always hear the music everyone played. My father was into opera, gypsy music, Django Reinhardt, Benny Goodman and Stephane Grappelli. My mother sang Arabic and Jewish lullabies. My younger sister was the big rebel and listened to The Beatles, Rolling Stones, Don McLean and Elton John. My elder sister listened to a lot of John Coltrane, Sonny Rollins and American Gospel stuff including The Platters. "If Only You Knew" comes from listening to The Platters' "Only You" many times when I was a kid. It's amazing how much impact a song can have on you when you're young. All of the music I heard at home deeply influenced my musical vocabulary. I think it's why my records tend to cover a very wide range styles and sounds.
What kind of studio set-up did you use when recording Altiplanos?
I record in my own home studio near Paris. I use a Mac G5 and Pro Tools. I have two Avalon VT-737SP amps that have EQ, compression and a pre-amp built in. I like the Avalon because it's very faithful to my acoustic sound. When working in a digital environment, its pre-amp also really helps to add warmth back into the sound. In addition, I use two CAD VX2, dual-valve condenser microphones. They are exceptionally reliable and do not color my sound. I also use my Ryan signature guitar with a B-Band piezo pick-up. The B-Band offers very clear, even and accurate reproduction.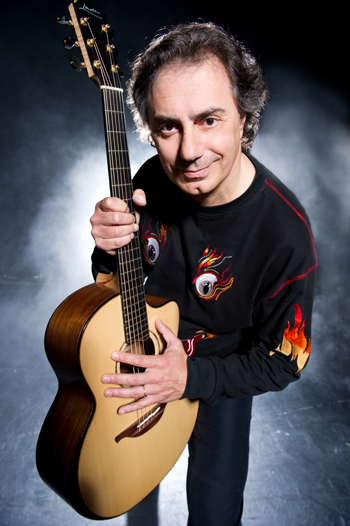 How do you leverage Pro Tools?
What I do in the studio is completely different from what I do onstage. Onstage, I start a tune, play it and finish it. It's never perfect, but the tune has a life in that realm and benefits from the enthusiasm of the audience. When I'm alone in the studio, I feel I have to be accountable to the music and my sense of perfection. I'm trying to get as close as possible to capturing the piece exactly as I envision it. So, I'll usually play many different versions of my tunes from beginning to end and record everything direct to hard disk. Then I edit the piece together from multiple takes to capture the best performance. I used a similar process with my 2001 solo guitar album Intuite, which I put together using Digital Performer. Having said that, there are also pieces on Altiplanos such as "Demain, dès l'Aube" which were recorded live in one take.
What gear are you using onstage these days?
It's a very simple set-up. The B-Band pick-up from my Ryan guitar goes into a Boss volume pedal that I have on a foot riser. I use it to turn off the volume so I don't bother the audience with tuning sounds. The pedal goes into a TC Electronic Element TC1128 EQ. It's a mono, 31-band unit I've been using for the last 15 years. From the EQ, I go into a TC Electronic M2000 stereo reverb that goes directly to the desk. I love TC Electronic stuff because it creates such a pure, musical and dynamic sound. I always use Elixir Nanoweb guitar strings because they last forever.
Why did you choose to work with Kevin Ryan for your new signature steel-string guitar?
Kevin is a real artist. His craftsmanship is stunning. He is also a big fan of my music, so he has an intuitive knowledge of what I'm looking for, which is a guitar with a beautiful, singing high end, a deep medium, and a very warm bass sound. We collaborated for a year-and-a-half starting in 2002 on different prototypes. I wanted a wider fretboard that provided more space between the strings so I could use a variety of classical, flamenco and fingerstyle techniques. In addition, I wanted a broader neck that provided more space for my fingers to move. I also required a narrower body so my right arm wasn't as high when laying on it as I play. To compensate for that and to ensure a good bass response, we increased the depth of the body.
What wood combination do you favor for the guitar?
My main Ryan signature guitar uses Brazilian rosewood for the back and sides, and cedar for the top. It's an extremely attractive combination because it provides a beautiful, transparent sonic response that lets you hear the music, not the sound of the guitar. This particular wood pairing requires you to invest a lot of time so the guitar can mature. It can be frustrating knowing you have a green instrument in your hands that will one day become a Formula One racing car. You have to be patient. So, I decided to exclusively play my new Ryan for 15 months before recording with it. I really wanted to feel intimate with it and truly understand what language to speak with it. I'm very happy with the result.
Surprisingly, your other new signature guitar by Carmona is a nylon-stringed instrument.
Juan Miguel Carmona is a dear friend and a very talented luthier from Granada. He said "I think a lot of what you do would sound great on nylon strings. Let me make you a guitar." I said "Okay, I'll tell you nothing and you go ahead and do it." I was blown away with what he came back with. The guitar is very small—somewhere in between the size of a classical and flamenco guitar. It also has a cutaway and the same B-Band piezo pick-up as the Ryan, which classical guitar makers would never typically consider. But Juan Miguel has no issue with those things. He's very open to experimentation. The neck shares similar qualities with the Ryan in terms of spacing between the strings.
What do you find attractive about the nylon-string world?
I've always thought of that world as an alien one, even through nylon-string guitarists are technically playing the same instrument. I feel the steel-string guitar world is extremely immature and young in comparison. In the steel-string world, there are a lot of people who play guitar, but don't necessarily play music. They aren't always concerned with what sounds right musically. In the nylon-string world, guitarists play more musically because the culture of that instrument is ancient. There have been many more composers who've spent their lives writing music for it. I like the idea of exploring both worlds because I think something great could come out of the contrast for me. I have yet to record with it. I'm going to have to spend a lot of time with the instrument to understand the language I have to apply to it. I'll also have to be extremely humble as I come to terms with it.
Altiplanos includes three pieces that find you experimenting with loops again after a long absence. What brought you back to that realm?
Although I stopped using looping live a few years ago, I thought incorporating that aspect of what I used to do on the record would create a nice contrast and provide a sense of my experimental nature. Those three pieces reveal that in addition to solo guitar, I'm very much into improvising and playing grooves. Those tracks feature the TC Electronic 2290 Dynamic Digital Delay, which I've used ever since I started looping.
Why did you stop using loops in a live context?
It used to be my trademark. I would use all sorts of effects and MIDI technology to create elaborate layers that I would solo over. Those tricks, gimmicks and toys were fun and helped me learn about my guitar. But one day I said "I've had enough." I decided I didn't need those things and pursued a more naked, simple sound. I wanted to return to the pure acoustic sense of one instrument and two hands. Going through that looping phase made me a better improviser and established me as someone willing to take chances. I wanted to incorporate the knowledge I gleaned from that phase and attempt to play in a way that made one guitar sound like multiple instruments.
It's been 43 years since guitarist Davy Graham introduced DADGAD to the world. How do you think the tuning has fared since it first emerged?
I think a lot of people play in DADGAD to obtain an immediately gratifying effect and sound. They know you can use it to create beautiful, sympathetic resonances and moments with deep, dramatic bass. But if you just use DADGAD for these things, you kill the overall effect. Many people don't necessarily know how to play in DADGAD. They just do whatever is obvious and end up sounding like everyone else. Regardless of the tuning you play in, you need to be able to answer one question: Do you know where you are on your fretboard? I'm afraid there are a lot of people who don't know their fretboard to the point where they can be completely spontaneous on it. Guitarists should know all of the scales, chords and modes in order to move their fingers where they need to in order to express themselves creatively. I made my choice to play exclusively in DADGAD in 1978. Doing that enabled me to learn my way around the tuning, evolve my approach and go beyond playing what's known as "guitar music." Gaining a comprehensive understanding of DADGAD allowed me to think in a really musically diverse way. As a result, I don't look at the guitar as an instrument. I see it as purely as a vehicle for conveying emotion and storytelling.