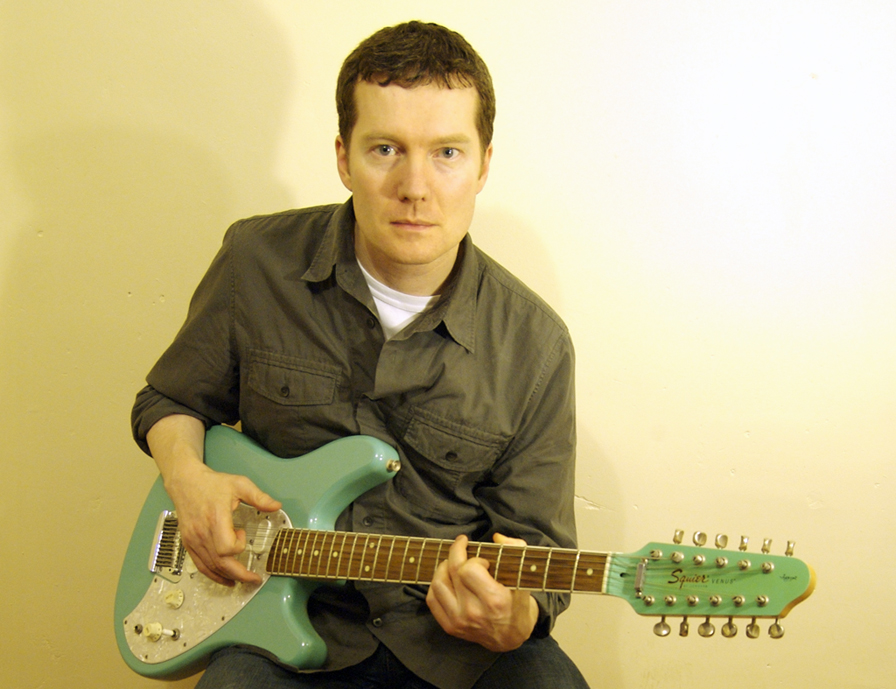 My goal is to write and release music that excites and moves me—something I would want to buy myself," says British singer-songwriter Tim Bowness. "So many musicians have fallen into the trap of releasing everything they do because it's become quite easy and cheap to produce and distribute music in the era of downloading. It's more important to me to produce a body of work I have extreme pride in. That's why I create and produce far more music than I release. It has to pass the test of having an emotional reason and something creatively unique to exist in the market."
Bowness has plenty of experience crafting singular songs. As half of the avant-pop duo No-Man, also comprised of Porcupine Tree guitarist and composer Steven Wilson, Bowness has released more than a dozen genre-defying albums, including its latest disc Together We're Stranger. The act is known for incorporating inventive combinations of ambient, neo-classical, jazz, dub, and rock elements into any given track. Bowness is equally eclectic on his recent solo CD My Hotel Year. The album finds him joining forces with ex-Soft Machine bassist Hugh Hopper, multi-instrumentalist Roger Eno, and guitarists Michael Bearpark and Markus Reuter to create an effort that comfortably shifts between the meditative and mercurial.
"I truly enjoy the endless possibilities of collaborative songwriting," says Bowness. "For instance, in No-Man, you'll find Steven and I engaging in just about any songwriting method that can produce a good result. It could be me bringing in a complete track that Steven then completely transforms. It could be Steven providing me with a backing track that I write the lyrics and melody for. It can also be the two of us sitting around a piano or guitar and just bashing out material on the spot. In addition, we sometimes take a chain letter approach in which I'll write a line or verse and then he'll provide the chorus and middle-eight. We might do that while sitting in the same room or even via email."
When Bowness writes songs in a solo context, he tends to take a more exploratory approach.
"When I write for myself on guitar or keyboard, it's sometimes about accidentally hitting on a chord or progression that suggests a melody, which can lead to a structure or idea that suggests far more," said Bowness, who relies on a Yamaha Pacifica Strat Copy for songwriting and a Fender Stratocaster for recording. "If I'm writing on guitar, the result is often reasonably simple, skeletal, yet melodically strong pieces that leave room for other musicians' ideas in the arrangement stage. I may also use my Line 6 Pod 2.0 Guitar Amp Modeling Processor to make guitar loops that can serve as the basis or textures of a piece."
The Line 6 DL4 Delay Modeler pedal is another component of his creative arsenal. He uses it to generate layered vocal loops that can serve as another songwriting vehicle.
"The vocal loops start with nothing but pure feeling and go on to develop a coherent identity," says Bowness. "It's very similar to Robert Fripp's soundscape approach. I'll record multiple voice loops and have them play simultaneously to develop some incredibly complex harmonies and interesting cross-rhythms. You almost become your own choir. It's a very intriguing, exciting, and cathartic approach for coming up with ideas. Also, the beauty of vocal loops is that they are wonderfully adaptable. I edit them down in GarageBand, Cubase, or Logic and use them in many recordings."
Bowness collaborated with Fripp himself, who performed on the majority of No-Man's recently reissued 1994 CD Flowermouth.
"We did two passes through each song he played on," says Bowness. "On the first, we instructed Robert on what and how to play. For the second take, we asked him to do whatever he thought was appropriate for the song. We used a combination of both approaches on the final release. Occasionally, to trigger inspiration or ire, we'd hold up photos of guitar greats in front of him such as Jimmy Page or Frank Zappa. We mainly used the images to create a mood for each song and to make the session fun. If we wanted something grand and bombastic, we'd hold up an old image of Robert with an afro from the early King Crimson days and say, 'We'd like a bit of this.' Then we'd hold up an image of Brian May in full Queen onstage regalia and add, 'But we'd also like a bit of this too.' Robert would often laugh, sneer, or interject and comment on the players we'd selected for him. I've always loved the extreme range of Robert's expression. It was very inspiring to be around someone equally adept at making creative ear-splitting noise as he is in crafting ethereal and graceful sounds."