Bill Bruford
Storytelling in Real Time
by Anil Prasad
Copyright © 2003 Anil Prasad.
Drummer Bill Bruford has an instantly identifiable sound. In fact, many listeners can recognize his signature deft touch with a single snare hit. The British musician's career path is equally unique. He's considered one of rock's great percussionists, having served as the rhythmic anchor for progressive rock luminaries King Crimson, Genesis, Yes, and the Yes offshoot band Anderson Bruford Wakeman Howe. He's also collaborated with the likes of singer-songwriter Roy Harper, keyboardist Patrick Moraz, and guitarists Al Di Meola and David Torn. But it's his work as a bandleader that's provided the most dynamic and diverse contexts for his talents.
The drummer's first solo foray took place between 1978 and 1980 with Bruford, a self-named fusion ensemble featuring guitarist Allan Holdsworth, bassist Jeff Berlin and keyboardist Dave Stewart. The group showcased Bruford's mastery of expansive structures full of complex time signatures that still left room for plenty of improvised passages.
Bruford's second stint at the helm occurred when he formed Earthworks in 1986. The group was loosely categorized as a fusion act, but he sought to steer as clear as possible of the genre's clichés. To that end, he recruited two of Britain's finest avant-jazz musicians and composers: multi-instrumentalist Django Bates and saxophonist Iain Ballamy. The band forged a modern hybrid of jazz, rock, world music, and folk traditions. At that point in his career, Bruford was focused on electronic percussion, using it to trigger sampled instruments and chordal elements that were seldom the domain of drummers.
Earthworks went on hiatus in 1993 while Bruford joined a revamped King Crimson line-up. In 1997, he decided to leave King Crimson permanently and make jazz his primary focus. The initial fruits of that decision emerged the next year on If Summer Had Its Ghosts, an atmospheric chamber-jazz trio album that featured guitarist Ralph Towner and bassist Eddie Gomez. The record provided Bruford with an opportunity to reveal his delicate and introspective side in the company of two of the world's most outstanding instrumentalists.
Earthworks reemerged in 1997, but with some notable differences. Bruford gave up his electronic drums, realizing there was still a more satisfying world of exploration available through his acoustic kit. The group's roster also became more fluid, as it constantly shifted between several prominent young British players. In 2002, Bruford introduced saxophonist and composer Tim Garland to the fold. An acclaimed bandleader in his own right, Garland proved an ideal long-term creative foil for the drummer by infusing Earthworks with new compositional ideas and directions.
In January 2009, Bruford announced his retirement from public performance. He discussed the motivation for the decision at the end of this conversation.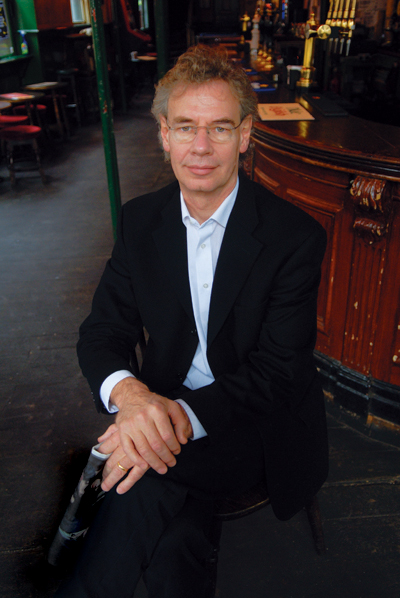 Describe your approach to collaborating with Ralph Towner and Eddie Gomez during the making of If Summer Had Its Ghosts.
I approached them and said "I'd like to lead the record and use it as a vehicle for some of my writing. Of course, we'll probably have a composition by each of you as well." Primarily, I like focused records that are about something or someone, and if your name is at the top, it should be about you and the way you see and do things. Both said that sounded fine. Ralph is not known as an interpreter of other people's music because he's such a good writer and composer himself. He doesn't really do other people's stuff a lot, so I was a little hesitant about that and he was too. But he really gave it his best shot and spent a lot of time on the music. I wrote a lot of charts, did some cheesy demos with a laughable fake 12-string guitar sound and said "I'd like it to go a little like this, Ralph. What do you think?" And they were both very good because with drummers and composing, there's that phrase that says "A little knowledge is a dangerous thing." [laughs] For a drummer to write on a melody instrument is another ballgame. The piano is that thing on the other side of the room that you've got to get up and walk to and figure out what you're going to play and how the chords and harmony go. I think if you spend your life on piano or guitar, composition just becomes a side function of practicing. Your fingers fall upon interesting things and ideas that you like, and you say "Oh, that would make a nice tune" and you continue. But for a drummer, you've got to break from the kit and move to this melody instrument, so it's kind of tough. I think I probably produced one or two harmonic howlers along the way, but they were very sweet and didn't make me feel too shitty. [laughs]
There was a high professional standard because the players write and read very well. But it took a little while to find the tempo all three of us moved at and we were fairly slow on the first day. We were trying to find the thing that made us all swing at once. It's funny, you don't talk about it much. You just do another take and then eventually it clicks. In this case, it did by the end of the first day. And really, you only have three or four days, so you're looking for that spark. When you have three guys who have never worked together play for the first time, something will happen and that's the thing to record. If it's going to run much longer than those few days, you're going to run out of money or you're not going to finish on time or it's going to turn into a rock record or something. [laughs] So, the album is the spontaneous recording of three guys who sat down and started playing. It's a very simple, yet very sophisticated mechanism that goes on without a lot of talking. There was a lot of playing, then people listening, then people saying "Let's do another."
The album is probably the most subtle and intimate recording you've made.
I quite agree. And it's a reflective record for me too. It may have had something to do with the fact that I had reached 30 years in the industry and was looking back to the thing that made me tingle in the first place—the thing that made me want to set up a drum kit and practice when I was 16 years old. In my case, that happened to be jazz and acoustic music, and that viewed from today is a very simple form of music in the sense that there was no outboard processing or huge industry or armament of sound tacked onto the original acoustic sound as there is now. There was no digital processing. There was none of the hollandaise sauce—the gunk, the makeup that goes on a record now wasn't present in those days and you can hear that when you listen to the Cannonball Adderley group or something. I loved it then and I love it even more now, 30 years further in the future. There's something about the intimacy of an acoustic trio or quartet on tape that's really lovely.
The record is also kind of anti-testosterone. Drumming, particularly in America, is really an athletic, Olympic sport now with furious power and technical ability, all of which are breathtaking, but I found myself wondering if there was a more poetic and lyrical side to this. And there is, of course. If you look at Paul Motian, for example, there is a delicate side to drumming too and I wanted to touch on that. None of the drumming on the record is terribly loud. None of the notes are hit terribly hard. That even holds true for the drum solo on there. In my mind, the record is effortless, intricate and subtle. I really wanted to get that side of my musical personality on the record. And with Ralph and Eddie inside that 12-string guitar and bass, there's nowhere to hide. It's completely scary—you just touch something, and that's that. It's there on the track. I really like this musical watercolor painting thing with these guys.
Joe Zawinul told me there's a dearth of genuine storytellers in modern music because the entertainment industry no longer looks at music-making as an art form. What's your take on that?
I find his choice of the word "storyteller" a very interesting one. That's a very ancient and very lovely idea, and it's a totally correct idea. Modern technology has streaked ahead and led us to believe we don't need storytellers. But the fact is, we're very simple souls and very underdeveloped in some ways. So I immediately agree with him. I understand and empathize with that view. What a lovely idea and a terrifying one, isn't it? The more you get to learn about the business of music, the more terrifying it is. I particularly came across this with Arista Records during the time both Whitney Houston and Anderson Bruford Wakeman Howe were signed to it in the late '80s. I was near the top of things and somebody made a fantastic thesis about how shareholders and stock market analysts are the chief captains of the music industry. Once your record company is publicly quoted on the stock exchange, it has to deliver the goods at a furious speed. There's not a lot of time for development or storytelling of any nature. The whole thing turns into a horse race with millions of dollars. You back 10 horses and nine of them will lose, but the one that wins will pay enough for the nine losses. Anderson Bruford Wakeman Howe lost badly, but it didn't matter, because Whitney Houston was huge. And when you're talking at that level, the idea of any cultural dream as a nation, society or collective with stories that need to be passed down to children goes out the window. It's brutal, isn't it?
Your mind dwells on this last thing at night because it's so bizarre. I think any musician has to agree with what Joe said and I have no solution to that. But obviously, people like me feel comfortable in the company of people like Joe. It's a huge question: What do you want your musicians to do in society? Right now, we're paid to sell Levi's jeans. It's just advertising. Well, I'm afraid some of us feel we can do more than that. Obviously Joe thinks we should be telling stories, not advertising. And there's a lot of truth in the idea that musicians are just advertising agents. It's a drag.
Since Earthworks' original line-up dissolved, the group has taken a shifting line-up approach that spotlights emerging talent from London's jazz scene.
Earthworks changed because a couple of guys became pretty famous. Django Bates' career is really flourishing. He's commissioned to write for symphonies and stuff. He's in great shape and doing very well as I intuitively thought he would. But he's no longer the kind of guy you can call for a week's worth of gigs in Germany. You need to book him out way in advance and it doesn't work that way. So Django quite reasonably moved on, as did Iain Ballamy, and the group has been reconfigured with yet more of the people from where they came from—the fantastic, young London scene which is in really good shape. I suppose Earthworks is sort of turning into the Art Blakey Jazz Messengers of the London scene with this grand, old grandfather—me—playing the drums. [laughs] What listeners get to hear is me, which is okay, but you also get the guarantee that you'll have the best young guys in town in the band. I like that a lot and Earthworks is getting to be seen in that way in London. For young musicians, it's "We'll play in Earthworks for awhile because it has the reach to get to Japan and America and it has global record releases." Neither is always the case for British musicians.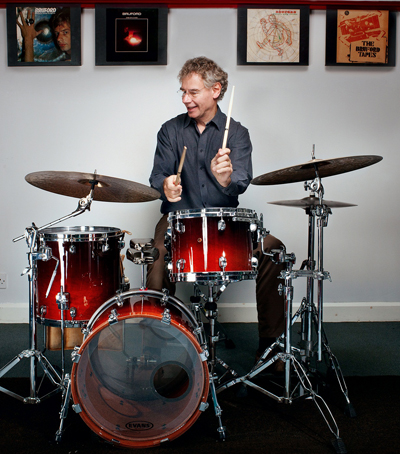 Describe the criteria for being a member of Earthworks.
First of all, you've got to be punctual. That's really important. Also, you shouldn't want too much money. [laughs] You should be easy to reach and hopefully be close to me because I find rehearsing with a transatlantic group that has some American guys and some British guys gives me a bit of a headache, logistically speaking. So I like to keep the thing British if I can. I also like that because we share a sense of humor and a vocabulary, both literally and musically, that I think makes us sound different from an American group. That goes particularly for our newest composer, Tim Garland. He writes tunes that don't sound to me like an American is writing them. It's something in the water, in the air and in the humor—particularly the humor. I think the British are probably too self-deprecating and that tends to come out in the music. Django Bates certainly has a British way of composing—a slightly humorous, quirky view on life that comes out in his compositions.
Earthworks' compositional duties are now shouldered by you and Garland in equal measure. Tell me about that transition.
I had a good time as a composer when Earthworks started up again in 1997 and I felt the area it could work in was a grey area that was acoustic but came at you with a velocity more associated with fusion. A couple of Joshua Redman's earlier records turned me onto that idea. Those records were burning affairs with some odd meter stuff and I thought that was a natural home for me. At that point, I fairly quickly wrote much of the next two albums. When I say quickly, I mean by my speed, which is fairly slow compared to Tim's speed. I felt I knew and had a good handle on what the group should do up to that point, but after that, I confess, I think the band needed a broader palette and some further input. I was somewhat tired of hearing my own stuff. Part of the reason Tim's in the band is to bring his tunes in. That's one of the pleasures of having him in it. It's great to share the burden. I think I'd created a kind of style for the group and once that's reasonably well-established and you understand you're roughly going to play within that style, then Tim knows what to write for.
I find composing difficult. I don't think Tim does. I'm not a trained musician. People like Tim have degrees in composition. It doesn't prove anything necessarily, but it can be helpful. I think Tim composes fairly quickly before breakfast. He has that skill at his fingertips. For me, it's too laborious a process of choices. Since the arrival of computers and consequently, the administrative burden that brings, I have no time for composing. Essentially, the computer in my house has turned me into an administrator and I'm doing less and less music. A computer gives you the idea that you can do it all yourself. You used to have people who you spent 20 percent of your earnings on to do the administration for you. Indeed, you can now do it all yourself, but at a cost because of the time it takes. These days, it's not even possible to find a 20 percent-style manager to do it, so I tend to end up doing all that work. That means I'm now an expert travel agent and an expert at writing emails answering questions about the sizes of drumsticks. On the whole, I do less and less music in order to keep the band afloat. So when Tim arrived, he was heaven sent. Now, I can offload some of the compositional responsibilities, survive and not worry about drowning.
Your current focus seems to be more on economy of expression, both in terms of playing and composition.
Yes, I like to say things in as few words as possible and as effectively as possible. I think it's very much like speech. I think I play a little like how I speak, which might not be terribly erudite, but I try to give some thought to what I say and I think that's an attractive thing in a musician. I hope the band also adopts some of that and it catches like a rash.
What are some of your key bandleading philosophies?
In a way, the less leadership the better. They often say the best bandleaders are those who just make five phone calls and get five interesting people in a room and then step out of the way. Miles Davis did that. Robert Fripp did that with King Crimson. Robert would only ever come in with an idea and a tune-and-a-half to define the ballpark a bit, and that would be about it. That was the same with Miles. He'd put some guys in a room, stand back and let them fight it out or find their own common ground and that's quite a good approach.
It's all about people management and creating an environment in which the musicians can function well and get on well with each other. Everybody has strengths, weaknesses and limitations and the best musicians by far are the ones who can live with their limitations and strengths. Some people get very nervous about the fact that they're obviously not very good at something and that's the wrong approach. As a bandleader, you need to be able to say to somebody "That was really crap, wasn't it?" and have the musician say "Yeah, it probably was." If I have a fault as a bandleader, it's that the band sounds a little too much like me.
Ralph Towner said "I don't think Bill's a real jazz player, but that can work to his advantage." What do you make of that perspective?
I think he's probably right. We're all the sum of our components. I don't think I'm a real rock player either, hence why I named an Earthworks album A Part and Yet Apart. And hence working with Ralph who's neither a classical, jazz or rock player. He's in between the cracks. I think all the colorful guys are. I'm not sure what a real jazz player is. I can think of jazz players who do everything really well in a very proficient manner with the highest level of technical execution, but perhaps they're a little colorless. I find Ralph very colorful as a musician. I'd like to be as colorful as that. I'm not a full-time jazz musician, but there's so much of jazz in Earthworks that we'd have to describe it as a jazz group.
The thing that intrigues me is not the division between rock and jazz, but the difference between live performance in real time versus computer-based music. That's where my interest is. I have an interest in a place where the lights go down at 8 p.m. and there are 300 people in the room that are expecting something, and we march on and try to do something in real time. It's one pass. What you see is what you get. It won't be the same the following night and it wasn't the same the previous night. That's one type of music demanding a specific mentality of the musician. Now, there's another type, which the vast majority do, which usually involves a computer or a combination of a computer and sound modules that's probably done in a studio somewhere. Individual musicians may be added to the mix, but in general, it's something manicured over a period of time and it's sort of virtual time. I think those are the big differences and I'm no good with the latter. I haven't heard much music that I like that's tailor-made that way. I'm a huge fan of the former, be it rock or jazz. King Crimson was like a jazz group. Thrak, the last proper album I did with King Crimson in 1995, was done as a jazz group. You sat all the musicians in the studio and everyone played at once. Extraordinary, really.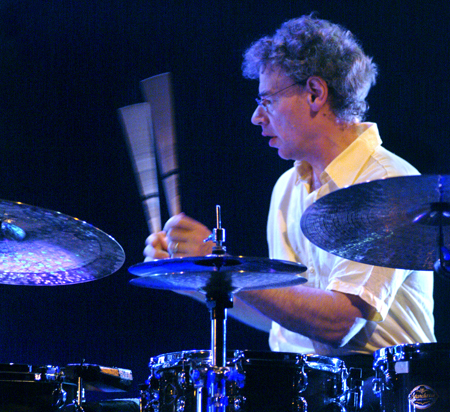 Can it be frustrating to play jazz for audiences who know you primarily for your work in the rock realm?
There's certainly some truth in that. Fans enter the room under one pretext, namely that there's some sort of rock god performing who once had lunch with Phil Collins and then the band is required to play jazz for them—a genre some of those fans may be unfamiliar with. Yeah, it can be very difficult. The other option is nobody plays anything. You can always stay at home. That's very easy. [laughs] To a degree, the problem still exists with the band, but now, we have people who dismiss us as a straightahead group instead. That's probably a good sign in that I think people are realizing that Earthworks is jazz and it isn't about being the fastest drummer in the West.
I like connecting with an audience, certainly, but mostly on a live basis and preferably with strangers. I think it's lovely when the checkout girl at the supermarket comes to your show who has never heard any jazz before and says "If that's jazz, then I think it's great" or "I didn't know I liked jazz until now." Fans often have too much grinding of axes as they get older. They get grumpy about what the artist has or has not done in terms of living up to their expectations. Once you establish yourself—particularly in North America—as being something or somebody, it can be difficult to move on. For instance, it would be very hard for a rock star like Mick Jagger to turn into John Coltrane, even if he wanted to. He will always be Mick Jagger and I've had a lot of that. But I think there is a large number of people who don't know much about us that come in off the street to get an evening of what I think is top-flight music. They're not interested in the fact that the drummer once had lunch with Phil Collins.
A highly-organized global subculture of tapers has emerged that is documenting practically every concert performed by famous musicians on the planet. Is that a positive or negative thing in your opinion?
It's entirely negative. It's awful. This started in King Crimson and it became really obnoxious that every show was being recorded. That became very tedious. I can't stand the idea of recorders going on all the time. It boxes you in and suddenly you feel you ought to be doing something important or earth-shaking. There's too much stuff anyway. The entire place has become constipated. I think musicians should only be able to release one album every three years and have a ceiling on their income of one million pounds a year. If I was in charge, I might say that. I think we need to redistribute some of the royalties from Phil Collins and Mariah Carey into other forms of music. You will have to subsidize creative music if you don't want it to die. Also, all musicians should be limited in terms of the number of albums they're allowed to make in a career. Maybe you get 20 albums from the day you're born to the day you die and you better think very carefully about what you're going to put on them. That might limit things a bit.
Many jazz musicians you admire, like Elvin Jones and Max Roach, were still drumming up a storm well into their seventies. Do you aspire to that sort of longevity?
No, I don't think so. I simply won't make that. My longevity is the result of my lucky break in the '70s, but those guys are national treasures. I was interested in how Elvin works and asked a promoter about it and discovered that it's not a way I can operate. I'm not that good. I can't attract that many people. I can't get enough money to make it a lifestyle that's tolerable or anything other than brutal. I find music-making exhausting. Personally, I don't find hotel rooms, baggage claim and email much fun at all. The bit that is fun is playing with Tim Garland when the band's all roaring away on stage. I've done 35 years now. I think you will find that I will probably do a very honorable 40 years and then be very happy to never play a drum again in my life. Artie Shaw, the famous clarinetist who was a hugely successful pop icon and bandleader, put his clarinet back in its case at the age of 44 and never touched it again. Cold turkey. I think how you get out of this should be as interesting as how you got into it. My plan is to be as creative as I have been to date for about the next five years or so, still enjoy music, reach retirement in good health, and then stop dead.
What will you do when you retire?
The feeling is after 35 years, I've done a lot and I know there won't be another 35 years, that's for sure. So I'll do all sorts of wonderful things. I'll teach a little. Teaching kids could be quite good fun. I'll collect all the royalties I've not been paid. I'll mow the lawn. I'll make friends. I'll have a life. It'll be fantastic.

Website:
Bill Bruford