Alain Caron
No Compromises
by Anil Prasad
Copyright © 2007 Anil Prasad.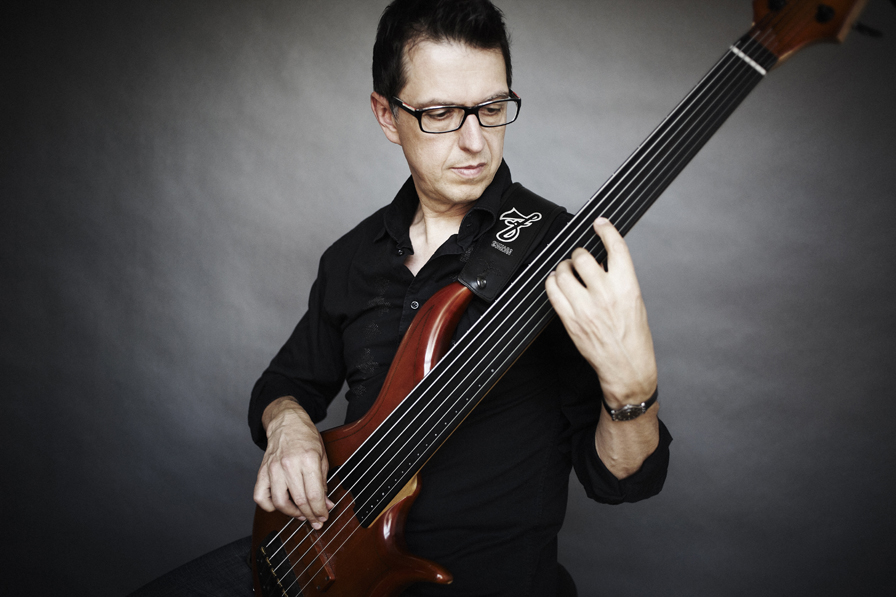 For the last 25 years, Canadian fusion bassist Alain Caron has been at the forefront of his genre, writing and performing expansive jazz-rock instrumentals without giving an inch to the smooth jazz juggernaut. His success proves staying true to one's instincts can reap rewards.
He sold 500,000 records as part of Uzeb, a powerhouse Montreal-based fusion band that existed from 1980 to 1992. During its latter days, the inventive act combined samples and sequencers with its muscular sound—something captured in vivid detail on The Last Concert, a new DVD chronicling the group's 1991 farewell gig. After Uzeb disbanded, Caron opted for a more straightforward bass, guitar, keyboards, and drums approach. But recent years have found him reincorporating urban and electronica influences. His current direction is chronicled on his new CD and DVD Live at the Cabaret de Montreal, which showcases the six-string electric bass virtuoso situating his supple fretless and monster slap techniques in a variety of modern fusion contexts.
What motivated you to incorporate drum loops and other electronica elements into your solo work?
Although I went back to basics during the first part of my solo career, in the back of my mind, I was always thinking about how I could effectively reintegrate electronics. One way was to use the Roland V-Bass system to incorporate synth-like melodies and textures into my sound. Ableton Live, a loop-based sequencing and composing program, also helped me revisit that direction. It's useful because it allows you to organize your compositions into musical "scenes" that seamlessly flow from one section to another while meshing live and programmed elements. In the studio, you can use it to cue musicians to play one section of a written score and then leave the next section open for someone to creatively solo within the loop-oriented context and time of the piece. Then you're back to the next written section and so on. I've also enjoyed taking this approach because the precision of the loops made me reinforce and improve my groove.
Describe your creative process.
I usually just sit in my studio in silence and focus. I might think about what I'm looking for in terms of tempo and harmony. If it's going to be a ballad, I may want things to be very moody and melodic, so I'll start with a major chord. Next, I pile up ideas in my head and then all of a sudden, I start to hear lines. I do that until I hear almost the whole tune. Then I go and formally explore it on the piano or bass and record it. I can also start writing by emphasizing either melody, harmony, or rhythm. If I'm coming at it from harmony, I'll begin by focusing on different chords and inversions. I might also start at the opposite end by coming up with a melody and then harmonizing it to form the core of a piece. If nothing is happening for a long time, I'll work on things from a purely technical perspective. For instance, I'll superimpose arpeggios to create different harmonies and write melodies based on those. That approach often leads to a creative idea. At that point, I shift back to a more compositional mindset.
Have you ever been tempted by the lure of smooth jazz?
No. I have nothing against the genre, but it's really just about pop song instrumentals with specific formulas and limitations. I can't work that way. I have to go with my instincts. If something is melodic, it's melodic. If it's crazy, it's crazy. I love working with deep harmonies and sophisticated chords. So, that's what I do. I'm not willing to record anything I'm not totally proud of.

Gear:
Basses: Fretless F Bass six-string Alain Caron model, Fretted F Bass six-string
Effects: Two Roland V-Bass units (one for each bass)
Rig: Roland V-Bass XLR stereo outputs to the P.A., Roland V-Bass line 1/4-inch stereo output to the amps, two Roland D-Bass 210 amps, and two Roland D-Bass 115X amps
"I like the Roland V-Bass because it features new technology that emulates a synthesizer with perfect tracking, unlike older MIDI-based systems with frustrating lag times. I really enjoy the colors, textures, and big, fat Moog-like bass riffs it lets me integrate into my sound."