California Guitar Trio
Multiverse Mastery
by Anil Prasad
Copyright © 2013 Anil Prasad.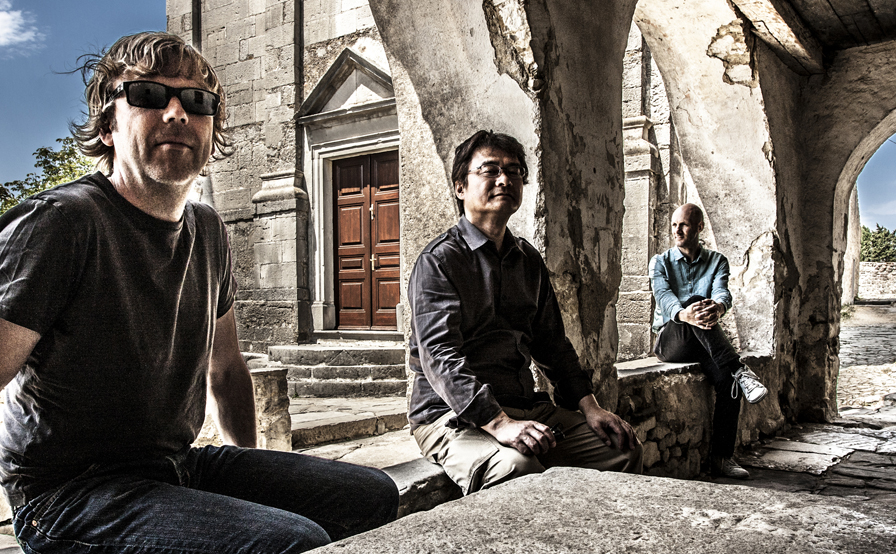 The California Guitar Trio's unrelenting passion for following the muse has served it well. The acoustic group's fearless, multi-genre explorations have driven 14 albums and nearly 1,500 gigs across its 21-year career. It has also proven that a zero-compromise musical approach can yield an ever-expanding audience. Comprised of Bert Lams, Hideyo Moriya, and Paul Richards, the group crisscrosses the universes of rock, classical, jazz, and world music in its performances and recordings.
Its most recent album, Masterworks, focuses exclusively on the classical side of the house. It features works by composers including Bach, Beethoven, Arvo Pärt, Schubert, and Vivaldi. Accompanying the trio are Tony Levin on upright bass and cello, and Fareed Haque on classical guitar.
The trio met while participating in Robert Fripp's Guitar Craft courses in 1987. They first toured together as part of Fripp's League of Crafty Guitarists, an orchestra of acoustic players that served as exponents of the King Crimson founder's teachings, compositions, and performance approach. In 1991, they founded the California Guitar Trio, which first made a name for itself opening for the likes of King Crimson, John McLaughlin, and David Sylvian. They have fans in high places too. The crew of the Space Shuttle Endeavour used their pieces as wake-up music.
Recent years have found the group working with the Montreal Guitar Trio. The acts perform independently and in a dazzling six-guitar format during gigs. They play arrangements of each other's material, as well as innovative takes on rock standards. The collaboration has also yielded the concert recording +Live.
In addition, Lams has been busy on the solo front with Unnamed Lands, a duo project with Chapman Stick player Tom Griesgraber. It's an expansive, instrumental "progressive Americana" effort that reflects the trials and tribulations of a wagon train journey circa 1840.
Describe the impetus to create an all-classical album.
Richards: We wanted to do one for a long time. We recorded a version of Vivaldi's "Four Seasons" with Fareed Haque, which inspired us to push the project into motion. The album is a collection of pieces recorded over the years that includes some long-time favorites like Bach's "Toccata and Fugue in D minor." We wanted the album to be representative of the classical repertoire we've been performing across our history. Bert is the musician with the real classical background. He graduated from the Royal Conservatory of Music in Brussels and has received awards for solo classical guitar, so we looked to him for direction. Hideyo and I rose to the occasion to approach the complexity and technical difficulty of the pieces. The two of us bring more of a rock background and energy to things. Overall, we're playing the pieces in an untraditional way and bringing some new life to them.
What's your vision for what the trio can uniquely bring to the classical universe?
Lams: For me, it's a matter of what I feel inside and what resonates. I don't think we really fit into the classical guitar world at all. We are not classical musicians, even though one of us is classically trained. In a way, that's an advantage, because we all come from different places. Paul comes from the USA with a rock background and Hideyo comes from Japan through a very different culture. Rock music was important to all of us. We approach things from different angles, including the classical pieces we work with. The classical pieces help us mix things up in our repertoire. Also, they raise our playing to a different level. I always felt if we could play this music that people would take us more seriously, and I think that's what has happened.
What made you want to tackle something as complex as "Toccata and Fugue in D minor?"
Lams: It goes back to 1994 when our friend, the composer Stan Funicelli, approached us with the idea of doing the piece. We weren't sure at first if this organ piece would work on guitar. Initially, we just learned the toccata and it sounded so different on our steel-string guitars. It almost had a flamenco sound. We performed it for some audiences and got some good feedback, so we went ahead and tackled the whole thing. It's a three-part fugue, so it was fairly straightforward to take those three lines and arrange the voicings and registers to work on guitar. The organ has a lot more range, so we had to move things into a higher range for it to work.
When we first went on tour with King Crimson as their opening act in 1995, we were really excited to play such really big, nice theaters. But their fans had been waiting a long time to see the group. So, we'd walk onstage with acoustic guitars and a lot of people were disappointed because nobody knew who we were then. I remember a guy in Buffalo yelling "Play one song and get off!" Once we got to "Toccata and Fugue in D minor," everything changed. We received a standing ovation and knew we had made a significant impact and that everything was going to be okay. People really responded to hearing that piece played on guitar in a way they had never heard before.
Your last three studio releases, Masterworks, Andromeda and Echoes are wildly diverse, exploring classical, original material and rock covers. What do they collectively reveal about the group's multiverse view?
Richards: Andromeda was our first all-original album, and what we're going for now is a focus on certain elements of our playing. Our previous albums have been combinations of classical music, original music, and arrangements of other material. Now, we've made a decision to focus on specific areas of what we do best for projects. So, Andromeda showcases what we can do with our own music, using both acoustic guitars and electronic effects. Masterworks focuses on using just a natural mic sound with no effects. Those are the extremes we work within. We can do everything from heavy distortion, where it sounds like we're playing electric guitar, to really light, delicate classical playing.
Lams: They are totally different albums, but they're all about the music we love to play. It's a nice challenge to see how far we can go in a certain direction, rather than taking a compilation approach. I think we went the furthest with Andromeda, because we included a lot of improvisation. Maybe it's something we'll explore even more on future albums. We're now talking about what we'll do next. We've already done the classical album. Will the next one be experimental? Electric music? We're figuring that out.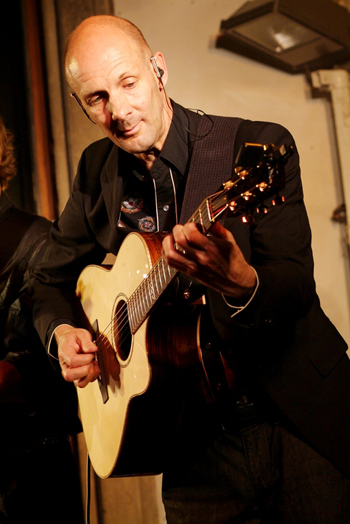 Contrast the trio's process of working on arrangements of other people's music to writing original music.
Lams: I could tell you a different story for every piece we've done. All three of us are very different characters. We come from three different cultures. Hideyo tends to compose more, so when he brings in a piece, he will often have all the scores written out and it's a case of "Okay, just play your part." [laughs] That's also when the fun begins, because we do change things as we work on the pieces. So, it's more of a threading process. When I come up with something or when we initially start on something as a trio, we tend to start with a groove. One of us will have an idea and then we embroider on top of it. Sometimes a piece can happen within a few hours and sometimes it can take months before it gets into good shape. There is always positive energy when we sit in the same room and write together, but it's not always an easy process. People often think "Oh, you get together and the music just comes along." That's not always the case. We can recognize if something is happening or if there's magic. There's no discussion, in fact not many words are spoken as we work on the music.
In my experience, it's harder to write our own original songs. But once you get started and the piece is going, great stuff always comes along. A big factor in successful writing and arrangements of original pieces is when we play them in front of an audience. Once we've finely rehearsed something and are happy with it, we play it live. Then the extra element of audience energy comes in, which informs us about the success of the arrangement or composition.
Richards: The original compositions go through more process. One of us might come up with a basic theme, melody, chords, or riff. We might start improvising on that riff together and expand on the original idea and develop it into a piece. I think the way we work goes back to our studies with Robert Fripp. One of the main things he instilled in us was finding the "rightness" of the music, whatever that might be, for both the original pieces and the arrangements. There have been a lot of arrangements we've tried that just didn't sound right. It's a really tricky thing to define "rightness." Everyone has their own opinion on what that might be. With arrangements of other people's music, it comes down to whether or not we can create something using three guitars that brings the music to life in a different way from the original, yet still has something of value to offer.
We once did a version of John Coltrane's "Giant Steps" in which Hideyo learned Coltrane's solo note for note. I remember performing it and it was cool that we pulled it off, but I never felt it reached the level of quality or enjoyment for us as a group and the audience. Nobody is going to play it better than Coltrane did. We dropped the tune afterwards. We've also taken pieces like Pink Floyd's "Echoes" and tried something totally different with it. I remember when we started performing that live, we immediately had a sense that we were onto something. The audience had a sense of that "rightness" as well when it heard it. The arrangement unfolded in front of us as we bounced ideas off one another. Our version is totally different from the original but still captures the essence of what the composition was about.
Is there any territory that doesn't work for the group?
Richards: We've never tried to do traditional Flamenco music. I think the guys who can play Flamenco well were almost born with that ability or grew up in an environment immersed in it. There have been pieces with a little bit of a Flamenco sound to them, but we've never said "This is a Flamenco-style piece." I feel a little bit intimidated by those guys. Brazilian music is another world of music in which people from that area play it so much better than anyone else.
Take me through your signal chains.
Richards: I'm using an Ervin Somogyi custom dreadnaught with a L.R. Baggs Anthem pickup. The Somogyi has a much deeper tone and smoother high end than any guitar I've played, largely due to it using the Novax fanned fretboard system, as well as having an asymmetrical body. I also use a Digitech iPB-10 programmable pedalboard and Line 6 DL4 delay modeler for effects. Hideyo uses his Breedlove signature Hideyo Moriya Custom CM guitar with an RMC pickup, and a Roland VG-99 V-Guitar system for effects.
Lams: I have a custom Jayson Bowerman guitar, which is a shallow, dreadnaught model, with 12 frets to the body, a super-deep cutaway, and added bevel. I also use a custom Huss and Dalton CM 12, which is also a shallow 12-fret-to-the-body guitar. Having 12 frets makes the instruments similar to a classical guitar in that they're very easy on the left hand, meaning you don't have to stretch too far to the next fret. Like Paul, I use L.R. Baggs Anthem pickups on both instruments. For effects, I use a Digitech IPb-10 programmable pedalboard.
What appeals to you about the L.R. Baggs Anthem pickup?
Richards: Amplifying an acoustic guitar is always complex, because you're never really going to be able to recreate what it sounds like in a room sitting in front of the instrument. So, you always have to compromise. I've given up on regular internal mics, because they don't reflect what you're supposed to hear from a guitar. You don't stick your head inside the guitar when you listen to it. The sound you're supposed to hear is what's out front. What's cool about the Anthem is that it's a two-mic system that goes directly underneath the bridge. It has the most natural sound I've ever heard with a lot of low end, and the high end isn't brittle like most other pickups.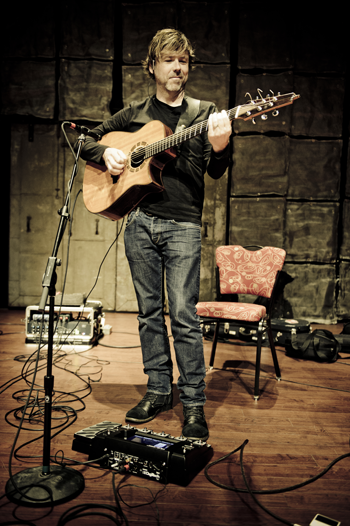 The group has used Robert Fripp's new standard tuning (C, G, D, A, E, G) exclusively since it formed in 1991. Does it still reveal new possibilities to you?
Richards: Definitely. I was a pretty decent rock and jazz guitarist early on. I had developed a certain playing style, but I felt kind of stuck. When I first used new standard tuning, it was a way to play things in a completely new and different way. It allowed me to let go of everything I had done previously. It presents a challenge, because the lowest five strings are all in fifths, with the G on top. The main advantage of the tuning is being able to have such wide interval leaps available within a single position. I also really like that the chord voicings are spread out, which sound very different than the tighter clusters of standard tuning. After 20 years, I'm still discovering new and different things with it.
Lams: I think it has more to do with the nature of us musicians than the tuning itself. We love to explore new sounds and possibilities. The tuning is the common thing that brought the California Guitar Trio together. The sound is really different. I feel the tuning is much more orchestral and works really well for arrangements of pieces we otherwise wouldn't be able to do like Beethoven's "Fifth Symphony." We couldn't do it in standard tuning because there are so many bass parts. With new standard tuning, we can work more like an orchestra, playing pieces that might be played on piano. It's also very transparent. It might take weeks, months or years to learn one Bach piece in standard tuning. In new standard tuning, I'm able to transpose and find alternatives for fingerings much faster and easier.
What attracted you to working with the Montreal Guitar Trio?
Richards: I think our work with the Montreal Guitar Trio takes the whole notion of what can be done with acoustic guitars to a whole other dimension. They're doing completely different things than we are. Our shows together cover an incredible amount of territory. I would like to be in the audiences so I can see what the show is like for them. [laughs] We have lots of guitar players that come up to us after the show who comment on how much fun they have at the shows. It's also a highly accessible show. We all feel like guitar missionaries, playing guitar music for audiences that don't necessarily know anything about guitar music. In a way, we're teaching them about guitar and its many possibilities.
Lams: The combination of their three nylon-string guitars in standard tuning and our three steel-string guitars in new standard tuning creates a sound and texture I haven't heard to this extent before. It's an orchestral sound and we're just starting to see what can be done with it. After we met for the first time, we sent each other pieces and worked out the arrangements. We doubled some parts and octaves, and composed some new parts here and there. When we got together next, it just worked. Anything we needed to change happened very fast. There were no drawn-out rehearsals or discussions. We thought "Wow, this is great. Let's go. Next." Initially, I thought it wasn't going to work because the combination has never been done before, but it worked out great. It came together and mutated into something very cool. There's definitely a little bit of magic happening here.
Bert, give me some insight into the making of Unnamed Lands, your new duo album with Tom Griesgraber.
Lams: We worked on it over a period of four years. We did some small house concerts together, during which I would play Bach pieces from my solo album Nascent and Tom would play some of his solo work. Then we'd join forces and perform pieces as a duo. Those pieces kept multiplying. Once we wrote a couple of original pieces, we said "Let's make this into an album." It took so long to put together because we each had to work within the right time gaps between our other touring schedules.
We did three or four sessions every day over a period of two weeks. Then we went back and listened to the material and wrote out what we liked on the computer. Then we learned to play it well and sat back down to record it. We wrote the album mostly in the studio. The pieces initially had no names and there was no concept. We just knew we wanted to write some original music.
The guy who mixed the album, Howard Gibbons, gave Tom a book about the early American pioneers. It was a technical book about how to hunt deer, what foodstuffs to bring, and everything else you need to bring on the road. That inspired us and gave us a theme for the album about the early pioneers heading West. The vibe of the music corresponded to that. It had a kind of Americana flavor about it, though we also go a little bit away from that. Unnamed Lands emerged as a title and the rest of story did as well. Some of the pieces had the feel of something that happened as the pioneers were traveling. So, we made up stories during the mixing process about the kinds of adventures they were having, like there was a storm coming in and people were getting lost.
The group emerged from esoteric beginnings in Guitar Craft and evolved into something highly accessible. Talk about that transition and how you developed your own distinct audience.
Richards: When we started with Robert Fripp, the focus was all about music, which appealed to me. Robert has such an intense way of diving into music. It inspired us to go as deep into the music as possible. At mealtimes, we'd talk about rhythm and things we noticed while practicing. It was all about improving our playing. There was a spiritual element to Guitar Craft too. Each morning, we would get up and do a half-hour of what was called "morning sitting." It was a meditation in which we would quietly sit together and each go through each part of our body, bringing attention to each muscle and relaxing them. I had never previously experienced that. It made a lot of sense to me that when you're in a relaxed state, you can play the guitar better. Robert had other specific exercises both on and off the guitar that helped us focus our attention for longer periods while playing music.
During our early days, the music we played was largely composed by Robert. It can be very complex and some of it is very experimental. When the California Guitar Trio first performed, we included a lot of that music Robert wrote in our set. During our early Los Angeles gigs, there were quite a few Robert fans in the audience. We gained notoriety because we were his students.
We eventually began developing our own sound. I remember early on Hideyo played "Pipeline" at a rehearsal after we had worked on all of this really complex multi-time signature stuff. It was a kind of release to joke around with him on that piece and it became one of the things we included in our repertoire. It was a break from the intensity of the other music we performed. The combination of those two things—the very complex and intense songs, together with the more accessible pieces—became the fundamental concept for the trio.
With each album and performance, we've developed that more and more. Today, we perform for a lot of people who don't know who Robert is. It was important for us to find a way we could play music we love that was exciting and important, but could also be interesting to people who weren't necessarily King Crimson or guitar fans. That's been really key. Now, we can play in a performing arts center, fill it up, and play for people from all different types of backgrounds. It's a really great thing. We can play experimental and classical music for people that haven't necessarily listened to that kind of stuff before. People can leave the concert feeling like perhaps they learned something and heard music they haven't been exposed to previously. We think this approach will help us carry through the rest of our careers together.
Lams: When we started as a trio, we were still students of Robert Fripp. Our initial repertoire was 99-percent Guitar Craft pieces. So, we played the pieces we did with the League of Crafty Guitarists that we learned from Robert. We did them very well and one by one, we spontaneously added new compositions. One of the first pieces was "Blockhead" which Paul wrote. I started adding classical pieces, especially music by Bach, which created new avenues. Hideyo brought in "Pipeline" by The Ventures as Paul mentioned. After our serious pieces, that made the audience start laughing. So, we now have a great sense of humor happening at our shows too.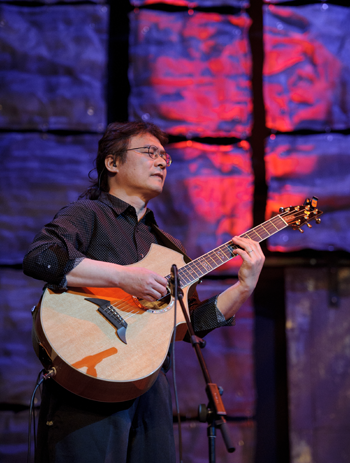 At what point did you realize the trio could be a long-term career for all of you?
Richards: Robert was always really supportive of us from the beginning. It first formed in 1991. We were on tour with Robert and the League of Crafty Guitarists. We did a West Coast tour. One day, Robert asked Bert "Who do you really want to play with?" Bert wrote out this long list that included most of the players who were active at that time in the League. Robert said "No, I want you to narrow it down to just a few players." I think Robert knew that he was going to discontinue touring with the League and work more on his King Crimson stuff back in 1990. So, Bert came up with this list that was me, Hideyo and a guy named Steve Jolemore from the East Coast. The four of us had a meeting with Robert and he encouraged us to start working together on a project of our own. Bert invited us to come to Los Angeles, where he recently moved. He started calling our group The California Project. That's kind of where we got the name California Guitar Trio from.
As it turned out, Steve Jolemore couldn't make it because he had Carpal Tunnel Syndrome and had to have surgeries. So, Hideyo and I went to Bert's house in January of 1991 and that's when we formed the trio. In the beginning, it was really, really hard. In LA, there are a million different bands trying to make it. They have a whole "pay to play" system there too, so we weren't making any money at all. We would work together for three or four months at a time in LA and then take a break. I would come back to Utah where I live and work at a guitar store called Guitar City where I was a salesman. So, I earned a bit of money that way. Then I would go back to LA and do another three or four months with the trio. We'd play as many gigs a possible, with a lot of them paying no money at all. We'd do any gig we could get. We played for the Exceptional Children's Foundation for autistic kids numerous times. We played for the homeless. We played at coffee shops. Any place you can think of, we played there.
Robert continued to be very encouraging. When he first saw us play, he was going wild, jumping up and down, screaming, yelling and clapping for us. He told us he thought we had something very special. All the support he gave us was a big help. In 1992, Robert invited us to do a few concerts with his short-lived project The Robert Fripp String Quintet. Then in 1994 and 1995, he asked us to open for King Crimson, which was a huge turning point for us during which we gained a lot of fans. It was during the first tour with King Crimson that I felt this could really turn into something that might last a long time.
It wasn't until around 1998 that we actually got a booking agent that started to book us gigs and tours so we could actually make some money. It took eight years of constant touring and traveling to get us to that point. Even when we traveled with King Crimson, part of the deal with us was that we had to pay our way. We didn't get paid anything to do the shows. We just had the opportunity to perform. We paid our way by selling CDs. We'd go out to the lobby after the shows and sell our CDs to pay for our hotel rooms, flights and rental cars.
By 1999, we started getting more consistent gigs that let us say "Okay, we're now at a point where we're starting to earn a living from this." It got to the point where we made enough money that I could quit my job at the guitar store. Prior to that, between the tours, I was still going back to the guitar shop. They were nice enough to keep having me back. [laughs] In 2001, we started working with SRO, the agent we use to this day. That was a huge leap for us and they have been consistently getting us gigs and keeping us busy and touring for more than 10 years.
Lams: We always went with the flow. I'm very proud that we've always gone with the opportunities presented to us. We haven't had many second thoughts about them. We've taken some huge risks. For instance, Robert Fripp in the early '90s convinced us to go to Japan. We had to pay our own way. He said "If you show up, you might be able to open up for me and David Sylvian during our tour." So, we bought our tickets to Japan, showed up, and the Japanese promoter said "No, we don't see a need for you." I remember Robert going into the room next door with the promoter and when they came out, we became the opening act. [laughs] It looked like we weren't going to get it, but we took the opportunity and it opened a new door for us.
Is the group a democratic entity?
Lams: I don't like that word. [laughs] Usually, when one of us says "no" then it's no. I guess that's democratic. When one of us feels strongly about something, we'll probably go in that direction. Decisions are pretty easy that way. There isn't just one person in charge of the musical or practical decisions we have to make, including how many months we'll spend on the road. It's all decided together. I remember sitting on a tour bus with Robert Fripp many years ago. We got an email about some concert we were asked to do and we all decided in about 10 seconds whether the answer would be yes or no. I remember Robert commenting "Usually, any band would have discussions for an hour or two about that. It shows that you're a good band because you're very fast with decisions."
Richards: It can be hard when things go wrong after a group decision, but we take things one day at a time and don't get too upset about them. We used to call Bert "St. Bert" because he was the most gentle and understanding character during the Guitar Craft courses. That influence carried over to the three of us. I'm the one who gets more emotional about things. Bert keeps things really calm and never freaks out too much. I think a lot of groups break up because they can't work together on a very basic level. That's been one of the main keys to our success and ability to stay together. We listen to each other. Our decision-making process has taken us down some interesting paths and they don't always work. I do a lot of the management stuff, working directly with our agent on things. But we all have input into musical directions, as well as ordinary things like tour routing. The important thing is we don't have any of the ego issues you so often hear about, in which someone in a group feels they are more important than the other or demands a higher royalty rate. We've never had any of those issues.
What's your perspective on trying to generate revenue from recordings in these complex times?
Richards: When we first started playing together, our CDs were released on Robert Fripp's label Discipline Global Mobile, which had major distribution. We sold quite a few CDs going through that traditional route. But now, people are buying fewer CDs, so that's become much more of a challenge. We're always having to find ways to adapt to the new situation. One of the ways that's been working well is that we often bring a recording setup with us on tour. We have a CD duplicator and right after the show, we sell recordings of it. The other thing we do is pursue creative ways of keeping people interested in buying things, rather than downloading them for free. We did the whole Kickstarter-style revenue model for the Andromeda album, which was very successful.
In terms of online revenue, iTunes remains our biggest source of income. Amazon MP3 is second and Amazon On Demand is third. The streaming services are down at the very bottom. The criticism of Spotify I've seen from artists has been spot on. The fact that it's backed by the major labels and the low percentages artists get is pretty scary. The one thing that is sort of working in that realm is Pandora. The revenue we make is hugely different, but we also receive a lot more plays there. During the 2012 holiday season, our Christmas album received millions of plays on Pandora, for which we received $6,000. That isn't a lot of money considering the number of plays, but it's better than nothing. Pandora is a bit better for artists because you can't call up specific tunes or albums. It's more akin to regular radio play.
One of the best pieces of advice we took was from Robert Fripp. When we were putting out our third album, we were offered a big record deal with Polygram. Philip Glass had a Polygram-based label called Point Music and they made a really nice offer. Robert agreed to look at the contract for us. When he got to the clause which stated the label keeps copyright in everything we do for a certain number of years, he wrote "Fuck you!" in the column next to it and told us to tear it up and send it back to them. It was pretty funny to get this contract from Robert Fripp with "Fuck you!" on it. Obviously, we didn't take that deal and Point Music went down quickly. We would have been stuck if we had signed with them and not had access to those albums. When we have put something out through a record label, we've been careful not to give away our copyrights. At this moment, we have ownership of our whole back catalog, which we have loaded ourselves into iTunes and TuneCore. We get a fair amount of income through those vehicles. I can also see for myself how many copies are being sold. It has been a great thing for us to keep our own copyright and I have no doubt we will keep going that way.
Lams: On the streaming front, I can only see advantages for us, because the people that stream our music are people who may start checking us out in other ways. They might become our friends on Facebook. They might sign up for our email list. They might come out to our live shows. I don't really see any disadvantages for us, because we're working without a manager. Paul is kind of officially the manager of the group. So, we have to make the most of every opportunity available to us.
I understand how horrible it can be to work on a project for years and then have someone just downloading it for nothing or hearing it with degraded sound quality. I'm indignant about it as well, but the only way to approach it is to find a positive way to work within the reality. Otherwise, you become bitter about it. You have to find opportunities within these new technologies. Today, fans can be in direct contact with you. It's not like the old days where things were lofty, in which you had no idea who was involved in the groups you like. The music and personalities were separate. Now, fans can be personally involved with the music they love. A lot of people have become fans of the group through these new means and I think it has been a great thing.