Darkroom
Dancing on a Knife's Edge
by Anil Prasad
Copyright © 2015 Anil Prasad.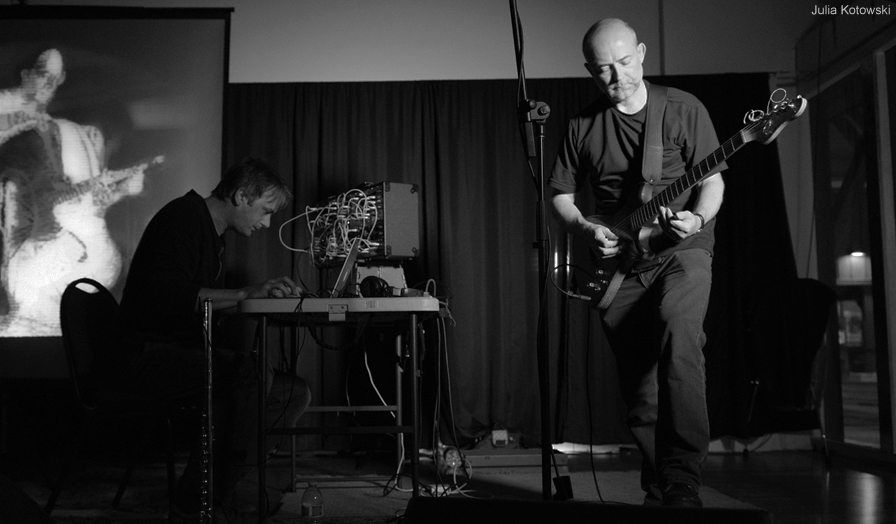 Darkroom is an act that lives in the moment. The intrepid British duo featuring Michael Bearpark on guitars and loops, and Andrew "Os" Ostler on synthesizers, processing and woodwinds, has established itself as one of the world's preeminent improvising outfits. They routinely perform as part of an ongoing residency at London's Tuesdays Post progressive ambient series. Darkroom has also played across Europe and scored several movies and television shows. Their work has been remixed by Steven Wilson under his Bass Communion alter-ego and Silver Apples.
During a Darkroom show, Bearpark and Os are entirely devoted to following their collective muse. Bearpark's output is digitally manipulated in real-time by Os, who also simultaneously performs on his instruments. Moods can shift seamlessly from ambient, ethereal and pulsing to noisy and crunchy at any given moment. It's daring and dynamic stuff.
Darkroom recently released The Rest is Noise, showcasing the extended spontaneous compositions Bearpark and Os are capable of during their Tuesdays Post concerts. It's a four-hour view into how Darkroom's performances evolved over the course of a year's worth of gigs.
In 2013, Darkroom released an album with a more compositional focus titled Gravity's Dirty Work. It crosses emotional territory from dark and brooding plains to open, sunny skies. While The Rest is Noise represents a broad-brush statement, Gravity's Dirty Work offers a highly-focused set of works designed to function as individual instrumental statements. The album also finds Darkroom augmented by percussionist Andrew Booker, bassist Simon H. Fell and trumpet player Simon Taylor.
In addition to his work in Darkroom, Bearpark is the guitarist for No-Man, Tim Bowness and Pedaltone. Os also runs Expert Sleepers, a renowned music software and hardware company focused on integrating computers and analog synthesizers.
Bearpark and Os sat down with Innerviews for an in-depth audio conversation prior to performing their headline set at the prestigious Y2K15 Loopfest in Santa Cruz, Calif. in October 2015. The interview session begins with Darkroom's "Saudade/Maid of Stone" and closes with "Karhupuisto/Beautiful Retreat." Listen to the interview in the player below.
We See The Same Stars Differently, an album based on the Y2K15 Loopfest set, is now available on Bandcamp.