Dave Mattacks
Opening Up
by Anil Prasad
Copyright © 2021 Anil Prasad.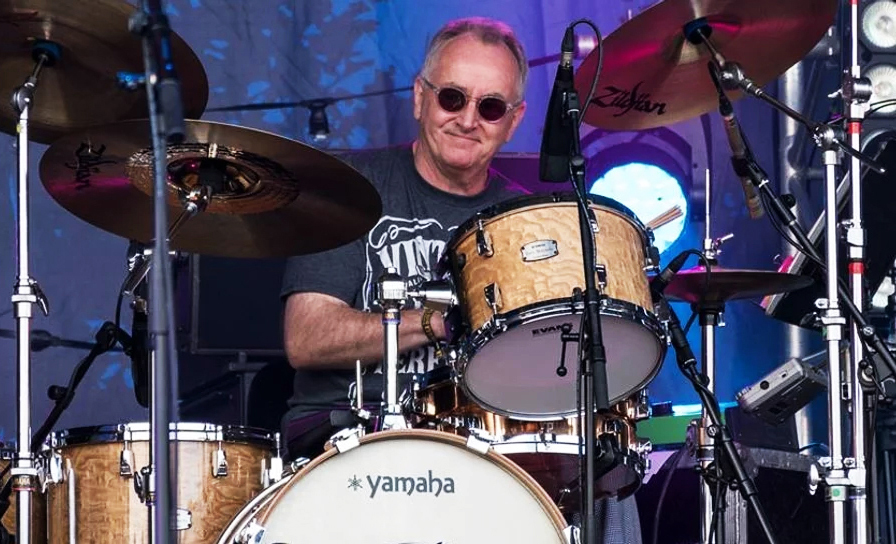 Photo: Dave Mattacks Collection
Dave Mattacks' drumming prowess is truly the stuff of legend. He's a master of understatement with an instantly-identifiable deft touch that's graced countless classic recordings. Just a few of the iconic artists and bands that have called on the British musician to contribute to their output include The Albion Band, Sandy Denny, Nick Drake, Brian Eno, Peter Green, Paul McCartney, Jethro Tull, Bill Nelson, Steeleye Span, Cat Stevens, and XTC.
He's particularly revered for his close association with the '60s and '70s British Isles folk and folk-rock scene. He served as Fairport Convention's drummer across multiple stints between 1969 and 1998, debuting as part of the seminal Liege and Lief line-up. He's also been part of multiple incarnations of the Richard Thompson Band and played on many of his most important releases.
Mattacks is a restless creative spirit. Despite his status of one of England's most renowned drummers, in 1998 he chose to make a break with his past and relocate to Marblehead, Massachusetts, near Boston. He wanted to engage with new musicians and directions, as well as broaden his horizons as a producer.
In particular, Mattacks had a desire to involve himself in the worlds of blues, blues-rock and jazz, exploring the soul of these pivotal forms that mean a great deal to him. Some of the musicians he's worked with in the region include guitarist Dan King, vocalists Debra Cowan and Cassandre McKinley, singer-songwriter and guitarist Jon Shain, multi-instrumentalist FJ Ventre, the expansive rock act Super Genius, and acoustic pop duo Famous Grouse.
KBMG, Mattacks' quartet with Dan King, steel guitarist David Brown, and bassist Wolf Ginandes, has three releases to its credit, including its latest, 2017's Live at Chianti. It's a raucous rock act infused with blues, country and folk influences. KBMG is one of several projects Mattacks has worked on with King, stemming from their long-term friendship.
"Getting things moving in the most efficient way while staying true to the art is the best way to describe how we work together," said King. "Dave really inspired me to be prepared, to have it be as good as I can get it on my own, before I send him anything. When we get in the room, I'm ready to change, and ready to change back again to get at the core of what we're looking for. I'm not getting hung up on ideas that don't produce good results and I know when to keep it and leave it alone when the idea does work. We have a fantastic time getting lots of keeper tracks with great energy and fun along the way. It really comes down to Dave's extensive knowledge and experience in both the studio and as a performer. They allow him to speak the language of the technical and artistic sides of music with such a gentle touch."
Another key project is Debra Cowan's recent release, a 2019 EP titled Greening the Dark. Mattacks plays on the recording, and also arranged and produced it. The EP has linkages to Mattacks' British isles folk past, including covers of material by Richard Thompson, Jon Tams and Lal Waterson. Cowan previously worked with Mattacks on her 2009 album Fond Desire Farewell.
"Working with Dave has been one of the highlights of my career," said Cowan. "I was aware of his status as a world-class drummer, but hiring him to produce two of my recordings was the best decision I ever made. He's able to take a song and create musical settings that enhance the lyric to tell a compelling story. I always say the song is the star and Dave's production and arrangements reflect that philosophy."
While Mattacks' feet are firmly planted on US soil today, he journeys back to the UK for festivals and special appearances with Fairport Convention and Richard Thompson. He also does a yearly British tour with the folk-rock supergroup Feast of Fiddles, featuring six revered fiddle players, including Garry Blakeley, Ian Cutler, Peter Knight, Tom Leary, Chris Leslie, and Brian McNeill.
Mattacks reflected on his storied cross-continental musical life with candor, humor and deep insight in this extended conversation with Innerviews.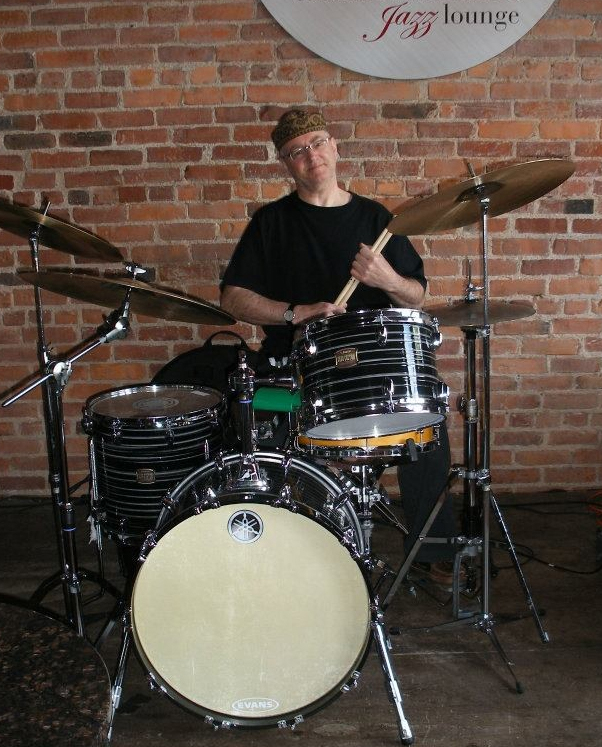 Photo: Dave Mattacks Collection
How has COVID-19 affected you?
I'm very fortunate. I have a fantastic other half who's very busy working from home and is very happy to do so, because that means she doesn't have to commute. We're fine. We have a small bubble of friends we've stayed in and gradually expanded as we got inoculated. We're still being cautious and wearing masks in public.
I have a friend close by who has a very high-level home studio set up. I've been working with him, and inside a few other recording studios in New England. I haven't been doing the remote recording thing, which is common as chips now. That's because when you get into drums, you're dealing with multitracks. I know how to record and send drum tracks recorded with two-to-four microphones, but that's not really acceptable. I've invested in high-quality mics, so if I go to a demo studio and what they have isn't very good, I'll say "Look, I've got these microphones" and bring them with me. That way, I sound better and the client is happier.
So. I've been doing a reasonable amount of that and a little bit of production. This is probably different from other people you've interviewed during lockdown. Remote recording isn't my favorite way to make music. The results can be good, but not as good as sitting in a room with other musicians. It is what it is.
Tell me about your decision to move from Britain to Marblehead, Massachusetts in 1998.
A combination of things. There's an English sensibility with some people—not everybody—that if you're perceived to do okay, you get reactions like "Well, things are alright for you. I see you're playing with blah, blah, blah now." I'm far too old and experienced to look through rose-tinted glasses about the US, but here, I don't experience that "Oh, it's alright for you" thing that started to wear me down.
I had a great conversation years ago with Graham Parker. I played on an album that Graham sang on, and we got into this topic. And he completely agreed. He told me about how he, after some success with his career in The Rumour, had gone back to England and gone down to the local. He experienced the variation on, "It's the rich rock star. Oh, well, you'll be buying the whole pub a round, yeah?" He said to them, "I'm exactly the same bloke. Sometimes the money is good. Sometimes it's not. It's not like I'm Bruce Springsteen." Like me, he also said, "I just got fucking sick of it."
I know there are other people who would disagree with me strongly about that, but that was my experience.
Another contributing factor is I always wanted to come over here, since my first trip in 1970. It's where the music I'm involved with started. I went through the whole very English thing with Fairport Convention. It was wrapped up in English traditional music. It increased my appreciation for what England had done and what it had, musically. But the "Let's leave Americans to play American music and we'll do something English ourselves" thing didn't appeal to me as a lifelong edict. I wanted to learn more about American music and get better playing it.
Since I moved here, my understanding and appreciation of blues has got better. I wouldn't dare call myself an accomplished blues drummer, but I know that I'm playing it a bit more authentically now than I did when I left England, because I've been around it more. I've worked with players who have gone into it deeply. I've also listened more. You can't really get that first-hand experience in England.
Another reason for moving is that I wanted to get better at being an accompanist. What happened in England before I left is that I couldn't get arrested. There was this "Oh, you're the folk drummer" thing. I'd also hear "Oh, you've played with blah, blah, blah. You wouldn't be interested in playing on my record or demo."
The last reason for moving was hooking up with some Boston-based people, including the wonderful guitarist Duke Levine, Richard Thompson's sound guy Tom Dube, and another friend, Barnes Newberry, who used to own a South Boston club and is now a DJ . There was also my friend, the guitarist, bassist and producer John Jennings, who helped me get the gig with Mary Chapin Carpenter. John has unfortunately passed away. All of those things led to more work here.
I also didn't want to live in New York, Nashville, Los Angeles, or Chicago. I always liked New England. Marblehead was an accident. Duke Levine introduced me to a film score composer named Mason Daring, who lives in Marblehead. He said "Next time you're over with Mary Chapin, I've got a film score I'd love for you to play on. Bring your wife and stay at our house." We spent a few days here, waking up to Marblehead views and the weather. I thought "This is a good place to start." And 21 years later, here I still am.
What makes the regional music scene so special for you?
I like the fact that, generally speaking, it isn't genre-centric. There are good blues, jazz and singer-songwriter scenes. These are my comfort zones and the areas I tend to move in. If I had been in my twenties, I'm sure I would have thought "Yeah, I've got to go to New York and Los Angeles to hustle. I'm going to be one of the cats." But I did all that in London. I just wanted to be somewhere that was a hub with a generally good music scene. We also have Berklee nearby with lots of great musicians. Culturally, I don't feel quite so much like a fish out of water as I did in England.
It's a great community here. I get a lot of work through fellow musicians, recording engineers and studio owners. I like to think nearly every time I go into a studio, I do a sufficiently good job and don't come across as a complete dickhead. [laughs] I hope they think "Hey, Dave's good. He gets songs. He plays in time. He's easy to get on with."
The Chianti Jazz Lounge in Beverly, Massachusetts is a key venue for you. Tell me why you enjoy performing there so frequently.
It's pretty cool. It's a club and restaurant operating at a pretty high standard. Until COVID-19 hit, I'd play there a few times a month. I'd do jazz, R&B, Americana, and blues gigs there. It's just 15 minutes away from me. The money is what it is, but that wasn't my concern, because I have income from studio work and a little bit from royalties, which help pay the mortgage.
The opportunity to play with good musicians and singers at Chianti was great. I think they're planning to be back later this year. The question of people's comfort level going out is still there. Will people want to be sitting next to other people again? Stupid people think this is a flick of a switch. The sensible folks realize that it's going to take a lot more time for things to go back to normal.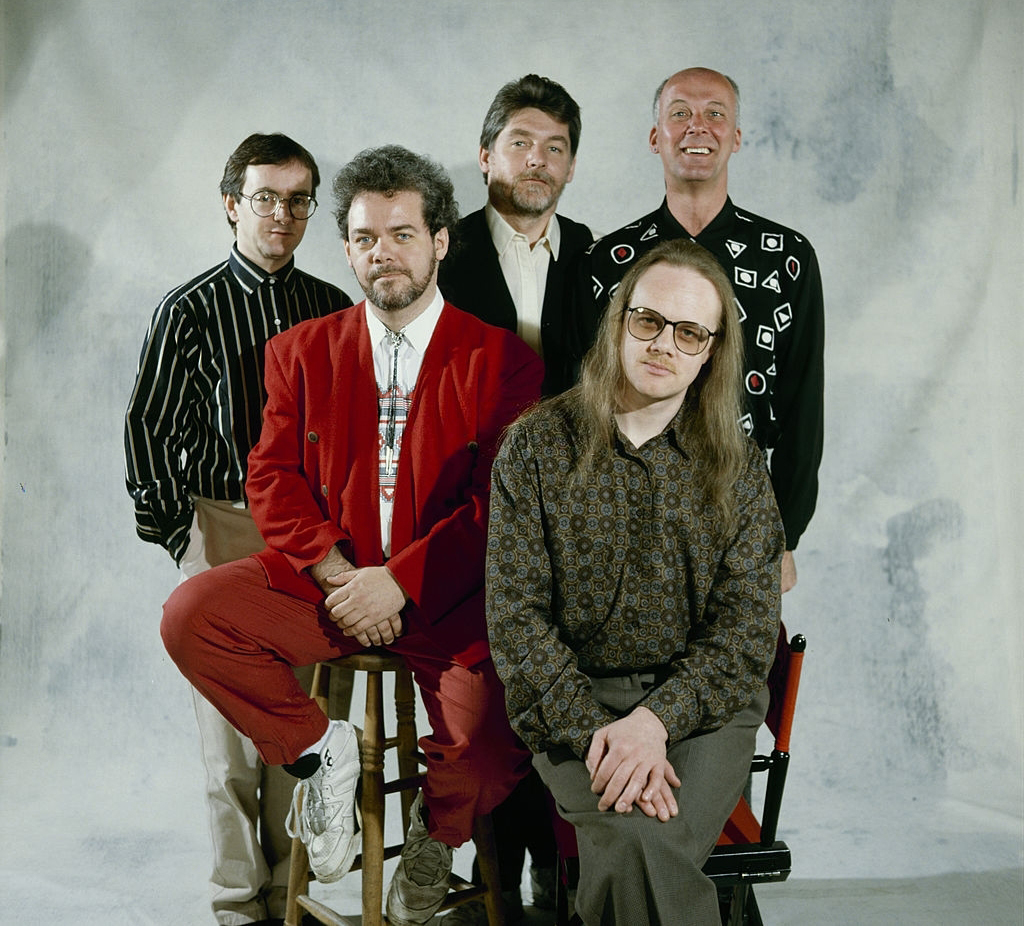 Fairport Convention, 1992: Dave Mattacks, Martin Allcock, Simon Nicol, Ric Sanders, and Dave Pegg | Photo: Woodworm Records
Relocating to the US in 1998 also coincided with you leaving Fairport Convention. Explore what transpired.
It goes back to the things we talked about in terms of my dissatisfaction with England. Things were getting under my skin and maybe I wasn't the best person to be around. Simon Nicol and I also kind of fell out. I'm very happy to say we're back to being very good friends. I'm pleased about that. But we had a little bit of a falling out and I will put my hand up above the parapet and acknowledge my part in it. But I love those guys in Fairport. I mean, we go back 50 freaking years. That's why I'm very pleased we're all chums and talking again.
Another reason I left is I thought "I can't play York Pavilion on February the 23rd anymore. I don't want to do those gigs anymore up and down England." I got tired of it. It wasn't a musical thing, because I felt the band continued to make progress. Chris Leslie has become a very good writer and the material is still there. It's still good. Rather, it was the repetition of gigs that was getting to me—the winter tours in January and February playing the same venues, leading into a handful of dates on the continent.
I always enjoyed the Fairport's own Cropredy Music Festival, which is an entity unto itself. It's a wonderful festival and I'm very happy for them and proud of my now small association. To go from a festival with 500 people in someone's back garden decades ago to having a festival with 20,000 people headlined by people like Alice Cooper, Emmylou Harris and Rodney Crowell is incredible. It's quite a leap for a festival set up by a bunch of musicians.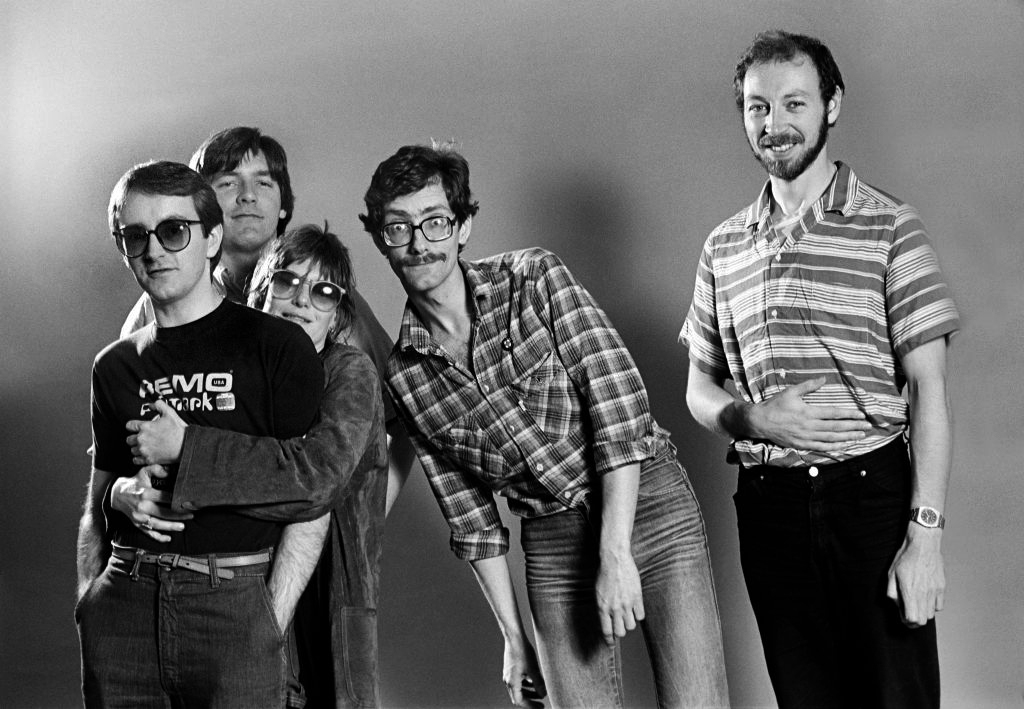 The Richard and Linda Thompson Band, 1982: Dave Mattacks, Simon Nicols, Linda Thompson, Pete Zorn, and Richard Thompson | Photo: Hannibal Records
You also stopped working with Richard Thompson during the same period, after being a mainstay of his band. Provide some insight into that change.
I'm not sure. I think Richard felt like a change, maybe. We certainly didn't fall out. I think when Danny Thompson had his stroke, Richard maybe thought "I want to work with some younger musicians. They're going to kick me up the ass a bit more." I think that was a contributing factor. There were no disagreements. I remember a big, long gap, and then suddenly there was another rhythm section.
I contributed to his 70th birthday concert at the Royal Albert Hall back in September 2019, just before COVID-19 hit. That was the last time we saw each other, but we're in touch all the time.
We've had some amusing email exchanges about his new book Beeswing, which is unbelievably brilliant. I learned some things about him I didn't know from his book. It's amazing how you can work with somebody for 50 years and still find out really cool things about them. I thought it was an illuminating book and the standard of writing is exemplary. It's probably one of the best-written rock musician books I've read. Richard is one of the most intelligent people I've been fortunate to meet over the years. I wouldn't have expected anything less from him.
You produced Debra Cowan's Greening the Dark, which features repertoire connected to your British folk and folk-rock days. Describe the decision to go in that direction.
Debra contacted me out the blue and said "I'm thinking about making a record. Would you be interested?" We met. I thought she was pretty cool. I heard some of her work and said "Let's do three tracks and see how we get on. This is how I'd like to work. This is the method I'd like to employ." She came to the house several times. We came up with a song list and narrowed it down. Dare I use the words "classic pre-production technique?" It was all stuff that I've learned from being fortunate enough to be around people who are really, really good at it. I'm talking about people like Glyn Johns, Gus Dudgeon and John Wood.
So, we dipped our toes in the water. We did the three songs. She really, really liked them. We went ahead and did an album called Fond Desire Farewell that came out in 2009.
A few years ago, she said "Let's do an EP" and that's how Greening the Dark came around. She's not a writer, so it was a case of an exacting song selection. We went through a list and she had some suggestions and so did I. We both loved The Watersons' song "Anna Dixie." She loves the British Isles stuff. She's got really good taste. We would rarely disagree. With this EP, I got down into the weeds and rearranged the songs harmonically and structurally.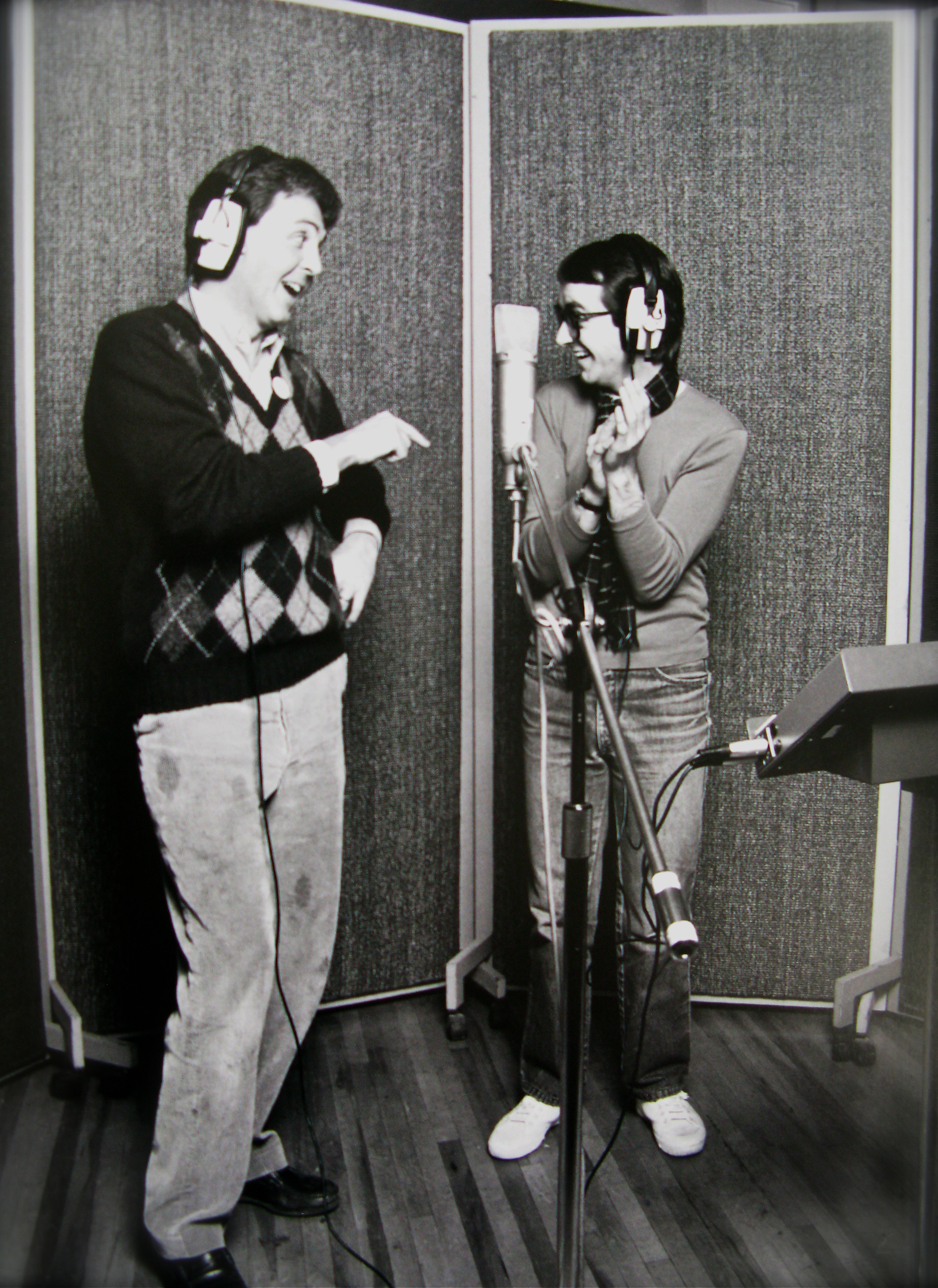 Paul McCartney and Dave Mattacks, 1982 Tug of War sessions | Photo: Linda McCartney
What are some of the lessons you've learned from the legendary producers and sessions you've been involved with?
What not to do. Commit. Know how to work with musicians. Know how to translate musical speak into non-musical speak and vice-versa. Create the right atmosphere when you're recording. Always be encouraging even if you hear something you're not particularly crazy about. Attention to detail.
As I said to Mike Barry, who engineered Debra's record and owns Babyland Studios where we recorded it, as well as Super Genius and Feast of Fiddles, "We want it in tune and in time. If anything's really out of time, then we replay it." Once in a while, we'll fix a little something in Pro Tools, but if you're going to have to autotune the whole thing to death, get another musician or singer.
That's my take on that. There's a great line by Quincy Jones and his engineer Bruce Swedien, from when they were working on a Michael Jackson record and using MIDI. It went "These days, making records is like painting a 747 with a Q-tip." I don't want to do that.
With Debra's album, if we had five times the budget, would it have been five times better? We made the best record we possibly could with what we had to work with. We went a little bit over, but Debra managed to find the money and I'm proud of it. Would I go back and change things? The odd thing here and there, sure, but it's a body of work and we didn't settle and say "Oh yeah, that's fine. Next." We worked on it for several months and did the best job we possibly could with the absolute minimum amount of compromise.
Richard Thompson has a great anecdote about recording one of his albums in Los Angeles with Mitchell Froom. He was in one room in the studio and The Eagles were next door. Richard said "We got half the basic tracks for the album done in four days. The Eagles were still working on their bass drum sound that whole time." When I hear stories like that, I start to question things.
I did some tracks for a good friend of mine called Jonn Savannah 10 years ago, with Shelly Yakus engineering. Shelly took longer to get a drum sound for me than almost anybody I've worked with. Typically, I take maybe a half-hour. He got into three-quarters of an hour and I remember thinking "I'm on the edge of losing it here. But I'm being paid, so I'm going to keep doing this." And I kept doing it, doing it and doing it. Then I went into the control room and the sound was unbelievably great. It was phenomenal. So, I'll put my hand up and say "the end can justify the means." I just think the "anal factor" can go over the top.
I understand attention to detail. I understand wanting to get things really right, but I also think that it can get out of hand and most of the people who I look up to in my peer group that I'm fortunate enough to be friends with, like Jim Keltner and Steve Gadd, also take a half-hour at most.
I'm not saying we should all go back to the jingle years when you walked in and got the sound of the band together in five minutes and off you went. Having said that, those engineers from that period were some of the best engineers in the world.
Another New England group you're working with is Famous Grouse. Tell me about your collaboration with them.
I met Elizabeth Steen, the group's vocalist, accordionist and keyboardist, through a friend and Mike Barry started producing some tracks for them. He asked if I'd come and play on them. And I did. Mike's a great guitarist, songwriter, singer, and engineer. But as he'll tell you, "I don't mix." Together, we're reasonably fastidious about getting things down flat and we got a guy named Huck Bennert to mix and put the icing on the cake.
As for my interest in working with them, I just heard really, really good songs with really good playing. You'll hear me trying to be a good accompanist on their music and trying to find the thing that helps the song.
KBMG, your group with Dan King, David Brown and Wolf Ginandes, explores the edges of blues-rock. Describe the band's chemistry that's driven its existence for 20 years.
Dan was one of the first songwriters I worked with when I moved here. I just thought the world of him and really, really like the songs. David and Wolf are great players.
David is a virtuoso guitarist who doesn't sound like everybody else. He's not really coming from the blues-rock tradition, but more a mixture of country and blues. He was with Billy Joel for 13 years and did loads of sessions in New York and around the world. He's predominantly a slide player, but he's also got the fingerpicking thing and adds really different colors to the band's sound.
Wolf, who plays bass, is a mainstay of the Boston music scene and he and I definitely see eye-to-eye on rhythm and where it connects in the music.
The band is first and foremost about Dan's songs and the music closely follows. We all really get on well and it's just lasted. Thirty years ago, I'm sure we would have got a small record deal, but today we have to make the records ourselves. We've got a nice following and I'm really proud of the Live at Chianti record we made. It really stands out.
Tom Dube, who I first met when doing sound for Richard Thompson in the early '90s, multitrack recorded it and mixed it, and it came out really well.
I have to blow the trumpet for the band. I sent a copy to my very good friend Jack Bruno who worked with Joe Cocker and Tina Turner. He's unbelievably great. When he heard it, he said "I was expecting some kind of jazzy thing from you, dear. But you're a bunch of nasty people." [laughs] He loved it. I was so knocked out by that. He really dug the songs and the band.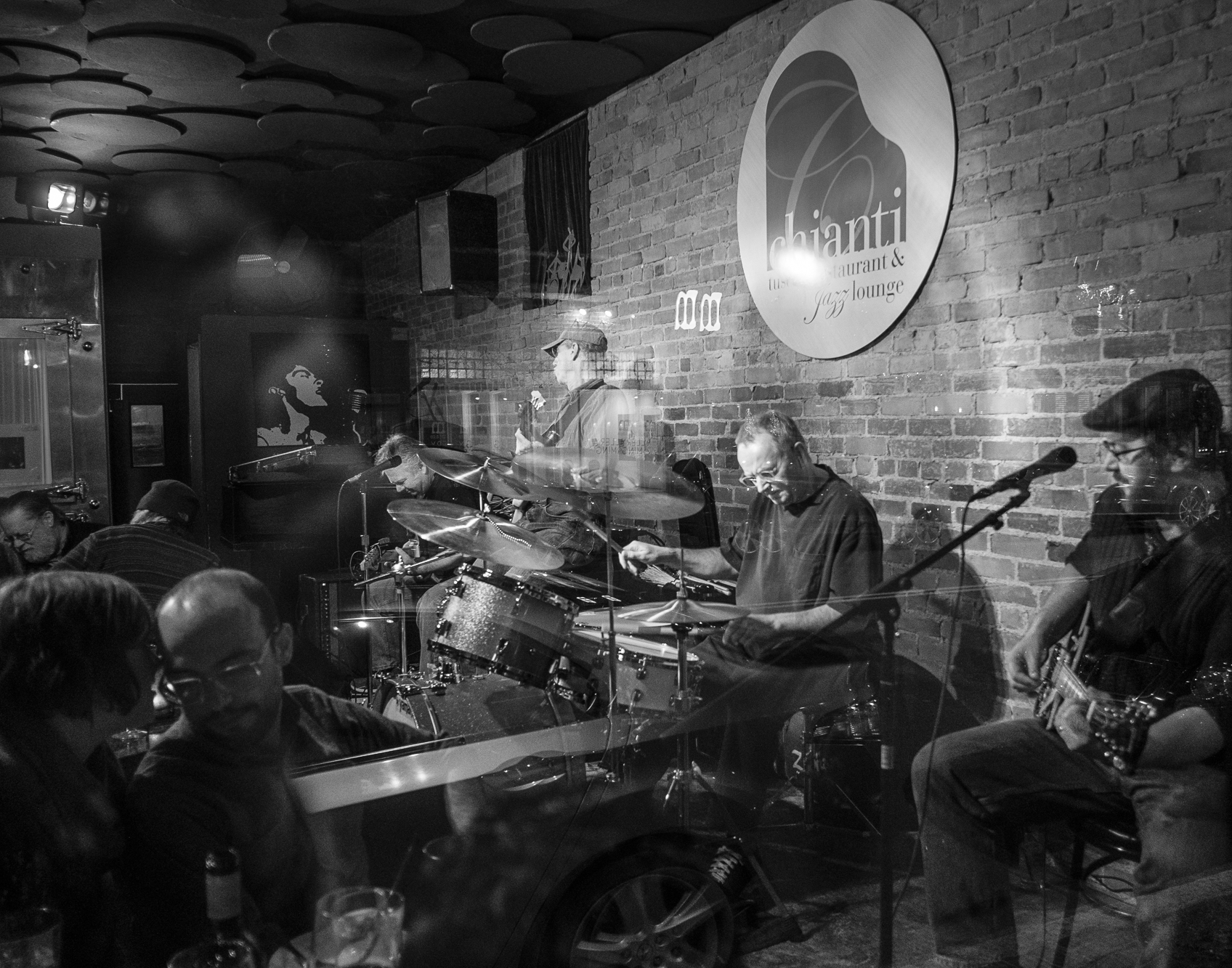 KBMG, Live at Chanti Jazz Lounge, Beverly, MA, 2017 | David Brown, Wolf Ginandes, Dave Mattacks, and Dan King | Photo: Rick Ashley
Jon Shain and FJ Ventre's new album Never Found a Way to Tame the Blues is another blues-focused project you contribute to. Provide some insight into that project.
Not long after we moved to Marblehead, we were talking to a neighbor one day and they said "A good friend of mine has a son who plays guitar." My initial response was "Oh, Jesus." [laughs] But, long story short, I reached out and it was Jon. I heard his stuff and he knew my work. He said "Would you produce a record for me?" So, Tom Dube and I ended up producing two records for him.
Jon got in touch nine months ago after a gap of 10-12 years and said "Would you be interested in playing on the new record? We keep writing these songs and saying, 'It would be really good if we had kind of a DM thing on this.'" He sent me the files and I recorded the drums at Mike Barry's studio.
I'd like to think that the combination of what I played and my sound choices were more informed because of what I've learned over the time I've lived here. Jon isn't a traditional blues player, but some of it is a little bit that way. The songs are very good and I think how I played and what I played fits better now.
I continue to listen and learn. That's what I'm always trying to do. If someone says to me "It's a kind of bluesy thing," I think "Well, there's a whole world, right there. Is it pre-electric? Delta blues? The '70s when the rock and pop influences came in? What sound is going to fit that song?" I'm always thinking about how I'm going to play and how it's going to sound. The sound you might think is cool for a project may not be what works. It's all about context.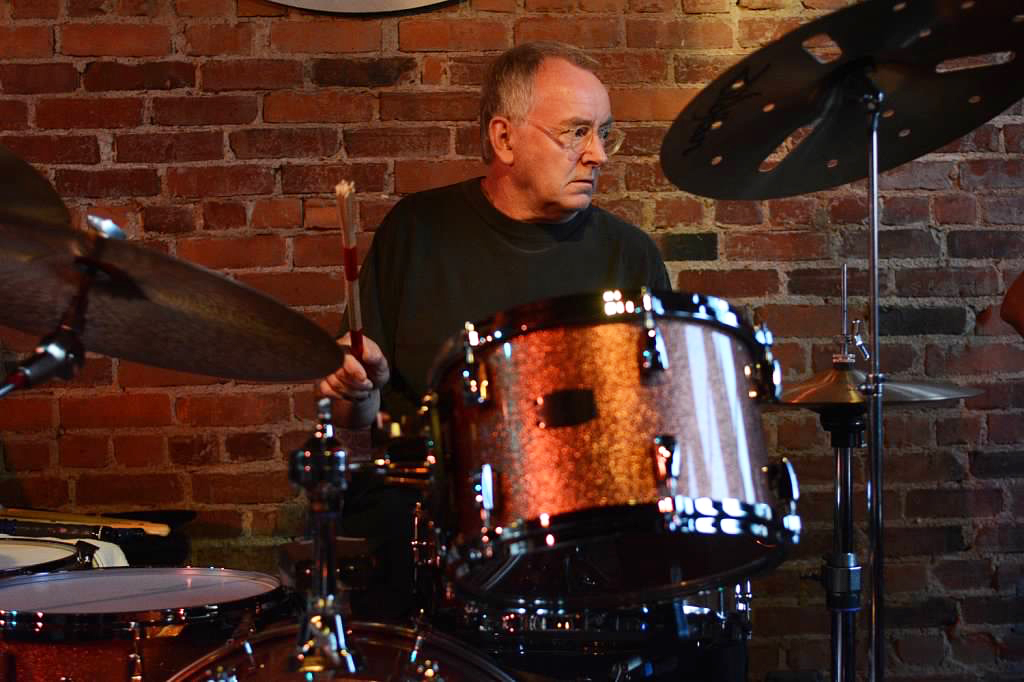 Photo: Dan Caron
Expand on how context informs your work as an accompanist.
I ask myself questions like "What's the singer singing about? How are they phrasing? Where are the gaps? What's the arc of the song? Is it going like this? Is it going like that?" All that stuff should inform you. I also say to myself "If I play this, it might feel good with a rhythm section. Is what I'm doing too sparse? Is it too busy? Does it get in the way?"
A producer recently said to me "That's really cool. You're playing around the song." I responded "That's the idea." I don't do that all the time, but generally speaking, I don't want someone to say, "Oh, listen to the drums on that." No, you're supposed to be listening to the song. You're not supposed to be listening the drum part. That's a part of the song and contributes, but that's not where anyone's attention should be.
I'm sometimes suspicious of the overt display of prowess because sometimes that means that there's not much it's hanging onto. You can take a great song, some okay musicians and an okay sound engineer, and capture something of value. If you flip that and you get a crappy song and the greatest engineer and musicians in the world, you're still putting lipstick on a pig. I don't have much interest in that and when I hear that, it just doesn't do much for me.
I'm not anti-technique or anti-prowess but, for me, it has to be about the material. This is why I loved Weather Report. It had a combination of people with ability, but they had the best tunes, too. It wasn't reworked post-bebop stuff. I'm not disparaging jazz. I'm just saying Weather Report were streets ahead of everybody else, because they combined strong material with great players. It's an unbeatable combination.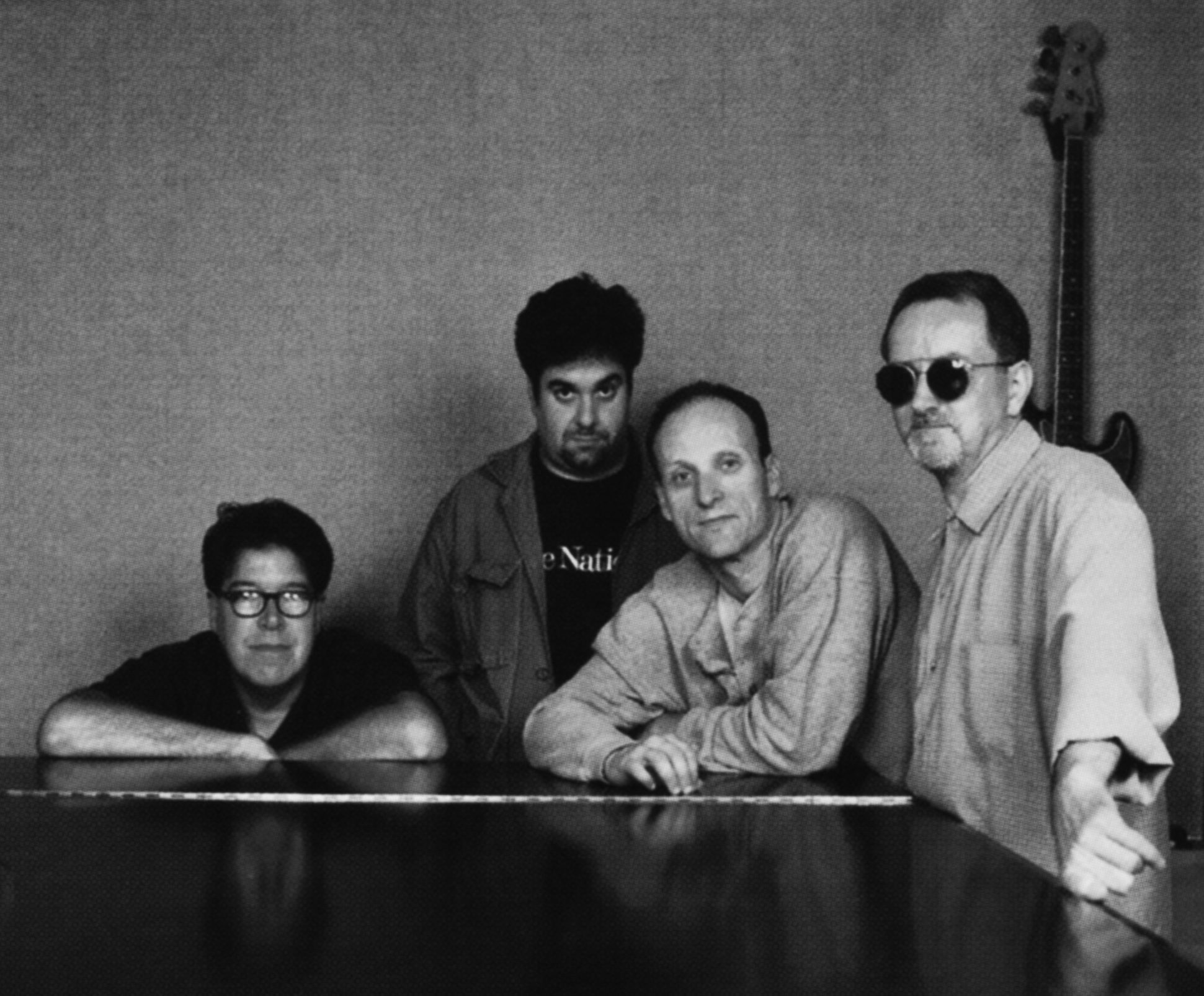 Super Genius, 2002: Milt Reder, Mike Barry, Dean Cassell, and Dave Mattacks | Photo: Jon Cohan
During the 2000s, you were part of the mercurial, very creative rock act Super Genius. Explore that band's journey.
We did two albums, a self-titled one in 2002 and Heel Thyself in 2007. Super Genius is how I first met Mike Barry. He was a really good songwriter and a big Richard Thompson fan. Of course, my response to that was "Yeah, aren't they all?" [laughs] But I heard Mike's songs and went "Oh, you're right, they really are good songs."
So, that band came about as a combination of four people getting together. We had a great time making that first record. There was a lot of serious attention to detail, without spending two days getting a bass drum sound. I think it stands up. I'm as proud of Super Genius as I am of KBMG and other high-profile things I've done. Unfortunately, Super Genius ran its course. Mike did a solo thing and I've contributed here and there to that work.
The band didn't sell a lot of records, but we had a positive attitude. We thought "We're going to go ahead and do the best thing we can possibly can, even if it's not going to give Bruce Springsteen sleepless nights." The world we live in, in which people say "You musicians are making enough money. I'm not paying 99 cents for a song" makes things difficult. But I'm very pleased I'm still employed by people who have a following. Bless those people. I'm happy to work with them and give them 100 percent of my time and effort.
I'd like to name some albums and projects from across your history and have you tell me the first thing that comes to mind. Let's start with Steeleye Span's Hark! The Village Wait (1970).
I was flattered to be asked to do it. Ashley Hutchings had found his holy grail at that point. He said "English trad, that's it. I've had it with everything else." When I hear it now, on a personal level, it bugs me a little bit because my playing isn't very good. It should have been better. It's okay. But the songs are great.
I enjoyed doing the session. I was starting to learn more. I know diddly-squat compared to Ashley about English folk traditions, but through working with those people in the band, my eyes got wider and the ears were opening up.
There's also the fact that I got to play and share the project with Gerry Conway. It was one of the first of several records Gerry and I both worked on. Gerry took over for me in Fairport Convention, when I finally left in '98. A very incestuous little world.
I got to record two more albums with Steeleye Span, 1998's Bedlam Born and 2000's Horkstow Grange, though I didn't join the band. I was a hired gun for a couple of years, and I was very happy with how those came out. I enjoyed those sessions.
Fairport Convention's Angel Delight (1971).
That was four people trying to do the best they could without their star girl singer and their star lead guitarist and songwriter. I think it came out well. But at the end of that, Simon Nicol went off to The Albion Band. I later followed him.
I stayed with Fairport for a while and we worked with another guitarist. But it made me realize how special and unique Simon was as a guitar player. I didn't like the other people that were brought in. I also didn't like the way the band was going. It was getting into that frantic jigs and reels at 900-miles-an-hour thing. That was beginning to wear very thin for me.
The Albion Band was playing a simpler, more straightforward kind of music with Ashley Hutchings at the helm. That appealed to me much more.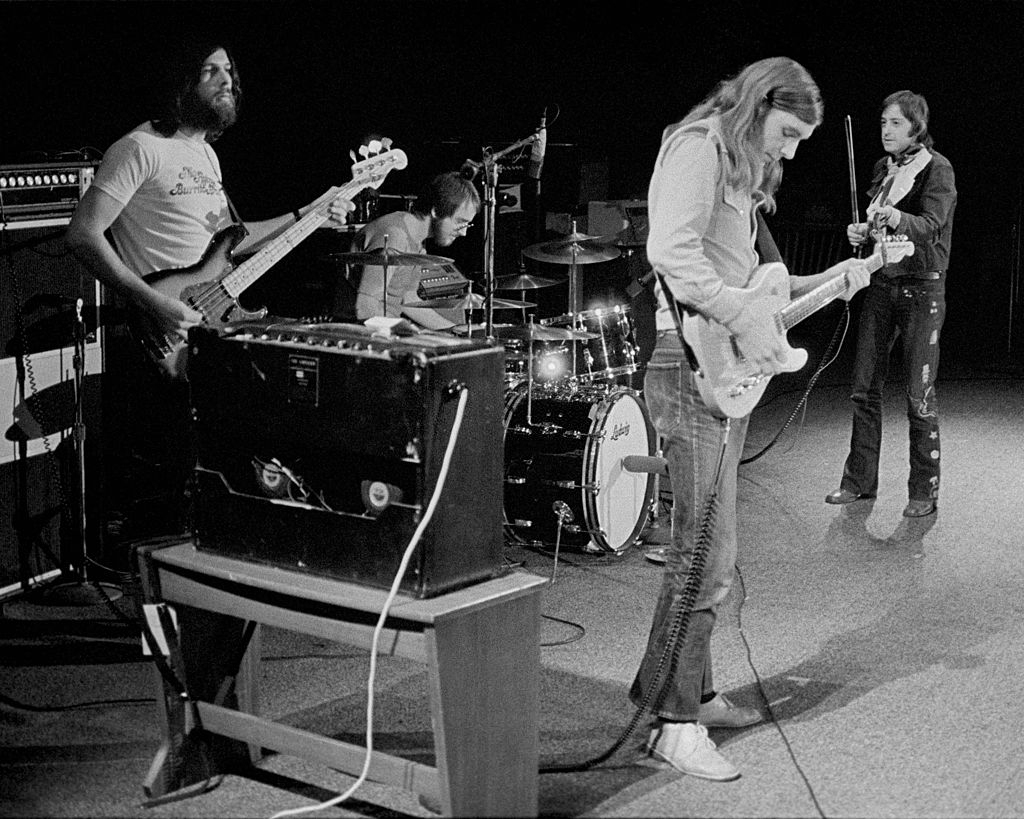 Fairport Convention, 1971: Dave Pegg, Dave Mattacks, Simon Nicol, and Dave Swarbrick | Photo: Island Records
Marc Ellington's Rains/Reins of Changes (1971)
We just lost Marc last February. I last saw him at Richard Thompson's 2019 Royal Albert Hall gig. Marc was as jovial and wonderful as ever. He was somewhat eccentric, but an absolutely lovely guy.
Marc pulled out all the stops for that record. He really knew everybody. He was a great guy to work with. It was a very easy album to make.
That period of the first half of the '70s was crazy for me. I did so many singer-songwriter albums. Gerry Conway and I were virtually camped out at Sound Techniques. It was just ridiculous. Both Gerry and I were doing a lot of records back then, including this one. Then Gerry went off to join Cat Stevens, which left more room for me for a while.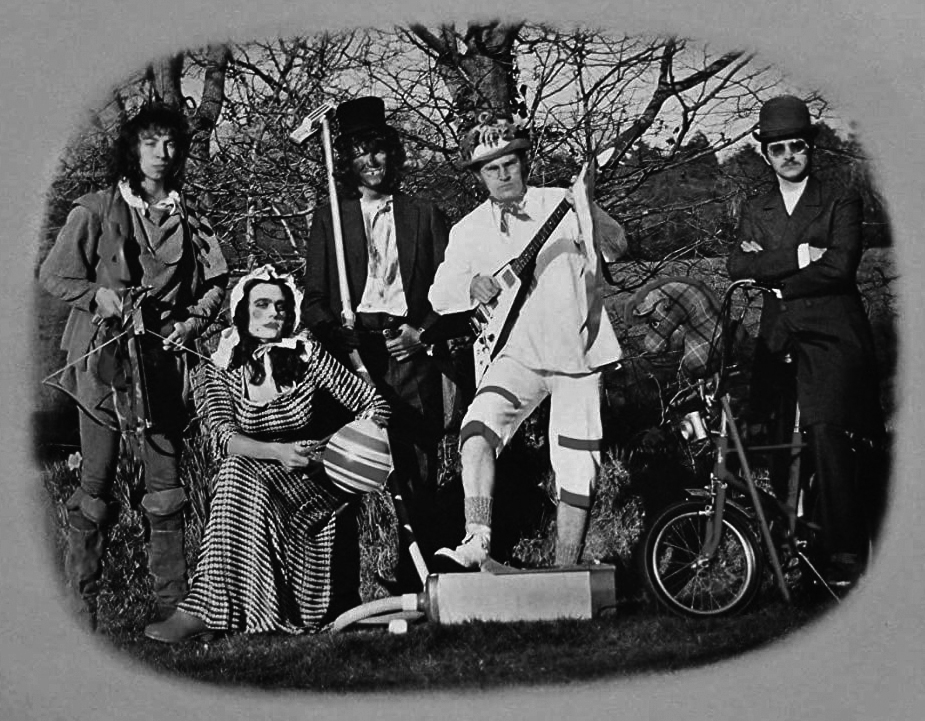 Morris On cover photo, 1972 | Photo: Island Records
Ashley Hutchings' Morris On (1972).
That was another big bump in my sensibility. It completely changed me around. I immediately heard why Ashley loved Morris music so much. I had a discussion with Ashley and we both felt "Princess Royal" should have become the new national anthem. I think it's one of the greatest tunes with such melodic strength. I just love it. Making that record with those people was just so much fun.
I also remember thinking "Really, you want to do that for the cover?" Someone just showed it to me the other day. I'd forgotten it and now I think "That's great. I'm really glad we did that cover."
The total cost for that album was 3,000 quid or so. And like so many recordings, I never saw a penny from it. But it's a great record I'm very proud of. Kudos to Ashley, John Kirkpatrick, Richard Thompson, and Barry Dransfield. Fantastic.
Lal and Mike Waterson's Bright Phoebus (1972).
I was already working at the Sound Techniques and the Abbey Roads of the world and was getting used to that kind of level. This record was done downstairs in the basement of Cecil Sharp House with two-and-a-half microphones. It was very basic. At the time, I wasn't aware that Bill Leader, who produced it, had such iconic stature in the English music scene at the time.
It was early days for me with the light bulb switching on for me as I got a handle on this form of folk music. It wasn't woolly sweaters and people with a finger in the air. I thought "I've never heard anything like this before in my life. I've never heard this type of singing. I've never heard a song structure like that." It was another one of those moments where I went "Now I see why people are so enthusiastic about The Watersons."
This is why Fairport, basically outside of a handful of places on the East Coast and The Troubadour in Los Angeles, couldn't get arrested in America. If you grow up listening to blues-oriented rock, you can't hear that shit. It doesn't make sense to you. For the general public, it's "What the fuck is that? What are they singing about? What kind of accent is that?"
Linda Thompson once told me about a session she did with Richard Thompson in Nashville. One of the players turned to her and said "What language is that he's singing in?" [laughs] So, that's what you're dealing with.
I'd like to think a combination of some kind of inherent musicality and Fairport's education was starting to open me up. I really got that record. There are moments on that album that are breathtaking. If anything could be tagged with the epithet "great piece of art," it's that record. It's tremendous.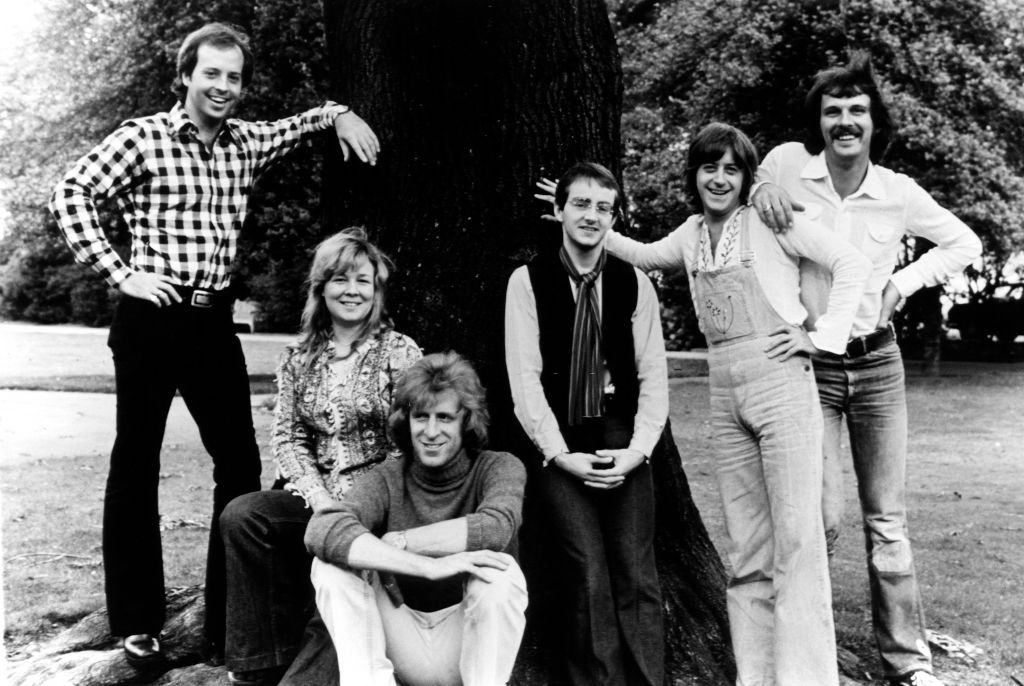 Fairport Convention, 1975: Jerry Donahue, Sandy Denny, Trevor Lucas, Dave Mattacks, Dave Swarbrick, and Dave Pegg | Photo: Island Records
Fairport Convention's Rising for the Moon (1975).
Okay, the big bubble to burst is the so-called falling out between me and Glyn Johns. We did disagree during the sessions, but it wasn't that severe. I got halfway through that record. Joe Boyd wasn't looking after the band anymore. We had this damager who said, and I'm paraphrasing here, "World tour, lads!" We went, "Yeah, right."
The world tour was a television show in Japan, the Sydney Opera House, and The Troubadour in Los Angeles. We were the first electric band to play the Sydney Opera House. But after that, we came back and were told "The travel company says you owe 20 grand."
Around that time, yours truly was really getting out there in the studio. Musically, I was really enjoying myself because I was getting to work with some really good people. I had no responsibilities apart from getting myself to the recording studio and delivering the goods to the best of my ability. I was earning really good money doing that. I loved everybody in Fairport, but I'd had enough of only earning a 50-pounds-a-week salary. Dave Swarbrick had negotiated himself a different deal. [laughs] But most of us were getting 50 pounds.
I thought "I don't want to do this anymore. I'm tired." I also felt in terms of the big picture, people didn't get the band. We never had the kind of success and the financial security that goes along with a Yes, Jethro Tull or Deep Purple. We were always scraping by.
Going back to the disagreement with Glyn, we did fall out over something I might have said, but it was tied up with my dissatisfaction with the situation. Glyn and I worked together before with Andy Fairweather-Low and Joan Armatrading. We worked together after, too. We've since spoken and we're chums again.
Rising for the Moon was a good record. But there were aesthetics involved in terms of why the band wasn't working and didn't last much longer. It had nothing to do with Bruce Rowlands who came in and took my place. On one side, you had these Sandy Denny ballads with that sensibility. On the other side, you had this kind of up-tempo dance music. There wasn't a lot of common ground. Sandy would invariably leave the stage when we played the jigs and reels. Arguably, there was a bit too much information in some of her ballads. Lyrically, they're incredibly strong, but they tended to fall into that low, slow mid-tempo thing. Somehow, the two things didn't gel. There wasn't much of a middle ground.
I'm going to sound like a Guardian critic here when I say this, but I think Glyn did a very good job at pulling together the musically disparate aspects together to make a good record. There are tracks like "One More Chance" that are great.
So, that was it for me and Fairport at that point. I had enough until Dave Pegg took over the whole organization and management of the band in the mid-'80s.
Brian Eno's Before and After Science (1977) and Bill Nelson's Sound on Sound (1979), which I understand are connected in terms of their impact on you.
Those records were bumps in my sensibility and learning curve about the dispensation of rules in a studio from a musical and audio point of view. Brian and Bill widened my horizons.
Suddenly, I didn't have to do something specific when presented with an idea. I could pursue variations and something left of center. And when I got something left of center to respond to, I could ask myself if I approached it left of center or in a conventional way. Those experiences opened up my understanding of what's possible.
A line I'm fond of saying is "If you're going to break the rules, it helps to know them first." Brian and Bill both had a pretty damn good take on the rules, and both were breaking them in their own particular ways. This may seem like a weird jump, but those experiences and hearing Charlie Haden's Liberation Music Orchestra were impactful. What Paul Motian did with them also really, really started to open me up.
Both Brian and Bill were great to work with. Super-friendly. There aren't too many people I've had difficulty with in the studio from a personality point of view. I can't think of many occasions where I felt I was dealing with a dick. I can count them on one hand. I've been very fortunate and I think the reason is I started to realize what I wanted to do and what I didn't want to do. I didn't want to be all-encompassing. I went through a period in the early-to-mid '70s when I started going down that path. I was doing film scores, jingle sessions, and playing with anybody and everybody. Some of those areas got uncomfortable for me, particularly personality-wise with the people I was working with. That held true musically as well.
A serious heavyweight reading a film score would just get through it, but I'd be emotionally toasted at the end of it. I'd think to myself "There are a lot of players that can do a better job of this than me, without all the angst." I was not afraid to go outside my comfort zone, but it was more a question of wanting to play music that was both challenging, but also ultimately enjoyable. So, I started to move away from things I wasn't interested in to things that were more in that wheelhouse. That's not to imply I wanted an easy way out. It was more a question of wanting to be musically happy and satisfied. Call me selfish.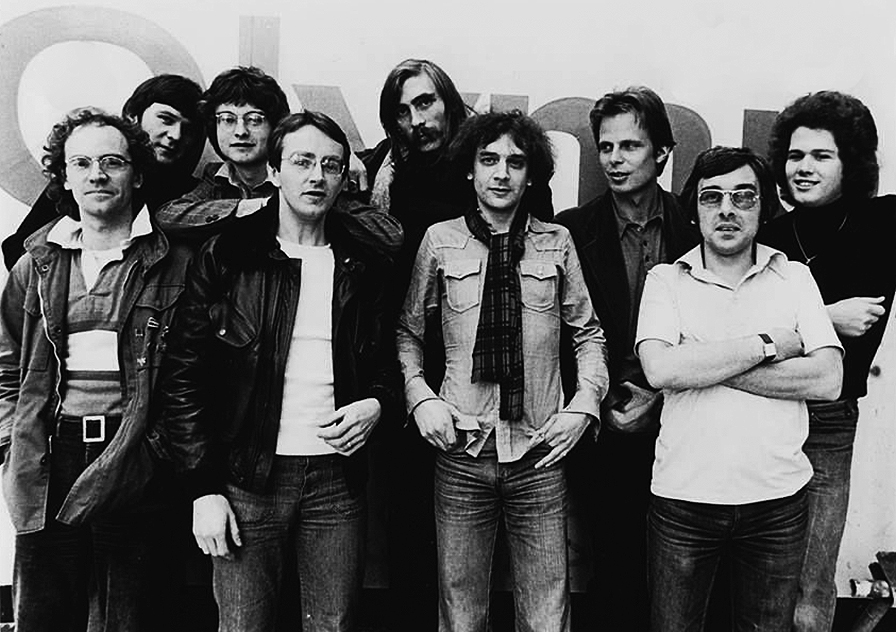 The Albion Band at Olympic Studios, London, during the Rise Up Like the Sun sessions, 1978 | Photo: Harvest Records
The Albion Band's Rise Up Like the Sun (1978)
That's a great record. It really helped having Joe Boyd at the helm. It took me a while to appreciate his approach to record producing. I was starting to get used to people like Gus Dudgeon, Glyn Johns and George Martin, who were very hands-on. I don't want to imply Joe wasn't, but he's definitely a feet-on-the-desk-reading-the-New-York-Times kind of guy. He would leave the engineering up to John Wood. But Joe has a really good aesthetic and just knew when something was right or wrong.
Having him at the helm of that record was great. Also, the fact that he got The Watersons and McGarrigles to do backing vocals on some of those tracks was fantastic. You can also just put all that to one side and look at the strength of the material. It's just so strong. It's one of the folk-rock records I've done that I'm most proud of being involved with.
Paul McCartney's Tug of War (1982).
It was really great to work with Paul. We recorded that one at AIR Studios, when it was on Oxford Street in London, as well as AIR Studios Montserrat.
Like all the best artists, Paul simply lets you get on with it. He provides just a little advice and makes suggestions here and there. He doesn't micromanage. We got to hang out a wee bit now and then, but most of the interaction was in studio sessions, where he was always super-friendly and fun to be with.
I first bumped into Paul and Linda McCartney in a London music shop. After my initial shock—like everyone else that encounters him—he was very welcoming. The call to work with him came a month or two later.
In some ways, that whole period was a bit of a blur, not because of any illegal substances, but because I was working constantly. It was obviously a really fab time for me. I was extremely fortunate.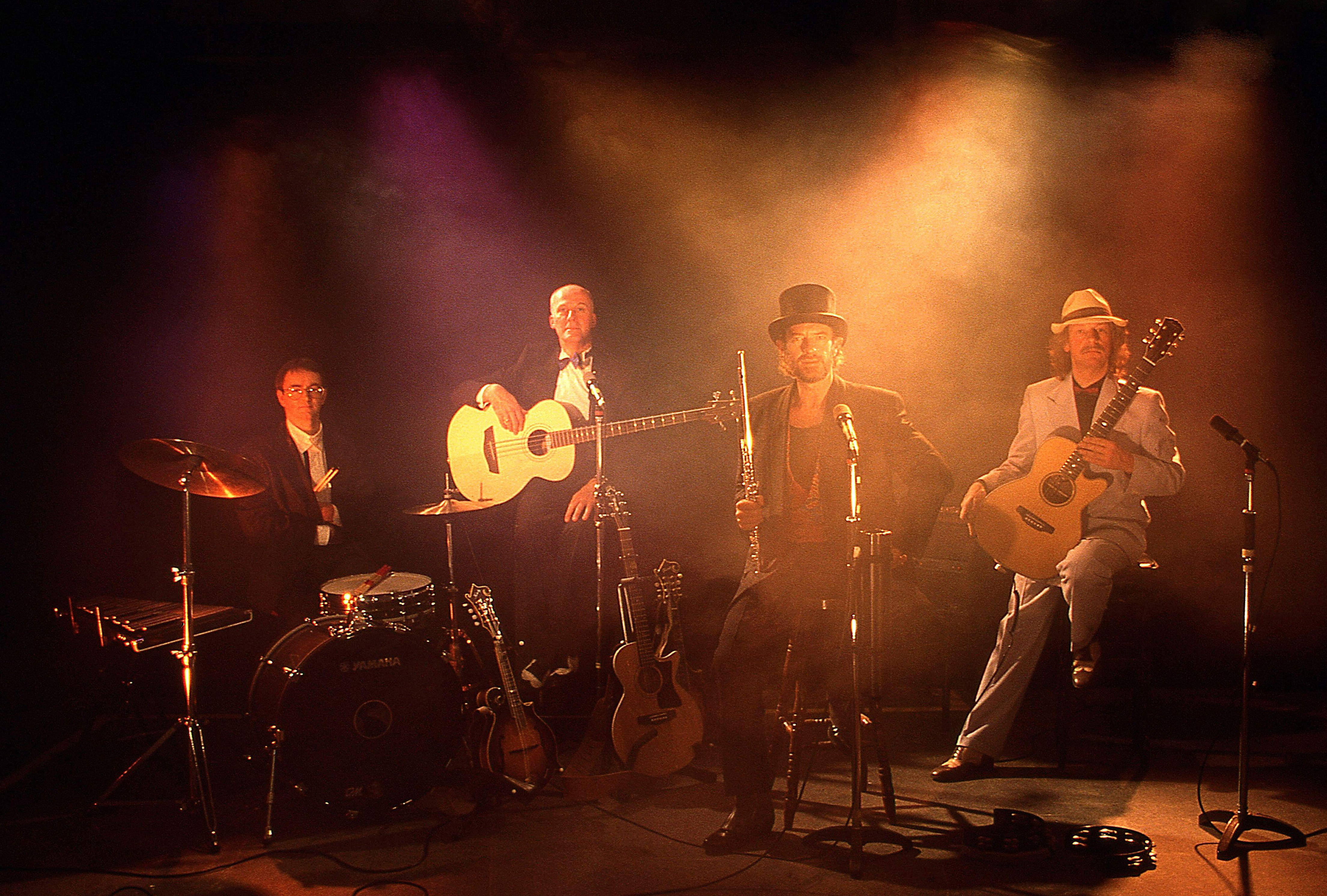 Jethro Tull, 1992: Dave Mattacks, Dave Pegg, Ian Anderson, and Martin Barre | Photo: Chrysalis
Jethro Tull's A Little Light Music (1992).
I'm very proud of that one. I had a snare, bass drum, one cymbal, and a hi-hat when I made that. I had a glock on side and a little three-octave keyboard as well. Working with Tull was an enjoyable year for me.
It came about through Dave Pegg, who was then doing double duty with Tull and Fairport. Ian Anderson started coming to Fairport gigs. Dave said "I think he's going to call you." And he did. I told Ian "Thanks for asking, but there's no way I can do what Barriemore Barlow did. I can't do that shit with the two bass drums." Ian said "No, that's okay. I want you to do your thing."
Many people told me "You know, Ian eats drummers alive. He's going to be all over you like a rash. Good luck with that." After six gigs, we got to the end of the show and Ian said "You must watch me when I do this. You missed that cue." I said "I'm sorry I missed that cue." And that was it. He never said "You're not doing this" or "Don't do that."
It was a classic case of a musician understanding the player and saying "Yeah, I like what he does. I think it can work with what I want to do." During the second half of the tour, when it came to the States, I went to a full kit and we got a keyboard player and went down that path. It was an amazing tour.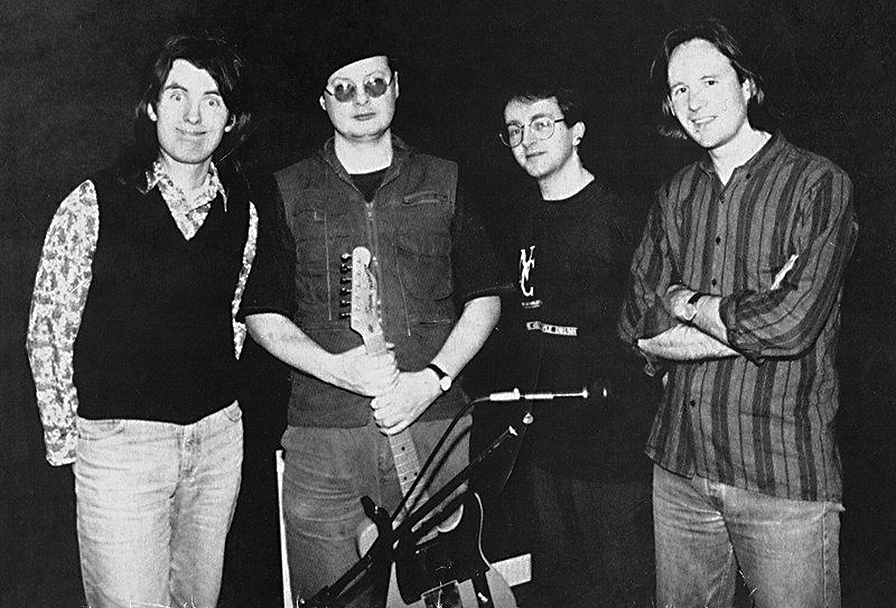 XTC, 1992: Colin Moulding, Andy Partridge, Dave Mattacks, and Dave Gregory | Photo: Virgin
XTC's Nonsuch (1992).
I'm so pleased I got to work with them. When the songs are that great, it's just a question of finding something appropriate to play and getting on with it. It's all about the songs.
Dave Gregory's brother Ian was a Fairport fan. He came to a Fairport gig and saw the program for sale. In that year's program, every band member was asked "Who haven't you played with that you'd like to?" One of the bands I listed was XTC. Ian showed that to Dave.
On that same Fairport tour, we were playing a venue near them in Swindon. The Fairport crew received a call that said "Please contact Andy." They put that note on my drum throne, pre-soundcheck. I called from backstage and said "This is Dave. Is that the Andy Partridge?" He replied "Is that the Dave Mattacks?"
XTC was in the process of lining up the next record. We rehearsed for a week before we went into the studio. I suggested Gus Dudgeon as a producer. I was disappointed at the end they fell out with Gus. Dave explained to me that pretty much producers work with XTC as a gesture to the record company, until Andy gets his way. Andy wants to be in control and I get it.
I'm not condoning the falling out with Gus, but it goes back to that saying "the end justifies the means." You look at the end result and it is what it is: a great record. Those mixes would have sounded very different if Gus had worked on them, but I'm pleased Gus got credit for his contribution.
I'm very proud of my work on Nonsuch. It was an example of me getting away from "Oh, you're the folk guy." When I got to the States, I noticed that people would either say "What did you say your name was again?" or "You're the guy that played with Tull and XTC!" I didn't have the dreaded folk thing hanging over my head anymore. When I went back to England, people would still say "You're the folk guy." I'd respond "But I played with XTC." They'd then say "Oh yeah. But you're still the folk guy." [laughs]
The acceptance of what I do by XTC, and the fact that they had this underground following, made it a good calling card.
Steven Wilson's remix of Nonsuch was pretty damn good. He did a really good job. He knows his shit. He knows which way is up. Andy, bless him, got in contact and I contributed to the sleeve notes for the reissue. I was very flattered to do that.
John Donaldson, Andrew Cleyndert, Dave Mattacks' Sing the Line (1996).
It's one of the albums I've played on that I'm most proud of because John and Andy were the first, legit, fully paid-up, 100-percent jazz musicians that liked what I did. When I tried to play jazz with them, they were incredibly helpful and I'm flattered they acknowledged my take on it. That, combined with the strength of John's writing and the covers they chose, made it very special.
Relatively speaking, three soldiers and a dog apparently bought it, but the material is great. I've played it to some heavyweight jazz guys who said "Oh, I didn't know you could do that." If I'm honest, the truth is well, I kind of can. But I wouldn't have the audacity to call myself a jazz musician. In the right environment, with the right musicians, I can take a pretty good stab at it. The reason I won't call myself a jazz musician is I have too much respect for the guys who are dedicated to it.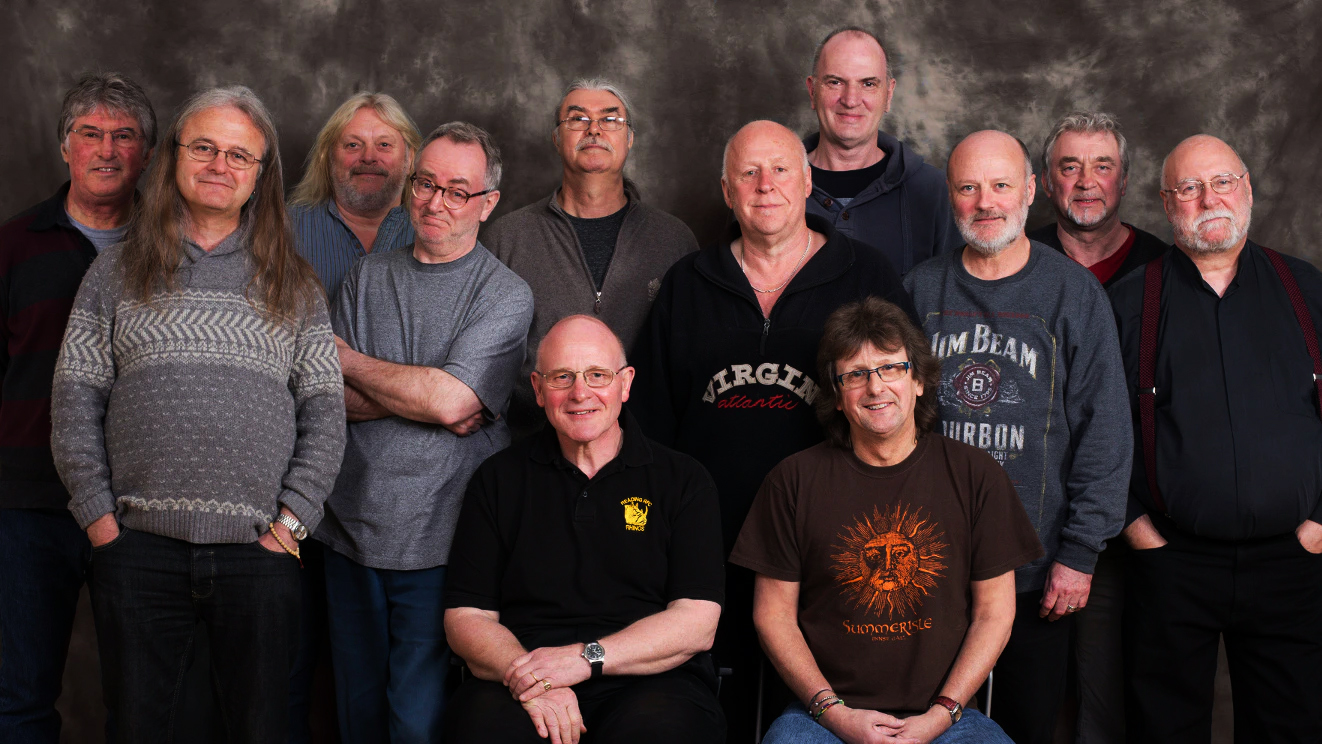 Feast of Fiddles, 2017: Martin Vincent, Chris Leslie, Phil Beer, Dave Mattacks, Bjorn Bealeaf, Hugh Crabtree, Peter Knight, Tom Leary, Ian Cutler, Alan Whetton, Gary Blakely, Dave Harding, and Brian McNeil | Photo: Steve Stoddart
Feast of Fiddles' Live '01 (2002).
That band has been going for 25 years. It started out as a fun thing and now it's become a thing where everybody gets together every spring in the UK during which we tour for two weeks. We're a bunch of old farts having a great time. Every few years we make a record and that was the first release we did.
The band has a five-piece rhythm section and six electric violin players. It's an incredible racket. It has some original material contributed by some of the fiddle players, some covers and a few mash-ups. My favorite is the mash-up that combines a theme from The King and I with Led Zeppelin.
The core of the band is in England, but there are people in France, Scotland and Germany. Getting us together to tour is a logistical nightmare, but we make it happen. Obviously, we missed 2020 and 2021 because of the pandemic, but we're back in 2022.
The most recent studio album, Sleight of Elbow from 2017, is really good. We couldn't have done it the old way, given our geographic locations. And even if we had, finding a studio with the facilities to record a five-piece rhythm section and six electric fiddle players would be difficult. We'd have to go to Abbey Road with isolation booths. So, we did it with file-sharing and I challenge anyone within reason to detect that it doesn't sound like we all did it at the same time.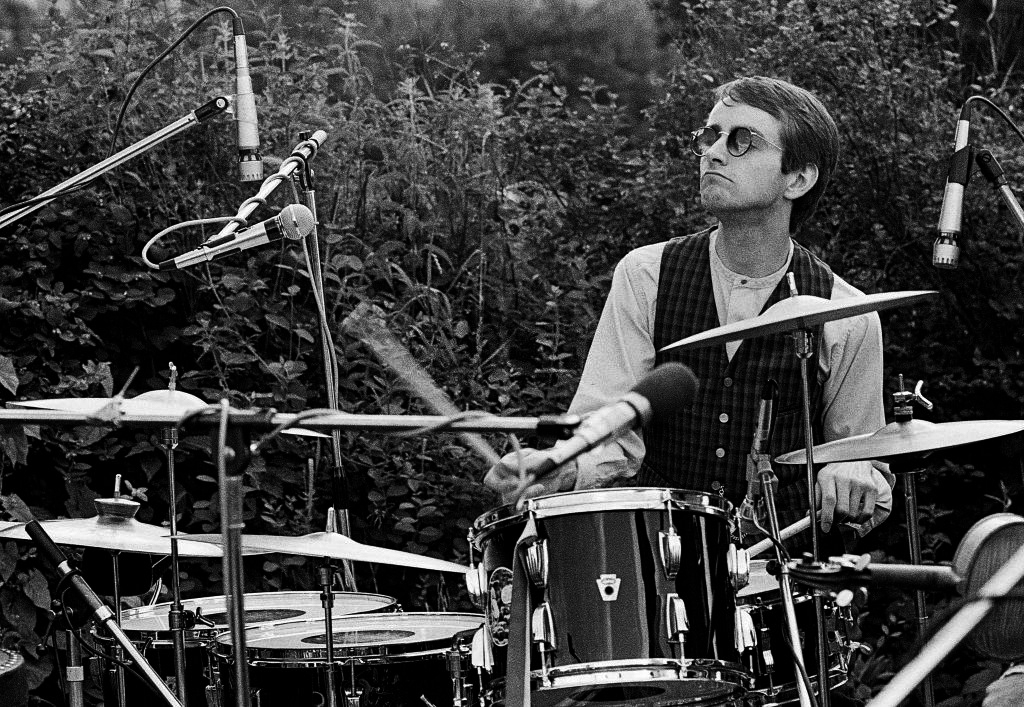 Dave Mattacks, 1973 | Photo: Island Records
What do you consider the defining elements of your approach to your instrument?
I've probably got something, but I don't know what it is. It's almost impossible for me to be objective about it. On the rare occasions when I do think about it, I consider stuff that I know other people do, like being aware of your sound, not playing too much, and playing to the song.
I find it difficult to talk about. I tend to underplay rather than overplay. That puts me in a field with hundreds of thousands of other drummers. I know I have something that people like, but for me to analyze it is difficult.
I will say that a contributing factor is my harmonic knowledge and the fact that I understand, for example, the separation between the diminished and a flattened fifth, but in terms of keyboard skills, Gary Husband isn't having any sleepless nights over my piano chops.
My starting point is that I hear what the song's doing. I don't start by thinking, "What beat can I put to this?" Rather, I think "Should I make something of that augmented chord that he's doing there? Because that's pulling the song a little bit." Then I start thinking about the drums. I don't say to myself, "Boy, have I got a great lick for this song!" Hopefully I do, and that comes afterwards. But the starting point is the harmonic thing.
I think another element is that I'm interested in creating trust between musicians. In the best situations, you don't get a player in and tell them what to play. What you present them with is material and say "Get on with it." If the leader has to say "No, I need it to be…" or "No, it doesn't go like that," then you've got the wrong player. I've built something up in which people say "If we get him in, we're hopefully going to be in the region of 75 percent of what we want. We can then give him a little steerage."
One thing I'll add to this is that I hope I haven't got a signature sound. I might have a signature touch, but I like to change things up, including the snare drum sound. I like to think I adapt to the song. I can sum it up by saying if it's a question of making a statement or an understatement, I'm definitely going to lean towards the latter.
What I do have is a reasonably-wide musical vocabulary. I've got a body of work now and hopefully it's broad. Hopefully, that means I can help create a good thing in the studio.
I also have a real love affair with the instrument itself. I love everything from the nuts and bolts of it, what it can do, the sound it makes, the choice of one cymbal over another, the tuning, and particularly over the last 20 years, the way things have opened up with what you can play a set of drums with. I think Jim Keltner would join me in that perspective. The tunings, the strokes and where you hit things have expanded.
One of the cool things about getting old is you realize the depth of the phrase "You'll never be all things to all people." And you can't be. It's a mystery to me, but there are even people who aren't crazy about Steve Gadd's playing. As I'm fond of saying though, "Music isn't a fucking competition. And if it is, it shouldn't be." Ultimately, good music is about collaboration. It's not about who can do this, that or the other thing—that whole "look at me" factor.
You take part in a Massachusetts drum circle program led by David Currier, the former drummer of Boston, designed to help people with dementia. Describe that experience and what it means to you.
I was really pleased David asked me to do that. Part of the reason I did it is because my brother-in-law suffered from dementia and eventually passed away from it.
The first time I did it, I was incredibly nervous and it's a strange, strange feeling. But within five minutes, I saw it was really joyous because it just pulled people in. Even people that are a long way gone, who may have had little musical ability, can still bang something in time. It was incredible to see a whole room of people with percussion instruments and toys responding so positively. Dave is the ringmaster. He calls out the songs, sings them and I join in as one of the people who help keep it all together.
Watching people at various stages of dementia coming together to do this cuts across a lot of shit. It's wonderful. I'm happy to join him when he wants me to do it.
What have those interactions taught you about the value of music?
It shows that music is about reaching people. And in Dave's drum circle, music reaches people at the most basic level. Everyone joins in to the best of their ability. We're pulling disparate people together with a horrible, debilitating disease, and for one hour they enjoy a heartwarming experience that's a great leveler.
People a lot further up the totem pole than me have explored this, going back to those U.S. State Department concerts back in the '50s led by people like George Wein. They played in many places where nobody spoke English. The musicians would start playing and you'd immediately see the joy from the communication through music. In those days, cultures couldn't be further apart, but music bridged the gap. Music cuts through race, religion and politics.