Dr. Das
The Politics of Dub Bass
by Anil Prasad
Copyright © 2007 Anil Prasad.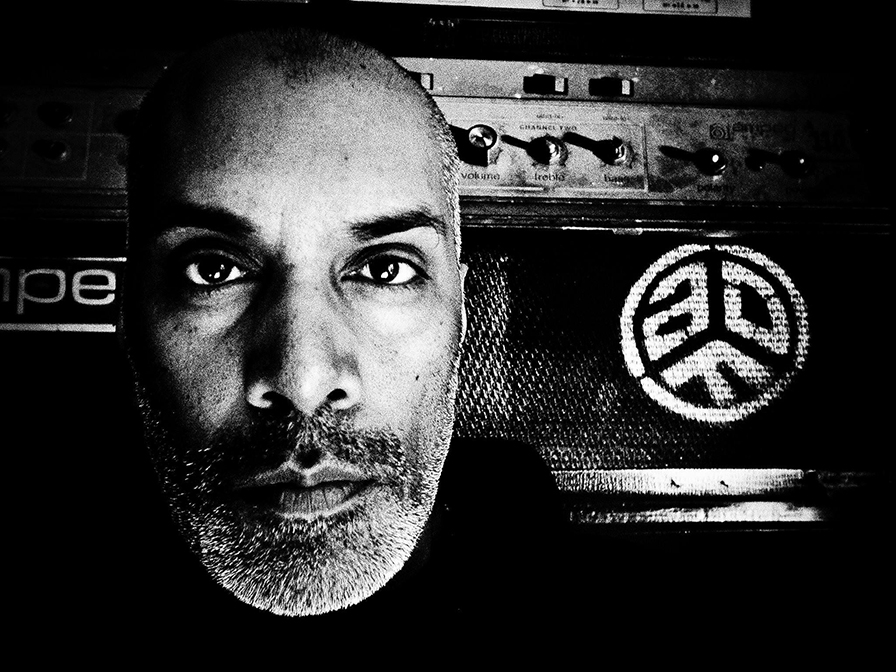 For Dr. Das, dub bass is a serious vehicle for social commentary. With its origins in Jamaica of the early '70s—a country then rife with political and societal instability—he feels dub bass to this day represents "the sound of people trying to bring down Babylon." The British musician put his philosophy into practice during 13 years with Asian Dub Foundation, a unique collective that combines dub bass, electronica, punk guitar, rap vocals, and Indian classical elements. The act's supercharged wall of sound is infused with messages aimed at combating racism, fascism, and globalization. Das left the group in 2006 to pursue a solo career that kicked off with the release of his new CD Emergency Basslines. The intense, all-instrumental disc is full of deep, dark and highly melodic dub bass, Indian and Arabic percussion loops, breakbeats, and crunchy feedback and distortion. It's designed to reflect a world in a state of flux, with a sonic perspective that's both militant and optimistic.
Describe the politics you feel are inherent in dub bass.
It relates to the general attitude which states that bassists are just there to do a job and hold down the rhythm, whereas vocalists and guitarists are the ones responsible for serious expression. To me, the bass has always been just as emotive as any other instrument. Dub music proves that's so because it represents an inversion of clichéd perspectives about bass. With dub, the bass line is the hook of the song and the guitar is often there backing it up. The bass line also offers a low frequency melody that carries the key emotional content. The challenge in being a dub bassist though is you've got to do all of that using as few notes as possible. However, your brief is the same as it is for any other instrument—ensuring how you feel about the world is reflected back into your playing.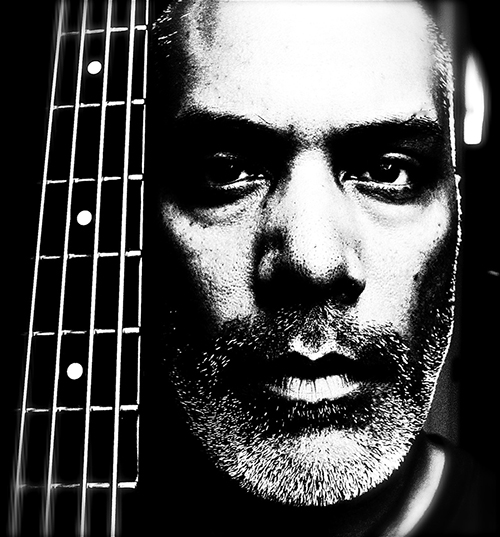 Contrast your compositional approach on Emergency Basslines to your work with Asian Dub Foundation.
On the new CD, I'm expressing emotional sentiments purely using bass, noise, and percussion—the three main components I've had running through my work for the last 20 years. This album is a distillation in that it strips away the other blatantly melodic components I had in Asian Dub Foundation, including vocals, keyboards, and guitars. Instead, I'm trying to challenge people to focus on the melody of the bass—and even the melody of noise—so they can hear, understand, and acknowledge both of them as distinct and unique pieces of musical thinking.
How have you evolved as a bassist across your career?
I've become more disciplined about getting to the essence of the bass line. I'm a lot leaner. I've taken off a lot of the fat. My goal now is to be able to play one bass line all the way through a piece of music and not feel the urge to go somewhere else. The reason people go elsewhere is because they're not happy about where they are. Some people might think playing one bass line all the way is easy, but it's actually very hard. To make it work, it truly has to be the best bass line you can possibly think of for that piece of music. So, when I'm writing, I tend to start a track with a percussion loop that inspires me and I'll jam along with that with my Minidisc recorder running. I might go through millions of ideas, but I'm looking for those three essential notes that comprise a great dub bass line. There are several criteria the bass line has to meet for me: Does it break your heart? Will it make your body move? Is it militant? And can you make love to it? I imagine all of those things when I'm writing. In a way, it's a search for the one bass line that exists at the center of the universe.

Currently Spinning:
Rebel Familia, Rebel Familia [Positive Production, 2003] - "This Japanese duo consisting of a bassist and programmer offers up the heaviest dub bass lines imaginable, as well as wicked distorted drums that make your speakers sound like someone's trashed them. It's a dark album reflective of Japan experiencing the effects of economic decline."
Black Uhuru, Tear It Up [Mango, 1992] - "I love live reggae albums and this is my favorite. It's raw, militant music with Sly and Robbie on drums and bass rocking hard, playing with energy and precision, and demonstrating how much you can improvise within reggae."
State of Bengal, Skip-Ij [Betelnut Records, 2007] - "This is the renowned British/Bengali producer's latest and best album. It's highly experimental, yet highly accessible. Each track is a riot with really original drum programming, emotive Bengali percussion, and excellent vocal performances."
Gear:
Bass - Status Graphite S2 Classic four-string, left-handed model
Rig - Ampeg B2R 350-Watt Rackmount Bass Amplifier Head, Ampeg 4x10 HLF Bass Cabinet Speaker
Strings - Status Graphite HotWire half-wound stainless steel strings
"I used to only be happy with strings that I had played for three years because it took that long to totally rub off all the top end from them. I was really pleased to find the HotWires which already have all the top end ground down, giving me an instant dub sound as soon as I put them on."