Fairport Convention
Folk-Rock Fortitude
by Anil Prasad
Copyright © 2005 Anil Prasad.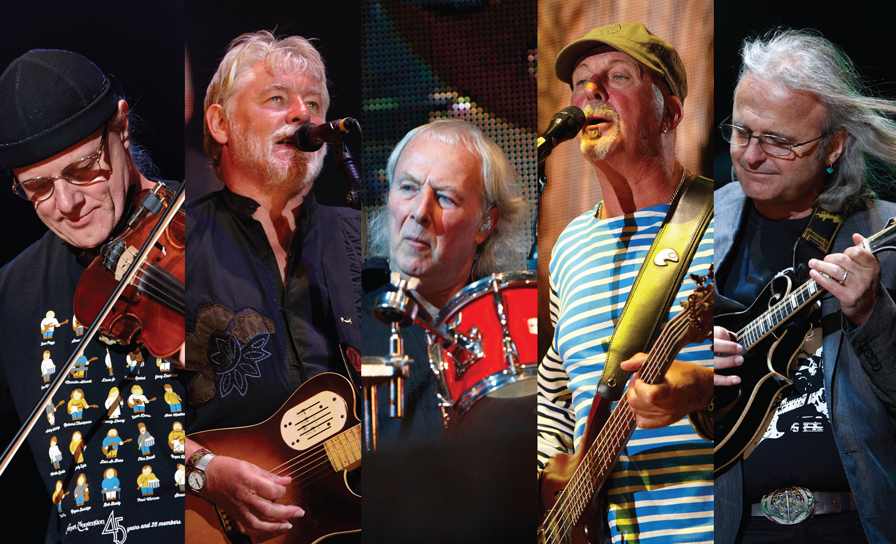 It's difficult to overstate Fairport Convention's influence on the world of British folk-rock. Founded in 1967, the band spurred the storied genre to life with its seminal 1969 release Liege and Lief. The record was the first to masterfully combine traditional English folk songs with searing electric guitar work and a galloping rhythm section. In fact, it still serves as a blueprint practically every British folk-rock act that followed references to this day.
"Liege and Lief was conceived as an experiment," explains founding member, guitarist and vocalist Simon Nicol. "The idea was to take genuinely traditional songs and make them sound modern and also create newly-written pieces that sounded hundreds of years old. We wanted to blur the boundaries between them and also unite them. They were all story-based songs with a narrative flow and a cinematic quality. That's what we still focus on."
The current line-up, also featuring drummer Gerry Conway, bassist Dave Pegg, multi-instrumentalist/vocalist Chris Leslie, and fiddler Ric Sanders, takes a less brash and more buoyant approach than Liege and Lief on its recent release Over The Next Hill. Its title track sets the tone for the disc's reflective, yet celebratory attitude.
"The song draws a parallel between the physical act of making these long journeys from gig to gig and the different phases of life we all go through as we get older," says Nicol. "The key word in the title is 'next.' You have to remain optimistic to keep doing what we do for so long."
Even with more than three-dozen albums, over 25 members passing through its ranks and thousands of gigs behind it, Fairport shows no sign of slowing down. The group still performs more than 200 shows a year. It's a schedule not dissimilar from Nicol's early days in the group playing rhythm guitar alongside lead guitarist Richard Thompson who left in 1971 for a thriving solo career.
"Richard was already remarkably inventive in those days with completely natural, free-flowing technique," says Nicol. "My goal was to give him a background in which to be a foreground, which necessitated a totally different, but complementary approach that was more practiced and considered."
Nicol still takes great joy in picking up his Stratocaster, but with the band often touring unplugged these days, he's found himself focusing on the acoustic world. His current axe of choice is the Santa Cruz Tony Rice model.
"It has a lot of headroom and sounds very sweet, even when I'm playing it very hard," says Nicol. "I use a lot of dynamics when I play. I'll be doing a lot of quiet fingerpicking and switch to spanking the strings within the same song to create dramatic emphasis. It's a fantastic guitar that doesn't choke up the way others do when you play with great intensity."
Fairport still maintains a highly loyal global fanbase. Every year, more then 20,000 people assemble in the British village of Cropredy for Fairport's Cropredy Convention, England's largest folk festival. The event celebrates the group's enduring legacy with a reunion concert featuring members past and present, as well many other high-profile folk and folk-rock acts.
"Having such devoted listeners is a source of considerable quiet pride," says Nicol. "I get a huge feeling of warmth from people all over the world who have their own, unique angle on the band, be it a favorite memory, period, track or band member. It's a real pleasure to share that with them. That's real job satisfaction for you."