Stephen Fearing
Propulsive Movement
by Anil Prasad
Copyright © 2009 Anil Prasad.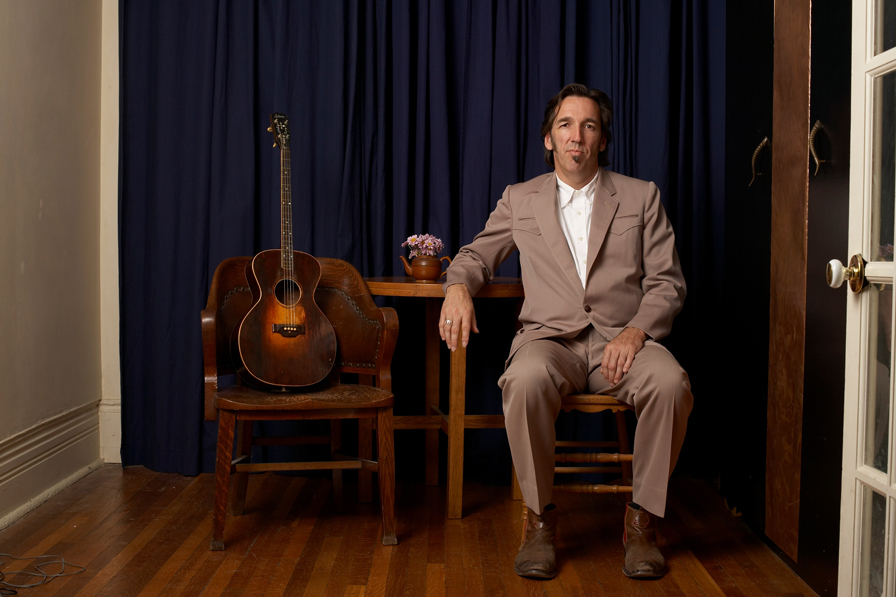 As a solo performer, the guitar for me is a band in a box," says Irish-Canadian singer-songwriter and fingerstylist Stephen Fearing. "I'm trying to get as many textures as I can out of it, so things remain interesting from song to song. I used to bring a bunch of delays and reverbs on the road to make that happen, but then the airlines changed the weight rules, which meant I had to carry around a lot less in order to still make a profit on tour. So the textures became part of how I play the guitar."
Fearing just released The Man Who Married Music [True North], a best-of collection that spans his 21-year career as one of Canada's most celebrated folk-rock performers and acoustic guitar virtuosos. In addition, he's one-third of Blackie and the Rodeo Kings, a raucous alternative rock and country act also comprised of guitarists and vocalists Colin Linden and Tom Wilson. The group just released their own career retrospective titled Swinging From The Chains Of Love [True North].
Fearing points to a couple of tracks on his solo compilation that epitomize his current approach to creating variation without relying on effects.
"'The Big East West' is a country-oriented tune in which I'm picking little chord clusters that sound almost like delay," says Fearing. "It's almost like taking a pop piano approach in which you're trying to lay down chords that are four beats to the bar. On 'Yellowjacket,' I use a repetitive riff that goes round and round. Initially, your ear hears the riff as a distinct part and then it becomes a pad underneath the vocal, creating a sense of movement. Doing things like that help me get away from the typical singer-songwriter strumming thing that people expect."
The unique methods of John Martyn and Michael Hedges played a major role in propelling Fearing to go beyond convention.
"Those two more than anybody turned my head to the endless possibilities of the acoustic guitar," explains Fearing. "Specifically, I'm going for a large bottom end like they did. Martyn had Echoplex rhythms going on in albums like Solid Air. He often played clawhammer style and created a backbeat with his wrist that allowed him to groove and invoke a propulsive, band-like sound. Hedges' ability to bring giant, percussive sounds to the guitar really inspired me too. He emphasized the fact that the guitar is a big snare drum, and if you use the right pickup it can sound humungous."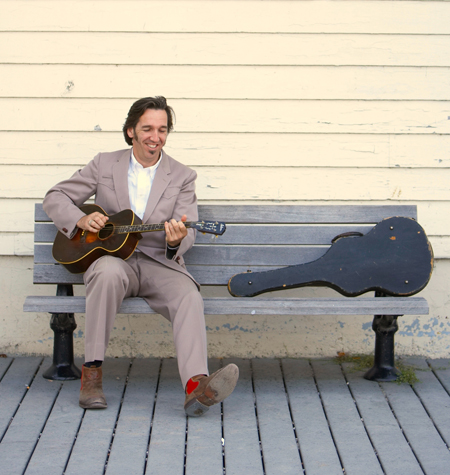 Fearing's main acoustic guitar was built by Linda Manzer in 1990. The deep body 6-string Cowpoke model features a gentle cutaway with a German spruce top inlaid with abalone and boxwood at the sound hole. It's strung with medium-gauge Newtone Masterclass PhosBronze acoustic guitar strings.
"It's an incredibly robust and strong instrument," says Fearing. "I'm a very physical player and my guitar needs to be able to take a lot of abuse. I'm not pounding on it willy nilly, but I do a lot of neck wiggling and hit it pretty hard to create a big sound. I play with acrylic nails, so I have a very strong attack. It also has a big box and low end, yet it's still pretty even-sounding right from top to bottom with an impressive dynamic and tonal range."
He invoked Hedges' pickup advice in a unique way on his Manzer. It's equipped with a Takamine saddle pickup, as well as an Audio-Technica ATM35 internal condenser mic. Additionally, the guitar is outfitted with the guts of a Countryman DI box that powers the mic—a custom configuration designed by Canadian luthier John Sharples. The signals are wired through two XLR jacks which Fearing runs through a Pendulum SPS-1 Stereo Preamp.
"The Takamine is the best-sounding pickup I've ever heard, but it's so hot that it will overdrive most preamps," says Fearing. "The Countryman DI takes that hot signal and transforms it into a balanced signal. The other drawback of the Takamine is that it's very hard sounding when you pick the guitar right by the bridge. And the drawback of having a microphone inside is that the bottom end is wussy and prone to feedback. I use the Pendulum to EQ the top out of the pickup and the bottom out of the microphone, which I then run down the chain as two mono signals and blend in the house. So, the pickup deals with the volume, presence and bottom end, and the microphone supplies the mids and the air on top."
When Fearing plays with Blackie and the Rodeo Kings, he focuses on two electric guitars: a late '60s Avocado green burst Harmony Rebel and an early '60s Harmony Monterey.
"The Rebel is beautifully made with gorgeous aesthetics," says Fearing. "It's a hollowbody slim-line guitar with F holes and one pickup at the end of the fretboard and another in the middle of the instrument. It also has separate slider tone and volume controls, and on-off toggle switches for each pickup, which gives you a lot of combinations to explore."
In the acoustic universe, Fearing is known for using drop-D, double drop-D and DADGAD tunings. He advocates using open tunings with discipline instead of as an ephemeral device.
"One of my pet peeves are singer-songwriters who use open tunings and just jangle away," says Fearing. "There's a dissonance that's initially attractive and then wears off quickly. Joni Mitchell is a master of using open tunings with discipline. However, my generation is full of people who invoke them to create complicated, jazzy-sounding chords or just arpeggiate a bunch of chord changes as the basis of a composition. They're missing the point, which is to use them as a means to a specific end. For instance, if you're in standard tuning and play a regular D shape, you lose your bottom end. You'll go looking for the root of the chord on the fourth string and it won't have a lot of low-end massed behind it. But if you tune your low E down to D, suddenly this really rich, sonorous bottom end emerges, as well as unison opportunities you can incorporate into songs to create distinct tonalities and colors."
Ultimately, Fearing's preference is that listeners focus on his music as a whole, rather than the sum of its parts.
"I want the lyrics, vocal delivery, melody, and guitar playing to work together seamlessly," says Fearing. "When I come off stage and someone says 'I really loved your show. And by the way, I didn't know you were such a great guitarist,' I know I've done my job well."