Bunky Green
Urgency and Continuity
by Anil Prasad
Copyright © 2012 Anil Prasad.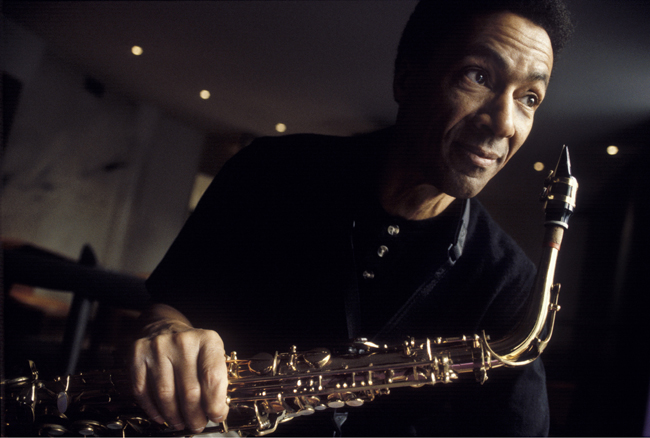 Saxophonist Bunky Green bristles at the idea of playing by the rules. On more than one occasion, the Milwaukee, Wisc. native was on his way to jazz stardom, but each time his principles won out. It's a significant reason why the highly influential, yet unsung musician has mostly remained out of the spotlight for decades, instead focusing his energies on his role as a leading jazz educator.
During the early days of his career, Green took over for Jackie McLean in Charles Mingus' band in 1960. The legendary bassist's adventurous spirit and willingness to push boundaries, often at the risk of curtailing commercial success, proved highly influential on Green's artistic psyche. In 1961, he relocated to Chicago, where he recorded and performed with luminaries including Sonny Stitt, Yusef Lateef and Andrew Hill, while also propelling his solo career forward with albums such as 1965's Testifyin' Time and 1966's Playin' for Keeps.
Unhappy with how he was treated by labels and music industry people in general, Green began transitioning into the jazz education universe in the early '70s. He taught at Chicago State University from 1972 to 1989, while sporadically recording. During the late '70s, he released three albums for Vanguard: the commercially-oriented Transformations and Visions, as well as the uncompromising Places We've Never Been. The 1979 album features six expansive post-bop pieces, with an all-star band including Randy Brecker, Eddie Gomez and Freddie Waits. It's particularly notable for "East and West," the album's first track, which finds Green exploring the cultural and aural influences of a trip to Algiers.
In the more than three decades since Places We've Never Been, Green has only recorded a handful of albums, but several are outstanding.1989's Healing the Pain, which explores the complex emotional landscape related to the death of his parents, is a soulful, slow-burning affair and a career highlight. 2006's Another Place, produced by Steve Coleman—who was heavily influenced by Green—picks up where Places We've Never Been left off. The album showcases a broad spectrum of original compositions and standards, full of fiery, kinetic and edgy performances more the domain of a hungry 20-something player, than that of the then-70-year-old Green.
Green's most recent recording, Apex, is another ambitious effort. It's a cross-generational collaboration with saxophonist Rudresh Mahanthappa, known for his engaging hybrid approach that merges avant-jazz and South Asian elements. The critically-acclaimed disc has sparked a renaissance of interest in Green's career. Both Green and Mahanthappa brought five top-tier compositions to the sessions, designed to bring out the best in each other, as well as their A-list sidemen Jason Moran, François Moutin, Damion Reid, and Jack DeJohnette. It's an intense album and easily one of the standout jazz releases of recent years. Green and Mahanthappa performed at several high-profile jazz festival gigs during 2011 in support of Apex. The duo are now planning the next chapter of their ongoing collaboration.
Green's last two decades of recordings and performances were achieved while also serving as the Director of Jazz Studies at the University of North Florida at Jacksonville. In this conversation, Green examines his career's intriguing intersections between composition, performance and education, and the philosophical and spiritual perspectives that underpin them.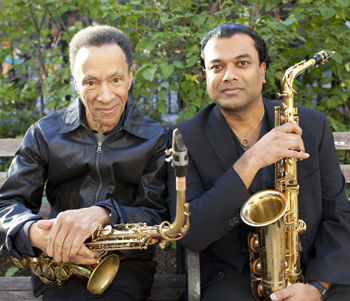 You were first introduced to Rudresh Mahanthappa when he sent you a cassette out of the blue in the early '90s. What can you recall about your reaction to it?
We were both at an International Association of Jazz Educators (IAJE) conference and he brought me a tape. He was playing with a college band in Chicago and he wanted me to listen to it. So, I did and I got back to him. It was as simple as that. I told him "It's wonderful man, join the club. You're one of us." I said that because there are certain people who play a little differently and don't adhere to the older school as much as others. Rather, they map their own way harmonically. I'm talking about people like Steve Coleman and Greg Osby—both good friends of mine. I saw a similarity in intent with Rudresh, so I complimented him and told him I loved what he was doing. I felt it was the kind of direction I've been going in as well. Through the years, we remained friends and he sent me his stuff to listen to. He has been moving phenomenally forward in getting into his own culture, examining his musical roots and making it apply to jazz, as opposed to being a carbon copy of someone else.
Describe the seeds of your interest in Indian music.
Many years ago, Donald Garrett told me about Ravi Shankar. Donald was with John Coltrane when he was doing the two-bass thing. He was one of those people seeking to find something new and different. I used to sit for hours listening to Shankar and I went to see him perform. Prior to that, as early as 1965, I was in Algiers and heard an Eastern bagpipe player—as in the small bagpipe, not the Western variety. That really interested me. He blew my mind and I said to him "Wow, that's what I'm kind of hearing in my own head. Instead of a lot of harmony, I see you're treating the harmony by dealing with the tonal center." The only thing that was essential for his music was the drone. That stuck with me and you can hear it on different albums I've done. I couldn't do it too much because the record companies didn't want it, so I had to sneak it in when I had an opportunity. [laughs]
Tell me about the collaborative model you adopted when working with Mahanthappa on Apex.
The Apex story started in Chicago in 2009, when we played in Millennium Park together. Rudresh wanted me to play with him and called me to ask. At first I said "I don't know." But he was pretty persistent and said "I just want you to do this gig with me. Come on, you can do it." So, I agreed and we did it. I realized when you're on the bandstand with Rudresh, you better come to play. Oh yes. And that's because it's so intense from the moment you start to the moment you walk off the stage.
We heard the recording of the performance and said "Wow, we need to record this." Rudresh took it from there. In terms of the material, there was never any problem because I've got material going back stylistically, using those Eastern scales, all the way to the '70s, when I recorded for Vanguard Records. There are a bunch of albums I did for Vanguard with Elvin Jones and others, including Summit Meeting and Time Capsule. On my own personal recordings for Vanguard, I did a thing called "East & West" that was in that vein. That was on an album called Places We've Never Been from 1979. I also wrote three tunes for Elvin Jones' Time Capsule and those were kind of in that vein as well. So, it was always there. And when you go back and really listen to my stuff, you can hear that I've been playing like that. You can't find someone playing "outside" without consistency and knowledge. They can do it because they've been doing it for a long time, and they can do it naturally.
People ask "How can a person Bunky's age play so young?" That's been the game lately for the last few years. It's like people rediscovered me. And every time, I have to say "Wait, have you thought about going back and listening a little bit? Put some time in and you can really see I've played like that throughout my career. You'll also see it was picked up by some other people after they saw where I was going." So, when Rudresh and I got together, everything was fine. There's a kind of continuity between what we do together and what I did before. I tend to be more harmonically oriented than Rudresh, because I have an entire history coming up through Charlie Parker, John Coltrane and Sonny Rollins. We just sat down and said "Okay, let's compose this stuff, construct this thing architecturally and do what it takes to make it work, because it's already there. All we have to do is go down and rehearse with the appropriate people and do it." Jason Moran was marvelous, because he's so flexible and able to relate to wherever you're going. Not only that, he'll take you some other places. Jack DeJohnette has always been the type of player he's been. He plays the history of jazz and goes into the future. So, Apex was set up for some degree of success. And apparently, the album has been very successful.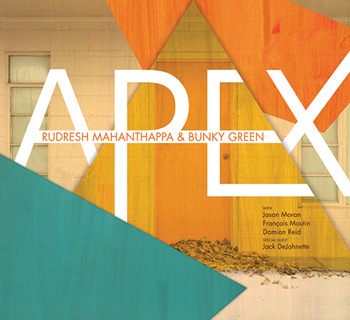 Were there any challenges you and Mahanthappa faced when putting the album together?
It was a unique situation in that the only challenge was getting everyone together so we could map things out, architecturally speaking. We said "We have all the pieces, now how shall we put them together as a consummate whole?" It all came so fast, it was incredible. I brought my music in and the rhythm section absorbed it immediately. We would run through things a couple of times and have it. By the third time, people were just playing the tune. It was a very natural thing. Rudresh and I quite often run so close that we sound alike and it's hard to differentiate sometimes. [laughs] That shows you how compatible everything is. This is an ongoing collaboration and we're going to see where it goes.
Places We've Never Been is considered an underground jazz classic. Mahanthappa points to it as hugely inspirational to him. How do you look back at it?
I think it was apocalyptic, really, because there it was: Eastern echoes in that kind of playing. You also hear them in the stuff I did with Elvin Jones. During those sessions, I was just playing what I wanted. I didn't have someone breathing down my neck. The record company wasn't saying "We want this kind of product." On those sessions, it was more or less the product I wanted it to be. Places We've Never Been was far-reaching, stylistically, in terms of what I was doing as a player. That's what interested Rudresh. The way I approached the harmonic fabric was suggestive, rather than just playing the harmony as it was. I created a lot of tension and relief by going against standard harmony and then ultimately resolving it with continuity. That's the whole bag. You can play so many things. You can play whatever you hear, but it has to have continuity for it to all hang together.
I understand when you were with Vanguard, you had a deal in which they let you make Places We've Never Been in exchange for doing several albums their way.
[laughs] Exactly. And even doing one album your way wasn't really always the case for most people. It was something the person handling me at Vanguard let me do. His name is Ed Bland. He was the producer and knew where I was coming from. If it had been someone else, I don't think I would have been able to get that album out. I knew I really needed to document it and he gave me that opportunity.
How do you feel about the other albums you released on Vanguard?
A lot of them are commercial and they were designed to be that way. But I did get to make another album with Ed later called Healing the Pain that came out in 1989 on the Delos label. I was able to go where I wanted to go on that one. I was recording for my parents, because they died pretty close together and I was in one of those moods, musically-speaking, in which I reached a high point of transcendence beyond the regular way of doing things. On "Seashells," I play a melody that's very different and difficult. It involves playing octaves very close together so it sounds like I'm playing two notes at once. That was a challenge, and it came off successfully.
Was Another Place, your 2006 album produced by Steve Coleman, conceptually related to Places We've Never Been?
You hit it. It's another place we hadn't been to. [laughs] They are related, title-wise. I really enjoyed that album because so many interesting things come up on it. It had Jason Moran on piano, who makes me think differently. I really start concentrating and listening to how he puts things together and my mind would go along with that. It helped encourage me to do the things I do naturally, but in other contexts. No matter how great a piano player is, if you're not together with him conceptually, things can come out rather stiff, sound forced, or not come out at all. But with Jason and Nasheet Waits on drums, everything just came together. I played with Nasheet's father Freddie Waits on Places We've Never Been. Freddie was a hell of a drummer too, who unfortunately died very early, very young.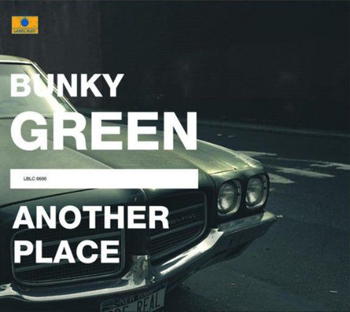 How did Coleman influence the album as its producer?
Steve is a wonderful player and never got in the way. He said "Just do what you want to do." Steve damn near forced me to make the album. He and I are very close. He said "You've got to do this album." I said "I don't want to record at this particular time because I'm disgusted with the scene and how record companies aren't fair to artists, financially speaking." I was so disgusted with some of my previous experiences that I said "I'm not going to record again." I really didn't care if I ever did at that point. It just wasn't important to me under the conditions the record companies impose. Steve kept pressing and said "These people at Label Bleu want to do it. It's a cool label in France." I finally said "All right Steve, I'll do it. I'm only doing this because I trust you." That was it. I did it and Steve was right. I think it's a great album and a historic one. It was very well put together from a production standpoint, and playing-wise, it was fresh.
Reflect on your time working with Elvin Jones.
It was great working with Elvin. We were pretty much on the same track, musically, at that time. He happened to become very famous, very fast. I chose a different route. I was on the track to fame, but I decided to go into education. I could have stepped into that particular world of traveling and fame. I would have been pretty much made. When I worked with Elvin, it wasn't that I learned anything from him. Rather, I had the opportunity to play with a drummer I admire and get my message across with him. He was such a fine drummer.
You received some attention for appearing on Travis Shook's 1993 self-titled album with Tony Williams. What are your thoughts about that album now?
Travis is a wonderful pianist. It was his album and he made a really fine one. I played only on a couple of tunes. I wasn't really able to get into what I'm capable of doing with my style on it. You would have to look to my other albums for that. My stylistic approach is very personal and that album isn't indicative of what I do. I did play with Tony on that album and he was a wonderful player, but it was a pretty straight-ahead album—a good one though. I'm not trying to be critical. I thought I played okay, but it wasn't the sound I wanted, to be honest.
What are some of the key perspectives you consider and impress on your students as a jazz educator?
The funny thing about jazz education is there are a lot of people who put it down. They see it as a conflicting element in producing the highest level of jazz musicians. I don't see it like that. I believe jazz education has done great things for young players, provided they've had teachers that are knowledgeable. There are a lot of teachers out there that know how to play and communicate important knowledge that can be beneficial to young, potential players. If there is a problem with jazz education, it's maybe that people have to be careful not to institutionalize things whereby musicians come out sounding like carbon copies of one another. Some students might hear the beat of a different drummer and as a teacher, you have to say to yourself "Just because they don't play the way Parker or 'Trane did, doesn't mean they can't become wonderful players. I might even have a genius here." I'm sure Ornette Coleman didn't think that way. I can't see him within any kind of regimented environment.
From the very first day, I have my students understand that the real school is the street—it's as simple as that. You can get an instrument and become an advanced player, but you have to get into the nightclubs or other environments where you're playing the music. You have to venture into an environment where things aren't all planned and you're living very much in the moment. You have to think and be creative on the spot. You have to marinate in an environment where things change around you. You can't just practice with a CD, because then you're just working and designing what you do to fit what's on the CD. You can't play as freely as you would as an improviser in an environment where the drummer, bassist or pianist change night to night. You need to hear other people, how they think and respond to the immediacy of everything going on.
What do you tell students about working within today's music industry climate, and the fact that there are fewer jazz performance opportunities than ever before in the US?
I say to them "Don't look to get rich. Very, very few jazz musicians have been very successful, monetarily. That's not the norm. If you're looking for a high-paying job that's going to make you $250,000 a year, it might not be the path you're looking for." [laughs] However, that's not the real point of this. I ask them "Do you love it? Is this something you truly want to do? Do you have a burning desire to do it? Is there a fire inside you that you can't put out? If that's your desire, go for it and let the chips fall where they may. More than likely, you'll work it out and find a way to make a decent living. Maybe you can be one of those people who get rich doing it, but it's about the fire in the belly. You have to know that you have one life to live and this is what it's going to be about." This is exactly how I talk to my students. This is real life. I tell them about all the wonderful musicians I play with and bring back knowledge from the street. I tell them "No-one's going to protect you if you do something wrong or didn't get something right on the street. When you go out there, you are out there. And the learning environment out there can be very cold sometimes. It's all part of the process. But if you're learning, you're cool."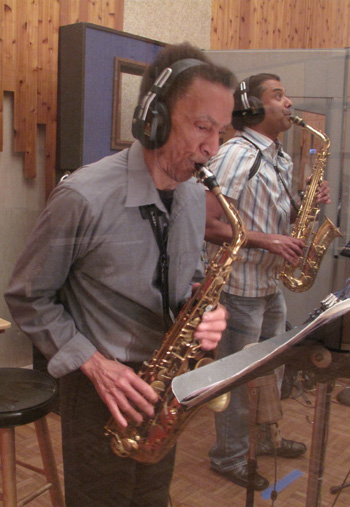 What did Through His Eyes, the 2004 student tribute album by the University of North Florida Jazz Ensemble, mean to you?
That was wonderful. It was a marvelous thing as a tribute from the students. It made me feel very good and needed. It also made me feel like I had done something to really affect the lives of some young people in a positive way. Keith Javors, a wonderful piano player, put it together and came up with his own take on things with his great band, and did a beautiful job.
You've been working on a lot of new music. What's the status of getting some of it released?
I'm looking forward to putting an album together and moving forward with it. Inevitably, someone will come up to me and say "I want to record a project of your music." But I'm not over-eager to put something out unless everything is right with the record company. When they do come along, I have to ask "Is it my show or is it your show? If it's your show, you have an idea of how I should sound. But if you want me to record for you, you have to like what I'm doing, so go ahead and let me do it." I've been concentrating on Apex which has us both out front in terms of performing. Rudresh continues performing everywhere on his own and I'm still teaching. So, I'm not in a hurry to be recorded, but if the right situation comes along, I'll more than likely go along with it. I've already got great documentation of what I've done, but I am thinking about the future.
You once said "Unless a musician keeps his mind free, the rebel becomes the conservative." How do you keep out of that trap?
It's just part of my DNA. When a person with great ideas comes along who changes the system, eventually someone else comes out with an idea that's even more rebellious. Even if the newer idea is right, the first person may say "I don't want to change this." Why? Because that person is comfortable in his position. So, the rebel has become the conservative. You have to be very careful to not become the conservative. So, here's Bunky Green. This is how I play now. People ask "Bunky, will you be playing like this years from now?" I respond "Well, if I'm alive, hopefully not. I want to keep evolving." But that doesn't mean I want to be different for the sake of it. That's not what it's about. Change has to be about something that inspires you to deliver in a new area. You're saying to yourself "I want to uncover these layers and see what I can find." It's about keeping your mind open. Unfortunately, what happens is you can have a record that becomes very popular that relates to the average person and lots of people buy it. Now, when you go out to perform, you better play that tune—if you want to remain at that level of popularity. And you may not want to play it, but you're obligated to. You have to think about what you put out there. Ask yourself "Can I fathom playing this again?" [laughs] Across my 15 albums, there are things I would have problems playing again, because I wasn't satisfied when I did them, and there are others I'm happy with. The main thing is I'm an individual who just wants to move forward and play what I hear in my head. I don't want to be hindered by someone telling me something is not commercial enough. An artist should do what he or she feels is right and substantive.
You've also described creativity as a matter of life and death. Elaborate on that.
In order to be great at what you do, it is a matter of life and death. It's a case of you almost having to do what you do in that you can't really live unless you do it. If you don't do it, you're unhappy with yourself and this unproductive state you're in, and in a way that's a sort of death. I don't mean it literally, but it's about having a need to express yourself that is so urgent. You're saying to yourself "I've got to do this thing. It possesses me so much that it never leaves me. It's with me all the time." I'm talking about musicians who are thinking about phrases all day and night. They can't sleep because they're thinking about them. And when they're asleep, they wake up practicing without the instrument. They're mentally practicing and it becomes part of their living process. So, all of this is a metaphor for the idea of life and death.
Is there a spiritual element within your work?
Yes, yes, yes. There's definitely a spiritual element. I can only do the things I do because God gave me this talent and it's really not mine. Because God gave it to me, it's my duty to develop it to the highest level I possibly can. It's something that will only shine through me if I'm in contact with the creator. It's this light of mine and I'm going to let it shine. It's not about ego. It's about getting ego out of the way. In my case, the only ego part is that I feel good in that after all of these years, I'm getting credit for creating a style. There are thousands of marvelous saxophonists wonderfully endowed with technique, but it's not about that. It's about having someone say "There was a person who came along named Bunky Green and he left something behind for other saxophonists to work on, stylistically. He was his own person. He's a creator." And that's in line with the creator, period.