Trey Gunn
Interlocking Contexts
by Anil Prasad
Copyright © 1994 Anil Prasad.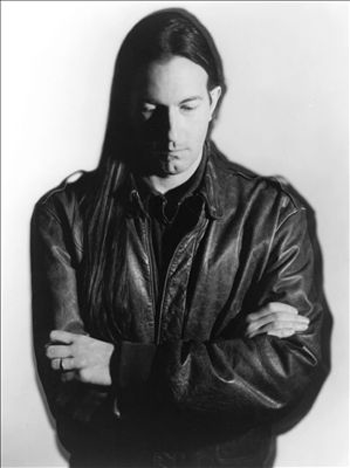 Trey Gunn is far more interested in exploring music than discussing it. Combined with the Stick, his fingers are his preferred mouthpiece for a unique sonic approach that explores the worlds of prog-rock, avant leanings and expansive rhythms.
He first emerged on the scene as a guitarist and bassist with hard rock and new wave bands in his native San Antonio, Texas. In 1981, he pursued a degree in music composition at the University of Oregon. Gunn went on to attend a Guitar Craft course Robert Fripp was teaching in 1985. The transformative experience motivated Gunn to steep himself in Fripp's world of altered tunings and singular learning philosophies. During this period, he chose to focus on the Stick as his instrument of choice.
Impressed with Gunn's drive and performance skills, Fripp chose to forge a musical partnership with him. It has been a fruitful relationship to date. Gunn has toured and recorded with Fripp as part of several groups, including the Sylvian-Fripp band, Sunday All Over The World, The Robert Fripp String Quintet, and The League of Crafty Guitarists. Most significantly, Fripp asked Gunn to join a new version of King Crimson which will soon make its debut. The line-up also features guitarist Adrian Belew, drummers Bill Bruford and Pat Mastelotto, and bassist and Stick player Tony Levin.
In addition to his collaborative work, Gunn has released two solo albums to date, 1989's Raw Power and 1993's One Thousand Years. The former is a showcase for his Stick prowess, while the latter is a sweeping, ethereal and sometimes kinetic disc which focuses on more layered songs and compositions.
The following is the first interview Gunn gave in North America, covering his evolving solo career and his upcoming work with King Crimson.
Describe the Stick for the uninitiated.
It's a hybrid instrument that combines the disciplines of the drum, guitar and the keyboard. It looks like a two-by-four with 10-12 strings attached. It's played by tapping the strings. Only one finger is used to get one sound, so you can use all of your fingers simultaneously. That means you can use both hands to play bass lines, chords and melodies. It requires a kind of keyboard technique, but unlike a keyboard, the fingers have to move around a whole plane, not just up and down a line of keys. The bass sound is the most immediate and appealing sound. It's a big fat, funky sound with a lot of punch, but you can make it sound like a guitar or a keyboard too. Everyone has their own way of playing. The advantage is there's no history to the instrument, so you can do whatever you want. The disadvantage is because there's no tradition, you're left to generate everything on your own.
Although the liner notes don't mention it, I understand Raw Power is a soundtrack album.
It was originally music for a windsurfing film. A friend of mine is a windsurfing cinematographer in Oregon. He asked me to do some music and I thought it was a really good opportunity to learn the Stick, as well as some percussion and drum machine stuff. There are a few good things on it, but it's a bit naive compared to the Stick playing on One Thousand Years. The sound of the instrument was so wild for me that the sound carried it.
Whereas Raw Power is a showcase for the Stick, One Thousand Years features much more fully-formed compositions. Describe what you were going for.
I didn't want to make a players' record. I hate players' records. I think if anything, I feel like that was successfully accomplished. I think the audience for the album could be people who aren't connected into that whole musical world. I think it's the kind of record that will take several years to find its place and I'm happy with that.
Describe the creative process behind One Thousand Years.
Most of it was based in improvisation. That's pretty obvious in some of the lyrics. The words are very clearly improvised. Musically, I would build up a rhythm track and do a whole bunch of different improvisations, percussion parts and vocals, and edit everything together. So, different things are jumping in and out.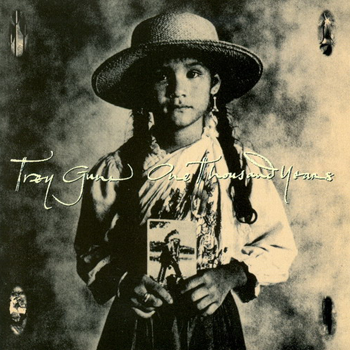 You handle all of the lead vocals on the album. How comfortable are you with that role?
I've been singing on and off for 15 years in various bands I've worked with. I love to sing, but I'm not entirely convinced of myself in that role though. I think my voice is very unique sounding, but I'm not sure it's a good voice. For instance, David Sylvian has an amazing voice, and he doesn't need to sing loudly to make it work—it's just there. He's the only person I've run across like that.
The album cover of One Thousand Years features a striking cover. What did you want it to communicate?
It had very little to do with me, but it was just the right record cover. The art director, Bill Smith, said he had the picture and didn't know what do with it and as soon as he heard my record he thought these two should go together. I don't know the girl's name, but her grandfather is a Chief. That's all I know. But there is Choctaw Indian blood in my family. Indians are very natural in the world as opposed to us in the cities and I tried to deal with that in the record. I live an urban life, not by choice, and for me it was very strange and so right that there's an Indian motif of the natural world on the cover. It's what I'm personally struggling towards while being stuck in the middle of Manhattan.
Robert Fripp can work with anyone. Why do you feel he's so keen to incorporate you into virtually all of his recent projects?
It's because I'm not interested in doing something that's been done before. It's not that you can't hear me doing something that hasn't been done before, but in general, I'm looking for another way to play the bass line. At worst, you'll get something quirky out of me. We've spent the last few years building up a new vocabulary of music together. The vocabulary of rock music is old words, and what you say with old words are old things. The League of Crafty Guitarists and Sunday All Over The World were frameworks for that vocabulary. Hopefully, Crimson will really be the beginning of it.
Can you define this new musical vocabulary?
We're discovering it as we go along, and not reflecting and keeping track. All I can say is we're at the beginning. We just woke up, we were just born yesterday and we're really in the dark. It's a matter of "Does this feel new to us? If it's old, it's out." I'm not so keen to really define it yet. At some point in the next few years there will be a period of reflection, but right now we're barreling ahead as fast as we can.
How do you look back on the Sylvian-Fripp album The First Day?
It was great recording it. We had no idea what was going to happen when we went into it. There ended up being a lot of improvisation and three pieces became hugely longer than we expected. We played them live in the studio and when the songs were over no-one would want to stop, so we kept going. Those became the long codas on "Firepower" and "20th Century Dreaming." They turned into psychedelic landscapes and we kept going for it. They just kept building into bigger and bigger things. With "Darshan" the tape ran off of the reel.
We were really picky about the feel of the album. It was tedious to work on at times. David Sylvian is very good at crafting every little thing. If something didn't quite feel right, we would fix that one little thing. It's not really fun for a musician to do. It's very hard to do and it's very time consuming and expensive. But then you end up with some very exceptional performances on the recording. That's one way of working. The other way is you just come in and blow and that's what Robert does. In that respect, Robert and David represent two entire extremes of making a record, but that's why the record works for me. It's very crafted, and because of that it's a very interesting record to listen to.
What attracted you to the challenge of joining the new King Crimson line-up?
When Robert asks you to join Crimson, you just don't say no. The fact is, Crimson is Crimson and no-one else is Crimson and no-one else can do Crimson music but Crimson. I think there's a need for Crimson to make its commentary on the times. As soon as we got together and played it was so obvious that no other band in the world could play these musical ideas.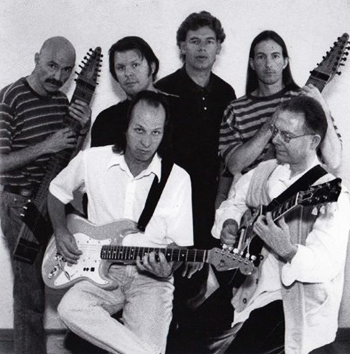 King Crimson line-ups are known for their volatility. Has the group mapped out a plan for the future?
Well, it may not be different. I think people are older and more experienced and we only have an industry commitment to make one record. We may do that, do some touring next year and that may be it for this line-up. The situation with the last line-up was they were under obligation to deliver several records. The music stopped happening for the group after the Discipline album and they weren't allowed to stop. Hopefully that won't happen this time. There are a lot more guys in the band, and more complications and relationships to bounce the tension around.
Describe the chemistry of the new King Crimson.
It's really good. I've never worked with so many people with such strong voices before, though. Sometimes you don't necessarily want six different things happening at the same time. But we really clicked into the six pieces on the upcoming new mini-album called Vrooom. Everyone contributed to them successfully. It's less of a rock band, and more of an orchestra without keyboards. If you listen to the new recording, there's generally that much playing going on.
How are you and Tony Levin meshing together, given the similar frequencies you both occupy?
Funnily enough, there's no Stick from Tony on Vrooom. He only plays bass and I play Stick. Tony played a lot of upright, electric and bowed bass that sounds really amazing, with me on the low end of the stick as well. However, we have been working on some interlocking bass parts. We're also still looking for ways to do something on two Sticks that's really unique and really well-delivered. The same goes for the two drummers, by the way. Basically everyone is just getting to know each other. For instance, Bill Bruford hadn't seen Adrian Belew in 10 years until these sessions. It'll take awhile for everyone to figure out how things will work out.
I understand the band dislikes the word "reunion" when it comes to describing this undertaking.
When the last line-up was together, none of the old music was considered, and the situation is different this time. We're re-developing some of the old ideas and reworking some of the older pieces that haven't been played for 20 years. I think Robert feels we have a band that can tackle some of that material. I think it will work. I think we want to draw on the whole history of the band, but without it being a reunion. The trick to that is new material and that's what we have right now.
Are you concerned about being pigeonholed as a prog-rock musician with the King Crimson association?
I'm not worried about it at all. I don't have any idea what's going to happen with this band, but I have a hunch that it'll be quite a wild roller coaster ride once it kicks in. I think things may spin out of control for awhile. It's just another stage in what I do and it's possible it'll be the highest-profile thing I'll do, but you never know. I think the key is to continue to work in as many different contexts as possible. There are a lot of people who hate King Crimson and I hope I'll be able to play for them too.