Hiromi
Reaching Beyond
by Anil Prasad
Copyright © 2008 Anil Prasad.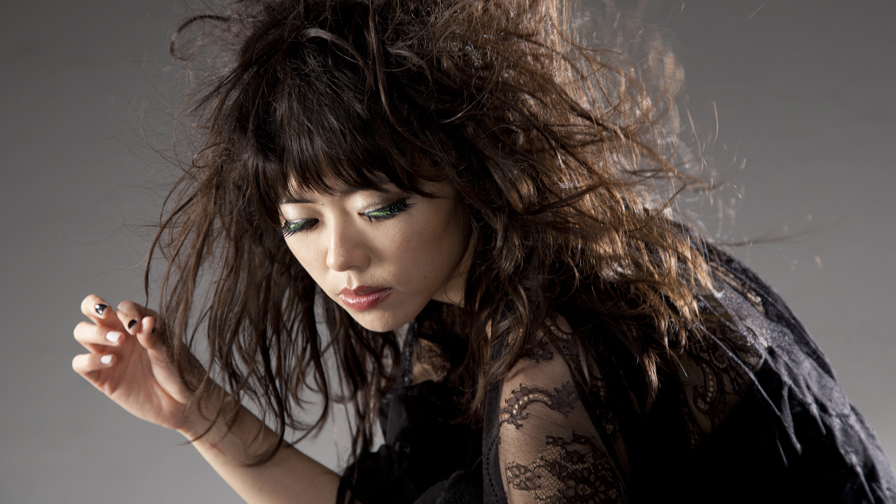 Keyboardist and composer Hiromi Uehara's zero-compromise approach to jazz and fusion has garnered her a significant global fan base that straddles myriad demographics. Jazz-rock, straightahead jazz, and progressive rock fans of all ages relate to her diverse, engaging, and high-energy output, not to mention her exuberant stage presence. At 28, the Japanese-born, Brooklyn-based virtuoso was born well after the heydays of those genres, yet her sound is an expert distillation of those influences combined with a modern, worldly approach.
Preferring to go solely by her first name, Hiromi's fifth album Beyond Standard may come as a surprise after four albums focused on original compositions. As its title implies, it's a collection of unique covers that have deep meaning to her. Some of the pieces she reinvents include Jeff Beck's "Led Boots," Rodgers and Hammerstein's "My Favorite Things," Gershwin's "I Got Rhythm," and Debussy's "Claire de Lune." Hiromi also revisits "XYZ," one of her own pieces from her 2003 debut CD Another Mind. The tune was renamed "XYG" with the "G" signifying Screaming Headless Torsos' guitarist David Fiuczynski's fiery contributions to the new version.
Fiuczynski, bassist Tony Grey, and drummer Martin Valihora comprise her high-caliber band Sonicbloom and play a major role in defining her sound. Together, the group provides truly imaginative and kinetic interpretations of the material on Beyond Standard. One component of their sound that's particularly fascinating is how all of the players alternate responsibilities for carrying the melody and rhythm, something that's relatively rare for bassists and drummers.
Hiromi has another album currently available only in Japan called Duet. The two-disc set is a collaboration with jazz legend Chick Corea. It captures an acoustic piano duo set the two performed at the Blue Note Tokyo. Corea and Hiromi have known each other since she was 17. A random Tokyo meeting with Corea resulted in him inviting the then-teenaged, starstruck pianist to sit in with him at a gig the next day. The rest is history.
Hiromi's profile is exponentially increasing. She's one of few artists in the jazz realm that have made the jump from clubs to large theaters and major festival slots in recent times. Her infectiously positive attitude towards life and music have surely helped propel her to such heights—something she discusses in this buoyant conversation with Innerviews.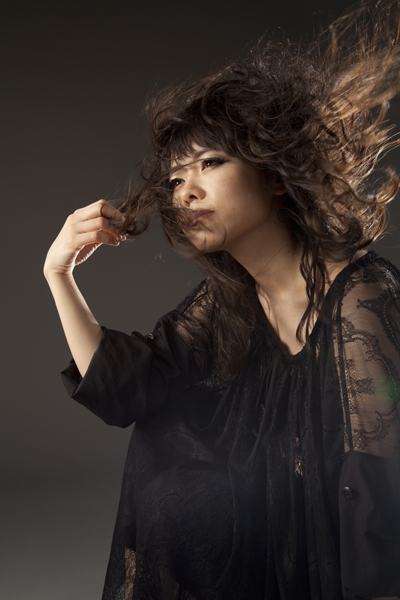 What made you want to pursue an album of covers at this point in your career?
I'm always looking to take on the biggest challenges when it comes to making music. I thought there was a great opportunity with Sonicbloom to approach covers because all four of us have such strong personalities. In some ways, this band is more rock-oriented than anything I've done before, so I thought it would be interesting to see where the band would take the material. The album goes far beyond traditional jazz standards which is ideal for this band with members that have such diverse backgrounds.
Why is covering someone else's music more challenging than writing your own?
It's hard because playing somebody else's song is like going to a very holy place. Someone other than you wrote it which means you better really know and love it in order to play it well. In Japan, we would say "It's like going into someone's house with your shoes on." We always take our shoes off when we visit someone's house, but if you've been to the place many times and really love it, you might feel you can tell the homeowner "Maybe the furniture should be moved to this place and another color might be more interesting for this wall." All of this is to say that I really have to respect the song to be able to break it down and rebuild it.
How did you go about choosing material for the album?
These are my standards—songs I've loved for the last 10 years and played over and over again. I knew the houses really well and always thought things like "this chord could be this instead" and "that rhythm could be this instead" when listening to them. I had so many ideas about the material which is why I really wanted to make this album.
Tell me about your choice to cover Jeff Beck's "Led Boots."
I've been a huge fan of Jeff Beck since I was a teenager. I've always enjoyed playing the tune and thought there was an interesting direction I could go with it. The Beck CD this originally came from was called Wired and I listened to it far too much, to the point where I scratched the CD. It started skipping when "Led Boots" came back to the main melody and I wanted to try and play the tune, mimicking how the CD skipped at that point. My band called me nuts when I told them about my idea. [laughs] I thought it would be a way of showing how much I listened to Wired and how much respect I have for Jeff Beck.
What made you want to interpret "Ue Wo Muite Aruko" ("I Look Up When I Walk")?
I've always really loved it and I think it's the only Japanese song to ever go to the top of the Billboard charts. When I first heard it was referred to as "Sukiyaki" in the U.S., I was shocked. The song has such a beautiful lyric, but somehow it has the name of a food in America. Imagine if "Amazing Grace" was referred to as "Hot Dog" in Japan—it's that kind of shock for me. [laughs] It's a lovely, encouraging song, so how could it be called "Sukiyaki?" I wanted to try and deliver the real emotion and feeling of this song so people can be energized by it. That's why I didn't call it "Sukiyaki" on my CD and used its Japanese title instead.
Describe how you created the arrangements for the material on Beyond Standard.
I wrote out all of the parts for drums, bass, and guitar. It was like arranging for an orchestra. In general, I don't think about regular jazz settings or creating lead sheets. I write really specific parts, including counterpoint. I treat things like classical pieces, though I also include improvisational sections that are very open. I enjoy those parts and the unique things that can happen with them. I also always use a lot of dynamics when I write. One of the problems with some jazz music is it can be very flat and mezzo forte all the way through except for the solo sections. In contrast, I really like the sensitive dynamics of classical music, so I started putting them into my music so there is more color and power. I should also mention that it's much easier for me to arrange material when I know the players and what they're good at. It allows me to focus on their strengths as well as lets me figure out what the most interesting parts of the music will be for them.
Does your band typically provide any input into your arrangements?
Not really. The drummer might come up with a better groove and I'll say "Yeah, that's cool," but almost everything is written out, apart from the improvisation sections. It's truly composed music.
You sometimes have Martin Valihora and Tony Grey playing melodies, while you play the piano percussively. Tell me about your desire to use that approach.
The idea came from when I grew up in a very small town in Japan. I didn't have a drummer or bassist, so I always had to play bass with my left hand and imitate the drum solos in order to play solo with a trio feel. [laughs] The concept grew from there. I always played the piano as a percussion instrument in addition to using it in its many other roles. I really feel a piano and bass can represent drums. I also specifically looked for a drummer who could really sing melodically with his drums, which I found in Martin. I really like having everybody change their roles at some point in the music. It makes things more beautiful and interesting when the musicians have more colors in their playing.
Describe your philosophy as a bandleader.
It requires a lot of rehearsal to play the songs. My band always tells me I better change the group's name from Sonicbloom to Boot Camp! [laughs] My band says I'm a good leader. I think about the music a lot and have a really strong vision in terms of what I'm aiming for. We rehearse over and over so things can happen according to that vision. I record every show and try to review it so the music can become even better than the night before.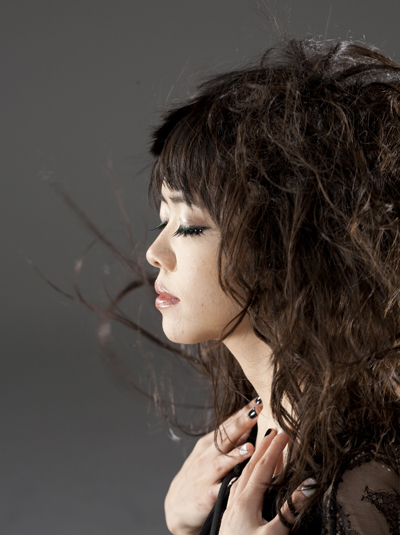 You've said you sometimes get into silly fights with your band. What do you fight about?
The fights are very silly. It's usually things like "What do we want to eat tonight?" [laughs] We travel every day together and are like a family. Sometimes someone wants Mexican and I always go for Asian, and then a compromise has to be reached. We might even have a silly fight about who's going to check in first at the hotel. [laughs] It's always about stuff that happens when you travel.
Do you ever fight about music?
We've never had a fight about music. A discussion takes place when we listen back to our performances. We think and talk, and one person might say "That was great" and the other could say "I don't think it was great." We'll discuss what could be better and the reasons behind that. After we talk, we might say "Okay, let's do it his way tonight and see if it works." And then we'll listen back again and go from there. Every day, the music evolves.
You raised some eyebrows when you asked David Fiuczynski to join the band on a full-time basis. What's it like to work with him and what does he bring to your sound?
I was a huge fan of his and the Screaming Headless Torsos during my teens. David played on one tune on my debut album and I thought "Wow, it would be very interesting to do a whole album with you." I was always looking for a period when the timing could work out and it did for the last album Time Control. I learned so much playing with him. In particular, playing with a guitarist is the hardest thing for a pianist to do because each plays a chordal, melodic instrument and comps. It has the potential to be a mess. I had to learn when to shut-up and when to listen. So, my listening focus got so much better once I started touring with him. As a writer, working with David meant I could write much more contrapuntal stuff, so my writing and arranging became wider. As a keyboard player, I became more collaborative in order to work with his crazy sounds and talk back to him when he speaks through his music. I enjoy working with him very much.
What insight can you give me into your creative process?
I try to compose every single day. I've been keeping a musical diary and writing about what's happening in the day since I was six years old. When I was small, I was writing more childish stuff, and they weren't really compositions, but I've always had the habit. Now, when I decide the direction of a project, I focus on what ideas can fit the context. I start by going through my personal library of ideas that I've written down and try to sum up the ones that may fit and try to make sense of them.
What tend to be the biggest challenges you face in that process?
Sometimes a song can take a long time to compose because I am determined to have each piece make sense. It's not good if a song sounds like a collection of parts. I try to have each piece tell a story, even if it's done through many different parts. They all have to fit together. I sometimes rewrite things over and over again until they work as a whole. Also, I try very hard to consider every musician in the band and figure out how I can highlight a section on the album that speaks to their strengths. I know the musicians in my band so well now that I feel I've really improved in this area.
How did the opportunity to make the Duet album with Chick Corea come about?
I played with Chick in 2006 at the Tokyo Jazz Festival. When we finished playing he said "Do you want to make an album?" I said "Okay." [laughs] That's how it started. It was very quick and surprising and really made my day. We ended up making a live concert album. We played at the Blue Note Tokyo for three nights. The album is a collection of songs from one of those nights. We played some of my songs that I thought would be interesting to do with him, some of his, and some standards. I also chose some of his songs that have been favorites of mine like "Humpty Dumpty." The other interesting thing we did was The Beatles song "Fool On the Hill." We both really loved the song. We were both listening to The Beatles a lot around that time, which is why we did it. The album is out in Japan now and should be out in America late this year or early 2009.
Why do you think Corea took such an interest in your work?
I have no idea. [laughs] He said I could play and was very open-minded. He does different things all the time and works with new players a lot. I don't think he typically makes albums this spontaneously, so I think it was all about timing. When I was listening back to the CD I thought our playing really melded well together. It's like we have the same brain. It's very smooth and easy to work with him, even though I thought it would be one of the hardest things to do. That truly surprised me.
What were the key lessons you learned from working with Corea?
Every second working with him involved studying and learning something. I was trying to catch up and play the best I could. Every second was like a miracle and a treasure hunt. The big lesson I learned was that there are a lot of benefits to having a big musical vocabulary like he does. That's something you can only build up during a long career. Chick has been through so much and has a lot of experience and stories to tell. He's such an expert musician. So, if I say something through my playing, he has so many musical drawers he can open and pick something out of in order to speak back to me. It was really amazing.
You're a big progressive rock fan. What do you find intriguing about that scene?
The most attractive part of progressive rock is that it's like classical music. The musicians really rehearse a lot and can play the music as a unit. I really like the concepts that these people use too. I'm a big fan of King Crimson. When I got introduced to them, I had never heard music like that before and got so excited. It began with the Thrak-era of the band which I first heard at age 18. I love all of their music that has Bill Bruford playing drums. He's just amazing and unbelievable. I've spent so much time listening to King Crimson albums he's played on.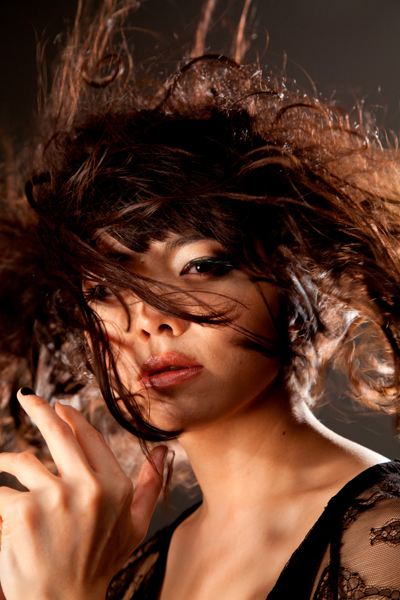 You've said that early in your career, music industry people told you that being Asian, female, and an instrumentalist were going to make it difficult to market you. What allowed you to overcome those biases?
It's very simple. You just have to play. [laughs] When you play, you can defuse the image people have before they come to hear you. Once I start playing, it's no problem. The audience thinks "So, she's female, Asian, and an instrumentalist? It's no big deal." Unfortunately, the combination doesn't really initially appeal much to people, but once they hear me play, they realize that musically, I go beyond gender and nationality. So, I'm trying to perform as much as possible to solve that problem. It's the only key to opening that door.
Why do you think the combination has limited appeal for some people?
It was the overall impression I had when I came to America to attend the Berklee College of Music in Boston in 1999. I wasn't the only person that felt it—other Asian people performing there did too. Concerts held by Asian people at Berklee were very empty. I think Asians performing jazz in America seems like Americans doing Kabuki in Japan to some people. The tradition comes from the U.S. for this music, even though I'm not really performing jazz. However, I was in jazz school and people have stuck the jazz label on me, so people assume that's what I'm doing. It was a hard situation, you know? It got better and better the more I played when I was at school. I went from half-full venues with 50 people to small concert halls. By the time I was close to graduation, I was doing concerts in the Berklee Performance Center which held 1,000 people. The reason I got to that level is because I just kept playing and playing.
Do you feel you're a role model for other female musicians?
No, I don't think so. I never really thought about that before I came to America. I was never concerned about being female or Asian because I came from Japan. Everyone there is Asian. [laughs] When I came to Berklee, I didn't experience hardcore discrimination, but something that was very soft. It was just reality that the concerts held by Asian artists were empty when they weren't known at the school.
It's often been said that some Japanese jazz musicians have superb technical skills, but play without a lot of feeling. I disagree with this idea myself, but I'm curious what you make of it.
I don't agree with it at all either, but you're right, it's an image people have. It's true, Japanese musicians do have excellent technique. Japanese people are really hard workers. We practice very hard, so we can play very well technically. Maybe sometimes the emotional part is not as developed in some artists, but it is a stereotype to say that they generally play with no emotion. Playing any kind of music is about how you give of yourself, regardless of where you're from.
When you went to your first jazz show in Tokyo after growing up in Shizuoka, you said you were surprised at how quiet and subdued the audience was during the music. I've spoken to some American and British jazz musicians who say they love the fact that Japanese audiences don't interrupt the music by talking or making any noise during their performances.
I've never taken the Japanese attitude as negative. As long as they're enjoying the music, every audience's attitude is positive, but the way they express their feelings may be different. For instance, when you go to a Latin concert, it's in the audience's genes to express their appreciation very freely. In Japan, we're very shy. Jazz concerts are a different thing there. In America, buying tickets at the door is a very mainstream thing, but in Japan, all concerts are sold by pre-sale. We really have to decide "Okay, I'm going to this concert in two weeks." And they don't go to jazz clubs to eat. In Japan, jazz culture didn't grow up with the idea that there is always live music when we eat. In Western countries, especially in Europe from the 16th century onwards, they had string quartets in the castles, but in Japan, we always ate in silence. In America and Europe, they sing in church, but in temples in Japan, we don't sing. So, it's a cultural difference. I think this is why we're very quiet when listening to music. We're more focused, which is good, but we're not great at encouraging musicians onstage either. However, I think we show the greatest respect to the musicians by really listening carefully to what they're playing.
Is there a spiritual component to what you do?
Yes, in that I always try to be as natural as possible when I write. I don't like to do things artificially. When I really feel something, that's when I write. People sometimes ask me "Why don't you use more Japanese instruments in your music?" My answer is "If I don't feel like doing something, I don't do it." I just want to listen to my heart and do what it tells me to do. I don't want to put my Japanese-ness into the music artificially, but I don't want to deny myself being Japanese either. For instance, when I meet and greet people, I tend to bow, not because I'm trying to show that I'm Japanese, but because bowing is in my genes. I think that's the beauty of it—that it's a natural gesture. So, the way to be respectful to yourself and people around you is to be faithful to your natural instincts.