Jean-Michel Jarre
Intimate Journeys
by Anil Prasad
Copyright © 2017 Anil Prasad.
Calling Jean-Michel Jarre influential is a colossal understatement. The French composer and keyboardist is responsible for some of the most important, innovative electronic albums ever made, including Oxygène, Équinoxe, Les Chants Magnétiques, Zoolook, and Rendez-Vous. Those classic recordings explored the cutting edge of synthesizers and other electronic instruments of the '70s and '80s. The majority of his early work focused on extended musical suites that combined ambient and melodic approaches. Each achieved a rare balance between the experimental and the accessible that brought him great popular acclaim resulting in more than 80 million albums sold worldwide.
The Zoolook release possesses the most avant edge of all of Jarre's work. The 1984 album was built around vocal samples recorded with and manipulated by the Fairlight CMI, a pioneering sampler and digital audio workstation. Zoolook included guest appearances by Laurie Anderson, Adrian Belew and Marcus Miller, whose contributions were also morphed by the Fairlight. As with the majority of his output, Jarre ensured there was some broad-based appeal on Zoolook, with the upbeat and danceable title track and "Zoolookologie."
Jarre's work in a live context has been no less groundbreaking. He's known throughout the world for his large-scale multimedia events that often serve as the focal point for entire cities when they occur. These shows include projections on skyscrapers, enormous laser and lighting effects, fireworks, and PA systems deployed for miles. He has been in the Guinness Book of Records four times for concerts in Paris, Houston and Moscow, which had attendance ranging from one to 3.5 million people each.
Ten more studio albums followed Rendez-Vous between 1990 and 2007, many of which showcased Jarre taking a hybrid musical approach, exploring both long-form, expansive works and shorter, more approachable pieces. During this period, Jarre also embraced many electronic music forms of the era, including techno, trance, house, breakbeat, and lounge.
The last three years have been among Jarre's most prolific, during which he released four albums, including 2015's Electronica 1: The Time Machine, 2016's Electronica 2: The Heart of Noise and Oxygène 3, and 2017's Radiophonie Vol. 9.
The two-part Electronica project is among his most ambitious. The albums find Jarre working with electronic music luminaries across generations and styles. Together, the two albums feature 34 tracks, including collaborations with Vince Clarke, Gesaffelstein, Massive Attack, Gary Numan, The Orb, Pet Shop Boys, Tangerine Dream, Pete Townshend, and Armin van Buuren—just to name a few. Intriguingly, Electronica 2 also includes a track titled "Exit" which pairs Jarre's music with the words of Edward Snowden, the former American intelligence contractor who famously leaked classified information from the National Security Agency in 2013.
Oxygène 3 continues with the themes and styles of Jarre's most famous work. It was released in 2016 to mark the 40th anniversary of Oxygène. While recording the Electronica albums, Jarre created a piece that inspired him to think about how a modern manifestation of Oxygène would sound. It's a fresh and inspired take on Oxygène that also benefits from Jarre meshing analog synths with modern instruments, processing and plugins to take the original framework further.
Radiophonie Vol. 9 is a collection of music for the France Info radio and television news network. The album includes 99 variations of a theme called "Hexagone." Jarre fit the creation of this recording in between the making of Electronica 2 and Oxygène 3.
Innerviews spoke with Jarre as he prepares to embark on his first North American tour this May.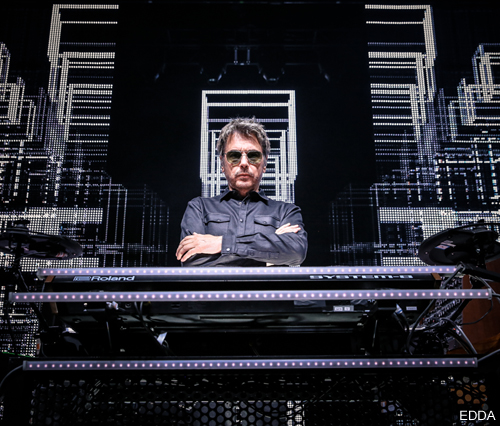 Describe the creative process informing Oxygène 3.
It was quite a fun process. When I did the first Oxygène, the idea was to approach the album a little bit like a book or movie. The tracks weren't separate songs, but like different chapters of a book. I also thought it would be fun to think about Oxygène in terms of sequels and series. I've always loved sequels in literature, movies and television. The concept doesn't exist that much in music. So, Oxygène 3 is season 3 in a sense. [laughs] After doing the massive Electronica project involving a lot of collaborators, I felt it would be good to go back to the approach I took for my first album. I did the first Oxygène in six weeks. For Oxygène 3, I locked myself up again for six weeks in a studio with minimalist equipment. I went back to the idea of sunny and dark atmospheres that the first Oxygène carried. Obviously, the first Oxygène was done in the days of vinyl. I felt Oxygène 3 should be conceived in the same way, especially with the renaissance of interest in vinyl. So, I made side one more dark and side two more melodic, with more light.
How did you avoid repeating yourself when composing Oxygène 3?
I didn't listen to the first two Oxygène albums before making it. I kept the atmospheres and concept, but not the melodies and parts from the first two. I also said to myself "Okay, if I'm going to do Oxygène today, I won't just use the instruments I used 40 years ago." I approached Oxygène 3 mostly limiting myself to analog instruments and hardware, including the Eminent 310 Unique, EMS Synthi AKS, EMS VCS 3, ARP 2600, and Philicorda. I also used some plugins and modern instruments like the Animoog and Teenage Engineering OP-1. It was recorded and mixed using Ableton Live.
You took a very different approach when creating your Electronica project. Describe how it came together.
Electronica started with the idea of gathering artists linked to the electronica scene one way or another around me. These are people who have been inspirations to me for quite a while and they come from multiple generations. Some of the people I worked with on it include Massive Attack, Tangerine Dream, Moby, Air, Pete Townshend, Laurie Anderson, Vince Clarke, Pet Shop Boys, Hans Zimmer, and John Carpenter. I consider them all part of my family, from a musical point of view. I ended up with more than two-and-a-half hours of music after working almost five years to complete the project.
There were two principles that informed Electronica. The first is, I had to meet everyone face to face and share the creative process physically, either in their studio environment or mine. The second is, each collaboration began with me writing or demoing a piece of music related to my preconceived idea of what their work was about or who they are as a person. Even if what I created wasn't accurate, it was a piece of music for me representing my perspective on them. I always left enough space in each piece for the other artist to express themselves. They were all very generous in sharing their time. Electronic music is very strange, because we are all like writers or painters in an atelier. We don't often share our creative process with others in the same room. So, it was quite an intimate journey for me and them.
Electronica 2: The Heart of Noise features a collaboration with Edward Snowden called "Exit." What are your thoughts about how music can uniquely comment on critical issues of our time?
I think musical movements emerge out of necessity and are related to the state of society at the time. It was true for jazz, rock and folk. All of them at times went in the direction of using music as a form of protest. Today, electronic music is one of the most influential and popular musical movements in the world. There are several sides to electronic music. There's the hedonist side that involves dancing and having fun until the end of the night. Another side is about the social element. There's also the ambiguous element of electronic music which relates to the broader role of technology in our lives. On one hand, we have the whole world available on our smartphones. On the other, we have the possibility of being spied on by others through these devices.
Edward Snowden is not a musician, but I have been very moved by him. In a strange way, he reminded me of my mother France Pejot, who was a great figure in the French Resistance during World War II. She told me that ideas and facts are what armed her community and that it was the responsibility of artists to resist as well. So, I decided to approach Edward to do a piece of music together. When we talked, I discovered a very interesting young man who is a patriot that loves his country. He is also really fond of electronic music and has a lot of knowledge. We chose to work on "Exit" which is quite a wild techno track, symbolizing the mad quest the world has related to harvesting more and more data. I went to Moscow to record and film him. There's a breakdown in the middle of the track during which he's talking and saying a few sentences about why he did what he did.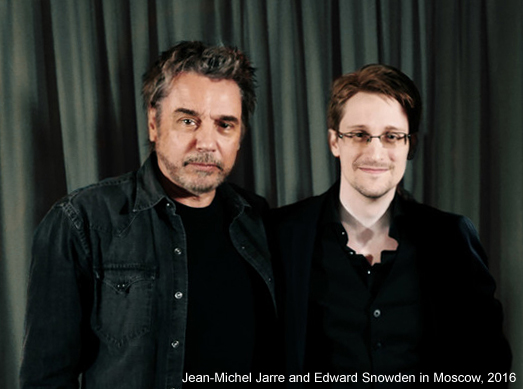 You've made other major cultural and political statements over the years, including your 1981 concerts in China and this year's performance at the Dead Sea in Masada, Israel. How do you look back at both events?
I think musicians aren't politicians or scientists, but through our music, we can help to soothe some dark situations or create awareness. The first time I went to China in 1981 was just after Mao's time. It was quite tough. I was the first Western musician to play there after Mao. It was like playing on the moon, actually. I'll never forget the intense mood and the intensity of the encounter.
Just a few hours ago, I arrived back in Paris from Israel, after performing at the Dead Sea. I've been a UN Goodwill Ambassador for UNESCO for 25 years. The Dead Sea is losing one meter of water per year due to climate change. It's an ecosystem like the Arctic or the Amazon rainforest, but no-one is taking care of it. As a musician, just making noise can contribute to increased awareness of the situation and awareness can lead to action. It was a fantastic outdoor concert. It was fun and very dynamic. It was also contributing to help solve a dramatic and dark situation. So, music can achieve a mixture of outcomes and social contexts.
You released a low-key album this year titled Radiophonie Vol. 9 of music for France Info. Tell me about your goals for it.
I consider it an unofficial album. I did it during the time I was making Electronica and Oxygène 3. I was asked by the French public radio and television network to compose music for them. They asked my management if they could release 2,000 copies of the album and I agreed. It was quite fun to do because I had never done that before. The idea was for France Info to have different forms of my "Hexagone" theme available to it.
These days, the news is so dark. I wanted to be innovative with this work. I also didn't want to add paranoia to the music. I wanted to avoid being too dramatic. But it did have to be able to create enough tension to support the needs of a news channel. So, it was quite an interesting project. It really was like creating a soundtrack for a news script. I asked myself "What does it mean to have music accompany the news today?" When you listen to most news channels, they still sound like it's the '90s, with lots of traditional ideas and sounds. I wanted to create something more in phase with our times.
Given the enormous magnitude of your shows, what are your thoughts about making the performances a meaningful experience for each audience member?
To me, the act of performance is not linked with the scale of the event. There's a very strange chemistry between the two entities—the stage and the audience. The chemistry either works or doesn't work.
Today, we can listen to music everywhere, whether it's on the street, at home or in our headphones. Now, people go to concerts because they have a visual expectation of the artists they like. My shows are also a reaction to the fact that most electronic shows involve prerecorded music being played or music being played on machines. So, my idea is to express the music in a significant way. From the start of my career, I always wanted to do that specifically for electronic music.
I'm about to embark on my first tour of North America and I've really thought about the idea of addressing each individual in those audiences with what I'm doing. For me, the visuals are a very important part of my work on stage. During my shows, I really want to visually explore the way I create these architectures of sound. People that come to the shows experience this in both dynamic and rhythmic ways.
One thing I wanted to devise was a system in which you can have 3-D visuals without having to wear glasses. I was concerned this wouldn't work, but we did it and people have been blown away by the results. You can go to YouTube and more or less understand what the Electronica tour's visuals are all about, but what you see there really has nothing to do with what the experience is like live. I'm so happy and excited to share all of this with American audiences for the first time.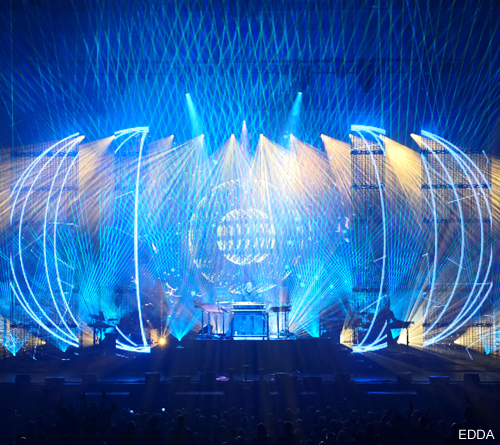 Your 1984 Zoolook album is one of the most influential albums in electronic music history. Reflect on the intent of the recording, 33 years later.
Zoolook was interesting because it reflects my view that technology dictates styles and not the reverse. It's because the Fairlight was invented that I did what I did on the album. Similarly, it's because the electric guitar was invented that Chuck Berry did what he did. When the first Fairlight came along, it was the first sampler ever made and it was also a polyphonic machine. It changed the way we were able to make music. I could record the sound of a dog and create chords with the barks of that dog. It was quite innovative and new. Zoolook is based on the possibilities of sampling. The idea was to create a vocal album, but not using vocals in any traditional way, in terms of having a singer with lyrics. Rather, it was about stealing from languages from all over the world. I sampled artists, obscure Russian radio stations, African tribes, and much more. I used those samples as the raw material for the album. The material was like the stone I used to sculpt beats, basslines and melodies. It all came from sampled bits of pieces of languages from around the world.
As for Zoolook's influence, I always make music without thinking about the audience. As a musician, I always like it when my music is understood and shared, but music is really an addiction for me. Artists that are musicians all their lives aren't doing it for fame, recognition or money. It's more because they psychologically can't do anything else. I think I've become a rather decent architect of music—or a mediocre astrophysicist. [laughs] Every morning, I still wake up with the same appetite for exploring sounds and developing projects. I don't listen to my music so much after it has been done. But I did play "Ethnicolor" and a few parts of "Zoolook" at the Dead Sea concert and onstage I thought "Wow." I realized how complex and interesting the music is. Apart from the sound of the drums, the album is quite timeless.
You recorded the album Music for Supermarkets, just before making Zoolook in 1983. You pressed a single vinyl copy, auctioned it off and destroyed the master plates. Tell me what you were communicating back then about the value of music and how those ideas ring true today.
I did that thirty-four years ago as a kind of protest against the music industry. Albums were being distributed in department stores and being sold like toothpaste and soap and that's why I gave it that title. I also saw the end of record stores coming which were the emotional link between musicians and aficionados of music.
Musically, it was quite close to Zoolook because I made it in the same year. I was dealing a lot with samples and sounds from the Fairlight, but it wasn't at all based on vocals like Zoolook. It was built from a sampling approach to music, so in that sense, it's part of the same family of music.
By creating this album, I wanted to focus on the idea of creative work and the fact that artists are not just content providers. Doing this was premonitory of what would happen later on with the Internet. The concept was that an album is like a painting. It has the same kind of value. It is something original and unique. I was saying the vulnerability of the artist is there on that album. The musician had the same struggle as the writer or painter who was in front of a white page or blank canvas before they created their work. I wanted people to understand and appreciate that. The creative process is quite fragile and we have to have empathy about that process.
In addition, I was saying "Let's have respect for music and for vinyl records." At that time, CDs were just being introduced as the holy grail of music, representing the ultimate in sound quality and durability. We now know that CDs are crap. The reality of CDs was the reverse of what the music industry was saying about how permanent they were. We can still play vinyl records manufactured in the '50s, but we cannot play some CDs released in the '80s and '90s. On the other hand, music existed before electricity and it will exist after the Internet.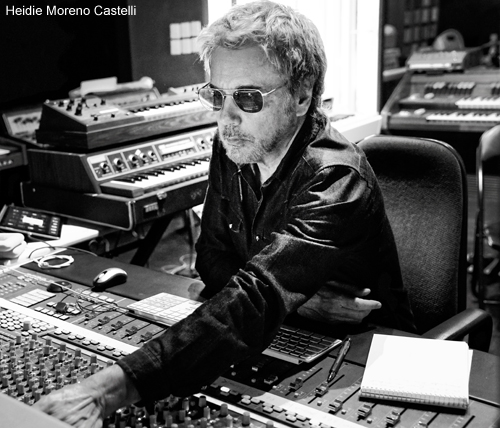 Given the amount of time that has passed, could you see releasing it in the future so everyone can hear it?
No. I don't even have a copy. The beauty of it was really to only have one single copy in the world and destroy the lacquers and masters to ensure that remained the case. I knew who the owner was, but he died. I have lost track of the album.
The experimental musician and composer Pierre Schaeffer was an early mentor and key influence on your music. What's your perspective on how his work resonates today?
Pierre Schaeffer is the grandfather of DJs. During the 1940s, he did it all. He created loops from 78 RPM records. He sped them up and down, and then processed the sounds. He would take microphones outside and record the sound of the rain, wind and street and use it musically. It was an early form of sampling. Together with Stockhausen, Pierre changed the way we approach musical composition, influencing musicians right up until now. Pierre felt music was not just based on notes, but that it's also based on sounds and noises. He also thought electronic music was like cooking. So, he would "cook" sequences, beats, loops, textures, and waveforms in order to make music in a very organized way. In a sense, Pierre approached music like Jackson Pollock approached painting. It was the same kind of thing. Pierre remains a major influence on all electronic musicians, and especially me since he was my teacher.
As the president of CISAC, the International Confederation of Societies of Authors and Composers, you're an outspoken advocate for artists' rights. You're also a critic of streaming's impact on musicians' income. What's your assessment of the situation at present?
Systems are neutral by definition. It's the way we use those systems that is the question. Streaming is a modern Internet version of radio. The problem is we have to create a serious business model that benefits artists. In most cases, streaming is generating a lot of money for major labels, but most creators of music have the monetary equivalent of a pizza without pepperoni from streaming by the end of the year. This situation has to be addressed and adjusted. We also shouldn't consider streaming companies enemies of musicians, because most of the time the people at these companies are big music lovers. But we must at one moment soon sit at the same table and try to find a decent balance between the money generated worldwide by music and the ridiculously low amounts that artists get most of the time.
This is a very important issue. This situation is linked to cultural identity of countries. We must not have our kids and future generations believe they won't be able to make a decent living by creating music, books or movies. If that happens, we won't have the next Quentin Tarantino, Beatles or Jean-Michel Basquiat.