John McLaughlin
Remembering Shakti
by Anil Prasad
Copyright © 1999 Anil Prasad.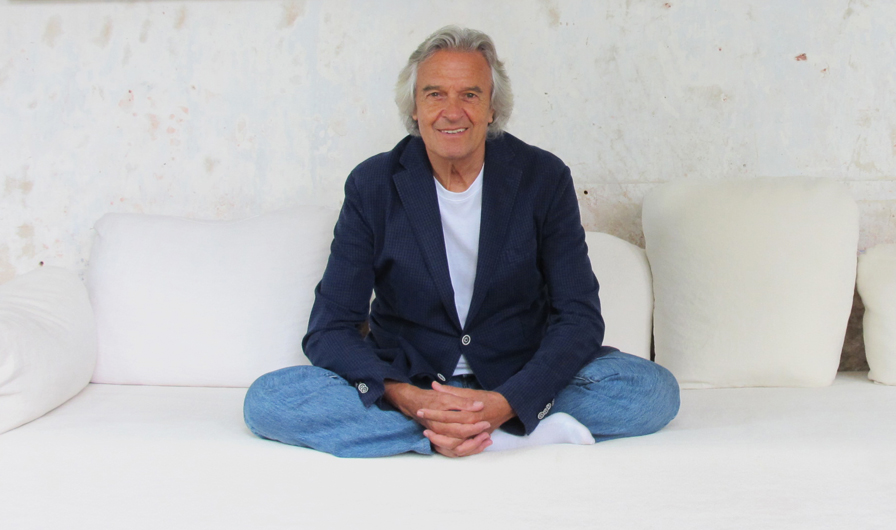 Without a doubt, Shakti's East-meets-West explorations that bridged jazz and Indian classical music played a pivotal role in establishing world music as a viable, potent force. Formed in 1974, the groundbreaking group initially consisted of British guitarist John McLaughlin, North Indian tabla master Zakir Hussain, and violinist L. Shankar and ghatam player T.H. "Vikku" Vinayakram, both of whom hail from South India. The band, whose Hindi name translates as "creative intelligence, beauty and power," fashioned an organic, fluid sound that combined what were then perceived as disparate traditions into a seamless whole. McLaughlin's enormous fan base from his years fronting the wildly popular early '70s fusion group Mahavishnu Orchestra ensured Shakti had a large audience from the outset. As a result, it opened the ears of listeners worldwide to the immense possibilities cross-cultural musical collaborations can yield.
After a five-year, three-album run, Shakti disbanded in 1978. In 1997, the Arts Council of England contacted Hussain with the suggestion of reforming the band. It spurred him and McLaughlin to launch a reunion tour under the name Remember Shakti. The two remained friends and collaborators after the original group's demise and even engaged in a brief Shakti tour of India in 1984. But the emergence of Remember Shakti marked the first significant activity invoking the band's name in 20 years.
At the time, McLaughlin and Hussain were unable to locate Shankar and opted to recruit other co-conspirators. The 1997 concerts featured Vinayakram and North Indian bansuri player Hariprasad Chaurasia. The resulting 1999 CD, simply titled Remember Shakti, featured a complete gig from the tour. It was a very different effort from Shakti, Handful of Beauty and Natural Elements, the albums that comprise the group's '70s output. Those recordings offered a fiery blend of acoustic pyrotechnics that showcased a youthful quartet determined to prove its mettle, as well as champion what was ostensibly a new musical genre. But for the Remember Shakti album, McLaughlin and Hussain preferred to let the music ebb and flow in a more restrained, meditative and traditional Indian manner.
Since the first Remember Shakti tours, Vinayakram's son V. Selvaganesh has performed in place of his father on ghatam, kanjira and mridangam. Karnatic mandolin player U. Srinivas and vocalist Shankar Mahadevan have also joined, rounding out a revised quintet line-up. Still intact to this day, Remember Shakti has now been together longer than the original group.
Apart from Remember Shakti, McLaughlin maintains a thriving solo career that includes recording Western jazz-fusion with next-generation Indian musicians such as keyboardist Louiz Banks, percussionist Sivamani and drummer Ranjit Barot. The collaboration yielded 2007's Floating Point and an accompanying "making of" DVD. The same year, McLaughlin launched another new group called 4th Dimension, a quartet featuring bassist Hadrien Feraud, keyboardist/drummer Gary Husband and drummer Mark Mondesir. Recent times have also seen McLaughlin work with the Five Peace Band, a formidable jazz supergroup with keyboardist Chick Corea, saxophonist Kenny Garrett, bassist Christian McBride, and drummer Vinnie Colaiuta.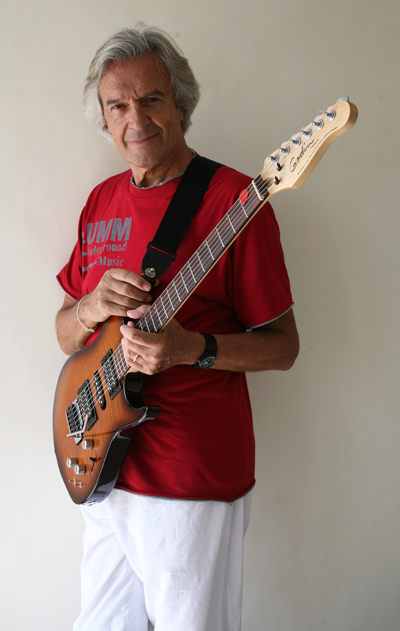 What role do you believe Shakti played in the establishment and acceptance of world music?
It must have played some role. When I formed Shakti, it was dimly viewed, I should say! After coming out of Mahavishnu—a very powerful electric band—here I was sitting on a carpet with Indian musicians. Everyone thought I flipped out. It was not well-received at all by the record company or my agent and manager. Artistically, I thought it was wonderful, but they all thought I was a little loopy. It was not good news to them.
I'm extremely proud of Shakti because prior to it, there was very little collaboration between North and South Indian musicians. Shakti played a role in the reunification of the North and South in the musical sense. Since Shakti, the collaborations between North and South have grown a thousand times. We now have very regular North-South meetings. As far as Shakti's influence on the Western ear, it's difficult for me to estimate how and what kind of influence we had. We were very timely as far as we were concerned. And subsequently in the '80s, ethnic music and world music became much more popular. People began to seek out a new sound. The globalization of the world is part of the same process. The shrinking of the planet and increased intercommunication between countries and cultures has played a role too.
How did the current Remember Shakti line-up come together?
For the first Remember Shakti tour, I said "Why don't we try to get Shankar?" We tried with no success. We left messages and tried to get through by fax and any way possible. So, we said "Let's go another way" and we invited Vikku's son Selvaganesh and now Shakti begins to have some history. Twenty years ago, Zakir and I were sitting across the stage from Vikku and now we look across and see his son. And when you hear Selvaganesh and Zakir play, it's very different from Vikku and Zakir. Selvaganesh's principal instrument is kanjira, but he also plays ghatam. Srinivas is a monster too. I first saw him as a young mandolin player on a video 16 years ago. He would have been 14 years old. He was phenomenal then and he is even more so now. This group is amazing. We have electric mandolin and guitar which is a nice combination of contrasts and harmony with two different kinds of percussion. It's about vitality and creating a joyful experience that doesn't happen at the expense of soul. One always hopes for this. This group is like the original Shakti in some ways, but quite different also. The spirit, joy and happiness is still there. I mean, Zakir and I go back to '69. We've known each other for decades. He's really a brother to me whom I love very deeply and have tremendous admiration for. He's a wonderful musician and without equal on tabla. The people are reacting to this group in an amazing way. The reaction was great before, but we were a little more obscure then. There was no such thing as world music in those days. This kind of East-West fusion was virtually unknown. But I couldn't ask for more than the wonderful reactions we're getting.
The Remember Shakti album is much more steeped in Indian classical traditions than it is in any Western forms.
Yes, things went the natural Indian way. This, of course, included the introduction of the raga, the various ways of collective playing and the principal improvisations from the soloists. As musicians, we are playing notes, music and rhythms, and we hope to play the right melody in the correct way, but this is only part of the process. The other side that is important is the communication of the musicians and the playing and playfulness that comes from that interaction. You can put a piece of music in front of somebody and he may play it perfectly. So what? Interplay and interaction are the integral parts of music. They're as important as the notes. Without them, I don't think I'd be here. You can't just play over someone. There are many examples in jazz-fusion in which you have a soloist playing over a steady drumbeat and I find that terribly boring, because I want to hear the interaction between two people. I want to know what kind of imagination and spontaneity they have. Only in spontaneity can we be who we truly are.
There are some pyrotechnics on the recording, but because of the soulful sound of Hariprasad's bansuri flute, everybody adapted themselves automatically without thinking "Should I do this? Should I do that?" It's a natural process. The moment you start to talk about playing music, you destroy music. It cannot be talked about. It can only be played, enjoyed and listened to.
The record was an afterthought. I spoke about the idea of taping the shows with Zakir during rehearsals—which was actually only three hours for the group. I told Zakir "We may never play in this formation again, so wouldn't it be nice to have a souvenir for ourselves?" He thought it was a great idea too. It's a nice idea to have memories because as time goes by, you don't know if things will come together in this way again. So, we rented a recorder and taped the shows. Upon listening to the playback, we thought that this was really amazing music. We also thought "Wouldn't it be wonderful if it was available as a recording?"
How do you situate Remember Shakti amongst your other projects to date?
They're all important to me. Every group is just part of my life. Every recording is a painting in a sense. It's something frozen in time and it bears testimony to my musical talent and spiritual state at that moment. It's difficult for me to make any kind of judgmental view on a comparative basis. To me, Shakti was something that some people were disappointed with and it was only subsequently that people came up to me and said "This is a really good group. It's very good that you did it." I am in the middle of all of this, so I can't be objective about it. Maybe after I've died, people can say "This was good" and "That was not so good." We did a television interview the other day in Paris and the first question was "What's the use of reforming Shakti?" I thought "What a stupid question!" And I said "What's the use of you interviewing us right now?" It was so silly. I actually said that on television. [laughs] I don't think they'll invite me back. But what to do? What a stupid question! What's the use of getting up in the morning? You might as well stay in bed! What a wally!
Describe how you initially became fascinated with Indian culture.
I became very interested in comparative religion around 1962 when I was 20. I was raised without any religious education whatsoever. I became a member of the Theosophical Society because they had a wonderful library. On discovery of the wonder and profundity of Indian thought and philosophy, my appetite was really whetted. I became aware of Ramana Maharshi, a man who had a strong impact and continues to exert quite an influence on me. I went on to become aware of Ramakrishna, Vivekananda, Premananda, and Sri Nisargadatta Maharaj. My discovery of Indian music was also quite a revelation. I was first struck by the beauty of it and the mastery of the improvisation that exists in both the North and South. The relevance of this to my music, which is jazz music, was great in terms of the necessity of mastering this kind of discipline for improvisation.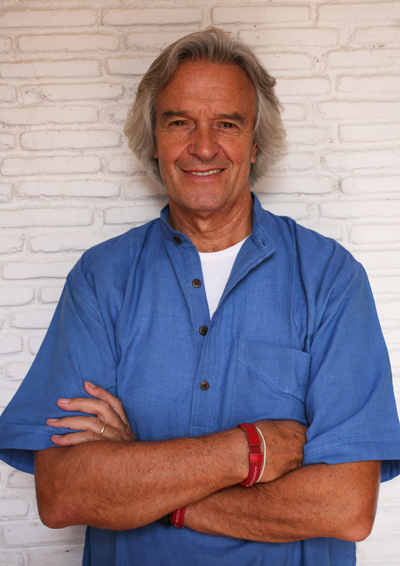 How do you balance the mathematic equations of Indian rhythmic development with the jazz universe?
There is really a great deal of common ground. The mathematics of rhythm are universal. They don't belong to any particular culture. It's true that the sensuality of rhythm is coupled with the mathematical mind in India. It's not for nothing that India has produced some of the greatest atomic engineers, mathematicians and astronomers. India even has an observatory that goes back many hundreds of years in which the orbits of planets were calculated. So you can say it's been developed to a more sophisticated level there than in jazz music. But whether it's from Africa, China, Brazil, or India, rhythm is rhythm. If you try to improvise in jazz without some degree of rhythmical mathematical proficiency, you'll be lost by the drummer and flounder.
Describe the importance of konokol to your understanding and knowledge of Indian classical music.
Essentially, konokol is a marvelous system of Indian rhythm that is done without an instrument. You use your voice and your hands so you don't have to learn a percussion instrument in order to fully understand the simplicity and sophistication of Indian rhythmical traditions. It's a system I highly recommend to all my students, although I don't claim in any way to be a master of konokol. But as I said, rhythm is really universal and if you can understand konokol—the most superior system of learning rhythm in the world—you can understand any rhythm from any country on the planet. For example, if I have to communicate something to one of the percussion players in Remember Shakti, I can sing it to him in a rhythmical sense and vice-versa. It could be "Ta-ka ta-ka ta ta-ka tin day ta." You then immediately see the mathematics of it. And if you can sing a rhythm, it means you understand what it is and then it's a question of applying it to your instrument.
Your 1995 album The Promise contained jungle elements. How closely do you follow the electronica scene?
I listen to a lot of things from the English underground be it jungle, weird trance or techno things. There's a lot of it that's garbage, but there's some very nice things in there such as D*Note, Lemon D and Grooverider. I really enjoy them. I've also got a record by Colonial Cousins with Hariharan and Lezz. They're singing pop in Hindi, but it's different from when Hariharan sings ghazals. They're both great voices and they're working in a pop environment with sequences, but I like it. I was listening to Sheila Chandra the other day too. I have a great faith in every generation's ability to come up with its own music. What's really amazing to me is that some of these young, English underground people don't really know too much about music. Their musical knowledge is very limited, but it's what they do with that knowledge that is very interesting and really attracts me. They've got great imagination. You know, you can have the greatest player in terms of mastering an instrument and you could be yawning your head off when you hear him. So it's not what you do, but the way you're doing it and in the end that's all that we have.
Some believe electronica represents an extension of the fusion movement you played a role in pioneering during the '70s.
Yes, they've taken some things. A basic jungle beat is a '70s beat, but double speed. So it's true. When I first heard jungle, I felt I knew where it was coming from and that's a part of my history. So of course I liked it. I really loved Mahavishnu. In a sense, we broke some ground to the chagrin of some and to the pleasure of others. But how are you going to please everyone? Look at the way they advertised The Promise and The Heart of Things albums. In America they said "John McLaughlin: The man who's not afraid to use the F-word." As opposed to "fuck," the word was "fusion." Can you imagine this? It gives you some indication of the state of mind of the critics. They've really slagged me off because I'm a fusion musician. But I'm proud of it. I don't care what they think. I never read critics anyway because they love you one week and hate you for the next two months, then they like you again, and then they don't care. They're so capricious. I'm too old for that now. [laughs]
What did you make of Panthalassa, Bill Laswell's Miles Davis remix album that included material from your late '60s Davis stint?
He's doing a very interesting job on those remix albums. Some of the recording quality of those times was really terrible. Bill is a great producer and he's a musician as well. I think more power to him if he can do something to them and make a remix and enhance the poor recording quality in some way. I think it's a good thing. If only I had a remix of Tony Williams' Lifetime's Emergency! That was one of the most awful-sounding recordings I've ever had the misfortune to make. It was a great shame. I remember the first playback. I was in the control room and I had been recording for a number of years, so I was able to say "I hate to tell you guys, but there's something wrong with the board." And in fact, there was distortion on eight tracks of that recording. Anyway, it was put out as it was and it was a shame because that was a wonderful, wonderful trio with Tony and Larry Young. It was my debut in the United States after Tony invited me to come play with him in late '68.
You once said "music is the face of God." Can you elaborate on that?
I am convinced, as many people are, that we all have divine origins and that essentially everything is divine. We all come from the One, we all are in the One, and we can never be apart from each other and the One. This is the personal conviction. It all comes down to an intellectual game in the end if you start to consider truth, goodness and beauty which are probably the essential attributes of what we consider to be God. If something is really true, it has to be beautiful. And music is beautiful, so it has to be true. God is the most beautiful of all the beautiful and the source of all beauty, so music has to be intimately acquainted with God in some way. Let me put it another way: truth without beauty is the atom bomb.

Website:
John McLaughlin