Karsh Kale
Finding Beauty in Chaos
by Anil Prasad
Copyright © 2003 Anil Prasad.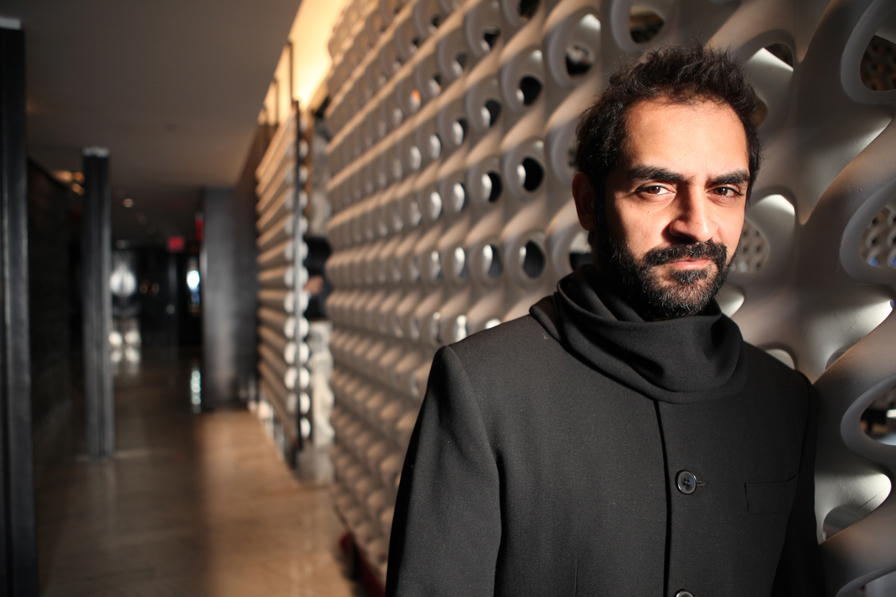 A glance at the front page of any recent newspaper might lead one to believe the world is heading further and further down paths of intolerance. But there are many positive stories about open-minded cultural connections to consider too. Just witness a typical audience at a Karsh Kale concert. The percussionist and composer's innovative fusion of Indian classical music, electronica and rock influences always garners an impressively diverse crowd. For instance, a recent San Francisco gig attracted South Asians, Asian Americans, African Americans and Caucasians alike.
Kale's latest CD Liberation will likely have similar cross-cultural appeal. It's an ambitious effort that infuses his already expansive sound with orchestral and deeper atmospheric elements, as well as more complex arrangements. In many ways, the album reflects the environments it was recorded in: New York, New Delhi, Madras and Mumbai. Guest contributions from the Madras Chamber Orchestra, tabla master Zakir Hussain and bassist Bill Laswell further highlight the geographic influences.
The New York-based 28-year-old is in high demand these days. Kale regularly shares a stage with Hussain and Laswell as part of Tabla Beat Science, the boundary-breaking group whose debut CD Tala Matrix united generations of renowned Indian artists, including Trilok Gurtu, Talvin Singh, Sultan Khan and the Midival Punditz. The band's debut performance was recently released as Live at Stern Grove. The last couple of years have also seen Kale perform and record with luminaries such as Sussan Deyhim, Herbie Hancock, Baaba Maal and Pharoah Sanders.
Kale took Innerviews through the making of Liberation and offered some intriguing commentary on the state of the world fusion music scene.
Liberation has an epic feel to it. Did you architect the record as a whole or was it something that came together piece-by-piece?
It was definitely done as a whole. I meditated on the ideas for a good year-and-a-half after finishing Realize. Since that moment, there were a lot of different compositional and atmospheric ideas I was holding onto. I don't like to sit on music for too long, so between November of last year and February of this year, everything was done from beginning to end.
Are there principles of composition at work in the way you construct your pieces?
There are a lot of different principles at work. I don't just adhere to one formula. Sometimes, it'll be taking an Indian classical raag and working with different chord progressions to try and enhance and change the mood of a piece, because in Indian classical music, you have one raag representing one mood. But in my music, I like to have multiple moods and themes. I take one melody line and have it change its sentiment during the song. There's also the attitude of the track which comes from the bass lines and beats. Sometimes, that's where the composition begins. For instance, a more rhythmic track like "GK2" started as a rhythmic piece and the melodies were added afterwards. In contrast, a track like "Go" or "Liberation" started as melodic compositions.
What system do you use when laying pieces out?
I use ProTools. What I usually do when I'm working on an album is do all the initial tracking myself. Then I work with a ProTools engineer, so when I'm in the studio, I can be more hands-on and focused on communicating with the musicians and acting as a liaison for the different styles of music being used. At the end of the process, I sit down and get on the computer to edit.
Describe the process of directing people like Zakir Hussain, Bill Laswell and the Madras Chamber Orchestra during the making of the record.
With a track like "Milan," I had an initial piece and a particular raag, scale and basic chord progression in mind. So, I brought in the basic tracks and programmed all the drums, keyboards and atmospherics. What I did next was speak with the musicians. I try to describe a landscape without being musical to kind of explain the sentiment of the piece. After all, the reason for working with someone like Zakir Hussain, Bill Laswell or Sultan Khan is not because they're just going to do what I tell them to do. Rather, they're going to take my idea to a whole other level.
With Sultan Khan, who doesn't really speak English, we basically have to communicate by singing to each other. That's also what I did with the Madras Chamber Orchestra. I worked with an arranger named Salim Merchant. He took the compositions and arranged them as for double bass, cello, violins and violas. We took the written compositions to Madras and when we were in the studio with the orchestra, I still had to sing the parts the way they had to be played. With most Indian music and melodic stuff, that's the way the music is really transmitted. You can hardly really write it down. You can write out the basic idea, but you always have to sing the inflection and emotion behind what you're looking for.
When I'm working with musicians in my band, the communication is more on a "We're looking for this kind of thing or that kind of thing" level. If it's a basic chord progression, I'll talk to my guitarist and we'll go through different styles of guitar players to find the exact kind of thing we're looking for. So, communication occurs on all kinds of different levels.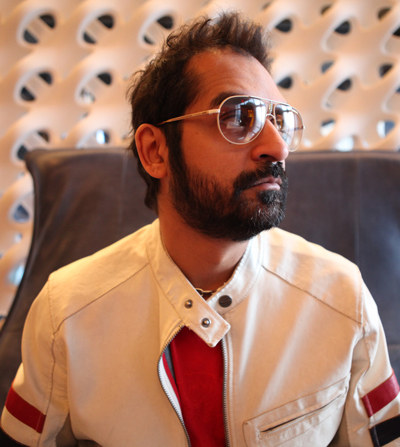 Is there a concept behind Liberation?
Yeah, the concept is getting to a point where I'm able to define what I've been trying to define the whole time, which is a soundtrack that represents this new generation, living in a dual, fused culture. It's about the dualities of how to survive in a world in which you're trying to find purity and beauty in this incredible chaos. That especially goes for the first track, which is very much about at first being overwhelmed by the chaos and then surrendering to it and finding the beauty in it. The rest of the album kind of expounds on that within individual stories in that world.
When you mentioned "new generation," did you mean second-generation South Asians?
Not really. When I'm creating music, I'm not thinking about creating it for South Asian people. I think that if your sentiment is honest, it doesn't matter what language or style it's done in — people will understand and relate. They can make the music their own ultimately. That's the goal of what I'm doing. I want to take from the culture I come from, share it and make it everybody's. The impact that Western culture has had on me is just as profound as the impact I must have had by being here in my environment. So, the new generation is the one that is growing up.
Tell me about the meaning behind the tune "Milan," which is dedicated to your baby daughter.
It's about the inspiration she's brought to my life — the inspiration of having a clarity about the cycle of life. The piece kind of progresses in that way as more elements are added. The same theme remains, but life starts to get more complicated and hopefully you navigate through it while keeping your original sentiments.
What progression do you see from Realize to Liberation?
I think that Realize represented finally getting to say many of the things I had wanted to say musically. They were perfected ideas of things I had been experimenting with previously. I guess at the time it was my life's work. After getting that out, you want to get to the next step and now that I've done that, I want to be able to go deeper in and get more of a microcosm view of where it is I'm coming from.
Many aren't aware that you released independent CDs prior to Realize.
Yeah, I was selling those at concerts and local record stores. I think you probably hear a lot of similar ideas and some of the compositions like "Fabric" and "Saajana" from Realize were pieces I had been working on for years. I had been collaborating with those artists for years. Even a song like "Empty Hands" — on which I was working in a band with the singer Shahid Siddiqui called Bhom Shankar — was done in a very early incarnation. We re-examined the song in a new context for Realize. The earlier records are in a kind of discontinued space right now. The only one that's still available is Classical Science Fiction from India, which you can get at the concerts. I'm trying to work out something with a couple of different labels to get the early stuff out more widely.
What input does Six Degrees have into the making of your records?
They don't really have any input at all, besides their incredible support. They believe in what I do. I think when I first met them, they definitely had that sentiment in mind. They didn't hear what I did and go "We like this track and that track." They were like "We believe in you as an artist and building your career. We just need to be the vehicle for you to say what you have to say." They've never got involved. They've made suggestions on other projects and compilations. They might say "We're doing this kind of compilation, do you want to do a track?" Obviously, they're providing some kind of stylistic direction, but with my own stuff, they've never stepped in. Midway through the process, I'll send them a CD and usually, they're like "Alright! Can't wait to hear it finished."
Tabla Beat Science first started life as a Zakir Hussain solo album. How did it morph into a full-blown group project?
I think it was something Bill and Zakir had worked on for about half-an-album about a year before anyone else had been involved in that project. Within that year, Bill started working with me and Talvin Singh. He'd already been doing work with Trilok Gurtu too. He kind of realized it would be good to create more of a dynamic project with other people involved in proving the thesis that tabla is timeless and can exist in so many different contexts and environments. I contributed one of my own tracks and me and Talvin collaborated on one piece. Talvin did a piece on his own as well. Trilok Gurtu also provided some music for the record.
You've mentioned that working with Sultan Khan and Zakir Hussain represented a validating moment in your life. Let me get you to expand on that.
It's because what I do was never taught to me by a guru or teacher. When you're working with such a deep tradition, you see how people can move forward based on what their teacher or guru has passed on to them. For me, it wasn't real until it was acknowledged by the masters that I learned from. I didn't directly or formally learn from them, but I spent years studying what they do. For them to turn around and validate what I do was the moment when I thought "Okay, I'm doing something right here." You always have doubts. What if Sultan Khan or Zakir Hussain turn around and say this is crap? [laughs] That would kind of stop me in my tracks for a second.
Were you afraid that musicians of that generation and caliber might disapprove of what you're doing?
I wasn't afraid, but there was always the concern of whether they would understand the context. It wasn't about anyone saying "Is this good music?" I felt it was. I'd been listening, playing and studying music since I was a kid, so I could definitely trust myself in knowing that this is good music and it can mean something. I knew the reaction it would get from people of my own generation. So, it was just a matter of them understanding the music. It's really exciting for them to really understand and it goes beyond that. They understand why the music should exist and that classical music must translate into other contexts in order to be a doorway for people to come back to classical music. Now they're experiencing people coming to their shows and saying "I never listened to classical music until I heard Karsh Kale or Talvin Singh, and now I do." So, they also see the benefit and how their own tradition is being carried on.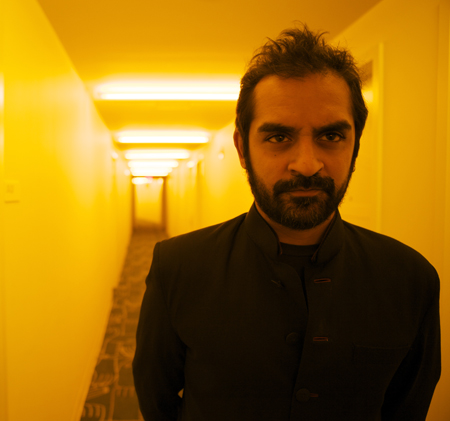 I was at the Tabla Beat Science debut gig at Stern Grove. I remember you bending over to touch Zakir's feet as a traditional show of elder respect. He shooed your hands away as if to say it wasn't necessary in that context. I thought that had a lot of parallels with the presentation of the music itself.
I think Zakirbhai understands and has an incredible amount of respect for the tradition he comes from, but also understands what it takes to be able to look somebody in the eye onstage and have a conversation with them. You can't look someone in the eye when they come towards you and touch your feet. I still attempt to touch his feet whenever I see him, but I think because we're playing in this particular context, he's not treating me as a student. He's treating me as a fellow musician. In order for us to present what we're presenting, we need to have a dialogue. And for someone like Zakirbhai, he sees that as a very important thing.
I see so many musicians from my generation — whether they're tabla students of his or his father's — that are fantastic musicians, but because of the respect they give, they could never stand onstage and have that kind of dialogue, at least at that stage. Zakirbhai knows that as well. I think he knows where I'm coming from. I'm not gesturing the same respect, but at the same time, I'm understanding in order for him to be able to do this properly with me. To do that, he needs me to look him in the eye.
When you make the attempt to touch his feet these days, does he let you?
Sometimes. It's a show of respect, but a lot of times a lot of these things become a formality. People do it everywhere he goes. They line up to touch his feet, so I think that when he understands that someone has that respect, they don't necessarily have to do it in order for him to feel that respect.
Why didn't Talvin Singh participate in the Stern Grove event or the group's activities since?
He called up and said he was very sick. I spoke to him and so did Zakirbhai. A day before, he had come off a long 12-day European tour doing a show every single night. I can understand that because I traveled around the world constantly for two months this year, finishing off with five shows with Tabla Beat Science. By the time we got to London, I was really sick. I think the intense traveling really got to him. I never really spoke to him about anything after that as far as his involvement with Tabla Beat Science. I think it's because the group kind of defined itself on that stage at Stern Grove. Before that, we had never played live before. We had a two-hour rehearsal the day before just to acquaint our ears to what could possibly happen, but it was definitely an experiment. That was the way we planned on making it happen. It was about these different people coming together and having a conversation onstage.
When we spoke at the Stern Grove show, you mentioned that kids in India had yet to be exposed to Asian Massive music. What's the situation now?
It definitely has changed. I experienced that last time around when I went over to India to release Realize and the Asian Massive compilation. I toured India along with the Midival Punditz and played in clubs in many cities between last December and January. We were just doing DJ sets, but whenever I play with them, I'll set up a drum kit and electric tablas during the middle of the show and they'll come out with laptops and we'd create a half-live/half-electronic set. The music got a massive response and a lot of people were asking about Tabla Beat Science. I saw a bunch of bootlegs of Tabla Beat Science all over the record stores. It actually hasn't been officially released there, but someone's releasing it. [laughs]
What walks of life were represented at the gigs in India?
I think the people that were responding were very cosmopolitan. This music is being played on the radio and there is some television support, but mainly it exists in the clubs and the fact is that the people who go to the clubs represent only the top five percentile of economic status in India. These are the people you'd probably find in a club in Singapore or New York City. I don't think what we did has had an impact on the population at large. It's still a very particular style. In India, there's so many different styles of music that our music only really makes sense for people at this time in that context. I think something like Tabla Beat Science live would get an amazing response from a larger audience though.
Tell me a little about your family background.
My mother is from Mumbai and my father is originally from a village called Trimbakeswar, but he was educated in Puna. My father was a doctor. He was living in England for about 15 years. I was born in West Bromwitch, England, right outside of Birmingham. During the last three years we were living there, we decided to come down to America to Queens. So we moved to Jackson Heights, Queens for about two years. Then he started working at the University Hospital in Stonybrook, so we moved out to Long Island and that's pretty much where I spent most of my upbringing.
It's rare for second generation Indian kids to develop a significant interest in Indian classical music. In fact, most of us rebelled against all notions of Indian culture for the first part of our lives. What attracted you to the music?
My doorway was playing Led Zeppelin and AC/DC on the drums. I started doing that when I was four or five years old. My father saw my interest in music and introduced me to Zakir Hussain's work. It was really Zakirbhai who was the first person that kind of made it cool. But I was the same way — even though I understood some musicality because I loved music, I rebelled against it just like everybody else. For a long time, I played and appreciated classical music by myself. Only when I was 16 or 17 did I start playing tabla and bringing Indian music into what I was doing in a big way. I think that was a time when the artists I was working with were a lot more open to those kinds of ideas.
At the same time, I still saw Zakir Hussain as a rock star and he opened up a door of possibilities in my head of being able to embrace this music and at the same presenting it. It was never presented to me in a traditional way. My exploration of classical music was really on my own in that I never had a guru or teacher to say "This is what you wear. This is what you play. This is how you present it. This is what you don't do." So, my imagination just ran wild as I was playing all these different styles of Indian music. Classical music never left my mind and automatically entered into what I was doing later.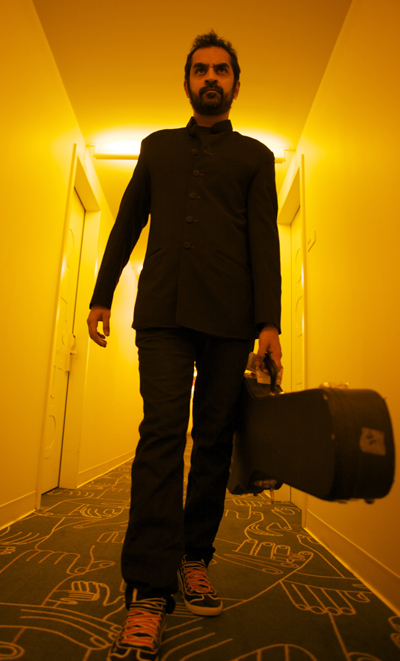 How do you feel about the fact that the media has portrayed you as an Indian musical poster boy for this generation?
I don't think you can really feel it. One might assume I was standing there, campaigning for this even though when I'm not on stage, I'm doing the kinds of things everyone else is doing. If think if I or Talvin didn't put something out, somebody else would have, because this isn't something we created. It's something we discovered. It's part of who we are. I don't think it was ever possible for our generation to ignore where we came from. Eventually, you had to look in the mirror and say "Okay, there's more to this than I'm acknowledging" and it happens in different ways. For some people, it happens musically. For some, it happens through their family life or how they decide to raise their kids.
Things are radically different now than when you and I were kids. There was no Bend It Like Beckham, American Desi or Panjabi MC riding high in the Billboard charts. What do you think has changed to make Indian culture "cool" within the mainstream?
I think the thing to remember is that all of that stuff is being created by Indians. In the past, anything Indian that was added to American or Western culture was stuff like the Beatles or Peter Sellers or things like that. They weren't created by Indian people and it wasn't backed up by the culture. What's going on now is that we have a generation of people like you and I who grew up completely isolated from any kind of representation of ourselves. We came to the realization that we're in the position to represent ourselves and this is how we do it. We never picked up a magazine or turned on the TV and saw our face. And now we're slowly starting to change that. We're here and we're not going anywhere.
During the film Mutiny: Asians Storm British Music, Talvin Singh said it's ironic that white kids are now seeking validation from South Asians in order to participate in our culture. What do you make of that statement?
I think it's probably much more of a British phenomenon than it is an American one. I think the reactions we've got from non-South Asian people in America are different. America has a different history with Indian music than England. In England, I think people see Asian music as owned and created by South Asians. In America, I think they accept the fact that we're part of the same generation as anyone else. We're just telling our friends a story from where we come from. They see it from that perspective. I don't think they necessarily need to feel like they're a part of it because they understand that it was their influence that created this as well.
At one of your recent San Francisco shows, I saw several white girls wearing bindis and henna who were attempting all kinds of noodly, quasi-Bollywood dancing. Several South Asians at the gig found it quite amusing.
[laughs] It's funny, you know? You'll see this every time I play. On one hand, you have this generation of modern hippies — Rastafarian types wearing bindis and embracing Indian culture. Then you have the Indian kids who are wearing khaki pants and blue button-down shirts who arrived from their job at some investment banking firm. [laughs] You have this extreme of these two cultures and it's interesting to me as an artist because the two places I'm drawing from have already kind of crossed over. Hopefully, they influence each other.
Several Indian cultural theorists are irked because they believe white kids are appropriating Indian culture, often without having a clue about the cultural origins.
Personally, I think it's an incredible thing. My daughter is almost two years old and I want her to be able to grow up in a place different from what I grew up in. At the end of the day, I went home with a lot of feelings of isolation and feeling like I'm not being represented. Unless we went to an Indian community event, there was nowhere we could go and feel that. Now, for someone to be able to see their culture permeating all walks of life in the places they live is an important thing. I think it's positive that the way we dress and the way we eat is serving as a lifestyle influence.
I'm curious about your take on the "South Asian" blanket terminology that's used so frequently these days. The term attempts to unite a lot of disparate cultures, some of which like India and Pakistan are practically at war. Why do you think that unity can exist here, but not in the homelands?
I think that in any situation where there's a third party involved, you have to band together. If all of a sudden Russia decided to attack Pakistan and India, I think they would probably look at each and go "Alright, we've got to stop this." When Indians and Pakistanis come over here, they're all "Pakis" and brown guys and we're all thrown into the same boat. Then they look at each other and say "Okay, we can't be against each other because we have to represent ourselves in front of these other people."
Do you think there's a lesson here to export to the homelands?
Yeah, hopefully. At the same time, when I go to India, I don't feel negative sentiments from people necessarily. They understand that this is about governments and that it represents old blood going on for 50 years and even longer. Your average person on the street is not saying "Kill the Pakistanis! Kill the Muslims! Kill the Hindus!" That's not the sentiment I get from people I interact with in India. And they understand the insanity of it. At the same time, we're in a country that's pretty insane. Look at what's going on here too. I'm sure there are a lot of people around the world looking at us thinking "Do you think the Americans understand they're not really making any sense?"
What's your perspective on the more political streams of South Asian fusion made by the likes of Fun-Da-Mental and the Asian Dub Foundation?
When I hear that stuff, I think it's great. I support artists trying to make political statements and stand for something. Aki [Nawaz] and the Nation crew, and the ADF [Asian Dub Foundation] crew are amazing artists. The ADF is a great example of a band that's been able to take something very particular and make it incredibly universal. And they're not playing in front of South Asian audiences, they're playing in front of everyone. I'm not necessarily a lyrical person. I don't necessarily say what I have to say in words. A lot of the time, if you're going to be political, you have to say it in words. I don't take a particular political stance in the music or direct the music to a particular political group.
When I saw Realize live, I was surprised by how rock-oriented the group was, given the nature of your recent recordings.
Rock is where I come from first and foremost. The idea of getting up on stage and looking in four other musicians' eyes and being able to rock is something that never left. At the same time, we're playing electronic music live. There are a lot of things we could do to make it sound like what's on the record, but when I create a record, I don't think about how we're going to play it live. I think about how it's going to make people feel when they hear it. Playing something once and playing something 100 times over on stage are two different things. When we play on stage, it's not just about what people are hearing. It's also about what they're seeing — the energy coming off the stage and the communication between the artists. Sometimes it feels better to play a song looser so it gives us room to perform. You can meticulously lay things down like they are on the record, but that's just not fun for the band or audience.
Do you have an overall philosophy towards band leading?
I definitely direct the band and push it in a certain direction. I have the final say over what's being done, but I always leave ideas open for the rest of the musicians to be able to add to it. That's why I have them there. I don't work with people who I feel are just going to play the role. I work with people who can take what they do and what I do, throw that in the air and create something even bigger. It's kind of like letting things be chaotic until it's time to say "Stop, that's enough of that," and then control it and consolidate the ideas that have been thrown out there. I don't just say "This is your part and this is what you'll play." I always look for the communication and collaboration.