Karsh Kale
Raw Frequencies
by Anil Prasad
Copyright © 2006 Anil Prasad.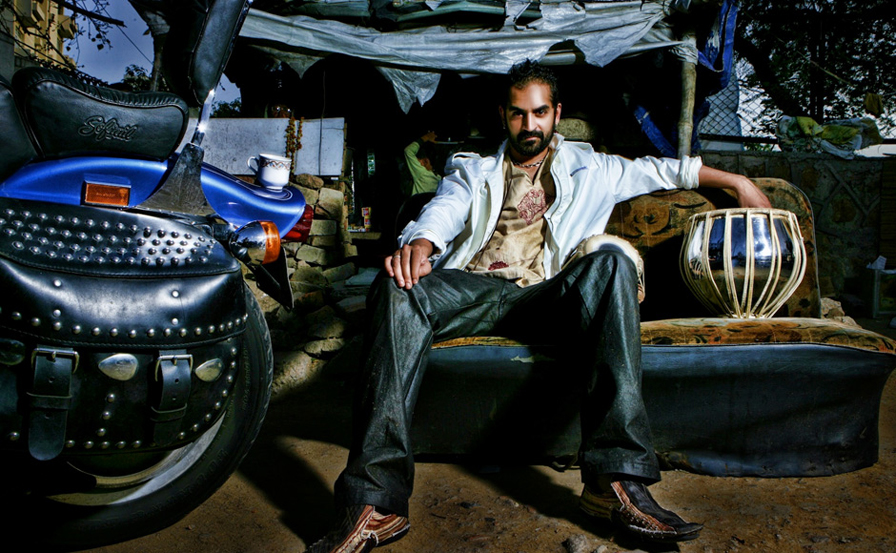 Percussionist Karsh Kale's unique brand of electronica infused with Indian classical, rock, and hip-hop influences has helped propel an American South Asian youth music movement forward. He's inspired countless professional and bedroom producers to action and the scene has never been more vibrant. Heavyweights such as Sting, Herbie Hancock, father-and-daughter sitar legends Ravi and Anoushka Shankar, and bassist Bill Laswell have also taken notice and called upon Kale to collaborate. While such career momentum might motivate some artists to stay on a tried-and-true path, Kale chose to veer off into a guitar-centric writing approach for his new CD Broken English.
"When I first started thinking about this album, I was in the process of moving from New York City to Los Angeles," explains Kale. "It took awhile for my gear to arrive and I was itching to write music. I'm the kind of guy that if you give me a couple of sticks and some glasses filled with water, I'll make music. So I went down to a pawn shop and found a cheap, no-name Mexican steel-string guitar and started to write songs on it. It was the beginning of a new writing context that took me away from my keyboard- and computer-based composition approach that I found really refreshing."
The result was Kale's first song-driven album after a series of discs that focused more on eclectic instrumentals and four-to-the-floor dance grooves.
"The truth is I started feeling that a lot of the electronic music I was making and playing was starting to feel somewhat disposable because the ideas weren't necessarily coming from an inspired place," says Kale. "Today, it's so easy to sit in front of Pro Tools or Logic and come up with something that sounds kind of cool within an hour. I also just got sick of sitting in front of a computer screen trying to write music. Writing on acoustic guitar is a more organic experience. The guitar itself both challenges and forces me to think about the essential elements of a song before moving forward with any additional sonics and electronics. I believe if you can break down a composition into those simple parts and have it still sound beautiful, then it can stand the test of time."
Broken English also finds Kale further stretching out by performing synth parts on a MIDI-equipped Fender Stratocaster. In addition, the disc features significant contributions from electric guitarist J.P. Doherty, whose lead and rhythm work colors the majority of the album's tracks. On his previous discs, Kale collaborated with guitarist Kirk Douglas, who went on to join hip-hop luminaries The Roots.
"Guitarists play many different roles in my music," says Kale. "Their chord progressions and lead lines are critical, but their choice of attitude is even more important. In Indian music, ensuring a purity of emotion about what you're trying to communicate is essential. However, the attitudes I'm trying to represent sometimes require rawer frequencies that don't exist within Indian instruments. Guitarists like J.P. and Kirk have been excellent foils in helping portray the feelings behind the songs which deal with themes including the political situation of the world and falling in and out of love. They're able to do things better than I can on their instruments and take the vibe I'm looking for and magnify it tenfold."