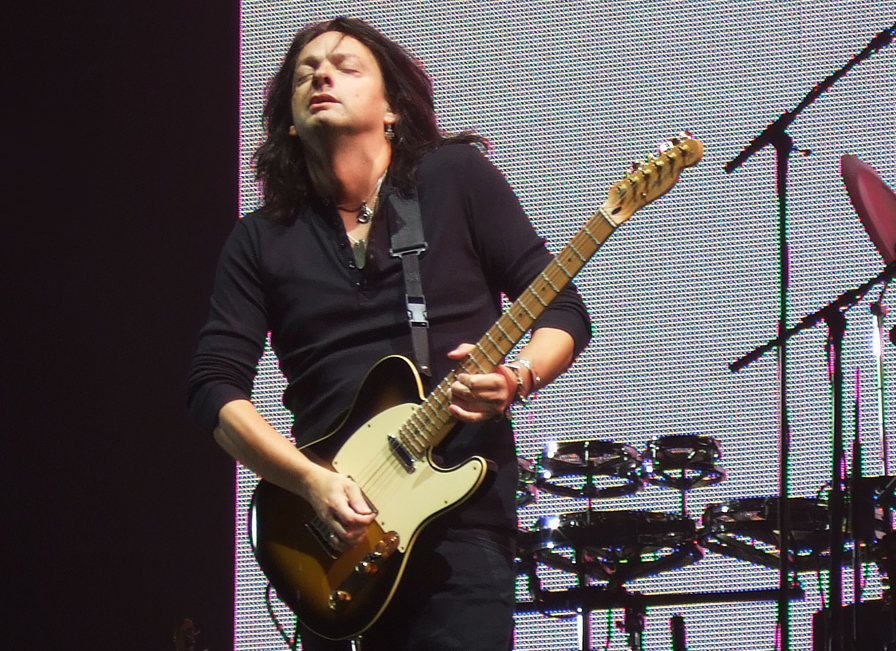 To Pink Floyd fans, Dave Kilminster is the luckiest guitarist alive. During the last two years, he has toured with Roger Waters, performing the majority of David Gilmour's guitar and vocal parts throughout presentations of The Dark Side of the Moon and other Pink Floyd classics. The tour saw Kilminster playing to sold-out arenas and stadiums worldwide, as well as Live Earth, which was broadcast to more than two billion people this past July.
Kilminster—who previously worked with prog-rock pioneers such as Keith Emerson, Carl Palmer, and John Wetton—learned of the gig when Waters' other tour guitarists, Snowy White and Andy Fairweather-Low, were tasked with finding someone capable of handling the majority of Gilmour's Dark Side chores. A friend of White's recommended Kilminster, and an audition quickly ensued. But it didn't go quite as planned.
"I took two guitars to the audition," says Kilminster, "a '76 Fender Telecaster with 21 frets, and a Yamaha Pacifica Mike Stern model with 22 frets—which I knew I'd need for the 'Money' solo that goes up to the high E. However, halfway through 'Money,' I realized I was using the Telecaster, and that I couldn't play the solo on it. I thought 'Oh God, this is really bad,' and I had to stop and swap guitars. And, not being a Pink Floyd fan, I didn't realize I was supposed to sing the track, too. So, they reminded me, and I had to play the guitar part and sing—which I'd never done before. This is all going on right in front of Roger. On 'Wish You Were Here,' everything was fine during the introductory solo and chords, but then we came to the bottleneck bit, and I realized I'd left my bottleneck in my jacket. I had to stop the band again and go get it. It was, without a doubt, the worst audition I had ever done. I drove home thinking, 'You really messed that up, you idiot.'"
Despite the glitches, Waters was impressed, and offered him the gig.
"Dave is an absolute natural for the job he does in my band," enthuses Waters. "Because of the extraordinary level of his technical ability, he can reproduce the 'other' Dave's parts—including all the well-known solos—with fluency and accuracy, while also bringing his own special flair to them. He is, in many respects, like a virtuoso concert violinist. The notes are written in stone in terms of pitch and time, but the interpretation is all his own. It was always my intention to treat Dark Side as a classical piece, remaining faithful to the original, so Dave's special skills are an absolute godsend."
During tour rehearsals, Kilminster discovered his favorite guitars—including his '76 Telecaster—weren't cutting it, necessitating a last-second swap.
"My Telecasters didn't sound fat enough to stand out in an 11-piece band," says Kilminster. "I discussed the problem with Paul Cornford, who makes amps for me and Richie Kotzen. He suggested I try a couple of Fender Richie Kotzen Signature Telecasters—which I modified with Seymour Duncan STHR-1 Hot Rails pickups in the bridge position and Lindy Fralin pickups in the neck position. The combination was much more musical to my ears, and gave me the great big, fat, warm sound I needed. Also, instead of a tone control, the Kotzen Telecasters have a series-parallel switch that enables you to get a nice clean, sweet sound, which is useful for many classic Gilmour moments. And while the Kotzen guitars have big, chunky necks and a significant camber—instead of the flatter necks and huge frets I prefer—they had the sound I needed, and that was enough to make me get over the other issues."
Kilminster—who just released his debut solo CD, Scarlet—also chose a more Spartan effects approach than Gilmour.
"I had seen the pedalboard Bob Bradshaw built for David, and it looked like you could control a space shuttle with it," he says. "I thought that was way too complex, and I decided to go with the basics. The MXR EVH 90 Phaser was sonically similar to the sound at the beginning of 'Breathe,' so I got one of those. I chose the Boss RT-20 Rotary Ensemble because it faithfully reproduced the wobbly Doppler effect on stuff like 'Any Colour You Like.' I also use the Boss BD-2 Blues Driver, because it doesn't mess too much with the true tone of the guitar. Then, Cornford built a custom footswitch for me so I can switch from the vintage channels to the high-gain modern channels on my Hellcat amps, and that's the sound I use on the big solos on 'Comfortably Numb,' 'Money,' 'Time,' and 'Have a Cigar.'"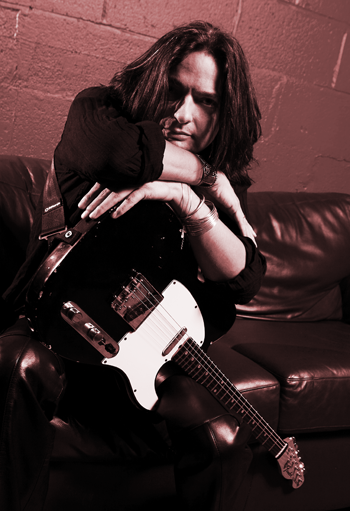 During previous tours with the likes of Keith Emerson and Carl Palmer, Kilminster was used to jamming to his heart's content. In contrast, the Waters tour was a serious exercise in self-discipline.
"Things are definitely more regimented with Roger," he says. "Take 'Have a Cigar,' for example. It's challenging, because we're playing to a click track, and everything is synchronized to visuals, as well as to a sound effect from the original album that plays at the end. That means I have to finish the solo at exactly the same point every night. Getting used to things like that was initially difficult, but I began realizing this isn't a typical rock gig—it's almost the same as a Broadway show. And the fact is, no one is paying to hear my version of these tunes. The way I channel my personality into the show is to sometimes hit the notes harder and with more attitude, which can give them more immediacy."
Unexpectedly, Kilminster ran into Gilmour himself during rehearsals for the Waters tour. Despite the 2005 Live 8 show that saw Waters and Gilmour reunite as Pink Floyd, relations remain frosty between them—a situation that benefits Kilminster for obvious reasons.
"Last year, Roger was rehearsing at Bray Studios in England with us and Nick Mason, and David was next door rehearsing with his band that includes [Pink Floyd keyboardist] Rick Wright," says Kilminster. "One day, David walks into the canteen, and comes up to me and says, 'Hi, I'm Dave.' I say, 'Me too. I'm your stunt double.' He replies, 'That's cool. It's not too difficult, is it?' He seemed like a nice guy, but I'm probably one of the very few people who is happy he and Roger don't like each other!"

Dave's Side of the Moon
Here's a song-by-song breakdown of the gear Kilminster used on Roger Waters' 2007 tour. All parts not listed are the Fender Richie Kotzen Telecasters played straight into the Cornford Hellcat's Vintage channel.
"In the Flesh?" - Boss BD-2 on the intro and outro. Boss CE-5 on verses.
"Mother" - Takamine 12-string. "Set the Controls for the Heart of the Sun" Boss CE-5 and DD-6.
"Shine On You Crazy Diamond (Part One)" - Boss CE-5 and DD-6 on intro and outro. MXR Micro Amp on solo and harmony parts.
"Have a Cigar" - MXR EVH 90 (Heavy setting). Hellcat Modern channel for outro solo.
"Wish You Were Here" - Takamine 6-string with Dunlop glass bottleneck for middle and outro solos.
"Southampton Dock" - Boss CE-5 and DD-6.
"The Fletcher Memorial Home" - Boss BD-2 for harmony solo.
"Perfect Sense (Part I)" - Boss CE-5 and DD-6.
"Perfect Sense (Part II)" - Boss BD-2.
"Leaving Beirut" - Plays Roger Waters' Fender Precision bass.
"Sheep" - Boss CE-5 and DD-6 for middle section. Boss BD-2 and T-Rex Replica for solo.
"Speak to Me/Breathe" - MXR Phase 90 (Light setting).
"Time/Breath Reprise" - Hellcat Modern channel and T-Rex Replica on solo. MXR EVH 90 (Light setting) for "Breathe Reprise."
"The Great Gig in the Sky" - Boss CE-5 and DD-6.
"Money" - Hellcat Modern channel for solo.
"Us and Them" - Boss RT-20 (Slow setting).
"Any Colour You Like" - Boss RT-20 (Fast setting). Boss BD-2 and RT-20 on solo.
"Brain Damage" - Boss RT-20 (Slow setting).
"Eclipse" - Boss RT-20 (Slow setting).
"The Happiest Days of Our Lives" - Boss BD-2.
"Another Brick in the Wall (Part II)" - Boss BD-2 on solo.
"Vera/Bring the Boys Back Home" - Boss BD-2.
"Comfortably Numb" - T-Rex Replica on intro, Boss CE-5 and DD-6 on choruses. T-Rex Replica and Boss CE-5 and BD-2 on first solo. Boss CE-5, T-Rex Replica, and Hellcat Modern channel on outro solo.
Killer's Kit
Guitars - Fender Richie Kotzen Signature Series Telecasters (2), Takamine 12-string, 2006 Limited Edition Takamine 6-string.
Amps - Cornford Hellcat heads (3), Cornford Richie Kotzen 4x12 cabs (3).
Effects - MXR Micro Amp, MXR EVH 90, Boss BD-2 Blues Driver, Boss CE-5 Chorus, Boss DD-6 Digital Delay, Boss RT-20 Rotary Ensemble, Boss RV-5 Digital Reverb, T-Rex Replica Digital Delay.
Strings - D'Addario EXL110 (.010-.046) and EXL115 (.011-.049) for electrics, D'Addario EJ16 Phosphor Bronze (.012-.053) for acoustic, D'Addario EJ38 Phosphor Bronze (.010-.047) for 12-string.
Picks - Jim Dunlop Gator Grip 2mm.