Kronos Quartet
Infinite Horizons
by Anil Prasad
Copyright © 2014 Anil Prasad.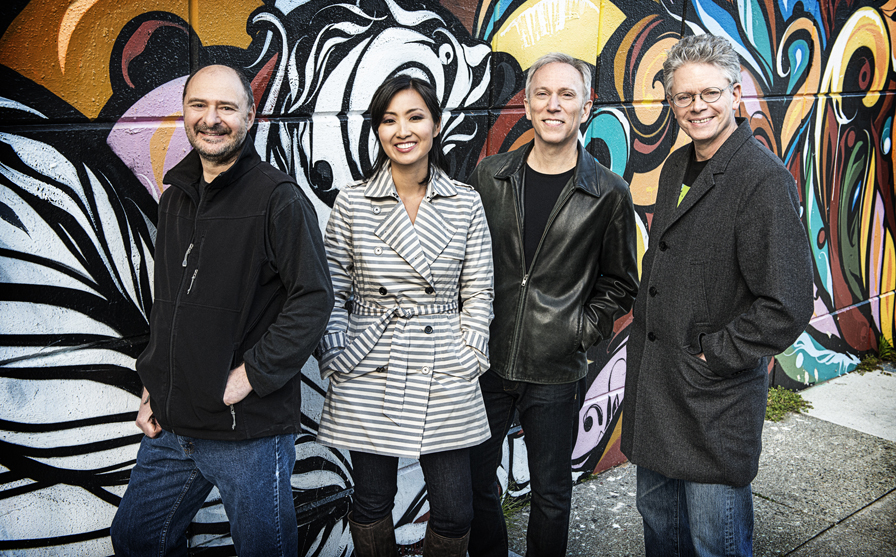 Kronos Quartet's transformative influence on the worlds of classical and new music is nothing less than remarkable. The group, which is celebrating its 40th anniversary, has broken every boundary imaginable, redefining what it means to be a string quartet. Comprised of David Harrington and John Sherba on violin, Hank Dutt on viola, and Sunny Yang on cello, Kronos' output straddles and often bridges a multiplicity of genres. World music, jazz, pop, rock, electronica, industrial, noise, Beat poetry, and folk are among the universes Kronos has fearlessly integrated into its work.
The San Francisco-based group has collaborated with many renowned composers, having commissioned more than 830 works from the likes of John Cage, Morton Feldman, Philip Glass, Osvaldo Golijov, Henryk Górecki, Sofia Gubaidulina, Astor Piazzolla, Steve Reich, Terry Riley, and Aleksandra Vrebalov—just to name a handful. And their interpretations of works by composers and artists as diverse as Bartók, Shostakovich, Charles Mingus, Thelonious Monk, R.D. Burman, and Jimi Hendrix offer original takes on classic repertoire.
It's an understatement to say the group's far-reaching explorations have significantly expanded the audience for classical music. Early on, Kronos was also known for breaking out of traditional classical garb and opting for urban street attire—an approach that became widely adopted among many other classical ensembles. Today, a typical Kronos audience crisscrosses every age, ethnicity and economic stratum. Unquestionably, Kronos made the string quartet accessible for generations of listeners.
Another distinguishing feature of Kronos is its focus on unique partnerships. Highlights include recordings and performances with Laurie Anderson, Asha Bhosle, David Bowie, Zakir Hussain, Wu Man, Paul McCartney, Modern Jazz Quartet, Tanya Tagaq, Amon Tobin, Vân-Ánh Võ, and Tom Waits.
Innerviews met Harrington at Kronos' studio and office space located in San Francisco's Inner Sunset District. Several big picture conversations across two years examined the group's vision, origins, motivations, and current directions. Although the environment is relatively straightforward and unadorned, one gets a sense of the magnitude of the quartet's accomplishments when walking around. Photos of Kronos with the Dalai Lama and Philip Glass, along with an array of recording industry awards, welcome visitors. Staff work on bookings and organizational activities. A huge archive of Kronos recordings and sheet music numbering in the thousands occupies several rooms.
The interviews were conducted in the rehearsal room, set up exactly as the group is positioned onstage. Harrington, typically clad in denim, an unbuttoned long-sleeve shirt over a t-shirt, and sneakers, always sat in his first violin chair, with Innerviews in Sunny Yang's cello seat. In the corners, all manner of auxiliary instruments awaited their next assignment, including an Omnichord, Stylophone, a bass drum, and even a vintage Simon electronic game, whose sounds the group has since incorporated into a piece. With casual grace and in a precise, soft-spoken voice, Harrington provided unprecedented insight into the incredible journey Kronos has experienced to date.
Innerviews also spoke with Terry Riley, Aleksandra Vrebalov, Vân-Ánh Võ, and Janet Cowperthwaite, Managing Director of the non-profit Kronos Performing Arts Association. Their perspectives on working with the quartet follow Harrington's reflections.
Kronos is much more than a quartet. It's a platform for cross-cultural, cross-generational collaboration. What's your perspective on that idea?
I agree. I've always wanted that for our music. Quartet music is more than four people. In addition to the musicians, it involves the composers, publishers, recording engineers, luthiers, record companies, presenters, publicists, and the audience, just to name a few. It's a community of music lovers. One of the things we do with Kronos is establish long-term relationships with wonderful, creative people, including many composers and other performers. Our manager, Janet Cowperthwaite, has been with us for 33 years. Another long-term relationship is with Terry Riley, who has written 16 or 17 pieces for us since 1979. We've been working with Tanya Tagaq for almost 10 years now. Laurie Anderson wrote a major new work for us. We're also doing new pieces by Nicole Lizée and Aleksandra Vrebalov. We don't take these relationships casually. I feel the work improves with time, experience, and trial and error. It takes practice and involves asking "How do we adequately reflect the work?" I constantly think about that.
What qualities do you look for in a collaborator?
What I need from music, and what I feel my family, friends and audience need, are vibrant, indelible musical experiences. So, I'm looking for those rare people who can help provide those. There are a lot of composers and performers in the world. All I can do is use my own sense of what magnetizes me, personally. I think it's safe to say that if we got into a collaboration, it's because something intrigued me about the person, their work, their instrument, and the possibilities.
I don't have a set way of approaching things. For instance, when we were on tour in Rotterdam in 2012, after the concert, the presenter said "You know, there's this composer I've heard named Santa Ratniece. She's written this amazing choir music. She's from Latvia. I don't even know if she has an email address, but I've listened to the music and you should hear it." He handed me some recordings and I went back to the hotel and played them. I could not believe what I was hearing. I wrote to him that night and said "I have to find out how to reach this composer, because I believe she can write a great piece for Kronos." That's the same kind of criterion I've used for 39 years.
The first piece written for Kronos was "Traveling Music" by Ken Benshoof in 1974, which is available on our 25 Years box set. He was my composition teacher when I was in high school. One of the reasons you and I are sitting here talking is because that piece was so fantastic and so much fun to assemble. By the time we got to the world premiere and were on stage performing it, "Traveling Music" felt like our music. We felt we had such a personal involvement in making it. It didn't feel like something I would buy from the music store or something that was transferred to us over the centuries. It felt like something we were all directly involved in. We were reading off the manuscript and we worked in Ken's home. We knew his voice and his ideas, and made a lot of changes during the rehearsal process. By the time it was ready to go, it belonged to us. That's very important, in my opinion.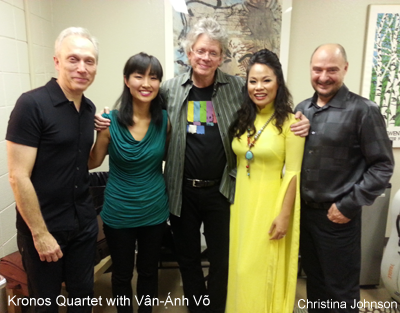 Many of your collaborators are from diverse global cultures. How do you internalize the intricacies of these musics so you can engage in a full-blown dialog with the artists?
First of all, I try to gather as much information as possible. Let's use Vân-Ánh Võ as an example. When I first met her, we began talking about Vietnamese culture, music and life. That's how it really began. I said to her "I started Kronos in 1973 to play 'Black Angels' by George Crumb.'" I gave her our recording of that piece and said this music came out of the American war in Vietnam. At the time, I was a 23-year-old musician and very confused by what was happening in the world. I was angry. I felt America was destroying itself, as well as another culture, people and environment. I thought it was awful. I felt quite removed from the news I was seeing on television and reading in the newspaper until the summer of 1973 when I heard "Black Angels." All of a sudden, I had a voice. But in order to use this voice, I had to be in a group that would be able to play that music. So, in September of 1973, I started Kronos. The reason was to have some way of responding to that awful war. In the years since, I've wanted to find ways of expressing some of the sorrow and feelings of being paralyzed by these events. I felt so much of life did not adequately confront the issue. I wanted our work to bring it front and center. I wanted to deal with it and try to change the balance, if possible.
So, Vân-Ánh and I kept talking every few weeks for about a year, until there began to be a piece. We didn't know quite what it was. There were a lot of things I wanted in it and a lot of things she wanted in it as well. It became this collaboration, and eventually, it included elements she could notate for us and describe. We began to rehearse and the piece came out as more of a theatrical work than a concert piece in which all the notes were finely etched into stone. So, there was a lot of learning that went into that—learning how to speak to each other, learning how to provide each other with the kind of information needed to do what we were trying to do. Eventually, we arrived at "All Clear."
That process is basically the same one we've followed with every other relationship. The differences have to do with different musicians' personalities, the way he or she might relate to the group, the instrument or instruments our guests might bring to the work, the kinds of demands made of us, and what we have to learn. It's an instinctual thing. A lot of what I do is about trying to know when the right moment is for a person to write for us. I'll find an idea that seems like it's the right one and it triggers something inside of me. I'll realize it's something I want in our work and for our audiences.
After 9/11, Kronos engaged in a lot of repertoire and collaborations that served as commentary on the state of American foreign and cultural policies. You were also very overt with your own perspectives at some of the shows, particularly during the U.S. invasion of Iraq in 2003. Provide some insight into the idea that the personal is political for Kronos.
I think everything is personal. Everything is also political, in that every decision you make expresses something of how you want the world to be. That especially holds true for string quartet music. I can point to "Different Trains" by Steve Reich. Four quartets were playing: one live and the other three pre-recorded. There's all this technology involved. There's also the research that went into finding the voices of survivors of the Holocaust, and the sirens and horns from Europe and the US. When all is said and done, it's a very personal piece. That's what I want from our composers. I want to hear the sounds from inside them. Sometimes it's hard to locate that sound. It's a conversation I have with people all the time. There's so much noise going on in the world—so much activity, confusion and so many expectations. How do you actually hear the innermost sounds? I'm not sure I know, but I know for myself that it doesn't happen all the time. It's very rare. It's those rare moments that I want as part of our work. When I'm searching for new things, I'm on the lookout for that special quality.
The reason I said everything is personal is that in January 2003 I first became a grandfather. Shortly after that was the buildup to the invasion of Iraq. I felt again like I did during my late teens and early 20s. I recognized it. In March of that year, despite being ecstatically happy I was now a grandfather, there was this counterbalance pulling me down. There was this dread of "What is my role? How can I help protect this little person?" I went through a serious depression and didn't even talk to the rest of the group about it. I just felt hopeless and I lost track of the reason for being away from my family six months a year. Finally, I decided to think of all the great voices I had heard in my lifetime. I settled on the one who made the most sense to me and that was the voice of Howard Zinn, the American historian. My friend, David Barsamian, had Howard's home number. I got it from him and it was one of the few times in my life I just called someone's number like that. I once had the phone number of I.F. Stone, the great American investigative journalist, in my pocket for years. I didn't know what I could say to him. By the time I did, he was very ill and then he died the day we recorded "Black Angels." I said "I'm not making that mistake again." So, I called Howard and his wife Roslyn answered the phone. I told her who I was. She said "Oh, Kronos. We've listened to Kronos for 20 years. Howard will be home in an hour and he'd love to talk to you." An hour later, I called him back and a month later I was in his office. My question for him was very simple: "What can a normal person do in this time?" Howard took an hour and explained it to me. His answers were very simple and afterwards, I thought "I now have enough confidence and energy." Before that, I was lost.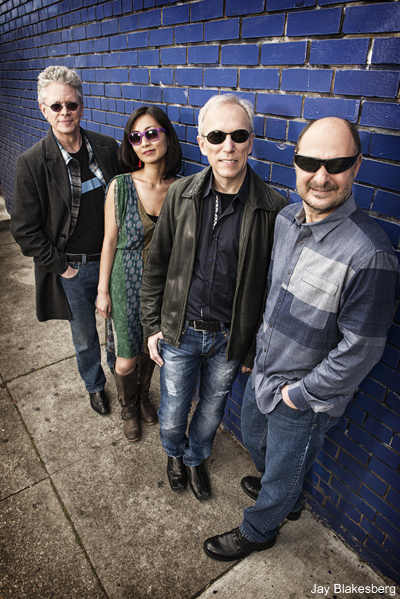 What were some of his answers?
Some of the things he said that resonated include:
"Use whatever platform you have to make your viewpoints very clearly known. You can't do anything by yourself. Build a community."
"Have conversations frequently. Share your ideas. Things tend to radiate."
"Powerful people are afraid of artists, because they go beyond conventional ways of thinking and known structures. Use that fear to your advantage."
Howard and I became friends. Eventually, Howard appeared with us at Carnegie Hall as part of a program we called "Alternative Radio," as well as in Vienna at the New Crowned Hope Festival. At Carnegie, we did two one-hour radio programs. Howard was interviewed by David Barsamian and Kronos performed the live music. For me, there was life before that night and life after that night in terms of our work. I was ecstatic after that. Howard was talking about war, about music and what people can do. I've always by nature wanted to bring the world into our work—the world as we tend to know it, as well as the world as we can imagine it for the future. I don't want the music of Kronos to be antiseptically treated so there's a little no-man's land around it in which everything is safe and preserved. I want our music to deal with the way things are.
In order to do that, we have to be cognizant of suffering, environmental degradation and injustice. There are a lot of things we take for granted, including the safety that we have in order to play music. You and I are very lucky, right now, in that we can sit here and talk without having bombs falling around us. I want to take advantage of that safety I have and the opportunity that emerged when I was 12 and first heard string quartet music. Very shortly after that, I decided that I was going to be a musician. The decision was "The world's just going to have to get used to me being a musician." [laughs] I didn't care what I had to go through to do it. That's why it was such a big problem for me when I said I felt there was this undertow that was pulling me down and I didn't know how to get out of it. I have Howard to thank for getting me out.
You once said "I've always wanted to play bulletproof music that protects people from suffering and shields children from harm." Elaborate on that.
I've thought about wanting bulletproof music for years and years. Wouldn't it be great to create a musical experience that could put its arms around a little child and protect that little person's family?
By instilling ideas and inspiration?
Hopefully. I haven't given up hope that we will be able to create that kind of musical situation or statement. We haven't done it yet. In every conversation I have with a composer, I'm challenging them and Kronos to try and create that kind of experience.
You worked with Noam Chomsky when Kronos participated in the 150th anniversary of MIT during 2011. Describe how that experience unfolded.
I said to the organizers "When I think of MIT, I think of Noam Chomsky. The only way we can do it is if we get him involved." I'm astonished by his honesty and attention to detail. He can tell you the time events have been reported in the New York Times for decades. He can tell you the page numbers of books and newspapers. The mind the man has is unbelievable. He also concentrates on actual facts versus what's reported in the media.
I first met Noam Chomsky at Howard Zinn's memorial service. I was introduced as "David Harrington of Kronos Quartet." I thought "What am I going to say to Noam Chomsky?" So, I shook his hand and he smiles and looks right into my eyes and says "Can you tell me about the Russian school of violin teaching?" I said "I can tell you a lot, actually." [laughs] When I was 15, my teacher was Emmanuel Zetlin, who studied with Leopold Auer in the same class as Jascha Heifetz, in St. Petersberg. That is the Russian school of violin playing and teaching. Then Noam tells me about his son playing violin and how he had a Russian teacher. And that's how our relationship started.
When it came time to do the event, we didn't have a chance to rehearse with him. He was too busy doing interviews and writing. But I had a meeting with him the morning of the concert. I said "Noam, my idea is that it would be great if you could tell our audience about your involvement with music and how music might be a way towards activism as a way of life." I had heard an interview with him shortly after his wife died. They had been married for many years. They went on their honeymoon several years after they got married, when they finally had enough money to go to Europe. Noam talked about being at the Prades Festival in France. Pablo Casals had left Spain in objection to Franco. So, he started a festival across the border in France. Noam and his wife went to hear Casals play Bach's "Cello Suite No. 1." We musicians use our ears and I could hear the change in Noam's voice when he described the influence of that experience. I thought "Wow, maybe music did something for him. Perhaps it answered questions or gave energy to him." So, I asked Noam to talk about that. Tod Machover had written a piece titled "Chomsky Suite" that would be played in four movements, inspired by Bach's "Cello Suites." We chose to have Noam speak over it, discussing his experience at the Prades Festival and what music meant to him. He discussed how Casals wouldn't play in fascist countries, which was a form of activism in and of itself. Noam also discussed his brief time as a guitarist in a pickup band. In addition, he talked about how music helps us "aim for something higher than that which we do regularly, expertly."
In the little time we had in his office to talk before the performance, I decided to have a little rehearsal moment. I said "I'm going to hand you an instrument. I'll show you how to play it. If you watch me during Terry Riley's 'Cusp of Magic' before your piece, you'll see how to do it." He agreed to do that and you can see it on YouTube. I had this little orange violin I picked up in Mexico. I handed it to Noam and he started to play it. Well, he didn't even make a sound. He's a very gentle person. He speaks very quietly. You have to mic him to hear him. So, I said "Noam, you have to dig in." He tries to dig in and he makes a little sound. Then I said "You really have to dig in!" And he starts digging in more. Pretty soon, I realized Noam was actually enjoying himself and he's a bit of a ham. [laughs] That broke the ice and the experience at that concert was wonderful.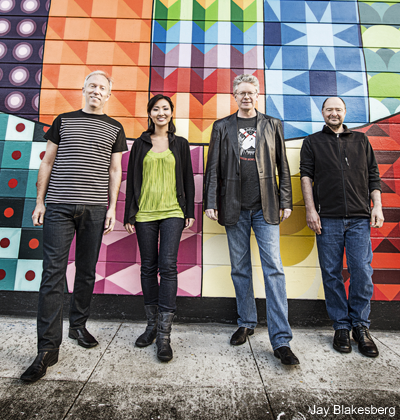 Kronos did the soundtrack for the film Dirty Wars. What drew you to scoring it?
Dirty Wars follows the investigative journalism of Jeremy Scahill, who has a book out by the same name. The topic is the American drone attacks in Somalia, Yemen, Pakistan, and Afghanistan. If you listen carefully to some of President Obama's 2013 speeches, he's pretty much responding to Dirty Wars. When I first saw the film, I felt sorrow, shame and fear for my daughter, son-in-law, grandkids, and the future. A country can't do what we're doing and get away with it for long. Eventually, there will be drones from other countries coming to our country. That's all there is to it. I'm a violinist, but I can tell you with certainty that once something like that exists, other people will find ways to use it. Once innocent people are killed, it creates much hatred and anger aimed at this country. Most of us didn't even know this was going on until recently.
When I saw the film, it took me back in a sonic way to the very first chord I ever heard of string quartet music, which was from Beethoven's "String Quartet in E-flat Major, Opus 127." The chord I'm referring to was turned into E-flat minor, though. There's a big difference. The chord resonates in a weird way inside of me. So, I got out the score to the Beethoven piece and looked at the spacing and the way he orchestrated the chord to get that sound. It captivated me when I was 12-years-old. It occurred to me that Kronos could retune a set of instruments to play this chord for the film. We had to rent instruments, because there was no way we could alter our instruments that significantly. It would damage them. But I wondered what would happen if we played those tones on open strings, with the other strings we didn't play serving as sympathetic strings. So, that's what we did. We went into the studio with an altered tuning that had each musician playing the E-flat minor chord that Beethoven wrote for our instruments. We created 120 variations of that chord for the film. They also used a number of our tracks from Floodplain and right near the end is our recording of the second movement of Vladimir Martynov's "Schubert-Quintet (Unfinished)."
Reflect on the importance of Terry Riley to Kronos.
I can't even imagine the work of Kronos Quartet across the last 35 years without the music of Terry Riley. Terry's work has been absolutely central to our concerts, as well as the underlying meaning of what we're communicating in a lot of our work. Terry is also one of the most generous musicians there is. He introduced Kronos to his great teacher Pandit Pran Nath, Hamza El Din, La Monte Young, Jon Hassell, Zakir Hussain, and the list goes on and on. All of those composers have written for us.
Speaking specifically about Terry's music, we first met at Mills College in 1979. Kronos was rehearsing "Traveling Music" by Ken Benshoof and Terry came into the concert hall and sat down and listened. Later, when we took a little break, I met Terry. He was introduced to me by the late Sally Kell, who was a wonderful cellist on the faculty at that time. It turned out that Ken and Terry went to San Francisco State together in the '50s. Terry had never heard any of Ken's music until he heard "Traveling Music." Meeting Terry was a beautiful experience. Right away, I felt this man was a quartet composer. There's something about his generosity of spirit that made me think "I want this man's music in our work."
It took about a year of phone calls, letters and meetings for me to convince Terry that he should write notated music. "In C" was the last notated piece he wrote before composing "G-Song," "Sunrise of the Planetary Dream Collector" and "Remember this O Mind" for Kronos. The idea of notating his music had vanished because he was totally into North Indian raga singing and improvisation. I think he felt that would be the trajectory he would probably remain on. So, it took a little bit of counterbalancing to move things in a different direction. Eventually, he didn't write one piece, but three. That's what I mean about his generosity.
We played his music together with him. He did "Remember this O Mind" with us as keyboardist and vocalist back in 1980. Before that, we went to his ranch and stayed there a couple of days. We rehearsed in his music room. It was so much fun. He kept imagining a certain sound and we didn't get it at first. It took quite awhile. It was a year or so before I felt Kronos arrived at the sound we were all looking for. It happened when we were playing "The Wheel," which is the introduction to one of Terry's other pieces for Kronos. The sound had no vibrato, yet had to be really expressive. It was like we were using our bows in a painterly manner. It felt like a whole new way of working. I could feel things clicking into place. Terry has worked with us on rhythm for years as we search for the pocket of the beat. He's a master of that. If you go back and listen to the albums Cadenza on the Night Plain or Salome Dances for Peace, you'll hear that there's something in his rhythms that he's written for Kronos that are just so beautiful and unparalleled in quartet music. The rhythmic tapestry of "Salome Dances for Peace" contains some magical moments harmonically, rhythmically and melodically in every way you can think of. It's such an amazing masterpiece.
For me, Terry is like a musical Howard Zinn figure. He challenges without being abrasive. The energy that surrounds him makes you want to do better than you did before. It's part of his being. I love the man and the contribution he's made, not just to Kronos' music, but to all of Western music. He's absolutely unbelievable. He's a true leader and he does it by listening to his inner voice.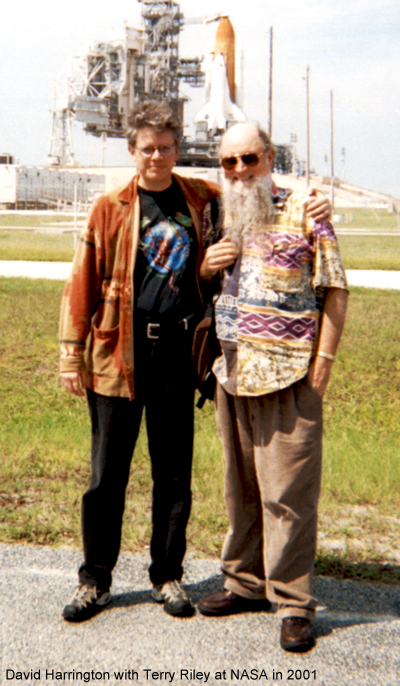 "Sun Rings" is a highlight of your collaborative output with Riley. Describe how it came together and its importance to you.
We got a call from NASA's Arts Program director Bert Ulrich in 2001 and his question was "Would you be interested in including some of the sounds recorded on the Voyager expeditions in your concerts?" I was in Europe at the time and Janet Cowperthwaite sent me the message. I thought "Well, I didn't know there were any sounds out there. I've got to hear these." Eventually, we got this cassette tape—yes, a cassette tape, believe it or not—from NASA, and I heard it and thought "This is amazing. I know the composer we should use to bring these sounds into our work and that's Terry." I told myself "I want to do this and I want to be there and see the look on Terry's face when he first hears these sounds." As it turns out, we were recording the album Requiem for Adam at Skywalker Sound, and that's when I asked Terry about the idea and first played him the sounds in the control booth. That was the spark that got this piece going.
Eventually, we wound up in the office of Don Garnett, the astrophysicist at the University of Iowa and inventor of the plasma wave receptor that's been on all of the NASA flights. We discussed the sounds and the project. Terry and I also attended a NASA launch to check out the vibe and also learn about the whole political dimension of NASA. Was it something we could feel good about being a part of? We wanted to figure that out.
Once we decided to proceed, Terry wrote "Sun Rings," and as has been the case with all of our work together, Terry had some big ideas for it. With "Salome Dances for Peace," Terry said "This piece is getting a little longer. I think there are five quartets here." [laughs] "Salome" ended up being about two-and-a-half-hours long. For "Sun Rings," the call was "You know, I think there needs to be a choir on this." I said "How big?" Terry said "Around 40-50 voices." I thought "Oh no!" [laughs] Then a week later, he said "I think there needs to be a visual component." So, eventually, we got Willie Williams onboard. Willie has been the stage designer for U2 for the past 30 years. The choir has been one of the great parts of the piece. Wherever we play "Sun Rings," whether it's Australia, Scotland or Korea, there's a community that surrounds the piece. In general, Terry creates a community wherever he goes and wherever his music is played.
Riley's "Requiem for Adam" is the most personal composition you've been involved in. Tell me about the circumstances that led to that piece.
There were four major tragedies that hit Kronos. There was the death of Hank's partner Kevin Freeman from complications related to AIDS in 1993. We all loved Kevin enormously. The next year, Larry Neff, our lighting designer, lost his brother Julian in a motorcycle accident, and Joan Jeanrenaud, our cellist at the time, lost her baby Mario Moruzzi, who was stillborn. In 1995, I lost my son Adam. I saw my child die right in front of me on Easter Sunday, April 16, 1995 at the top of Mount Diablo.
After that happened, I couldn't even think about being a musician without feeling the effect of that loss. Adam's death changed the way I hear, what I needed from music, and what I wanted to present. I'm not even sure I can explain it. I can hear it, though. For me to even be able to get on a stage again took the help of so many people and so much music. The quartet, Janet Cowperthwaite, our record label Nonesuch—every member of our community helped me and Kronos at that time. This meant everything to me. I will always be grateful for their help and support. I will spend the rest of my life trying to deserve it.
We were assembling the Early Music album during that period. You can listen to that album and look at the titles to have a glimpse of my thoughts. The Schnittke piece "Collected Songs Where Every Verse is Filled With Grief" and the bells at the end are particularly important. I listened to over 300 examples of bells to find those we used. I needed a certain sound that I had heard in my lifetime, but I didn't know where I would ever find it again. John Kilgore sent me hundreds of kinds of bells and I found the ones that had to be on the album.
Basically, there was a trilogy of albums that started with Early Music. The sound of that album was as close as I could possibly come to expressing the sound that I eventually heard inside. For what seemed like an eternity, there was a vast silence. Then, on September 16, 1995, which is Adam's birthday, I was in Seville, Spain. As the poet Federico Garcia Lorca said, "In Spain, the dead are more alive than the dead of any other country in the world." So, there I am on my son's birthday and I was in a record store and all of a sudden "Gloomy Sunday" by Billie Holiday came on. I had heard it before, but all of a sudden the idea for the Caravan album just happened. It was at the same record store where I picked up a CD of gypsy string orchestra music. It was great because of some of its incredibly powerful notes. I'm a great believer in notes. I make notes. It's what musicians do. We try to put as much of what we know, what we intuit, and what we desire into our notes. And there are some great notes that people have made. On this particular album, there were some notes that were so sad I couldn't believe it—especially on that day. Later, when I listened to the album again, the notes sounded happy. I thought "Kronos has to explore this area." And that exploration became the Caravan album.
The first Christmas after Adam died, my family visited Mexico. I had been to Mexico before and I realized there is something about the way death is expressed, permeates the culture, and is celebrated there that made it essential for my family to be there at that time. We went for 10 days shortly before Christmas through New Year's. Basically, every sound on the Nuevo album is something my family and I got from that experience.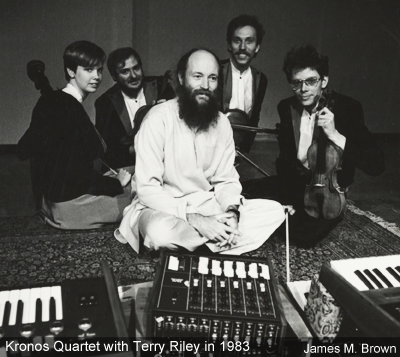 You've said the trip saved your family's life. How did it do that?
I do feel it saved us. There were points when we felt we couldn't make it anymore. The trip gave us perspective. It brought us closer to Adam. I will always have immense gratitude to the culture of Mexico, the music, the people, the sounds, the food—everything. When I hear this political crap that's going on as it relates to Mexico, it really angers me, because my feeling about that culture is that it's so deep, beautiful and expressive. The balance of life and death is expressed so poignantly.
Getting back to Terry, he asked me "Would you be interested in having three requiems for Kevin, Mario and Adam? Would this be a good thing?" Terry knew Adam very well. Adam's birthday, September 16, is also Terry Riley's son Gyan's birthday. We shared several September 16ths together. I brought up the idea with Hank and Joan and we all wanted to make them happen and I told Terry "It would be a wonderful thing." In addition to "Requiem for Adam," which was released on the album of the same name, Terry's "Lacrymosa: Remember Kevin" is also recorded. It just needs a little more editing and it will be ready to release. The piece for Mario has not been recorded. I should mention that Ken Benshoof also wrote beautiful pieces for Kevin, Mario and Adam. Ken's incredibly poignant viola solo "Song of Twenty Shadows" is recorded on the 25 Years box set.
What I've learned about loss is it's like a delayed depth charge that will go off and you never know when. After Adam died, there were several weeks when even holding the violin was something I couldn't even think about doing. Eventually, it was determined that there was a concert a month after in Orange County and that I would try to play it and see what happened. There was a point when we rehearsed for the first time after Adam died. John, Hank and Joan asked me what piece I would like to play first at that point. I realized I wanted to go back to the very beginning and see what it would feel like. So, I said I would like to play Ken Benshoof's "Traveling Music." I tried to play it and it felt so weird. My sound didn't sound like my sound because of everything that was going on inside of me. John, Hank and Joan were so supportive and kind. Fast-forward 18 years. Sunny Yang, Hank, John and I were playing "Traveling Music" for the first time since 1995. I couldn't for the longest time figure out what was so weird about playing it. Sunny played it so beautifully and it felt like something we all knew. She had been studying our recording a lot and we were finding new ways of playing it. It was great, but there in the middle of it, I realized "Oh my God, that's the first piece I played after Adam died." I almost lost it. I didn't even know what to say to everyone at that point. I never know when I'll feel this staggering loss.
Pandit Pran Nath also played a significant role in your life after you experienced this tragedy.
One of the deepest experiences of hope I've ever had in my whole life was when Pandit Pran Nath came to our home the Sunday after Adam died. He didn't say a word to me. He just came up to me and hugged me for a very long time—it could have been an hour. It was so optimistic and generous of him. Pandit Pran Nath died the year after Adam in 1996. By that point I heard Terry's Lisbon Concert album, a solo piano recording, which is great. I said to him "You should do something on our album." We were at Skywalker Sound with him and I said "Please think about Pandit Pran Nath and just make a piece." It became Terry's piano track "The Philosopher's Hand" that closes the Requiem for Adam album.
Tell me about the new Philip Glass commission, "String Quartet No. 6."
It's a major new work. It's thrilling to play. The piece has the mastery and confidence of years of experience combined with a propulsive force that is fun and engaging. We're all very pleased with it. It's incredibly difficult to perform. My part is exceptionally challenging. My wife Regan heard me practicing day and night on it. She said "Why do you have to practice so much? Haven't you learned to play already?" [laughs] This piece pinpoints things I should have worked on when I was a kid. If I had practiced in a better, more complete way when I was 12, instead of playing quartet music all day and night, it would have been easier for me to play the piece.
Philip said he tried to write the very best piece he's ever written. That's what I hope for from every one of our composers. I love it when people try to raise the bar. That's what I want to do with our own work—make every note better than the last one I played.
It would be hard to imagine contemporary music without Philip Glass. His output is incredibly vast. I saw Satyagraha recently and it blew my mind. I was totally thrilled. I've also seen Einstein on the Beach in recent years, which is also incredible. I also love the social conscience that's a part of Philip's work. Something that's not so well known is Philip's generosity to younger composers. He provides comments and pointers about the work of a lot of young composers. It's really admirable. He's a very large figure in American culture and we're really lucky to have him.
Steve Reich is another major composer that has been pivotal for Kronos. Describe the influence he has had on the group.
Steve wrote "Different Trains" when Joan Jeanrenaud was in Kronos. He wrote "Triple Quartet" when Jennifer Culp was in the group. And he wrote "WTC 9/11" when Jeff Zeigler was with us. It's hard for me to even imagine the trajectory of our work without Steve. "Different Trains" totally changed everything for Kronos. Steve wrote a piece that brought the voices of survivors of the Holocaust into the concert hall. It changed what a Kronos concert could be, back in 1988.
We were using a reel-to-reel tape as a backing track for "Different Trains." I'll never forget a performance of that piece in Nebraska, because the tape began to slow down ever so slightly over a period of 28 minutes. [laughs] We could all tell it was happening and we had to adjust our intonation all the way through. We'd often show up at concert halls and have the person who operated the sound system have no idea what to do with the piece. It became clear that Kronos had to have its own dedicated sound engineer after that. Since 1989, we've been a totally magnified group that has toured with our own engineer. We hold very extensive sound checks. Our engineers know all of the pieces that have any sort of altered quality, backing track or effects. The engineers have become part of the extended group and that's directly a result of touring "Different Trains."
In general, Steve's music has had an incalculable effect on us and opened up a lot of things for a lot of composers. It became possible to do Scott Johnson's "Cold War Suite" with the voice of I.F. Stone, and Michael Daugherty's "Elvis Everywhere" and "Sing Sing: J. Edgar Hoover." Sofia Gubaidulina heard us play "Different Trains" and "Purple Haze" at the Concertgebouw in Amsterdam. It led to what she did with "String Quartet No. 4" for us. I could go on and on about what resulted from "Different Trains."
Steve initially had several ideas up for consideration for Kronos. One was the idea of using voices of the Holocaust and the other one was using Bartók's voice for a piece. I said the voices of the Holocaust was the one it should be. I've always wanted composers to find a personal aspect to amplify their work for us, and that seemed absolutely right. Ten years later, I called Steve again. I had no idea if he would want to write another piece for us after "Different Trains," which was his most personal piece and a true groundbreaker. I wondered what it would be like for him to try and come back to this form. He jumped at the opportunity immediately. By then, we had recorded Alfred Schnittke's quartets, so Steve's "Triple Quartet" is influenced by Schnittke and Bartók, as well as klezmer music.
Ten years after "Triple Quartet," we discussed the idea of another piece. I remember asking "Could you imagine a bookend for 'Different Trains?'" At that point, it was 20 years later. Somehow the idea came up about September 11, 2001. Steve's family was directly affected. His son, daughter-in-law and grandchild were just blocks away from the twin towers. Steve and his wife Beryl were outside the city that day. Everyone was ultimately okay, but there were many hours when they didn't know. Just the sheer terror that gets imprinted on one during a situation like that must be incredible. So, Steve's body of work is astonishing. Now that Sunny is a part of Kronos, I think it's time to call Steve again.
Tell me how you first connected with the composer Aleksandra Vrebalov.
It was in 1995 that Aleksandra, then a student at the San Francisco Conservatory, was doing her masters degree. I hadn't heard of her. She sent me a cassette and I listened to it. We had a cup of coffee, and we've been friends ever since, talking about life, music, and the universe. The trajectory and growth of her work is truly astonishing. There has been a lot of documentation of our work together. Once, we were doing a symposium for young composers in Fresno and I was asked to provide some background on a composer we've worked with for awhile. At that point, there were all these emails back and forth between Aleksandra and I about her piece "…hold me, neighbor, in this storm..." She had just finished it and there were hundreds of emails about it and things that influenced it. It was put together in book form for the symposium. This level of communication doesn't happen with every composer.
The piece emerged as a result of a DVD called Ziveli! Medicine for the Heart by the documentarian Les Blank. It looks at the Serbian community in Chicago. I saw it and thought I needed to share it with Aleksandra. The next time I was in New York, we watched it together. She was hearing Serbian music she hadn't heard since she was a little girl. She was singing along to wedding, birthday and funeral music in it. It was so alive in Chicago in a way that it isn't even in Serbia now. It was at that point that I said to her "Can you write us a piece that would somehow musically explain what's going on in Serbia? From my perspective, it's so complex." That's how "…hold me, neighbor, in this storm…" began.
"...hold me, neighbor, in this storm..." was also inspired by Vrebalov experiencing the NATO bombing of Serbia first hand. Elaborate on that.
I had never encountered a composer who wrote as her city was being bombed before. Aleksandra was the very first person to write a piece for Kronos during an event like that. My instinct was she should do whatever she needs to do—whatever comes to mind in that setting. I felt like it was something we needed to know about. I wanted to see how a sensitive musician would respond to that kind of event.
Tell me how Vrebalov came to arrange Wagner's "Prelude from Tristan and Isolde" for Kronos.
In 2011, we were on a three-week tour. I Skype or call home every night when we're on the road. During that tour, my wife Regan told me she saw the movie Melancholia, directed by Lars von Trier, three times. We've been married 43 years and she has never gone to see a movie three times in three weeks. I said "As soon as I get home, let's go see it." So, we did and the music used in it is "Prelude from Tristan and Isolde." I had heard it before, but never in the same way as I had during the movie. I became addicted to the piece afterwards and needed to hear every possible performance of it. I was listening to different versions of it on YouTube and going to Amoeba Records in San Francisco to find as many recordings of it as I could. Then I heard about a recording of it from 1943 by Bruno Walter conducting the New York Philharmonic during the height of World War II. Walter escaped the Nazis. It had everything I wanted from music in that performance. It was made during one of the darkest moments of human history. It represented the height of our enemy's culture—Wagnerian music. It was being played in our largest cultural capital by a Jewish conductor. I had to hear it. The performance has a perfection of timing and Walter had a connection to Mahler who also connected to Wagner. I listened to this performance and felt its immense importance. I could hear the forgiveness that music can give us. It reached a level I've never encountered before. I then realized that Kronos had to play the piece. The first person that came to mind to arrange it was Aleksandra. She didn't hesitate for a split second. She said "I've loved that piece since I was 16 years old. I wanted to write it myself." I said "Now, you get your chance." I knew she would put in the level of effort and commitment required to make it happen. Aleksandra just jumps in fully into everything she does. We recorded this version at Skywalker Sound in December 2013. I can't wait for our audience to hear it.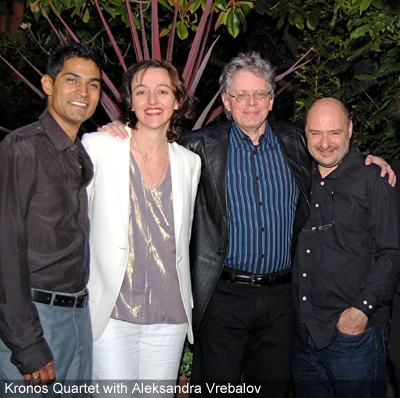 You just finished working on a 40-minute piece about World War I, written by Vrebalov, called "Beyond Zero: 1914-1918." Give me some insight into it.
Aleksandra grew up in the culture where the first shots were fired in that war. She said to me "People in that part of the world are still fighting wars that happened 900 years ago. They don't forget anything." It seemed to me Aleksandra would have an understanding about that period from a vantage point that we wouldn't have. She grew up with it in the soil. An interesting element the piece explores is the fact that so many musicians bought into the war. My favorite violinist, Fritz Kreisler, wrote a book about being a soldier on the Russian front. I was shocked at what I read. Ravel even wanted to fight at the front. He did everything he could to be assigned. When he wouldn't be taken as a soldier, he wanted to be an airman. The piece also has a film component. Aleksandra and Bill Morrison have been to the National Archives and gained access to amazing World War I footage the Archives were getting ready to throw out. Bill has also been in Europe and elsewhere researching film footage.
Osvaldo Golijov is another major composer presence for Kronos. Describe his importance to the group.
I first heard about Osvaldo in 1992. We were playing at the Tanglewood Festival. I was looking through the program of composers. I'm always interested in reading what composers write about their work. Osvaldo was talking about a piece of his played at the festival called "Yiddishbbuk." I was fascinated by what he said. He quoted three aphorisms of Kafka. As far as I knew, I had read all of the aphorisms of Kafka. But I had never read the ones Osvaldo quoted. So, I got his number and called him up. One of the first things I said to him was "Osvaldo, I was reading your notes about 'Yiddishbbuk' and you quote Kafka." There was a silence on the phone. Then he said "Well, actually, I made those up." [laughs] He had invented some aphorisms that were close enough to Kafka that most people thought they were real. What Osvaldo didn't know is that during my early twenties, I had read everything by Kafka that had been translated into English, including all the biographies. So, that's where my relationship with Osvaldo began.
I remember our first rehearsal. It was in a hotel room and one of the things he said to me was "It should sound like you're angry at God." No composer had ever said anything like that to us. I remember Kevin Volans saying "Think about the way an elephant walks and you'll find the right rhythm for parts of 'White Man Sleeps.'" Kevin also said "Think about the gait of a giraffe." He used animals to describe what he wanted. Other people have talked about creating large spaces. There have been all sorts of ways of describing things. But no-one had ever said anything quite like Osvaldo. I've felt very close to him since our first conversation. I love rehearsing with him. He has an incredibly insightful way of thinking about music and describing it.
The first piece he wrote for us, "K'Vakarat," from Night Prayers in 1994, featured Mikhail Alexandrovich, a Latvian cantor. It was an incredible prayer. Shortly after that album came out, we were playing in Lisbon and heard the music of Carlos Paredes, the great Portuguese guitarist. It seemed to me that Osvaldo should know about this music and perhaps do some arrangements for us. He said yes and the first one he did was "Cancao Verdes Anos," a very beautiful song on the Caravan album. Osvaldo is also responsible for us working with Taraf de Haïdouks, the great Romanian group. The only person who could possibly imagine bringing us and them together was him. We met with them in London in 1998, during those days you could still smoke wherever you wanted to. The room was blue with smoke, and the group was excited about what we could put together. It all came together in a couple of days and we performed with them at the Royal Festival Hall.
At the same time, I was beginning to formulate the Nuevo album. I remember going to Osvaldo's room where he was cooking dinner. We talked about things and I described what I was envisioning. Our conversation about it became the genesis of the album. Nuevo wouldn't have happened without Osvaldo. There's no question about it. Since then, Osvaldo has written a few things for us.
Explain the impetus for the Under 30 Project and the results it has yielded.
The impetus was really simple. Kronos was turning 30 in 2003 and we were trying to figure out what we should do. A birthday cake didn't quite do it. [laughs] The question was "How can we mark this moment in a meaningful way?" We thought "Let's commission composers whose lifespans are within the history of the group." We've had five calls for scores and five fantastic new pieces emerge: "Oculus Pro Oculo Totum Orbem Terrae Caecat" by Alexandra du Bois; "CampoSanto" by Felipe Pérez Santiago; "Love Bleeds Radiant" by Dan Visconti; "Widows and Lovers" by Aviya Kopelman; and "Bombs of Beirut" by Mary Kouyoumdjian.
The Under 30 Project has been a great thing. As a matter of fact, I first got to know Derek Charke, who wrote a piece for Kronos and Tanya Tagaq, through the Under 30 commission. I remember calling Derek and saying "Technically, your birthday is two days before the deadline. There's no question you're under 30, but in your career, you're over 30. So, let's start our work independently of the Under 30 commission." It seemed to me he had it all together in a different way than a lot of the other composers. That was during the very first collaboration we had with Tanya. We invited Derek to basically sit in on our work with Tanya. He and his wife listened to the process. The reason I thought that would be a good idea is because the first music I heard of Derek's was a transcription of Inuit throat songs. I think I must have heard some of those transcriptions for string quartet, which are probably the same ones Tanya heard on cassettes when she learned how to do throat singing. Tanya's story is astonishing. She's an incredible musician. It's like she has a string quartet in her throat. She taught herself to sound like two people. When she heard the cassettes, she didn't know it was two people performing. She thought it was a single vocalist and so she sought to replicate that herself. The story she tells is she learned how to do it in the shower after listening to these tapes her mom was sending her. So, Derek was there and one thing led to another. Eventually, it seemed like the right thing for him to write for Kronos and Tanya. The reason I mention this is to say the Under 30 commissions have yielded other relationships beyond those that have been the formal recipients.
The 2013 Under 30 composer was Mary Kouyoumdjian. What attracted you to her work?
Hank, John and I listened to 397 Under 30 CD submissions from composers across 50 countries in 2013. Mary Kouyoumdjian's a vibrant person and the way her musical interests and family history intersect is really rich and fascinating. She's an exceptionally interesting young composer. The way Mary brings in the past, present and future together with elements of her Armenian heritage is wonderful. Her music also reflects the fact that her parents lived in Lebanon. Mary is originally from the San Francisco Bay Area and now lives in New York City. There's a certain resonance that I find deeply attractive.
Mary has written an evocative piece for Kronos with "Bombs of Beirut." Mary is a first-generation Armenian-American whose family was directly affected by the Lebanese Civil War and Armenian Genocide. She was inspired to create a work that would reflect day-to-day life during wartime in Beirut. The piece includes interviews with Mary's family and friends about their experience in the war, together with recordings of ambient sounds taken from an apartment balcony during the war. Those recordings include the sounds of missiles hurtling through the air and bombs exploding nearby. It's extremely moving for Kronos to play and listeners to hear.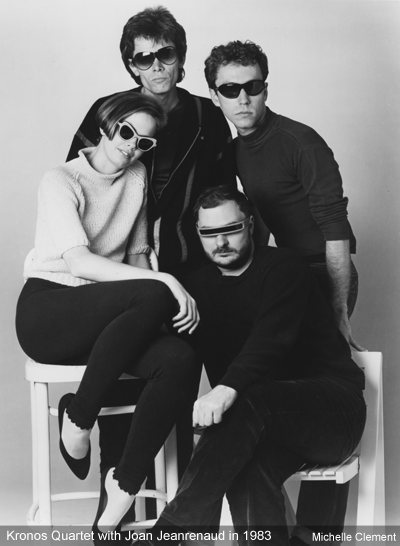 Take me through the history of the cellists that have been part of Kronos.
When I started Kronos Quartet in September 1973, Walter Gray was our cellist. I remember being in my parents' backyard with Walter, filling out the forms to become a not-for-profit organization. We were eventually registered in the state of Washington and that was a very important step in the group's history, which Walter was largely responsible for. During the five years he was in Kronos, he was an incredibly charismatic, wonderful cellist with loads of energy and rhythm. To be exact, it was September 19, 1978 when Walter and his wife Ella, who by then had become the second violinist in Kronos, made the shocking decision that they needed to leave the group that day. All of a sudden, three days after my son was born, that happened. I don't know why they felt they had to leave that very day, but it had something to do with saving their marriage and family. So, Hank and I became a duo. Kronos was about to assume its status as artists-in-residence at Mills College in Oakland, California. Hank and I divided tasks for the first couple of days after that. He was on the phone trying to find cellists and violinists. My task was to contact Margaret Lyon, the chair of the music department at Mills, and explain what was going on. Margaret was one of the greatest people I've ever met in my life. She singlehandedly saved Kronos because of what she said to me, which was "Oh David, don't worry. I know you'll solve this problem." [laughs]
Margaret is the woman that brought Darius Milhaud, the Budapest String Quartet, Luciano Berio, Terry Riley, Pandit Pran Nath, and so many other incredible people to Mills College. Now, Kronos was a duo a month before we were supposed to play our first concert there. I've valued her advice ever since. It gave us a feeling that we could figure this out and it gave us the room to do it.
Elaborate on what made Jeanrenaud an ideal presence for Kronos.
From this vantage point, it's easy to think that everything happened all at once, but it didn't. Everything that Kronos has done has been by tiny, little steps and lots of experimenting. At one point, it became clear that wearing normal concert attire that we'd grown up with didn't fit the music we were playing or the concerts we wanted to do. So, we started trying something else. At another point, we were doing theater pieces and we thought "Okay, what does that mean for the members of a string quartet?" And that began the emergence of the theatrical element of our performances. I think Joan was very instrumental in setting various stages for the group. I can't recall someone with as much gritty willpower as her. I remember a concert she played, after which it was determined that she had appendicitis and that her appendix was huge and ready to explode. She got to the doctor just in time to have it operated on. I'll never know how she played the whole concert. I've also seen her surmount physical problems that would pretty much stop almost anyone else. How she's dealing with multiple sclerosis right now is incredible. She has always been a big inspiration for us. All of the composers we've worked with during her time with the group always had a special musical connection with her, given her rare combination of rhythm, incredible melodic sense, timing, and stature as a performer. She's the cellist that has been in Kronos the longest and her importance and influence remain to this day.
How did the transition to your next cellist, Jennifer Culp, occur?
Joan told us quite early on about her multiple sclerosis diagnosis. We took a sabbatical of a few months. When it became known that Joan was going to leave the group, I didn't have any question that it would continue. But as people found out, the question of whether or not it would continue was out there, because Joan had become so identified with the group. "What would it be like without her?" was asked by many people during that period. What we did was engage in an audition process and tried a number of different cellists. The one that came to the top of the list was Jennifer Culp. At that point, Jennifer was living a few blocks away from our rehearsal space in San Francisco. Very quickly, we had Jennifer, who's a great melodic player. You can hear her sound on our recording of Alan Berg's "Lyric Suite." She gets an amazing tone from her instrument. I think her experience of playing in groups and her sense of sound made her the right choice then. However, the intensity of the touring schedule was insurmountable, which contributed to her departure.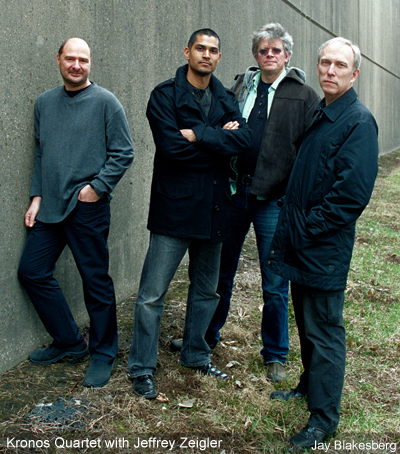 Jeffrey Zeigler then replaced Culp. Tell me about that change.
After Jennifer left in 2005, Jeff was going to be a substitute for the summer. Things just clicked and it was excellent. He stepped right onto a moving train, didn't lose his balance and did all these incredible performances. He had an amazing rhythmic sense and just held down the bass end. We shared so many wonderful experiences, from the Awakening program, to "A Chinese Home," to the renewal of "Black Angels," to the Floodplain, Henryk Górecki and Vladimir Martynov albums. We made many recordings and did a lot of large-scale pieces together and Jeff was always a willing partner in these adventures.
As time went on, Jeff became a dad and it became clear his family needed to live in New York. We're a San Francisco-based group and our members need to be here. Jeff announced on October 1, 2012 that he needed to find a way of transitioning out of Kronos. We looked at our schedule and realized the 40th anniversary of the group was coming up. The question was "Should we bring someone new into these obligations?" and the answer was yes. We chose to move forward with an extensive audition process and thought about all the qualities that were needed for a new cellist.
Describe the audition process that led to Sunny Yang joining the group.
Let's put it this way: I wouldn't have survived an audition for this group. [laughs] It takes someone with a really broad interest in music and a great deal of focus and energy. I wanted a person who could take Hank, John and myself to another level of creativity. I think of our work in chapters and this feels like a new chapter that requires a great deal of energy. We wanted someone who could lift us all higher. I feel we found that person in Sunny Yang.
We kept the audition process a private thing. We didn't want to announce it. It was personal for us and we didn't want to get called by every cellist in the universe. Just like Margaret Lyon told me back in the early days, we knew we could solve this problem and we wanted to do it ourselves. John, Hank and I spent a lot of time checking out hundreds of cellists on the Internet. I'd also go to Amoeba Records and listen to every cello record I could find. At a certain point, we all became pretty conversant in the world of cellists. The field of young people playing cello is big. It's incredible how this instrument has attracted so many amazing musicians.
We then had a number of candidates and at a certain point, I got a call from Judy Sherman, our longtime producer. She's the one that gave me Jeff's number eight years before. Well, she gave me another number eight years after that and it was for Sunny Yang, who lived in Los Angeles at that time. She was born in Korea, and her family moved to South Africa when she was 11. At age 16, Sunny went to Interlochen Arts Academy in Michigan. After that, she studied in England and then moved to Los Angeles.
So, I called her and she became one of the six cellists that we considered. We came up with a vast selection of music that would really give us an idea of their stamina, chops, and rhythmic and melodic senses—all the things one needs to play the music we play. Each audition was a two-part process. The first part was more acoustic and the second part was with our sound engineer, with headphones, mics, backing tracks, and auxiliary instruments. In fact, Sunny learned how to play the Omnichord off YouTube, as the other cellists did, probably. We needed to know about the cellists' sense of adventure. In the end, we felt the person that clearly elevated us the most was Sunny.
Sunny is fearless. She also has a sense of the bow that is incredibly special. When Sunny first sat down and started to play with us, I could not believe the way she used the bow. It was absolutely spectacular. Suddenly, I was finding new things I needed in my own bowing. This is what I mean by how one person can affect everyone else. I've noticed that when we change members in Kronos, we're not just changing the person and instrumentalist. What happens is each of our roles in the group becomes different, including the dynamic, the vibe of rehearsals, and the vibe between us and composers.
You reunited with Jeanrenaud for the Music of Vladimir Martynov album in 2011, as well as a few shows. What was it like to reconnect with her after such a long hiatus?
It was profoundly beautiful. Joan was a member of our board for many years after she left the quartet. Joan and Jeff Zeigler, our cellist during this period, were close. I remember thinking at a certain point after Jeff joined the group that there seemed to be a kind of natural feeling when the five of us were together. I started noticing that when Joan was at the board meetings.
The piece we recorded, "Schubert–Quintet (Unfinished)" by Vladimir Martynov, draws from Schubert's "String Quintet in C Major." One of my favorite artistic experiences in any form is "String Quintet in C Major." I don't know this for a fact, but I probably have one of the largest collections of recordings of that piece that there is. I think of that work as one of those rare moments in the art form in which everything comes together perfectly. It's just amazing.
"Schubert-Quintet (Unfinished)" came about in an interesting way. There was a concert scheduled for the Yerba Buena Center in San Francisco on September 11, 2006. But Steve Jobs had an unveiling of something, so the concert got moved to the Herbst Theatre, which is where the United Nations Peace Charter was signed after World War II. I realized "Okay, September 11, 2006, Herbst Theatre, United Nations Peace Charter—we have to do something different for this concert. We can't just show up and play whatever we're going to play. This requires some thought." So, I spent eight months figuring out what we could do that night. We were in Russia a few months before that playing Terry Riley's "Sun Rings," for which we need a large choir. The director of the Russian choir gave me a CD. What I needed was the ending for the program—the last piece. I wanted the most beautiful piece I had ever heard in my life. Basically, I wanted Beethoven's "Cavatina," but from our time. I was listening and listening, but not finding it. Then all of a sudden, in the hotel in Moscow after performing "Sun Rings," I put on the CD and eventually one of the most beautiful pieces I had ever heard in my life emerged, which was "The Beatitudes" by Vladimir Martynov.
We had worked with Vladimir before. In fact, by that time, he had written "Der Abschied," inspired by Mahler. So, I then asked him to create a new version of "The Beatitudes" based on the original choir version for Kronos, which was fantastic. "Der Abschied" was wild and amazing too. It just seemed like Vladimir was the kind of composer who could become Mahler, as much as one person can become another person. I was then thinking about Jeff, Joan, Hank, John, and myself. I thought Vladimir should write a piece for Joan and Kronos. I asked him if he could imagine writing a quintet. I told him the whole story about Joan's years in Kronos. When we first played in Moscow, Vladimir attended. He knew our recordings with her and had been influenced by that music and those albums. He immediately said yes. He eventually wrote six or seven versions of "Schubert-Quintet (Unfinished)" before he sent the final one to us. I feel the recording of the second movement of that piece is Kronos' best recording to date in terms of sound. I even played it at my mom's memorial because I wanted the best for her. It's the best I've heard of my own playing too. Vladimir definitely gave all of us something to express the inexpressible and it was a great honor and pleasure to play with Joan again.
Do you consider Hank Dutt, John Sherba and yourself to be a brotherhood?
I've been playing music and sharing so many things with Hank for 36 years and John for 35 years. I'm just glad they've put up with me for all of these years. [laughs] They are the inner voices of Kronos. When I look over at them from the corner of my eye and see the way they make music and relate to music, it's with a great deal of affection. It's a brotherhood, definitely, but it's even more than that.
I was looking at Hank's hands the other day and I thought "What is it about this guy? He's able to get a sound out of the viola that is just awesome. No-one else gets that sound. I've never heard another viola player who sounds like that." Hank joined the group in 1977 when we first came to San Francisco. By 1978, I had two little kids and the music library was lining the floor of our one-bedroom apartment, getting bigger and bigger by the day. In 1979, Hank said "I think the library ought to come over to my place." Since then, Hank has been Kronos' librarian. What he's done to make our library organized and useful, and something other musicians can benefit from and access, is astonishing. We also used to call him "Hank the Bank" because he took care of all the money. [laughs]
When I look over at John, I think "He has so much love for the violin as a force in the universe." John probably has the largest collection of violin records on the face of the earth. He knows every one of them. He is an authority on violinists. John is an amazing force in life and as a violinist. He's a truly wonderful person and I've had a great time playing with him all of these years. A lot of times in quartets, violinists are at each other's throats. That has never happened in Kronos. John also handles our audio and video archive. He's responsible for keeping track of our hundreds of concert recordings and videos. John is the Rock of Gibraltar in a world of shifting sands.
Describe your philosophy as a bandleader in Kronos.
I've been given a great deal of latitude to explore over the years. I think everyone in the group knows I've been pretty much doing this since I was 12—not just playing quartets, but searching the world of music for experiences that might be meaningful to me, personally, and hopefully, to them. Along with that freedom, I feel a great deal of responsibility to each member of the group. Kronos is a way of life. I want our work to give each of us, and our friends and families, strength and energy.
It's when there's a new member in the group that one notices the role of bandleader. One of the things I wanted to be sure of when Sunny Yang joined Kronos was that she could lead the group—not even as a cellist, but as a person. That's one of the things I asked her to do during the audition—give the opening cue to Bryce Dessner's piece "Aheym." I normally give this one. In fact, I've done this at every concert. For the audition, Sunny gave the cue and it was a really good cue that enabled us to play exactly together with her. Then I said "Imagine you're Leonard Bernstein doing it." And that was an awesome cue. [laughs] To me, cueing is a really important part of playing quartets. By cueing, I don't just mean giving a sense of the pulse and timing, but giving a sense of the meaning of the music and drawing that out of each other. That's something she does absolutely beautifully. For me, there's a whole science of cueing and I think about it all the time. In fact, I'm doing a lot of mentoring these days with younger players and composers. I always advise them to go to YouTube and check out the conductors. I say "Watch Leonard Bernstein conducting a violin section. Watch what his arms look like. You can hear the sound coming out of his arms. You need to be able to do that." There's a science to this. There's also a lifetime of study to try and make our bodies communicate the sounds we hear inside ourselves.
I can say one or two words to Sunny—just give her an image, for instance—and she totally changes the way she plays. It's the same with Hank and John. We've developed a vocabulary and rehearsals become places where you learn new words and add to it. As we begin our fifth decade, I'm coming up with new definitions of what a rehearsal is. I think it's a place where we learn together and teach each other. The success of our interpretations depends on how we communicate with each other and teach each other.
As for what I do as a bandleader, it's that I try to be sure that communication is happening and step out of the way as often as possible. I'm not interested in the old European model of what a string quartet is, in which the group is named after the first violinist, and where the first violinist is bowed to by the other players before sitting down to rehearse. I can't even imagine that kind of thing. I remember, in the earlier days, we'd be doing radio recordings in Austria or Germany, where they would have tonemeisters who would always want to put a special mic on the first violin to make it louder. That's not how I hear the balance of the string quartet at all. I'd much rather hear the inner voices and lots of cello.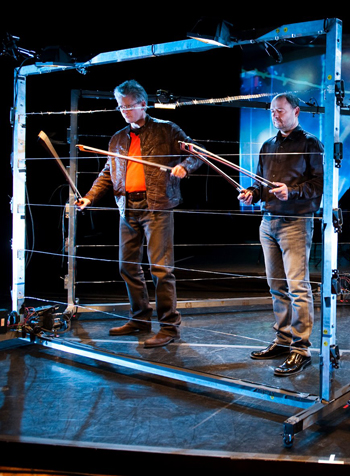 All four of you engage in theatrical elements, including interacting with props, devices, and toy instruments. Talk about the evolution of that element in Kronos' performances across its career.
We've become more confident and exploratory over the years. In the early '80s, we did something called "Live Video," which was the first time we had multiple costume changes, and sets flying in and out. We created an experience that was unlike any other concert we had done. At Mills College, we once had a concert with a singing robot that came onstage and joined us for some James Brown tunes. His name was Elvik. [laughs] "Black Angels" is an example of a piece with a lot of theatrical elements, too. The piece has involved staging since 1989. We've refined it many times since then and really improved it. Eventually, there was Tan Dun's "Ghost Opera," which we did with Wu Man, and more recently, Terry Riley's "The Cusp of Magic," also with Wu Man. That one was the result of being a grandfather. All of the toys onstage are ones I collected from all over the world to share sound with my granddaughter. We also did another theatrical piece called "A Chinese Home" with Wu Man and "Uniko" with the Finnish composer Kimmo Pohjonen.
Vân-Ánh Võ saw "A Chinese Home," as well as "Ghost Opera" and "Awakening," in which there were stage sets and we were interacting with all kinds of things. There was a kids choir onstage, too. Vân-Ánh thought there were many avenues we could explore for our collaborative piece as well, so "All Clear" also had a theatrical element to it. We've been lucky to work with so many creative people like Vân-Ánh who have brought new elements into our work. Nicole Lizée's work meant I got to play a "Thingamagoop." It's fantastic fun to play that instrument. John plays the turntable, Hank plays the Omnichord, and Sunny plays the Omnichord and Stylophone on her piece, too. In another piece we're working on, we use a cassette deck, typewriter and the electronic game Simon. In a way, doing things like this isn't unrelated to playing Haydn, because each part has a character and you become that character.
Reflect on your time working with Asha Bhosle on theYou've Stolen My Heart project.
As long as I live, I'll never forget two moments with Asha directly related to the audience. One was at Carnegie Hall. There was a certain window backstage that let me look at the audience that was coming into the concert hall. I had never seen a Kronos audience like that in my life. Same with the Sydney Opera House performance. The dressing rooms allow you to see the beautiful harbor, but also the audience. I remember all of these wonderful saris and dignified, beautiful people coming in. I just loved it.
Thinking back on that collaboration, I realize I made a big mistake. I recently remembered how I first heard Asha and what I should have included in the liner notes of the album. It goes back to what I was saying about community. One of my closest friends, David Huntley, died in 1994. He introduced me to Henryk Górecki. David and I shared so many musical adventures. I still love him. After he died, his friends went through his CDs and gave out part of his collection to his other friends. I ended up with one of David's CDs and it was called something like The Golden Age of Indian Film Soundtracks. On that CD was "Aaj Ki Raat" or "Tonight is the Night." We did a version of that with Zakir Hussain on the Caravan album and I should have credited David. I love that piece. I had never heard of R.D. Burman, the prolific composer who was married to Asha, until then. So, I started to explore his work. Eventually, I found out how to reach Asha. She has a relative who lives in San Rafael and she visits our area quite often. Also, a close friend of mine, the music journalist Ken Hunt, knew Asha and put me in touch with her and her family, and we sent her our recording of "Aaj Ki Raat."
I began to collect as much Burman as I possibly could. There's a lot to collect. I listened to over 1,000 songs of his and there are even more than that. From there, I chose the ones that are on the album. Asha said "Whatever you want, we'll do it." She was incredible. I'll never forget when she and her son came to meet me shortly before the recording. Asha is a beautiful woman and she had this amazing sari on. She walked up the steps and I led her here in this room you and I are sitting in right now. We talked about the lyrics and their meaning. I wanted to get more information about Burman himself, so she sat here and told stories for hours. It was great. I was aware the queen of Bollywood singers was right here in the room. There she is, so regal, yet she's also incredibly fun, modest and a real person. At one point, I looked down. I hadn't looked at her shoes yet. I realized she was wearing tennis shoes. I thought "I love this woman! She's perfect!" [laughs] So, we had a great time and recorded the album. The first session was recorded in a hotel room in Austria. We did a lot of the Kronos part of the recording right here in this studio where we're sitting.
What I wanted was for Kronos to become R.D. Burman's orchestra and do whatever we had to do instrumentally to make it happen. We used all kinds of different instruments to recreate the sounds. We added one layer at a time. At a certain point, Asha was here and she recorded her parts. I was with her for every take. In Mumbai, she's used to having a violinist record lines along with her. It's almost like a ghost voice. If you listen really carefully to You've Stolen My Heart, once in awhile you can hear me with her. It's very, very removed, because I was totally off mic. I loved the whole experience with Asha, including the live shows we did together.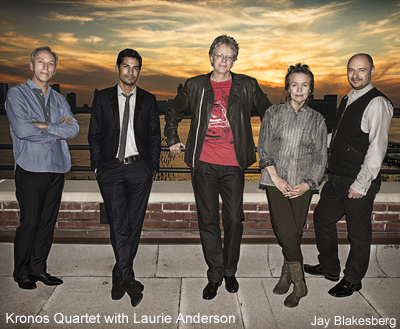 Provide some insight into the making of Landfall, Laurie Anderson's evening-length work for Kronos.
I've wanted Laurie to write for Kronos for 25 years. We've talked about it for that long, but it didn't happen until 2012. I think for the longest time, she didn't feel ready. She didn't hear it. Over the years, she kept coming to our concerts. We had all kinds of conversations and then I heard her album Homeland and thought "She's doing it. 'Flow' is a piece we could play." So, I called her and asked if it would be okay for us to arrange "Flow." By that point, it was already in the works that she was going to be writing for us.
Laurie has stressed the influence of Hurricane Sandy in Landfall, but the piece started before that. In that sense, it might be similar to our Early Music album, because Kronos was working on that before my son died, and what happened is the whole thing changed afterwards. It became much more itself. I think that's true of Laurie's piece as well. She recorded all of the improvs and rehearsals we did together. She sifted through them and found moments. Laurie collects and collects until the last possible moment. She was collecting sounds and possibilities three days before the premiere. We still didn't know the sequence of events or have certainty about the narrative until a few days before, during rehearsals. We'd still be trying this and trying that. Her process was right for this piece. The most important thing is always finding what's right for the material and relationship, and it definitely worked for Landfall. I love the piece.
You performed "Yesterday" with Paul McCartney at the 2013 Outside Lands festival in San Francisco. What did that experience mean to you?
It was a high point for Kronos. The original recording of "Yesterday" is likely the most widely-heard use of the string quartet in history. Many listeners around the world first heard two violins, a viola and a cello when they first heard "Yesterday." So, for Kronos to play this "early music" with its composer was like being involved with a primary source. What a thoughtful, generous musician Paul McCartney is. And what an incredible body of work he has. Imagine playing one of Schubert's songs with Schubert singing—that's what it felt like to me. If Kronos had been around in the '60s, maybe Kronos would have recorded it with him. The day before Outside Lands, we were using Edison cylinder recording technology in order to sound as though we had recorded 100 years ago—so listeners can dig us up like they had discovered a sonic Pompeii or Herculaneum. To travel to an earlier musical time has been an important part of our work.
It was also wonderful for my wife to be at the show, singing along. It musically connected our earliest days together. It was also a birthday present for my daughter Bonnie, who got to hear the songs performed live that she heard us play and sing at home when she was growing up. A totally circular experience.
Kronos has many recording projects on the go. Give me a snapshot of what you're working on.
In February 2012, we played a concert at the Neptune Theater in Seattle. Kronos started in Seattle. It's where I'm from. The Neptune Theater is two blocks from where my wife and I lived when we started the group. When we played there, I felt like it was home. I saw Dr. Zhivago in that theater and a lot of other films too. So, we got to play there and did a concert that was very special. There was something charged about it. The audience was great. We've never put out a live album before and I think Live From the Neptune may be the first. We're looking at eventually releasing that. It includes the music of Bryce Dessner, Michael Gordon, Clint Mansell, Missy Mazzoli, and Ram Narayan.
There's also a cantorial piece on Live From the Neptune in memory of a very close friend of mine, Harold Goldberg. Harold loved music. His widow is my wife's closest friend. After his death, we attended the memorial in their living room. She had a cantor officiate. Her background is Japanese-American, but Harold was Polish-Jewish. She thought for his family and their children, it would be best to have a cantor. I had never experienced that before. I was in the front row, as close to the cantor as you and I are sitting. The woman sang and one of the great things about it is that I understood on a gut level how music can transform something awful into something somewhat bearable. That transformation was incredible.
I decided I wanted every member of Kronos to attempt to become a cantor. Together with my friends Jacob Garchik and Judith Berkson, we searched through hundreds of vintage cantorial recordings. There are some amazing singers. Many of them came to the United States in the '20s and '30s. Many were trained in the great European conservatories as opera singers, as well as cantorial singers. The one we played at the Neptune was Jeff's solo, and it was the first encore. The second encore was Dylan's "Don't Think Twice, It's All Right." Another encore was a Jimi Hendrix piece. It was great to be able to do that music for Harold's family, who attended. Dylan and Hendrix were two of Harold's favorite musicians. Once again, everything is personal.
I'm also part way through an album that I've been working on for 20 years and it's getting closer. We have several of the tracks laid down. It's going to be an expansive take on American music. So far, we've done "Dark Was the Night" by Blind Willie Johnson and "Boogie-Woogie Suite No. 3A" by Conlon Nancarrow. It's an album that's going to be a sphere. I want all our albums to be spheres. Winter Was Hard was the first composite experience in which I thought the total of the musical experience was more than the sum of its parts. That was a really important moment in our work. Shortly after that came Black Angels, then of course there was Different Trains, White Man Sleeps, Pieces of Africa, and Night Prayers. Eventually there was Floodplain, Caravan, Nuevo, and Early Music. When I think of those kinds of albums, I think of them as spheres of musical possibilities that got put into a form for a medium as it existed at that point. Now, I think Kronos could add to all of those albums. They're like beginning points. I could spend the rest of my life working on just one of those. But that's not the way it works. I'd think "Oh gee, if we were to make Early Music right now, of course this other piece should be in it." I consider albums modular experiences that could be added to infinitely. Maybe other groups will add to them in the future.
There are also albums of music by Michael Gordon and Derek Charke coming. The Charke album will include our piece with Tanya Tagaq. We're also recording Laurie Anderson's Landfall for release. Nonesuch has just released a 40th anniversary box set titled Kronos Explorer Series, which includes five of our albums, and A Thousand Thoughts, a disc that includes all four recorded cellists of Kronos. We also have one track on Vân-Ánh Võ's new album Three-Mountain Pass called "Green River Delta." In addition, there's our contribution to the recent Fela Kuti tribute album Red Hot+Fela, which is our version of "Sorrow, Tears and Blood" that we're very happy with.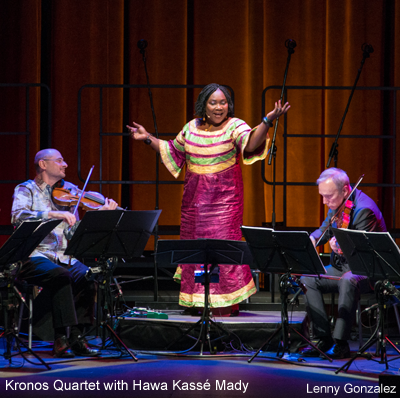 One of your most recent collaborations is with Trio da Kali from Mali. What drew you to them?
This is another example of where the community of musicians comes in. Lucy Durán is one of the great ethnomusicologists. She had produced several great recordings of musicians from Mali. Lucy helped form Trio da Kali and knew all the musicians—Hawa Kassé Mady, Lassana Diabaté and Mamadou Kouyaté. She introduced us to them. We had the Trio da Kali here in our rehearsal studio with Lucy and Jacob Garchik. It was one of the greatest experiences Kronos has ever had. I'm just so happy, thrilled and elevated by working with them.
We first met Trio da Kali in London before they had even played a concert together. We spent four or five hours with them for the first time at Joe Boyd's home where they sang for us. I instantly knew we had to be together. I said to Lucy "Hawa looks like a young Mahalia Jackson." She translated that and Joe heard it. So, he goes into the next room and gets out his Mahalia records. He shows them to Hawa and she said in Bambara, her language, "That's my auntie." [laughs] So, it was like a new world of music came together for me. Hawa sang my favorite Mahalia song "God Shall Wipe All Tears Away" from the 1930s. We're working on a version of that with them. So, we have an English ethnomusicologist teaching a singer from Mali to sing American blues gospel music. That's the world we live in right now.
Lassana can play the balafon so intimately. He can also be the most out kind of vibes-type player you can possibly imagine when he wants to be. And Mamadou can lay down bass lines like you can't believe. He's also one of the most relaxed musicians I've ever seen in my life. The feeling of working with them was so natural and fun. The sound was one I've hoped for as long as I can remember, and here it was happening. Everyone in Kronos feels lucky to be a part of this collaboration. We're going to make an album together. So far, we've put together an hour of music with them.
Nonesuch Records has played a major role in helping propel Kronos forward. Tell me about the label's importance to the group.
We signed with Nonesuch in 1985 and our first album for them was released in 1986. There are things we've brought to Nonesuch and they've brought things to us as well. Bob Hurwitz, the label's president, introduced me to John Zorn. Bob also brought Astor Piazolla to a Kronos concert. It has been an essential experience working with Nonesuch and we've been given a great deal of freedom.
I remember when I was thinking about the Asha Bhosle album. I said to myself "What are the chances of Nonesuch wanting this?" But Bob got really enthusiastic about it. I remember riding around Manhattan in his car and playing him different tracks I was thinking about for the album. When he first heard the Pieces of Africa recording, he just called me up and said "Congratulations." I thought "Wow, that's really cool." Nonesuch's support for the making of Different Trains, Black Angels and Nuevo was also wonderful. The resources, finances and belief in our work has been great.
Bob also introduced us to Judy Sherman, the record producer who has worked with us on so many of the albums. David Bither, Peter Clancy, Karina Beznicki, and Carol Yaple are other important people from Nonesuch that have brought so much into our work. Carol did all the publicity for Pieces of Africa and the Górecki Quartets albums.
Another person that needs to be mentioned is our lawyer Bob Gordon, who has also handled Janis Joplin, The Grateful Dead and Jefferson Starship. He's been our lawyer since the late '70s. We have contractual control over things like our record covers because of Bob. He knew about these things before we even started recording. I remember a day back in 1985 when we had meetings with Sony, RCA and Nonesuch. Those were the three labels interested in Kronos at that point. We met one after another with Bob. Afterwards, we spoke about what we experienced and there was no question that Nonesuch was the right choice, even though it was by far the smallest label. Sony was saying "We can get you Yo-Yo Ma!" I said "We already have a cellist. How about Bob Dylan?" [laughs] RCA was focusing on James Galway at that time and made all sorts of promises. Nonesuch didn't promise anything, but they felt like real people with a deep love of music. We realized that choosing a label was no different from any other collaboration. We're always searching for a resonance. For instance, choosing to work with a composer is about the unique elements that pull you to that person, including a sense of common music and exploration. That's why we went with Nonesuch.
You're a product of record store culture. Tell me about the importance of record stores to your musical development and your take on their relative influence today.
I spend as much time as I can over at Amoeba Records in San Francisco. I frequently take my granddaughter over there, and soon, my grandson as well. I'll want him to go over there when he's old enough. I miss the record store culture. You can get the same information on the Internet, but there's a certain quality of randomness about record stores. You never know what you're going to find next. That can happen on the Internet too, but I just like being around people who are addicted to music. There's a vibe about people learning more about music and wanting to share something with their friends. Having said that, I first heard Ramallah Underground online, so things are changing.
I'm not going to sit here and say "Oh, the good old days." I started my career when I was in high school. There was a great record store called Standard Records and Hi-Fi that was two blocks from Roosevelt High School in Seattle. When I was in high school, I could go to this LP store, open the plastic and listen to any record in the store in a private listening booth. That's where I first heard Bartók quartets, Edgard Varèse, "Rite of Spring," and Thelonious Monk. You name it, I heard it there. I got to do all of that for free. That kind of phased out and then many years later, there started to be listening booths in CD stores where you could check out albums in the shops. I thought it was really cool that the concept came back in a different way. Now my granddaughter is playing me her favorite music off YouTube. There are other ways to do it, but I definitely still love the record store experience.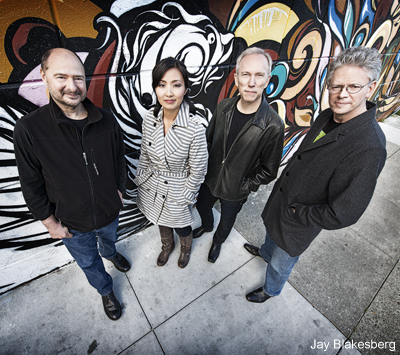 What does Kronos' 40th anniversary mean to you?
I think of it as an opportunity to celebrate creativity in many different ways. When you look around, it's not every music group that has been around for 40 years. In 1973, I was concerned about the next week. And I've been concerned about the next week every day for the last 40 years. [laughs] It's amazing that you look around the corner and 40 years have gone by. But I'm looking at it as a way of propelling our work into the future. I think having Sunny Yang step in at this point is part of that springboard. I think Hank, John and I feel refreshed and inspired about the possibilities for the future. There is a really inspiring list of new pieces being written for us involving new relationships and extending earlier relationships. Terry Riley, Nels Cline, Dan Deacon, Laurie Anderson, Mary Kouyoumdjian, Mariana Sadovska, Magda Giannikou, and Aleksandra Vrebalov are just a few people creating pieces for us.
Can you envision a Kronos Quartet existing beyond your lifespan?
I'll get back to you about that. [laughs] I was saying to my wife Regan "I've got so many ideas for the future." My father asked me "So, when are you going to retire?" I'm not. What does a musician do if he retires? What do you do with yourself? All of a sudden you're not a musician? I guess some people can do that, but I can't imagine it. My list of explorations and album ideas is just too vast to contemplate that.
More than 300 of our commissioned pieces are now being played by other groups around the world, whether they're by Henryk Górecki, Philip Glass, Terry Riley, Steve Reich, Michael Gordon, or Kaija Saariaho. I'm very proud of that and those are examples of how the music we've been involved with will continue. Also, we recently got an award from the MATA Festival in New York. They honored us as "Musicians of the Year." One of the groups that came to play as part of the ceremony was from the Face the Music organization, which is a school for junior high and high school kids to learn to play contemporary music and work with composers. Hank and I coached this group in 2011. We worked with Aleksandra Vrebalov on a piece called "Pannonia Boundless" for the Caravan album, and this young group of high school kids played it. It was fantastic. My feeling is that was the future right there.
Across Kronos' 40 years, there hasn't been a lull in interest in the group. The group can perform virtually anywhere in the world, without announcing its repertoire in advance. Why do you think listeners are so loyal?
I hope it's because our audience members have musical experiences that resonate for them and that they can't forget them. It's our job to try and create those kinds of experiences for them and for ourselves. I believe in the primacy of notes. We fill our notes with everything we can and everything we know—our dreams, desires, fears, losses, and gains. Every once in awhile, one of those notes might connect with a person. I can tell you for sure that's what happens with me. There are certain notes that get me every time that are completely full of humanity and remind me what it means to be alive. If I find someone that can make that kind of note and I have even the slightest suspicion they might be able to do that for Kronos, then they have to write for us. I don't care what corner of the musical universe they might come from. I don't care if they're famous or not. I think if you pursue notes in this way every day, enough people become magnetized and tell their friends. Then, when you show up in whatever place they live in, perhaps they'll be curious again and come see what's going on with the group now. There are probably many things that can be said about me that are negative, but one positive thing is that I've definitely been consistent in my focus on the realm of two violins, a viola and a cello. That goes for everyone in the group, as well as everyone in the Kronos Performing Arts Association. When you get that much human energy focused on one thing, it starts to radiate.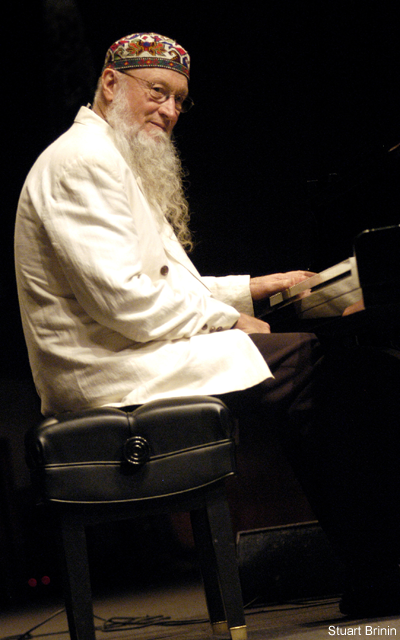 Kronos Voices: Terry Riley
Terry Riley is one of the world's preeminent composers. His pioneering work has influenced generations and genres of music for more than 50 years. Riley has composed major works for Kronos Quartet for 35 of its 40 years.
What inspired you to first work with Kronos Quartet in 1979—a point at which you were focusing more on improvisation than notated music?
I really liked David and when I started talking to him, I got caught up in his infectious enthusiasm for trying to get me to write music for them. I was really excited by their playing. When I first heard the audition tapes they sent, it was pretty amazing to hear these young players with the kind of energy they were putting out as a string quartet. So, that's what got me started. Also, David was very persistent in keeping after me to put some notes down on paper.
What are your recollections of the first time you worked with them?
They came up here to my ranch. At that point, I was thinking about doing something in between notated and non-notated music for them—something in which they could have little ideas to build on, sketched out on little pieces of paper and handed to them. We worked on that for an hour and David just turned to me and said "You know, I think we need something totally written out for the way we work." [laughs] So, that was a crucial point in our working together. It forced me into making all the compositional decisions.
Tell me about your attraction to the string quartet format.
I first wrote a string quartet in 1960 when I was a student at UC Berkeley. It was 20 years later that I wrote my next one for Kronos Quartet. But I was always very keen on the format from the beginning. I studied the Bartók quintets in school. I really learned a lot from what he did with string writing. It's a really good, very manageable form. It has enough people to get an interesting dialog and texture going, contrapuntally. It covers a nice range, although string quartets never had enough bass for me. I always wanted to have a bass player in there, too. The great thing about string quartets is the players are kind of like family. They work really well as a unit, so you can write things that let them use those talents of association and intuition—all the things they've developed together as a group. String quartets are typically very interested in fine-tuning the music, so you can get some very polished ideas happening with them.
Harrington said your composition "The Wheel" represented the point at which you collectively arrived at a defining sound for your partnership. Describe it for me.
That piece was like a simple jazz ballad. It was the first piece in which we stressed not having any vibrato. It has a sound like ancient music—a non-vibrato sound with a more austere feeling. I understand why David felt it was important. It gave them a way to play together that maybe they hadn't considered before. It enabled them to make a new kind of sound they started developing a lot. It was an almost disembodied sound that I really like to have in string quartets sometimes. The full vibrato is a very expressive sound on a string. If you take that away, you have another area to work in that draws the listener in more. The listener has to lean into the sound to really get the experience, whereas with a big vibrato, the listener can just sit back and bathe in it. The non-vibrato sound was an aesthetic thing I was interested in getting to. We worked on it a lot together. We explored it during rehearsals.
Later on, I also gave them things to do with just intonation. They were prepared to deal with that, because it already takes a non-vibrato sound to effectively produce the intervals related to it. In rehearsals, we would also go over passages and talk about them. I would sing passages to them and turn passages into exercises. This approach wasn't purely coming from me, because it's the way Kronos works. They go really deep into the details in the work they do. Sometimes, they'll work for hours on just fine-tuning a chord. There were a lot of rehearsals when I was kind of worried they wouldn't learn a piece in time because they delved so deeply into the details so close to a performance date. I thought "When will they get to the rest of the music?" [laughs] But the key to a good performance is dissecting some parts of the piece. It's part of the string quartet tradition. It's how four people come together to play a piece as a single voice. We kind of expanded that a little bit.
How has your collaborative approach evolved across 35 years working together?
It feels like we've built a dialog and understanding together. When I bring a new score to them now, they already have a very good feeling about what I want. It isn't like we have to start from scratch every time, because we've already worked out some of the aesthetic ideas in prior works. It's only when I bring something in that's quite different that we have to spend more time on trying to get it right. From the beginning, the mechanics of the five us together have worked well. Though the person in the cello seat has changed over the years, we still very much work as we always did. I like to give them as much time and freedom as necessary before I actually enter into things to see what they will hear in the music. A lot of times when they learn a piece without me, they come up with things I didn't consider that are really valuable contributions. Sometimes they'll make a slight change in tempo or they'll play something with a different stringing effect than I considered. Perhaps they'll play something slower than I thought it would go. As they get into the finer details in terms of the interactions between the four of them, they sometimes surprise me in a positive way with something I hadn't envisioned.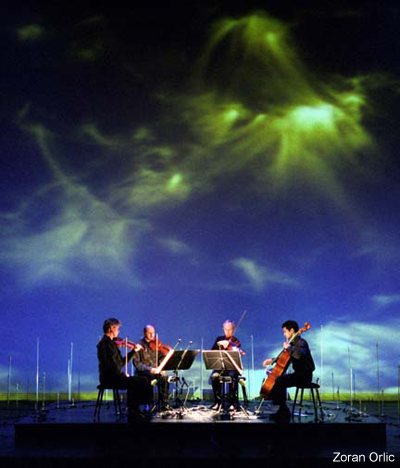 Describe the challenge of writing "Sun Rings" for Kronos.
It was a long process of even getting to the point of writing "Sun Rings." David and I went to Cape Kennedy and spent a few days just getting into the mood. We saw a space shuttle launch and toured around there, getting a feeling for the place. So, that inspired both of us. Then we came back and I started writing in late August 2001. But then 9/11 happened and it kind of stopped me in my tracks, because I realized we were now going to go to war. The mood in the United States was very ugly to me. People were raising flags and the extreme kind of false patriotism emerging was very disturbing. I actually stopped writing for awhile. It took awhile to get back into working on "Sun Rings." When I came back to it, I wanted to have my feelings about 9/11 as part of the piece. It became a piece more about understanding and compassion than about space exploration. I thought it had to have one message about how we human beings have to grow before we take our culture out into space. So, I decided to add a choir to reflect the human element, in addition to Kronos and the space sounds.
From the start, the piece afforded an opportunity that went beyond a string quartet. It was a piece that involved a team, including Willie Williams, who was very important when it came to putting together the visuals. I also had an assistant named David Dvorin who worked a lot on modifying the space sounds so I could use them more as instruments. He had a lot of technical expertise with computers. It was the first time in a long time that I had been involved in a team effort like that. I was writing the music, but a lot more had to happen to really bring it all together. Larry Neff also did some amazing things with live visuals. There was a lot of positive energy. It seemed every time somebody would come in with an idea, everybody would get it and be on the same page with it.
Another major piece you worked on for Kronos is "Requiem for Adam." Reflect on writing such a personal piece for Harrington and the group.
There was a lot of loss for Kronos around that time. Adam was of course the most personal loss to David. David and I are very close friends. We had spent a lot of time together with our families. Adam and my son Gyan were both born on the same day, a year apart, so we had a deep connection. I was with Adam the day before he died on Easter Sunday. We were at David's house Saturday just having fun, joking around. And the next day, when I got the news that Adam had suddenly died, I almost immediately thought something has to happen here. It was too tragic. I had already written a requiem for Mario Moruzzi, who was the stillborn baby of Joan Jeanrenaud. I wrote a requiem for Hank Dutt's partner Kevin Freeman, who died of complications from AIDS, just before that. "Requiem for Adam" was a large-scale work and the most personal, because Gyan and I were so close to Adam and David. It was a strange thing to write in a way, because it puts David through so much pain to play the piece. It was a double-edged sword. David got a sort of release out of it. After the first premiere, I remember we just grabbed each other and cried for about 10 minutes. It's the most powerful thing we've ever done together.
Tell me about translating your very personal feelings about Adam Harrington into the composition.
David sent me a lot of music Adam loved, including punk rock and other dark and edgy stuff—music that young people like. I wanted to have some of that in the music, but I also wanted to have a feeling of ascent—a spirit turning into light. So, I tried to get that sound in the piece, with the quartet going into the high register with harmonics. That part of the piece became very ethereal and light. I tried to develop the moment to point to certain areas. During "Cortejo Fúnebre en el Monte Diablo," which is the funeral march, I made it scary and loud. The opening to it is especially a shock. It first hits very loudly and clangorously. I wanted to communicate the shock of what was really happening, because Adam died really suddenly. This has been criticized by a lot of the press for not fitting into the movement, because it comes in and jolts you when you hear the sound. To me, that's what it was. It was the heart of the piece. It was the death moment.
I remember as I was showing David the unfinished quartet, he was totally in agreement with the direction I was moving in. The main thing that was always hanging in the air is that this was not just playing another piece. I was always aware of that not just for David, but all the quartet members. This piece was something that was being put in the place of the life of Adam Harrington as a kind of monument that pays tribute to his life.
How is your personal spirituality reflected in the piece?
In "Cortejo Fúnebre en el Monte Diablo," my model for the music, though maybe nobody hears that in it, is the New Orleans funeral march, where people march behind the cortege with trombones, trumpets and cymbals, creating music which isn't our ordinary concept of church music. The first movement, "Ascending the Heaven Ladder," has all the music rising and it ties all of the elements of the piece together, which turn up in different contexts as it progresses. As for my spirituality, it's kind of homegrown. I don't belong to any organized religion, but I've been very involved with Eastern thought and ragas. In general, that has taught me to be open and embrace the mystery of our existence, and see what develops in life. I want that expressed in all the music I do, but I especially wanted it in this piece.
Tell me about the new piece you've written for Kronos' 40th anniversary.
It's called "The Serquent Risadome," and it's a-10 minute piece. David commissioned it as part of several short works in the 10-12 minute range. I did something that was very spontaneous and written very fast. I think it's a very cohesive work and I'm grateful it came together so quickly. It has a lot of different, related sections. I wanted the piece to express the joy I've had working with Kronos and I think that's in there. It's a very high-energy piece, but it also has some poignant moments, so it touches on a lot of our work together.
Describe the personal connection you have to the group and its mission.
Kronos has taught me an awful lot. One of the things I felt was amazing about Kronos is that they were able to be very critical of each other and never take any of that personally. That was a big lesson for me, because I've been in a lot of bands and worked with a lot of musicians, and when you say to somebody "Hey, you're out of tune there," they might stomp off the stage. With Kronos, everything is always on a very professional and deep level. They're always thinking about the right resolution of whatever problem might come up. The fact that they would spend hours getting a tempo right or interval in tune, and keep focused on that one element, was another big lesson for me in group rehearsals.
I've learned so much about writing quartets by being with them. I'm not a string player, so coming in and working with them was just like being at school. I learned so many ways one can use a bow, the different vectors of the bow, and even how changing bows can create a different sound. I also learned the different ways a quartet can be organized. It could be one soloist with three people accompanying it, or it can be four people in a very dense, contrapuntal dialog. There are so many ways of setting things up. Every piece I wrote for Kronos, and even other pieces I'd hear them play of other composers, was really educational. Also, the kind of humanity reflected in the group is important. The group has always been about family. Everyone that comes into the work gets absorbed into the Kronos family. So, it's as much about people as it is about music. That's something that appeals to me a lot.
In general, how would you describe Kronos' impact on the world of music?
They blazed a trail that wasn't there before them. They cut through and brought a lot of people with them. David always thought of the string quartet as an open canvas that could include any kind of music or collaboration. That certainly was not the case before them. So many people have used Kronos as their model for establishing a group—even if they're not a string quartet. I don't think there's a single modern music ensemble that hasn't been affected by Kronos. They are definitely influential. They've also raised the whole level of performance expectations for string quartets, as well as people's appreciation for the format. They have brought music into a very positive space and used it in a very positive way that has inspired a lot of people.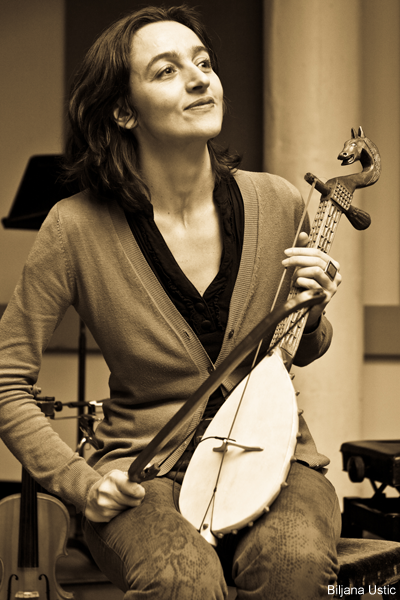 Kronos Voices: Aleksandra Vrebalov
Aleksandra Vrebalov is a Serbian composer based in New York City. Since 1994, she has written eight pieces for Kronos Quartet. She has also received commissions from Carnegie Hall, Barlow Endowment, Festival Ballet Providence, and Merkin Concert Hall. Vrebalov spoke to Innerviews a few hours after concluding rehearsals for her latest composition for Kronos titled "Beyond Zero: 1914-1918." It explores the loss of innocence during World War I.
Tell me how you first encountered Kronos.
I knew of Kronos when I lived in Serbia. In 1995, I moved to San Francisco to do my masters at the San Francisco Conservatory. I realized that they were based in the city, so after I wrote my first work at the conservatory, "String Quartet No. 1," I thought I would send a recording of it played by students to them. David heard it and called me up. He said "We like the piece and we'd like to meet you." I was so happy that they thought the piece was good. I didn't think beyond that or that there was a potential for me to actually write something for them. It just felt like the greatest support for them simply to call me to tell me they liked it. It was really enough for me. David said "Whatever you write, just make sure you send it to us, because we want to see where you're going with your music and thinking." That was very inspiring. It was a time of huge artistic development for me. The fact that another musician would want to follow what I was doing was great. So, I kept sending Kronos my works. During one of our walks in New York City, David was telling me about everything that happened in the group between 1994 and 1995. I was extremely moved by our conversation. So, I wrote "String Quartet No. 2," with Kronos in mind. It wasn't a commission for them. It was just something I wanted to do. Kronos chose to perform it. And then in 1997, they commissioned the first piece, which was "Pannonia Boundless."
Reflect on the collaboration that yielded that piece.
David was very inspired by the music of the Roma people—the gypsies. He said because I come from the area where there are a lot of Roma musicians that I should consider basing a piece on their music for the group. I would go to taverns to understand the performance style and the techniques used. I had never written something based on other music before and they encouraged me to do that. It was a huge learning experience. Eventually, I finished the piece and mailed it to Kronos. We weren't able to get together, so we worked together over the phone. I would sing lines on the phone to David and he would say things like "Okay, we'll try this. What kind of gesture did you mean here?" What I understood about Kronos from that experience is that they come into the process without any preconceptions of how things should be. It was a case of "We have this new music. Let's see what the thing itself wants to be." It wasn't Kronos saying "We're making it into something." I had never encountered anything like that with performers before. It felt so liberating to be so true to the music and letting go of the ego elements of the composer and performer.
What's your perspective on Kronos as interpreters of your music?
I've worked with four of their cellists across 18 years. It was amazing to see how each of them had a unique strength and voice. At the same time, when the group is together, they go beyond the individual qualities of the four of them. The rehearsals are the greatest times with them because everything is so new. The first thing that happens is an incredible focus on the details that give a piece character. There is a lot of curiosity and conversation about the imagery of things and the emotional background. That's really great when you're building something from zero. Whenever they work on a piece, they're often the very first people in the world to play it. So, there is no reference point for what they're doing. They're creating the reference point for everyone else.
We just went through "Beyond Zero: 1914-1918," my new piece, for the first time. It's 40 minutes of completely new music and they played it all the way through across two days. They have such an amazing drive to conquer the music. We would start in the morning and just go for three or four hours in a row without breaks building up the material. That ability to focus and concentrate is a major strength of theirs.
David asks me to re-do and reprint his parts every time a small edit happens. I'll do it on the computer and print it out, all while they are actually working on the piece. Even for a 40-minute piece, which has something like 700 measures, David will be focused on getting the smallest things right. He also has a little bottle of white-out sitting next to him, when there's a change to be made. They are all about details and clarity as they explore the music and imagine sounds they can create for it.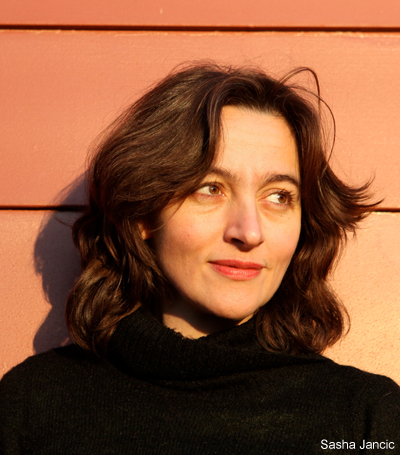 One of your most important works for Kronos is "...hold me, neighbor, in this storm..." from 2008. Provide some insight into how it came together.
They have played that all over the world and continue to do so. It's an extremely important piece for me. It couldn't have been done or explored with another group. I wrote the piece eight years after the bombing of Serbia. David called me when I was in Serbia in 1999 during the NATO bombing. He said to me "Kronos is with you. We want you to be safe and we're thinking of you." He also said "If you decide to write a piece based on that experience, we're ready to play it." For years, I wasn't ready to do it, because it was too much to deal with. I was too close to it. Finally, in 2007, I felt I could do it. By that time, I had a long relationship with Kronos. They wanted to hear about the experience and be a part of it. I used ethnic instruments, archival sounds of bombs and my grandmother singing in the piece. Kronos is so eager to jump into anything and embrace it, which was great. It was so meaningful for me, because there was that safety and those open arms. These experiences are the kinds we tend not to share with other people unless we are welcomed by them—not just musically, but even verbally.
Tell me about the making of "Beyond Zero: 1914-1918."
It's a 40-minute piece that marks the centennial of World War I. It's another topic that's full of things that are difficult. Again, Kronos is unafraid of going into the extreme, wide-ranging emotions of the people who went through it. The war started with many artists believing in it and thinking it was going to be a very liberating and heroic experience. So, many artists volunteered and ended up on the front lines. After experiencing the trenches, death and everything that was happening, the whole world lost innocence. The piece looks at that journey from being very idealistic at the beginning of 1914 to the total loss and destruction that took place after that. It also looks at the awareness that people had to move on, even though so many died.
It's accompanied by a film based on the music by Bill Morrison. We went to the Library of Congress and visited their audio-video preservation area and went through hundreds of nitrate reels of stuff shot during that time. A lot of it was decayed and had been decommissioned by the library. But Bill was able to digitize and use some of it.
Musically, the piece begins with Béla Bartók himself playing a piano suite he wrote in 1916. Throughout the piece, the cello has the lowest string moved down to B-flat. So it has a low range that is even lower than what's typical for that instrument. With every measure there is an increasing feeling of decay until everything falls apart and then we have three minutes of total distortion. After that, there's a very expansive, slow section with a chant by a monk I recorded in Serbia. It represents the point of no return. People could only go forward, but with all the disastrous loss, where do you go? That's the question asked.
What does it mean for you to be associated with Kronos for so many years?
I feel like I have a family of music. No-one has done as much for me as a composer as Kronos has. I have such an incredible appreciation for who they are and what they've done for the world of music. It really is about the world. They have brought whole worlds of music together for the first time. Before Kronos, we did not have that in music. Things used to be more hermetic and closed prior to Kronos. The group reflects the values of our times. It also reflects how I see humanity, which is there should be room for everybody. All voices are equally important. If we believe in democracy, we have to recognize the value of all styles of music, be they written or improvised, from all parts of the world. Kronos is a role model for everyone. When you go to one of their concerts, they may have 12 pieces from 12 parts of the world. Prior to Kronos, an ensemble might just focus on a tiny portion of the world. I think they have had a major influence on performers and audiences alike. When you're exposed to the beauty, variety and richness of everything they bring, it's very hard to go back to our previous closed, hermetic worlds and values. So, I'm very grateful and I have very tender feelings about Kronos. Kronos is a very rare and beautiful place to be.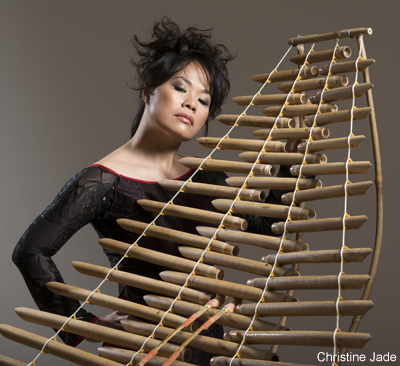 Kronos Voices: Vân-Ánh Võ
Vân-Ánh Võ is a Vietnamese musician known for her virtuoso work on the dan tranh zither. She collaborated with Kronos Quartet on a large-scale work titled "All Clear." The theatrical piece is an exploration of the effects of the Vietnam War, with a focus on the suffering inflicted on Vietnamese women and children.
Describe what it's like to collaborate with Kronos Quartet.
Working with David is great because he's very detail-oriented and cares a lot about making statements through music. Every single thing David is involved in has to have meaning. When you collaborate with him and the group, you're forced to think deeper and go further than you ever have before. They're also open to suggestions. If you can prove your point about how a piece should work, they'll listen and go with it.
Tell me about Harrington's interest in Vietnamese culture.
David told me he started Kronos as a reaction to the Vietnam War and that they were always looking for a musician like me that had traditional training, but could also work with Western musicians. The more we talked, the more I shared about my background. He owns around 50 CDs from Vietnam, which is amazing. A lot of those albums can't even be found in Vietnam. I knew almost every single artist and CD, so he was able to learn a lot more about the music he already had through me, as well as Vietnamese culture in general.
What qualities do you share with Kronos Quartet that make this an ideal partnership?
I want to create music that is beyond pure entertainment and Kronos feels the same way. When they asked me what I wanted to do in collaboration, I said "It's a very complex thing that involves me wanting to express the voice of regular civilians." So, I spent two months in Vietnam, going from North to South, interviewing everyone I could for the piece, from people on the street, to those in the rice fields. When you work with Kronos, you really want to explore things in a significant way. You want to understand the topic matter strongly and ensure you feel totally confident about it. I also included the poetry of Ho Xuan Huong, a provocative female poet from the 18th Century who dared to use the female body in her poetry to express her thoughts about the world around her.
Provide some insight into what you sought to achieve with "All Clear."
The title "All Clear" is very important. The Vietnam War scarred a lot of people, Vietnamese and Americans alike. We chose the name because now, we look back and understand that very bad things happened during the war, and we don't ever want to get into a war like that again. We shouldn't forget what happened either. However, most of what Americans know about Vietnam is because of the war. Television and radio covered it, and what they focused on are sad, painful things. They didn't tell people about our heritage of 4,000 years and the beauty in our traditions, music and literature. With "All Clear," I wanted to give the audience the opportunity to learn about those things.
Creating "All Clear" with Kronos felt very natural. We spoke for seven months before they asked me to compose something for them. I wrote the first version of the piece, gave them a mock-up, and they got right back to me with their thoughts. It's inspiring to work with them. The ideas just pour out of you. We discussed and exchanged ideas in a very positive way. I feel lucky to have the chance to work with Kronos. They really gave me an opportunity to share things from the bottom of my heart, and encouraged me to pursue total freedom of expression.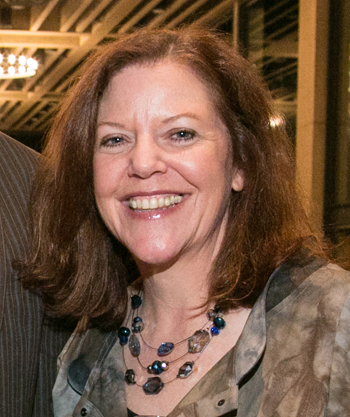 Kronos Voices: Janet Cowperthwaite
Janet Cowperthwaite is the Managing Director of the Kronos Performing Arts Association. Cowperthwaite is involved in all aspects of Kronos Quartet's activities, including touring, commissions, marketing, artistic collaborations, project development, fundraising, media relations, recordings, and fiscal and personnel management.
Describe how you first got involved with Kronos.
I was initially hired as an administrative assistant back in 1981. At that point, the four members of the group were doing all the administrative tasks, which wasn't necessarily their strongest skill set. When I came in, it was clear I could take over those activities. My experience studying journalism meant I could write press releases, as well as understand how to successfully approach journalists. My first official job with Kronos was publicist and it evolved quickly into taking on more and more over a couple of years. I soon started to do the booking. A second and then third staff member were hired in the next couple of years, and now we have 11 people.
What was it like to work with Kronos in the early '80s?
They were much less known. We had a one-room office with one telephone, with one hold button, and two desks. The mailing list was on a bunch of handwritten filing cards. The first thing I did was alphabetize them. It was amusing how impressive it was to the members of the group when I created color-coded files. [laughs] They were very busy at the time with their music, as they should have been, so of course, those sorts of things weren't a top priority. Back then, they had a grant they had received before I arrived to play institutions such as prisons in California. There were government subsidies for those kinds of community programs, more so than there are now. We were really busy, but the scale was different. They had done only a couple of European tours at that point, and only a few things outside of California.
Kronos had been in residence at Mills College during that era, and after it concluded, the Kronos entrepreneurial vision expanded into presenting our own series of concerts at the Green Room above the Herbst Theatre in San Francisco. We learned how to produce concerts by actually doing them. Board members from the Kronos Performing Arts Association would come in and take tickets. Spouses would sell wine. It was very much that "Let's all work together to put on a show" mentality. So, those were a big part of my early years with Kronos.
Contrast that with what it's like to work with Kronos today.
It's still really busy as it was then, but what's great is seeing all the relationships emerge as a result of all of this hard work. If I need to reach a potential artistic collaborator, it's amazing how I can make a few phone calls and access people. So, our ability to create these experiences is much greater than it was years ago when Kronos wasn't as well known. The organization is much larger now, so that's more complex and challenging. The Kronos Performing Arts Association is a non-profit. At the core is Kronos Quartet, so we work to support their activities. There are 11 staff members. Everyone, including the members of Kronos, are salaried employees. There is a team to complement what Kronos does. Because of that, we can enable and realize the many projects Kronos wishes to do. They can commission more work and tour more. The difficulty is, as a non-profit, we have to find and spend money every year. The public perception of Kronos is that it's a very successful group, which is true, but we still have to work really hard to find the resources to make major projects like "Sun Rings" or Nuevo happen.
David always has any number of lists happening. He has his list of things he wishes to do immediately, including composers and artists he wants to work with. He also has another half-dozen lists of things down the road that he's thinking about that might take a decade to achieve. So, there are things on the front burner and the back burner. I try to know as much as possible about what's on some of those lists, so that when I'm talking to presenters like Cal Performances, UCLA and Carnegie Hall, I can plan a season or two ahead. This also relates to commissions and festivals that have themes. I'm always scouting for opportunities. My job is to see the natural connections between the group's artistic desires and the opportunities that are available. I consider myself to be a matchmaker. When people ask me what it takes to do this job, I say it takes the right time, the right place, the right experience, and luck.
Do you ever challenge Harrington?
All the time. [laughs] I'm constantly doing that, to his annoyance, I'm sure. He also challenges me. I think if you're very driven in the way that he is and you have high expectations, it's difficult to put limits on what you can and wish to do. I would say our biggest ongoing issue is that our organization's eyes are bigger than our stomach. We always want to do more than we have the ability to do. So, there's a constant role of trying to ensure we don't take on too much. I'm the one who understands the monetary and people resources available. I'm often in the role of saying "We can't do that right now." However, I can't look at music coming in and say "It's going to take X number of rehearsals to get that ready." That's not my job or expertise. On the other side, it's sometimes hard for members of the group to imagine the administrative tasks involved in making something happen they wish to achieve. So, there can be a disconnect, sometimes.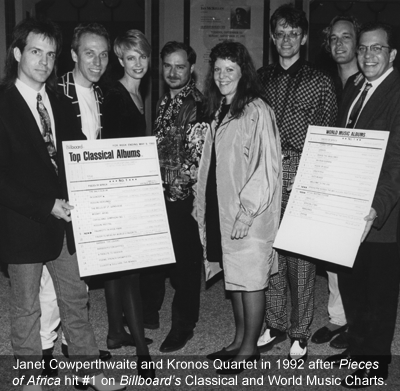 Tell me about your involvement in crafting Kronos' rock and new wave visual aesthetic of the '80s.
When I was first approached to work for a string quartet, in my mind, I literally saw four men in tuxedos, just like most people then. It wasn't the music I listened to growing up. I was a rock and roll kid. I'm not sure I had even seen a quartet play when I started working for Kronos. So, in a way, I was the perfect person, because although I had the bad stereotype in my mind, I had no preconceived notions of how things should be.
I brought in the graphic designer who did the first Kronos brochure that broke away from convention, and Joan Jeanrenaud connected us to a wonderful and creative photographer. We all attended the photo session together. The hairstyles and clothes were really the way the members of the group dressed back then. They were young and it was very natural for them. Taking that look and transforming it into a piece of print was the challenge. That's something I've worked very closely with designers on for all these years.
The rule back then was the group wouldn't be photographed with their instruments. It was such a stereotype to have a string quartet holding their instruments up—you know, four faces with four instruments. It's funny, concert producers would say "We need the instrument shot." So, finally I said to our photographer "Take a photo of the instruments by themselves" and that's what we'd send. [laughs] So, sometimes you'd see a photo of the group, alongside a photo of the instruments.
The Kronos aesthetic has become the norm for many string quartets and other classical ensembles. What do you make of that influence?
I'm really proud of that. It was something we were deeply committed to. I do want to make it clear that the lead came from the music itself. What we did was take that vision and reflect it in other forms via print, design and photography. By the late '80s, every review mentioned Kronos' clothes and hair. Joan Jeanrenaud took the lead on the wardrobe, which was contemporary and edgy, and reflected the personal styles of each of them. But there was an underlying accusation of gimmick present, so there was a time when we pulled back a little bit to emphasize the artistic vision, not the clothes. But to this day, when you see a classical group wearing sunglasses in their photos, you'll see the influence coming through.
What does Kronos' 40th anniversary mean to you?
It's a celebratory moment. We can look back and be very proud of a lot of artistic achievement. That's the most important thing for all of us. Also, the number of people we've worked with over the years is amazing. We're also proud of the diversity of people from six-year-olds to people on the other end of the age spectrum embracing the group. That gives me a lot of pleasure. Across this 40th anniversary period, I purposely looked for opportunities for Kronos to perform at free concerts. I wanted to kick the season off with access, so that anybody who wanted to see Kronos could do so. For instance, we did a series of free concerts at Lincoln Center Out of Doors, during which 55,000 people interacted with the group one way or another. There were also 7,000 people at the free Stern Grove concert in San Francisco. We have 40 new commissions this year. There are major recordings forthcoming. There's a lot to celebrate.
What are some of your personal Kronos highlights?
Meeting Paul McCartney when he performed with Kronos during the Outside Lands festival in 2013 was a great highlight. Playing with Tom Waits at the Bridge School Concert in 2007 was another one. On a personal level, seeing David's daughter and son-in-law watching David on the jumbotron screen at Shoreline Amphitheater at that show was very special. I remember saying "That's your dad up there. What do you think about that?" I also had my own then six-year-old daughter there, standing at the back with Neil Young 10 feet away, standing next to members of Metallica. That was really fun. Meeting John Cage in his home in my mid-20s was also incredible. He brought such a kindness to his communication with me that I deeply appreciated.
I should also mention the David Bowie experience. Philip Glass organizes the Tibet House Benefit concert every year at Carnegie Hall. When Kronos played it in 2002, David Bowie was also there. Bowie was going to play "Space Oddity" with a group of string players. Kronos doesn't normally join other groups of string players. But I said "It's David Bowie. Will you please do it?" They said "Of course." One of my favorite memories is watching the rehearsals of that show. Seeing Bowie sing "Space Oddity" was great in and of itself, but when he started the second run-through, he stopped singing. He bent down on one knee in front of Kronos and just looked at them. He had the same look on his face that every composer who ever works with Kronos does—one that says "You're now playing my music and this is a wonderful experience for me."