Peter Lang
Nuance and Contrast
by Anil Prasad
Copyright © 2008 Anil Prasad.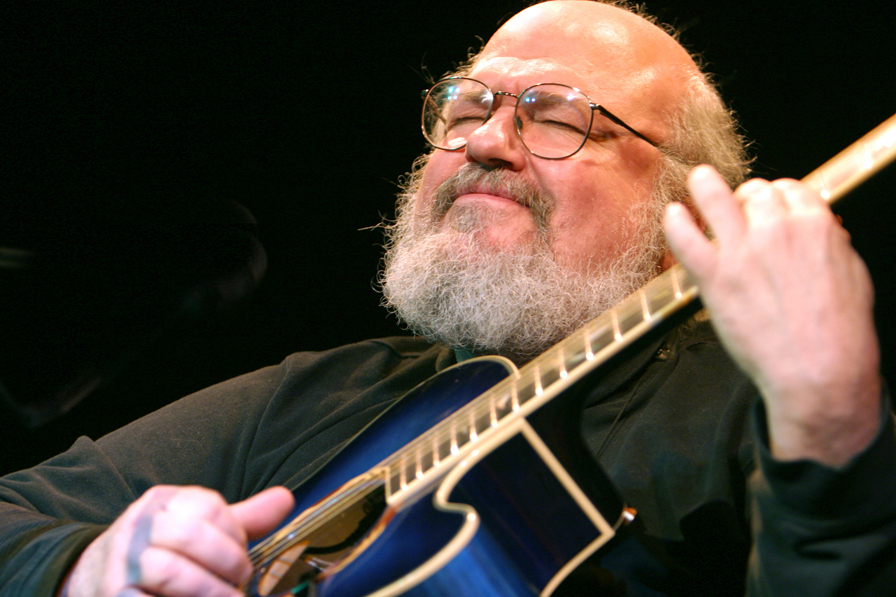 Peter Lang may be known as one of the world's preeminent six- and 12-string fingerstyle solo instrumentalists, but as his new CD Testament (Horus) reveals, his approach can propel a mean blues jam too. The album finds Lang, along with Bad Plus drummer Dave King, bassist Steve Larkin, and harmonica player/album producer Michael Tanner, exploring and reinvigorating traditional blues and folk material stretching back to the turn of the 19th Century.
"The album features many of the songs I learned to play guitar on," says Lang, who also sings on it. "Most of them represent the DNA of the American musical experience and are the starting points for much of the blues, jazz, and pop that followed. For instance, 'Southern Aristocracy' and 'Staggalee' date back to the late 1800s, and 'Guabi Guabi' is a traditional African folk song made popular by people like the Jim Kweskin Jug Band and Arlo Guthrie. It was fantastic to get inside these pieces, pump them up, and give them as much life as possible."
Testament reflects Lang's interests predating him achieving renown as a member of the legendary Takoma fingerstyle guitar trinity also comprised of Leo Kottke and the late John Fahey. To this day, one of the biggest-selling fingerstyle albums of all time remains John Fahey, Peter Lang & Leo Kottke, a 1974 release with four tunes apiece from each player. He also released his classic debut record, The Thing at the Nursery Room Window, on the label in 1973. Several albums soon followed, including 1975's Lycurgus (Horus) and 1977's Prime Cuts (Horus).
Even with a global profile, and heavyweights including Ry Cooder, Chet Atkins, Jerry Garcia, John Hammond, and Keith Jarrett calling on him to play with them, Lang's frustration with the vagaries of the music industry resulted in him putting his music career aside for much of the '80s and '90s. He worked in animation and special effects production during that period before returning to the scene in 2001 with Dharma Blues, an acclaimed album of fingerstyle instrumentals that enabled him to return to music on a full-time basis. Another instrumental album, the aptly titled Guitar, followed in 2003, but by the time 2006 rolled around, Lang was itching to revisit his roots.
"I'm going back to the beginning of my career with Testament, but bringing along everything I've learned since," says Lang. "My interest in blues and traditional music began in earnest during the eighth grade when I saw Koerner, Ray & Glover—Dave 'Snaker' Ray, Tony Glover, and 'Spider' John Koerner. The show completely changed my life. It was three white guys performing traditional Black music and doing a darn fine job. Their records were a gateway to more blues and I started checking out Lightning Hopkins, Blind Willie Johnson, John Hurt, and Sonny Terry. When I started my career, I was in a rock band and got kicked out because they wanted to play Beach Boys and British Invasion stuff, while I wanted to play blues. Luckily, a tape ended up at Takoma Records where John Fahey heard it, but he didn't like singing. That's why my Takoma album was all instrumental and why I am so identified with that guitar universe."
Lang's primary six-string on the session was a Yamaha CPX 900 Acoustic Electric guitar featuring the A.R.T. Acoustic Resonance Transducer preamplifier system that includes four contact pickups, and a solid spruce top, with flamed maple back and sides. He relied mainly on an all-Mahogany Martin J12-15 for the album's 12-string duties.
"The A.R.T. system provides a very natural sound and represents the best onboard electronics I've heard," says Lang. "I also like the neck a lot. It's similar to the Gibson fretboards I'm very partial to in terms of radius and its fat fret wires. The Martin J12-15 has a Martin Thinline pickup and offers a wonderful fat, warm, and rich sound like a lot of the old blues guitars. In particular, the Mahogany provides a very sweet resonance reminiscent of a Spruce-topped guitar that has aged for years."
Lang employs many open tunings on Testament, including open-G, open-A, and dropped-D tunings, but his core favorite is D, A, D, F#, A, D, as featured on several of the album's tracks.
"It's the greatest, all-purpose open tuning I know of," says Lang. "It's very versatile in that it lets me play really snappy, bluesy stuff, while also being really magnificent for richer, more complex material. It lets you access some really colorful sounds as you work out the melody lines in the higher strings, and also get really rich notes out of the bass strings that are missing in a lot of other open tunings."
Lang and Tanner used several micing techniques during the Testament sessions to capture the truest guitar sounds possible.
"We mainly used AKG 451 mics, which I've used since the '70s," says Lang. "I've never found an acoustic guitar mic that sounds better or is more accurate. It produces very tight, clean lows with no barking, hiss, feedback, or wolf tones. We used my favorite technique, which is to cross two AKG 451s over the guitar at 90 degree angles with the 'X' going over the guitar between the sound hole and the twelfth fret, placed about six inches back to capture an accurate stereo image. The crossed pair works well, but it relies on being positioned precisely. If it's too close, there will be too much direct sound. If it's too far away, there will be too much reverberant sound. We also sometimes used an AKG 452 mic aimed parallel to the top of the guitar, down at the bottom edge between the bridge and the butt of the guitar. You have to be careful when micing this way because it's really easy to bang into the mic when you're playing, but it's worth it because it offers such a beautiful, natural sound. Another technique we used was placing a Rode NT1-A Large Diaphragm Studio Condenser mic further down the neck halfway between the guitar and peghead, along with an AKG 3000B condenser mic placed a foot back from the Rode and pointed toward the sound hole to really warm up the sound."
In addition to Testament, Lang recently released Live at Charlotte's Web (Snapshot), a three-disc set that features two CDs of solo guitar recordings from 1975-1980, and a DVD capturing a 2004 gig. The performance level across all the material is consistently high, something Lang attributes to a few basic practice principles.
"Technically, I am as good as I was back in the earlier days, even though I no longer have a young man's hands," says Lang. "The key is to protect them by giving them a lot of rest, avoiding playing when you feel pain, and practicing just enough without overdoing it in order to perform the material for a given show. Also, when I was younger, I was obsessed ideas like 'how fast can I cut it?' and 'how high can I stack it?' Those notions are gone now. I'm more relaxed and my main concerns today are ensuring the performances are heartfelt and full of nuance and tonal contrasts."