Laurie Brown
The Heart of the Story
by Anil Prasad
Copyright © 2017 Anil Prasad.
Playing it safe isn't Laurie Brown's style. The Canadian music journalist, radio host and author has covered and contextualized musicians from global superstars to esoteric experimentalists in myriad genres throughout her career. She has worked extensively across all realms of the broadcast universe, including television, radio and the Internet, pushing the boundaries of each, both in her storytelling approach, and harnessing the unique possibilities each medium offers.
During the early '80s, prior to her life on air, Brown sang and played keyboards in a band called The Crowd in History. It specialized in taking songs conceived for one genre and reinventing them for another. That musical curiosity served her well when she made the leap in 1985 to hosting The NewMusic, the pioneering weekly music newsmagazine show that broadcast on the Canadian Citytv network and was also syndicated worldwide. The NewMusic was the first music newsmagazine in history, established in 1979, two years before the dawn of MTV.
Brown rapidly embraced the potential of the then-emerging music television format. She did dozens of segments during her tenure at The NewMusic. Her pieces were well-researched, probing and often infused with a broader cultural perspective, exploring the socio-political contexts from which the music emanated. She often captured the artists where they were most comfortable—in the studio, backstage, at venues and galleries, and at home. Brown interviewed a who's who of the '80s for the show, including Kate Bush, David Byrne, Miles Davis, Bryan Ferry, Peter Gabriel, Mick Jagger, Robert Plant, and Lou Reed—just to name a handful.
Brown also served as a VJ for MuchMusic, Canada's 24-hour music television network, concurrently with her NewMusic position. Both MuchMusic and Citytv were run by a company called CHUM Limited, and shared studio and production facilities in Toronto.
In 1989, Brown moved on to working at CBC TV, reporting for the news show The Journal and eventually hosting her own program On the Arts with Laurie Brown for the CBC Newsworld network. Those experiences significantly expanded Brown's horizons in that she was now covering the entire spectrum of arts and culture in a way designed to appeal to a very broad audience. She had to delve deep into the subject matter to find storylines and impactful elements that could connect the artists to viewers who didn't necessarily have any familiarity with them. During her time at CBC TV, she conducted definitive interviews with a wide variety of musicians, such as Susan Aglukark, David Bowie, Leonard Cohen, Aretha Franklin, and Loreena McKennitt.
After 22 years in television, Brown made a major change. In 2007, she left CBC TV and joined CBC Radio 2 where she has hosted a late-night show called The Signal ever since. The free-form music program, which airs six times a week, just celebrated its tenth anniversary. It focuses on music Brown is passionate about. It seamlessly shifts between genres, including adventurous rock and pop, ambient, electronic, and classical music in its many forms. Brown's commentary is similarly expansive, offering engaging insights and interludes designed to draw listeners further into the sounds.
Brown also hosts two other shows on CBC Radio 2, including This Is My Music, which spotlights classical artists, and Inside the Music, which explores the lives and influences of perfomers.
Her first book, Success Without College, was released in 1994, chronicling her life in music and television through her fifth year at CBC TV. It's a fascinating, non-linear look at her journey, including reflections on major musician interviews. It also examines the personal philosophies and perspectives she accumulated during her ascent to becoming one of the world's most renowned broadcast personalities.
She's currently working on a new novel, tentatively titled The Night Will Always Win. The book investigates the mindset and experiences of people during the late evening when The Signal airs. It has autobiographical elements and reflections on her experiences engaging with her devoted audience. Brown hopes to wrap up the project in late 2018.
Describe how your intense interest in music emerged.
There was a lot of music in my family. My dad is a jazz piano player. He isn't a professional musician, but he could have been if it wasn't for stage fright. My grandparents played organ and piano. They also had their own radio program in Nova Scotia. When I would visit my grandparents, there would frequently be 10-20 people in their living room on a Friday night. We'd all be singing.
My intense relationship with music began when I was 13 and discovered my own music. It's when I first had that rush of feeling that I love the music I'm hearing. It was when my own musical tastes appeared out of nowhere. All of a sudden, there was music that really appealed to me personally and I started to form a musical world all my own. It's when I fell in love with it. I couldn't separate the music from growing up and becoming my own person. Music was integral to that happening.
Tell me about The Crowd in History, the band you fronted during the early '80s.
That band was filled with people who were huge music fans. Rather than slog away on original material, we wanted to take the music we loved and invert it with cover versions that mixed genres. So, we'd do a Motown song in a punk style or take a Broadway musical number and make it feel like it was Roxy Music. The point was to play with musical styles. We got a reputation as a band that musicians came to see. There was always a joke part of it in that when people realized what the song actually was, they'd go "Oh man!" [laughs] So, even though we weren't all tremendous musicians, we were fearless in the musical styles we'd attempt.
I was one of two singers in the band. The male singer ended up becoming my husband. I also played keyboards. We'd switch between the singing duties, as well as do a lot of singing together. I also played keyboards. There's recorded evidence of the group on a tape that exists just for the band members.
In 1985, you made the leap from being a performer to hosting The NewMusic. How did that shift occur?
I was working at Citytv in the film department, editing film and movies, trying to make rent. I was also in my band, doing some acting, as well as musical theater. At the time, Citytv was a pretty spunky, independent channel. The NewMusic was the first music magazine show of its kind anywhere. Word went through the building that they were looking for a new host. Daniel Richler, who was with the show at the time, was told "You should really talk to Laurie in the basement in the film department, she would be good for the role. She's in a band." So, it made total sense somehow at the time that I would do that, but I couldn't quite put together why myself. It's one of those things. Somebody says "You should really do this." I thought "Well, of course I should do this." [laughs] I interviewed Daniel as a way of auditioning for the job and then I started asking musicians questions.
Did you have any prior journalism experience before getting involved in The NewMusic?
Nothing. I didn't go to university. I went straight out of high school into working and playing music. But that's the Citytv philosophy—you don't need that background. You just need to get out there and do it. They actually didn't want people to be trained at what they were doing. They just wanted them to get out there and make TV.
I think Citytv thought I would be compatible with Daniel on air. I knew a lot about music. I was a huge fan. I had acting experience in front of a camera and it didn't scare me. I was also local and right there in the basement. [laughs] That's another reason I was perfect.
A key element that distinguished you on The NewMusic is the level of research and thought you put into your conversations. Where did that instinct to dig so deep emerge from?
I think it's because I was really insanely curious about the music. I wasn't dazzled by celebrity. I wanted to find out how the artists made the music and that really intrigued me. Anyone who's a musician will bring that part of themselves to the role.
You must have gone into it with a specific idea of what made an interview good or bad.
Well, I didn't want to be embarrassed. [laughs] When I started, it was still pretty early days for music television. A lot of artists weren't interested in doing these interviews at all. It was very different and some of them were slightly hostile. So, I thought "I've got to show them that I know my stuff and understand their music." I had this idea that the interview wasn't about me. It's about them. I wanted to keep the focus on them and what they were up to. Through experience, I found that when you talk to people, you really get into what makes them tick from a creative perspective. If you showed them you really listened, they brightened up, opened up and talked to you differently. They realized "Okay, we're at this level. This is something I feel more comfortable with."
Who were the more hostile musicians you encountered during The NewMusic?
Jesus and Mary Chain and The Pogues were difficult. The Neville Brothers were brutal. I had to do an interview with all of them and not one would say a word. It was awful. Lou Reed could also be terrible.
Tell me more about trying to interview Reed.
I interviewed Lou four or five times. I kind of took it as a personal challenge to get a good interview out of him. He could be silent and really grumpy. I thought it was his philosophy and tactic during interviews to make you feel so awkward and uncomfortable that you'd never want to talk to him again. I think that's how he handled promotion. But I kept at him. The last interview I did was when he was in Toronto doing a film called Lost in the Stars about Kurt Weill in 1985. He was singing "September Song" for it, which is an amazingly beautiful ballad about growing old. I thought "I'm just going to go for it." I asked Lou "How did you feel when you sang this song?" That was probably the most uncool question I could have asked someone, especially Lou Reed—a "How do you feel?" question. He looked at me and said "How do I feel?" I said "Yeah, how do you feel?" He replies "I feel like I'm getting old. I feel like I'm in the last quarter of my life. I feel like I've got too much to do and not enough time." And it worked. It taught me a really big lesson about not being intimidated, even with someone as insanely intimidating as Lou Reed.
When I interviewed Laurie Anderson later, I asked her afterwards "Please tell me what I'm doing wrong. I can't interview Lou. I've done it four times now." She said "I don't get it. He's the most kind, generous person with people, even those he meets at a bar or on the street." I said "What is it about interviews?" She wouldn't say. But I think it was simply that he hated doing them.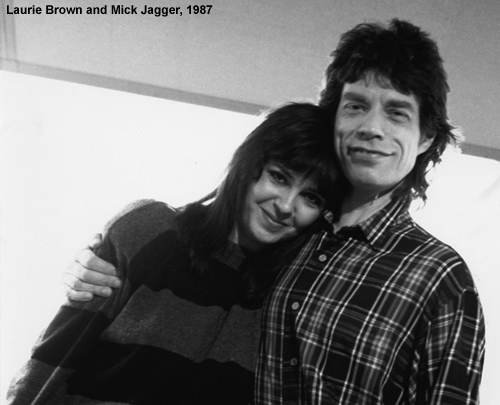 Christopher Ward, a fellow former MuchMusic VJ, wrote a recent book titled Is This Live? about his experiences there. You said in the book you felt you didn't have as much fun as others in your role because you felt a huge responsibility to the artists and viewers. Elaborate on that for me.
I felt I was put in such a privileged position to be in front of these artists and to actually get one-on-one time with them. The only reason I was there is because it was my job. I found other journalists would start to think that these artists were their friends. They would hope maybe they could go out and have a beer afterwards and hang out. I thought that's really unfair to the artist, because the artist has been put in the position of doing the interview as part of their job as well. I didn't want to mix social activity with the job, because again, it was a very privileged position. I didn't want to abuse it.
I never thought "I'm so great and that's why I'm here talking to this person. We deserve to be friends." That didn't seem right to me. I felt I also needed to try and protect the artist. They needed to know that I wasn't going to cross the line and try to be their friend. I wanted them to know I worked really hard on the interview and that it's all I wanted. On the other hand, I always tried to be friendly. I wanted the artist to feel comfortable so they wanted to actually talk to me.
I think a lot of it came from my own fear and discomfort about getting out of a safe zone with the artists. It also meant that I could connect with some of the musicians in a deeper way, especially when I would go back and do another interview with them. The conversations would get better and better.
David Bowie is a good example. We knew each other and saw one another quite a few times. I did go backstage once before a show and sat with him. We talked about books and all kinds of interesting things. I was petrified, but it meant that our relationship on screen got way better. I think if I had said "Let's go for a beer later," the interviews wouldn't have got any better. In a way, it's about responsibility to the audience. I'm in this position and I'm thinking I am you—the viewer—on this side of the table and I'm not going to blow it for you. I'm going to do the best job I can do for you, because you'd give anything to be where I am.
I don't regret the way I approached things in any way, but I could have been a little less rigid about that philosophy. I could have relaxed a little more.
Back in the '80s and '90s, record labels had budgets to fly journalists out to interviews, concerts and studios. Did having labels foot the bill create any conflicts of interest or gating elements in terms of reportage?
I was very aware of that issue, but it didn't stop me from saying or doing anything I wanted. It was way more prevalent in the film industry than in the music world. In film, it was really awful. The CBC would never accept any of those trips. We would always pay to attend those terrible press junkets. On The NewMusic, there were some deals with the record companies paying for things, but the label would say "Laurie, what do you want to do?" They were very good about it. My Spidey senses were always alert to the situation, but I don't remember it ever being a problem.
Who were some of your favorite interviews during your NewMusic tenure?
It was the ones I had to work the hardest on—artists that had such a great body of work that I felt I could never do enough research. These artists are those that would have done more interviews than I would ever do. They were also musicians I had great respect for. I'm talking about people like David Byrne, David Bowie, Bryan Ferry, Kate Bush, and Peter Gabriel. I loved those interviews because there was so much depth there. The possibilities of where the interviews might go were endless. The amount of subtle information they could get across was so great.
How did you go about conducting research for The NewMusic and MuchMusic during the pre-Internet era?
We had a filing cabinet filled with music magazines. There was also a guy there named James Booth, who now works at the CBC in Vancouver. He would get the magazines and sit there all day long, cutting things out and filing them. So, if I was on MuchMusic and yet another Janet Jackson video was going to be played, I could walk over there to the Jackson file and see what was going on with her. But as far as The NewMusic went, there would be a little bit of formal research, but I found it was way better to rely on the music itself. I would just really listen to the album and not worry about the facts of where it was recorded or who it was recorded with. I felt the really juicy conversational stuff wasn't in the facts, but in the music. I would rely on my instincts when listening to the music and the questions would emerge from there.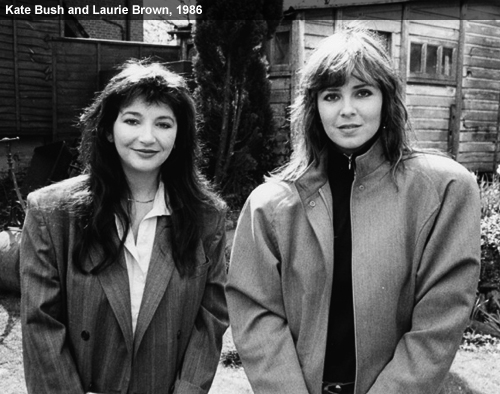 One of the most famous interviews you've done is Kate Bush in 1986. I found it interesting that it involved pre-approved questions. What do you recall about that experience?
Kate Bush hated flying. So I went to visit her at her brother's house in England. I think that was a big part of the interview's success. She wasn't doing a whole string of interviews. It was just one. She knew the questions in advance, so that helped her be much more comfortable. I bristled at the idea of having to put my questions out there. But it wasn't done that way so she could say "I'm not answering that question." Rather, it was simply so she could think about her answers beforehand and do a good job. We both arrived feeling very well prepared.
I had a similar experience with Mick Jagger. He was in the middle of doing a whole bunch of interviews. His manager came out and said "You're on in 15 minutes. What do you want to talk to Mick about?" I had to explain what my interest was and what the focus would be. I said "I want to talk to him about his music, as well as his dancing and how that's a significant part of what he does." He didn't get asked about that much, so it was a deal. I think it helped him to know where we were going to start, as opposed to "How's your marriage with Jerry Hall going?"
As part of MuchMusic, you would also have to do live interviews with no possibility of editing. What was that like in contrast to your very composed pieces for The NewMusic?
I can't watch those interviews. They seem so filled with awkward moments and nonsense questions and answers. If I were to have edited them, I would have cut most of it out. But there's a spark and energy that can happen in a live interview that you don't get anywhere else. When they fall flat, they fall terribly flat, but when they go well, they're really quite entertaining.
Did you ever have a sense you were making history with your work on The NewMusic or MuchMusic or was it just a case of getting it done and broadcast?
It felt like the most natural thing in the world to be doing at those moments. It was about taking the music I was listening to and loved and placing it in the world. I loved communicating what was going on. The music would also be used as a springboard to talk about bigger cultural elements the artist wanted to discuss—the things that motivated them to make the music in the first place.
I knew what we were doing was different. I think where I really understood how important it was is when I'd be standing in a checkout line somewhere in Europe. People would come up to me and say "You're from The NewMusic!" We were broadcast on Sky Channel in 24 different countries. To be recognized when traveling around the world made me realize that there was really nothing like this show anywhere else in the world.
How did you handle becoming a celebrity yourself?
I didn't really notice it at first at all. I'd be sitting out in a restaurant with a friend and she would turn to me and say "Do I have food in my teeth?" I'd say "No, why?" Then she would say "Everyone is looking at me over here, what's going on?" All of a sudden she would look around and say "Oh god, they're all looking at you." As I said, I didn't even notice it, but she did. I think it all happened so slowly that it wasn't very perceptible. But it was nice. All kinds of things about my life have been made a little easier because of that. People have been very kind to me about the interviews I've done. I've been very lucky.
How do you feel about the fact that your work on The NewMusic isn't properly archived or widely available in the YouTube era?
It's crazy. MuchMusic and The NewMusic had the greatest video archive that exists. Whether the shows should be in the Rock and Roll Hall of Fame or National Archives, I don't know, but it seems like they should be available. They're really important. We also kept all the raw tape of the interviews, not just the edited versions. It's possible the tapes are in bad shape after all this time and perhaps they can't even be played anymore. If that's the case, it would be a drag.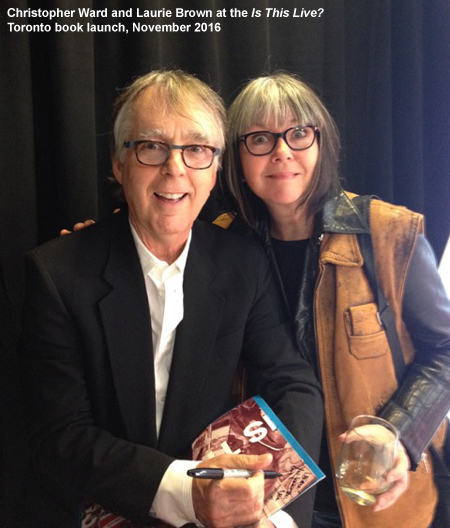 What was it like to reunite with The NewMusic and MuchMusic team for the launch of Ward's book in Toronto late last year?
It was a blast. I've been hanging out with them a lot over the last year, because Christopher would come to Toronto and do interviews with all of us. We'd all go out to dinner afterwards. I would spend a lot of time with Christopher because we adore each other. It was great to sit around with these people who hadn't seen each other in years and connect again. I do think Christopher did a great job with his book. It feels like how MuchMusic was. He worked his butt off getting all those interviews.
In the Ward book, you intimate that the MuchMusic and Citytv environments had elements of misogyny and sexism. What can you tell me about that?
I got a very easy ride there. There were other women who had a much tougher go of it. Moses Znaimer, our boss, didn't reserve his power thing just for women, either. I had a couple of run-ins with him. I stood toe to toe with him and so I got away relatively unscathed. But there were a lot of people who didn't. There many who ran to the bathroom in tears. Everyone who worked with Moses has a jaw-dropping story that will either make you laugh or make you incredulous or horrified.
When I became pregnant and had to be on air, I was thinking "I don't know how this will work." But they were incredibly great and said "Laurie, handle this whatever way you want to." I don't know if there would be another place where that would have occurred in 1989. Other places would have said "This is a big problem. This is rock and roll and we can't do it."
That proved to be a year of major change for you. In addition to your pregnancy, you departed from The NewMusic and MuchMusic, and moved on to CBC TV. Describe the circumstances of that decision.
My life was obviously in the midst of a huge shift at that time. I also had read the writing on the wall at MuchMusic. I felt the focus was moving on from what The NewMusic was doing to what MuchMusic was doing. They were moving into a much shallower, entertaining and kid-grabbing format designed to sell pop and chips. Those are literally what they wanted to sell. The beer sponsorships were moving away, so that's what they were left with. I decided I didn't want to be stuck trying to do music journalism in an environment that was going that way. There was more corporate sponsorship coming in and I felt it wasn't good for me or the music.
I also didn't want to go up into management or anything like that. I wanted to stay in the creative end of things. So, I had to make a break. When The Journal at the CBC offered me a job at that point, it made perfect sense. It was their flagship documentary program. I would be able to cover all the arts, not just music, which was great to me because I'm a culture junkie. As Moses Znaimer said, "Citytv is where you make Volkswagens. If you want to make any other kind of car, go with the CBC. We're not going to make great television. We're only going to make cheap television." [laughs]
How did your journalistic approach shift when you joined the CBC?
It became much more about the writing, because for the first time for me, there was such a thing as a voiceover on a regular basis. We did them on The NewMusic occasionally, but it was considered to be an error and not good television when you used a voiceover there. I learned how to write for television at The Journal. I also learned how to tell a story to people who weren't in the choir. I was no longer speaking to music fans who tuned in specifically to see an interview. I was talking to farmers on the prairie and older people, too. My storytelling had to change to make the audience feel the story was important and that they needed to watch.
It became more about the core, human motivation of the artist—things like family, grief or inequality. I had to find that thing everyone can understand and build the story around that. The art was actually kind of around the edges of the story in a lot of ways with this approach. I learned how to get people to watch a story they might not typically find interesting or even find scary and overwhelming. The key was to find the heart of the story. If you do that, people will go along with you.
What do you consider some of the highlights during your time at CBC TV?
Speaking to Leonard Cohen. I'm very proud of the work, but it had nothing to do with me. It was just that he was so generous and such a great listener. He brought all of himself into the interview. That was one of my favorite pieces. I also loved the pieces I did in the Arctic. For instance, I did a piece on Susan Aglukark, the Canadian Inuk singer whose first song had just come out and it was a response to teenage suicide in the Inuit community. I also did a piece on the 1995 Molson Ice Polar Beach Party in Tuktoyaktuk. It was the furthest Northern concert in history, with Metallica, Hole, Veruca Salt, and Moist. It was a ridiculous situation that was fantastic and surreal to cover.
I was there at the end of the golden age of documentary making at the CBC. I would be told a biography of Josephine Baker was coming out and that the CBC wanted me to do a documentary on her. They would say "We want this to be the best documentary in the world. What do you need?" It was crazy. I'm proud of some of the stories. The experience of going out there and gathering great stuff and having the tools to do your best work was unbelievable.
Was there more of an element of contributing to the definition of the Canadian identity through your work at CBC TV?
I think so. That really intrigued and interested me. The question of what is the Canadian identity is one that doesn't need to be answered because Canadians decided even though we don't know the answer, we're just going to be whatever it is. [laughs] Part of the intrigue is to constantly look at it and try to determine what makes us different. It's what we're not instead of what we are. That seems to be the easiest way to answer it. But for sure, I would always consider the story I was working on and try to look at it through that lens to see if I could come up with something.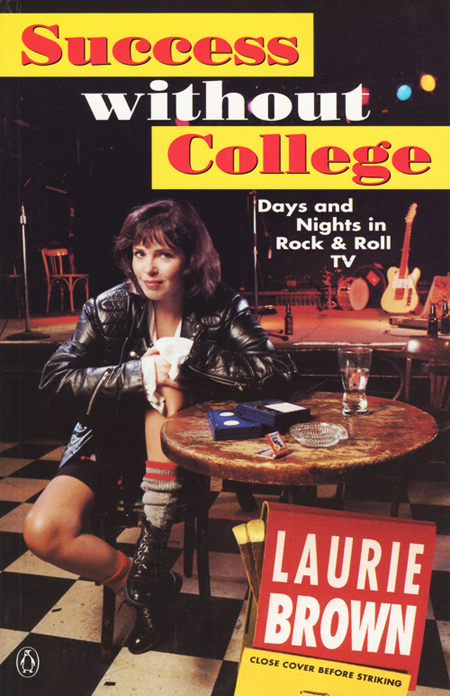 In 1994, your first book, Success Without College, was published. How do you look back at it?
I was asked if I would write it but had no idea if I could. Up until then, the point of my work had been using as few words as possible without ever using an adjective. So, I didn't even know if I could write long form. I went away for a week and said "Let's see if I can type that long" and wrote something. I came back with an early chapter and decided "I think I can do this." It was also one of those experiences I couldn't pass up. That's one of the things about being well known—opportunities emerge that never should have otherwise. The book did pretty well. I realized I could write without embarrassing myself. It was an interesting process and allowed me to go a little deeper than what I would do for TV. I found the personal stuff hard to write, especially the biographical stuff. I'd rather be asking the questions than supplying the answers. The timing was horrendous though, because I was pregnant with my son while writing to deadline.
Why did you feel the need to give the book that title?
I thought it was good because it pitches me on the same plane as a lot of rock artists. Here's something that can happen to you without an education. It all started from those matchbook covers that would say "Success without college! Learn TV repair in your own home." [laughs] In retrospect, maybe it might not have been the right title for the book, but I've always felt slightly inadequate because I never did go to university. Everyone assumes I did. It has always been a little bit of a thing for me. My parents didn't go to university and they didn't know how to encourage me to do so. I was too interested in acting and playing music. It's too bad. I would have liked to have had that experience.
In 2007, you left CBC TV and joined CBC Radio 2, where you've hosted The Signal ever since. Tell me about that move.
By that point, I was hosting On the Arts with Laurie Brown on the CBC Newsworld network. We were in the midst of revamping the entire show and turning it into something called Play. It was very exciting and fun to be creating a new show. At the very last minute, they decided the whole thing had to be live at 11pm at night on Friday or Saturday. I thought it was lunacy. I felt I had done my fair share of standing in bars late at night with a TV camera with drunk people around me. I decided I wasn't going to do it anymore. So, I quit. And then my marriage fell apart. Obviously, I wasn't a happy person.
I didn't know what I was going to do next, but I was determined to not move away from music or working in a creative space. It took me awhile to figure out what I was going to do. I went to CBC Radio 2 when they were about to relaunch the entire network. I said "I want to do something, but I don't know what it is." I had been listening to some new music and KCRW a lot.
After my marriage fell apart, I was in a very deep place. I also found the need to go right back to the music I first fell in love with when I was 14 and re-listen to it all. It was such a strange impulse, because I'm not nostalgic for old music at all. But I listened to Kate Bush, early Roxy Music, Chicago, Cat Stevens, and The Jackson 5—all the music of my youth. After working in music for so long, I felt I lost the ability to just listen to music and love it, as opposed to listening critically, trying to determine what it is I can get out of the music. So, I did fall in love with the music again. I once again became a fan and it was a really huge experience for me to do that.
To fast forward a bit, as I was listening to new music, there was one track in particular by an artist called Cibelle titled "Phoenix" and I thought it was the most perfect piece of music in the world. I brought that song to the CBC and said "I want to build a show around this" and that's what I did. I was paired up with the producer Andy Sheppard, who remarkably had musical tastes similar to mine and we created The Signal. Once again, it was a whole new learning experience because radio is completely different from TV. I had done radio as a sort of columnist, presenting new music on a couple of CBC shows, but I hadn't hosted radio previously.
Can you describe a mission for The Signal?
My mission is to be a musical companion and comfort for people late at night. I want the music to feel as creative and free range as a lot of us feel at night. I want it to feel kind of dreamy and to inhabit its own world. We realized we really had a show when we felt like it created its own world.
Given the diverse and eclectic nature of the show, it feels like an idealized view of what radio should be. It also feels like a modern version of '70s free-form radio where anything goes. Does that seem like an accurate perspective?
It's totally accurate. I took a stand right from the very beginning that I wasn't going to write anything for the show. I wanted to feel just like a listener in that I would respond to the music in as natural a way as possible. That means I sometimes come across as sort of goofy and dorky. [laughs] But I'm doing a job on radio in which I feel like I'm just being myself. I now have the nerve to do that.
Was being yourself as a radio host a new muscle you had to build up?
Oh yeah. In the TV interview world, the idea is to be so smooth and graceful, with no real awkward moments. You're always supposed to have the perfect segue way and flow. So, The Signal feels very different.
Today, listeners put together their own playlists on the fly via streaming services. How does that reality affect what you do, conceptually?
I think it makes the companion part I just described even more important. Sure, you can have a million playlists, but I still feel like there's something missing. I think that for people who are musically curious and looking for something new to fall in love with, there's nothing better than having a curator to rely on. They know they're going to get a certain kind of music and approach when they come to The Signal.
The Signal just celebrated its 10th anniversary. What did that milestone mean for you?
It feels quite huge. We've done around 3,000 shows and there's such a tremendous loyalty from the people who listen. There's so much energy and enthusiasm from the audience and it's great. It really makes it worth doing.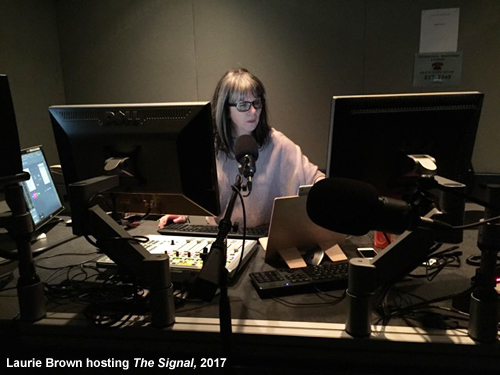 Do you feel you've found your bliss with the show?
For the past 10 years, it has totally been my bliss. Part of that is we've always been on the edge of doing radio differently. Right from the beginning, we built The Signal library on iTunes, put it on a hard drive and wheeled it into the studio every day. I can also record the show anywhere. I have a place in Nova Scotia and I'll sometimes record it from my bedroom there. I might record it in Frankfurt. The ability to travel and do the show is great. I've only just started owning up to the fact that I'm in different places when I do it. About two years ago, I started recording, engineering and mixing the show myself. I'm now doing it all myself. I learned how to make radio without a producer or anyone else in the room, which is a whole new performance skill I had to figure out. I want to keep finding new ways of interacting with music and people. I don't think my bliss ends here. I'm looking for new ways to do this stuff. I'm hoping the CBC has the appetite to push things a little further and keep doing things a little bit differently.
What's your perspective on the current state of music journalism?
I would say 80 percent of it feels like clickbait. There's lots of stuff like "Top-10 songs to listen to before you play soccer" or "Top-10 saddest songs you've ever heard." It's not even journalism. It's something else. It serves another purpose. I sometimes look around me and there are lots of people working hard, creating beautiful graphics and fun content, but I'm concerned so many people are now in the business of distraction, not journalism. It's a shame. I think people often come to work in radio because of their love for music, but I don't think we're building credible music journalists anymore. Long-form music journalism is mostly gone.
Given that there aren't necessarily length limits online, why do you feel long-form music journalism is so impacted?
Even I have difficulty with long-form journalism now, because the pace of the machine in front me goes faster than long-form. It's difficult to focus on a 25-minute YouTube interview. I do live interviews on stage sometimes, with all kinds of different people. Last fall I did one with the author Pico Iyer, who's a brilliant guy. Doing interviews live in a theater with an audience is remarkable. It feels like the way music journalism used to be, but in a live situation. I feel the long form still works live in a room with people talking and looking at each other. It has more to do with community. People are getting together to listen because they're collectively intrigued. It's a way of creating a dialog for an audience that isn't passive. It's not built for distraction. I really am sick of distraction. I think a lot of people are. I'm even seeing people in their early twenties moving away from social media, including my own children, which is quite encouraging.
Tell me about your forthcoming novel, tentatively titled The Night Will Always Win.
It's half done and it very much comes from doing The Signal. I've spent 10 years thinking about the dark and night. It looks at the frame of mind people are in when they listen to radio at night. The night can be a horrendous, horrifying thing for a lot of people. It's when everything gets exaggerated and amplified. I'm writing the book through the lens of the breakup of my own marriage and my own darkest experiences. It's also about becoming friends with the night. It's non-fiction, but it doesn't read like a memoir. Like Success Without College, it's another non-linear book. I think it's probably a year-and-a-half from completion.
You're a role model for arts journalists around the world. What are your thoughts about your legacy and influence on this form?
When I get a glimpse of that, it surprises me and makes me feel very good. But I also harbor the reality that I really think I'm a shadow artist in that I never had the nerve to go all the way and become an artist myself. I gravitate towards artists because I crave what it is they're doing. I also crave their freedom and the guts they have to just go do what they do. I've always felt that's the dark side of what it is I do and is what's behind the impulse and motivation. Someone once said to me the way I do my work elevated it into an art form of its own. I felt quite gratified about that. I thought "Well, if you're going to think about it that way, things have worked out okay."
I would like journalism to be thought of as an art form. I think it should be more than just an intellectual process of telling a story. I've spent so much of my TV career at the CBC around news journalists. I never felt quite at home there. So, to call what I did journalism feels a little bit funny to me. I think I approached it as the artist would and then figured out how to tell their story. I am grateful, but I will never really understand what my legacy is.
Does having such a devoted, engaged listenership on The Signal also contribute to your sense of impact and satisfaction?
Oh yes, very much so. The listeners have been very inspiring. They're so smart and interesting. It's very gratifying to me that they think I've created a great place for them to land at the end of the night. It's somewhere they feel comfortable and want to spend time at. That's even more important than the kind of music I'm playing or what I have to say about the music. Creating that world for them is the favorite part of what I do.