Lionel Loueke
Linking Worlds
by Anil Prasad
Copyright © 2008 Anil Prasad.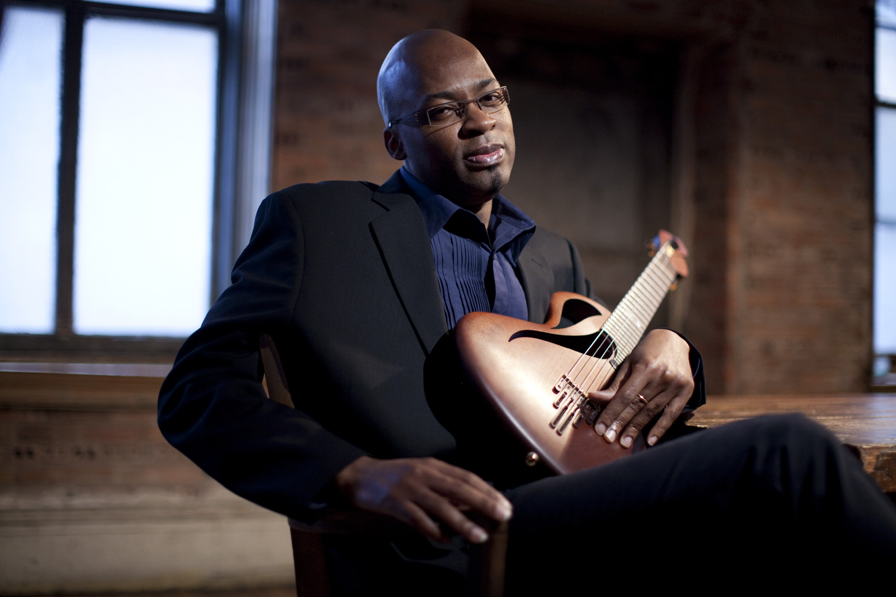 For Lionel Loueke, the guitar serves as a link between his African music roots and his current, high-profile gig as a member of jazz legend Herbie Hancock's band. The Benin, Africa-born musician invokes both low- and high-tech approaches to make his guitars resemble traditional African stringed and percussion instruments, all of which can be heard on his new Afro-jazz CD Karibu (Blue Note), as well as Hancock's recent Grammy-winning release River: The Joni Letters (Verve). Hancock returns the favor by guesting on Karibu. Loueke cites the guitar's versatility and universality as reasons for why it's an ideal vehicle for merging the ancient and modern.
"I attended the Berklee College of Music in the mid-'90s specifically to learn how to play the guitar properly and gain comprehensive jazz knowledge," explains Loueke. "If I used that knowledge exclusively on African instruments, I would have less flexibility and possibilities. For instance, there's no such thing as a chromatic kora. In contrast, the guitar is a chromatic instrument, which means I'm able to work within a variety of contexts, as well as take advantage of a lot of things from my background, including using it for African-influenced percussion, and kora and kalimba sounds, and switch between them mid-song. For me, the guitar is many instruments in one and has unlimited potential."
One of Karibu's highlights is an adventurous cover of John Coltrane's "Naima" performed on his Yamaha AEX 1500 hollow body electric guitar, part of an arsenal that also includes a Multiac Grand Concert SA and a PRS Hollowbody II. The piece showcases many of Loueke's unique approaches, as well as contributions from saxophonist and jazz icon Wayne Shorter.
"I didn't want it to sound like Coltrane's original version, because his is already so beautiful," explains Loueke. "I wanted to bring something different to it, which is why you hear me mimicking both the kora and kalimba in the piece. To do that, I use a rectangular piece of paper that's two inches by one inch and weave it up and down through all six strings next to the bridge and then mute on top of it. When I play with open strings, they vibrate against the paper to give me that ringing, percussive kora or kalimba sound. Another way I make the guitar sound reminiscent of those instruments is by using a lot of legato and arpeggios on my left hand, and African polyrhythms with my right hand because I'm fingerpicking instead of using a pick."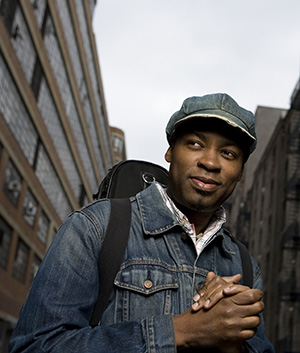 "Naima" also finds Loueke playing percussion parts on his guitar that sound like an African talking drum, an hourglass-shaped instrument that can be physically squeezed at the center to modulate its pitch to mimic human vocalizations.
"The Yamaha AEX 1500's hollow body and piezo pickup make it ideal for playing percussion on," says Loueke. "I use my nails and my ring against various parts of the body to explore higher or lower registers. I also use a DigiTech Whammy pedal to change the pitch of those sounds two octaves higher or lower to make them sound very close to a talking drum. The other way I perform percussion on the guitar is by using harmonics while fingerpicking. That technique worked okay with a pick, but I had to do a lot of jumping around to go from the first to last string with my right hand. But when I use my fingers, I can really play the polyrhythms easier and play two-to-four notes at the same time. It's like a percussive pianistic approach where you have several lines going simultaneously during a classical piece of music."
In addition to the DigiTech Whammy, Loueke's Stompin' Ground pedalboard includes a Line 6 DL4 Delay Modeler, Dunlop Crybaby 535Q Multi-Wah Pedal, Pro Co Rat2 Distortion Pedal, and a Boss RC-20XL Loop Station. He also relies heavily on a self-discovered open tuning that further differentiates his already singular sound.
"I really like using E, B, G, D, High-A, Low-D," says Loueke. "The High-A is tuned using a second G string. The combination of two G strings gives me voicings that are closer to the piano than any other tuning. It creates more tension in the voicings and enables me to do a lot of wide interval playing, which I really love to incorporate in my work."
Loueke's star may be on the rise, but he's unquestionably paid his dues on his journey.
"There were no music stores in my country when I grew up," says Loueke. "You could get guitars, but strings had to be ordered from Nigeria. I didn't have the money for them. It took me a year just to save up to buy a $50 guitar. So, I would do everything to extend the life of my strings, including regularly soaking them in vinegar, but sometimes they would break and I'd be stuck. So, I came up with the idea of using bicycle brake cables on my guitar. The other problem is the humidity was so high that the neck of my guitar would move around a lot, but there were no luthiers, so I had to see a carpenter to fix it. He didn't do a great job and the action was set very high. That combined with the brake cables made the instrument very hard to play and it hurt my hands, but I did it for years when I first started playing. I was also interested in transcription but didn't have the tools, so I used dying batteries to slow down cassettes in order to transcribe by ear. When you live in a country with many challenges, you have to improvise and come up with creative solutions."