Bon Lozaga
Grit and Chaos
by Anil Prasad
Copyright © 2010 Anil Prasad.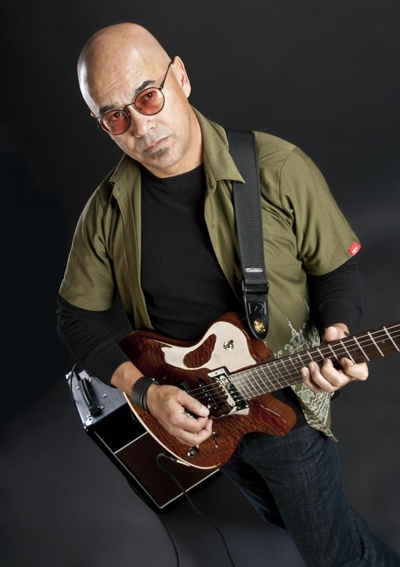 Bon Lozaga's enduring and uncompromising commitment to fusion and prog-rock has won him a loyal global following. His soaring melodies, searing solos, and funk-infused rhythms have been central to his approach since his days in Gong during the band's classic late- '70s Expresso II period—playing alongside Allan Holdsworth—through to Gongzilla, his current reinvention of the group.
Gongzilla's most recent album, Five Even, found the group successfully venturing into jam band and songwriting territory, with members of moe and Umphrey's McGee guesting. Lozaga's forthcoming solo album Tiny Boxes, released under the name Bon, continues those relationships, with its inclusion of moe guitarist Chuck Garvey and Umphrey's McGee keyboardist Joel Cummins, along with renowned bassists Kai Eckhardt and Jonas Hellborg. Drummer Donnie Futrell and bassist Anthony Goodwyn round out the line-up for this impressive, highly melodic jazz-rock effort.
Describe the concept behind Tiny Boxes.
I look at it as the Band of Gypsys meets Jeff Beck. There are a lot of instrumental guitar records out there today, but something's missing. Many players have an impressive vocabulary, but few have anything to say. Hendrix and Beck are guitarists limited in their knowledge of scales and theory, but both say a lot in their playing. If you transcribe the music of some technically-oriented players, all you'll see is a bunch of scales with thirty-second- and sixteenth-notes. But try and transcribe the solo from "Machine Gun." You can't. It's full of grit and chaos. You never know exactly what is going on and it can't be recreated. On Tiny Boxes, I tried to find a middle ground between that universe and Beck's melodicism.
What are some of the things you do on the album to create grit and chaos?
Playing deemphasized ghost notes is one way. Using feedback to work notes in an unpredictable way is another. On "The Gypsy King," I'm constantly working my Ernie Ball stereo-panning volume pedal, and as I do, my two amps—a Marquis 36 and a Marquis 30 by Oldfield—start switching modes and feeding back. The feedback variations that occur when you move around in front of an amp can't be replicated. I do things like picking a melody and changing position in front of the amp, while working the guitar's tone and volume controls to roll off the highs and mids. It makes every solo sound different. I also get chaos by playing really aggressively. I get a little more sloppy when I do, but in a good way. It's about capturing a feeling as opposed to executing something really exacting.
Tell me about the recording setup for Tiny Boxes.
The album was recorded at Old House Recording Studio near Charlotte, North Carolina. We used the iZ Technology RADAR hard disk recording system, which is the closest digital format to '70s analog recording I've heard. It sounds much better than Pro Tools. The studio has one big room where we recorded the rhythm section, and I'm in a smaller room with my amps, but close enough to see them. The majority of the record was laid down live to capture us moving together as one unit. Most of my solos are the originals played in real time. When you overdub too much, you start to mess up the live feel.
Your main guitar is a Framus Panthera Classic Pro. What makes it special for you?
It's a fantastic, lightweight, semi-hollow archtop guitar with a rosewood fretboard, and I added a Stetsbar tremolo bridge. It has Seymour Duncan SH-1 '59 Model humbuckers, but instead of having that typical thick humbucker sound, in this guitar they have a thinner, Telecaster-like sound that's a bit more compressed and has a bite to it. When I need the thick sound, I just roll off the highs. It's a really versatile instrument that lets me run the gamut from chicken pickin' squawk to a fat jazz tone.
Take me through your signal path.
I use T-Rex Alberta overdrive and Mudhoney distortion pedals, both set on low gain. Sometimes I stack them when I want to go balls out. From there I go into a T-Rex Replica delay pedal, which is my main source of slapback and other echo effects. I also use a Lexicon Vortex and a DigiTech JamMan.
Reflect on your days recording and touring Gong's Expresso II album.
It was a very fortunate career break and a dream come true. When I flew from New Jersey to London to do the sessions, the airlines lost my pedals, so I recorded my parts playing my Gibson Les Paul directly into a Fender Twin. That was it. My contributions and Allan Holdsworth's were complementary because Allan's style at the time wasn't rhythm-focused, whereas I was more groove oriented. It worked really well and we didn't step on each other's toes when we played live. Gongzilla is thinking about doing some 2010 shows in which we play all of Expresso II as part of the set. The music sounds timeless and there's still a lot of interest in it after all of these years.