Pat MacDonald
Prescriptive Impulses
by Anil Prasad
Copyright © 2007 Anil Prasad.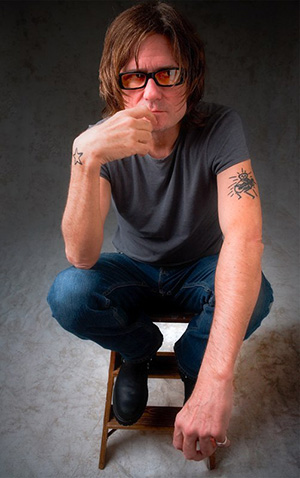 Songwriting serves as the prescription of the day for me," says Pat MacDonald. "It comes from a place of need. When I begin, I ask myself 'What do I require at this moment? Do I need to relax, feel compassionate, be silly, or express heartbreak or anger? If it's the latter, I try to achieve an alchemy in which those feelings are turned into beauty or humor. My preference is to emerge unbruised and writing the song often helps me achieve that goal."
MacDonald's new CD Troubadour of Stomp (Broken Halo), is full of moments of catharsis. Perhaps the most notable is "Thanks Man," a wry, sarcasm-laden, reflection on the real-life dissolution of his marriage. The track finds him thanking a friend for sleeping with his wife and propelling the relationship's decline.
MacDonald is long known for his playful, edgy songs. They were the hallmark of his days in Timbuk3, an eclectic pop duo that existed from 1986 to 1995 and enjoyed a major hit single with 1986's "The Future's So Bright, I Gotta Wear Shades." Several high-profile musicians, including Stewart Copeland, Imogen Heap, Cher, and Peter Frampton have also collaborated with MacDonald on material for their albums.
For MacDonald, the medium is related to the message. Using a notebook versus a computer to write lyrics is linked to the type of songwriting approach he employs.
"When the song is coming from a deeper place and I feel I need to keep up with those thoughts as they flow, a pen and paper serve as a more fluid conduit," says MacDonald. "The size limits of the page make you focus, and when you want to edit, you tend to think deeply about it because the words can only be changed by physically crossing them out. When I'm working with raw material and pieces of material culled from here and there, using the computer to assemble them together is a better approach."
MacDonald typically writes music on his 1959 Martin D-28. Troubadour of Stomp and his live shows find him playing his Gibson Chet Atkins electro-acoustic. He favors a swampy, low-end sound achieved by splitting his signal between a Fender Twin and a Yorkville Elite PW subwoofer, as well tuning all his strings down one step, except his low-E, which he takes down another step or two depending on the song. MacDonald also uses a Boss SD1 Super Overdrive pedal for added grit. The other major component of his rig is his stompbox—an AKG-D12 microphone mounted on a piece of quarter-inch plywood that serves as the pulse of his sound.
Every June, MacDonald helms the Steel Bridge SongFest, a series of concerts and songwriting workshops that raise funds to preserve a historic bridge in Sturgeon Bay, WI. The workshops bring together musicians from across the country in search of fresh ideas and inspiration. MacDonald finds putting random groups of people together yields the most inspired results.
"Sometimes organizers at writing events take a contrived approach by saying 'this person writes good lyrics, this one is good at writing music, this one is arty, and this one knows how to write a hit. Therefore, together they'll write an arty hit,'" says MacDonald. "We try to be more eclectic and unpredictable by starting with a game of spin the bottle to create interesting teams. The results are fantastic. The collective approach really motivates and inspires people to deliver according to their strengths in order to please each other and gain the love of the group."