Martin Allcock
Post-Atomic Folk
by Anil Prasad
Copyright © 1991 Anil Prasad.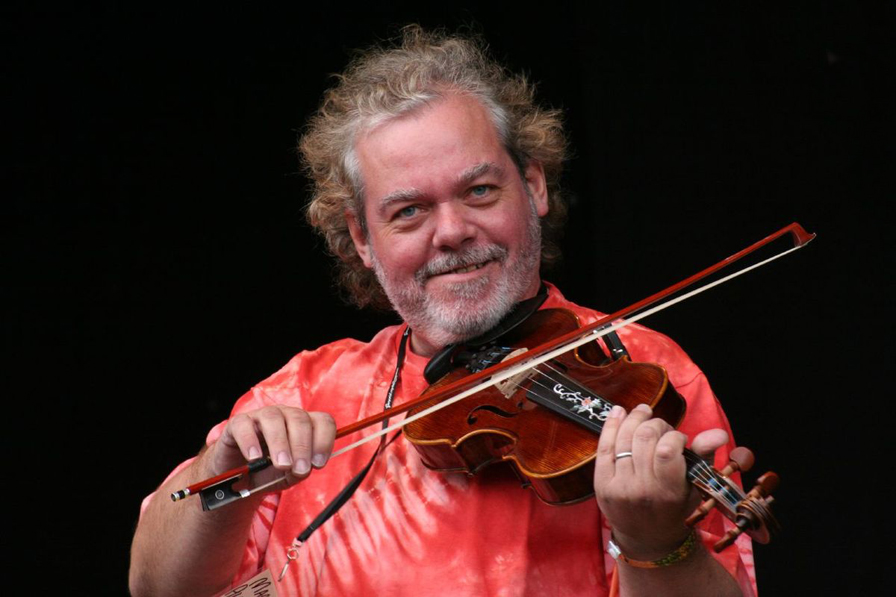 When the pioneering British folk-rock act Fairport Convention reformed to record 1985's Gladys' Leap record, it was down to a trio featuring Simon Nicol, Dave Pegg and Dave Mattacks. The resurgence of interest accompanying the release encouraged the band to form a new five-man line-up with a fiery and eclectic edge. To that end, they recruited new members Martin Allcock, a renowned multi-instrumentalist, and former Albion Band and Soft Machine fiddler Ric Sanders.
Allcock played a pivotal role in shaping the group's sound. He served as an arranger, writer and technology guru for the act. He also played keyboards, guitars and other stringed instruments for it. The full extent of Allcock's capabilities can be heard on Fairport's 1990 album The Five Seasons, as well as his debut solo effort Maart released the same year.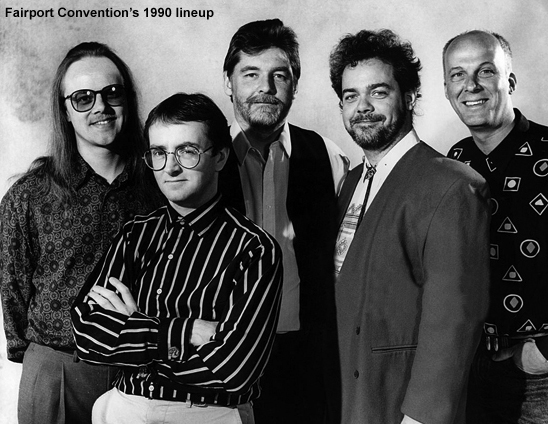 He continued with Fairport through 1996, contributing to four studio albums and several live recordings. After departing Fairport, he was a recurring guest at the group's annual Cropredy Festival during which he played at reunion sets.
Outside of Fairport, Allock had a prolific career as a session musician. He worked on more than 200 albums, including projects for Robert Plant, Dave Swarbrick, Yusuf Islam, Ralph McTell, and Dan Ar Braz, just to name a few. He was also a member of Jethro Tull between 1988 and 1991.
Allcock's final live performance was with Fairport at the August 2018 Cropredy Festival. He passed away just a few weeks later in September.
Innerviews spoke to Allcock at Barrymore's Music Hall on the opening night of Fairport's 1991 North American tour in Ottawa, Canada.
Fairport's recent output partially relies on MIDI technology, which is a shift for the group. Describe how that has influenced its recent output.
Our previous album, Red and Gold, had MIDI stuff on it, but it was less noticeable and more discrete than on The Five Seasons. On things like "Wounded Whale" and the jigs and reels like "Cup of Tea/A Loaf of Bread," there's sampled accordion that I put in the sequencer. We've also got some samples on "The Card Song" at the end. There's a line about a guy who was a t-shirt salesman on the last Jethro Tull tour I played on. He's a bit of a card himself, so we sampled him. There are samples of the other people we mention in the song too. I know my capabilities and limitations. I get away with murder. Basically, I'm a fretless bass player, but we already have a bass player in the band. So, instead, I play keyboards and guitars, and work with the samples. Guitar is the best sound in the world. It's some kind of animal thing.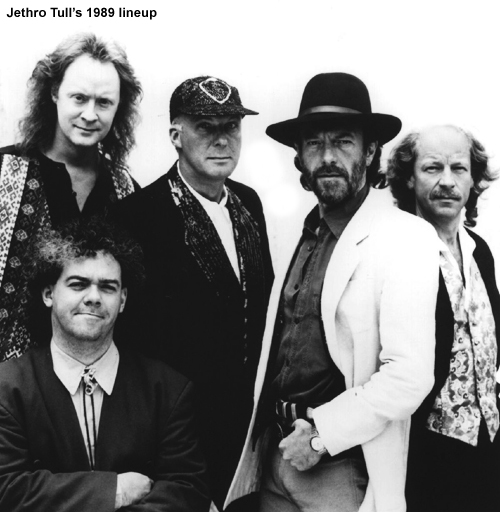 Fairport prefers to look outside the group for material these days. Tell me about the songwriters you chose to work with for The Five Seasons.
Simon Nicol is always on the lookout for songs because no-one in the band writes lyrics, unfortunately. We write music, of course. Simon saw Huw Williams at a folk club somewhere and was impressed, so Huw's specifically writing songs for the band now. One in three of them is great, so we pick those. Dave Whetstone, who used to be in the Albion Band and is a neighbor of Simon's, has given us songs too. Simon and Dave get together quite a lot in England for curries and everything. So, they get the guitar out sometimes. Dave's quite prolific and his songs are really well-suited for the band given he's a folk-rocker himself. Strangely, we seem to do better with his rock songs than his folk songs. "Wounded Whale" is something I found on an old Archie Fisher album. That's where we got "Dark Eyed Molly" from the Red and Gold album too. I know Archie didn't like what we did to "Dark Eyed Molly" though. Hopefully he likes what we did to "Wounded Whale."
Why doesn't anyone in the band write songs these days?
Because people did it 10 times better 10 years ago. We look out there and there's a lot of traditional music. The expanse of what can be done with traditional songs is still strong. So, I reckon you can basically do anything with them and you'll be alright.
Dave Pegg once said "Fairport is constantly ostracized by the new folk movement in England." What's your take on that?
We almost single-handedly invented the movement. The band has been going for 25 years now and that bothers them. I suppose we've become establishment to them which goes against their view of what music's about. It doesn't bother us. We sell out our tours of England and we get 18,000 people out for the Cropredy festival. It's the biggest folk festival in England now. So, we just do what we do.
How do you look back at your time with Jethro Tull?
Ian Anderson asked me to join the band for the 20th anniversary tour. I thought that would be the only tour I'd be involved in, but I stayed a bit longer. It was an amicable split. I enjoyed the tour a lot. It was great for me and they paid me lots of money, but nothing lasts forever. I think having new members all the time keeps it fresh for Ian. It was quite a lot of fun doing things like "Pine Martin's Jig" which was from A and one tune that was so old no-one can remember if it's Irish or Scottish called "Drowsy Maggie."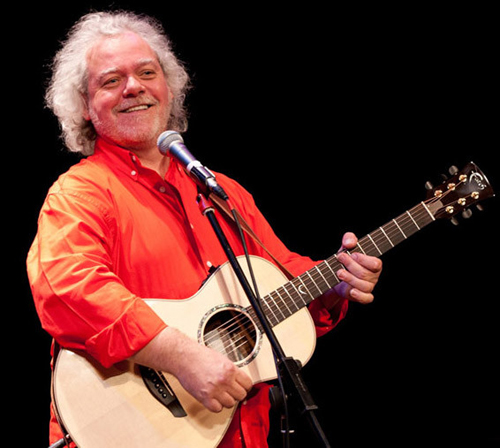 Describe your career prior to joining Fairport.
I was working at a Medieval banquet in London. I was dressed in the essential garb and everything. [laughs] I met Dave Pegg in 1976, just to get his autograph. We ended up staying up all night talking and have been friends ever since. I've been involved in a lot of folk music through the '70s and '80s and I was always handing tapes of the stuff to him. I also played in dance bands and discotheques. And I was in the Bully Wee Band with some Scottish friends. It was a successful little folk group. Bully Wee Band translates into "Good Little Band." That was great. We toured Europe extensively. Before that, I was in music college. But even though I'm a folk person, I've always been a rocker at heart. So, when Peggy got Fairport back together in the mid-'80s, he asked me to join and I immediately said yes. I've always wanted to play with Fairport since I was 13.
Tell me about the impetus to create Maart, your first solo album, in 1990.
There were so many tunes I needed to get out and there wasn't room on the regular Fairport records. I had all these tunes sitting around doing nothing. A couple of them are quite old, really. I did the record in four days and am really pleased with it. I'm playing everything on it. I sampled my daughter—she's the only guest on the album. There's a tune by Pete Townshend on it called "North Country Girl" that's a post-atomic folk song, as well as two traditional songs. I'm doing all the vocals.
If you hadn't pursued music as a career, what would you do for a living?
I can cook. There was one time I had no work for two years, so I went to college and got my diplomas in catering. I went cooking in Shetland and Norway for a while. We were cooking for 2,500 guys who were building an oil tanker. It was good fun and great money, but thankfully, it didn't last as a career. The truth is today, outside of music, I don't really know how to do anything else. [laughs].