Martin Carthy
Traditional Values
by Anil Prasad
Copyright © 2004 Anil Prasad.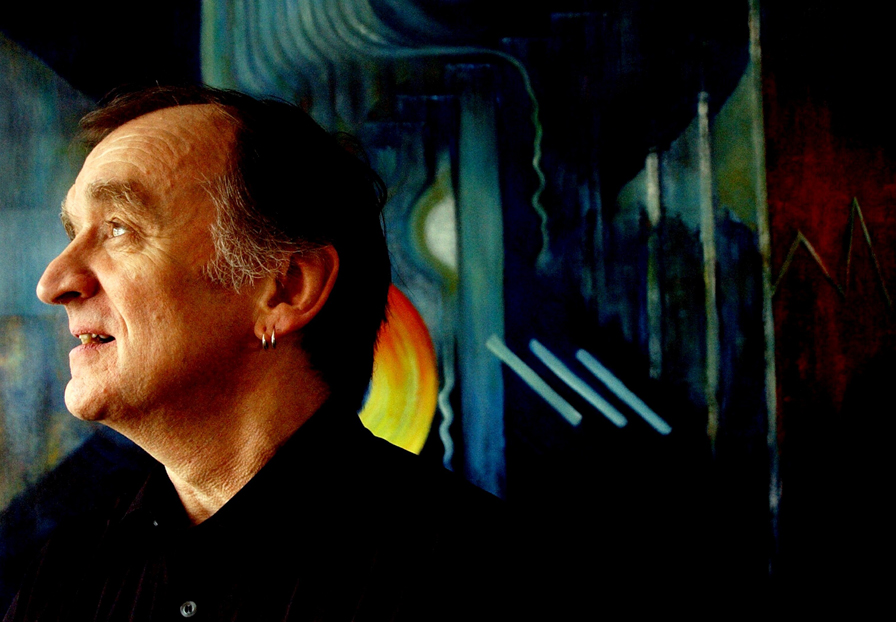 Britain's folk scene would likely be a far different place without the tremendous influence of guitarist and vocalist Martin Carthy. His singular ability to take traditional songs from the British Isles and infuse them with new tunes, additional lyrics and virtuoso acoustic guitar work played a major role in propelling the British '60s folk revival forward. He's remained a pillar of the movement ever since and has inspired several generations to keep traditional music alive and thriving.
Carthy is as well-known for his solo recordings and performances as he is for his many collaborations. He spent the late '60s working with fiddler Dave Swarbrick on a series of groundbreaking duo albums. He shifted gears in 1970 and took part in an early line-up of Steeleye Span, the pioneering folk-rock group in which he briefly took up electric guitar. In 1972, he married vocalist Norma Waterson. Having departed Steeleye Span by that point, he joined The Watersons, his wife's renowned family folk singing ensemble.
In addition to his vibrant solo and family output, the '70s saw Carthy work with The Albion Band, as well as Brass Monkey, an inventive group that explores traditional music with trumpets, trombones, squeezeboxes, percussion, and guitar. Brass Monkey is still active, as is his partnership with Swarbrick, which he rekindled in the late '80s.
During the '90s, The Watersons begat Waterson:Carthy, a trio comprised of Carthy, Waterson and their fiddler/vocalist daughter Eliza Carthy. The group continues The Watersons' long history of exploring traditional music within the unique chemistry only a family outfit can provide.
These days, Carthy mainly splits his time between Waterson:Carthy and his solo career. His efforts in both arenas have garnered a great deal of interest and acclaim in recent years. He's been the subject of tribute concerts, documentaries and boxed sets, and the recipient of several awards. He was also named a Member of the Order of the British Empire for his services to English folk music. In a rare example of justice in the music industry, it's possible Carthy's profile has never been higher.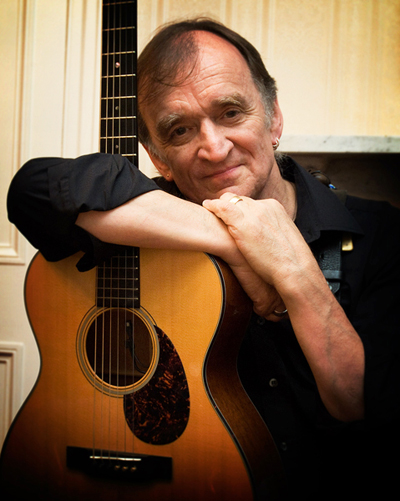 Tell me how you initially encountered traditional music.
I first came across it as an afterthought through skiffle, American railroad songs and work songs. It dawned on me that some of those songs had British Isles antecedents. So, I investigated that and became involved in folk music. The only folk songbooks available at that time were things like the Burl Ives songbooks. I found those interesting. I also heard some recordings and found them intriguing and odd. Then I saw a singer called Sam Larner at a pub in 1958 when I was 17. He was a fisherman from Great Yarmouth on the East Coast of England. I'd never heard music like that in my life. Some of it made no sense at all, but it had to be right because the bloke would keep hitting the same note at the end of the tunes. He was a wonderful performer and I walked away from that experience with my head spinning.
We were coming out of austerity at the time, so there's a social aspect to this as well. After World War II, it took a hell of a long time before everything was off ration. All my life, food had been on ration. Gradually, things like clothes, vegetables and meat came off ration. In those days, people wore either grey or black. Your shoes were either brown or black. When I first heard "Blue Suede Shoes," I thought "Come on. There's no such thing." It was from a fantasy world like Alice in Wonderland. What happened after skiffle is that tens of thousands of kids in England started making music at home by themselves. These people went into different disciplines. Some became jazz or blues players, rock and rollers, folkies, and classical musicians. I have good friends who went into all these disciplines, but we all started with skiffle. The whole thing was opening up culturally. It was a whopping flower just blooming. For me, this 17-year-old, traditional music was wildly different from anything I had heard before. It took me a long time to absorb it, but it ensured I would be looking to that area of music for the rest of my life.
The perception is that the folk club era of early '60s Britain was a time of wide-eyed innocence.
A lot of it was, with the traditional stuff. We didn't know what we were doing. We were inventing things and going and looking for stuff and realizing how much there was to be found. There was a lot of innocence indeed. People did get taken though. When it became commercially interesting, the big managers started moving in. But they didn't stay around long because folk music isn't exploitable.
Why isn't folk music exploitable?
It's too weird. It's also too straightforward in the subjects it deals with. You can go on singing the anti-war songs, but there's a whole lot of other stuff which deals with relationships and people which are far too frank for the Top 40. They're far too blunt. They deal with all sorts of subjects. For instance, they'll deal with incest in half a dozen different ways. There'll be a story about a really brutish form of incest and then a love story about it and how people deal with or don't deal with it. That sort of thing is unacceptable to the Top 40. It's unacceptable to some people in concert too because I've sung them and been attacked verbally afterwards. The rude songs are too rude. Everything has to be cleaned up one way or another to be acceptable for the Top 40.
Dave Swarbrick's musical philosophies relating to traditional music greatly influenced you. What are the more important ideas you gleaned from him?
When we first started working together, I had never played dance tunes. Of course, my first reaction to playing them is "I've got to learn them exactly right." So, on a couple of occasions I'd find a tune and teach it to him and the first thing he'd do is change it. I would protest and say "You can't do that. That's not how the tune goes." His reaction in 1966 would be "What you've got to understand is that a tune is like a coat hanger on which you hang your variations." I never understood that until much later. I finally understood that a song isn't gospel. You have the right and sometimes the duty to mess with it.
The very first time we worked together, I had to play better, technically-speaking, than I ever played before. And I did. I became a much better guitar player. Then we split up and I stayed a pretty good player, but I moved much more slowly. When we worked together again in 1988, the first thing that happened is my playing started to improve and then it began improving by leaps and bounds. My horizons began to broaden because Dave passed on the attitude he learned from working for years with Fairport Convention. Fairport would arrange a song loosely and leave room to stand there and blow and that's what Dave became adept at between 1969 and 1988. So I began taking the sort of chances I wouldn't have dreamed of taking before. That's what Dave does. One of the things he said to me, which I'll say to anyone who'll listen, is "You can do anything to music. It really doesn't mind."
You've sometimes extended that philosophy into rearranging the same song in several different ways.
It's one of the great things about doing this music. I think you can always go back to old material and rework it. There are songs in my repertoire I've been doing for well over 40 years. With some of the bigger songs, the longer you know them, the better you understand them and the better you're going to perform them. My voice is not anywhere nearly as well-equipped as it was 30 years ago, but I think I'm a better singer now. That comes from understanding the songs and letting them reveal themselves to you over the years, which they do. These songs don't give up all their secrets at once.
Fairport Convention tried to recruit you twice during the '60s. Why did you turn them down?
When Dave was asked to join, as an afterthought, they asked me if I wanted to join as well. So it would have been the two of us joining Fairport. I thought "No, it would be a waste of time." Then they asked me again after Sandy Denny and Ashley Hutchings left at the end of '69. At the time, I was really enjoying being a soloist and I just wasn't interested. I think I would have been walking on old ground to a certain extent if I had joined Fairport with Dave. We hadn't been apart long enough. I was thinking in a completely different way and wasn't ready for something like that. It really wasn't the direction I felt I was going in. But five months later, Tim Hart rang and asked me to join Steeleye Span and I said yes. I put the phone down, went up to London and rehearsed as a three-piece, and then Ashley came in and we rehearsed as a four-piece for seven weeks. Then Ashley said "I think we need to expand" and asked Peter Knight if he'd join. He was delighted and very, very good. As they say, the secret of comedy is timing and the timing then was exactly right. Also, with Steeleye Span, it was working with two people I had never worked with before. I was an admirer of Maddy Prior and I knew Tim. Ashley was an interesting guy too, so the whole idea was intriguing and it was new. The idea of doing something from scratch was exciting.
In addition to traditional British music, Indian classical music held an early fascination for you.
It's interesting that the first two strange musics I came into contact with were English music through Sam Larner and Indian music through Ravi Shankar. I saw Shankar's first concert in England. I was 16 at the time. The reason I went is because of a teacher called Mr. Morgan. He had been a colonel in a Sikh regiment of the Indian Army. Mr. Morgan would sit marking papers and tap on his desk and I would get bored doing what I was doing and tried to count what he was tapping. One afternoon, I went up and said "Excuse me, sir, can you tell me what rhythm that is you're tapping?" He laughed and said it was a particular dance he used to do with some of the ranks when he was a colonel. I was absolutely thunderstruck. He began to talk to me about English music and then about Ustad Ali Akbar Khan and Ravi Shankar.
Three weeks later, I looked in the morning paper and saw that Ravi Shankar was doing a concert on a Sunday afternoon at the Royal Festival Hall. Every Sunday morning, I would go to the chapel and sing as a chorister. I let my parents know I'd be back by 5 p.m. that day, went to the chapel and then rode across Waterloo Bridge and waited outside the Festival Hall until the concert started and then I went in. There were about 50 people there, along with me sitting in my school uniform. Ravi Shankar and Alla Rakha were just wonderful and they talked about the music and explained everything to the audience. I was absolutely stunned by what I heard. I didn't understand it. I felt able to identify with parts of what was going on in Indian music, but there's a sophistication there that was beyond me.
Did that experience influence your musical path?
Oh God, yeah. It was the first time I really understood that there were these wildly different musics. I never dreamed of that before. I had heard a little bit of American folk music, people playing banjos and some of Alan Lomax's and Peter Kennedy's recordings, but nothing prepared me for the experience of seeing Ravi Shankar and Sam Larner. The Indian music was incredibly evolved and the English music was totally riveting and intriguing. I don't know what the Indian music spoke to, but it made a difference to me. By the time the early '60s came along, my mates and I were telling ourselves what we were doing was very close in spirit to that, which is pretty grotesque because Indian music is a furiously sophisticated music and what we were doing was Stone Age stuff. But it was important nonetheless. It helped me and my mates on our way.
Describe the benefits of working within a family musical ensemble.
Working with family is an awful lot about intuition. It's a brand new experience for me. Norma could never understand why I made such a fuss about how exciting it was working with a blood relative because she's done it all her life. The first group she was ever in was The Watersons. Now, she's working with another family group. Working with a family is very easy. It's also the most long-term because you're probably going to be at it until the day you drop down dead. It's unlike anything else. Playing with Eliza and playing with Swarb is about as different as it could possibly be. Swarb and I have learned to read each other's thoughts, but with Eliza, it's a connection. She just knows where I'm gonna go and I know where she's gonna go. You just concentrate on the thing and she telegraphs what she wants. Norma's the same. Watching Norma and Eliza sing together is extraordinary because they just understand one another. The music can be challenging. Eliza has stretched me as a musician. When we first started playing together, I never had to concede to her in any way, but it wasn't long before I was having to run like mad to catch up.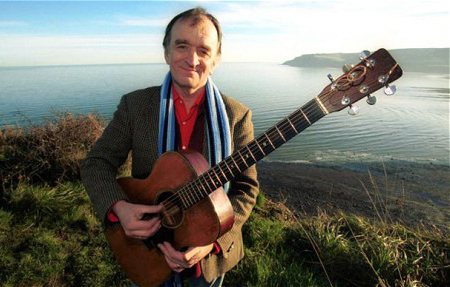 Is there a spiritual element to what you do?
Of course. In my case, I believe that if there's a God, that God exists in the creation of music. I just accept it and don't particularly explore it. For other people, it's acting or any other creative thing. Something happens when you step on stage in front of an audience. You can call it communication, but there's more to it than that. Some little miracle will occur when you're performing. I suppose my religious experiences are all little ones that have to do with people and are instant.
Do I follow any particular religion? No. I was born Church of England and I'm now a fairly firm "don't know." I'm not an atheist. Lal Waterson was a convinced atheist. We used to have the most intriguing arguments about Jesus sometimes, because she liked him. I thought the whole business was a fraud. She'd get very angry as the atheist. It was very funny. My feeling was that, as the son of God, the crucifixion was a fraud. It didn't make him a bad man. I'm very interested in some of the things he said, but the story never made sense to me, except as a more intense version of The Little Mermaid. I definitely see a parallel. I really do. But it doesn't affect my own spirituality.
You recorded the ANC (African National Congress) song "Azikatali" in 1965, two decades before the mainstream Anti-Apartheid movement took hold. Tell me how you got involved in Anti-Apartheid activities so early on.
My family was always involved. One of my earliest memories was the dismay in my mother's voice when it was announced on the radio that Dr. Malan had been elected to the office of Prime Minister in South Africa in 1948. I was seven years old at the time and that's when the boycott started in our house. My father was a politician. It's silly, but he used to get marmalade from South Africa and he had to stop doing it. He didn't want to do it anymore. So, I remember there being none of that marmalade on the table anymore and that's what it all meant to me when I was seven. The folk scene in the early '60s was very much centered on CND [Campaign for Nuclear Disarmament] and the Anti-Apartheid movement. We would all do these concerts and be very active. ANC songs like "Azikatali" were currency for us. We learned a lot of them from American singers like Pete Seeger and The Weavers.
Why was the issue of racism so important to you back then?
There was a lot of to-ing and fro-ing with all that had been going on in the USA with desegregation. People were very aware of what was going on. I remember being with Dave Swarbrick in Little Rock, Arkansas. We did our gig and stayed in our hotel and then went across the road to a diner for breakfast. We sat in there and some black and white kids came in and sat down. I remember looking at Dave and saying "My God, that's a change, isn't it?" And he looked at me and said "What do you mean?" I said "Come on! This is Little Rock." He said "Tell me. I've been sitting here thinking 'Why is Little Rock important?'" I said "Does the name Orville Faubus mean anything to you?" He suddenly remembered that Faubus was the Governor of Arkansas who prevented black children from going to white schools. Faubus blocked the desegregation of schools. Eisenhower sent in the National Guard to forcibly desegregate the schools. All of that had been going on at the time. There had also been trouble in England with the riots in Notting Hill, but we deceived ourselves into believing we weren't a racist nation, which was, unfortunately, not true. It took us a long time to wake up to it. There was to be a rude awakening indeed.
You once said "The English don't really know who they are. They were sold an idea of Britain"—one devoid of real meaning. Some believe the same can be said for the United States.
I do not like the idea of "My country, good or bad." I can understand the idea of "My country, warts and all" though. Taking a punch on the nose because you say something truthful about something that's bad about the place is terrible. What America does or does not do really affects the rest of the world in 24 hours. In light of that, I cannot understand why any criticism of the United States is taken to be blasphemous. I'm at a loss because we all share the same planet and need each other. The fact that the USA will not sign the Kyoto Protocol, feeble though it is, is extraordinary to me. The fact that there are people who are taken seriously who say that "The North Pole is ice-free, but it has nothing to do with global warming" amazes me. The fact that those people shape policy in the United States is bewildering and terrifying. I won't be around to see the effects of it. I'll be long dead, but my children and grandchildren will have to live with it and that's appalling to me.
You believe musicians have a responsibility to tell compelling stories and get the truth out there. How good a job do you think the current generation of songwriters is doing?
It depends on the songwriter, but I think there are a lot of "me" generation people around who I don't find very interesting. I don't think that's necessarily a phenomenon of the last five years, but it's something that's happened steadily over the past 30 years. Writing songs has become the thing to do for people, but there aren't that many good songwriters around. There never have been in all honesty. There's been a lot of good journeymen workers, but when it comes to good songwriting, that's a real rarity. The trouble with the "me, me, me" songwriters—some of whom are extremely good musicians—is that they have fairly limited horizons when it comes to writing and crafting something interesting. I think it's something that takes time. For instance, Richard Thompson was interesting when he was 20, but fascinating by the time he was 35. The same goes for Ralph McTell. It's a craft.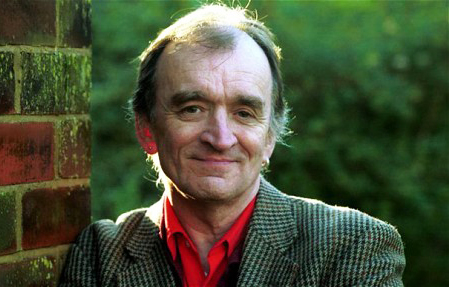 These days, it seems many younger musicians are determined to jump out of the gates as consummate songwriters, arrangers and singers.
Good luck to them. I think they're gonna find out that's not the way it works. It may be a shock when they hit the floor with a bump. When I was 20, I thought people who were 30 were far too old and ought to be getting out of it. When I was 30, I thought the people who were 60 ought to maybe have taken a proper job. But as I got older, I began to understand the music a little more and realize that music is a thing for life. The more I came to understand music, the more there was to learn. It's incredibly sustaining and very exciting.
You've recorded only a few of your own songs over the years. Why haven't we seen more of those from you?
I find it really hard to write songs. I'm full of admiration for those who can just knock a song off. The first song I wrote was about the Falklands War and that took five years to finally get out. I also wrote another one about South Africa and that took two years. It's infuriating. I'm very, very fussy. I tell myself it's because I'm working with some of the best songwriters that have ever lived and they're all called "Anon." I think traditional songs represent some of the finest songs ever written by anybody. And most of them aren't written by a single person. I find great satisfaction working in that medium. It deals with all of the things I want to deal with.
There's been a renaissance of interest in your work in recent times. What do you make of the increased attention you're receiving?
There's been an interest in English music because of the interest in world music. People are saying "Hang on a minute. We're part of the world. Maybe we've got some music too." So, there's a lot of young people taking an interest and taking it up and doing it. That makes life exciting and interesting. It makes me really glad. But I don't feel particularly adored. I'm just an old git and people are very nice to old gits. I still enjoy playing and I do a good gig, but there's a kind of respect you get anyway, if you know what I mean. It's very nice.
How have you evolved as a guitarist across the last 40 years?
I couldn't be more grateful to the folk club scene in England for indulging me for over 40 years while I found a way of playing the guitar which I love. They've indulged me while I've walked up blind alleys, fallen flat on my face, and made dreadful noises, and then watched me come back, try to unpick the knots and start again. I gradually learned an effective way of playing this music when I finally found the C-G-C-D-G-A tuning I started to use in 1978. I've had a great time playing that tuning. For awhile, I began to think "What a clever bloke! Aren't you brilliant to find this tuning? How'd you happen on that? You just worked very hard." Then it dawned on me that the tuning is very close to the cello. If it works, it's because someone figured out how to tune a cello a long time before I was around.
I'm grateful for all sorts of serendipitous things that happened to me, like encountering Sam Larner when I did and when I walked into a guitar shop in 1963 with exactly the right money for exactly the guitar I was looking for. It was hanging up there in the shop waiting for me to come along and buy it. I've played that same 1959 Martin 000-18 for 39 years at just about every gig I've done until Martin made me a signature model. It's a beautiful guitar. I still have it. She and I grew up together.
I think my guitar playing has improved enormously. I've begun to find a good way of accompanying these songs. I love what you can do with them. Some of the tunes are completely crazy, but they're just beautiful. I'm just in awe that these ordinary people made up this fabulous music and body of songs out of thin air and that I've learned over the years how to get the guitar to accommodate some of it. It's a source of some satisfaction. It's really been a journey of discovery and it's not over yet.

Website:
Waterson:Carthy