John McLaughlin
Defying Gravity
by Anil Prasad
Copyright © 2008 Anil Prasad.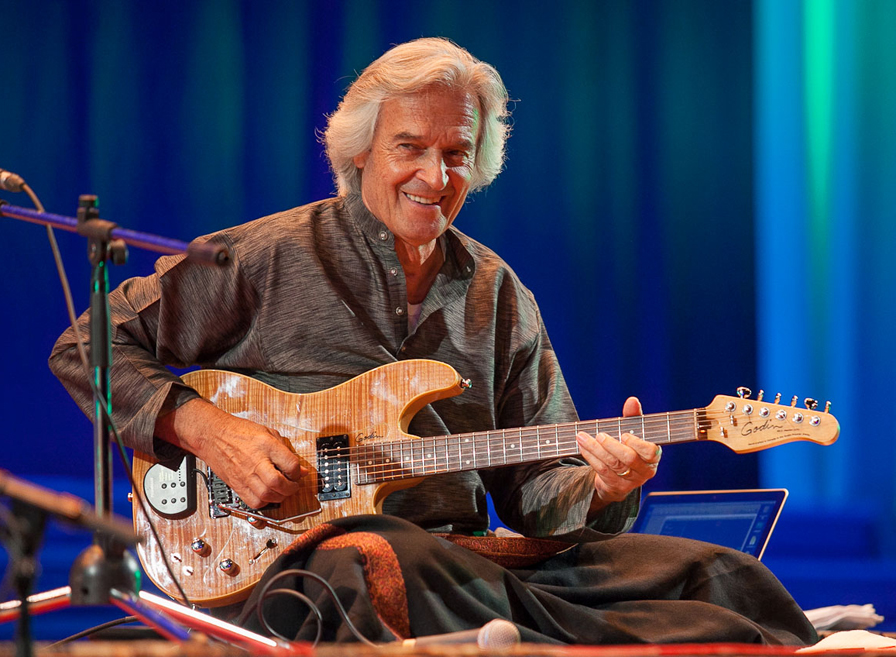 Much of legendary guitarist and composer John McLaughlin's prolific output has been inextricably tied to an interest in Indian music spanning more than 40 years. It first came to the fore on his second solo album, 1971's My Goal's Beyond, which featured early examples of his drive to mingle jazz and Indian classical forms. However, it was the fiery and ferocious output of Mahavishnu Orchestra that introduced Indian-influenced jazz-fusion to a global audience. From 1971 to 1975, the group's virtuosic output, full of blazing, extended solos, Eastern and Western scales, and unbridled energy set a standard fusion acts to this day aspire to. After the group disbanded, McLaughlin went on to form Shakti, another groundbreaking and highly influential east-meets-west collaborative unit. The entirely acoustic project featured tabla innovator Zakir Hussain, violinist L. Shankar, and percussionist T.H. "Vikku" Vinayakram. The group disbanded in 1978, but continues sporadically to this day in a new incarnation called Remember Shakti.
McLaughlin's many albums with Shakti and Remember Shakti find him taking Western musical principles and incorporating them into Indian contexts. For his latest album Floating Point, he took a 180-degree turn and chose to pursue a Western jazz fusion approach, but with a band comprised mainly of renowned Indian musicians. The core group includes keyboardist Louiz Banks, percussionist Sivamani, and drummer Ranjit Barot, as well as French bassist Hadrien Feraud. It first came together in February 2007 at the Abbaji Festival, a Mumbai, India-based yearly event that pays tribute to tabla master and Hussain's father Alla Rakha.
"I've been going to India for over 33 years and I've met a lot of fabulous musicians during that time," says McLaughlin. "Last year, I played with Ranjit, Sivamani, Louiz, and saxophonist George Brooks. I had one piece titled 'Abbaji' written and there was a lot of great jamming going on. I was writing lots of new music while visiting India at that time and my wife Ina said 'These are such great players. Why don't you record the new music with these guys?' I thought that was a fantastic idea. Recording a Western-style fusion album in India is a new concept. With Shakti and the different jams I've been part of, I generally go into the Indian way of playing. I bend the rules, but I know what the rules are before bending them. But to work with Louiz, Ranjit, and Sivamani, all of whom have comprehensive knowledge of Western music, was phenomenal. They really are counterparts to me because I am from the West going East and they're from the East going West. It was really thrilling to build these bridges and make great music while I was at it."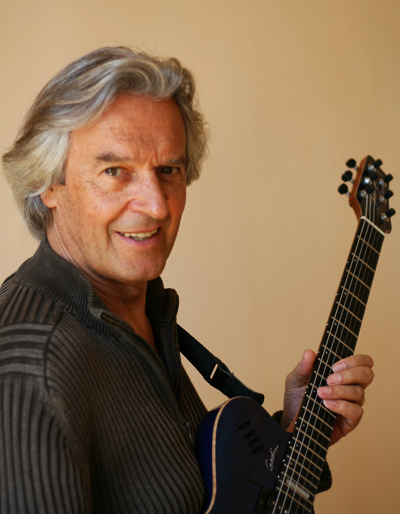 The album's title stems from the philosophy underpinning its creation.
"Floating Point partly refers to the mathematical and computer-related definition of the phrase given the fact that I've been using Macs since the original Macintosh 128k from 1984," says McLaughlin. "However, it relates more to an experience I have during music and meditation. If you have cohesion between musicians, it creates a lucidity that allows a 'floating point' to occur. You can call it 'getting the spirit' or 'being on fire'—there are many ways of talking about it. You start to defy gravity and create your own in which you float, yet you still have your feet rooted firmly on Earth. It doesn't happen frequently to me—just a few times a year, but it's what I live for."
Fans of McLaughlin's classic fusion albums will find plenty to enjoy on Floating Point. Its eight tracks are rich in memorable melodies, but also full of lengthy guitar solos, stunning percussion work, and heavy duty instrumental workouts. It was recorded during a long stay in Chennai, India. In addition to the album's core players, the disc features guest contributions from renowned Indian players including Hindustani slide guitarist Debashish Bhattacharya, Zitar (electric sitar) player Niladri Kumar, mandolinist U. Rajesh, and vocalist Shankar Mahadevan.
McLaughlin's key method of communicating his musical ideas to the Indian musicians was konokol, a method of expressing spoken rhythms. A rough analogy can be made between konokol and the Western idea of solfege—the application of syllables such as "do-re-mi-fa-sol-la-ti-do" to a musical scale. Konokol is accompanied by hand patterns that signify the metric flow of the percussive syllables. McLaughlin has devoted considerable time and energy to comprehending, applying, and teaching konokol, something chronicled on The Gateway to Rhythm, his recent instructional DVD featuring percussionist and Remember Shakti member Selvaganesh Vinayakram. Listeners can also see konokol in action on the new Meeting of the Minds: The Making of Floating Point documentary DVD.
"Konokol is such a great system for transmitting musical thoughts," says McLaughlin. "I learned it in the mid-'70s when I was a student of Ravi Shankar. During the Floating Point sessions, I sang parts of the pieces to the Indian musicians in konokol and they would sing the phrase back to me and then go for it on their instruments. With konokol, if you can sing it, you know it, and you can play it. So, this was the way in which we prepared the music and brought it together."
McLaughlin used his Godin Freeway SA electric guitar on the entire record. It's a solid-body instrument constructed of silverleaf maple and poplar, with a 25-1/2" scale rock maple neck, and a 22-fret rosewood fretboard. Its three magnetic pickups—in a humbucker/single-coil/humbucker configuration—provide a wide range of electric guitar tones. The ghost hexaphonic pickup/preamp system, mounted in its floating tremolo bridge, feeds a 13-pin Roland GR-series synth connector. The guitar section features a five-way pickup selector and controls for volume and tone, while the synth section has a volume control. A small toggle switch selects guitar, synth, or both.
"I spent seven months in India, and due to baggage restrictions, I opted to take only the Freeway," says McLaughlin. "I like the its neck and fingerboard; as well as the fact that it's lighter than other guitars, without sacrificing the sustain. The pickups are also very good, and the MIDI captors are excellent."
McLaughlin plays a considerable amount of synth-guitar on Floating Point. He connected his Freeway's MIDI out to a Roland GI-20 USB interface and linked it to an Apple Power Mac G5 running Apple Logic Pro 7 with Emagic's ES2 synthesizer plug-in and AmpliTube 2 for amp modeling.
"I used one synth-guitar patch from Emagic ES2 that I tweaked for the whole album, simply because I liked the contrast it provided to my electric guitar sound," says McLaughlin. "Synth-guitar puts completely different demands on me. It forces me to use my fingers in different ways and makes me go places I wouldn't normally go when I play regular electric guitar. There's also a lyrical side that synth-guitar allows me to explore that's becoming more important to me."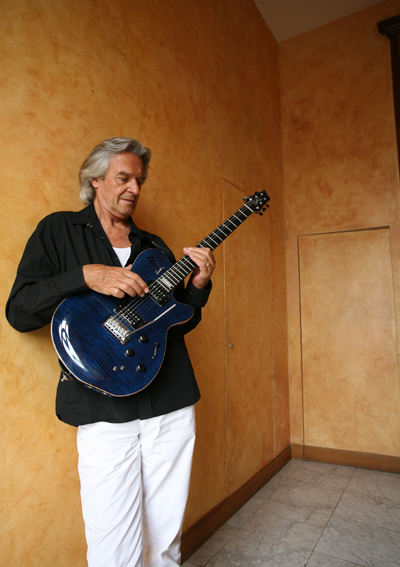 Floating Point was recorded at A.M. Studios in Chennai, a world-class facility owned by his close friend, Bollywood music magnate A.R. Rahman. The environment features a 380-square-foot control room and a 1,300-square-foot recording studio/mixing stage.
"It's a fabulous environment with a beautiful Neve 88R mixing board, a perfect sound system, and PowerMac G5s all over the place, as well as engineers that know Logic inside and out," says McLaughlin. "Ranjit, Louiz, and I were in the main room, and Sivamani and the soloists were in the isolation booths, though we could see each other. The quality of the environment put the New York studios I've been in to shame. I'd record at A.M. studios again anytime. We recorded the album live over five days. The only exception was Hadrien Feraud, who wasn't available for the sessions. He visited me afterwards and I had him listen to the music, plugged him into Logic and away we went. His parts were mostly first takes because he's absolutely outstanding and very sensitive to the music."
Another new release featuring McLaughlin is Miles…From India, an all-star tribute to jazz titan Miles Davis, who employed the guitarist during his formative years in the late '60s. The release includes Davis alumni and a cast of major Indian musicians revisiting the trumpeter's output tinted with Indian-influenced arrangements and instrumentation. McLaughlin contributes the lush, meditative title track. It features impressive string bends and whammy playing on his Freeway reminiscent of the Indian Vina, a sitar-like plucked-string instrument combining the features of a zither and a lute. He studied the instrument at Wesleyan University between 1971 and 1974. The tune also showcases the talents of Louiz Banks, Remember Shakti mandolinist U. Shrinivas, and vocalist Sikkil Gurucharan.
"I was already making Floating Point and had an idea for this piece which involves two different progressions modulating," says McLaughlin. "I had the harmonic structure set up so even though the chords were moving, the other musicians could continue to improvise using one raga without having to do the changes. This was particularly important because Sikkil didn't know how to move with the changes because he's a real classical Indian vocalist. So, we were modulating from one harmonic structure to another and the Western-oriented musicians had the choice to use the harmony or stay in one raga and improvise as Sikkil and Shrinivas did."
While Davis was known for incorporating some Indian elements into his music in the early '70s, McLaughlin says the track's title is related more to personal contemplation about the famed musician's impact on him.
"I started thinking about Miles and how much he had given to me over the years," says McLaughlin. "In the late '60s, when I first started to play with him, he made sure I ate, stuffed money in my pocket without asking me, and ensured I could get by. He took care of me like a godfather. I had been following his career since I was 15 and he was one of the greatest musical influences on me. Wherever I am, Miles is there. I don't know if Miles ever went to India, but through me, he did."