Jason Miles
Never-Ending Journey
by Anil Prasad
Copyright © 2013 Anil Prasad.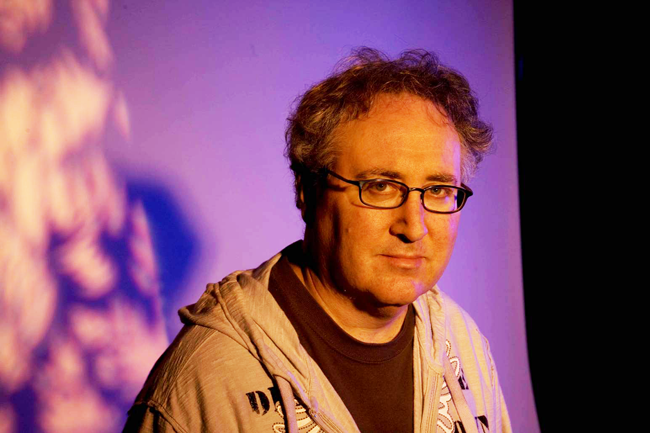 Jason Miles is a firm believer in the elastic nature of music. Throughout his career, the keyboardist, composer, programmer, and producer has stretched the limits of jazz and fusion, infusing the genres with myriad influences, including world music, funk, R&B, electronica, and pop. Nowhere is that more evident than on his albums under the Global Noize banner, which as the name implies, look at music from a cosmopolitan point of view.
The latest Global Noize release, Sly Reimagined: The Music of Sly and the Family Stone, offers a fresh take on Sly's classic, expansive funk and soul repertoire. The disc features many luminaries, including Nona Hendryx, Roberta Flack and Falu on vocals; Jeff Coffin and Jay Rodriguez on saxophones; Ingrid Jensen on trumpet; Dean Brown and Will Bernard on guitars; and perhaps most significantly, Greg Errico, Sly's original drummer.
Miles has also released several solo albums, including World Tour, Mr. X, and Miles to Miles, all of which focus on his diverse jazz-fusion vision. In addition, he's renowned for a series of tribute albums devoted to the work of artists such as Marvin Gaye, Ivan Lins, Grover Washington Jr., and Weather Report.
Another key element of Miles' career is his stint as a programmer on Miles Davis' '80s output, including the Tutu, Amandla, and Music From Siesta albums—one of many key topics covered in this in-depth conversation.
Describe the mission of Global Noize.
The mission is to make music of inclusion and spread it all over the world. That means creating music that includes men, women, all colors, and all nationalities and bringing them into the focal point of Global Noize, which is the groove. I want to make it easy to include anyone in Global Noize, so that if we're playing and someone shows up, they can get onstage and perform with us. They won't have to know the music to immediately contribute to what we do.
Tell me about the impetus for the project.
It began with a jam session at the Blue Note club in New York City In October 2006. I was having a horrible week. My 93-year-old aunt died, a musician fucked me over like you wouldn't believe, and I had just had a root canal. DJ Logic called me that night and asked me if I wanted to jam at the Blue Note at 1am. My wife Kathy looked at me and said "You're going." She knew it was the only thing that would settle me down. I thought we did something really fresh and new that night. I liked Logic's innovative turntablism approach. He also did something for my Miles to Miles album. I brought him into my Marvin Gaye project too. So, that's how the nucleus of Global Noize formed.
As for the name, I was driving one night and was telling a friend about the music we were making. I said "It was like going to different places. It has this global noise thing happening." Later, Kathy said to me "There's the name of your band." I said "What name?" She said "That's typical. You say some shit and then don't remember it. It's Global Noize." We got a record deal and brought in Billy Martin and Cyro Baptista to play with us. They started playing and we quickly came up with 10 different grooves. I started writing on top of those grooves and that's what morphed into the first album.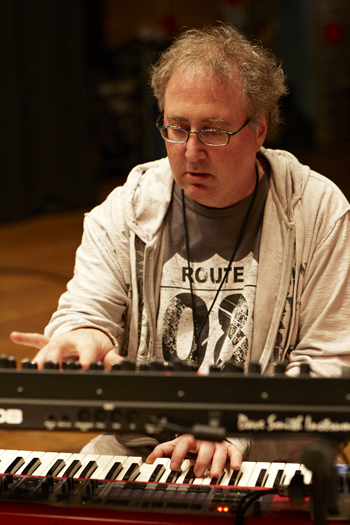 What qualities do musicians need to be part of Global Noize?
You have to be a bad motherfucker and know it's not all about you. And that's it. We had Jay Rodriguez and Fred Wesley working together on Global Noize once. Jay would just give Fred the look and they'd start riffing together. You have to want to be part of an ensemble to work with Global Noize. We've had lots of interesting people play with us, including George Porter Jr., Adam Deitch, Will Calhoun, and J.T. Lewis. I can rehearse anyone and pull a band together. I've been doing it for 40 years. I spent 15 years as part of the New York studio scene working with some of the greatest producers. I watched them as they engaged in their craft. If you're smart, you learn some shit, and I did. I saw how to get the best out of musicians. I saw how you understand whose strengths are what. I paid my dues and learned on the job.
What's your philosophy on how to get the best performances out of musicians?
You have to realize that when you call somebody at a very high talent level that's very, very specialized, you have to treat them how they deserve to be treated. They have been given a gift that let them get to that place. There's a spiritual thing involved in that gift, as well as a lot of hard work. I treat them the way I would like to be treated. I ensure they're not walking into an uncomfortable situation. I'll ensure they have the music and charts. I'll send stuff to their houses so they can work at home if they like. If I'm bringing them into the studio, I'll ensure I'm above the fray and not approaching them with a big ego. If you do, they won't respect you. Everything has to start with the music.
What made you want the new Global Noize album to focus on Sly and the Family Stone's music?
We have to start with the previous Global Noize album A Prayer for the Planet for context. That was a very hard album to make. I got some great people to participate in it. We had Karl Denson, Jeff Coffin, Falu, and other names involved. It was a great album. We played events like the New Orleans Jazz & Heritage Festival. I remember getting a call from CNN saying they wanted to come down and film the band at that gig. The reporter loved Global Noize. So, we set them up with full access. We got to 20 minutes before show time and there wasn't anyone there from CNN. We went ahead and did a killer gig. Next, I'm getting ready to go to Japan a few days later and I get an email from the reporter saying "My apologies, we were on our way over when I got a call from the senior producer about a major oil spill in the gulf. He told us to get right over there." By the time I got to Japan, I saw the oil spill coverage and went "Holy shit. This planet is so screwed up. We need a prayer for the planet." I wrote that idea down and it ended up being the name of the album. I raised money for the project, got backers for it, but we couldn't get any traction for the album, even though the reviews were great.
Things were disintegrating for the Prayer for the Planet record and I was at home listening to music on my iPod Shuffle. Sly came up. I thought "I fucking love Sly." I started thinking about the Fillmore East gig I went to back in 1968 when he opened for Hendrix. It was one of the best nights of my life. I thought "This is Global Noize in 1968." I said to myself "You know what? I'm going to get Roberta Flack to sing 'It's a Family Affair.' She could do that hook." I realized the whole Sly thing could be something people can grab onto. The idea of A Prayer for the Planet wasn't big enough to rise above all the other music coming out when it did. But Sly? I felt that could be a really great idea. So, I called up Roberta and asked her what she thinks about it. She said "Global Noize? I love your albums. Book the studio time." So, we got it rolling. I got Falu to do some Indian stuff on it and listened to the result. I thought "Holy shit. This could really work."
Meanwhile, I call my friend Steve Wolf, a bad-ass drummer. I said "You've got to do this Sly album with me." He said "I'm not going to do this for you, because you have to call Greg Errico, Sly's original drummer." I connected with Greg and we're talking about Joe Zawinul. Greg was the drummer in Weather Report for a minute. But Greg was skeptical when I asked him to consider the Sly project. He said "Another guy called me up who was trying to do something with Sly's music. But it's like they wanted to remake our record and that's not what I do." So, I said "Google me and see what happens. I want to get your vibe on this." In the meantime, I worked with Brian Dunn and Nona Hendryx who played on "Thank You for Talking to Me Africa." Three weeks later, I got a call back from Greg who said "I was thinking about the project." I said "I'm three songs into it." He said "Can you play me some of it over the phone?" I did and he said "This is brilliant. What can I do? I'm in. You're playing our music, but you're not playing us. Everyone thinks they have to be Sly and the Family Stone. You're actually doing this as Global Noize. I get it. I researched you. It's really clever." The next thing I know, Greg says Fantasy Studios will give him some free studio time. All I have to do is pay for the engineer. So, I started working on more Sly tunes and getting him and more people involved. I'm so happy about how the record came out.
How do you look back at the Celebrating the Music of Weather Report album?
I did it because I was a Weather Report freak. I saw them everywhere. I hung with Joe Zawinul. Weather Report was a huge influence on me, more so than even Chick Corea and Herbie Hancock. Joe's playing was always nuanced. When I did that album, Weather Report had been gone for 15 years and no-one was paying attention to them. I thought that was horrible, so I decided to make that album.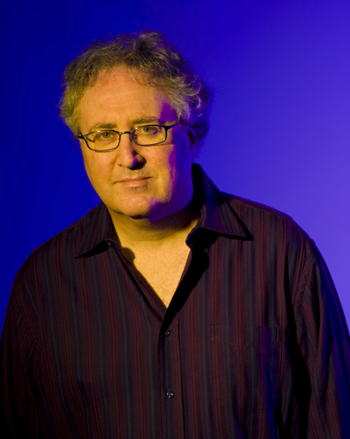 What did Zawinul make of the record?
He hated it, of course. [laughs] He had to hate it. But he sure made a lot of money on it. I didn't hear from Joe directly, but I heard what he thought from a friend. Joe didn't want to tell me directly. I heard that Joe said "Nah, it's nothing." I thought "Joe doesn't like it? Wow, then I'm happy. Then I know it's good." [laughs] We had Michael Brecker playing "Elegant People." But Joe didn't like that I was interpreting the songs. I told my friend "We'll see how much Joe hates it after the first publishing check comes in." The album sold 10,000 copies in Japan alone, which is the equivalent of 40,000 copies in the U.S. market.
The problem was the Weather Report police were out there. They didn't understand the title. The album is a celebration of the music. I wasn't saying that I am trying to be Weather Report. I was trying to provide my take on the music. If you look at the Amazon reviews you'll see either four-to-five star reviews or zero-to-one star reviews. There's nobody in the middle. You have people who say "Jason Miles killed this record. It's great." And then you have people who say "Jason Miles should be assassinated." Somebody actually wrote "Die Jason Miles, die." Really freaking scary.
Another important tribute project you worked on was A Love Affair, an album of Ivan Lins music. I understand its origins related to a project Miles Davis intended to do.
Ivan was a friend of mine. Originally, Miles Davis was going to make a whole album of Ivan's work. I remember being in the studio with Chaka Khan and Marcus Miller in June 1991 when the phone rings. The engineer picked up the phone and said "It's Miles Davis." Marcus said "Give me the phone." The engineer said "He asked for Jason Miles." [laughs] Marcus said "I introduce Jay to freaking Miles and now they're friends? How did that shit happen?" [laughs] So, I talk to Miles and he said "You've got to come over to my place. I've got to play you some music." So, I went over after the session to his place on Central Park West. Miles said "I know this cat Ivan Lins and he's amazing. I'm going to make a whole album of his songs, produced by Quincy Jones." He said "Jason, I hope you can do something on it. I'm going to tell Quincy about you because I want you on the album." I said "Thank you, man. That will be great because I know these songs." It was also an inspired idea because Quincy owned Ivan's publishing. I went home and told my wife that this is an amazing idea. And then Miles passed away in September. We were all crushed.
I later told Larry Williams that Miles loved Ivan's work. Larry told Ivan, and Ivan called me from Brazil to talk. I told him "Miles was so looking forward to making the album. So, I started thinking, why shouldn't someone else make this album?" I started trying to make it happen in 1992. I went to record companies and they said "No, no, no." I ended up working for eight years to get a deal for the album. In general, they'd say "Jason, nice seeing you, but don't tell me about this Ivan Lins album anymore. You've pitched it to me twice. I'm not interested." After I made the Celebrating the Music of Weather Report album, Telarc flew me out to play them the record. They flipped out and couldn't believe I got guys like Steve Gadd and Michael Brecker to play on it. I said "These are my friends. Why shouldn't I get them?"
After they heard it, I said "I've got another idea: an album of Ivan Lins music." They said "No, Ivan can't sell any records. Don't you understand? Stop." I said "I'm telling you that these songs are amazing. This needs to be made." The label said "If you bring us some major people, we'll consider it." So, I got Sting, Chaka Khan, Vanessa Williams, and Grover Washington Jr. to commit to it, all of whom loved the music. I called up Telarc and said "I'm ready to go and here's who I've got for it." You know what the guy at the label said? "When you're prepared to tell me the truth, call me back." I said "I am telling you the fucking truth. What the fuck do you think I'm doing?" They said "We go through a song and dance on this sort of stuff every day." So, I got letters of confirmation from everybody and then demanded Telarc pay an advance as a piece of faith to get it started. And finally, it was off and running. I decided I was going to make the best album I ever made. Beautiful things happened musically, but terrible things also happened, like Grover passing away after I got his last studio performance. Looking back, I think the music and material were unparalleled.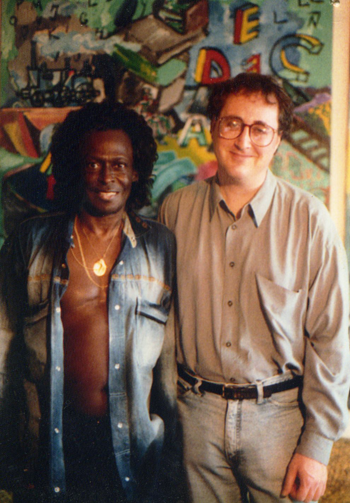 How did you first get involved in working with Miles Davis?
My name started getting known in 1984 thanks to Michael Brecker who really put a lot of faith in me. He felt I was taking synthesizers into a new space. I was creating sounds and vibes that other people weren't. It started to be known that I wasn't just a meat and potatoes player, but someone who really understood the synth world. So, I got a reputation for being great a programmer who could get the best sounds out of the instruments. I was also on the cutting edge of MIDI and current technology.
One night that year, my wife and I were celebrating her birthday at a sushi bar in New York. Kathy says "There's Michael Brecker at the end of the bar." I hadn't seen him in over a year, because he had been getting his act together through rehab. We talked and he said "I know you're on top of all this MIDI shit going on. We have to hang and talk." So, I got him a Yamaha DX7 and got it talking with other gear. Suddenly, I'm getting people calling me saying "Hey man, I want to talk to you about doing something." I didn't know what the hell was going on, but there were lots of cool calls.
During that period, Michael asked me to come down to a club where lots of great cats were. I started listening to the band and Lenny White was there. He said "Who's your favorite producer?" I said "Trevor Horn." Lenny then said "I definitely want to do something with you, so let's stay in touch." Then one night, Lenny calls me up and says "You know Marcus Miller, right?" I said "Yeah, Marcus played on my first album." Lenny then said "Marcus is going to call you about a new project we're doing." The next thing you know, Marcus asks me to bring all these synths down to a studio and from that point on, for 10 years, I was his synth guy. I worked with Marcus on all his shit back then.
So, one day Marcus calls me up and said "Tommy LiPuma signed Miles Davis to Warner Records. He left Columbia and they're looking for songs. I've got some ideas. Are you doing anything Saturday? Bring some keyboards over and let's do some demos." I said "Let's do it." I brought over my Emulator and other keyboards. Marcus played me the bass lines for "Tutu" and I thought "Whoa, that's genius." He also had the drums going and then we added the textures. The next thing you know, Marcus said I got the Miles gig. Miles' people heard my stuff, but initially the work was happening in Los Angeles, and I couldn't go. So, I sent all my sounds to them and I was working over the phone with Adam Holzman, who did the keyboard solo on "Splatch."
Eventually, Miles came back to New York City to work on the Tutu album and said "I want you in there." So, I went in and brought all my keyboards. It was a monumental moment for me. I was nervous as a motherfucker. Marcus said "You're going to be here five weeks or five minutes." [laughs] I said "I know." So, I got my stuff ready to go—all my synths and racks. I went up to Miles and said "Excuse me Miles, my name is Jason Miles. I work with Marcus on all the keyboard stuff." Miles said "I like your name." [laughs] Then I said "If you need anything or hear any kind of vibe you want on your record, let me know and I'll get it happening." Miles said "Okay, bye." So, I walk out of the room and it's like "Okay, you're in." [laughs]
From there, it was a slow build. Miles heard the stuff going on and said "Hey man, where are you coming up with this stuff?" There was a lot of animosity from his band during that time, because they weren't on the record. People were giving me weird "Who the fuck are you?" looks. But when people listened to the work, they said "This stuff is from another planet." We were doing shit that nobody else was doing in jazz, including all sorts of sampling. We had some fun moments, but Tutu was a lot of hard work. The record really represented it.
After Tutu, I'd get phone calls from Miles. He'd say "Bring over that really slick keyboard." So, I'd go over and Miles would ask me "You know how to get these sounds I want, right?" I said "Of course, how do you think your record happened?" [laughs] I helped him get set up for the '80s. I put a little studio in his house. We hung out all the time. Miles often called me and Kathy to visit. He always wanted me to bring Kathy. He loved her. He even came up to my house to hang.
You also worked on Davis' Amandla record. Tell me about that experience.
Tommy LiPuma got me a gig with George Benson during that time. Tommy said "We're booking studio time for the next Miles album, so let's go." Then Miles called me and said "You got something cool for me? You got some new shit? I gotta get stuff I've never heard before." I said "Don't worry man, we'll make it happen." So, next we're in the studio with Ricky Wellman and Foley, laying stuff down. At this point, Miles was becoming infatuated with worldbeat sounds from cats like Mino Cinelu. Also, the synth thing had evolved a notch above where we were at with Tutu, so I had some new instruments which were really cool. Miles was really digging the sounds and Marcus was exploring the groove a little more. We started with working on "Big Time" and "Catémbe." The band was used as a rhythm section that kept building up the groove with the synths in there. We used drum machines on "Jo-Jo."
The album ended up taking a year-and-a-half to make because it had a different setup from Tutu. In general, it kept dragging on. It was a lot of work to get done. It didn't reflect a train of thought like Marcus had with Tutu. It had songs being written and then songs being recorded. They thought Miles' Music from Siesta album was going to come out prior to Amandla—an album I worked on too—but it got caught up in legal shit and was held up. We stopped work on Amandla for almost a year, but suddenly Marcus calls me up and says "Look man, the label is freaking out. We have to get this Miles album done." Marcus had just started doing the Night Music show and his hours were crazy, but he was a trooper. He was very focused and brought in cool musicians like Kenny Garrett, who blew everybody's mind.
Looking back on it, there are some really cool compositions on that album. Some are really great. The thing that bothers me about it, and this is just my opinion, is that though it sounds really good and was mixed really well, it didn't have an edge it should have. It sounded a little too "L.A." to me. These cutting edge tunes had mixes that sounded homogenous. There also wasn't a song on it that blew people's mind like "Tutu," which resurrected Miles' career. Amandla wasn't as immediate to everyone in the same way.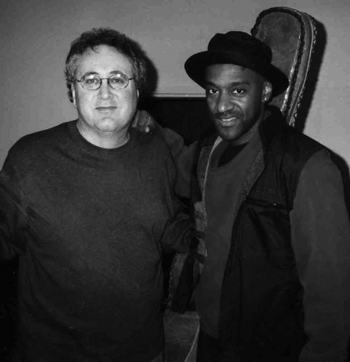 You weren't involved in Davis' last album Doo-Bop, but I understand you gave him some advice prior to making it.
My contribution was telling Miles that he was working with the wrong guys. I told him he should be working with the guys from Public Enemy, including Hank Shocklee and Chuck D. But Warner Brothers didn't want to go radical. They wanted homogenized and Doo-Bop is kind of like the Miles homogenized hip-hop album. I thought Miles should have used someone that had an edgier reputation.
Miles listened to a lot of different things and we would talk about music all the time. My whole conception of Miles was totally different after I met him. We got to know each other as real friends. I could depend on Miles to do something for me if I needed it. He was warm and welcoming to me all the time. We even wrote some stuff together, but he told me it was never going to make it on an album because Tommy LiPuma would never let it go on.
What are your recollections of working with LiPuma?
When you did something great for Tommy, he'd keep calling you. But when he was done with your scene, he was done. Tommy never brought his emotions into anything. When Marcus no longer produced for him, I never got another gig with Tommy. Tommy is very political, but he only used the very best cats all the time. He treated you really good when you were working on his projects.
Tommy's albums were expensive. His albums with George Benson, Earl Klugh and Natalie Cole were very high concept. The thing to congratulate him on is he knew how to put them together. I learned from him how to make albums like that. At the same time, whose money was he spending? Not his own. He was spending the artist's money. I remember after Amandla came out, people were digging it, but it wasn't the same buzz as Tutu. In June of 1990, I get a call from Miles. He said "Hey, get in your car. I wanna hang." I said "Miles, it's 10pm and it's gonna take me 90 minutes to get there. I won't get there until midnight." I was trying to get out of it. But Kathy said "He really wants you to go over. You have to do it." So, I said "I'll be there." I showed up at his house and the door is open. I walk in and see Miles and said "You okay, man? What's going on?" He had just received a royalty statement for Amandla. Miles said to me "What the fuck is going on with my record? What the fuck?" I said "What do you mean?" He said "Do you know how much fucking money this record cost? It's making me broke! The next time I make an album, I'm just going into the studio for one day." And then Miles had the best line on the freaking planet. He said "I made Kind of Blue in two days and that's still selling." [laughs]
It was then that I understood the whole scene around me. It opened up my eyes to a lot of other producers I worked with. We'd be working on Amandla until 3am sometimes because of Marcus' schedule. Tommy wanted Marcus fresh, so he'd have the best Italian food delivered to us three-or-four times a week. They'd set up a white table cloth on the grand piano and we'd have linguini with clams and wine. It was great, but then I realized it was being put on the producer's expense account, which in turn would get charged back to the artist.
After Davis passed away, you made an album called Miles to Miles that related to your time working with him. Describe the concept and your thoughts about it in retrospect.
After Miles died, everybody was pretty numb. In the subsequent years, I always thought about where Miles would be in 10-15 years, but life went on. Around 1999, I was really thinking about Miles. We missed him. I was messing around with a groove and I came up with something very cool. I called Michael Brecker to see what he thought. He said "Man, this sounds like a futuristic Miles Davis vibe. I'm hearing a melody. Send it to me today. I sent him a disk by FedEx and the next day he called me and said it was awesome. It turned out to be the track "Ferrari." He said "Here's your next project—it's what would Miles be doing. I know you can do it."
I really thought about it and was starting to feel it. I called up a few musicians like Bob Berg and Randy Brecker and they dug the idea. Well, it took four years to get a deal for that. It was hard to sell the concept. What I wanted to really achieve was to give a glimpse into how Miles influenced me and maybe what direction he was going in. I didn't want to do songs Miles had already recorded. I had to tell my story of our time together. Every song was about a different subject, from his love of Häagen-Dazs butter pecan ice cream to my ride in his Ferrari to him being king of the bling.
Since these were my stories about Miles, I thought I had to represent them with cutting edge musicians and people that would give it the credibility it deserved. I personally, to this day, feel the CD is a great musical triumph. Everybody brought a uniqueness to the project and brought their A game. Michael Brecker stepped out of the comfort zone and played soprano sax, which is rare. Bob Berg just killed "Guerilla Jazz" with Tom Harrell on trumpet. It was definitely ahead of its time, mixing groove, world music elements, and electronica. It was a great modern brew. In the end, it was too far ahead of its time and the label didn't have a creative marketing plan to really expose it the way it needed to be. It kind of worked and got a lot of great reviews, but as usual, promoters were gun shy about booking me and after awhile the labels lost interest. It wasn't smooth jazz, but the partner label tried to market it that way. I truly believe that this album really stands the test of time and I believe it will still sound edgy and vibey 10 years from now.
I still think about Miles every day. I hope he would at least appreciate what I tried to do. Miles to Miles could be my most creative and imaginative album to date.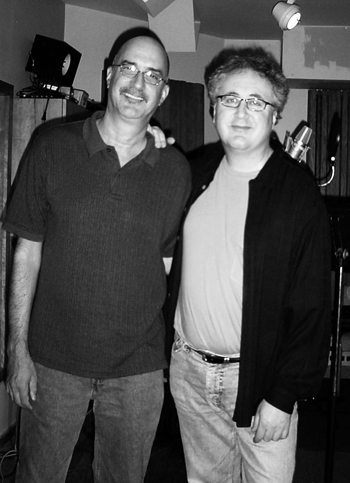 Michael Brecker was a major presence throughout your early career. Reflect on your relationship with him.
Michael was at the center of many lessons I learned. He agreed to play on my first recording in 1979. When he came to the studio, he really blasted me over the chart I had. He said I didn't structure it the right way so the session could go by quickly. He was really upset and said if I wanted him to play another session I better get my shit together. I went and studied with a great New York arranger and called Michael back. I told him he'll dig the new chart. When he came in the studio, he said "Wow, nice chart. You know, you have a chance in this business because you actually listen."
Michael's support and the fact that he was totally giving of himself to his family and friends showed how special he was. If you needed him, he was there for you, no matter how busy he was. I always respected his time and the fact that so many other people wanted his attention. That helped me understand other relationships I had with major musicians and artists.
When Michael played on "She Walks This Earth" with Sting on the Ivan Lins album, he initially did a great solo. Michael walked in the control room, listened and said "We can't use that solo. It's too jazz. This song is a hit and we need a killer pop solo." I then watched him craft this incredibly simple, elegant solo. We ended up winning a Grammy for that track.
Michael was a unique hybrid. He knew the language of jazz and Coltrane, but also knew about pop music and how to craft a great pop solo. He influenced a couple of generations of musicians. I hope his spirit and music will never be forgotten. He was gone way too soon and way too young.
What are your thoughts on navigating the complexities of today's music industry to create visibility for your work?
As a producer, keyboardist and conceptualist, I'm at the height of my powers. The challenge is getting the chances to show that to the world. It's getting harder and harder to do that. It's not easy trying to get your stuff out there. I have to do three times the work I used to in order to get a little bit of attention. The question is how to keep playing and developing while also surviving. Can I pay my bills while doing that? The business has shrunk to a point that's virtually unrecognizable compared to what it used to be. But I know what I'm doing and I'm kamikaze on the business right now, working within the current realities. I don't need to be rich, but being secure would be nice. So, I'm all about creating my own opportunities now. There are still people out there that love music and I'll keep trying to reach them. I've never done a show that wasn't musically successful in which the audience didn't come back to me and say "That was wonderful and amazing." And it's that way because I work very hard at this. I'm giving it my all. This is a journey that's never going to stop for me.