Mo Foster
Supporting the Soul
by Anil Prasad
Copyright © 2021 Anil Prasad.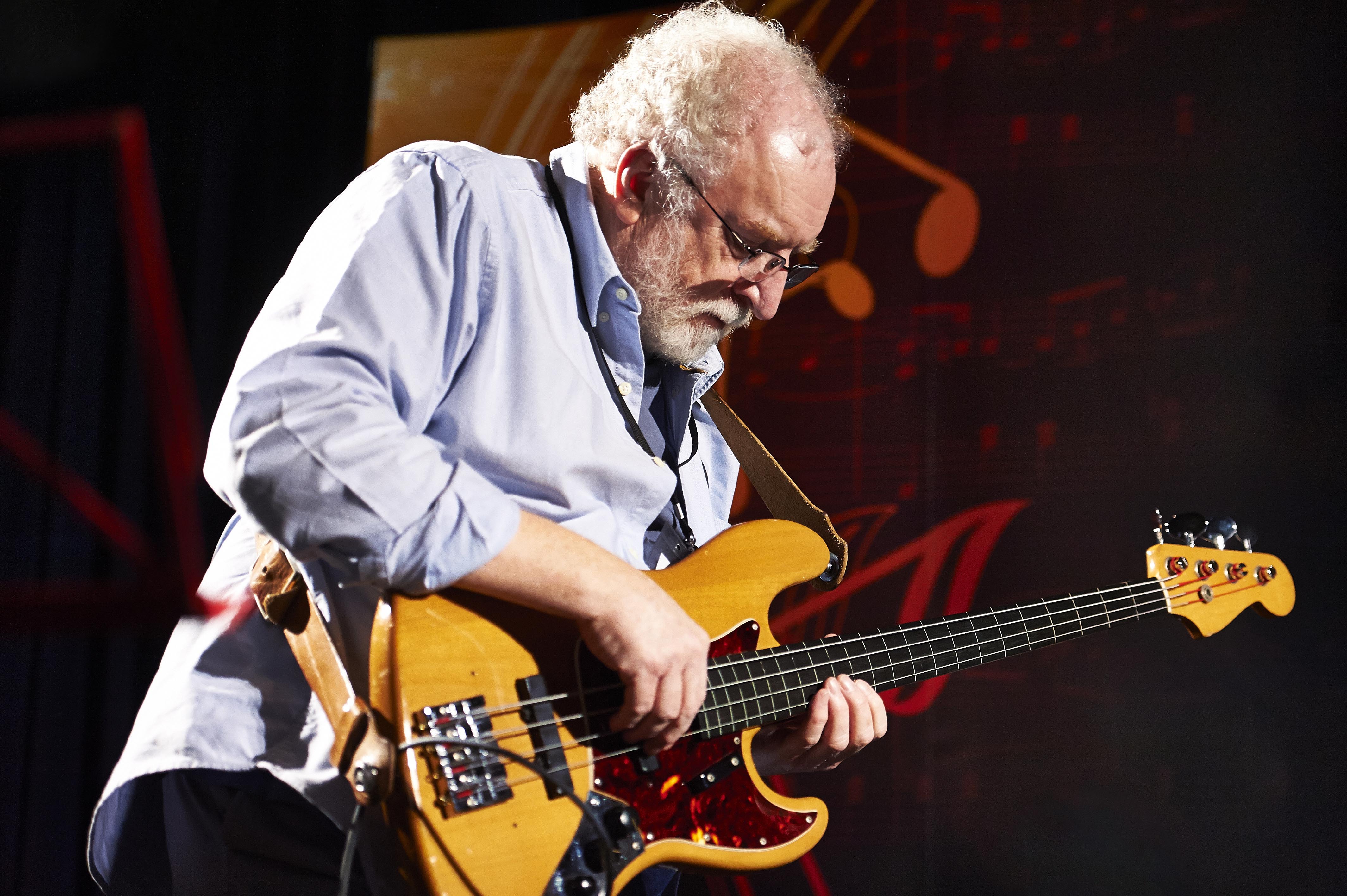 Photo: Future Publishing
Mo Foster has seen and done it all. The British bassist and composer has performed on 300 albums, including some of the most important rock, pop and soundtrack albums ever made. He's contributed to recordings by the likes of Jeff Beck, Phil Collins, Gil Evans, George Martin, Brian May, Gary Moore, Ringo Starr, and Andrew Lloyd Webber. Some of the films he's worked on include Clockwise, For Your Eyes Only, Octopussy, and Revenge of the Pink Panther.
Foster's output as a solo artist is no less impressive. He's released eight studio and live albums, including the new Mo Foster & Friends in Concert recording. It finds Foster interpreting classic works by legendary jazz composers such as Carla Bley, Gil Evans, George Gershwin, Mike Gibbs, Eddie Harris, Jaco Pastorius, Steve Swallow, and Wayne Shorter. The album features some of the UK's leading jazz musicians, including guitarist Ray Russell, drummer Nic France, keyboardist Jim Watson, saxophonist Chris Biscoe, and percussionist Corrina Silvester. The disc also includes three original pieces, one of which was co-written with Russell.
Foster was meticulously involved across every element of the album from the arrangements, recordings and post-production, to the comprehensively-annotated physical package. He intended it to be a love letter to both the musicians and compositions that most impacted him, as well as to his fans that have followed him since his career began in the late '60s.
His first bands revolved around the University of Sussex where he studied physics and maths. While predominantly a bassist, his first two ensembles—The Baskervilles, a pop act, and The University of Sussex Jazz Trio—saw the multi-instrumentalist performing as a drummer. After three years with the trio, several members including Foster formed Affinity, a band that combined jazz, rock and pop. The group was managed by Ronnie Scott and recorded a single, self-titled studio album in 1970 that continues to reverberate across generations of listeners. That release, along with archival material recorded before and after, is soon being reissued as a box set.
Fancy is another key, short-lived band Foster was involved in. In 1974, the mainstream rock act enjoyed a major US hit with a cover of The Troggs' "Wild Thing," which also became the title of their debut album from the same year. A follow-up release, Something to Remember, emerged in 1975. The group broke up in 1976 after failing to achieve further traction. The entirety of Fancy's recorded output, as well as a 1975 live set from Ronnie Scott's, is included in a new anthology titled The Complete Recordings.
After Fancy disbanded, Foster's career as a session musician and live journeyman began in earnest, rapidly earning him first-call status on both fronts. He chronicled the shift and evolution in detail in his 2011 book British Rock Guitar: The First 50 Years, The Musicians and Their Stories.
The book offers Foster's detailed perspectives on the UK's leading guitarists, including interviews with many of them. It also serves to illuminate his own history, bands and collaborations. It's a large-scale look at the British rock and pop scene, using his own experiences to frame both the players and technical evolution of guitar and other instruments. It also contains many hilarious stories, as well as explores the rise and fall of the London studio scene he was a fixture of for decades.
As with virtually every musician in early 2021, Foster is currently quarantining at home, where he finessed his new live album, as well as assembled the new Fancy and Affinity retrospectives.
What's your perspective on the value of music during this impossibly bizarre period?
To me, music is always of the highest value. It's what I live for. It's such an emotional experience for me. I was once at a concert with Gil Evans at the Royal Festival Hall. I said to him "Whenever I play 'Sketches of Spain,' it makes me cry." Gil replied "Uh huh. It's supposed to."
I'm still very focused on music, despite the current COVID-19 situation. Zoom is useful. I'm communicating a lot with my band. I talk to Ray Russell every day. Home recording means I've had time to finish music. I've got a lot of time to write, edit and record. I've quite enjoyed that part of it. I've been able to be creative. But I know some musicians are very depressed right now. They're not playing, they have no income and they're dipping into their savings. It's very hard. I'm cushioned because I've got some royalties happening.
Without being able to perform or see live music, YouTube has turned into the modern day equivalent of a library. You'll never live long enough to see everything that's on it. I enjoy watching performances and news on it, which helps keep me going.
Tell me what makes the band on Mo Foster & Friends in Concert special for you.
All the melodies and tunes on the new album are things I've loved for years. I've finally found a method of playing them, because I've met these musicians in the last 10 years. They're lovely players and good friends, and it all coalesced. I grabbed the opportunity and instantly began recording our shows. I've always recorded concerts. I'm a nut for recording. I spent ages and ages refining and improving the recordings so they sound as good as possible.
The repertoire reflects pieces I've gotten to know in detail over the last 50-60 years, like the tune "Django" written by John Lewis from the Modern Jazz Quartet. He wrote it for his friend Django Reinhardt, who he met during the war. When Django died, he wrote this memorial piece. The idea of writing a piece of music for a friend who died has always fascinated me. It's such a beautiful melody.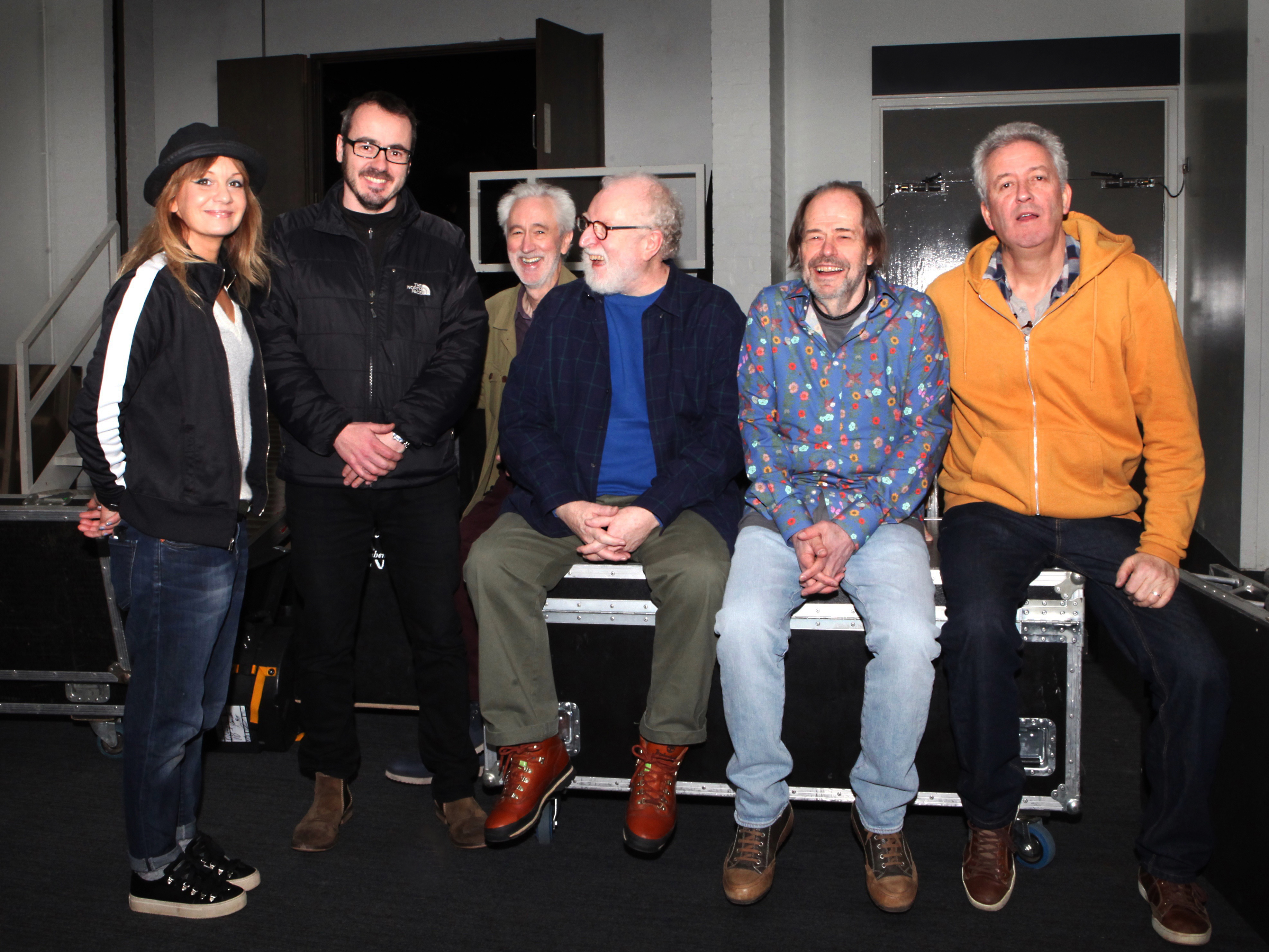 Mo Foster & Friends: Corrina Silvester, Jim Watson, Nic France, Mo Foster, Ray Russell, and Chris Biscoe | Photo: Christina Jansen
Explore the process of digging deep into these tunes and coming up with your own take on them.
I listened to a lot of different versions of the tunes by other musicians and then absorbed the best of those interpretations. I also rely on my friends to interpret things. I give them a chart, but there's a lot of room for them to express themselves.
I also create lots of demos to explore ideas and experiment. This happens at the gigs as well. Sometimes our attempts at playing tunes failed, because something was unplayable, unreadable or there was a bad idea involved, but we'd learn from them.
The process is very much in a sense a throwback to my session days. The project is a desire to support the soul. All the people in the band are free spirits. I let them wander all over the place. Someone has to keep the pace and it's me and Nic France doing that. I'm the backbone. I try to be as on time as possible, but swing at the same time. That's it. I have no desire to solo, because there are better soloists than me in the band. I just want to make it work and be strong.
Expand on why France was an ideal collaborator to create rhythmic backdrops with.
I've watched Nic play for 30-odd years with other people. It wasn't until this band began that I played with him. I can always tell by watching a drummer if I can play with him. I've worked with 200 drummers across my career, so I know where time is in fine detail as it relates to groove and swing. I could adapt or push with all of them. With some players though, things just slot straight in and Nic is one of those drummers. I instantly know how things work with him. If he goes out or across the bar line, I know he's going to come out on the other side and things just work.
Provide some snapshots of the other band members and how their contributions enriched the proceedings.
I've known Ray Russell for most of my professional life. He's a dear friend and he's shown me a lot. He taught me a lot about what's possible in jazz. He's a consummate player with wonderful time. He can go anywhere. He plays for the song and does it perfectly. I don't have to tell him anything. He just does it.
Jim Watson is amazing. He's on fire when he takes a solo, but he also knows how to accompany another player's solo with great sensitivity. What a lovely player.
I went to university with Chris Biscoe 3,000 years ago. He was studying English and I was doing physics. We never played together at the time, but I watched his career evolve and saw him perform. He contributes melodic things that sound like a bird flying. He has beautiful ideas.
Corrina Silvester is someone else I've known a long time. She gets the job done and it works. She contributes a lovely groove.
The album was influenced by Gil Evans, including his contributions across the wider world of music, and your personal experiences in his group. What was he like to work with?
His influence is huge on this album. I've always been a fan since the '60s when I first heard his collaborations with Miles Davis. It was a dream to ever think about working with him. I was on tour with Phil Collins in 1982 in America and Ray Russell phoned me up from England and said "When you get back, you've got to get on the road with Gil Evans." It was the magic phone call. I became a part of this team of great jazzers. We toured and did a live album.
It was chaos in a way, because Gil was never very good at giving instructions. He'd sort of give you parts, but you'd have to interpret them and listen to what 10 other people were doing to figure out how you fit in. It was a very free thing. He'd say things like "These are the notes I've written for you. If you don't like them, play other ones." I mean come on, how many people say that? In that way, Gil's free spirit side was great.
There was some chaos working with Gil. Some nights, gigs would be cancelled. There were a few road accidents along the way, too. But in general, it was a wonderful experience.
One of the album's highlights is "Chickens" by Steve Swallow, which came together in a different way from the other tracks. Discuss its creation.
My first serious band was Affinity, which was managed by Ronnie Scott, so we played at his club in London a lot of times as a support act. It was a thrill, because I'd get to see people like Miles Davis, Oscar Peterson and Gary Burton play there for free. It was a real treat.
Affinity spent a couple of weeks supporting Gary Burton and his quartet. Steve Swallow was on bass and they played a tune of his called "Chickens" which is a little bass feature. I talked to Steve about it. He had written it as an exercise for his students. I subsequently played it and realized it would be ideal for this album.
We were about to play at a club called Pizza Express on Dean Street in Soho. I thought it was a good opportunity to record it, but COVID-19 took over and the gig was cancelled. I still wanted to do the tune, so I made a template using Logic Pro and sent it around to all the musicians so they could contribute their parts to it. It was then sent around again one more time, and everyone added some more to it. It was built up in a composite way and came out really great. It sounds like we're all playing together.
I sent the final version to Steve to see what he thought. I instantly got a note back from him saying "Great! I like your performance. It's better than what I did." That was such a wonderful thing. I'm a lucky guy. So, the tune is kind of a bonus track on the album.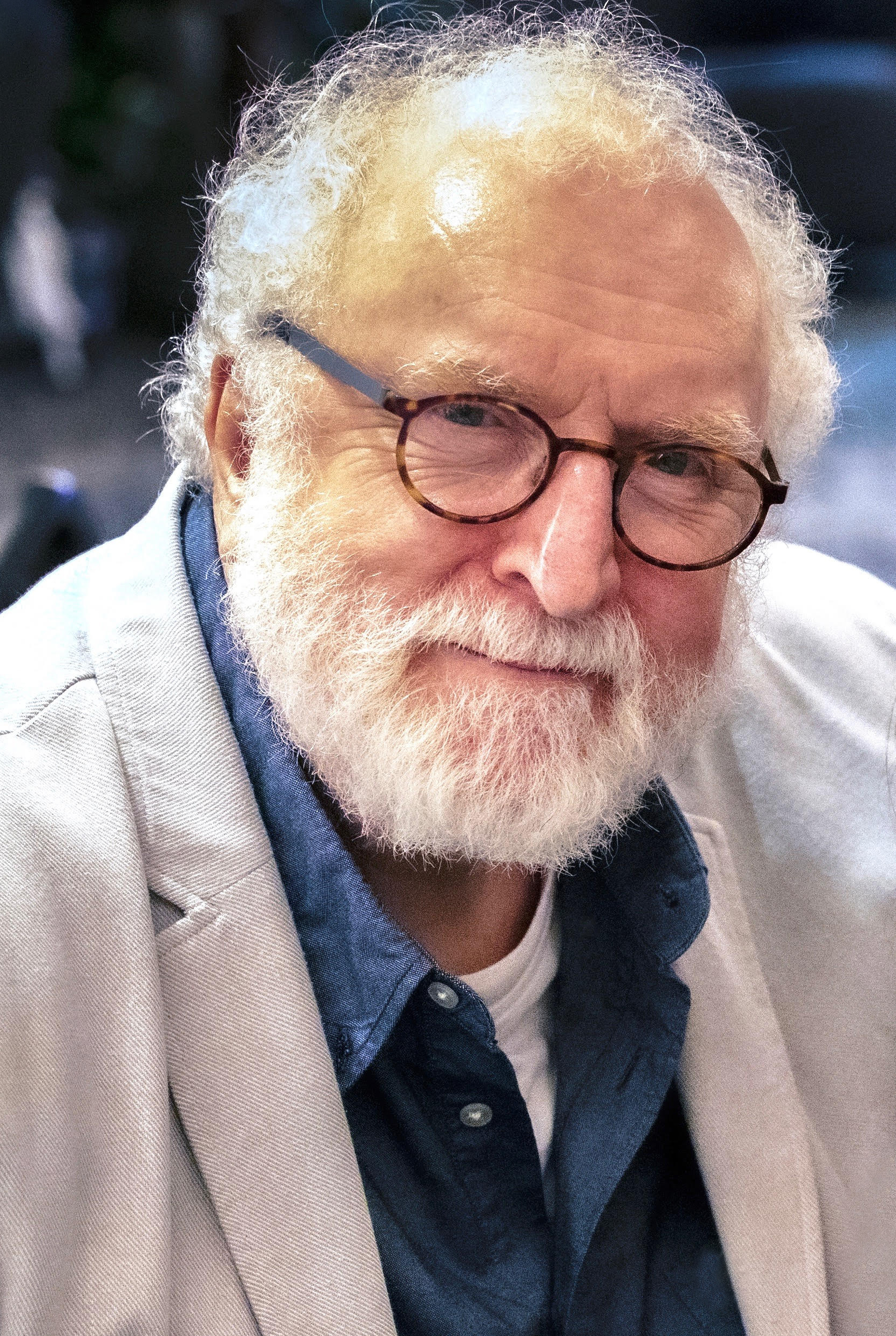 Photo: Christina Jansen
This is your first solo album in many years. Contrast shopping it around to labels in 2020 to previous eras.
It was a horrible experience. Jumping back, I did an album called Time to Think in 2002, which was recorded in a church. The idea was getting great players and working in a lovely acoustic space. We did that album in two days.
To sum up my situation, I can't sing, I can't dance and I'm not a fashionable kid. I'm an old man making instrumental music. So, I decided to start my own label to release Time to Think, called Primrose Hill Records. It was the beginning of selling things on the Internet. It was a good experience, but I became a warehouse worker, packing things in boxes and posting them. It stopped me from being a musician and I hated that. I decided that my next album had to have a different set up, more in the pattern of the old days, in which I can be the artist and there could be a record label that releases and promotes it.
So, I sent it to a lot of labels and got answers like "No, it's the wrong music" or "The climate's wrong for this." The trouble is I couldn't play the labels the finished album, because I was hoping a label would contribute to financing the making of the recording. But finally, Colin Peter from the label Right Track heard it and was very enthusiastic, and said he wanted to release it. It was such a thrill.
You and I once walked around Soho, which used to be home to one of the world's most vibrant studio and session scenes. What it's like for you to see it completely converted to ephemeral retail and restaurant outlets?
It's a ghost town. There used to be a studio called Scorpio where I did lots of work. Now, it's a branch of Sainsbury's, a big supermarket. I went into it, and in my mind's eye, I could see the drum booth, even though I was staring at cabbages. It's just so upsetting to see these changes. There used to be 94 studios in London I used to work at. Now, there are five.
The whole London studio scene has collapsed. Virtually no-one has the budget to keep going. There was one place called Lansdowne that was such an important studio. It kept going for 49 years, but it couldn't make 50. It closed in 2006.
Record companies no longer have the budgets to fund recordings like they used to. Everybody's making their recordings at home. I'm guilty of that myself, now.
We were able to do some wonderful work in those big studios and now it's stopped. It doesn't matter how good anybody is anymore as a musician. Almost no-one can record in those sorts of facilities any longer and that's sad.
There are some lovely players around now, but they can only play live to earn any kind of living. There's no session work. That was one of the thrills of the previous era. If I toured with Jeff Beck, I knew I'd be on the road for a certain number of weeks. Then I'd come back, make a few phone calls, and within a day or two I'd be back in the studio. There was a fantastic balance between the road and studio work. Now, that's not an option.
Everything's changed for me now. The phone doesn't ring anymore. My session days are over. I became much more of a writer. Thankfully, library music helps keep me going. So, I do a lot of that now, in addition to the fun little jazz gigs which keep the soul intact.
For those unaware of library music, explore what it is and how it contributes to your livelihood.
I've just finished composing and recording five new albums of library music, which is also called production music. In a sense, it's off-the-shelf theme music that's ready to go for people working in film, television, radio, and video games. Sometimes, composers are contacted to write music for a specific project. But for library music, you write in genres—it could be chase music or love themes. It could involve anything from a single percussion instrument to a full orchestra. You're writing music that could be used by anybody. Sometimes your music will appear in several different programs.
When I create library music, I try to include memorable melodies, which works rather well with some agents. But it's a bit of a lottery. If your music doesn't get used, you get nothing. If it does, it can be quite pleasant. It's really random. Sometimes major usages come through and suddenly something you did is big in Denmark. Next month, it's Italy. You can't rely on it, but when it works, it's good. It's a strange world.
In 1988, you released your first solo album Bel Assis for the MMC label. How do you look back at it?
The drummer Peter Van Hooke and I did a lot of sessions together. He's always inventing or creating something. He founded the MMC label, named in deference to ECM. He wanted it to be a place for wonderful music, great playing and packages with beautiful artwork. He enlisted the help of several friends to make the label's first few albums, one of which was Bel Assis. He gave me free range after hearing some of the demos I'd been working on.
Ray Russell had just fitted out a studio, so I was able to use it at a very cheap rate. At the time, I had also discovered the Roland MC-500 Micro Composer MIDI sequencer. It let me play keyboard stuff, which I couldn't before. So, Bel Assis was a convergence of making things happen that were possible at the time. Simon Phillips played on a couple of tracks. He had a studio in Suffolk back then. I'd drive 100 miles just to get a drum track back then.
Gary Moore plays on Bel Assis, but it was originally going to be Jeff Beck. He tentatively agreed to play on a couple of tracks. The opening track would have been Jeff, but just before the session, he broke his plucking thumb while working on a car. He was in agony and bound up, so no Jeff. I had to do the track and I knew Gary quite well, who was in the same league.
Gary was on what was called a tax year. You'd save on paying taxes by living outside of the UK. So, he was in Dublin and could work at Windmill Lane, a pretty big studio there. We agreed he'd do some tracks on a Sunday morning. I took my two-inch, 24-track tape, got the early flight to Dublin and he did all his tracks in three hours. It was wonderful.
We had a pint of Guinness and I came back. But panic ensued. I had this irreplaceable performance by Gary on tape. This was in the days before backups. I put the tape on the luggage rack of the flight. Then some guy came and sat next to me and put his briefcase on the rack. My surrealism was at its peak. I imagined he was a magnet salesman and that his samples were in his case. [laughs] I trembled until the next day when I played the tape back and realized it was okay.
New Age was the big genre at that time, which tended to be a bit cosmic and pointless. But you had to avoid the word jazz then. That was a no-no. So, what I did was sneak in all the things I like without telling anybody what they were or where they came from. It could have been a flute solo from a jazz player. You'll hear tributes to both Django Reinhardt and Jaco Pastorius on the album. I recorded "Jaco" only a couple of weeks after he died in 1987, so it was quite emotional for me to play that.
Your 2002 album, Time to Think, took a different approach. Describe what you sought to achieve with it.
I'd gone to New Zealand for a few weeks to visit and it was just that—I had time to think. I borrowed a guitar and began doodling. I wrote a few themes, came back home, and realized there's a project here. I was also inspired by a Miles Davis track—a live version of "My Funny Valentine." In the middle, it drops down to just Herbie Hancock and Ron Carter, with their two instruments playing. They keep time and you can snap your fingers to it, but no-one is playing time. There are no drums. It's all in their heads and it worked wonderfully. So, my idea was to create a whole album with no drums, but keeping great time. It has some lovely players, like Ray Russell, Frank Ricotti, Iain Ballamy, and Simon Chamberlain on it.
Bass Themes, from 2011, found you mining your library work. Tell me about its approach.
That album was a cheat. I went to do another album but couldn't face writing it. So, I looked into my library collection, found a few pieces that had bass themes, rang up the publisher who had the rights, and asked their permission to use them. The tunes are okay, but it's a collection of pieces I had written already. I used them to make life easy.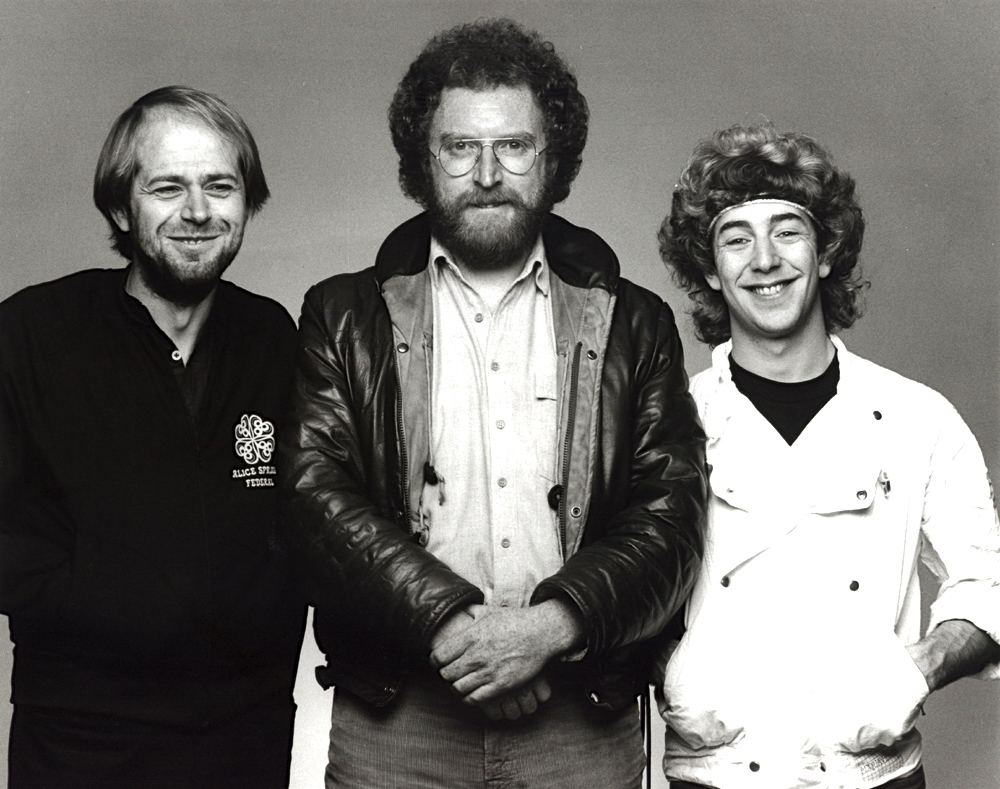 RMS, 1982: Ray Russell, Mo Foster and Simon Phillips | Photo: Mo Foster Collection
Between 1982-85, you were one-third of the jazz-rock trio RMS with Ray Russell and Simon Phillips. Tell me how that group emerged and its adventures during its short lifespan.
Ray, Simon and I used to do a lot of sessions together. We'd often be at the same studios, like Trident in Soho. One week, we'd worked at Trident with the producer Greg Walsh on an album called Immersione by Adriano Pappalardo. We got the album done a day ahead of time, so there was a spare day in the studio during which we had nothing to do. The three of us realized "This is a top-of-the-line studio. We shouldn't waste this opportunity. Let's use the time." We had all our gear set up and miced up. We wrote and recorded the whole album in a weekend. I think we did it in 17 hours straight, with some overdubs, including brass, added later. Again, that came out on the MMC label and was called Centennial Park. In fact, it was the first album Peter Van Hooke released on it.
We also released a live album called Live at The Venue that includes Mark Isham on trumpet. He flew up to London from San Francisco just for that gig. He and Peter had worked together with Van Morrison and that was the connection.
RMS also had the chance to perform at the Montreux Jazz Festival, which was released as a DVD. But they wouldn't take us without a big name attached—an extra person that would make the audience pay attention. I asked Phil Collins, but he couldn't do it. I then asked Gil Evans and he said "Yeah, sure." So, one of my greatest musical heroes agreed to do it and it was fantastic. It was RMS with Mark Isham and Gil Evans. We pulled it together with almost no rehearsal and played after Herbie Hancock. It was very exciting.
RMS was a great experiment, but the climate was such that there wasn't enough money to make it work, long-term. We did some reunion shows in 2007, with Gary Husband in place of Simon, who was busy with Toto, but that was the last time we were active.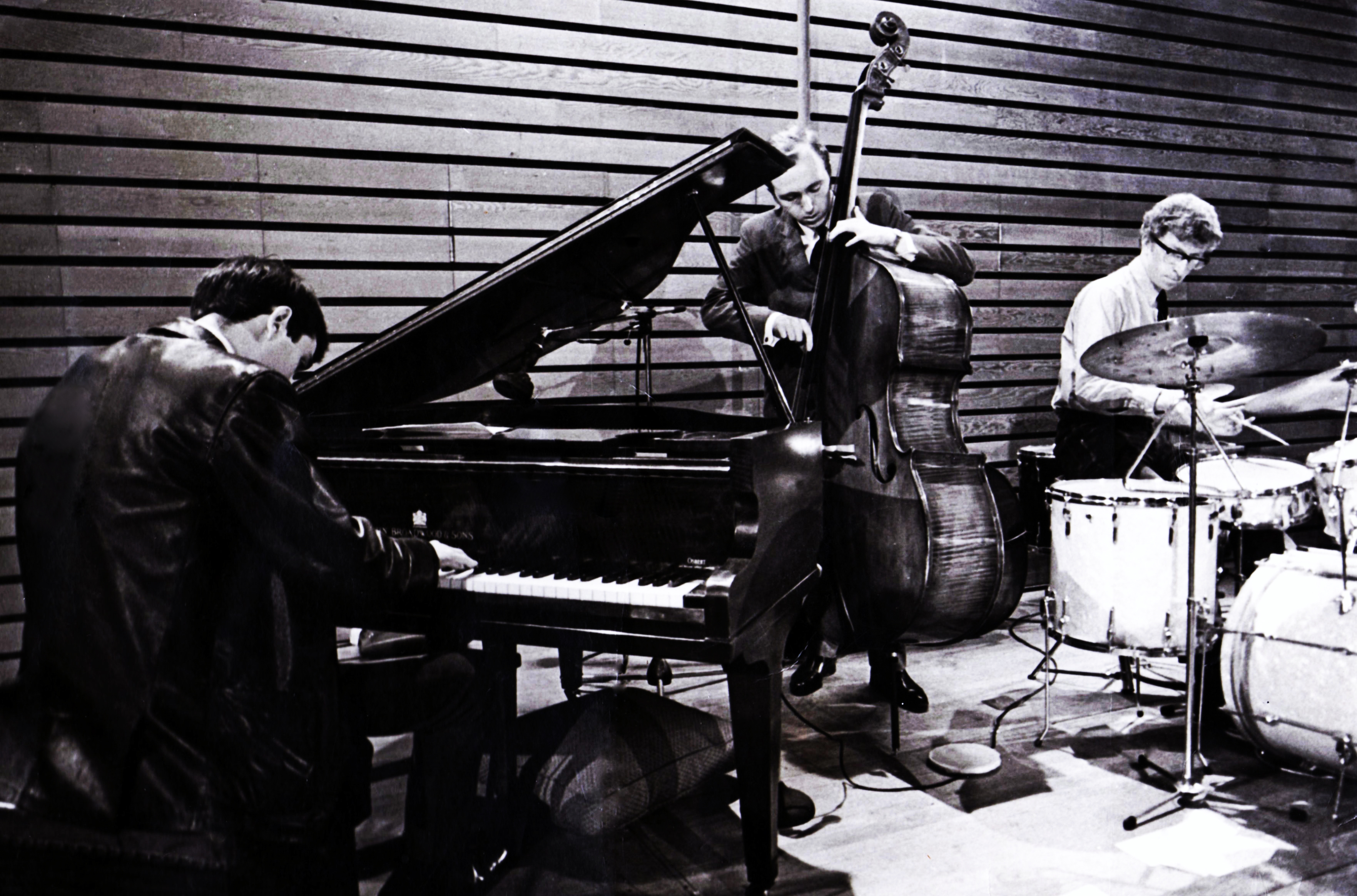 US Jazz Trio, late '60s: Lynton Naiff, John Morton Nicholas and Mo Foster | Photo: Mike Hawker
One of your earliest bands was the University of Sussex Jazz Trio, also known as the US Jazz Trio. During the '60s, it supported some of the most influential bands of the era. Tell me what you experienced.
It was wonderful to see Cream, The Who, The Zombies, Pink Floyd, and Jimi Hendrix. I learned so much from watching those bands. They were engaged in a whole new way of playing. I particularly remember seeing Jon Hiseman, the drummer for Colosseum. I was suddenly aware of a whole new dimension of music.
When I first left home for university, it was all about The Beatles and Shadows. At university, I saw all this incredible new music coming out that I hadn't listened a lot to at that point. But then I wanted to be a part of it all. It was such a blast of emotion and light. We had just come out of the '50s, which was awful, and now we see these amazing people with their incredible music and colorful clothes. Meanwhile the US Jazz Trio were standing there in suits. [laughs] We hadn't caught up yet.
The keyboardist Lynton Naiff and double-bassist John Morton 'Nick' Nicholas, who played double-bass, asked me to join on drums when their drummer Grant Serpell quit to work on his finals. I eventually went on to work with Lynton and Grant in Affinity.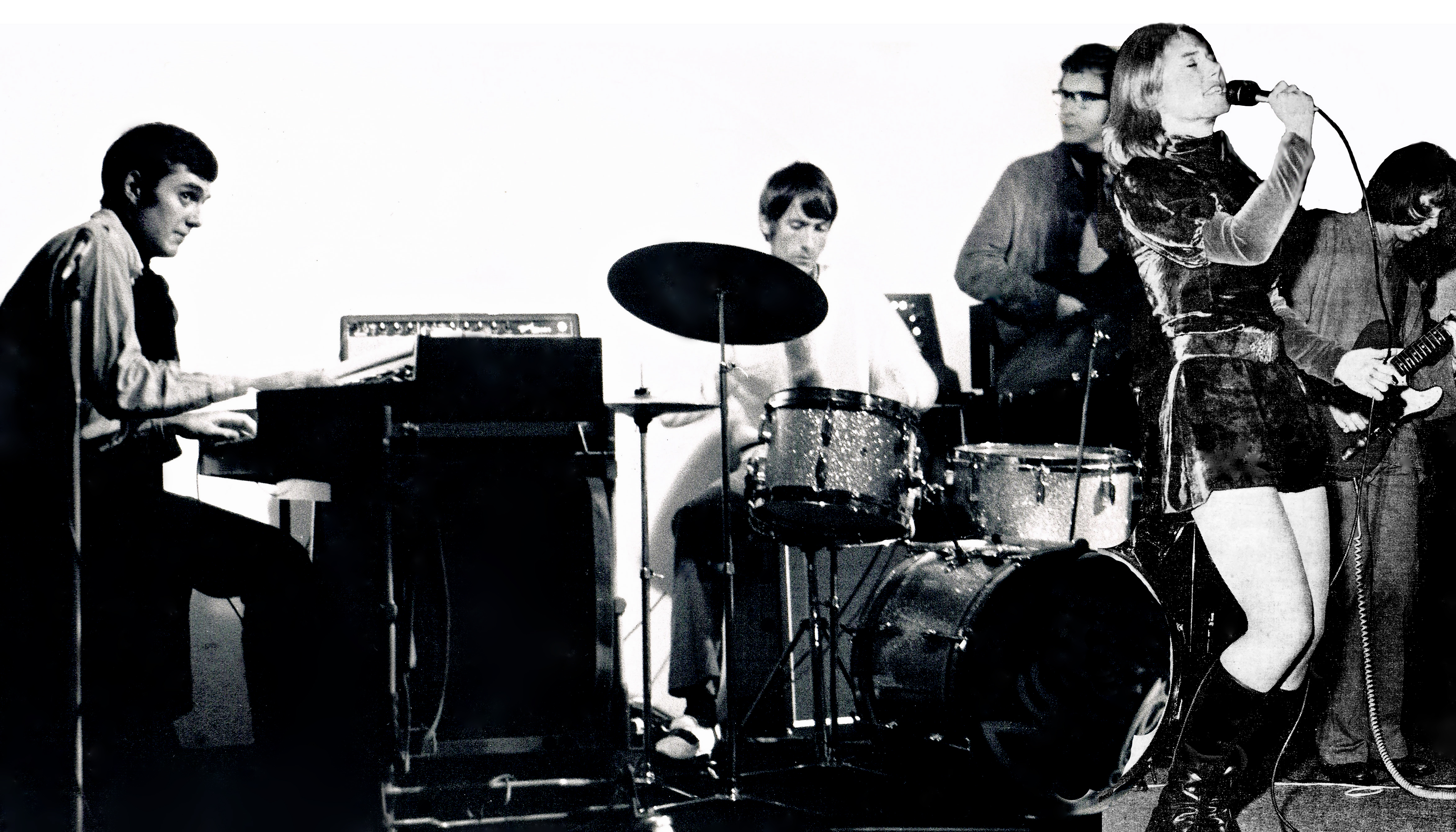 Affinity performs at Ronnie Scott's, London, 1968: Lynton Naiff, Grant Serpell, Mo Foster, Linda Hoyle, and Mike Jopp | Photo: Mo Foster Collection
Affinity's reputation continues to grow, nearly 50 years after it broke up. Reflect on your time in the band and its historical significance.
I like things like The Beatles and other pop stuff. I also love jazz. But they didn't join up at all when I was growing up. They were two separate strands. Then at the end of the '60s, people did start joining them up. Miles Davis, Brian Auger, Jimi Hendrix, and Blood, Sweat and Tears were examples of combining rock rhythms and jazz harmony. Miles brought in the electric piano and electric bass. Suddenly, my instrument, the electric bass, had validity. It wasn't considered a toy any longer. When people asked what instrument I played, I was no longer embarrassed to say bass guitar.
Affinity had a residency at Ronnie Scott's Jazz Club. We had a close-up view of world-class players such as Stan Getz, Gary Burton, Elvin Jones, Charles Mingus, Steve Swallow, Roland Kirk, Miles Davis, Keith Jarrett, Les McCann, Larry Coryell, a young Stanley Clarke playing a Gibson bass, and the young Billy Cobham playing a small kit.
In early 1969, Affinity played opposite the Stan Getz Quartet at Ronnie Scott's, with Jack DeJohnette, Miroslav Vitous and Stanley Cowell. One afternoon, I went 'round the club and Jack was by himself practicing a 16th pattern on a hi-hat and bass drum. It was a rock rhythm, which was unusual for a jazz drummer. He was making the connection and learning how to play rock. Bitches Brew came out six months later and I recognized that exact rhythm pattern I saw him working on.
So, that was the scene. Pop, rock and jazz came together and Affinity rode on that. We were rock players, but liked jazz, so we blended them. This liberating and exciting approach suited Affinity perfectly, since it separated the band from other contemporary outfits such as Yes, Genesis, Led Zeppelin, Family, and Humble Pie. But everybody still thought we were a progressive rock band, whatever that means.
We made one official, self-titled album that came out in 1970. There was some very good music on that album, including a track called "Night Flight" that still stands out. Lynton Naiff, the keyboardist, was a formidable Hammond organ player and a great soloist. He and Linda Hoyle, the lead singer, were an item. They split up. You can't have a band with that situation, so the band also came to an end. In recent times, Lynton seems to have disappeared. We don't know what happened to him.
Affinity was pioneering in a way with its particular fusion. It was very exciting. On a good night, we were steaming, live. In a sense, the band members were my mentors. It was fantastic, but we didn't make any money with it and couldn't afford to carry on, either.
People still talk about Affinity a lot today. It's funny. It's like people are worshiping something I wasn't a part of. People see it as one thing, but I see it as a bunch of mates who argued a bit and made some good music. [laughs]
We'll release a new Affinity box set on the Esoteric Recordings label in a few months, which covers the original album, and archival material we've put out over the years. It includes Live Instrumentals 1969, which was recorded at Ronnie Scott's on a night Linda Hoyle was ill; Origins 1971-1972, which featured our then new singer Vivienne McAuliffe who had sung in the Exeter University band called Principal Edwards Magic Theatre; and Origins 1965-1967, which was essentially the US Jazz Trio with me on drums, before I switched back to bass.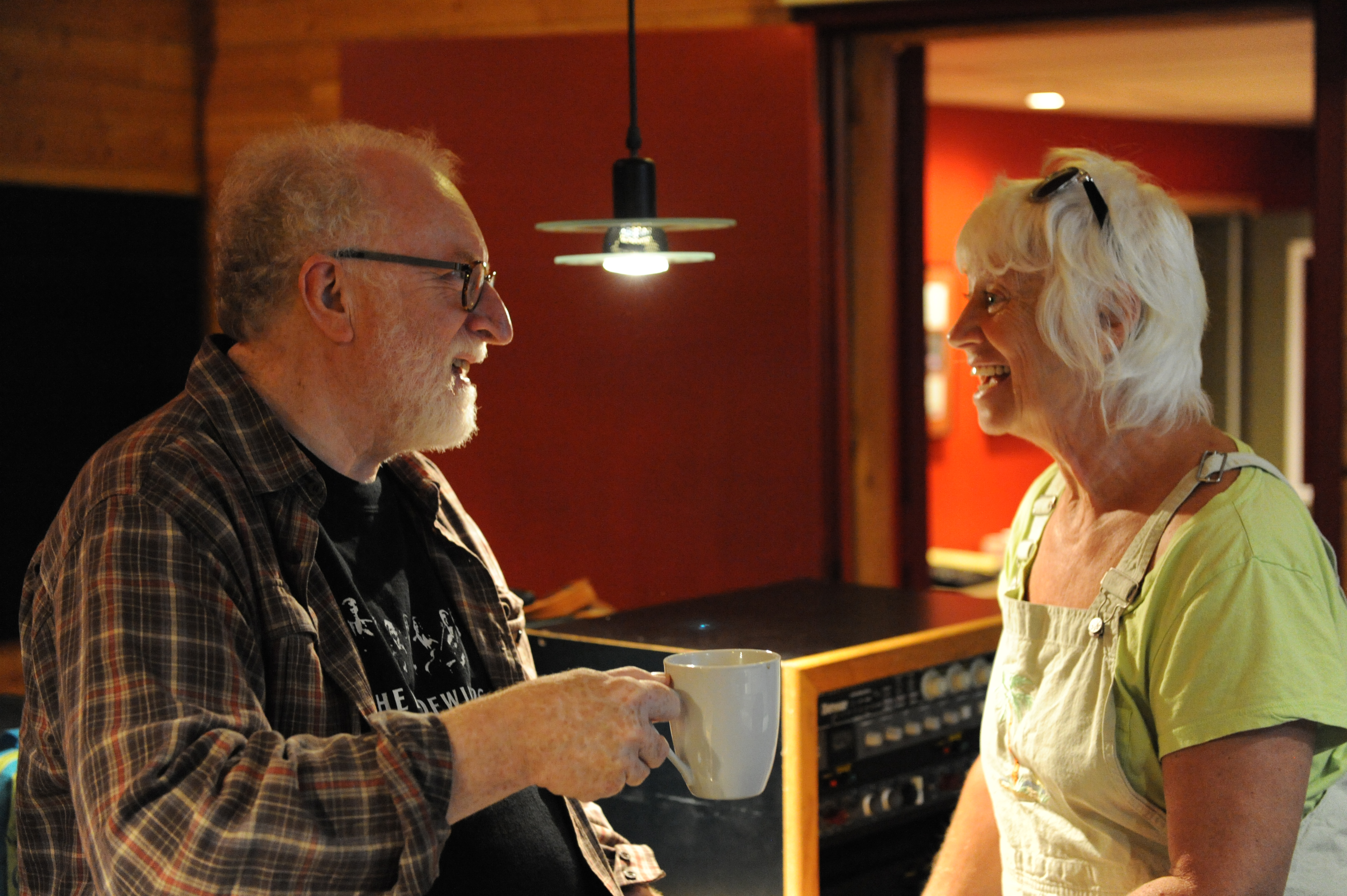 Mo Foster and Linda Hoyle during The Fetch sessions, 2015 | Photo: Roger Wake
You produced and play on Linda Hoyle's 2015 comeback album, The Fetch. Describe the journey that led to your involvement.
In 2011, The University of Sussex celebrated its 50th birthday. They had a set of celebrations, ending with a dance. Have you ever watched professors dance? It's fantastic because they're so awful. [laughs] Anyway, I assembled a band. I persuaded all these old guys I used to know to get their instruments out from under their beds. Everything had changed. Most of the guys had careers and retired from music. But somehow, we got them to put on their instruments and make their hands work again, and we played.
There's a little town called Lewes near Sussex, not far from the university. It happened that Linda, who's from London, Ontario, Canada, was visiting some friends in Lewes at the time. She came over and joined us on stage to sing a couple of tunes. It was a really fortuitous moment. That was the start. We both thought "We've got to do something with this."
We started writing, but it took a long time with me in Britain and her in Canada. She found a studio in London to work at and we swapped files. We used a lot of my friends in the UK and that's how the album came together.
There's a chap named Roger Wake who engineered her first album Pieces of Me from 1971. He found out we were making this album. He loved what she did and said "Can I come and mix it?" So, he came over to London and did that, which was great.
We met and became friends with Roger Dean when he was designing furniture for the new Ronnie Scott's club, which moved from Gerrard Street to Frith Street. He did the artwork for the album.
The album was very well received and it was a lovely project to be a part of.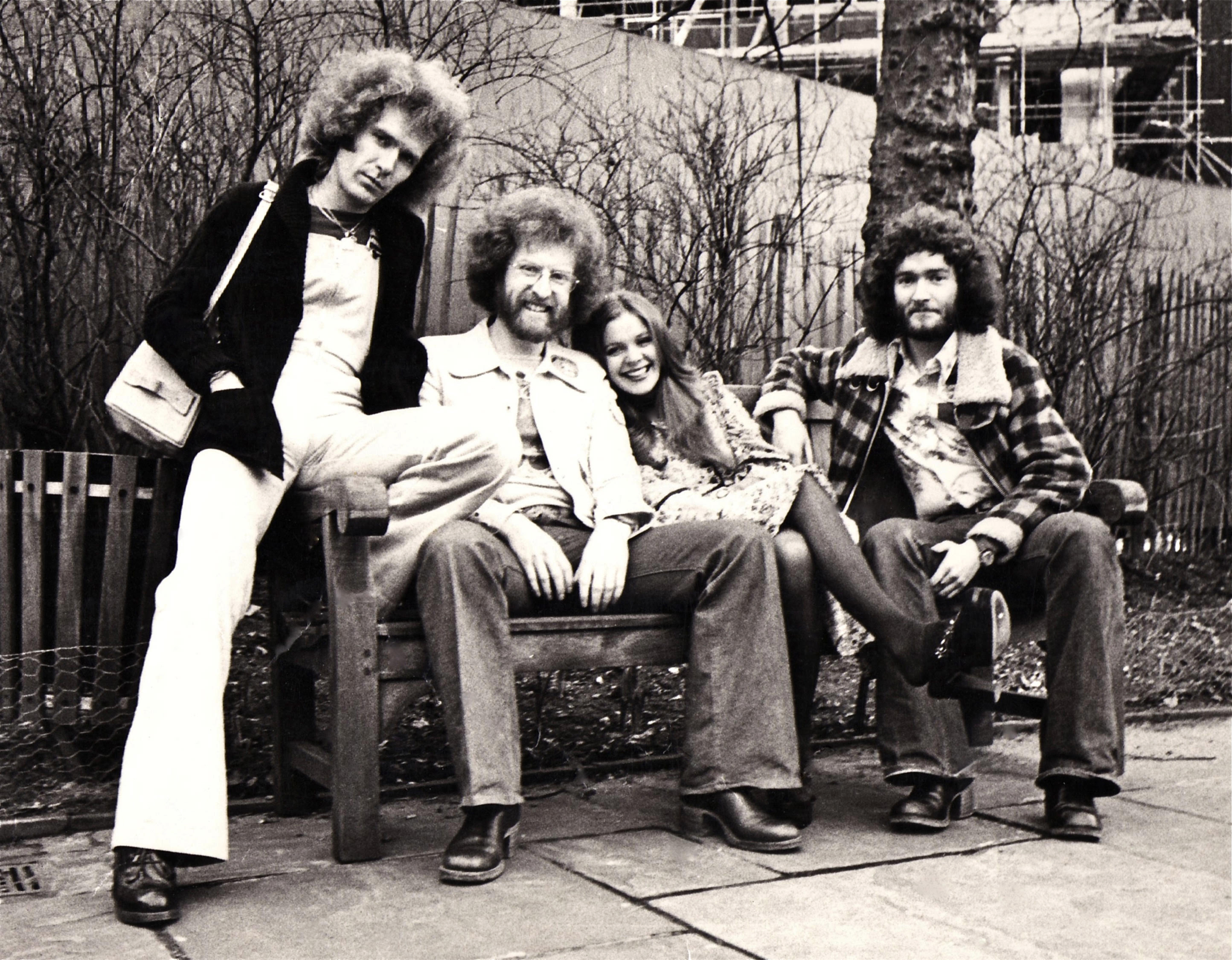 Fancy, 1974: Ray Fenwick, Mo Foster, Annie Kavanagh, and Les Binks | Photo: Mo Foster Collection
Fancy just released a new box set titled The Complete Recordings that you spearheaded. Tell me about the project and your thoughts on the group.
Fancy goes back to the mid-'70s. Mike Hurst, the producer, and some session musicians got together to record a version of "Wild Thing." He wanted it to be sexy and partly sung by a girl. He found this singer who was very pretty, but couldn't really sing at all. She'd breathe the words, not sing them. But the single got to the top-20 in the US. So, we did a second single that also got into the charts.
We decided to form a band around this, found a proper singer named Annie Kavanagh, who was lovely. We went out and toured the entire US. We went everywhere and had a great time. We became a very good funk band. But nobody really wanted us, because we didn't sound like the records. We split up, even though it was enjoyable.
Lemon Records, party of Cherry Red, wanted to put out the two albums we made, in addition to a live recording. So, it's a triple CD box set. Mike Hurst and I wrote the liner notes. It was good fun getting it all together and making it work.
You performed on many important sessions during the early-to-mid '80s. I'd like to pick some albums from that era and have you tell me whatever comes to mind. Let's start with Jeff Beck's There and Back (1980).
Jeff Beck is stunning. He's the man. There are all the other guitar players and then there's Jeff. He's that good. He's a very intuitive and emotional musician. He can't always articulate what he wants, so he just keeps searching until he finds it.
We did a track called "Space Boogie" on that album which is very fast, in seven time. I remember having to overdub bass in the control room of Abbey Road's Studio 2. It was a long part across three music stands. It took a bit of time because it was quite hard to play. It's easier once you know it, but when you're first learning things, it can be difficult. I finally got it. I remember Simon Phillips and Tony Hymas were sitting there watching me and when I finished playing, they each pulled out a card, rating my performance.
This same tune gave me a headache on the road because Simon's kit was amplified very loud on stage and would echo back off the far wall of whatever room we were playing in, out of time. The repeat would be out of sync with this fast-seven thing happening. Every now and then I'd look up at Simon on his riser and give him a nod to confirm where beat one was.
Now, that seemed to work, until the bastard began testing me. [laughs] We'd be playing and I'd give him a nod on one and he'd give me a nod back in a different place. For instance, he'd give me a nod on beat three, but wouldn't tell me. So, he was checking me out to see if I could confidently play and ignore his distractions.
There's a lovely story about Jeff and George Martin I covered in my book, British Rock Guitar. In 1975, he produced Jeff's Blow by Blow at AIR Studios. Jeff was fastidious about overdubs, but never seemed to be happy about his solos. A few days after a recording, when he'd had time to digest his own performance, he would phone George and say "I think I could do a better one on this track." And then they would return to AIR to try again. Jeff would play over and over until he was satisfied that he had performed his best. A couple of months went by and George received another phone call from Jeff, who said "I want to do this solo again." Bemused, George said, "I'm sorry Jeff, but the record is in the shops!"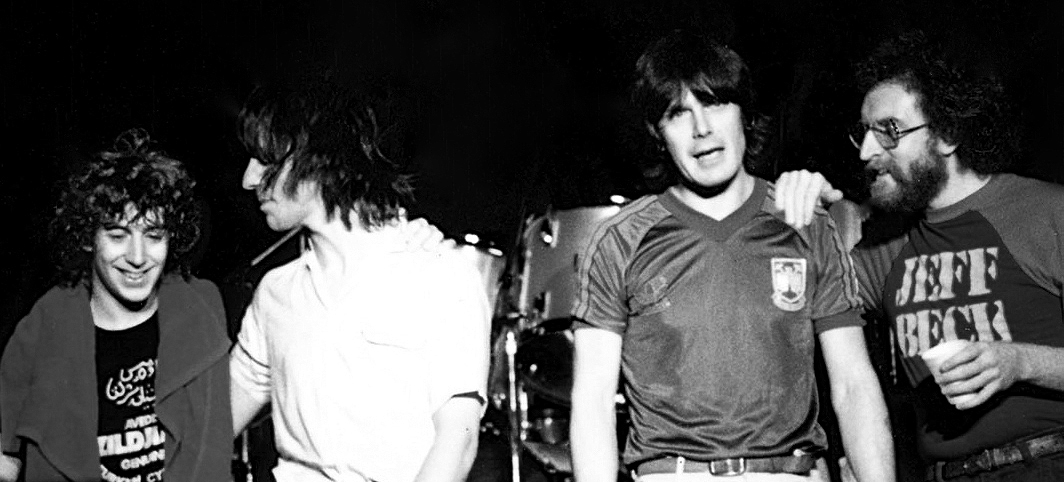 The Jeff Beck Band, 1980: Simon Phillips, Jeff Beck, Tony Hymas, and Mo Foster | Photo: Mo Foster Collection
The Secret Policeman's Other Ball (1982).
That was fantastic. Simon Phillips and I had just come off the road with Jeff Beck. Jeff got a call from the producer of the show and asked if the three of us would come along and play with Eric Clapton. Of course, we said yes. We had no rehearsal at all. It was a bit of a knife edge, because there were no rehearsals. We just talked through the parts in the dressing room. Even the last song, "I Shall Be Released," which we did with Sting, was a complete mystery until we started playing it.
There was a fun moment in the dressing room, with me, Jeff and Simon talking about the music. I started talking to a guy in the doorway. I remember he had twinkly eyes. I hadn't a clue who he was. We then went down the stairs, set up behind the curtains and then I see the guy I'd been talking to putting on a Strat. He was talking to Jeff in front of me. I said to someone in a whisper "Who's that?" He replied "That's Eric Clapton." I felt like an idiot. I'd been talking to Eric without realizing it, because his face would change. The beard would come and go. It was a great embarrassment, but also good fun.
Phil Collins' Hello, I Must Be Going! (1982).
We recorded that at Townhouse Studios in London. I remember trying lots of ideas until Phil said yes. I really liked working with Phil. He worked very hard on his music and expected his musicians to do the same.
Working with Phil came about from an album I worked on for Frida from Abba called Something's Going On from 1982. The band included Peter Robinson and Daryl Stuermer from Phil's band. Phil was producing the sessions and played drums. When we made it, it happened that Earth, Wind and Fire were passing through Stockholm where we were working. The horn section came by and played. It was wonderful.
The Frida band, along with Chester Thompson on drums, became the basis of Phil's own band. Phil later rang me and asked me to come on the road and work with him. The band was so tight. It was also a good laugh to work with them. An example of that is the legendary carrot story.
At the end of every tour, the last night is always roadies' prank night. They're allowed to get away with crazy things and it happens on every tour. The horn section had a penchant for carrot juice. They had a carrot juicer in a flight case that would go everywhere with us. Whenever we were getting changed in our dressing rooms, you'd always hear this machine whirring, making gallons of carrot juice.
In 1983, on the last night of the tour, we were in Washington, DC. Every night, the show would start with the quintet playing in bright, white light, which would then fade to black, during which the four horns would walk on in the darkness, and get ready to play as they pointed their horns at their microphones. Then there would be a count and you're in—the bright, white light appeared again, this time with the horns illuminated as well.
On the last night of the tour. Everything was going well. But when the second tune started, I was aware of a commotion across the stage. People were falling over laughing, but I didn't know what was going on. What happened was the road crew bought four of the biggest carrots they could find, whittled them into the shape of Sennheiser RE20 microphones and put them in the mic stands, with cables going out the back. So, the show began with the horns playing into four very large carrots, much to everyone's amusement.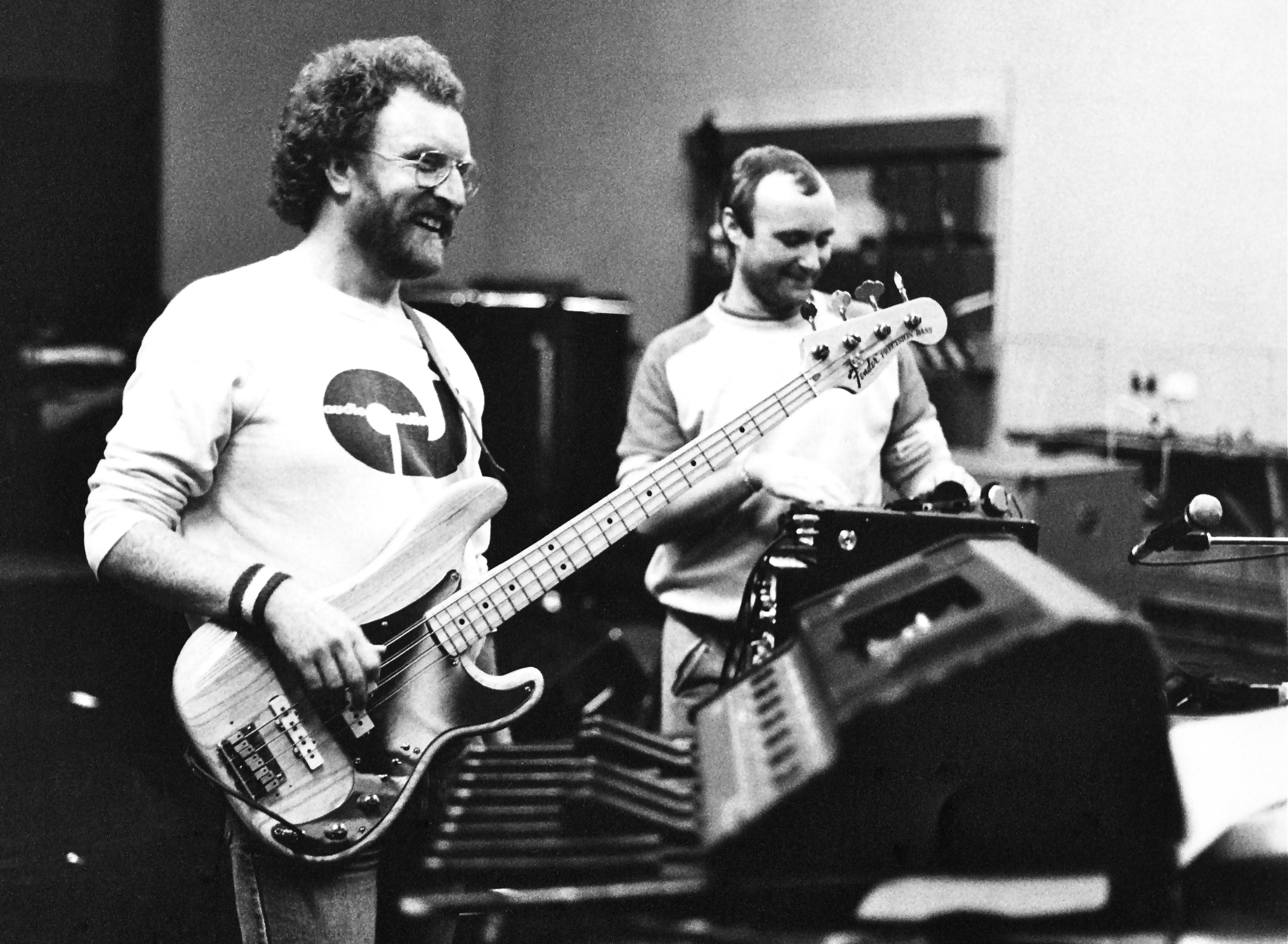 Mo Foster and Phil Collins, 1982 | Photo: Mo Foster Collection
Gary Moore's Victims of the Future (1983).
I remember working on "Empty Rooms," which is a beautiful song. When I arrived, Gary had done the guitar part, so I was playing with Ian Paice on drums, who's a lovely player. Gary wanted me to play his solo identically on fretless bass, so I had to sit and learn every little twist and turn. So, I did the solo in the gap, doubling Gary and the piece has a nice, singing sound to it.
Gary was great. We did a gig ten years ago in Sussex for a cancer charity. He agreed to guest with my band and we welcomed him on stage. I couldn't resist saying to the audience "Please welcome a dear friend of ours and one of the finest guitar players in his price bracket." [laughs]
Tony Banks' The Fugitive (1983).
I was working with Phil Collins at the time when I got a call from Tony. He was doing his new album at The Farm—Genesis' studio. He asked if I'd come and play on a track with Steve Gadd. Unfortunately, Steve wasn't there at the time. I missed playing with him in the studio. But I could feel his groove. So, I was overdubbing onto other people's performances. I enjoyed working on the album. The ideas were good, but I wasn't sure about the singing.
Ringo Starr's "In My Car" single, which you co-wrote (1983).
It's a good memory and it was also on a fun album called Old Wave. During the session at Ascot Studios, it was Ringo, Gary Brooker and Joe Walsh. At one point, Joe said the magic sentence, which is "We've run out of material." So, I went home, checked through my little vault of material and found a song I wrote with a singer called Kim Goody. I brought it to the studio. It was called "Stop the Car." Joe listened and said "This is nice, but can I have your permission to change it?" By change it, that meant Joe and Ringo could put their names on it. [laughs] So, it's essentially my song, but they added to it.
I thought "Well, I've just written a song with a Beatle and an Eagle. That can't be bad." But I think I made about 10 pence off it, because the album and single didn't sell many copies, even though they were good.
At those sessions, Ringo had a big dog called Leo, who was an Alsatian. It was confused because it was part pet and part guard dog. So, it was schizophrenic. It didn't know what to do. But I got to know him and everything was fine. We did a week of sessions and then there was a week off, and then we came back for another week at Ascot Sound Studios in Tittenhurst Park. I arrived an hour early at the beginning of the second week. It was sunny, so I put on my bass and went for a walk in the park.
While I was walking, there was a commotion on the slope. I looked around and there was Ringo's wife Barbara Bach, her daughter and Leo. I waved and the dog began running towards me. I assumed he was being friendly. No, he was coming to kill me. There was drool coming out of his mouth. I spun around with my bass and yelled "Get that fucking thing off me" at Barbara. It was too late. The dog leapt on me and bit me on the bum. I had to go to the hospital for a tetanus injection. I still have the clothes with the holes in them. [laughs] After I had just shouted at Barbara, I remember thinking "This isn't how you normally address the wife—an ex-Bond girl—of the artist you're working for.
John Barry's Octopussy soundtrack (1983).
The way those orchestral film sessions worked is you've got a click track going. It was all pre-computer and it was a nerve-wracking process. There's always a terrible panic with parts, because they're often changing. So, the copyist would write the parts out in ink, rush over to you, and put them on the stand as the conductor's counting in. You've never seen the music and the stuff you're going to play is going to be in the film, and that's terrifying. But it was just another session for me. One of the fixers rang up and I showed to do a film. It just happened to be a James Bond movie.
Adrian Legg's Fretmelt (1984).
There's a guy named Barry Martin who also calls himself Snails-Pace Slim who had a band called The Hamsters. He was running a record company called Spindrift. He had Adrian Legg on the label and wanted to enhance Fretmelt with some instrumentation. I had a little eight-track tape machine. Adrian came down, we chatted, and recorded my parts at my home. I played a lot of instruments on it. Basically, Adrian recorded the whole thing and I overdubbed on it. I love Adrian's playing. An amazing guy.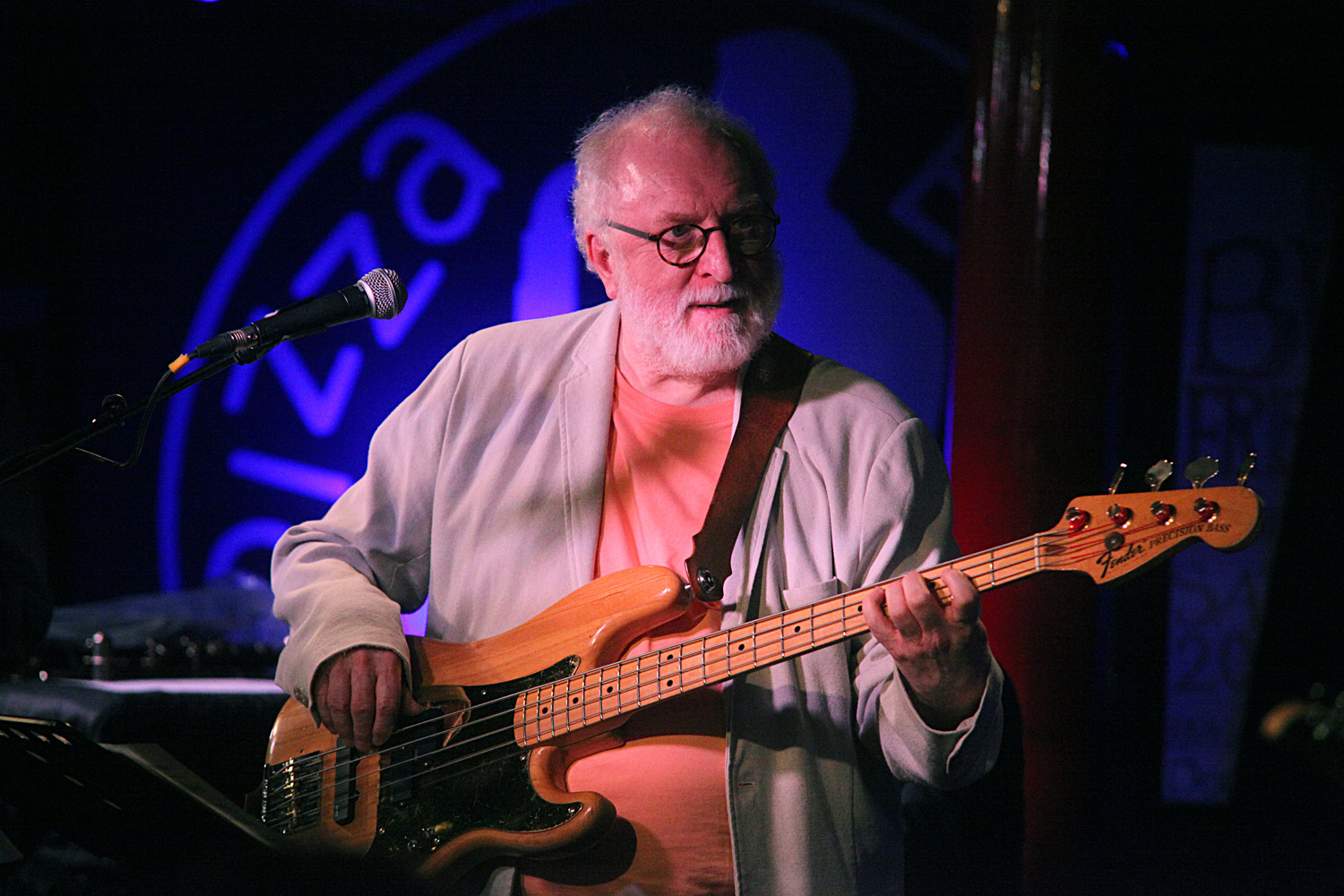 Photo: Christina Jansen
How do you look back at what you accomplished with your British Rock Guitar book?
British Rock Guitar was me talking to my friends, really. I knew everybody. It was lovely to ask them about their lives and careers, including how they got going in their early days. There are 300 answers in the book and they're all different.
Looking back, I've reappraised it. When I began, it was a fun look at early equipment and what a struggle it was when we were starting out, because we couldn't afford anything. We used to actually build things. But the book should have been even more about everybody's stories, because there's such a rich tapestry of ideas.
The book mentions that you showed up at a Jeff Beck rehearsal in 1984, with Tony Williams on drums. Expand on the tale.
I received a call from Jeff's office asking if I'd like to rehearse for another tour with him. Of course I would. I said yes. I turned up at the rehearsal and Tony was there and Simon Phillips wasn't. Simon was off playing with Stanley Clarke, I think.
I froze for a minute, because I was such a fan of Tony. I loved his playing and time ideas. I remember thinking to myself "Be cool. Don't gush. We'll get to know each other on the road." That's what I thought would happen.
I heard Tony didn't bother doing rehearsals. I feel the same actually. I like to save things for the performance. So, Tony was just going through the motions. He had a big book with him called Understanding Wall Street. Whenever we stopped a take, he got the book out.
We rehearsed for two days and then the tour got cancelled. So, I never got to really talk to him or play with him properly. But it was nice to have met him once. That was lovely.
Do you have any unfulfilled musical desires?
Sleep is one of the things I want to pursue. [laughs] I'd like to do more concerts—not just at jazz clubs, but at the theater level. But as for music itself, I've done everything I ever wanted to do. I do want to write another book of some kind. I've collected many more stories in the nine years since the first book came out.
Is there a spiritual component to music for you?
A couple of times in my life, I've heard something I wasn't expecting and felt an intense desire to join in—once when my teacher brought a descant recorder into class, and another when I saw a school friend playing a guitar, which was unheard of in those days.
Music was a driving force. Whatever I was doing, music always seemed to take over. It chose me. I've realized that music is—for me—the only art form that can induce tears. Sculptures and paintings just don't do it.
I'm attracted to harmony, and I'm drawn to the players who know this harmony. In my third year at Sussex, I was introduced to Miles Davis' Miles Smiles LP. I was moved by Herbie Hancock's harmonies on a track called "Circle." I wanted to understand them. I still don't, really. They had a "cry," and presented emotions for which there were no adequate words. Joni Mitchell talks about her "chords of inquiry." They have a searching quality.
Even the sound of an instrument can do it for me, such as the low E on a Fender Stratocaster, the whack of an orchestral bass drum, or the plaintive sound of a bassoon. I've also sat fascinated next to the rotating swishing horns of a Leslie 122 while a friend played the Hammond organ flat out.
A building can do it, too. I love the sound of a church when no-one is there. It has a presence which has nothing to do with religion. As we discussed, I recorded the Time to Think album in an Oxford church for the sound. But I can't stand it when people sing their dreary hymns, although conversely, I do think the Southern gospel singers have got it right. There is ecstasy.
I sometimes also feel humans must be primitively hard-wired to the sounds of nature and that these musical sounds trigger a response to a very ancient memory.
When I'm playing, there's a stream of consciousness and a flow of energy. If I'm lucky, it can be ecstatic. It can be transcendent. All other senses seem to be irrelevant.
One night, whilst I was onstage with Jeff Beck, the music became so intense that I noticed my eyes had involuntarily shut. I felt as if I was hovering above the stage. I don't know how long this lasted, but I do remember thinking that I really ought to come back down and join the band again.
I imagine that all of these experiences are what some people would call "spiritual." It doesn't bother me if they want to give it a name. I just feel privileged that I have, on occasion, been able to tap into these feelings.