Leonardo Pavkovic
Cosmopolitan Continuums
by Anil Prasad
Copyright © 2009 Anil Prasad.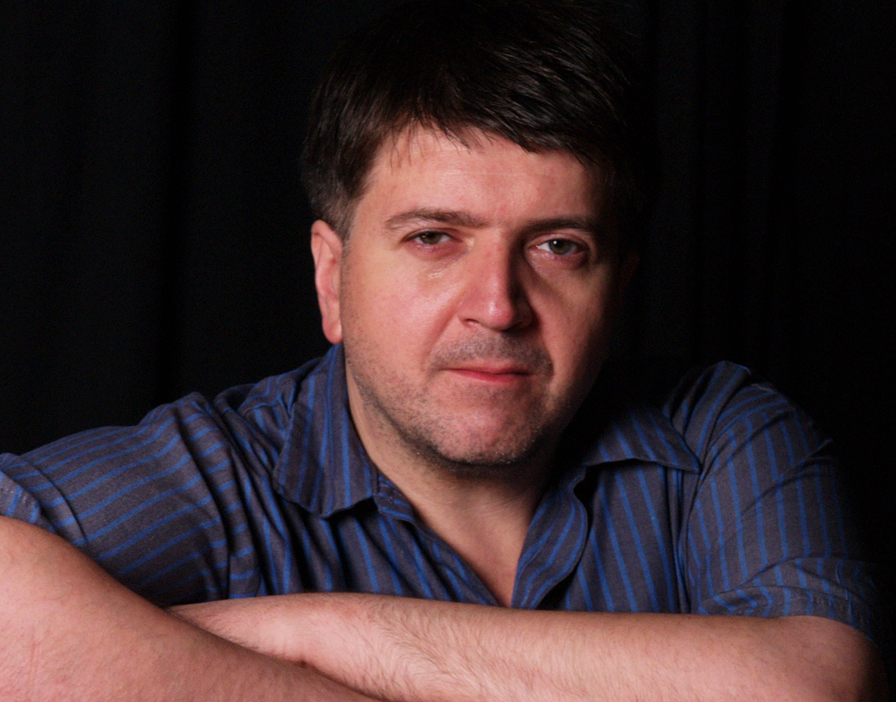 The death of the record industry as we know it is something trumpeted across the mainstream media these days. But all of that wow and flutter doesn't mean a lot to entrepreneurs such as MoonJune Records' founder Leonardo Pavkovic who blaze their own trails. Since 2001, his label has served as an outpost for legends of progressive rock and jazz-fusion, and unclassifiable artists that hover somewhere between the two realms.
Pavkovic has a particular fondness for Canterbury scene artists related to Soft Machine, Hatfield and the North, and Caravan. The current Soft Machine offshoot Soft Machine Legacy is signed to his label, ensuring the originating group's sound, spirit, and vision remains active and alive in the 21st century. MoonJune has also released several previously unavailable Soft Machine recordings, including the Allan Holdsworth-era Floating Worlds Live from 1975 and Drop, a performance by the rarely chronicled 1971 line-up featuring Mike Ratledge, Elton Dean, Hugh Hopper, and Phil Howard.
MoonJune's roster also features releases from many other impressive and intriguing acts, including the Indonesian progressive jazz band simakDialog. The group is scheduled to released a new CD on the label titled Demi Masa mid-2009. Other performers of note on MoonJune include the Canadian psychedelic post-rock act Mahogany Frog, Belgian jazz-rockers The Wrong Object, and D.F.A., an Italian symphonic prog-rock outfit.
In addition to running the label, Pavkovic is a significant concert organizer and promoter, who has launched major tours for acts including Allan Holdsworth, Soft Machine Legacy, PFM, New Trolls, and Hatfield and the North.
A true citizen of the world, Pavkovic was born in Bosnia and now resides in New York City. His cosmopolitan musical and cultural worldview is reflected in the fact that he speaks five languages and is perpetually criss-crossing the planet to present and discover cutting edge music. Pavkovic discussed the fascinating journey that led to the establishment of MoonJune, as well as the label's founding philosophies and future plans.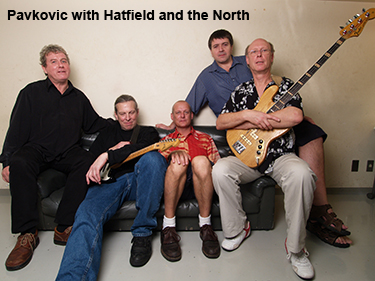 Describe the journey that led to you to launch MoonJune Records.
My life path was destined to be about searching for spiritual and intellectual freedom and not tied to anything conventional. I was born in former Yugoslavia in a small, historic town in the region now known as Bosnia. I also briefly lived in the former Yugoslavian capital of Belgrade, and most of my adult years were spent living in Southern Italy, where I grew up culturally and intellectually, before I moved to New York.
Since my high school days, I was a music lover. Bands I worshipped in those days are still ones I like today, such as Black Sabbath, Deep Purple, Led Zeppelin, The Doors, and Pink Floyd. When I turned 18 and went to college, I met a guy in Belgrade 12 years older than me who was a huge record collector. We became friends and I learned a lot about '60s and early-'70s music. He once asked me to house-sit for him for a few days and start cataloging his record collection consisting of more than 3,000 LPs. A 19-year-old kid would never say no to that. I alphabetized and filed his records, and cataloged them using an old Olivetti typewriter. During that process, I was listening to a lot of diverse music on a state-of-the-art Thorens turntable. It was like being in paradise. I discovered Pentangle, Frank Zappa, Magma, John Coltrane, Van Der Graaf Generator, Gentle Giant, Sun Ra, John Lee Hooker, Jefferson Airplane, Ravi Shankar, Milton Nascimento, Vanilla Fudge, Joan Baez, King Crimson, and many others, Then I discovered four double-albums that changed everything for me: Soft Machine's Third, Terje Rypdal's Odyssey, Keith Jarrett's Köln Concert and Miles Davis' Bitches Brew. All four are still among my favorite albums. Listening to Soft Machine's "The Moon in June" from Third in June 1981 affected me very deeply and that tune became my personal anthem. Soft Machine and King Crimson helped me to discover the British jazz scene, in particular geniuses like Elton Dean and Keith Tippett above all. Then I discovered ECM, which is maybe my favorite record label.
In 1983 I moved to Italy, which I have frequented since 1971, where I studied at the University of Bari, graduating in Portuguese Language and Literature and Brazilian Literature. I then traveled to Angola and São Tomè & Principe in Africa, two Portuguese-speaking countries. I could have had a future in academia at the University of Bari if I proceeded with a Masters Degree in Afro-Portuguese History and Culture, but I felt I needed to pursue different challenges. Southern Italy had great people, food and weather, and a lot of friends, but I wanted to live in New York City, the number one city in the world.
After moving to Big Apple in the Summer of 1990, I met Fernando Natalici, the Brazilian graphic artist and photographer who created the legendary Studio T design studio in the mid-'70s. Studio T was almost a cult phenomenon in downtown Manhattan, and Fernando himself was a living encyclopedia of anything that happened in the New York music scene during the '70s and '80s. Studio T served anybody who needed graphic and photography services, with a large clientele in the music business, but also in fashion, restaurants, retail and a lot in New York's Brazilian community. We covered every style of music and many important clubs, including CBGB, Tramps, Village Vanguard, Village Gate, S.O.B.'s, Max's Kansas City, Wetlands, Mad Club, Cat Club, Irving Plaza, Birdland, and Fat Tuesday's, among others. We also serviced three of the biggest icons in the rock concert business in New York: Chris Williamson of Rock Hotel, John Scher of Metropolitan and Ron Delsener of Ron Delsener Enterprise/Delsener/Slater, and SFX which later was integrated into Clear Channel, now known as Live Nation. We serviced many musicians too, and I still have great memories about people often frequenting our premises, like Garland Jeffreys, Roswell Rudd, Joe Lovano, Hamiet Bluiett, John Zorn, Hiram Bullock, Joe Locke, Laura Nyro, Hugo Fattoruso, John Hicks, Toninho Horta, Gil Goldstein, David Murray, and Copernicus, just to name a few. Lots of recording label clients like Blue Note, Dreyfus, Celluloid, Intuition, Knitting Factory, Big World, and dozens of others came through too.
I learned a lot, in terms of dealing with different crazy characters, graphic design, and production. After you work on hundreds and hundreds of CD covers, thousands and thousands of flyers, ads, and promotional graphics, you learn the logic of the show promotion world and the record label universe. In particular, I learned a lot from Jim Eigo, Fernando's friend and client since the mid-'70s when he was the record buyer for J&R Music, Jim is known as one of the top jazz publicists on the East Coast. In 1999, Jim, and I started Jazz Magnet Records. Each of us brought in our own experiences and did well with a few exciting releases. We released albums by blues icon Lonnie Johnson, jazz legends Steve Lacy, Archie Shepp, former Miles Davis' guitarist Jean-Paul Bourelly, New York avant-jazzers Andrew Cyrille, Mark Dresser, Marty Ehrlich, and several more. We were also negotiating to reissue CDs in the USA of various '60s and '70s jazz catalogs from Europe, including the legendary Italian jazz label Horo Records, run by an enigmatic jazz producer Aldo Sinesio.
In the meantime, in late 1999, I found out on the Internet that an English jazz combo called Soft Ware played a jazz festival in Germany and that the band members were Hugh Hopper, Elton Dean, Keith Tippett, and John Marshall. Elton Dean was a very special person to me. He was and remains one of my ultimate musical heroes, along with Robert Wyatt, Terje Rypdal, Mike Ratledge, and Jimi Hendrix. His magic saxello—a rare, curved version of a soprano sax—was always my big inspiration. I love virtually everything he's done, not just with Soft Machine. His majestic solo on "Green and Orange Night Park" from Keith Tippett's 1970 album Dedicated to You, But You Weren't Listening is one of the tunes that inspired me the most. It's among the greatest playing I've ever heard of any kind. Hugh Hopper is another of my big heroes, being no doubt the central figure of the whole so-called Canterbury scene, of which I am a huge fan. And John Marshall was also always one of my favorite drummers. And Keith Tippett was always one of my favorite jazz pianists, and I knew him personally from jazz festivals nearby a town in Southern Italy where I used to live in the '80s and run by a few of my close friends.
Originally, Soft Ware was one of the projects I have envisioned for Jazz Magnet Records, and I contacted Elton Dean about it. He said if I provided finances, he would get Soft Ware moving along again. He suggested I call everyone else in the band, so I talked to Hopper and Marshall, and they all said they were interested. Tippett said he was interested but he didn't have the time to fit it in. Meanwhile, Jazz Magnet Records ceased to exist due to lack of investor interest, but the Soft Ware project was something I really wanted to continue with. I thought: "Wow, here's a band with three former members of Soft Machine. If we have another ex-member, can we do some sort of Soft Machine reunion?" A friend of mine, Ken Kubernik from Los Angeles, a former jazz and rock journalist, introduced me in 2001 to Allan Holdsworth, to whom I offered the spot and he accepted. So the group Soft Works formed, with which we made the 2002 album Abracadabra. It was the first project I ever produced, in collaboration with Ken Kubernik. We financed the project through an excellent licensing deal with Universal Japan thanks to my heavy duty connection in Japan, and then licensed the album to Tone Center in the USA and the Dutch label Provogue-Mascot for Europe.
Unfortunately, this amazing line-up lasted for only a dozen shows in Japan, Italy and a few festivals in the USA and Mexico. Allan was going though a tough period in his personal life that led him to divorce while the band was very much in high demand in Europe. It was understandable that Allan couldn't commit to the shows, so we hired John Etheridge, a fantastic guitarist and another ex-Soft Machinist. We changed the name of the band to Soft Machine Legacy and since then it has been very active all around Europe and Asia.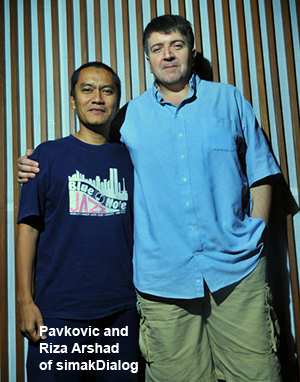 Tell me about MoonJune's A&R philosophy
The goal is to support music that transcends pigeonholing and operates within an evolutionary musical continuum that has jazz at one end and progressive rock at the other. The ever-expanding boundaries of these two genres include everything from jazz-rock, post-rock, the avant-garde, experimental music, and everything in between.
Pick some of your favorite recent MoonJune releases and artists and tell us what makes them special for you.
I am very pleased with the Soft Machine Legacy album Steam. After the death of Elton Dean in February of 2006, I felt the choice to add Theo Travis was the right one, because he brings new blood and ideas to the table. Even though he is basically a jazz musician, he brought in a great dose of psychedelic and progressive rock influences. He is just a perfect match for this really amazing band that doesn't stop reinventing itself sonically and artistically. Soft Machine Legacy really does continue the muse of Soft Machine, one of the most innovative bands ever.
In terms of younger acts with great potential, there is the Indonesian ethno-electro-acoustic progressive jazz band from Jakarta called simakDialog. It's led by a great friend of mind, the pianist, composer and arranger Riza Arshad. This band is special to me because it comes from one of my favorite countries in the world, Indonesia, which I have visited seven times. After releasing their live record Patahan, I am ready to release and promote their new studio album Demi Masa to be released mid-2009. I have a feeling this will be one of the great releases of the year. I would put Riza Arshad on the same level of other young lions of jazz crossover piano like Stefano Bollani, Geoff Keezer, Vijay Iyer, or Bojan Zulfikarpasic. I have big hopes for this band, that also features one of Indonesia's most talented guitarists, Tohpati, whose sound reminds me sometimes of Terje Rypdal. The rhythm section is very unusual—fretless bass and instead of a drummer, and they use two-or-three ethnic percussionists.
The Belgian avant-improv-electric jazz-rock combo The Wrong Object, led by the truly amazing guitarist, composer and arranger Michel Delville, is another highlight. They play the kind of jazz-rock I like—Zappa/Soft Machine influenced but with their own voice. The fact that this fantastic band came to me via Elton Dean, makes them very special to me. When I was in Paris in December 2005, at the time we filmed the Soft Machine Legacy DVD—and the last time I was with Elton Dean—he told me about The Wrong Object and the gig they did together in Paris in October 2005. They planned to continue the collaboration, but Elton died a few months later. Thankfully, the gig was recorded and Michel and I decided to release the concert on MoonJune as The Unbelievable Truth. One year later they came to me with their first studio album, which blew my mind, and I consider Stories From The Shed one of the MoonJune's best albums. It's also one of the label's most acclaimed albums in over 30 countries worldwide.
I also want to mention the psychedelic prog-jazz/post-rock act from Winnipeg, Canada, called Mahogany Frog. Their record Do5 is the first album on my label that I am releasing without any previous personal connection, which makes them very special. I discovered them on MySpace and loved them immediately. Incredible potential. They deserve a major label attention. With luck they could be new Mars Volta.
Lastly, there's my favorite prog-rock band today, D.F.A., from Verona, Italy. Their album Work In Progress Live, released in 2001, and one of the first albums on my label, is one of the highest points of my label, and one of my best-selling records. Their last album that came out Summer 2008 was called 4TH and is the most critically acclaimed record I've released. After waiting seven long years, the album is finally out and is creating an amazing buzz worldwide in over 40 countries. The band is also requested by many progressive rock and jazz festivals. What makes them special to me is that they are my dear friends. They are amazing guys and they play the kind of progressive rock I like most—Canterbury-style jazzy progressive rock in the vein of Hatfield and the North and National Health.
If you could sign any artists to MoonJune, who would they be?
Allan Holdsworth and Terje Rypdal above all, because they are the two greatest guitar players that I am aware of. But it won't happen in either case. I am Allan Holdsworth's worldwide booking manager, but not his label. If I could have him on my label, my dream project will be Allan on guitar, Jan Garbarek on saxophone, Miroslav Vitous on acoustic bass, Bobo Stenson on acoustic piano, and Trilok Gurtu on percussion. Instead of Vitous on bass, it could also be Eberhard Weber, if he hadn't suffered the stroke last year that left him unable to play. For myself and Allan, Weber is our personal bass hero. Another interesting idea is something like the English Geezers Jazz Band, with Allan, Jeff Clyne or Roy Babbington on contrabass, John Marshall on drums, Alex Maguire on acoustic piano, and Paul Dunmall or Ray Warleigh on saxophone.
A lot of people worship Allan's fusion classics such as Metal Fatigue or Atavachron, while I am more into his jazzier albums such as Wardenclyffe Tower and Sixteen Men Of Tain. So, another crazy idea of mine is to have Allan playing acoustic guitar with people like Paco De Lucia, Ralph Towner, or John Etheridge. Everybody dreams of Allan in progressive fusion or progressive metal projects, but the Allan Holdsworth I dream of is the one playing jazz. It's not for nothing that he is considered the John Coltrane of guitar. After overcoming some personal problems he was going through until just few years ago, Allan now plays maybe better than ever.
If I could sign Terje Rypdal, I would like to do a power trio that includes drummer extraordinaire from Los Angeles, Jason Smith, whose record Tipping Point was released on MoonJune in 2007. I would also use Sveinung Hovensjø, an unsung electric bass guitar hero and personal favorite electric bassist of mine, who played with Rypdal between 1973 and 1978. In addition if I can, I would like to release a dozen of Rypdal's live recordings from the 1973-1976 period, which is some of the greatest music I've ever heard. Terje Rypdal is the guitarist who took the legacy of Wes Montgomery, Jimi Hendrix, and John McLaughlin to the next level in the early '70s, and then in the late '70s, reinvented himself as one of the most accomplished guitarists and musicians of the 20th century.
In my strictly subjective opinion, Holdsworth, Rypdal, and Hendrix are the only extraterrestrials among guitar players that ever appeared on this planet. Everybody else is just a mere mortal.
Lastly, I would like to sign a new rock band that one day becomes as big and inventive as The Mars Volta. The above are all just dreams, but you asked me "if…"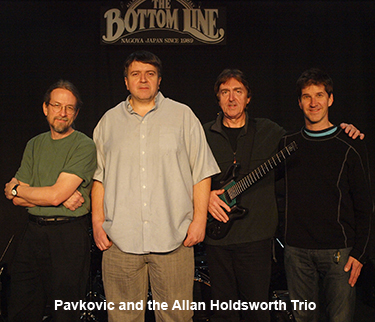 You played a major role in the re-launch of Allan Holdsworth's career in recent times. Tell us how you helped spur him back to action.
I've known Allan since 2001, when we started the Soft Works project, and when he was going through a rough personal time, as well after ceasing work with his former manager. First, he asked me if I could help him with a tour of Japan only, knowing that I have strong connections over there. Allan has toured Japan for 20-plus consecutive years, before stopping for a few years due to his personal and business situations. Since we started working together, Allan has played in Japan five times and is heading there for the sixth tour soon. Then he asked me to handle bookings in Europe and the USA. Before Allan, I did not have any experience in booking anyone in the USA. I tried my luck and it worked very well and he has played all around the USA, doing more shows in the past three years than in the previous 10 years combined. We did several tours of Europe and we are excited to do much more in the future, worldwide. We have a great friendship and so far, in terms of bookings, Allan is very happy working with me. So are his bandmates Jimmy Johnson, Chad Wackerman, and Gary Husband, all of whom I have really great relationships with.
How has the shift to file sharing and iTunes impacted you?
It's still too early to know how this will play out. Lots of people are sharing files and digital sales aren't yet what they should be or will be. In fact, they're still miserable in my case, even though I have worldwide distribution through Astralwerks/EMI. Unquestionably, there's a major crisis in the music industry, but the music I present has nothing to do with fashion. Record sales are going down, but if I recover my production expenses, I'm okay. I am a one-man company and I have low overhead, which permits me to survive as a label. This is not a business to be in if you're looking to make a profit. I've never made any profit, though I don't lose money either. I make most of my earnings booking concerts worldwide, and making deals. I hope one day the label can turn a profit, but with a relatively small catalog, and today's world financial situation, especially in the USA, it's not easy. Digital sales of niche genres like progressive rock, jazz-rock, and avant-jazz are a joke, especially for the new artists.
If you look at how iTunes and its competitors work, they are enjoying record profits, not because 10,000 artists sell a lot, but because 10,000,000 artists sell a little bit, with only few percent selling a lot. Once Britney Spears has a single, it's easy to sell millions of downloads of a single tune in a month. But at the moment, I might sell $250 in digital downloads of Soft Machine's Floating World Live in one year, as an example, which is my best-selling album so far. So draw your own conclusions. It's pure chaos out there. I'm sure something will happen and that we'll all adapt to a new paradigm, but which one? No-one has any idea yet. In any case, those few bucks coming from digital sales help to pay my monthly electric and phone bills.
What do you tell your artists about how to contextualize what is taking place when you discuss putting out new releases?
The most important thing is that they understand that it's very difficult to sell the music they are doing today. They get it. Once I decide to put a record out, we discuss the realities of the marketplace and my capabilities for promoting and marketing. I'm a very easy-going and straightforward person, and so is everyone else I work with.
How do you see MoonJune evolving in the coming years?
MoonJune Records will grow organically, but I feel something very good will happen soon with it. I am very pleased about some exciting projects in 2009, including Drop, the recently released archival live concert of Soft Machine recorded in the fall of 1971 during the band's German tour, with the very rare line-up of Mike Ratledge, Elton Dean, Hugh Hopper and the unsung drum hero, Australian Phil Howard, who was in the band only for few months in between Robert Wyatt and John Marshall.
I'm also excited about the simakDialog album I mentioned earlier, as well as an avant-improv album featuring the phenomenal Italian vocalist Boris Savoldelli in duo with Elliott Sharp. There's also an analog keyboard solo tribute to Mike Ratledge in the works by Beppe Crovella, the legendary co-founder of Arti & Mestieri. There's also a forthcoming project that involves keyboardist Alex Maguire, who played with Hatfield and the North, the Elton Dean Quintet, and Pip Pyle's Bash, performing with Michel Delville of The Wrong Object, TZGV and Moving Tones, along with American drummer Tony Bianco, as well as a few special guests. They play jazz-rock in the vein of Terje Rypdal, National Health, Tony Williams Lifetime, and The Doors. Another exciting future release is the new studio album by Copernicus, an avant-garde post-non-existentialist poet and philosopher from New York. And as soon as Hugh Hopper recovers from his health concerns, we will record a new Soft Machine Legacy studio album.
As I mentioned before, MoonJune is also about bookings. Since I started booking acts in 2001, I've done over 800 shows in 30-plus countries, specializing in Asia and Latin America, particularly Japan, a country I have visited a few dozen times with several legendary progressive rock and jazz acts. Recently I have successfully penetrated into the South Korea market. And with a similarly minded friend from Puerto Rico, we will be launching MoonJune Latino/bajoConstrucción Music to explore the Latin American music market, focusing on inter-cultural exchanges and academic circuits more than the mainstream or alternative jazz and rock booking world. I have spoken perfect Portuguese for over 25 years and very good, colloquial Spanish, so I feel very comfortable and at home in that part of the world. I am also exploring possibilities to create MoonJune Asia based in Singapore and focus mainly on India and Southeast Asia—my favorite part of the world—with eye on Mainland China.
What have been the greatest rewards you've experienced running MoonJune?
The greatest reward is that MoonJune is now an established, global name in the niche world of progressive music. It has a universal and cosmopolitan reputation, which is fantastic. MoonJune Records releases have generated reviews in over 40 countries and 30 languages. I've booked musicians in so many different countries worldwide, and knowing so many people all around the globe is something that makes me feel rich and extremely rewarded. I was born in a small ancient town squeezed between Bosnian mountains, and I always was dreaming of discovering the world that is on other side of those rough mountains. Back to MoonJune Records, I really feel I am putting out quality records and that is being validated by global feedback. I am confident that my label is transforming into a strong niche. The goal is to increase MoonJune's visibility and spur further growth. I feel like the future is wide open for MoonJune and that the possibilities are endless, despite the increasing decline of the sales of quality music. The important thing is to continue focusing on the niche. Overall, It's been a fantastic experience so far.