Steve Morse
Collaborative Departures
by Anil Prasad
Copyright © 1991 Anil Prasad.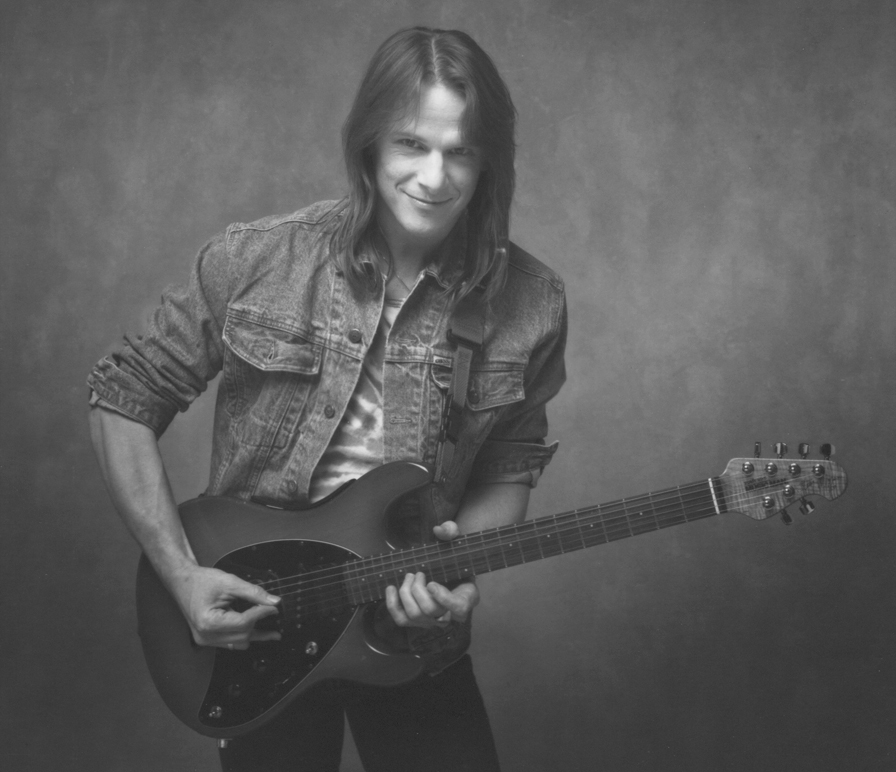 In late April, The Steve Morse Band left over 500 fans dazzled with its sold-out performance at Barrymore's in Ottawa, Canada. Yet backstage, there was something wrong. The band members seemed to be in a perturbed state, as if they were holding back some deep disappointment about the stunning show. If something was afoot, it was lost on everyone but the musicians.
"Let's forget about all that stuff," said Morse in an interview after the show. "You can't go wrong with a crowd like that. We're just being hyper-critical right now."
It's this sense of perfection that stands out in everything the virtuoso guitarist involves himself in. Whether referring to his work with the quintessential fusion outfit The Dixie Dregs, his brief stint with progressive-rockers Kansas, or his solo career, Morse has continued to hone the elements of his trade to new levels.
His latest album, Southern Steel is no departure from the pattern. It is, however, musically divergent from his previous efforts. Featuring the talents of bassist Dave LaRue and drummer Van Romaine, the album features a harder, more rock-based sound that shifts away from his more esoteric leanings. It's a change that's sure to catch old fans off-guard and one that could easily create many new ones.
"I did a solo album in 1988 called High Tension Wires and we toured with that for over a year. It was freaking people out because that album was acoustic and melodic and we would come out and play with a real heavy round," said Morse. "The new album sounds more focused to most people and it sounds more like our live shows than ever before."
Morse not only approached the album's sound differently, he even let the other band members have a say in its shaping. That's quite a shift for Morse, since he usually assumes total control over most of his projects.
"I made it clear to the members that I write all of the songs—but I said 'I want you to tell me what you like and what you don't like, and I'll give you stuff to work on, and you come up with your own versions of the parts I give you.'" said Morse. "It was a departure for me to have the band actively change the music."
This was not his first experience a with band democracy, though. His short tenure with Kansas provided the world with two solid albums, 1986's Power and 1988's In the Spirit of Things. Kansas also provided him with some headaches that ultimately led to his departure from the group.
"It was an interesting study in teamwork, which I wasn't that good at, coming from always having total control. So, I learned a lot," said Morse. "The tours were really great but the whole big picture got lost. Personally, I felt the idea we had for the band wasn't executed the best way possible. Also, I missed what I had been doing all my life—making my own music. So, I wanted to get back to it."
Even with all of the innovation and intrigue evident in Morse's music, his career has hardly been without problems. On more than one occasion he has been asked to compromise his artistic integrity for the sake of album sales.
His first solo release was an instrumental rock album called The Introduction. It was a critical success, but a low-seller in the grand scheme of the music industry. Elektra—his label at the time—had reason to believe sales could be increased on the next album by adding vocals to his signature sound. It was also suggested he add them to High Tension Wires. Morse is happy to put that sort of pressure behind him with Southern Steel.
"The bottom line is, I have full artistic control now. On paper, the record company has veto power in a big way, but they've never used it, so I just keep my fingers crossed," said Morse.
The immediate future for the Steve Morse Band includes more touring and recording in the vein of Southern Steel. However, many fans continue to dwell on Morse's past. A day probably doesn't go by without Morse being asked whether or not the Dixie Dregs will reunite as they did briefly a few years ago. To ensure his day was complete, the question was posed.
"Another reunion maybe, but we have to keep it short because we all have other things to do," said Morse. "I don't want to do a quick, crappy record just to make a little more money. I've learned that If anything is easy now, you'll pay for it later."