Nils Petter Molvær
Shifting Contrasts
by Anil Prasad
Copyright © 2020 Anil Prasad.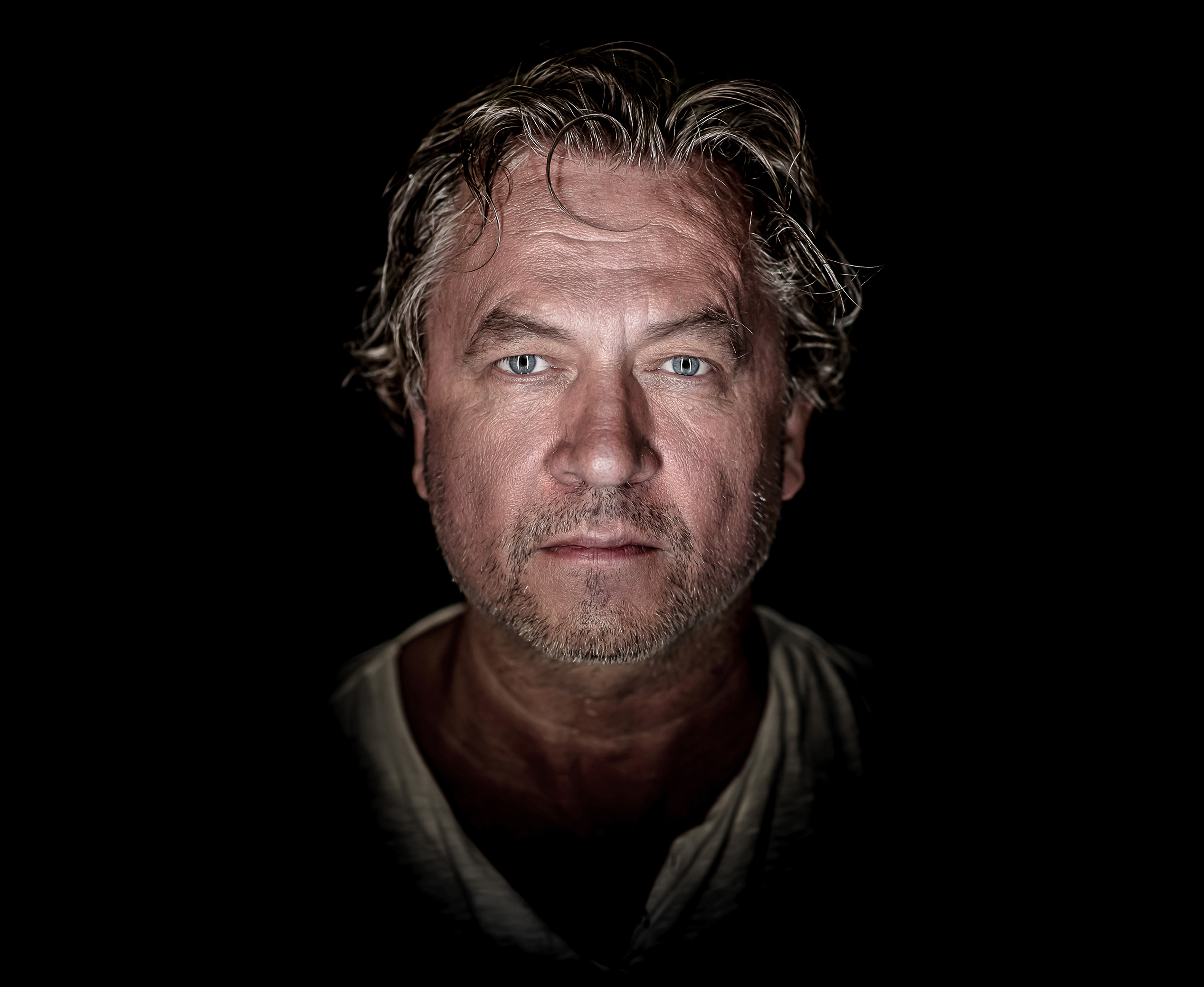 Photo: Roberto Cifarelli
Nils Petter Molvær is in a constant state of creative transformation. The Norwegian trumpeter and composer's ever-evolving blend of jazz, electronica, ambient, and music from across the globe doesn't align with any genre. His open-minded approach cascades across a diverse and acclaimed 13-album solo discography. His work has also played a large role in elevating the prominence of Norwegian music, as well as providing significant career opportunities for many artists from his homeland.
Much of Molvær's output is about collaboration, underlined by his most recent projects. In 2019, two Blu-ray performance releases with the Norwegian National Ballet emerged featuring his soundtracks for its adaptations of playright Henrik Ibsen's Ghosts and Hedda Gabler. Nordub, a 2018 group album, found him teaming up with Sly & Robbie, as well as long-time compatriots Eivind Aarset, Jan Bang and Vladislav Delay. Nordic Voices, a six-voice a capella ensemble, worked with Molvær on 2017's The Bee Madrigals, exploring the phenomenon of bee colony collapse.
Molvær's most recent solo album, 2016's Buoyancy, features some of his most meditative and emotionally-charged work to date. The recording focuses on nuance and subtlety, and reflects a mature compositional outlook.
Molvær's loyal audience has stuck with him since his ambitious 1997 debut Khmer. It combined jazz with the era's electronica directions, including trip-hop, house and drum'n'bass. The album was supported by cutting edge remixes by the likes of Bill Laswell and The Herbaliser. It was released on ECM Records, a label Molvær had done many previous projects for with the group Masqualero, as well as Jon Balke's Oslo 13, Sidsel Endresen and Robyn Schulkowsky.
Khmer, as well as its 2000 follow-up Solid Ether, were unlike anything ECM had released and proved to be worldwide hits. They were contemporary, possessed youth appeal and situated ECM within entirely new demographics. But the two albums also created a schism within the company, and Molvær chose to depart and subsequently work with major labels including Universal, Sony and BMG.
Innerviews met with Molvær over coffee and pastries at Oslo's Norð Bjølsen Bakeri in Sagene, an upscale borough of the city. Dressed in a navy blue hoodie and jeans, with a short, graying beard, the soft-spoken, genial Molvær looked considerably younger than his 59 years. And though he's known and revered throughout the country, the secluded, family-oriented locale was ideal for him to relax and communicate in detail about his history, motivations as a musician and forthcoming projects.
We're living in incredibly challenging times. What do you see as the value of music in connecting people at this moment?
I think it's very important. Music connects people and cultures. I can go to Zambia and play with a drummer who only speaks Swahili. We won't be able to talk to each other, but we can play together and become really close in that way. Also, I think connecting with an audience through music is quite an elevated form of communication which creates emotion and curiosity. You can experience a really intimate connection through music. I do think it's incredibly important for music to be a free flow between cultures.
Unfortunately, it's so difficult for European musicians to perform in the United States now. Most musicians don't think it's worth all of the work and money required to get to that country. And when you get there, you might not even get paid for your work. That's quite sad. I hope that changes.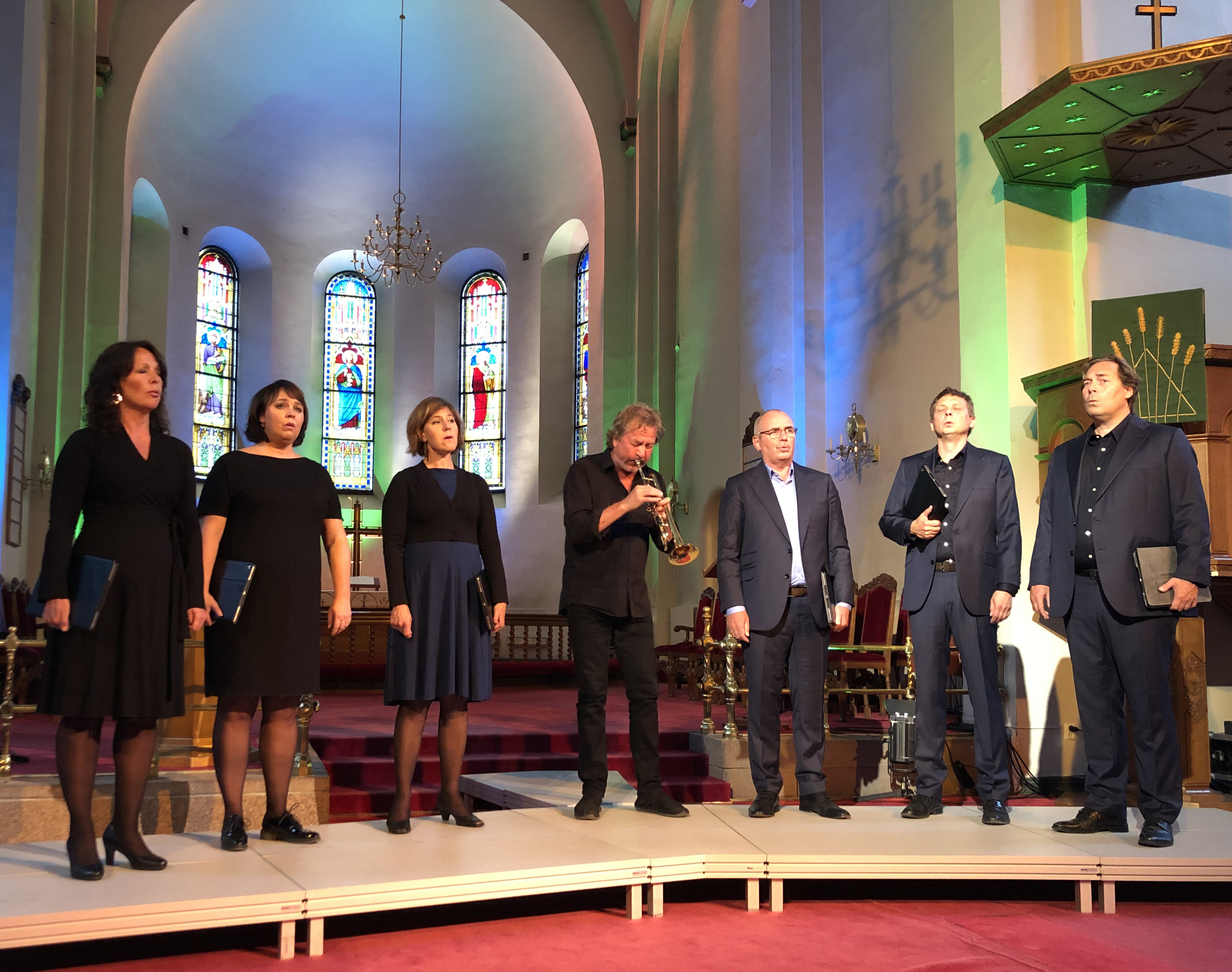 Nordic Voices and Nils Petter Molvær perform at Grønland Church, Oslo, 2019 | Photo: Anil Prasad
You collaborated with Nordic Voices on The Bee Madrigals, which explores bee colony collapse. Why do you feel music is uniquely suited to relay that situation?
The composer who wrote the piece is named Bjørn Bolstad Skjelbred and he's a very nice writer. When we first worked on the piece, I didn't know it had anything to do with bee colony collapse. And then I realized the piece was part of a very big dialog. It's very important for artists to be politically and environmentally relevant. As artists, we should communicate what troubles us and what affects us. We should integrate this into our work.
When I was doing press interviews with Nordic Voices for the album in Oslo, we did it on a rooftop in the middle of the city. On that rooftop was a colony of bees, so the effort to save them is also very local.
On another note, I was recently in Sardinia and realized there weren't very many insects there. A lot of that has to do with their use of windmills which kills billions of insects and birds. So, on one hand we are trying to save the environment with windmills, while killing so many creatures in the process. It's a lot to think about.
How did your partnership with Nordic Voices begin?
They reached out and asked if I wanted to work with them in an improvisational context. They first asked me if I wanted to do a Christmas tour of Norway a few years ago, playing Christmas carols in churches. I was totally free to perform without any effects or amplification. We also did some concerts in Germany. I thought the sound of us together was so cool.
I've been working with other singers, including a beautiful vocalist from Iran called Mahsa Vahdat. I also did a little work with Deeyah Khan, who in addition to being a singer is also a filmmaker who won an Emmy for her work on the anti-racism film White Right: Meeting The Enemy. When Deeyah won the 2016 Peer Gynt Prize in Norway, Mahsa Vahdat was there and we performed together as a duo. I thought it sounded like floating gold.
Your last album Nordub was a collaboration with Sly & Robbie. Reflect on the beginnings of the project and what it was like to work with them.
I was playing a solo concert in Jakarta and a guy named Mark von den Bergh was at the show. He came up to me and said he liked it a lot and asked me if I'd consider working with Sly & Robbie. I said "Yeah, I love them." I saw them in the '80s in a club and it was ridiculously good. It was The Taxi Gang with Yellowman and Burning Spear.
So, they asked me to do a summer tour, and I agreed. I said I wanted to have Vladislav Delay on electronics and Eivind Aarset on guitar, and they said okay. We first met a week before the tour in a castle in France and rehearsed and then did the shows, which were fun and different from the album. We also did some strange things like "Another Brick in the Wall" by Pink Floyd, which I didn't think we needed to do. [laughs] Pink Floyd did it so well themselves.
Performing with Sly & Robbie was wild. It was absolutely fascinating to see how they work together. Sly's hi-hat is incredible. During the tour, Robbie wasn't feeling very well. I actually did his parts during soundchecks and played bass. I was thinking to myself "I'm playing bass with Sly Dunbar. Unbelievable." I also played all the bass on Khmer. I wouldn't say I'm a bass player, but I can do it.
After we toured, we had three days off and went to D Volante Studio in Kristiansand, Norway to record. We recorded something like three hours of music, which we pared down and mixed, and sent to Vladislav Delay to work on it further as co-producer. Vladislav did a fantastic job dubbing the album. Then we did another tour. I think the project was a one-off because I have a lot of other things to focus on.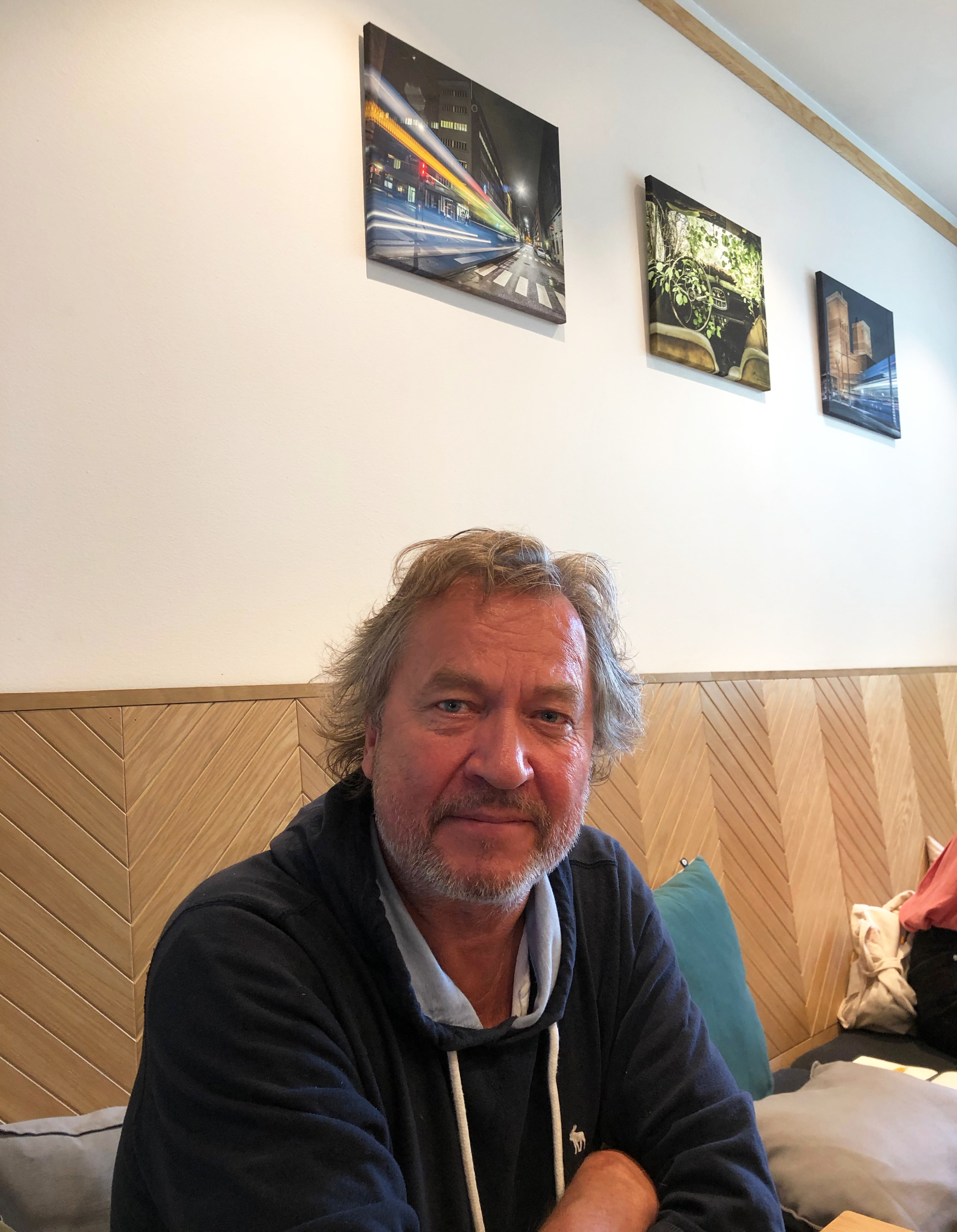 Nils Petter Molvær at Norð Bjølsen Bakeri, Oslo, 2019 | Photo: Anil Prasad
Let's discuss your 2016 album Buoyancy, which is one of the most minimalist recordings you've made. What spurred you in that direction?
I think it began with Switch, my album from 2014. I really wanted to have the sound of the sea on it. The direction continued on Buoyancy and it's also related to a lot of co-composing with the other musicians. It's very much band work. The colors and expression on it are related to that, especially Jo Berger Myhre, who played bass and many other instruments on it.
Sometimes titles are hard to find for songs. I felt a lot of the material had a floating quality over pedal steel sound on it. I used to scuba dive in many places, so I decided to make the titles relate to places I've gone diving. I thought "buoyancy" was like when you go down to the bottom of the sea, put a little air in your vest, and then hover weightlessly. You kick with fins and go forward, which is an amazing feeling. But I haven't gone diving since I was in Thailand during the 2004 tsunami.
As for why my directions change, I don't want to keep doing the same things over and over again. Khmer exploded and I could have continued to go in that direction. But I'm more interested in connecting with musicians and their unique qualities, giving them freedom, and seeing what happens. I don't want to say "do this" and "do that." I want them to do what they do. Sometimes, I nudge things a little bit in a direction, but the way things sound has to do with what everyone contributes.
Tell me what you experienced in Thailand during the tsunami.
We were staying on an island called Ko Lanta. It was a beautiful place. We had planned a trip to another island called Ko Ngai, which is a great place for diving and snorkeling. We arrived Christmas Day, checked in and the next day we went out with a dive master. My daughters wanted to go to a beautiful place where you could dive inside a cave. That morning, I came down with a cold, but felt better later and asked if we could go there in the afternoon.

But the people who went on the morning trip we were supposed to go on either got killed or injured. The tsunami hit at 7:59 a.m. and killed 5,400 people across Thailand, including 2,000 foreign tourists. A good friend of mine, the saxophone player Sigurd Køhn and his 18-year old son died in it. The singer Silje Nergaard and the drummer in my band, Rune Arnesengot, got caught in it but escaped.

I remember the water becoming milky white and feeling the movement in the water in Ko Lanta. We were told to get out from the little bay we were in. The wave came in from the other side of where we were. Then suddenly the sea and boats rose and this giant wave came over the beach and I thought "Jesus, the kids. Are they okay?" Thankfully, they were inside the cabin putting on sunscreen and they were fine. I don't believe in destiny, but it seemed these small coincidences kept us safe. We saw on Thai television how horrible the impact was. It didn't feel real, somehow.

I decided we couldn't be there any longer. I was lucky to get online and get in touch with a hotel in Krabi. I bribed someone with a lot of money to take us there. We got onto the only boat on the sea and got back to the mainland. We saw the devastation and it was horrible. It was also very difficult for our families and friends back home, because they didn't know if we were okay.

I haven't gone diving since the tsunami. I did go for a swim in Sardinia recently and thought "It's finally time to start diving again." It really is a beautiful thing to do.
You've said your work is about contrasts and shifting between the organic and electronic. Expand on that.
Contrasts create tension and energy. There's a musician called Jon Hopkins who has beautiful melodies and then shifts into really hardcore, heavy beats. If he only focused on beauty, things would be a little boring, so he has this deep, brutal stuff that creates a dynamic that's very interesting.
I like more melodic things. I'm a melodic man, in a way. But I like to wrap things in something dark sometimes. I'm never thinking about specifically going one way or another. It's something that happens organically.
I've composed a lot for the Norwegian National Ballet. Dance is an amazing art form and to work with such great dancers is a privilege. I've done Ibsen's Ghosts and Hedda Gabler for them. Hedda Gabler is about one of the first women suicides with a gun in literature history. It's dark and about the stupid male patriarchy you see everywhere.
I like doing the dance pieces because of the musical diversity and contrasts. I create a lot of contrasting work, including soundscapes for them, which I sometimes also use for other things. There's an enormous spillover of ideas that I don't use for the ballets. It doesn't mean that work is bad, but it may not fit into the ballet format.
The other thing about doing the ballet work is it means I don't have to go on tour all the time and play the same clubs over and over again. I can sit in the studio and work, which is a very good thing. I get really tired sometimes of traveling, security checkpoints and getting a bad back from all the flying.
What are the biggest challenges you face during your creative process?
Trying not to repeat myself can be difficult, but there's also the idea of reuse having to do with empathy. I can always use something from the past and put it together with something else to create something new. So, I can take ambiences from a previous idea, mess with it, add melodies, a bass line or grooves, and put it into different contexts that result in totally new music.
It can be difficult to focus with so many demands beyond the music. Just getting time to sit and work is a challenge. Sometimes I have to deal with organizing tours, sending in invoices, talking to accountants, or even walking the dog. [laughs] I have very full days. I also need to take a break and go down to the river and run or bike. Being physically active is very important, especially at my age. I really try to have a very normal life when I'm at home. I treat working on music like working in a factory or a café. I get up, have something to eat, go to work, and then come home and live a normal life.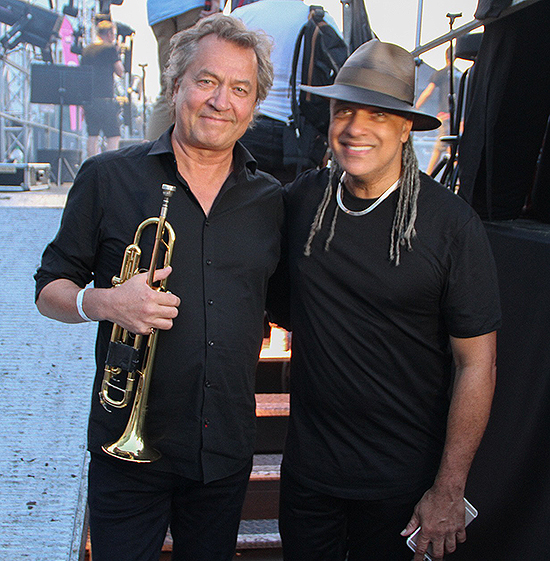 Nils Petter Molvær and Mino Cinelu, 2019 | Photo: Marseille Jazz Festival
One of your key current projects is the Sula Madiana duo with Mino Cinelu. Tell me how the partnership emerged and what makes it special.
I met Mino by coincidence. I was playing a solo show in Cappadocia in Turkey where he was also doing a solo performance. I didn't know him. He came by to say hello. I was playing in a neighboring cave and he sat by the sound guy. I closed my eyes and played a one-hour solo thing. When I opened my eyes, he was still there at the end. We started to talk and said we should do something and I said I would love that. Musicians say that a lot, but often nothing happens.
But both of us were then invited to play a big concert with Ibrahim Maalouf in Paris. Ibrahim invited people who have meant something to him. Mino was there, too. Once again, we said "Oh man, we have to work together." Then both of us were invited to do a trio thing with a Polish piano player who lives in Hamburg named Vladyslav Sendecki. We did three concerts together and then, after that, Mino and I said "Now, we really have to make this happen." [laughs]
We started to talk and went up to Trondheim in Norway in June 2019 and rehearsed for a little bit and played a concert there. It was really nice and then we went into the studio in Oslo right after that for two days and recorded a lot of things. An album will eventually come out of those sessions.
Mino's sense of space and ability to give space to others is great. He's said the same about me. So, we give each other space. Mino is much more than a percussion player. He plays very good guitar and sings. He's also a very good person. We enjoy each other's company. I think the album with Mino will be the first album I release through a new deal with BMG I just signed.
What other projects are you pursuing with BMG for the future?
After the album with Mino, I want to do another one with my band. I've also recorded some of my earlier pieces with the Norwegian Radio Orchestra. I asked them to make an edgy project. We did two concerts in Norway and I had everything recorded. So, I have all this material and can take it into the studio and play with it. An orchestra is an amazing instrument to work with.
The other thing I want to do is create a solo musical platform, which will also result in a solo album just with me. I want to be able to take this platform to places like India, Africa and Japan, and work with people who don't speak my language. They'd come in with their ideas and we'd make music. I want to call the platform 6030, which is the number of the municipality I come from in the north of Norway called Langevåg. So, the first album would also be called 6030 and then I'd do 6030 Mumbai and 6030 Tokyo. The idea is to work with musicians who improvise, but also have roots in their traditional musics, as well as an interest in electronics. This would be a long, long project, in between other things I do.
I should mention that my last label Sony will be releasing a compilation of old songs called Reminiscence, too. I didn't want to call it Best of, because that's what you do for people who are dead. [laughs]
You remain with a major label. Many musicians of your stature have chosen to leave those structures behind in recent times. What makes BMG work for you?
The people at BMG are very nice. I work with Christian Kellersmann, who is the Senior Vice President New Classics and Jazz there. He used to be the head of Universal Jazz and Classics in Germany. I also did a publishing deal with BMG, so things are under the same umbrella and it all works together to create opportunities. So, I don't have to think so much about that and can focus on making music, because I'm a horrible businessman. [laughs]
These people know and love music. The muscles of a big company can really put energy into a project. I am signed directly to BMG, instead of one of the smaller labels it distributes. For instance, Deutsche Grammophon, which is owned by Universal, released Khmer on vinyl, which was on ECM. A lot of money disappears in these chains. It's better to go direct. You won't get a lot of money upfront, but you do get a better deal. I trust these people. They have a real network to get the music out there. Small, indie labels can be very cool too. But they don't have the same impact. I should mention I'm signed to the international BMG company in Berlin, not the Norwegian division of it. Berlin is where the decisions are made.
How do you look back at Khmer and the impact it had?
I had done a lot of projects and bands by that point, but as a solo artist, it was my breakthrough. I decided it was time to do a solo album and I worked on it for a long time between other sessions, because I didn't have a lot of money. I worked with a great sound engineer called Ulf W. Ø. Holand and we had a lot of ideas. Khmer was also a mash of Bill Laswell, Brian Eno's ambient stuff, and North African and Middle Eastern music. I played all the percussion, trumpet, bass, and even some guitar on it. I also brought a band together with two drummers and a DJ, so I could have this pumping rhythm thing.
I was really into what we accomplished. Once it was finished, Manfred Eicher changed the sequence a little bit and ECM released it. Then I got a call from Universal Music, who were based in Hamburg, and they told me they were really happy with the album, too. They asked for some remixes. I asked Bill Laswell to remix "Ligotage" and suddenly the world opened up and I started to travel and tour.
Next, I decided I didn't want to do another Khmer. It was a conceptual album. The follow-up, Solid Ether, was more song-based, using the same band. But there are similarities because it's from the same period.
It's funny, I was asked to do a Khmer 20th anniversary tour in 2017 and I said "No, I can't do that. I don't want to do that. That was then, this is now. What I do now is a different thing." But it definitely was a major moment for me.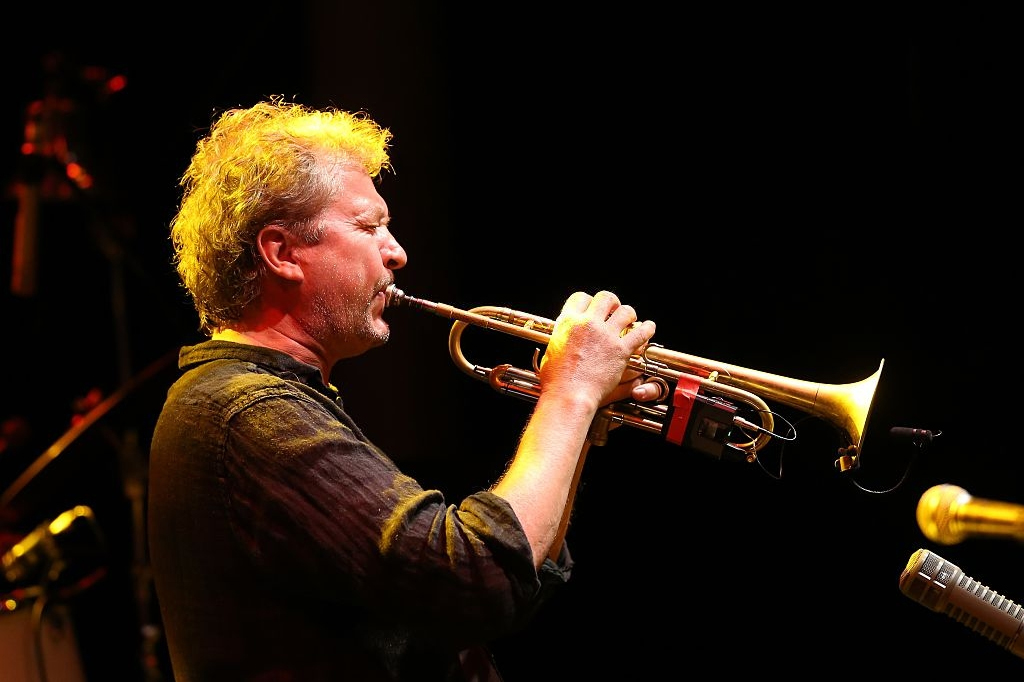 Photo: Enka Arts and Culture Festival
You've intimated there was friction with ECM related to Khmer's crossover appeal. What happened?
Manfred Eicher was really into the album. I think ECM is extremely important and Manfred has done a lot for Norwegian music. He created his own sound and way of putting things together. I respect him and ECM very much. But the Khmer remixes were promoted by Universal, the distribution company for ECM.
There were some situations that happened with ECM which were very strange and that's why I didn't want to be with ECM after Solid Ether. For instance, I was getting calls to have my music placed on Café Del Mar compilations and ECM didn't want to do it. These compilations were selling millions of copies. One of the ones they wanted to put me on had Björk and Massive Attack on it. I had just had a child. I was struggling financially, dealing with sky-high credit interest rates at the time. I found it arrogant that ECM never asked me what I wanted.
Björk and Massive Attack were big reference points for me on Khmer. The slow trip-hop beats and trancey, repetitive things were part the inspiration. So, putting me together with them was musically very relevant. But they said "It didn't fit the ECM profile." I was frustrated. I wondered "Well, do I fit the ECM profile? Does Khmer fit the ECM profile?" So, there was a falling out, in a way. But I've met Manfred a couple of times since, and we're still friends.
You and I are sitting here today because Bill Laswell connected us. Tell me about your work together and why he's important to you.
Because he's Bill Laswell. [laughs] He's a very good guy and so open-minded. He's also a very spiritual man. I remember listening to all of those Material and Golden Palominos albums and his dub basslines early on. Those were big reference points for me.
I first met Bill at a festival in Germany after Khmer came out. I nicked a sample of his for the track "Platonic Years" and said to him "Is that okay?" He started laughing and said "Yeah man, it's no problem." We became friends and hung out. I came to New York and played on his music, including his Dub Chamber 3 and Radioaxiom albums. When we first met and played together, it was very cool and easy. He also did two remixes for Khmer. In addition, I asked him to play on a project with Anneli Drecker from Bel Canto.
I played with Tabla Beat Science in 2003 and Material in 2005, which were both fantastic. Bill also asked me to do the big Axiom Sound System show for US television on PBS. We did a tour together with Eivind Aarset, Aiyb Dieng and Guy Licata in 2007, as well.
Bill has opened doors for me, too. For instance, I first met Zakir Hussain in Tabla Beat Science. After that, Zakir invited me to play in a duo with him for the monks in Dar es Salaam. I pretended to play Indian music and he helped me sound okay. [laughs] He's a fantastic guy, too. So, again, you see how music connects people.
Masqualero's self-titled debut from 1983 was recently reissued. How do you look back at that album and your journey with the group?
Masqualero reflects a series of coincidences. We started in 1981 when I had just moved to Oslo. Jon Balke asked me if I wanted to play on a National Theater piece called Oodjaana. This show had a lot of musicians on stage. My owl character was a slightly transsexual thing in pink tights and high heels.

That autumn, Arild Andersen, Jon Balke and Jon Christensen were going to do a trio gig in Kongsberg. They asked me and the saxophone player Tore Brunborg to join in. After we did it, everybody was over the top and we went off to do this album for the Odin label. It was just two days in the studio. The album came out and suddenly we were traveling everywhere. I was really young. When I listen back to the album I think "Jesus Christ, did I really used to play like that?" I was fighting with my instrument back then. I had a different mindset.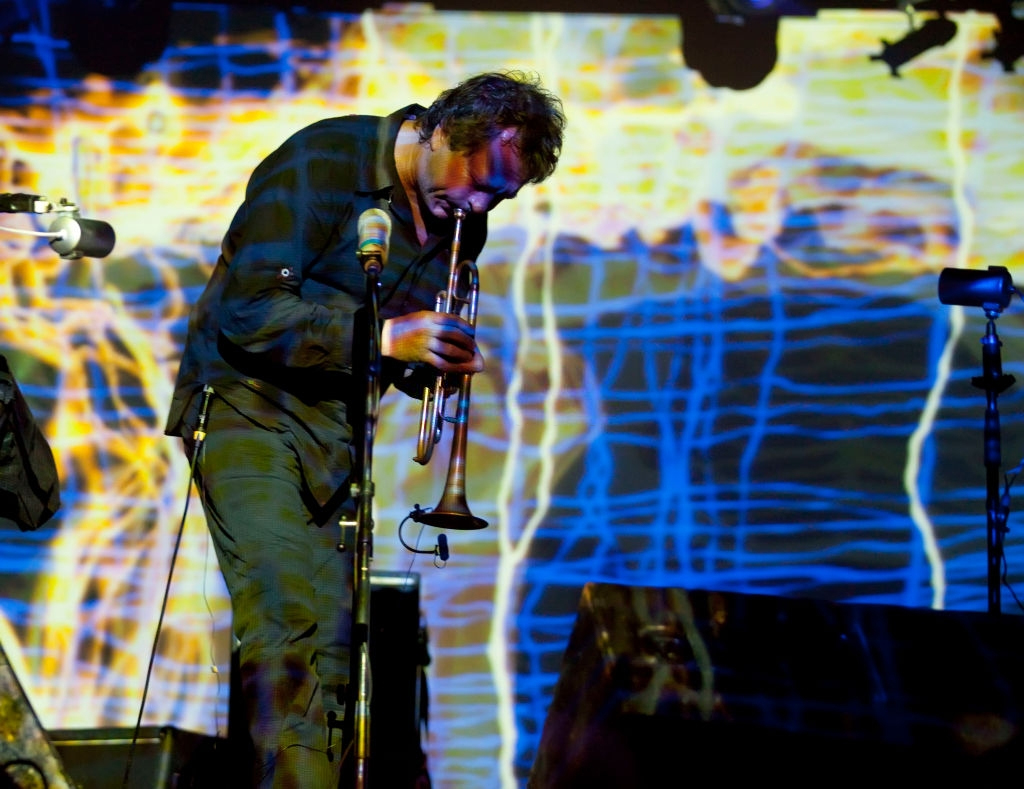 Photo: Fabrik
Tell me what you mean by fighting with the trumpet.
At beginning of Masqualero, I would listen back to my sound and think "Is this really me? The way this sounds?" I was trying to make the trumpet sound different. I used a lot of saxophone mouthpieces on it. I ran it through a lot of boxes. I started with harmonizers in the early '80s. Masqualero developed from being a contemporary, modal jazz band to having these other elements coming into it.

I remember performing in a church with a traditional singer named Sondre Bratland. I talked about the trumpet with him and he said "The trumpet has a real purity about it." I started to think about this and focused on that. I was in my late twenties at this point. I started to be comfortable with the sound of the instrument and began working with its purity, instead of trying to make it sound different.

Fourth World, Vol. 1: Possible Musics by Jon Hassell and Brian Eno was something I heard in those days, too. It made me go "Wow, it's possible to do something unique with the trumpet without fighting with it." I was also listening to South Indian flute players like Hariprasad Chaurasia, and shakuhachi and ney flute players as influences on how I played the trumpet. I also wanted the trumpet to sound like the human voice. So, I went through many phases with the instrument before arriving at my own sound, and probably will keep doing that until I die.
In the '90s, you recorded two albums with Jon Eberson's Jazz-Punk Ensemblet, a group that relates back to your earliest days as a musician. Tell me about it.
Tore Brunborg and I both attended the same jazz summer camps when we were young. The first one was in 1976 in Molde. I remember me and Tore were picked to play at the opening of the official camp festival. I was perhaps 16 at the time. The we also went to camp the next year in a place called Sund folkehøgskole. The guitarist Jon Eberson was teacher there, along with a lot of other players. He formed the Jazz-Punk Ensemblet with three drummers and two bass players. It was like two bands combined. One was a rock band and the other was a jazz band. Jon Christensen, Jon Balke and Bugge Wesseltoft were there. It was a fun experience and we were just enjoying playing together. We did some concerts and eventually did two albums in the '90s called Live at Rockefeller and Thirteen Rounds.
How does life in Norway contribute to your mental well-being?
Well, Oslo is home and it's quiet compared to other places. I'm not too fond of flying and traveling these days. There are some places I like to visit like San Francisco, New York City, Tokyo, and Osaka. I love cities in Japan. But usually, when you travel for touring, there's tension involved. When I land back in Oslo, it's always a relief. I'm home. If I go further out to where I come from in Ålesund in northwest Norway, it's another, even more relaxing step. It's where the fiords are. It's very beautiful. It's an anchor where I can just chill out.
I remember doing some crazy things for the music in the early days when I was still living in the Northwest. In 1980, I was still living at home, but I would still play in Oslo sometimes. Once, a piano player asked me if I wanted to play in an Oslo jazz club on a Sunday night. I said "I'd love to." So, I planned on flying to Oslo, but because I lived on an island, I had to get to the airport by boat. On the day of the show, I realized there were no boats departing on Sundays. And my parents didn't have driver's licenses.
I thought "What the fuck do I do to get there?" I had to steal a row boat. [laughs] So, it's just me and my trumpet in this row boat, rowing for 90 minutes. I got horrible blisters, but I made it to the airport and got to the gig. The other guys in the band looked at my hands and said "What the hell happened to you?" [laughs] I said "I just had to row across the fiords to get to the bus that got me to the plane so I could come here." They were laughing their asses off.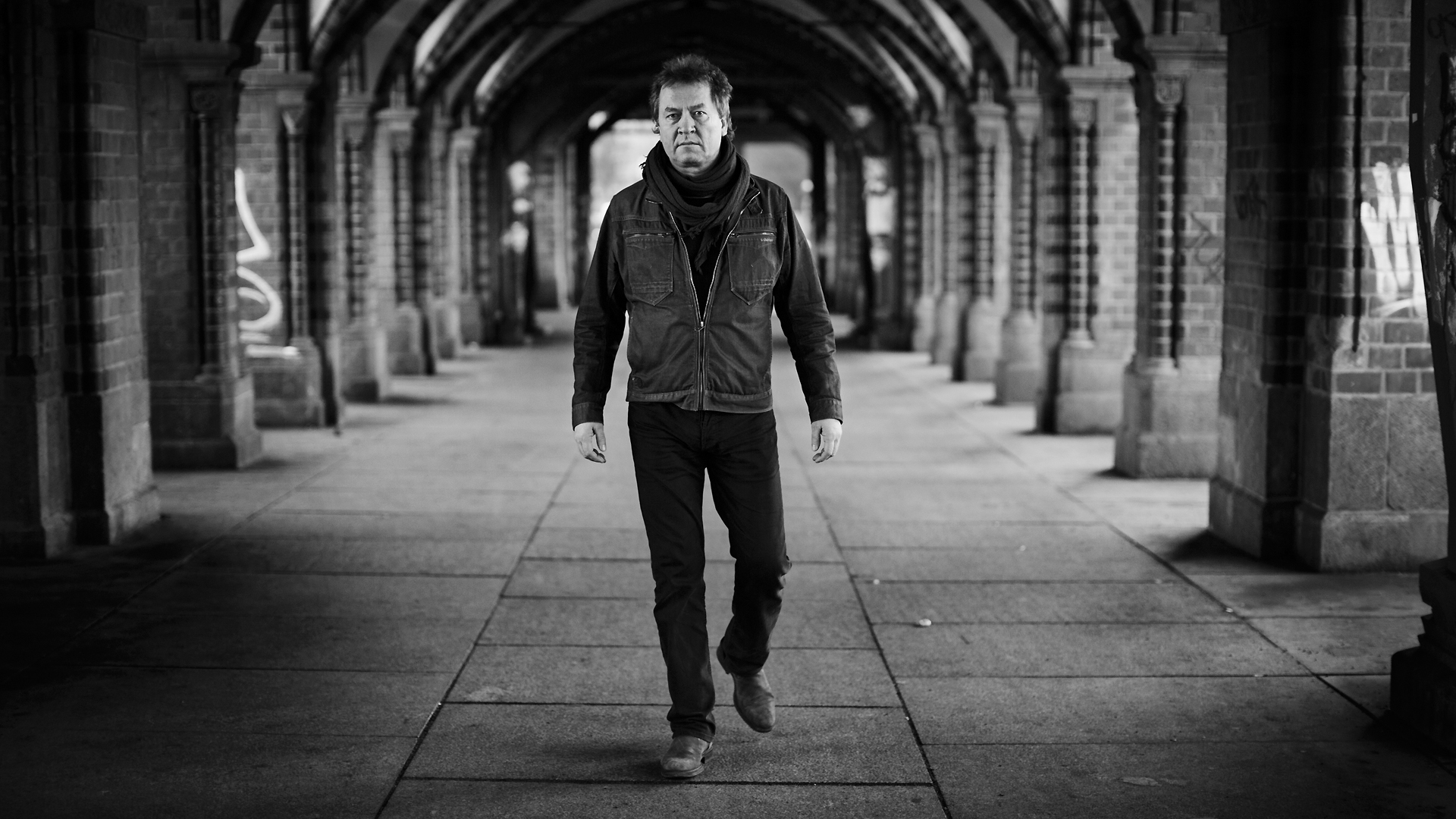 Photo: Peder Otto Dybvik
Norwegian jazz musicians have contributed immeasurably to the development of jazz. What's your perspective on the factors that enable them to consider such unique ideas and directions?
There are a number of reasons. A main one is Norway is a small country, so not that many American jazz musicians came to live here, compared to Sweden, Denmark and France. For us, people like Jan Garbarek, Arild Andersen and Terje Rypdal were major influences and all of them were very different from other musicians. I think ECM has been very important for Norway as well. Manfred Eicher recorded a lot here.
Also, I think since Norway is such a small community, we get musicians from all kinds of genres and backgrounds to meet and collaborate. Out of this comes fresh music. Traditional musicians, rock people and contemporary composers all work together. There is a big openness to musical expression here.
We don't have "jazz must be like this" or "you must know how to play 'Giant Steps'" attitudes here. It's more about just making music than any kind of competitive thing. People want to help each other. For instance, if there's a gig and I can't do it, I always say "You should ask this other person I know. He's very good." So, in Norway, music isn't like a sport. In some places, jazz can also reflect a very conservative mindset. Here, it's more elevated. It's about trying to get together and make things happen.
How does Norway's significant institutional support for musicians influence that openness?
That's also important, although there were moments I was so poor coming up that I had to steal toilet paper from restaurants. In general, the support of culture is good. Even Winston Churchill said "The arts are essential to any complete national life." Can you imagine a country without culture? America has problems in this regard, but America is also so diverse and so many things. It doesn't even feel like the same country when you travel from New York to Chicago. But I think people really appreciate musicians in Norway in a special way.
Is there a spiritual component to your music?
I recently performed at the same festival as a Norwegian singer-songwriter called Bjørn Eidsvaag. He studied religion and is a priest. We were talking and I told him "I don't believe in god." He replied "What? The way you play, you must believe in something." Then I said "I believe in spirituality. I believe in the human spirit. I believe in creating things together. I believe in beauty." In German, there's a word called sehnsucht, which means you long for something, but don't know what it is. But most people have a longing for something higher. In my case, it's a wish to create something beautiful with others. If that is spirituality, then there is a spiritual component to my music.