Pat Mastelotto
The Irresistible Blowtorch
by Anil Prasad
Copyright © 2017 Anil Prasad.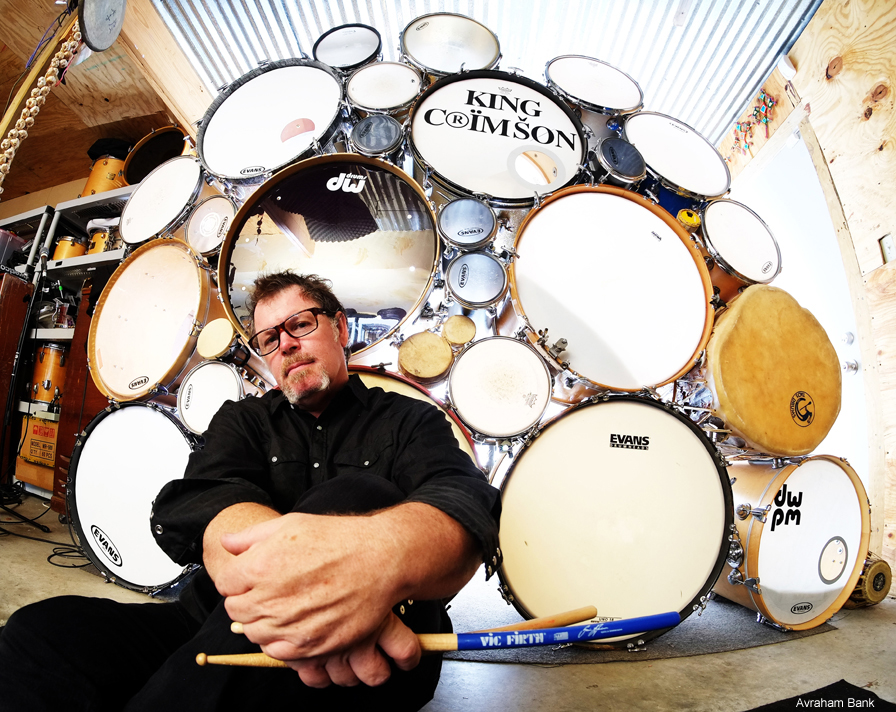 Downstairs in the large backstage area of the Fox Theater in Oakland, every dressing room is full. Each door is emblazoned with logos identifying the room's occupants inspired by the Periodic Table of Elements, including Cs, K, Lv, H, Mo, Rf, Rn, and Sc. Each refers to a member of the 2017 King Crimson lineup: Mel Collins, Jakko Jakszyk, Tony Levin, Gavin Harrison, Pat Mastelotto, Robert Fripp, Bill Rieflin, and Jeremy Stacey. Innerviews is here to meet Mastelotto for an interview, but with an eight-man touring ensemble, management and crew all ensconced prior to tonight's concert, there's nowhere obvious to do it.
We improvise and decamp to the only available space—the bottom of the stairwell connecting the dressing rooms to the stage. Mastelotto and Innerviews walk through a clutter of wardrobe containers, laundry baskets, including one amusingly labeled "Fat Roadie Shirts," along with two rolling office chairs in tow, and sit down to begin the conversation. Before we start, Harrison and Rieflin run up and smush their heads against the transparent glass door to the stairwell and proceed to make faces at Mastelotto who breaks down laughing. Eventually, the duo relent and the discussion commences.
Mastelotto brought his practice pad and sticks with him and occasionally broke out into warm-up mode during the interview. He's dressed in all black, wearing hip, rectangular glasses, and sneakers in sharp contrast to the suits and ties that await him and the rest of the band before they hit the stage in a couple of hours. He's soft-spoken, introspective and self-deprecating. He considers himself a permanent student of music, even with a storied history with King Crimson going back to 1993, global hit singles and albums as part of Mr. Mister, touring with David Sylvian and Robert Fripp, and session work for the likes of Hall & Oates, Patti LaBelle, The Pointer Sisters, The Sugarcubes, Steven Wilson, and XTC.
He's also a force in other avant-rock circles. He has released several albums with Markus Reuter under the name Tuner, as well as a recent recording titled Face under their own names. The latter is one of the most complex pieces of rock music ever made, involving 385 ever-morphing bars of music. That album is covered in its own Innerviews feature story. Mastelotto's partnership with touch guitarist Trey Gunn has also yielded many projects, including the duo TU and a trio extension called KTU with Kimmo Pohjonen. His work with both Reuter and Gunn is difficult to categorize. It includes intricately composed pieces, elastic improvisations, intimate duets, dissonance, and electronic elements.
Mastelotto is also involved in two other key bands. Stick Men, his progressive rock trio with Levin and Reuter, continues moving from strength to strength. It recently released its sixth studio album Prog Noir. The group situates King Crimson's compositional and rhythm perspectives within a three-piece lineup. It began as a mostly instrumental group and continues incorporating more songwriting into its output.
In addition, Mastelotto is part of O.R.k., a band featuring Colin Edwin, Lorenzo Esposito Fornasari and Carmelo Pipitone. The group is focused on more accessible song-based territory, but there's no shortage of eclectic and volatile arrangements within its recordings, including its just-released second album Soul of an Octopus.
Mastelotto's discography can be daunting for someone new to his music. With that challenge in mind, he distilled highlights of his output across many projects into a double-disc compilation titled Recidivate.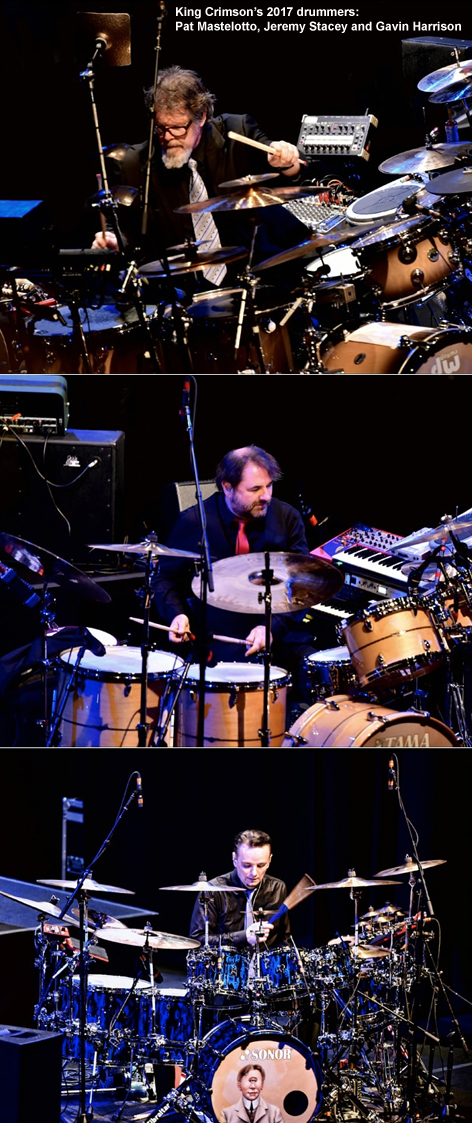 In the current incarnation of King Crimson, you share drumming duties with Gavin Harrison and Jeremy Stacey. Describe the experience of working within a three-drummer construct.
It's a challenge and also lots of fun to have drum buddies. I'm learning so much from these guys. I'm blessed. The challenge is balancing things out and stepping back to open up more space for each other. A lot of the drumming is scripted, but what's really interesting is what happens when we're in experimental mode.
How do the three drummers come to a consensus?
We listen to each other. We also record a lot of what we do and listen to playbacks and make suggestions. I trust Gavin and Jeremy a lot. Their opinions may mean more to me than my own. So, when they say "That's cool" then that's really cool. [laughs]
Contrast the triple-drummer approach to the double-drummer Thrak era with Bill Bruford.
The playing field is actually more open now. When I was in the band with Bill, most of material the double-trio was playing was from his years with the band. Bill is such a wizard at creating lean drum parts—especially on the Discipline-era material—so, often a second drummer wasn't needed. On the Larks' Tongues in Aspic tunes, there was a function to add some Jamie Muir-isms and with the new songs on Thrak and Vrooom, we developed some cool double-drum arrangements. But for a lot of '80s songs, I thought I was a sixth wheel. With the current lineup, it's not like that at all. Everything is more evenly split between us.
You're now the longest-tenured drummer in the band, responsible for some of the original parts the others have to interpret. What's it like to be in that role?
For the songs "Level Five" and "The ConstruKction of Light," we split up my original parts between the three of us, so we become one huge six-limbed beast. I don't feel there's a pecking order. And if there was one, I don't feel like I'd be on the top of it. I feel Gavin would be because of his technical prowess. However, Gavin didn't grow up with Crimson. He didn't gravitate to it on his own like I did. Robert mentioned a long time ago that I have Crimson DNA. Michael Giles, Bill Bruford and Jamie Muir were all huge influences on me and I hear it in my musical choices. I can't really do the super-chops things, so what I hope to do is monkey around with beat displacements and stuff like rhythmic illusions to make things intriguing and offer a more ambiguous backbeat.
The current band was initially announced as a four-drummer lineup with you, Harrison, Rieflin, and Stacey. What altered that initial approach?
Sanity prevailed. Yes, there was a plan to tour 2017 as a four-drummer lineup, but Bill let us know he didn't feel strong enough to drum on this tour. Perhaps next year he might join the drummers again. Bill is an insightful listener and points out things we miss and he's adding a lot as a keyboardist on tour. Our newest drum buddy Jeremy was connected to Crimson via Gavin and Jakko. He's a burning drummer from the Bournemouth area, where Robert is also from. He used to play with Noel Gallagher. So, Robert figured if Jeremy could put up with Noel, that he would have no trouble with him. [laughs] Considering the many things he's done, I'm surprised I wasn't familiar with Jeremy previously, but now I see he was everywhere. Jeremy and Gavin first met about 20 years ago. They've been in each other's orbit a little bit. He's a great addition and has definitely elevated the energy of Crimson.
Besides having a great feel and killer chops on the drum kit, Jeremy is also a real piano player, something Crimson hasn't had for ages. So, now Bill can lean his playing towards the elegant synths and Mellotron parts, while Jeremy is rocking the piano and the bowler hat like Bonzo. Last year, Jeremy flew over to the States to work with Bill, so they already had a game plan. Jeremy and Gavin also got together a few times before all three of us met. Jeremy did a lot of homework and slotted right in quickly, last year. He's a wonderful addition.
Describe the chemistry between you and Harrison.
I loved Gavin before I even met him. Bill Bruford introduced me to Gavin's book Rhythmic Illusions around 1996. I got the book and could totally relate to what he wrote. It was about things I was interested in—stuff I was already doing or trying to do using street smarts, without really completely understanding exactly what it was. Gavin broke it all down in his book. It's a great one for any musician, not just drummers. The book comes with a CD with some Gavin narration. I used to take the Rhythmic Illusions CD to the gym with me and listen to him for 45 minutes on the Stairmaster and it was obvious he had a vicious sense of humor. The guy's a crack-up. This was before he got the Porcupine Tree gig. I was super-happy when I heard he joined them, because a drummer that creative needs a backdrop or a canvas to develop such conceptual drumming. We got to know each other during the 2008 King Crimson lineup and have developed pretty good telepathy. I like to think we work very well together.
Provide some insight into the band's evolving repertoire.
The repertoire is always growing. The band's adding songs every year. This year, we have another new piece we call "Radical Action III." It's mainly Jakko's song with a lot of input from Gavin. It starts with one of his rhythmic illusions. I think Robert's riff for that piece came from a Sunday All Over the World track he played on in the late '80s with Toyah and Trey Gunn. It's funny that the lyric is all about mistakes, so as I was learning to play the tune and making mistakes, it was like a narration of "Oops, you fucked up!" going on in the headphones. [laughs] We spent a lot of rehearsal time on it, as drummers alone and with the full band. Weeks into it, Robert went "Hmm. In this one spot, it's too normal. It sounds like pudding. The drummers need to go further." So, it continues to be fine-tuned and "Crimsonized" as we play it on tour.
This year, we seem to be focusing on Crimson's '71-'72 period, back in the days when Mel Collins was first in the band. It's also when Jakko saw the band for the first time. His voice suits that material. For instance, "The Letters" is awesome live, because Jakko sings it so well that he sells the song. "Islands" is another one we added from that era and it features Jeremy, Bill and Robert on keyboards. There's lots of Mellotron happening.
Robert seemed excited for us to learn the Lizard suite "The Battle of Glass Tears." We added "Dawn Song" to the set last year, and now it continues through "Last Skirmish" into "Prince Rupert's Lament." Based on the original recordings, I wasn't so sure about adding "Last Skirmish," but boy was I wrong. It's super-powerful with this lineup.
Last year, after a break, we had two rehearsals in Antwerp before the second leg of 2016 touring. At that point, we added "Indiscipline." Jakko rewrote the melody and voiced it with his guitar. He had sent a demo of his new version with just his guitar and voice and after hearing it I thought we might be able to approach it with a completely different tempo and rhythm, almost like a Beatles song. But as it turned out, the track stayed pretty true to the original, but with Jakko's new slant on top of it. With Gavin and Jeremy, it's a gas to toy with the "Indiscipline" drum intro, as it can be reinvented every night.
"Fallen Angel" and "Exiles" are two other new additions we added in April, paying tribute to John Wetton. Both are seldom-played, powerful songs with good Bruford rhythm bones. We found creative trade-offs for the three drummers to follow to help provide some dynamic shape for the song. Gavin also wrote two really short drum interludes. One is called "Cat 9." They go by very quickly—sometimes in less than a minute. But we put a lot of time into those as well.
During the very last day of April band rehearsals in England, Jeremy played some fast, jazzy, bebop-y thing and Robert immediately reacted to it. Suddenly, Robert was playing the riff from the beginning of "Neurotica." Then—surprise, surprise—when we arrived in Seattle in early June for the final rehearsal, Robert asked us to start with "Neurotica." So, we put that together just as this tour started. Originally, we were going to do it as an instrumental and then Jakko decided he'd like to sing it.
There are lots more classic Crimson tunes to consider. I keep suggesting we add "Thrak." With eight people, everyone gets a polyrhythmic companion. It could open things up for completely free improvisation. This band could also tear up "Cat Food," "Larks' Tongues in Aspic IV," "FraKctured," "Lament," and "Great Deceiver." There are also lots of others I'd love to hear this band play.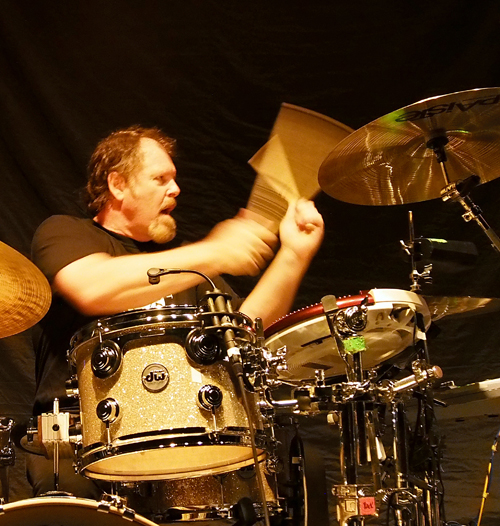 What are the greatest challenges and positive elements of this lineup for you?
For me, the greatest challenge, besides the air travel, is listening. My hearing has deteriorated a lot. I started the 2014 Crimson tour almost deaf in my right ear. I had a punctured eardrum and doctors advised me to stay away from loud sounds—ha! As if. [laughs] There's obviously a lot of detail in this band that I would love to hear better, so monitoring is an issue. But what also really suffers is the off-stage banter and missing out on idle conversation and general chit-chat throughout the day. It's really a drag. I'm sure it's tedious for my bandmates and my poor wife and family to deal with. If you put Tony Levin and me together, there's a lot of "What?" happening.
As for other challenges, I never take staying in the pocket and grooving together for granted, so that the drummers can represent a tapestry. I try to stay focused on the intention, so we keep the tightness of the arrangements, but still have the fire of spontaneity, or even the recklessness or willingness to blow things out. So, it's a very interesting balance. That's what makes Crimson the irresistible blowtorch.
In terms of positives, it's great that we're able to do this. We get to play these wonderful goosebump songs that make fans so happy. We get to make a living while staying in nice hotels. Also, seeing Robert super-happy with how things are going is great. Being able to turn around and see him grin is priceless.
Is the band contemplating a new studio album?
I think it's unlikely we'll ever go into a proper recording studio. I don't think we need to do things that old-fashioned way. We basically carry around a live studio with us wherever we go. Our road manager, Dave Salt, was also Leonard Cohen's tour manager. So, we had the opportunity to buy all of Leonard's gear, including two Midas mixing consoles, recording equipment, wardrobe cases, microphones, cables, and even washing machines. [laughs] Crimson invested in all of that. Those desks let us record at 24-bit/96khz. So, the way I see it, that's how we'll record from now on.
Prior to King Crimson, you toured with David Sylvian and Robert Fripp in 1993. What are some of your key recollections of that experience?
Sylvian-Fripp was a very British band. It was back in the days of fax machines and no way to Google the new word of the day. I had played with lots of Englishmen. XTC was a full blast of Swindon, but Sylvian-Fripp was a four-month world tour with Brits from the top down—a fully English-run organization, including crew, management, band, and vibe. There were just two Americans, Trey Gunn and me, and one Canadian in Michael Brook. So, dare I say there were Spinal Tap moments veering towards Fawlty Towers? [laughs]
To be honest, I didn't know Sylvian's work very well going into it. By coincidence, I had just heard the Sylvian-Fripp song "God's Monkey" on NPR about a week before I found out about the auditions and I felt it was a groove song I could play well. So, when the freak chance of hearing about the Sylvian-Fripp auditions came up I jumped on it. If it had been an audition for King Crimson, I doubt I would have had the balls to chase it. I was very lucky most of the material worked with my drum approach.
The Sylvian-Fripp tour was a lesson in restraint. The lighting alone was a challenge. There were pools of white light on stage all the time. In most bands I'd been in, the lights go dark when the songs ended. When the stage doesn't go dark, which is also the case with the current King Crimson, I feel exposed all the time. It's like performing in a fish bowl. It goes both ways, too. It's a test of how unobtrusive you can be when you're not playing. What do you do when you want to use a towel or drink some water? So, the lesson I learned with Sylvian-Fripp, that continues with King Crimson, is to sit still, Guitar Craft-style. It isn't always so easy If you're sweating and your eyes are burning, or if it's a heartfelt lyric and my throat swells and I start to cry. It's tough to just sit there.
Another thing I remember that was new during the Sylvian-Fripp tour was all the red lights igniting as soon as the house lights went down. I don't mean joints and pipes—I mean recording gear. [laughs] There are all those fans taping and making bootlegs. From the get go in Japan, I realized every note of every night we played was going to exist for someone's critique after the fact. There wasn't anything of that scale happening on other tours I'd been doing.
Now, dig this. At one of the first Sylvian-Fripp shows in Japan, as we're about to go out for an encore to play "Blinding Light of Heaven," Robert said to me "Throw me off tonight." What the fuck? He wanted me to play something so totally outside that he couldn't play with it? I've never had anyone ask me to do that before. So, for several shows, I'm doing the craziest fills I can think of. I'm doing whatever I can to throw him off, but none of it worked. Then one night, I counted off and did a big drum fill and stopped where I'd normally play. I put silence in there. Robert was left completely hung out to dry and looked like he almost fell off his stool. He looked at me with the biggest smile. [laughs]
Obviously, Robert has a totally different sense of the rules compared to what I was used to while playing pop music. Robert stopped me at the first sound check when we were working on "Jean the Birdman." It has these little gaps where the drums stop for a few bars while the guitars play, and the guitars kept falling out of time. So, I would quietly keep tempo with the hi-hat. Robert stopped me and said "What are you doing?" I said "I'm keeping time for you guys because you're falling apart." That's what any other band would want the drummer to do, right? Robert said "No, no, no. You don't do that in this band. If others can't keep time, they shouldn't be on this stage. It's not your responsibility to keep time for anyone here." I thought "Whoa, this is a whole new world I'm living in here." Now, you may have noticed this has changed with this current Crimson lineup, as the backline guys are now very happy to get their counts and cues from Gavin, but in the old days we used to hide those.
Was it a big deal for you to be asked to do the tour?
Oh yeah. A huge deal. What's a California kid doing in a British band with Robert Fripp? Come on, what are the chances? Crimson was like The Beatles for me. I was a diehard Crimson and Robert fan. I saw Crimson twice in the '70s and several times in the '80s. I had been to several Frippertronics shows. I first heard Crimson back when public libraries had turntables and headphones. I'd often pop in to search for things not on the radio. That's where I first heard "Cat Food." It was at the little Oroville, California public library. I loved it. Coincidentally, it was the same day I first heard Tony Williams' Lifetime. Right around that time, my parents had a car with an 8-track deck. I was allowed to buy four tapes of my own. I chose In the Court of the Crimson King, Led Zeppelin I, Iron Butterfly's In-A-Gadda-Da-Vida, and Simon & Garfunkel's The Sound of Silence. I would sit in the car listening and drumming along on the dashboard.
As I mentioned, I wasn't that familiar with Sylvian, so I had to learn fast about his work. I only knew Japan's Adolescent Sex, because it was one of Andy Partridge's favorite records. When I worked with XTC, I went out and bought more Japan albums on his recommendation. The day I heard about the Sylvian-Fripp auditions, I raced over the hill to Tower Records on Sunset and bought all the Sylvian records they had in stock. Rain Tree Crow is the one I really loved. That's a desert island CD. Also, no-one in the Sylvian-Fripp team lived in California, so it led to me getting out of Los Angeles.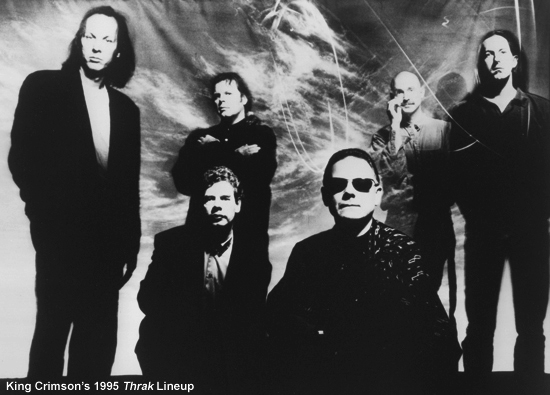 Your projects and bands became more adventurous and eclectic as you moved from the '80s into the '90s and beyond. Tell me about that evolution.
Opportunities presented themselves to make that happen. I don't really see it as a shift. In the '70s, I was in lots of unknown prog and punk-ish bands around Los Angeles, while also backing lots of singer-songwriters searching for pop hits. The public perception changed as soon as Mr. Mister had a hit single in the '80s. I started getting lots of calls for more pop sessions. I wasn't playing any differently, but suddenly I was flavor of the week and credible. And one thing led to another, all by word of mouth.
When I started to play with King Crimson, Bill Bruford said to me "Now that you're in this band, you'll be known as a rhythm terrorist and you can kiss all those pop gigs goodbye." [laughs] That's pretty much what happened. Producers and A&R people around Los Angeles must have become afraid I wouldn't play pop, Americana or roots music anymore. I love to play that stuff too, but the opportunities changed. In the '90s, I became very busy with King Crimson and wasn't available to do much else anyway.
Also, I left Los Angeles in '94 and moved to Austin, Texas, which affected things. "Out of sight, out of mind" as they say. I kept my Los Angeles phone number for a long time because session buddies told me "Don't let people know you've left town." My Austin friends were getting more and more into video game music and electronica. They were swapping me their Pro Tools studio time for my drum tracks.
The ProjeKcts moved things even further in that direction as they allowed me an opportunity to reengage with lots of modern beat boxes and computer drumming. Making the TU record with Trey Gunn was also very important in branching out. We did that right after recording Crimson's The Power to Believe in 2003. Next, I suggested to Trey we do live shows as "TU+2," involving other people like Kluster with Kimmo Pohjonen and Samuli Kosminen.
I first met Kimmo when I asked him to open for ProjeKct Three during South by Southwest, so I had been aware of him for a few years and was looking for a way to work together. So, TU became KTU and suddenly I'm a "world music guy" playing those freaky festivals. It's lovely, creative stuff. I've always enjoyed world music. I pulled my car off to the side of the road the first time I heard Bulgarian wedding music being played by Ivo Papazov on KCRW in the mid-'80s. I love Indian, African, Latin, and Turkish music as much as I love pop.
Getting divorced in September 2004 was also life-changing. Deborah coming into my life in 2005, who I married in October 2010, was also a huge liberator and motivator resulting in music pouring out. I had two houses before the divorce. My ex-wife got one of them and all the furniture. So, the house I stayed in was cleared out. It was just my daughter and I with the house pretty much empty. I set up my drums in the living room, the studio gear in another room, and I was able to record 24x7.
Right in the middle of that divorce, there was an attempt at a King Crimson lineup with Adrian Belew, Robert and Tony replacing Trey. But after a week of rehearsing at Adrian's house, that lineup never got out of the gate. That all happened during the month before my divorce finalized and it was a week of hell for me. I was out on Adrian's driveway every day trying to get cell phone reception to deal with the divorce lawyers. It was very difficult to get things done. But after the divorce, the floodgates opened for me and I started working on and finishing a lot of projects. I made albums with TU, KTU, Tuner, Toyah, and Chrysta Bell. I also worked with Pamelia Kurstin on Tunisia. In addition, I did the BPM&M record, chopping up and mixing the blows and outtakes from those rehearsals with Tony, Adrian and Robert. Meeting Lorenzo Feliciati, Roy Powell and Giacomo Bruzzo was also really important.
I learned gobs working with Markus Reuter, too. I first met him in 2000 when Trey and I were traveling by train to Bonn, Germany and Markus walked by our cabin. Trey leapt out to catch him and we talked a bit and stayed in touch. As years passed, Markus would send me links and things he was involved in, including that album he did with Ian Boddy called Pure, which really hit me. Since I just got Pro Tools gear and had just gone through a divorce and needed to stay home, I invited Markus over to my place and we kick started a lot of music there. It turned into a long-lasting, major musical partnership.
You said you weren't playing any differently in the '80s than you did later. I would counter you took a major leap forward in the '90s in terms of your capabilities.
I can think of a few reasons why that may be the case. If you go back to when Crimson stopped in 1997, I figured we'd get right back together in a year or so. So, I immediately went out and took as many music classes as I could. My weaknesses became super-apparent in King Crimson. They surfaced more than when I would play within the needs of a pop record. Now, the needs were greater. I always had things in my imagination that I couldn't play and that's why I embraced technology. I felt it was either compromise on my vision or find a way to strengthen my playing. I met Cenk Eroglu and went to Turkey a few times and that was eye opening. I found local teachers and took djembe, tabla, kanjira, piano, voice, tap, and Middle Eastern music classes. I had a night school schedule. I took a weekend class at North Texas State University. Ed Soph, who was the Professor of Drum Set at North Texas State, is one of the best in the world and he said "I see a lot of your fundamental problems. You would really benefit from a summer camp we do with four teachers including Gary Chaffee." So I did that. Gary opened a lot of doors for me. I also practiced a lot.
Another leap forward was the technology side, meaning Propellerhead, Ableton and Pro Tools. Pro Tools changed everything. I've been a closet engineer and even took classes back in Los Angeles in the '70s. Some of The Rembrandts stuff was recorded at my place in California as ADAT hit and home studios became affordable. My collection of gear and recording experience paid off when Gina Fant-Saez asked me to guinea pig eSession, an online presence that allowed anyone to hire and collaborate with professional musicians and engineers. She bought me my first big boy pro rig with a Power Mac G5. She was such a great friend and neighbor. She knew I needed to stay home with my daughter and that I couldn't really tour at that time. She also knew I had the recording chops and connections. So, it was a good investment.
What were the drumming issues Soph identified?
There were lots. I'm pretty much self-taught. I saw Buddy Miles play drums up close when I was a kid and right away he made a big impression on me. Essentially, I'm a down stroke guy and I needed to lighten up. The other big issue was my foot. The heel-down thing was something I worked on. I play with my toe and while that gives me a lot of power, I wanted to get a more relaxed feel. That's one of the reasons I went to Ed. He told me to take the spring off my pedal. I said "But the beater won't come back." He said "Think about those early jazz drummers in the '20s and '30s. How did their pedals come back?" It took me 50 strokes to start to get one to come back. Ed said "You just have to learn to get out of the way." I spent days and days with the chain off trying to do that.
I remember Terry Bozzio calling me up at that time and he said "What are you up to?" I said "Dude, I'm trying to learn how to play with my heel down. I want to get this done before King Crimson hits the road next year." Terry laughs and says "It's going to take you years. You can't just learn that in six months." And he was right. As soon as you go back on stage, you go back to your old habits. But the lessons did make a huge difference. I also bought lots of drum books that year.
I should also mention being around Bill Bruford made me aware that it's our weaknesses as much as our strengths that define who we are as musicians.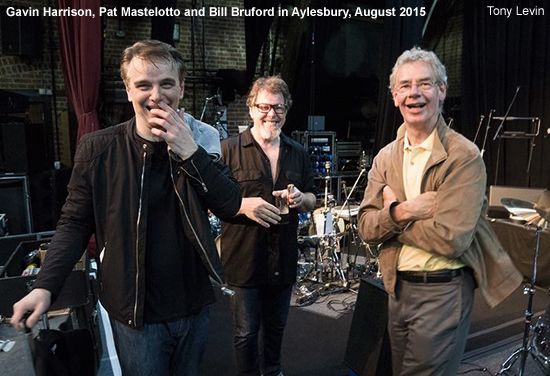 Tell me more about your relationship with Bruford during the mid-'90s incarnation of King Crimson.
Bill was kind to me. He definitely didn't want me there, though. [laughs] Why would he? Robert called me about King Crimson just a couple of weeks after the Sylvain-Fripp band had said its goodbyes. He said "I've got this idea I want to run by you. I've seen a vision of King Crimson with you and Bill. Would you do it?" I said "Yes, I'd do it. But what does Bill think?" Robert said "I haven't spoken to Bill yet." Since Robert was already laying out the schedule for the next two years, including rehearsals and recording an EP in Woodstock, touring and making a full record at Real World Studios, I replied "Wow, Bill and I better meet."
To me, it felt like Bill and I would be getting married, but we had never kissed. Luckily, Robert organized a meeting at Bill's house, with Robert and Trey for a few days and Tony was there one day. That's where we first met and played.
Bill was not a happy camper to be in the room playing with me. A day or two in I was alone with Bill in a car when we were on our way out to have dinner. I said something like "I know you don't want me here." Bill said "Of course not, but Robert does. He seems to think we need you." [laughs] I said "Well, maybe there's another guy you'd be happier with. I'm a big fan of King Crimson and would love to see it doing great things. Maybe I should step out so you can get a better partner. Maybe you'd want Phil Collins, Terry Bozzio or your son Alex in the band?" And he responded "No, no, no. It's not that at all. I don't want anybody else here, but if it has to be somebody, it doesn't matter if it's you or someone else." Then he reassured me by saying "Don't think you get paid by the note." [laughs]
Bill and I spent many a night together after shows contemplating life over a glass of wine and a cigarette. We got to a very good place.
Describe the journey you've experienced with Stick Men to date.
It's somewhat undefined. We never expected to work this much or last this long or we would have thought of a better name. It's a fun band. It has gained a loyal following and it's as challenging as you want to make it. We've been going 10 years. It first started in 2007 when Tony was making his solo record Stick Man. He asked me to make some up-tempo loops he could play to. He said he wanted things like video game music and Atari Teenage Riot so he could explore the Stick. I gave him a bunch of drum tunes at different tempos, usually in a three-minute form with drum kit, hand percussion parts and electronic things both played and programmed. Tony got my stereo stems to mix and match, and cut and paste, and that's how he did some of that Stick Man album. Then we were offered the opportunity to open for Eddie Jobson's UKZ band, which was making its live debut at Town Hall in New York City in January 2009. But we had no convenient way to rehearse together. As fate would have it, I had some offers to do drum clinics in Poland before it. I asked our promoter buddy if I could bring Tony and Mike Bernier, who was in the band at the time. So, it turned out our first rehearsals were at a radio station in Poland and our first live show was the at The Music Hall in Wroclaw. I have to give huge thanks to Lasek Wotjtek in Poland for helping us start Stick Men.
Stick Men kept getting gigs touring all over but we hit a point in August 2010 where Mike need to be home more and that conflicted with South American shows being lined up for early the next year. I suggested Markus Reuter as his replacement. To help ensure everything would be cool, Tony and Markus came to my place for a week. We recorded the Absolom record during that first meeting. The chemistry worked out great and we're still going. Stick Men evolved significantly with the addition of Markus. His dexterity on his instrument is profound. He has a super-funky Zen-funk grip on polymeter so he and Tony are sharing ideas and motivating each other all the time. The touring opportunities keep coming through Tony, Francesco Grieco, our Italian agent, and Leonardo Pavkovic from MoonJune. It's a very old school band, with driving around in a van with our gear. There are lots of miles and time together on stage and off stage which has deepened our relationships.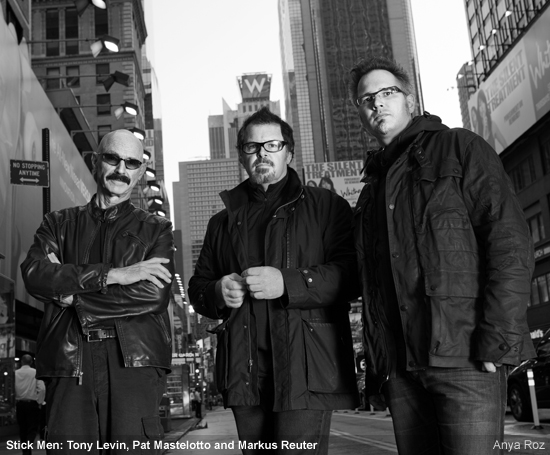 What evolution do you feel Stick Men's latest studio album Prog Noir represents?
The evolution is mostly in the songwriting and lyrics. Tony wanted more lyrics and he had a much stronger presence on that album. For Prog Noir, Tony started in Berlin with a batch of about 10 tunes, but in the end most of them weren't used. They were wonderful songs, but Tony put those aside for a solo project. Then Tony's writing became very Stick-focused while Crimson toured. I could hear ideas he was playing backstage or at sound checks. Then Tony got a porta-studio for his hotel rooms and was always working on demos and songs during his days off. He passed me a few in Japan and as soon as I got home for the holidays, I cut drums for those. I think the next step in our Stick Men evolution is for us to play new material live before we record it. After that, maybe even be in the same room together to record.
Stick Men has a new live album titled Roppongi featuring Mel Collins. What was it like to work with Collins in this context?
It's much looser than King Crimson, that's for sure. We didn't rehearse at all. With King Crimson, we rehearse up the wazoo. With this grouping, we met up with Mel in Osaka, talked through some things at the hotel and ran through two minutes of this or that during sound check. We'd say "It's going to be kind of like this, okay?" and that was it. We were on stage a couple of hours later. We did some really great improvising together, some of which you hear on the album. Of course, during set two in Osaka we had the mother of all improvs and none of it was recorded. I also wanted to play "Shotgun" and "Sledgehammer" with Stick Men and Mel. [laughs] I thought we could even do a twisted version of The Stones' "Miss You" that Mel originally played on with them. But those ideas didn't work for Markus and Tony. Later, I told Mel about the "Shotgun" idea and he sounded disappointed. [laughs] I hope we do it again someday.
Stick Men is rapidly evolving away from performing King Crimson material. Tell me about that decision.
We know some of the audience is coming because of the Crimson connection, so we want to give them some of that, but it's no longer like the early days when half of our set was Crimson material. As we develop more and more of our own material, you'll hear fewer Crimson covers. Lately, we've been discussing tackling another classical piece like the way we did Stravinsky's "The Firebird."
You've been working with O.R.k. a lot lately. What makes that an intriguing band for you?
O.R.k. appeals to me because they're creative, passionate people doing heavy pop songs with lyrics, stories and catchy melodies. Lorenzo Esposito Fornasari is a great singer with lots of drama. He does opera, too. I absolutely love Carmelo Pipitone's raw rock attitude as a guitarist. I dig the sound of O.R.k. because we all have very defined frequency roles in the band. Carmelo is a heavy crunch guitarist and Colin Edwin is a low-end bassist. I play with a lot of Stick players and there can be a lot of frequency overlap there. Stick players are full range, covering top, bottom and middle frequencies. Often, they're in in the low-to-mid frequencies and it can be very difficult to hear all the individual parts because they're overlapping. The Stick is very percussive, so often it's better to play less kick drum with it. This lineup is more sonically defined. Plus the band is based in Italy. It's always a treat to be there. O.R.k. hubs out from Bologna.
What's it like to work with Edwin in O.R.k.?
Colin plays great every time and I really enjoy getting to hang. We're the two English speakers in the O.R.k. band, so we're usually side-by-side in the back of the van talking about music, life and plumbing problems back home. [laughs] As you might imagine, those crazy Italians never stop talking. O.R.k. is always laughing and singing. It's like a bunch of kids going on a cross-country vacation. With Stick Men or any other band I'm in, it's silent in the van or bus. The radio is off. No-one plays music, except for private listening on their headphones.
You have a close personal and musical friendship with Trey Gunn spanning 25 years. Why does that chemistry work so well?
History and trust—that kind of stuff. We came out of the Sylvian-Fripp band together into Crimson. The other four already had a chemistry and baggage. Trey and I were a little outside of that. Our musical influences were closer, so it was easier to hang. We were also roommates while making The ConstruKction of Light record. We were in an apartment with my engineer pal Bill Munyon for three months. We've also lived through lots of situations together, especially the dangerous ones in Eastern Europe or South America or any place with Kimmo Pohjonen. Stuff like that creates bonding experiences. [laughs]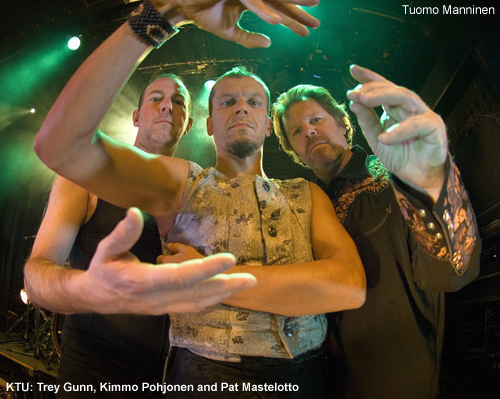 Sounds like there's a story there.
Oh yeah. [laughs] Let's just say we've had a run-in with police in just about every country we've ever gone to with Kimmo. He's so feisty that he puts me in positions in which I have to stand up to protect Trey because he gets so crazy. The two of them have a tit-for-tat thing going on. Kimmo once pulled out a chair from Trey as he was sitting down in a restaurant. Trey crashed to the ground. He could have knocked his head and killed himself. I said "That's not cool, Kimmo." But he thought it was hilarious. Once, we were in a bar and there's a huge dude with his girlfriend. Kimmo went over to the girl and swatted her in the ass, jumped back and pointed to Trey. So, this big dude turns around and Trey says "Wasn't me!" [laughs] There are so many things like that. They're like two little brothers antagonizing each other and I somehow became the neutral guy. But it further bonded my friendship with Trey.
You played drums at the very first concert I attended as a kid—Mr. Mister in London, Ontario in April 1986. What do you remember about that show and era of Mr. Mister as one of the biggest bands on the planet that year?
Wow. You were there? That was my very first tour of Canada. It started in Montreal and I remember leaving the hotel and being swarmed by kids—mostly little girls. They followed me to a pharmacy when I was getting diarrhea medicine. Not something I want kids watching me buy. [laughs] I had to quickly learn how to leave hotels through the kitchen. It was a Beatlemania situation during that tour. At one gig, we were all in a limousine with tinted windows. Suddenly the roof of the car starts caving in because all these kids are on top of it jumping up and down and screaming. In contrast, when a British cab pulled up with us for a filming for Top of the Pops, kids swarmed the car until one of them yelled out "It's not A-ha!" The kids then raced away. [laughs]
It was a whole other level of insanity with the silliness of pop stardom. During the Canadian tour for that show you were at, we were based at the Four Seasons in Toronto. It was my first time at such a nice hotel and still the center of my mind's Toronto GPS. I think besides London, we played Hamilton and Kitchener, which were all day drives from Toronto. That spring 1986 Canadian tour is when we debuted our new, big budget raked stage. The band spent about $100,000 on it, using David Bowie's production guy. It was a stage set similar to Yes' 9012Live tour in which all the amps and monitors were underneath the stage, with lights and smoke machines, so it was totally clean. There was some kind of fork lift behind the stage so during "Kyrie," Richard Page would get lifted up out of the smoke up into the air to sing the intro. We had all these MTV-ish production things happen and that was a big deal on that tour.
To put things in perspective, I remember this one moment leaving in the bus when it was total chaos with screaming kids chasing the bus as it's moving. Out in the distance to the side of our bus as we're driving out, there's a kid out in the mud in a black leather jacket who's like 15 years old, giving us the finger. [laughs]
Mr. Mister was a very sophisticated band that managed to attract a massive pop following. What are your thoughts about the underappreciated musical substance of the group?
All the guys are really strong musicians and we were writing and playing from the heart. Despite that, we as a band fell victim to the "You need an image" thing. We're all just guys in jeans and Reeboks. Once we had hits, we got hammered by the press. Richard was just a normal guy with an amazing voice. He wasn't trying to be Sting. Steve Faris was the only connection to an image the band had, because he had his antenna hair. So, it became "Faris, you gotta fix the rest of the guys up. Take them shopping." So, I went to Faris' hairdresser and that's when I got my haircut with the long chunk of bangs I had. He also put streaks in my hair. So, there I am. I said "I have an image now. Am I back in the band?" [laughs]
Rolling Stone voted us "Worst Band of the Year" in 1986. I cut it out of the magazine and put it in front of the studio entrance when we were making our next album. Richard Page saw it and wasn't happy. [laughs] I said, "Dude, come on. You have to laugh at it."
When it came time to do the next record after the big hit, everything at RCA changed. The whole label was reorganized in 1988. BMG was taking over. It was a crazy time. We saw lots—the promo and the payola. It's how the business worked back then.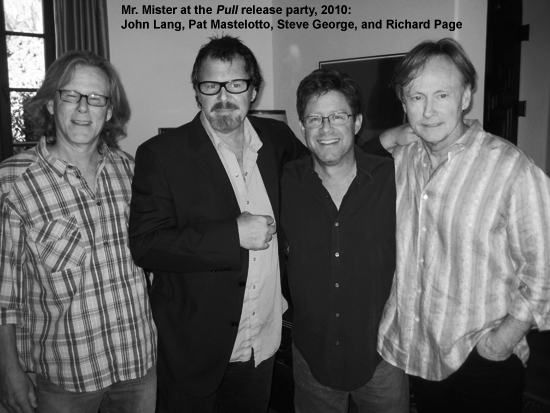 In 2010, Mr. Mister released its fourth album Pull, originally recorded between 1989 and 1990, 20 years after the band broke up. Describe the circumstances surrounding the album and its eventual release.
RCA seemed to be a revolving door, so we decided to go slow making our next record, taking time to let the dust settle. We got Paul DeVilliers back for this album, who was a big part of the sound of Welcome to the Real World. The first thing Paul wanted to do was have a band meeting. We took mushrooms, bicycled to Topanga Canyon and sat in a cave and had our "one for all, all for one" hippie pow wow.
So, we started the album and said "We need more songs." We unintentionally tortured Rich, John Lang and Steve George—but mostly Rich—to write more material. I supported this decision along with Paul. I felt our initial batch of songs weren't the best we could do. We asked ourselves how we could afford to keep working on more material and decided to work at Paul's studio, which is Supertramp's old rehearsal room. It was an inexpensive option. We recorded more demos, tried different guitar players like Buzzy Feiten, Peter McRea, Trevor Rabin, and Doug Macaskill. We spent about a year working on material and had only spent $50,000 of our budget. We were given $200,000 or possibly even more to make the record. So, we were in good shape as far as finances went.
We were also holding back knowing that RCA was being taken over by BMG. We figured once again, everyone was going to change at the label. We thought if we chilled out for another six months or a year, maybe everything would get resolved at the label and the new people would like us more than the people that were currently there. For the current people, we were last year's news.
We were signed by the A&R man Paul Atkinson. He was the guitarist in the Zombies and really championed us. Jose Menendez left Hertz Rental Cars and joined as head of RCA about a year after we were signed. Jose was Cuban and loved the feel of "Broken Wings" and really got behind it and was there when we hit number one with it. It's hard to describe how surreal things became. Jose wasn't at RCA long. He left to start a big VHS video company. Shortly after he departed, he and his wife were murdered by their sons Lyle and Erik Menendez in 1989. By the time we got a gold record for our second number one, "Kyrie," the new president of the company didn't stand with us in the celebration pictures. He stepped away and said "You're really Jose's project. It would be wrong for me to be in the picture with you guys."
We spent a long time working on Pull. Paul did a really cool thing in which we took my drums to several studios like Ocean Way Recording, Sunset Sound and Sound Factory. We'd just pop in, set up a small kit and do a few takes of a couple of songs and then go to the next room and do some more. After a few days, we would go back to our cheap studio to listen, compare sounds and performances, and edit. On "We Belong to No One," the song starts with little drums in a coat closet and ends up in the big room at Ocean Way. The drums evolve through the whole track from one room to the next.
So, there was a lot of experimentation going on. There was also a lot of beating each other up, emotionally. Eventually, we got Pull finished and ready to mix, but Paul didn't want to mix it. He didn't want to be in the hot seat. So, he suggested getting James Guthrie, but he couldn't do it. Next, I suggested bringing Kevin Killen back to mix. He worked on Go On with us. Kevin is the exact opposite of Paul. Kevin is micro-detailed. He wants to hear every breath in the vocals. So, we had Kevin come out and on his first day of mixing, things sounded horrible. At the end of the day, we had a band meeting and said we have to send Kevin home. A sad day.
The next day Kevin pops into the studio to pick up his outboard gear and we were already working on a different song—a ballad—and Kevin says "What if?" Pretty soon, he was back to work and the song sounded great. So, by the end of that day, we said "Kevin you can't leave now. You've got to stay." [laughs] Pull then became a big team effort with the band, Paul and Kevin all working together. We finished the mixes and thought "Let's go home. We'll live with the mixes and come back, make a few adjustments and finish everything." And then RCA heard those mixes and we got dropped.
So, 20 years later in 2010, together with our former manager George Ghiz, we went to the label to license it. We got Larry Vigon to design the package and it got released. There was talk of remixing and even overdubbing, but in the end we felt it was kind of like a time capsule and we should leave it as it was. Remixing would be opening a whole can of worms. I'm very happy with it. It's one of the best records I've ever made, certainly some of my best drumming. It was a long process, but it somehow worked out in the end.
Many hoped Mr. Mister would reunite to tour to promote Pull, but that never happened. Why not?
There just wasn't enough public demand for it. Who would finance it? A lot would have to be in place to make it happen. I'd still like to do it, though.
Describe your core motivations as a musician today.
My original motivation for becoming a musician was the British Invasion, including The Beatles and all the other inspiring bands of that era. There was that silly thing in a scene of Help! when The Beatles enter four different doors into one home. That's what I thought a band was—a gang that hangs out and makes music. That's still a lot of what motivates me now. It's the same as when I started—the desire to be in a gang. A band should be a team that shares in the creation of music and then presents it to the public, hoping they get off on it. Music is a kind of medicine that helps me and other people. It's something special and it brings up heavy emotions. At the end of every gig, when I experience post-project depression, the best cure for me is to get back to work on another project.