Pete Levin
Quantum Leaps
by Anil Prasad
Copyright © 2023 Anil Prasad.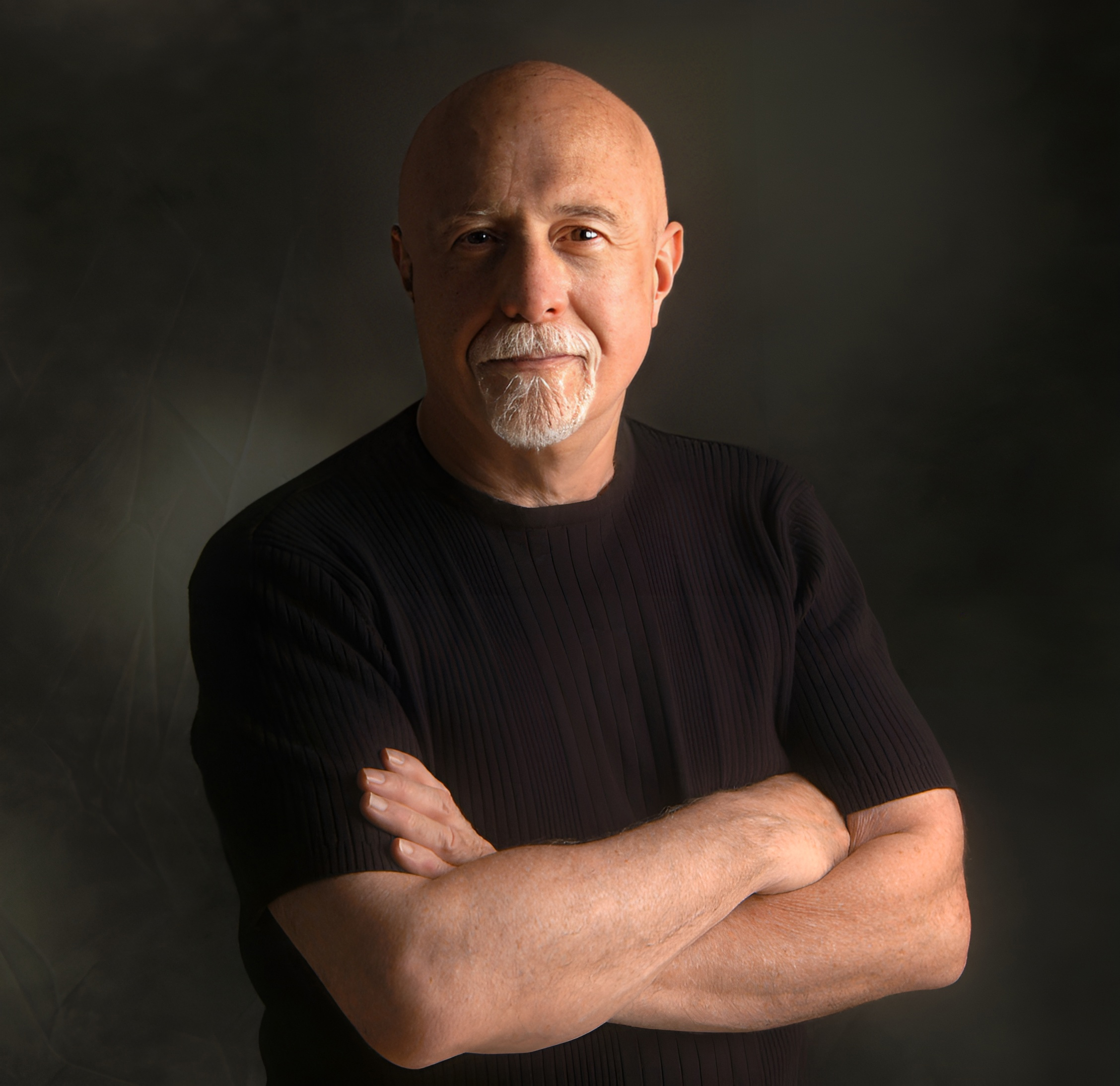 Photo: Sally Anderson-Bruce
Pete Levin's journey as a musician is one of diversity, discovery, and serendipity. While his core focus is as a soulful jazz keyboardist with an ear for deep grooves, his six-decade career has also included high-profile experiences across the pop, rock, funk, and soundtrack spectrums.
From 1973-1988, he was a key member of The Gil Evans Orchestra, serving as a French horn and synthesizer player across myriad incarnations. His jazz credentials also include eight years as part of Jimmy Giuffre's quartet, and performances and recordings with the likes of Carla Bley, The Thad Jones/Mel Lewis Band, Mike Mainieri, Charles Mingus, Jaco Pastorius, John Scofield, Wayne Shorter, Michal Urbaniak, and Lenny White.
Pete's endeavors on the pop and rock side are no less remarkable, with contributions to the output of Blood Sweat & Tears, Judy Collins, Bryan Ferry, Melissa Manchester, Liza Minnelli, Robbie Robertson, Carly Simon, Paul Simon, and Vanessa Williams. And on the soundtrack front, he's part of many notable television and movie scores, including America's Most Wanted, The Color of Money, Lean on Me, Missing In Action, Spin City, and Star Trek: The Next Generation.
As a solo artist, Pete has released 18 albums. His latest, J.S. Bach Inventions & Sinfonias, finds him reimagining the work of the legendary composer via orchestrated synthesizer arrangements. His prior two efforts, Möbius and Jump!, offer inventive combinations of straight-ahead jazz, funk, and avant garde influences, featuring musicians including Manolo Badrena, Alex Foster, Danny Gottlieb, Dave Stryker, Lenny White, and his brother, bassist and Chapman Stick player Tony Levin.
Since 2014, Pete and Tony have worked together as The Levin Brothers, a jazz quartet originally formed as a tribute to the classic 1950s oeuvre of Oscar Pettiford and Julius Watkins. Across its nine years of existence, the group has evolved its focus, and now also performs original music and unique covers of tunes by Peter Gabriel, Steely Dan, Paul Simon, Ralph Towner, and others. The Levin Brothers have four albums to date, which also feature long-standing drummer Jeff Siegel, and a shifting fourth member that's included saxophonist Erik Lawrence, guitarists David Spinozza and Jeff Ciampa, and flutist Ali Ryerson.
Pete calls the Woodstock, NY area home, which serves as an ideal location for many local and virtual collaborations. Innerviews began its conversation with him by exploring his musical life in the region and the shifts he's encountered and accommodated following the COVID-19 pandemic period.
What's your perspective on the value of music after living through the complexity of the last few years?
Music has always been a big part of the human spirit. It brings people together and its strength is intangible in a way. It's something that affects us deeply and it has for as long as I've been alive. More than 60 years ago, I made a choice to immerse myself in it. It has always been as much social and spiritual as it was professional.
Music has a spiritual element that raises the spirit and triggers emotions. It's why I do what I do for a living. During the COVID-19 pandemic, there were a couple of years when it wasn't there in a live context. It was difficult to find ways to keep the feeling alive. Between 2020 and 2021, most of us stayed home with nothing to do but listen to our favorite albums. Now, we're getting back into the scene, and trying to figure out what it is. It's coming back, but it's different. I'm looking for entry points and I'm busy again, which is great.
Your musical life is largely based around your geography in the Woodstock, NY area. Describe your artistic life there and the community you're a part of.
I moved from Boston to New York City in the mid-'60s to go to Julliard. I lived in Manhattan until 20 years ago when I moved upstate. I was heavily immersed in the NYC recording and live music scenes. There's no place in the world where I could have contributed so much and also learned such a great deal. During the '70s, '80s and '90s, I was recording all the time.
In addition to touring a lot, when the Internet took hold, I was recording keyboard tracks in my New York home studio for people all over the world. Then the studio scene started dissipating. There used to be hundreds of recording studios in Manhattan and the outlying boroughs. In the late '90s, the larger ones started shutting down and there was less work. More projects were also starting to happen outside the city. At home, I was doing tracks for people in Japan and Europe. I realized "I could do this from anywhere." It wasn't just my revelation. Everyone saw that too, all at once.
My wife decided to retire from teaching. We looked around and considered what the costs were of staying in Manhattan and if it was worth it. It made sense when I was coming and going from Manhattan studios all the time. So, we sold the apartment and a house we had in Connecticut, and moved upstate to the Woodstock area.
It was a good move. I built a studio in the house. I also have family here. My brother Tony had been living here for decades, so I moved into a thriving social and music scene, while at the same time cutting my living expenses.
There are recording studios all over the area, as well, although not as many as there were 20 years ago. COVID-19 knocked a lot of them out, as well as many live music venues. But it remains very active, and Woodstock is still an artist colony. There are artists and musicians living throughout the region. You never see some of them, because they don't perform in the area. When I'm not traveling, I play a lot of local gigs, with great players.
My favorite memory about my early arrival here is when I took a carload of trash to the local landfill. While I was tossing my trash into a dumpster, a car pulled in next to me. It was John Sebastian, there to toss out his trash. That's kind of what it's like here.
So, it's been good, and it enables me to keep in touch with people, while also reminding myself that I'm a piano player. It takes a lot more effort and energy to play for three hours at one of the local gigs I do than it does to record a track at home or do some editing on the computer. It's not the same as doing concerts in theaters with The Levin Brothers, but I'm a working musician and if I don't do the gigs I'm offered, they'll wither away, or I'll wither away. I've got to keep playing. I'm fortunate the phone keeps ringing and that I'm able to keep making good music. It's a good life.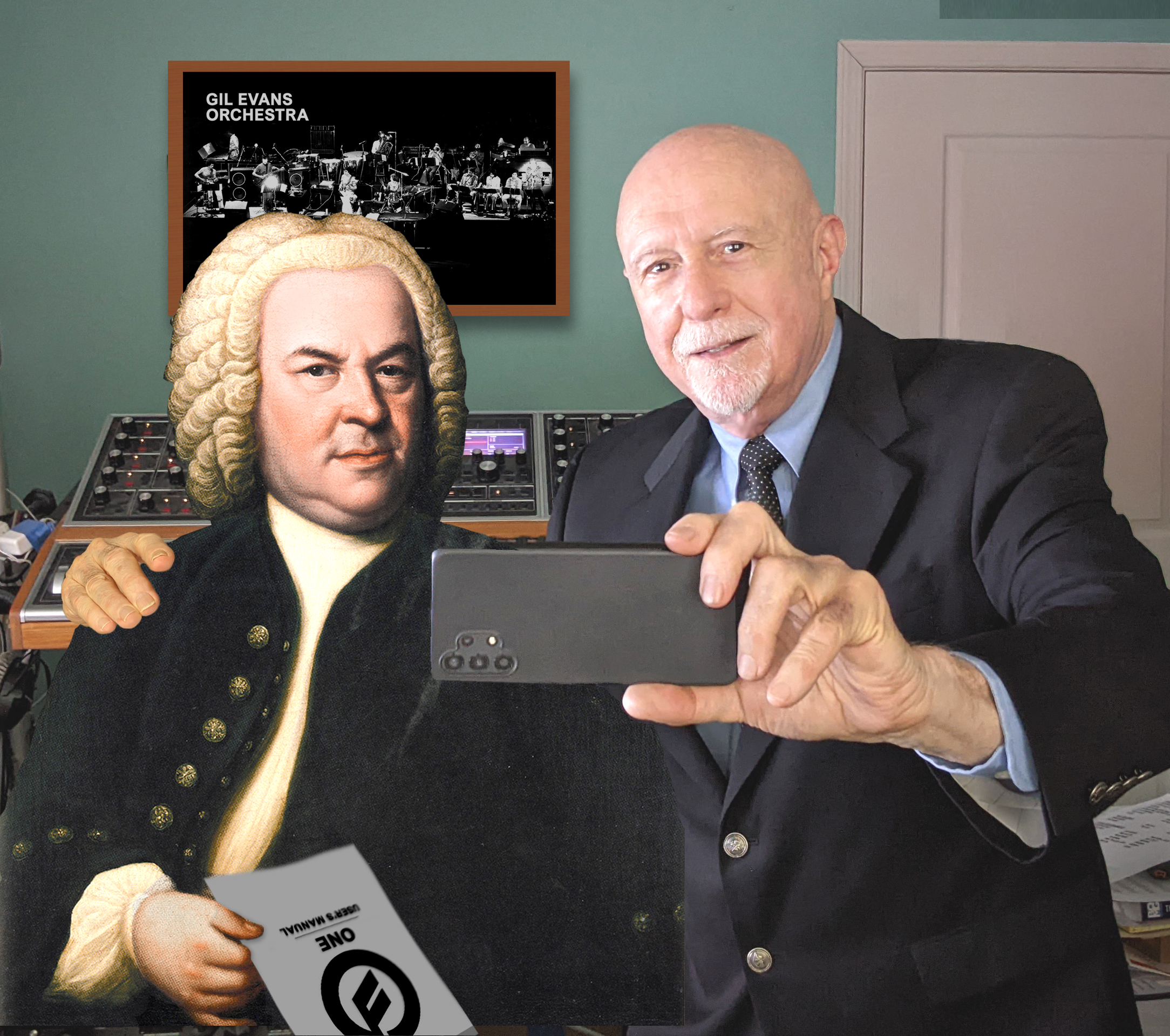 Photo: Samantha Levin
Tell me about your interest in reimagining Bach's work for your new album J.S. Bach Inventions & Sinfonias.
Pro Tools is a powerful system for home studio tracking. I've got a great polyphonic synth and the ability to capture it. So, I decided to do an album of Bach pieces entirely on synthesizer. I used a Moog Model One exclusively, and no samples. I recorded multi-track to create compound textures and a larger ensemble sound.
I've always wanted to do it. It took a year-and-a-half. The tracks are orchestrated beyond what Bach would have done, but I was looking for textures and emotion in the music. I learned that from Gil Evans.
Bach's compositions are masterful studies in counterpoint. His skill at developing a melody is legendary and still a model for all composers. His ability to create intricate musical textures using minimal notes was phenomenal.
A lot of Bach pieces are usually done at a tempo that never wavers. I didn't do that on these arrangements. I made the pieces dynamic. I used different sounds and textures, but played only Bach's notes. I had a ball making it and feel really good about it. This project was really about finding myself again and getting back to a high creative level using my skills, experience, and the tools around me.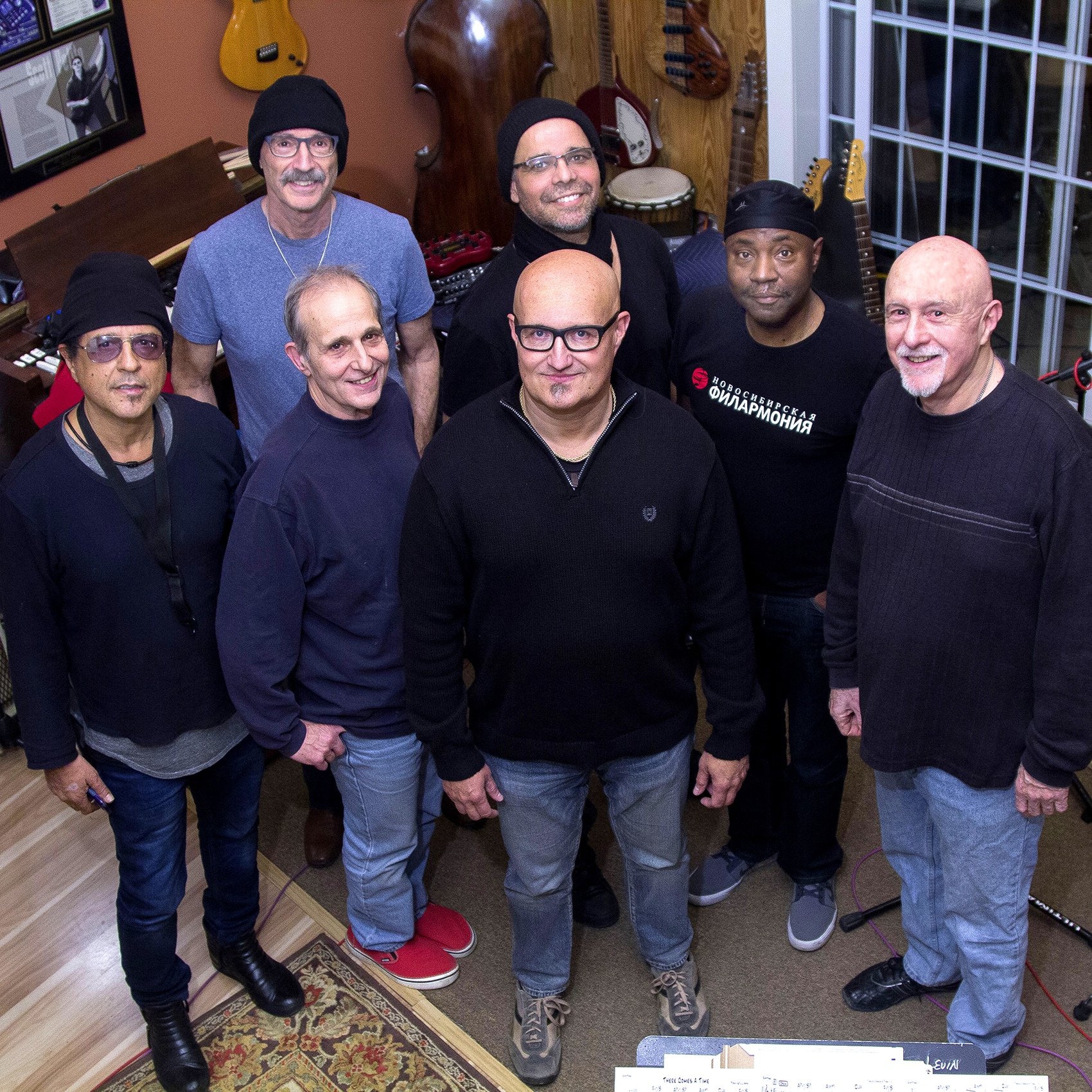 The Möbius band, 2017: Alex Foster, Tony Levin, Jeff Ciampa, Nanny Assis, Chris Pasin, Lenny White, and Pete Levin | Photo: Samantha Levin
Your previous album, 2017's Möbius, was a deep funk groove project recorded live in the studio. Reflect on putting that release together.
I hadn't done a studio album with a live band since 1990. Since then, until Möbius, all my projects were studio creations, sometimes with a core band. I got really good at working at home and transferring files back and forth to studios. A lot of musicians I know have worked this way for years. But one thing lacking in that process is spontaneity. If I've got a recording totally planned out, it's very difficult to get interplay between musicians. It's all me, saying "Here's what I want here. You do this, here. Don't do that. That's the tempo I want."
The main inspiration for Möbius is my time with Gil Evans, who always wanted to see where the music could go. An album done by tracking and stacking layers can come out great, but it's essentially one person's performance, with very little feedback from other musicians.
With Möbius, I got a group of my favorite players together, including my close friend Lenny White. He and I have been making music for decades. My brother Tony and Lenny had never met before. It was fun to watch them figure out how to work together during the sessions. It also includes Nanny Assis, a wonderful percussionist, and Jeff Ciampa, a great guitarist from my New York City studio days. The two killer horn players on the album, Alex Foster and Chris Pasin, had also never met. Jerry Marotta is playing drums on it, too. I threw a few surprises at the musicians that worked out very well. I had charts, but I wanted to see what could spontaneously happen. On one piece, Alex asked "How does it end?" I answered, "When we run out of ideas, that's the end."
Some things didn't go well, but a lot did. Magic happened. Best of all, we went into the studio, and two days later I had an album.
I wanted to tour, but the timing couldn't have been worse. All of a sudden, the world was wearing masks and I couldn't put gigs together to keep the band alive. The band only played two live gigs. But it was a wonderful experience making the record.
Prior to Möbius, you released Jump! in 2010, which is a classic organ-led jazz effort. Provide some insight into that project.
The album had me revisiting my first keyboard love, the Hammond organ. I'd met the guitarist Dave Stryker while working with vocalist Rondi Charleston. I remembered how great he was, so I asked him to be part of it. I discovered him early on, and now the rest of the world has discovered him. Lenny White rounded out the trio. As a creative drummer, it doesn't get any better. That trio was really kicking my butt to keep up. We did a four-week European tour in 2011.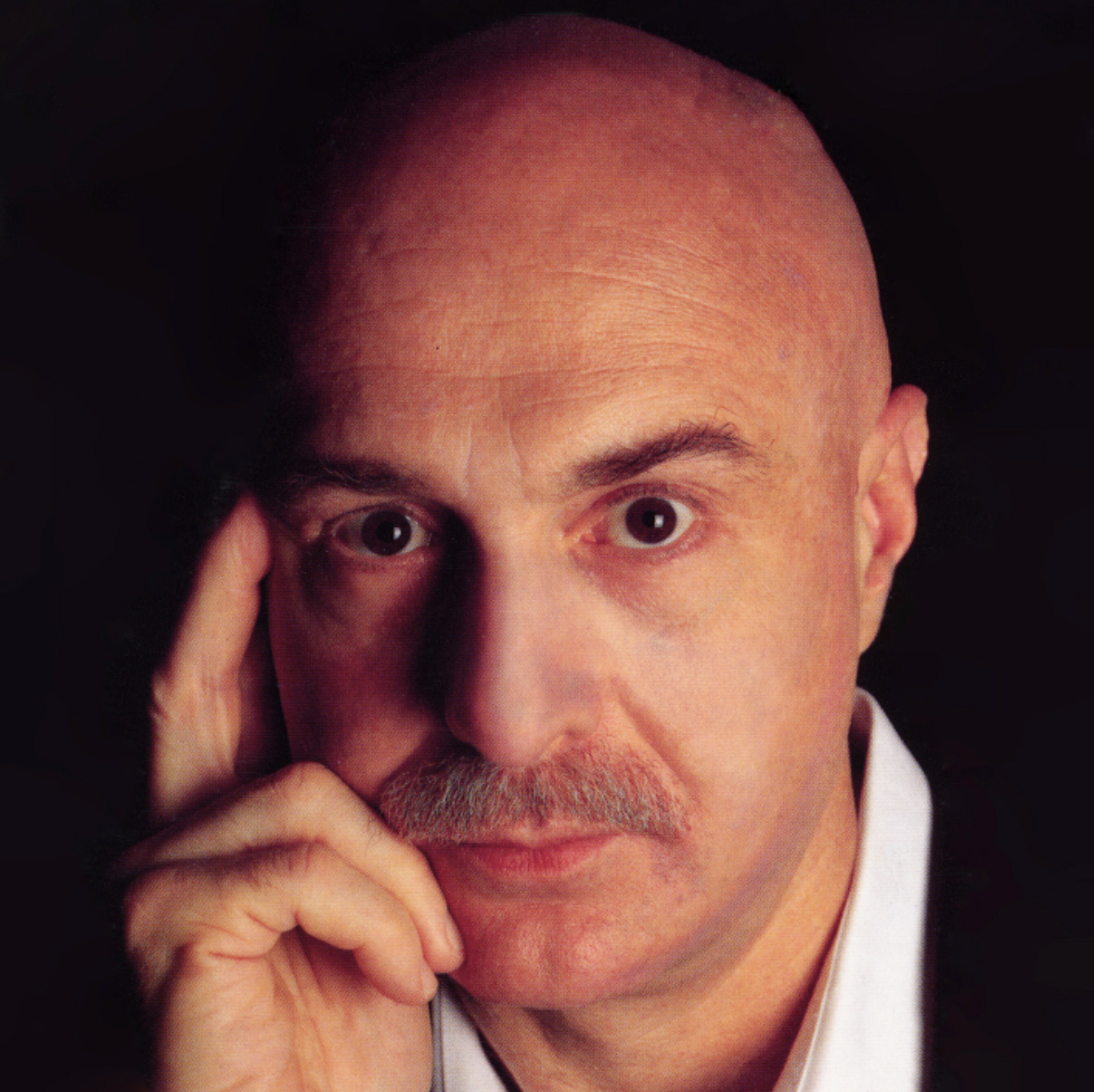 A Solitary Man cover shoot, 1991 | Photo: Sally Anderson-Bruce
In the early '90s, you signed to Gramavision and released the albums Party in the Basement and A Solitary Man. Those were contemporary jazz projects designed to connect with the mainstream. How do you look back at that period?
Truthfully, I probably didn't know what I was doing. [laughs] Gramavision was a remarkable label, which unfortunately didn't survive. The owner, Jonathan Rose, signed creative musicians who weren't getting attention from conventional labels. The label had a roster of very unconventional creative people. Their biggest success was with John Scofield's early albums. I'm on some of them. Ultimately, Jonathan didn't have the time or energy to continue with Gramavision, so he closed it down and sold the catalog.
Jonathan wanted me to do a radio record. I'm thinking "What's a radio record?" [laughs] He said it was something that wasn't too far out that would get airplay. So, I tried that with Party in the Basement. And then I did an album that was more quintet-focused called A Solitary Man, with Manolo Badrena, Alex Foster, Jeff Berlin, and Cliff Almond. That band was amazing.
Danny Gottlieb had recommended Cliff to play drums. Cliff was just out of school and inexperienced. Jeff is a very dominant player and personality, but Cliff held his own. Together, they made a great rhythm section.
Danny and I did a Christmas album for Gramavision in 1990 called Masters in This Hall. It was all synthesizer orchestrations with live drums. The album got a lot of airplay and sold well. My others didn't. So, Jonathan and I shook hands and parted ways. Not long after that, Gramavision folded. Overall, it was a good experience for me. I learned a lot.
In 1990, you were part of a Blue Note supergroup called The Manhattan Project that delivered a self-titled album and live concert video. What was it like to be involved in it?
That was Lenny White's conception and project. He called a group of friends to play on it, including me. It was a crazy band with Stanley Clarke on bass, Gil Goldstein and I on keyboards, Michel Petrucciani on piano, and Wayne Shorter on sax.
Clarke wanted to use a piccolo bass, so Lenny had me play synth-bass on some pieces, freeing Stanley to do what he wanted. You'll also hear me on pads, synth, and textures.
The group had all these powerful, dominant players coming together, with me sort of in the middle. It was amazing to be around Wayne, one of the most creative players and composers in jazz history. In hindsight, I think he was limited by what was going on around him, much like his late period with Weather Report. He'd hang back and occasionally contribute something, and whatever he'd throw in would be a perfect gem. I spent a couple of days watching Wayne do that from a few feet away. He actually took very few solos, but when he did, it was like he was composing another song. It was more than just playing. He was doing something on another level than the rest of us.
Lenny also decided that we should get an audience and videotape the band playing live. Everything was Lenny's idea, including the name Manhattan Project. The name caught on and stuck. But it wasn't something we could tour with. It was hard enough putting the band together for a couple of days. It would have been ungodly expensive to have these all-star musicians on a tour.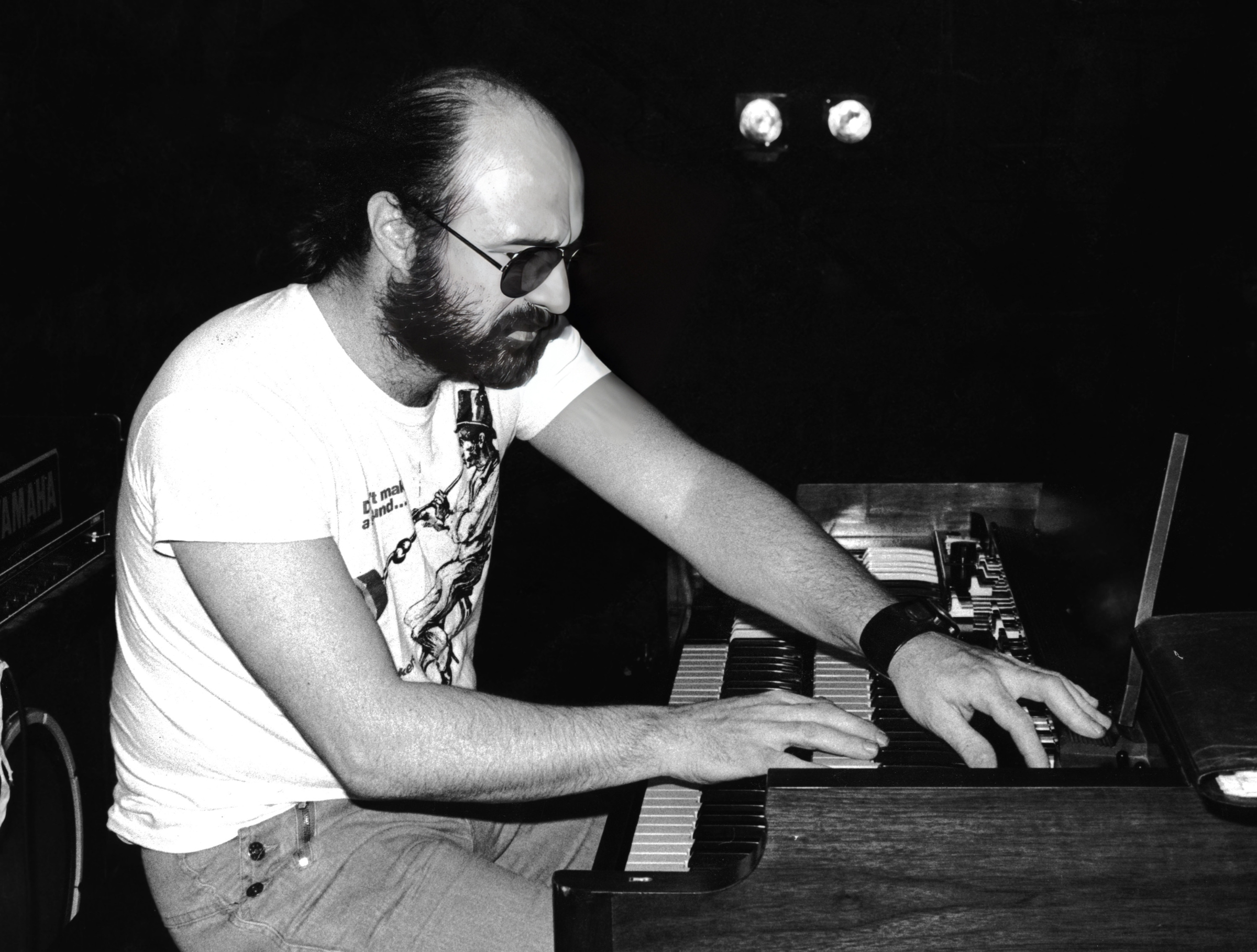 Pete Levin performing with The Gil Evans Orchestra, Tokyo, Japan, 1976 | Photo: Pete Levin Collection
Let's go back to 1973 and have you talk about how you first connected with Gil Evans—something that transformed your life as a musician.
I was playing French horn at the time. I'd played jazz piano through college, too. When I moved to New York City, I saw there were killer jazz piano players everywhere and figured that's not what I'm gonna be able to do for a living. So, I fell into the recording scene doing sessions on French horn.
One night in 1973, the tuba player Howard Johnson called me and said "Pete, what are you doing?" I said "Right now? Nothing." Howard replied, "Bring your French horn over to the Village Vanguard, now!" I ran out and caught a cab. It was Gil Evans, doing a week at the Vanguard with a 13-piece band on that tiny stage. It turns out the horn player had driven in from New Jersey and forgot his mouthpiece. He was playing a Broadway show and likely didn't need the work. He said, "I didn't wanna do this anyway" and left. So, they needed someone at the last second and that was me.
The band was ready to start when I got there. They'd left me space on the stage where nobody wanted to sit, jammed in right under Lenny White's ride cymbal. At the time, that was the loudest thing I'd ever heard. So, I played the week with Gil. On the last night, I worked up the courage to take a solo. Everybody pushed me to do it, and man was I stressed out. It was on Billy Harper's tune "Priestess." I sweated bullets through it. Gil hired me, and I was in his band for 15 years until he passed.
It was truly an all-star band. Players like Howard Johnson, Bruce Ditmas, Lenny White, Johnny Coles, Dave Sanborn, Lew Soloff, Hiram Bullock, Adam Nussbaum, Mark Egan, Jimmy Knepper, Lou Marini, Ted Dunbar, Airto Moreira, Dave Bargeron, Joe Beck, John Clark, Dave Taylor, George Adams, and Billy Harper came through the ranks.
With so many dynamic soloists, each song would last 20 minutes or more. I thought, "I can't compete with those guys." I'd play the head and ensemble parts in between the solos, but otherwise there was nothing for me to do. One day, I told Gil, "I've been messing around with a Minimoog synthesizer. Can I bring it over to your place to show it to you?" He replied, "Just bring it to the gig and play some stuff." There were no parts for it, so I made up lines. Eventually it became a creative element in the band. I'd still go back to the horn to play some of the ensemble parts. Eventually Gil said, "Forget about the horn. Just do the synth." He hired Peter Gordon to do the horn parts, and I became a full-time synth and electric keyboard player in the band.
It was an honor to learn that Gil, during interviews, had said I was instrumental in the transition of the band into a hybrid acoustic-electric ensemble. How many band leaders would say that or let you switch instruments the way I did? It was incredible that I was hired for this amazing band by such a legendary composer and arranger.
Gil was incredibly supportive of his musicians. If you took a solo and did something jive, you'd hear about it from him, but that was about it. Within the music, he pretty much let musicians do whatever they wanted. He also had a knack for spotting young players with potential, putting them in the band and challenging them. For me to suddenly be in this band was a quantum leap forward. I attended the Gil Evans School of Music. It was never about playing the same way every time. It was always about going in new directions.
Miles Davis asked you to be a part of one of his early-'80s lineups, but you turned it down. Why didn't you pursue that opportunity?
Miles was once looking for an electric keyboard player and considered me, but I was busy touring with Paul Simon. I didn't appreciate what Miles was doing with that new band enough. There was a period when Gil Evans' band was touring with Miles' band. We did that extensively in the Far East, including a long tour of Japan. I remember Miles didn't want to play late at night or do soundchecks. He wanted to walk in, play, and go have dinner. So, Miles would, in essence, open for us, which meant for weeks on end, I'd get to see him play.
Mike Stern and John Scofield were both in Miles' band at the time. I think if I hadn't been an idiot, I might have been part of that band then. Bad call. I remember my brother Tony saying, "How could you say no to Miles?" It would have been a life-changing experience because of the way he led bands and how much the players learned from him. Those experiences don't happen anymore.
There's another Miles link, in that I did some work on Betty Davis' Nasty Gal album from 1975. Gil was brought in to do horn arrangements and I was part of the group that came in to work on it. I don't think Betty was there. It was during a period when I was doing two sessions a day and then playing a gig at night. Blurred memories.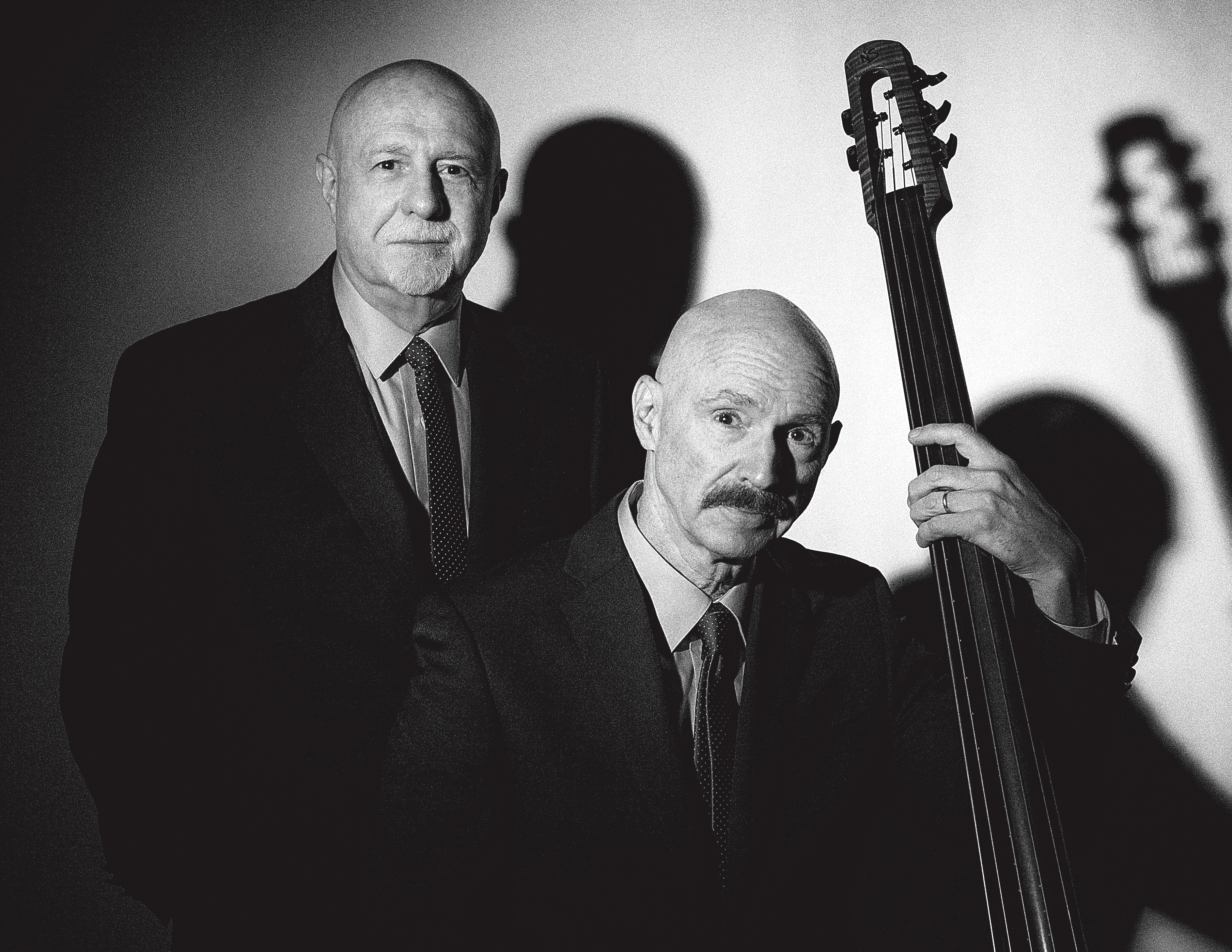 The Levin Brothers: Pete Levin and Tony Levin | Photo: Dion Ogust
Discuss the origins of The Levin Brothers and how it evolved over time.
When I was in high school, I'd listen to jazz recordings including music by Julius Watkins, who was the first jazz French horn player to hit the scene. What he did was remarkable to me, and he influenced my approach to the instrument. Most of his recordings were in Oscar Pettiford's quartets or quintets.
When I was listening to those Pettiford recordings, my kid brother Tony was hanging around and hearing them too. He didn't care about the French horn, but he loved the bass playing. To this day, Tony credits Pettiford with inspiring him to take up the bass and continue with it. Pettiford never attained the level of fame some more popular bass players did, but he played with everybody back in the day, mostly in Europe. It was difficult for African American musicians to earn a living in this country back then.
In 2014, Tony and I were chatting about those days, and he got the idea to do some of that music. He suggested we put a little group together and perform some music in that style. We immediately started writing original tunes with that '50s straight-ahead approach. It wasn't very aggressive music, but it was very melodic with short solos and easy to listen to. We recruited Woodstock drummer Jeff Siegel for our first album. Jeff has been recording and touring with us for nine years.
It was Tony's idea to call it The Levin Brothers. I thought "Why not? That's a good name." [laughs] We signed with a small label, Lazy Bones, for our first album. It was a one-man operation. Scott Schorr, the owner, provided so much support and enthusiasm for us. He got the record made and got it out there. We really got into the genre, wearing suits and ties like they did in the '50s. We played gigs that way for a few years.
Eventually, Lazy Bones folded. Scott sold the Lazy Bones catalog to BMG, so we became BMG artists. That was good and bad news. The good news was The Levin Brothers were now on a major label. The bad news is that nobody at the label knew we were on it. [laughs] So, that was the end of that.
We kept performing for several years and put out some live records. Eventually, we decided we had enough of playing music from the '50s, so we tried doing some newer stuff, did another studio album, and continued touring. We worked with Eric Lawrence, a wonderful sax player, who became the fourth member of the band for a while. We also had David Spinozza playing guitar with us. And when David couldn't keep the touring schedule up, Jeff Ciampa became the guitar player. A couple of years later, Ali Ryerson joined us as the fourth member. Currently, Tony is touring with Peter Gabriel, so The Levin Brothers are on hiatus. But once Tony's done we'll hit the road again.
You and Tony have a telepathic connection on stage. Tell me why the partnership works so well.
Both Tony and I had the same training and grew up in the same environment. Our parents weren't musicians, but they both loved music. Music was in the house all the time.
We both came up through the public school system of Brookline, Massachusetts. It was a big town with a very large school system and music department resources. The school system put money into music education, which sadly isn't the case now.
The music department head, John Corley, also directed the concert band at MIT. He was very inspiring to young musicians like Tony and I, encouraging us to keep playing. MIT didn't have a music program, but the school sponsored a concert band and provided a theater to rehearse and perform in. The band members were all advanced players who were playing recreationally. Corley asked me if I wanted to play second horn with the MIT band as a ringer. I wasn't playing too badly for a high school kid. As a 17-year-old, that was a great experience, playing difficult music with a group of good college players. It made me play better and work harder.
Four years behind me, Tony had the same experiences with the same teachers. We both graduated knowing we wanted to continue in music. I went to Boston University and The Juilliard School and Tony went to the Rochester Eastman School of Music. We both continued training as classical musicians but were also exposed to jazz.
I moved to New York City in 1965, and then Tony did as well. We were immersed in the same scene for quite a while, which made sense since our upbringing was so similar. But then the tangents happened, based on who we were playing with. We both lost our classical discipline. Tony was hanging out with pop and rock players. I got pulled into the jazz world and never left it. So, while we went in different directions, we were both very fortunate to meet and work with many legendary musicians and composers.
Until The Levin Brothers, we had never done a band together, except briefly in 1974 with The Clams, which lasted about a minute. It took until 2014 when Tony had the idea of exploring the Pettiford world for us to make something happen.
We collaborate very well. Sometimes Tony has an idea and I'll go "Yeah, that's good. Let's do that." And sometimes I'll have an idea and he goes with it. I might arrange or reharmonize something he might bring to the group. He'll often provide a better bass part for one of my pieces or change the form. It's a good working relationship and there have been no disagreements, except maybe the cover for the first album. [laughs] Tony is a lot more savvy about the PR world where photos and image mean a lot. For me, I'm good with t-shirts and jeans on the gig. But Tony wanted a proper photo shoot, with pork pie hats, projecting a Lester Young-style image from the '50s.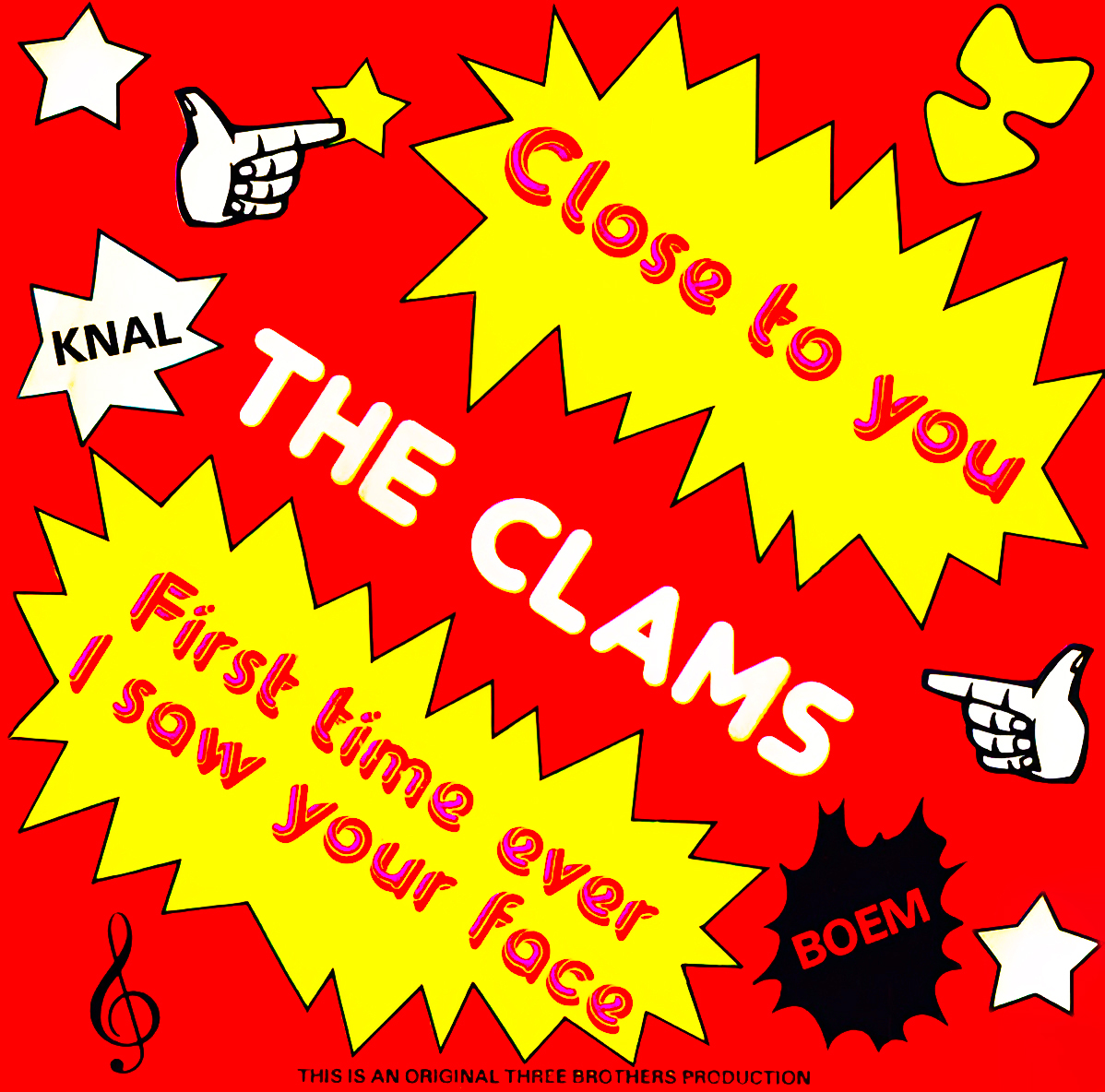 The Clams' 1974 "Close to You" 7" picture sleeve
The Clams were a novelty act with minimal output, but a surprisingly large footprint. Tell me the tale.
Tony and I both have good senses of humor. When we were kids, we listened to comedy records by Stan Freberg and Spike Jones. In 1974, Tony came to me and said "Pete, do you remember the Spike Jones stuff? I've got an idea. Let's do a Spike Jones-inspired album." We had resources. Dixon Van Winkle, a skilled producer and engineer, came on board.
We were inspired by Jones' arrangements of popular songs which often involved sound effects like bicycle horns, bird calls, gunshots, and glass breaking. I volunteered to play banjo on it. Tony looked around to see who he could talk into playing this craziness. We got Steve Gadd on drums and Vinnie Pasternack on washboard and vocals.
I did a manic arrangement of "Close to You" and we went in and recorded, with me singing lead. Really, we were just screwing around, but Dixon did a great mix of it. I think it was Steve who knew an A&R person at CTI Records. We said, "We've got this comedy version of 'Close to You.'" And to our surprise, the A&R guy said "Yeah, bring it here. We'll take it." The guy didn't even tell Creed Taylor. They just put it out on a subsidiary label, Three Brothers.
The CTI publicity machine sent promo copies out to radio stations with our wacky version of "First Time Ever I Saw Your Face" on the B-side. You couldn't buy a copy then because they didn't send any to stores. The label owner, Creed Taylor, didn't even know the single existed.
The story we were told is after it was released, the A&R guy came to a Monday morning staff meeting with a copy of the 45, surprising everybody. Creed was furious. We were never able to verify it, but the rumor was that A&R guy got fired, but he wanted to leave anyway and was looking for a way to piss Creed off. I don't know if that's true, but it's a great story. [laughs]
What's really hilarious is that WNBC, the flagship NBC Top-40 radio station in New York City, played it and it became a national hit. Apparently DJ "Cousin Brucie" said on the air "You can't believe the crap we get from record companies every day. Listen to this." He played it, and the phones lit up with requests to play it again. The way it worked back then is when a major station put a record in rotation, other stations would follow suit. So, for about two weeks, you could hear me singing "Close to You" with gunshots and bird calls everywhere across the country. And then it disappeared completely.
Tony went back to CTI and said "Hey, listen, we've got a hit. We should do an album." But CTI said, "No, get outta here. We don't want to hear about The Clams ever again." [laughs] And that's the end of the story. Nobody ever asked me to sing again.
The first album released with your name on it was a duo effort with Bill Comeau in 1971 titled Some Beautiful Day. How do you look back at that experience?
I was doing some work at a recording studio in Connecticut at the time. I had a lot of freedom to just mess around there. The producer who owned the place hired a lot of young rock musicians to work there that didn't have any experience. It was my first chance to actually be in a studio control room and work with consoles and tape. I did a lot of experimenting, recording weird electronic music that never got released.
One of the artists there was Bill Comeau, a minister who also wrote poetry. He had written a lot of religious poetry. He came to me and said, "What can we do with this?" I said, "Let's create some music to go under each poem." He let me play whatever I wanted. I also got Tony to come in and make some noises on bass. When one poem ended, Tony took his bass and slammed it down hard, so the strings were ringing.
The album was released on the Avant Garde label and subtitled "A rock celebration of the life of a dreamer named Jesus." The label tried publicizing it by comparing it to Jesus Christ Superstar, which was ridiculous. They were nothing alike.
Bill and I were also part of a jug band called The Incredible Broadside Brass Bed Band. We made an LP called The Great Grizzly Bear Hunt earlier that same year. We got a live audience into the studio with us, got them all crocked on cheap wine, and performed a live set. Only token organization. One song ended because the tape ran out. [laughs]
Bill's lyrics for The Incredible Broadside Brass Bed Band were a paradox. He'd be singing about drug use and getting high. I'd say "Bill, aren't you a minister?" He'd reply "Oh, nobody will notice." [laughs] He composed a song called "Little Dead Surfer Girl" about a guy and his girlfriend Rhonda who go to the beach. Rhonda, who can't swim, goes out too far and drowns. The washboard player would then gargle a mouthful of water and spit it into a microphone as a sound effect for Rhonda going under. [laughs] It was released as a 7" single on the long defunct Poison Ring label. The song became an underground hit, played by Dr. Demento for years afterwards. Copies have been known to sell for a lot of money on eBay. Go figure.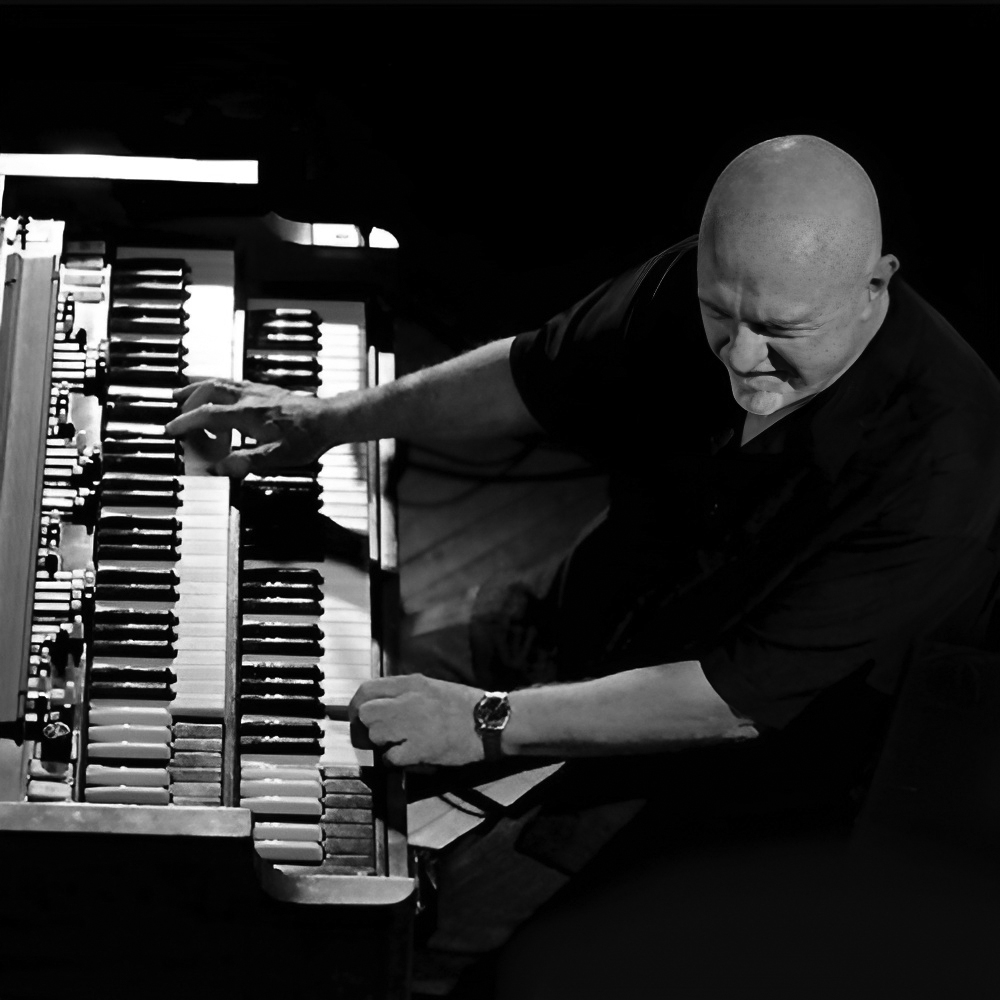 Photo: Jim Rice
You worked on music for Star Trek: The Next Generation in the late '80s. What was that like?
I was well-established as a studio synthesizer specialist by then, and had done a lot of work for film composer Jay Chattaway, both in New York City and Hollywood. When Jay got the Star Trek TV gig, he would use me on sessions when I was in LA.
There was one episode with an alien spaceship that looked like a blimp. It would just go floating by every once in a while. While writing the music, Jay said, "It looks like a whale. Pete, you got any whale sounds?" I said I had some Orca samples. He said, "That's good, we'll use those. I don't know exactly when they'll be hitting, but you'll be on the session. So, get your Orca samples ready."
Those sessions were done on a soundstage at Universal Studios with a 35-piece orchestra recording live to stereo by legendary engineer Don Hahn. A class act. I brought only a small sample player and a MIDI cable to the session. The part copyist on the date loaned me a small keyboard that we set on somebody's road case. They had put me in between two legendary LA keyboard players, Pat Coil and Michael Boddicker, with their huge rigs. For the next few hours they worked their butts off while I just sat there watching a TV monitor. Every time I saw the alien ship float by, I'd press middle C to make an orca noise. An easy gig. [laughs]
In 2024, you're planning on touring with a new group called Band of Brothers. What can you tell me about it?
It's a group with Tony and I and two fine musicians with deep music experiences: Joe LaBarbera and Pat LaBarbera. Two pairs of brothers. It looks like we'll be doing the West Coast in January 2024. We've been discussing repertoire. We'll have to find common ground that we're all comfortable with. The potential is great. I think it'll be a combination of straight-ahead and some more contemporary, funky stuff. To be continued.
What are your thoughts about surviving and moving forward as a musician in today's very complex and uncertain industry environment?
As we come out of the pandemic, it's a challenge to navigate the difficulties of the music business. Everybody has to find their own way. The scene has always been changing, but now it's a huge puzzle. Questions like, "How do I sell music? What should I be doing? What is everybody else doing? What do I do with all those CDs in my basement?" get asked. I have no answers. Most veteran musicians like myself are no longer setting the pace or the styles. Rather, young people are doing that. If you want to know what's coming next, listen to what musicians in their early twenties are doing. I just think that I'm fortunate to have been doing this for so long. Maybe I'm starting to get good at it.
As we discussed, I still do a lot of local gigs. I'm still schlepping keyboards in and out of bars. I do lots of tracks for people, at home and in commercial studios. Some of them pay well, some don't. Friends might ask, "Could you add organ to a couple of pieces I'm doing? I don't have a budget." I always say, "Sure, happy to do it." I'm fortunate because I can afford to do that. I own my house. I don't have car payments. My wife and I have pensions. I'm happy to play every day if I can. Use it or lose it.
You can be depressed about the music industry and go back to bed, or you can find something to do. Playing good music with my friends and developing my own recording projects gives me a great deal of satisfaction and fulfillment. And after all these years, the phone keeps ringing. I'm pretty lucky.