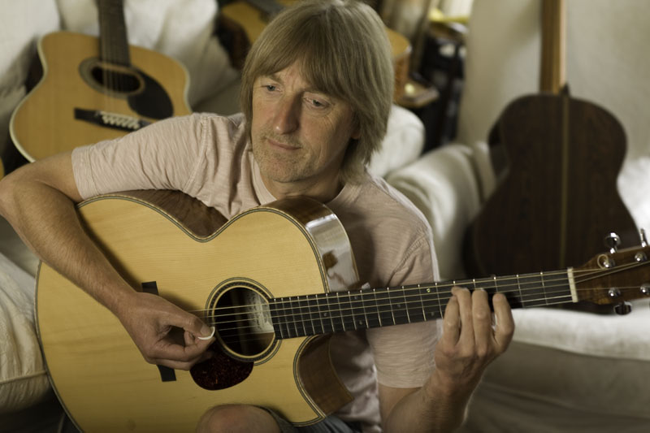 With more than 30 solo releases to his name, acoustic guitar virtuoso Anthony Phillips has long transcended his status as co-founder, lead guitarist, and key songwriter for British progressive-rock pioneers Genesis. Together with Tony Banks, Mike Rutherford, and Peter Gabriel, Phillips helped propel the early era of the genre forward during his tenure with the band from 1967-1970. Phillips' most vital work with the group is part of Genesis: 1970-1975—a boxed set containing a surround remix of Trespass, his 1970 swan song for the act, as well as unreleased material featuring his contributions.
For many, Phillips' songs and gorgeous 6- and 12-string melodies represented the heart and soul of Genesis' first incarnation. That's firmly evident on new reissues of his early solo material—which include bonus discs of rarities and outtakes—as well as his most recent work. The centerpiece of the re-releases is his debut album, 1977's The Geese and the Ghost. Created in collaboration with Rutherford, the ambitious effort finds the two guitarists exploring the more gentle side of prog rock with expansive instrumental suites, delicate love songs, and classical music-inspired pieces.
"The intent of the album was to say, 'This is the softer side of Genesis,'" explains Phillips. "Mike and I wrote most of the group's guitar-based stuff—much of it on two 12-strings. We amassed a lot of material, but a fair amount was too quiet and intimate, and never made it past the selection committee. The other problem is, in the early days, we did gigs where we had to make lots of noise to get audiences to shut up and listen. If we played mellow 12-string stuff, nobody would pay attention. We intended to commit this material to a record for a long time, but it wasn't possible until the mid '70s, when Mike had a chance to take some breaks from Genesis to help finish the tracks."
Phillips played a '58 Fender Stratocaster, a Hofner Colorama, a '70 Yairi Clase 880 classical guitar, and Rivers Job 6- and 12- string acoustic guitars on the disc. Rutherford mainly used a Tony Zemaitis 12-string acoustic. They employed several techniques to produce unique and kinetic guitar arrangements for the album.
"One of us would tend to kick off with a main idea, and then we'd embellish it with a different chord inversion or cross-rhythm," says Phillips. "We would also create what we called 'mixture chords' in which one of us might play Em while the other would play D simultaneously. Additionally, we would have one person just play the chord sequence, while the other played the lead line on top to create lots of variation."
The other hallmark of the album is the liberal use of lushly layered guitars.
"We would lay down 12-string parts, and then Mike would often overdub a classical guitar part over them," says Phillips. "He had a very warm, padded sound because he played without nails. I would tend to play harmony parts beyond that on 12-string or 6-string. In addition, we used the unison approach. For instance, on 'God If I Saw Her Now,' the middle section has five acoustic and electric guitars playing the same part. There's a parallel with having a string section with violins. Everyone is always just slightly out of tune with each other, creating a wonderful, massed sound."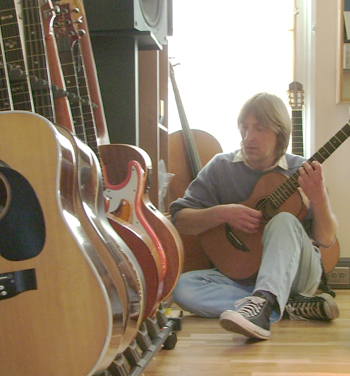 Most of The Geese and the Ghost features Phillips in standard tuning, except for the title track that uses dropped-D tuning—the same one he used on "Stagnation," a seminal track from Genesis' Trespass.
For his next newly-reissued solo CD, 1978's Wise After the Event, Phillips added DADGAD to his tuning options. The adventurous singer-songwriter CD includes a similar assortment of guitars as The Geese and the Ghost, with Phillips swapping out the Rivers Job 12-string for an Alvarez 5054 12-string because of its more consistent ring and less dominant bass. Phillips also incorporated a Rickenbacker 450 electric 12-string into his rig, tuned to C-G, G-E, E-C, C-G, G-C, C-C (left to right), to invoke a larger-than-life sound. He further boosted its sonic territory by running it through MXR Dyna-Comp and Boss Chorus pedals, as well as a Roland RE-201 Space Echo.
While acclaimed by critics and fans alike, the album's voyage into overt pop and rock territory was one shepherded by Phillips' label.
"I would have loved to have done another Geese and the Ghost, but the music business was moving away from dreamy, concept-based albums into song-based efforts," says Phillips. "So, I got together the best songs I could write and went for it. I was no longer spinning off Mike, so I was responsible for all of the secondary guitar parts, but I think my overdubs worked to create a nice sonic palette. It was good fun, but definitely an uncertain time."
Following Wise After the Event, Phillips' music moved into a much more personal and uncompromising space. The third reissue, 1984—originally released in 1981—saw a major directional shift, as the album comprised almost entirely electronic music performed on a Moog Polymoog and a Roland GR-500 guitar synth. Since then, Phillips has released 24 albums, with his last two releases being representative of his current spheres of focus.
Field Day—a 2005 solo acoustic double-CD—sports more than a dozen different guitars, including custom John Marlow 12-string acoustic and 10-string classical guitars, a Guild F212 12-string acoustic, and an 1850 Mirecourt antique classical guitar. He includes DADGAD; D, Bb, F, Bb, F, Bb; and open-D 6-string tunings, as well as E-E, A-E, E-E, A-E, E-E and D-A, A-A, D-C, A-A, A-A, A-A 12-string tunings on the record.
Phillips' new CD, Wildlife—a duo album with multi-instrumentalist Joji Hirota—showcases his work as a highly sought-after library music composer. The disc compiles his soundtracks for British television nature programs. In particular, it features music from Survival, a series by the late, renowned nature explorer Nick Gordon. Phillips mostly plays keyboards on the album, with the occasional passage performed on a Larrivée 6-string acoustic guitar.
"My career in library music means I drift in and out of playing the guitar," says Phillips. "However, I think that increases my love for the instrument. The paradox is that being slightly out of practice is great for stirring the compositional juices, but not for your playing. I tend to write when things are rough, and then practice so the pieces turn into something. John Lennon didn't sit around practicing guitar five hours a day, yet every time he released something, it was brilliant. Sometimes, absence truly does make the heart grow fonder."