Vernon Reid
Transcendent Opportunities
by Anil Prasad
Copyright © 2009 Anil Prasad.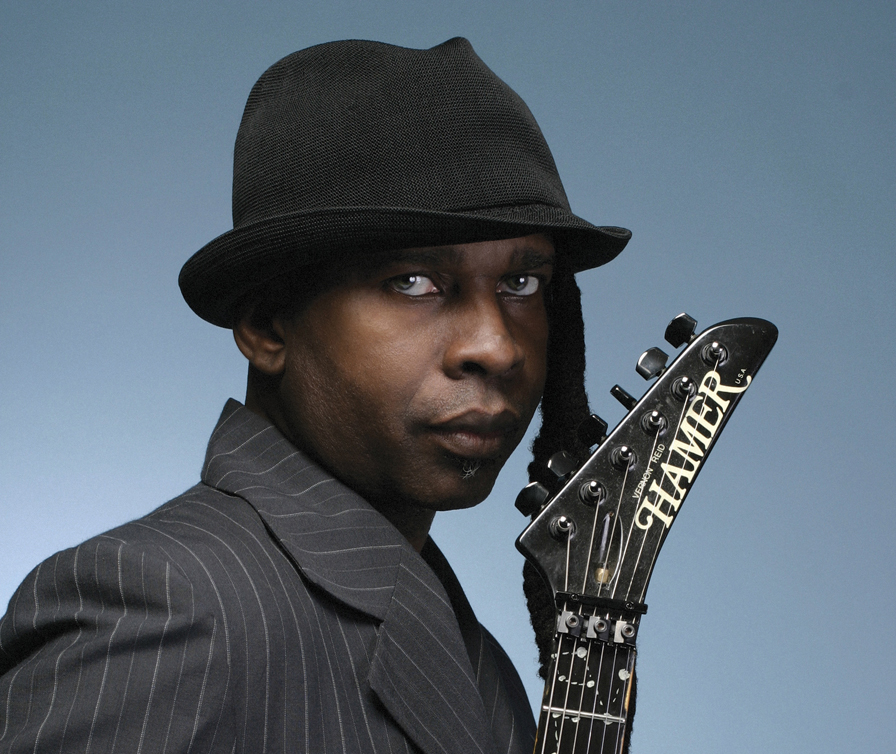 When Living Colour's debut album Vivid hit in 1988, the New York City-based hard rock quartet shattered the genre's glass ceiling by proving an African-American band could go multi-platinum and reach audiences of every demographic. Its success also established the group's founder and guitarist Vernon Reid as a modern day guitar hero, whose virtuoso shredding prowess and use of forward-leaning effects and synth technology would influence countless players. Living Colour's other members—drummer Will Calhoun, vocalist Corey Glover, and bassist Doug Wimbish—are also upper-echelon performers whose moves are tracked by legions of fans worldwide.
After a three-album run, the group broke up in 1995 so the members could pursue solo endeavors. Living Colour reunited in 2003 to release Collideøscope, a provocative disc that reflected on the events of 9/11. Several tours and one-off projects followed, including the band's participation in 2007's Guitar Hero III: Legends of Rock game with a re-recording of its 1988 hit "Cult of Personality." It took six years for the group's next album to emerge, though The Chair in the Doorway was worth the wait. The record's 11 tracks feature some of Living Colour's tightest, fiercest, and most compelling output to date.
Reid also remains very active outside of Living Colour. His last solo CD, 2006's Other True Self, was a career highlight, with an impressively diverse approach that melded fusion, world music, prog-rock, and blues elements. He also continues to tour and record with Free Form Funky Freqs, an all-improv power trio with bassist Jamaaladeen Tacuma and drummer G. Calvin Weston. The group's first CD, 2007's Urban Mythology Volume One, captured a live studio session that focuses on exhilarating deep-funk-meets-jazz-rock workouts.
Why was there such a long gap between Collideøscope and The Chair in the Doorway?
One of the issues was a lack of support for Collideøscope from our label at the time, Sanctuary. There wasn't much press or radio happening in America, but there was great interest in Europe and Latin America, which are places we spent a lot of time touring. Also, the notion of Living Colour coming back again has been contested inside the band, though not in a neck vein popping out kid of way. When we first returned in 2003, I asked, "Why are we doing this? Is it just to cage gigs?" I had similar concerns this time. I don't think bands should exist just because they can. It's a conversation about being a band of a certain vintage and worrying about it turning into a repertory company that just plays music from the past. Many bands adopt that philosophy and others choose to be an ongoing creative entity. The latter is the model we've chosen and the new album reflects that.
What was the origin of the album title?
It came out during the press we did do for Collideøscope. Corey and I were in Paris waiting to do an interview and I said to him, "You're always saying 'The chair's in the doorway.'" It's his way of saying there's a gorilla in the room and it may be 300 pounds or 500 pounds, but there's an obstruction there that no one's bothering to move. I love the title because it's both concrete and physical as something you envision, but it's also abstract. A lot of the record talks about "Why do we put up barriers in the way of our own progress?" and "How do we get these things out of our way?" After our discussion, the journey towards the new record started. It's the first one for which we had a title before we had songs.
What was the creative process that drove the record forward?
It was written and recorded in starts and stops. Some songs were written in a compressed timeframe and others literally took more than ten years. "Burned Bridges" was a song I started when the band broke up in 1995, and it took until this album to complete it. All of us also had a lot of other projects going on, but between 2007 and 2008, the focus really shifted to making this album. We initially did a series of jam sessions at Doug Wimbish's home studio. We then did a lot of recording at Sono Studios outside Prague in the Czech Republic. We also worked at studios in America with both Ron Saint Germain and Andre Betts, who previously worked with us to produce Stain in 1993. The Count produced some of the tracks too. The last sessions were at Pierre De Beauport's studio in Massachusetts. The body of songs created through those myriad sessions became the record.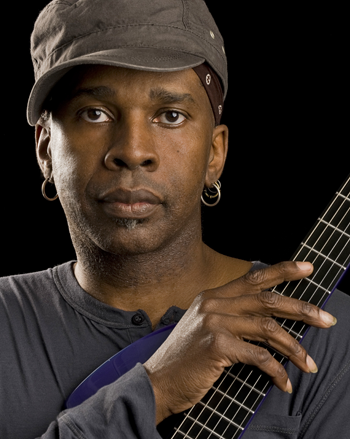 You played a prototype of your new signature Parker guitar on most of the disc.
The new record is where my transition from playing a custom Hamer Chaparral to the Parker occurred. I had been playing the Chaparral since the early '90s, and it's on some of the album. But I had great conversations with Jody Dankberg at Parker and began a dialog about what I'd like to see in a guitar. When I learned that Terry Atkins, who worked on my guitars at Hamer, was now the head of production at Parker, there was a sense of continuity that made me want to work with them to develop this new instrument. It has a really different body shape than other Parkers, Seymour Duncan pickups, a Roland GK-3 hex pickup, a Floyd Rose tremolo, 22 frets, and a V-shaped neck. I really feel at home with it. The string spacing and neck are a tiny bit wider than the Hamers, which lets me get around the instrument better. It's also excellent for combination picking, which I'm really getting into. Sound-wise, it sustains really well, which is great for alternate picking, and it can also deliver a percussive and punchy sound for my hammer-on playing.
You're a self-described plectrum fetishist. What are your favorites at the moment?
I really like the custom bone and ebony guitar picks by Cristophe Brossard. They're very sharp and pointed, and have a serious elegance about them. I also use Ra Denny Surf Picks, which are made of Lignum Vitae and have the wood's natural oil in them. They're terrific, sensitive picks that feel wonderful. I have a lot of different picks. If everyone I've given a pick to at a concert got together to compare them, they'd be shocked at how different they all are. I think about them the way golf players think about clubs—each one creates a different feeling and attack.
How does the Roland GK-3 pickup figure into your tonal equation?
It gives me so many sonic possibilities. Besides allowing me to assign different sounds to each string if I want to, it enables me to control hardware units such as the Roland VG-99 V-Guitar System, which is my primary tone source, and software such as Native Instruments' Guitar Rig, which is my secondary tone source. I also use the Fractal Audio Axe-Fx Ultra amp and effects-modeling unit, and lots of additional software, including IK Multimedia AmpliTube and Peavey ReValver 3, and soft synths such as Native Instruments' Reaktor 5 and Absynth 4. My Bugera amps—two 333XL heads with 4x12 cabs and two 333XL-212 combos—are set clean.
What are a few of your most important effects pedals?
My wah, pitch-bending, pitch-shifting, and detuned effects are mostly done on the VG-99, but I use a Boomerang Phrase Sampler for live looping, and Eventide ModFactor and PitchFactor pedals, a DigiTech Space Station XP300, and a Line 6 MM-4 Modulation Modeler, among others. "Method" from the new disc has some crazy modeling stuff going on.
Describe what's happening.
Towards the end, the track has a lot of 8-bit, really glitchy-sounding textures, and that's happening via hex control of a software sample player called UVI Workstation, which is a free download on the Web. I used it to assign a different sample of a circuit-bent instrument to each string. Circuit bending is where they short-circuit things like kid's toys and old guitar effects to create new and random sounds. That track is a good example of where you hear guitar and electronic guitar combined in a really interesting way. You also use old-school devices such as the DigiTech Space Station XP300 pedal on "Burned Bridges."
What do you dig about it?
It's old tech, but it really works great, and is one of my favorite pedals. One thing it does is lower the pitch gradually, and you can make it sound like your guitar is slowing down and stopping. It's as if you've put your hands on a reel-to-reel tape and are gradually stopping it from moving. I used it for the backwards guitar stuff and the odd-sounding pitchy stuff on that track.
How did you put together the searing solo on "DecaDance"?
It's a whammy thing that started with a solo I that I initially didn't like, but ended up using anyway. I tried taking another solo, but then thought, "I can live with the first one." The truth is, you can always take another solo. In terms of construction, it's improvisation-based. Some guitarists look at solos like classical music in that they're completely structured and played exactly the same every time. But I prefer to take phrases and create variations on them that come out of improvising.
What else can you tell us about your soloing philosophy?
I think genre conventions are to be respected, but that they are there to be played with. Blues, funk, and metal all have phrases that can cross over into other genres. They shouldn't be chained down. I try to speak through my instrument and see what conversations I can create. When I solo, I'm typically considering three things: what the genre dictates, what the song is talking about, and what's in my heart, mind, and soul at that particular moment. I believe there is an opportunity for transcendence every day. And during a solo, it can take place when you transcend those considerations. That moment is rare, but open to everyone, whether you're a master musician or you haven't been playing that long. The beauty of it is you can't define it—it's elusive. You can't practice to make it happen. The trickiest thing about it is that my desire for it is a barrier to achieving it. When it does happen, it's the most wonderful and fantastic moment imaginable.